Expedia is a popular booking channel for flights, hotels, car hire, and activities.
Their membership program, Expedia Rewards, allows you to earn points which can be redeemed for credit on future hotel bookings or flight + hotel packages.
Rewards points awarded for flight bookings are available in addition to to the frequent flyer points you would normally earn by booking direct.
With no booking fees and flight prices generally matching what you can find through the airline direct, it may be worth booking flights with Expedia and 'triple-dipping' on points earn, including Expedia Rewards points, frequent flyer points and any points you will usually pick up by using a credit card.
---
Overview
These are the key reasons for using the program:
Earn Expedia Rewards points on flight bookings plus frequent flyer points
Earn points when booking stays for other people—useful if you have become the de facto travel planner/booker in your family or group of friends
Earn points across a vast range of airlines, hotels and car rental bookings
Redeem points on hotels with no minimum amount required, no blackout dates, and combined with promotional coupons
Earn bonus points on mobile app bookings, and on all bookings once you have +Silver or +Gold status
Earning Expedia Rewards points
You will earn:
2 Rewards points per $1 spent on hotels, flight + hotel packages, activities and car hire with select suppliers
1 Rewards point per $5 spent on flights
You will earn double Rewards points for flights and hotels if using the Expedia mobile app.
Points will be awarded once your booking has been completed, in accordance with the following timeframes:
| Category | Point confirmation timing |
| --- | --- |
| Flights | 30 days after travel completion |
| Holiday packages | 30 days after travel completion |
| Hotel paid at time of booking | 30 days after travel completion |
| Hotel paid at time of stay | 35 days after travel completion |
| Car | Up to 90 days after travel completion |
| Activities | 30 days after completion |
Rewards points will not expire as long as there is a qualifying purchase or redemption activity through Expedia at least once every 18 months.
On top of that, you can also earn cashback from Cashrewards for your Expedia bookings, as well as Expedia Rewards points, as well as frequent flyer points—a useful triple dip.
As at the time of writing, Cashrewards offers:
5% cashback on hotels
3% cashback on packages
2% cashback on car hire
0.7% cashback on flights
Expedia is one of the only local OTAs that offer rewards programs for flight bookings, so you aren't trading off too much by booking flights through them even though the margins are slim.
By comparison, Cashrewards also offers 2.1% cashback on Virgin Australia domestic flights and 3.5% on International flights if booking direct through Virgin Australia.
The margins and returns all round on flights are very slim though, which is a function of the way the airline industry operates as a whole. Margins are thin across the board, so airlines, OTAs and other middlemen don't have much commission to give away to incentivise flight bookings.
I see Rewards points earn for flight bookings plus cashback as a small win that you wouldn't have otherwise earned but not something to worry about too much—do it if you can and you remember to.
Redeeming Expedia Rewards points
Redeeming Rewards points is pretty simple—use them as you earn them for hotels, or cash them in for a $25 voucher that can be used on flight + hotel packages once you have a minimum of 3,500 points.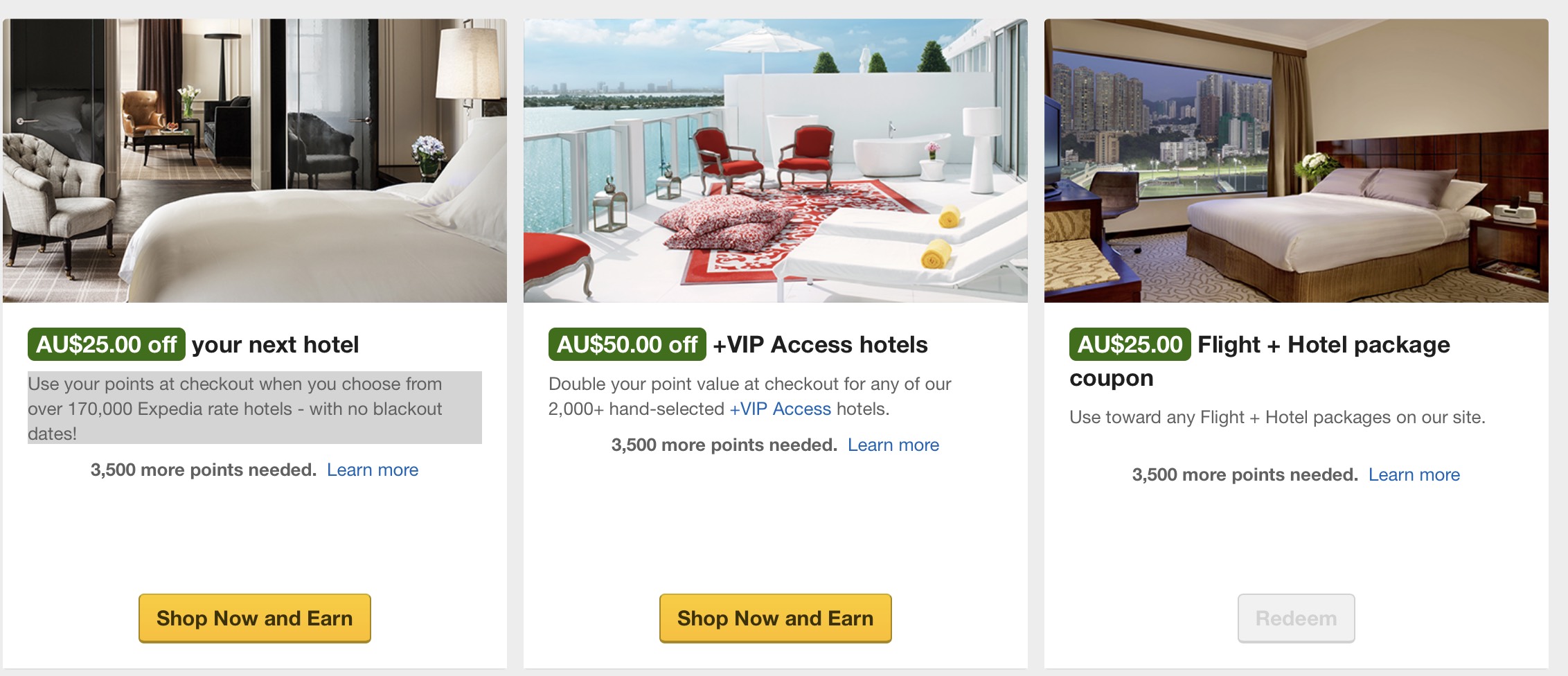 The points are worth as follows:
Standard hotels; flight + hotel packages = 0.7 cents each
+VIP Access hotels = 1.4 cents each
As you can see, your points are worth twice as much for +VIP access hotels versus the standard hotels generally available on Expedia. You can browse through all the +VIP Access hotels here.
There are 66 participating in Australia and 12 participating properties in New Zealand.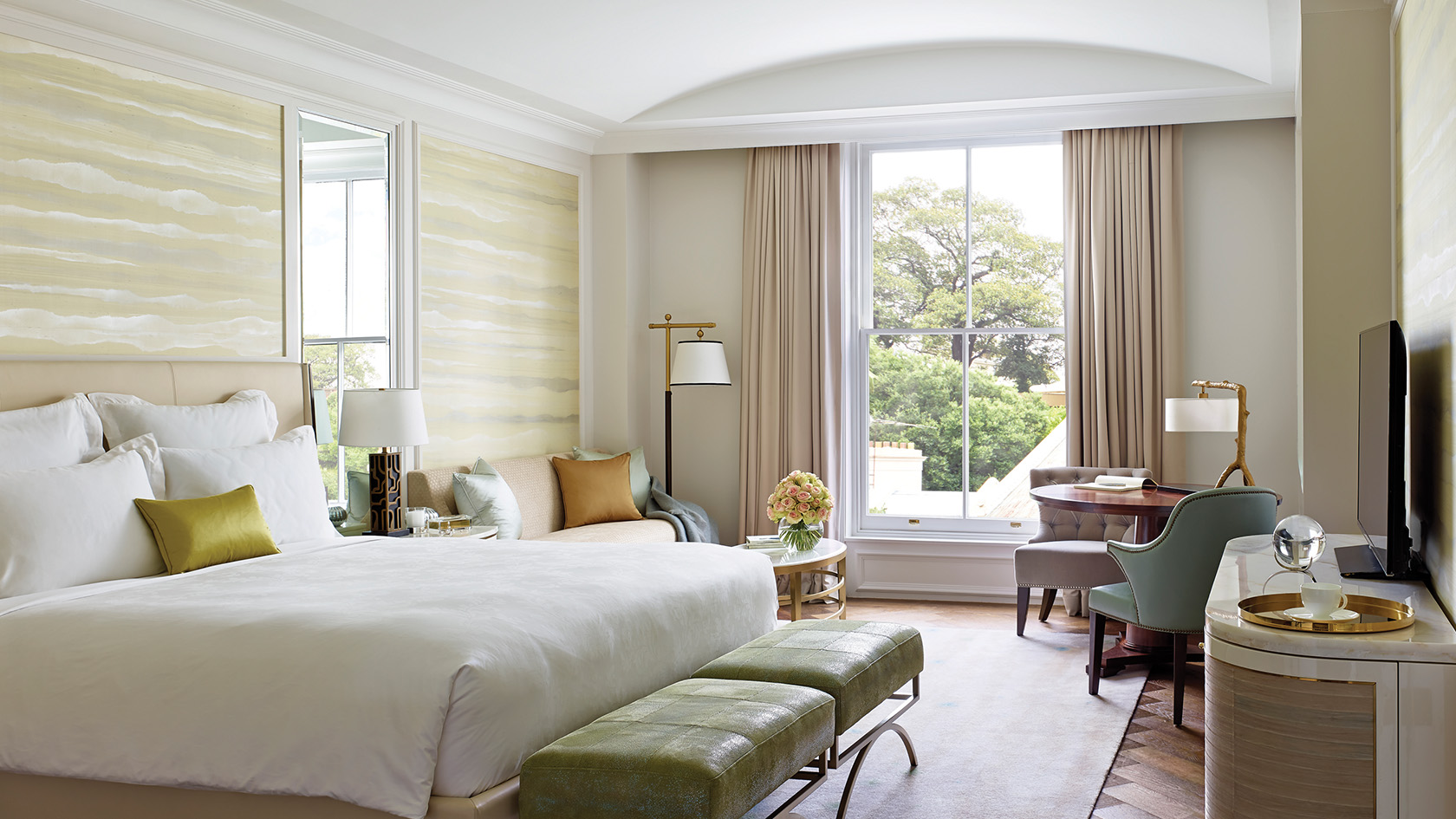 Ad – Scroll down to continue reading.Minimum spend, terms & conditions apply.
Expedia Rewards status
Earning +silver or +gold status with Expedia Rewards is pretty simple—stay 7 nights or spend $5,000 AUD for +silver; 15 nights or $10,000 AUD for +gold.
The primary benefit of +silver and +gold is additional points. You'll earn:
250 bonus points if you book a +VIP Access hotel
10% more points on all eligible bookings as a +silver member
30% more points on all eligible bookings as a +gold member
Both tiers receive priority customer service, concierge benefits in Hawaii, Orlando and other leisure holiday destinations, plus special amenities and services at select +VIP hotels, including:
free parking
spa credits
complimentary food and drink
upgraded in-room entertainment
priority check-in
Those with +gold status will also be eligible for room upgrades, including:
a larger room or a suite in a preferred location
a special view
special in-room amenities
Expedia coupons
You can stack traditional Expedia coupon codes with any Rewards points redemption, as shown in the examples below.
Expedia's booking, change and cancellation fees
Expedia doesn't charge any additional up-front booking fees on either hotels or flights. That's unlike, say, Webjet, which has a massive $21.95 booking fee on domestic flights and $32.95 on international—about the highest on the market.
Expedia does charge additional change and cancellation fees for flight bookings on top of the airline's own fees and the difference in fare. This is $50 per booking, assuming that changes are permitted. If you are looking to make a flexible reservation and minimise the cost of any flight changes, then you are probably better booking with the airline direct.
If a hotel allows a change or cancellation under the rate conditions for your reservation, Expedia won't charge any additional fees to make a change.
Summing up
The Expedia Rewards program has its benefits, in particular for confirmed flights where there is an opportunity to earn some extra points.
The value proposition for hotel bookings can also be considerable, particularly if you have Expedia Rewards status, book via the mobile app, stack with a coupon code, and frequently stay and redeem points for +VIP hotels.
For example, stack a 12% coupon code with an earn rate of 5.2 Rewards points per $1 (as a +gold status member, booked via the mobile app), and you'll effectively be receiving a more than 15% 'discount' on your booking.
This content contains affiliate links from which Point Hacks may earn commissions from transactions generated from new customers, bookings and general enquiries. Find out more here.
How to earn points with Expedia Rewards on your next flight or hotel booking
was last modified:
November 29th, 2021
by