Earning credit card reward points at the Australian Tax Office and other government agencies has long been a challenge for savvy frequent flyers, with the banks gradually reducing the points earned on those transactions.
Add to that the credit card surcharges that many institutions charge, and you'll quickly see why it's just often not worth pursuing the points when paying off those types of bills.
But one new solution to this problem is going through a third-party payment provider. These platforms usually settle your bills via BPAY, offering full reward points when you pay them for the service via credit card in exchange for a small fee.
Sniip is a Brisbane-based fintech that offers stellar rates when paying bills with an American Express card, which are often the highest-earning cards on the market.
What is Sniip?
Sniip is a payment platform that allows you to pay personal and household expenses with any type of credit card, all through one easy app. In March 2023, the company updated its agreement with American Express to offer a lower 1.29% processing fee for personal transactions (excluding the ATO).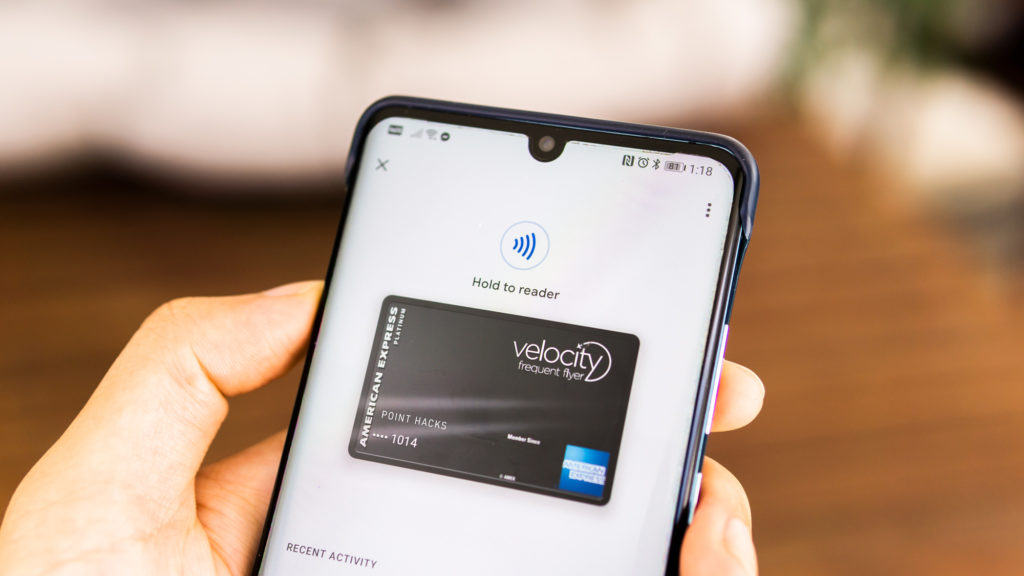 There are other similar payment processors on the market such as Pay.com.au, B2BPay and RewardPay. However, those are tailored to small businesses, so Sniip is a good choice for individuals.
Note that Point Hacks is associated with pay.com.au.
How does Sniip work?
Here are the steps to start using Sniip.
Download the Sniip App from Google Play or the Apple App Store.
Register for an account or login.
Under 'Wallet', ensure you have a valid payment method set up.
Tap on the blue '+' icon to add a new bill. You can scan it, add the details manually or sync your email account.
Enter the payment amount and the due date, then tap 'Add Bill'.
Confirm all details are correct. If needed, you can set up a payment reminder through the app and add attachments.
Tap 'Pay' to pay now or 'Schedule' to schedule the payment for later, either as a one-off sum or broken into instalments.
Once the funds are cleared from your credit card, Sniip will make the BPay payment to your biller, which may take up to 3 working days.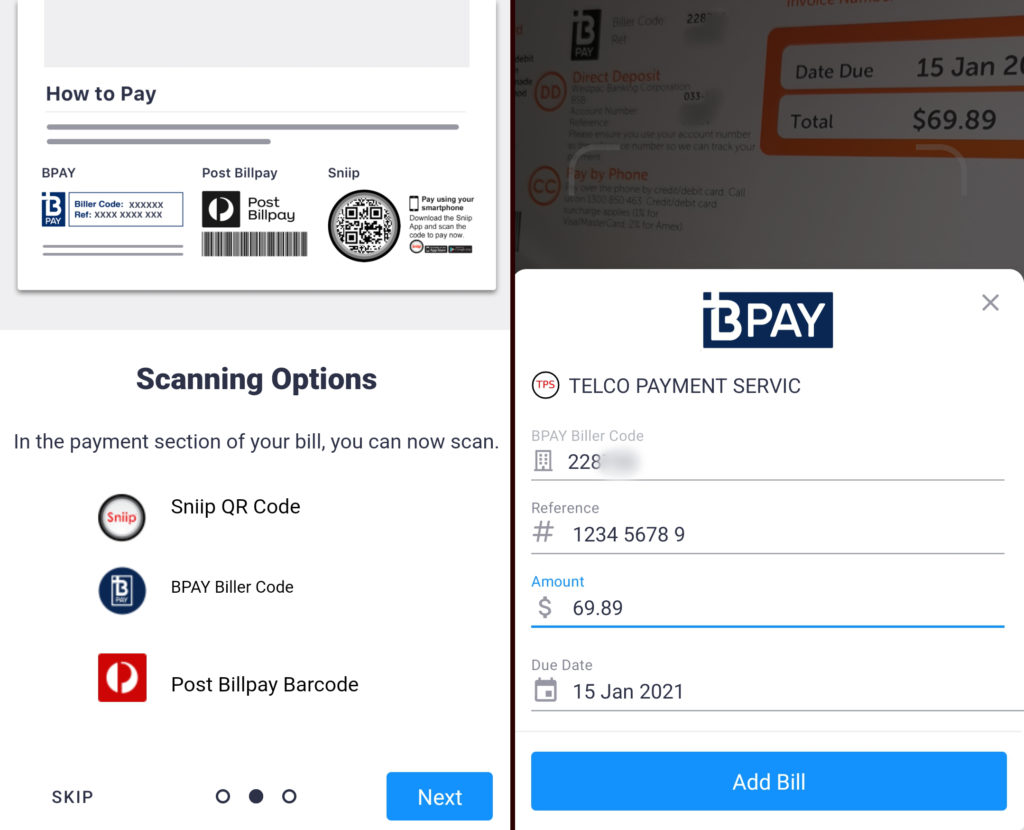 Pay bills and other expenses via BPay, even when credit cards aren't usually accepted
Sniip utilises a mobile app to scan your bills and make payments. As long as your biller accepts BPay payments, you can use Sniip to pay those invoices with a credit card and earn reward points.
This applies even if the biller doesn't accept American Express cards, or in extreme examples, any type of credit card at all. That's because you pay Sniip with your credit card to earn points, and Sniip then pays your biller via BPay to settle your amount owing.
This could be one way to earn even more reward points on transactions where you wouldn't normally earn anything.
Pay ATO and government agencies to earn points, even when your credit card doesn't normally permit it
Typically, American Express reduces its points earn on ATO and other government-related transactions down to a low 0.5 or 1 point per A$1 — that's a big drop when some cards usually earn up to 2.25 points per dollar!
Rather than pay the ATO's 1.45% Amex fee and earn a reduced number of points, Sniip's proposition is to pay them a 2.189% fee (including GST) instead and earn the full potential of your American Express card. Note that since 1 March 2023, all Amex payments to the ATO are charged at Business rates (2.189% or less, including GST). That applies to personal ATO payments too.
Ad – Scroll down to continue reading.Minimum spend, terms & conditions apply.
Comparison of Sniip's fees to other payment providers
Let's say you're an individual that owes a tax bill of $5,000 to the ATO, and you want to maximise the points on your American Express Platinum Charge card or your Qantas Premier Platinum Mastercard.
Here are some of the scenarios that could occur, taking into account payment fees and the value of points earned according to our proprietary points calculator. The figures have been updated for Sniip's latest change to business processing rates for Amex.
Payment fee for this option
Fee paid on the transaction
Points earned (including fee)
Value of points earned
Overall result
Direct ATO payment
BPAY
0%
A$0

0 MR points
n/a
No points earned
Qantas Premier Platinum
0.73%
A$36.50

0 Qantas Points
n/a
Lose A$36.50
Amex Platinum
1.45%

A$72.50

5,072 MR points
A$60.86

Lose A$11.64
Payment through Sniip
Qantas Premier Platinum
1.50%
A$75.00

5,075 Qantas Points
A$91.35
Earn A$16.35 in value
Amex Platinum
2.189%
A$109.45

11,496 MR points
A$137.95

Earn A$28.50 in value
Analysis of the results: Sniip vs ATO
Qantas Premier Platinum
With the Qantas Premier Platinum, you'd earn 0 points directly at the ATO (since the card doesn't award points on those transactions), and 5,075 Qantas Points in total through Sniip in exchange for a 1.5% fee.
That's just okay – it's probably worth it at that price if you can put the points towards a high-value reward.
American Express Platinum Card
With the American Express Platinum Card, you could earn a reduced 5,072 Membership Rewards points if paying the ATO directly, for a 1.45% fee. Remember though, there's a 2:1 conversion rate from Membership Rewards to the program's frequent flyer points partners. That haul of 5,072 MR Points is worth 2,536 frequent flyer points, for instance.
But pay just a bit more for the 1.99% fee at Sniip (2.189% including GST), and you'll unlock your card's full earning potential.
That's 2.25 Membership Rewards points per dollar spent, which more than doubles your haul to 11,496 points for a $5,109.45 transaction ($5,000 to the ATO, plus Sniip's surcharge).
Summing up
The true value of Sniip lies in its partnership with American Express. Unfortunately, the value proposition has dropped somewhat since the fee for ATO payments with Amex increased to 2.189% including GST. But by using the right American Express card, you can still get good value from earning points on your tax.
Adding that most credit cards offer up to 55 days interest-free on regular payments, it makes sense to funnel some of your bigger bills through a service like Sniip to maximise rewards and boost your cashflow.
To get started, visit the Sniip website and be prepared to download the app to Android or iPhone.
Point Hacks has no affiliation with Sniip. Point Hacks is affiliated with Pay.com.au.
How individuals can earn full points with Sniip
was last modified:
August 25th, 2023
by