Whether you enjoy a cheeky drink regularly or rarely, alcohol purchases are a great way to boost your points balance. You can nab plenty of bonus points with beers, wines, spirits and more.
There are a few main ways to collect bonus points with alcohol purchases. Certain retailers offer points for every dollar spent, including with loyalty programs. And paying with the right card at the end could see you sipping sparkling wine in Business Class sooner.
For example, both Qantas and Velocity Frequent Flyer have wine tie-ups that can be very rewarding under the right circumstances. But if you're particularly attached to your local Bottle-O, you could still increase your points earn with the right card.
1. Buying wine through your frequent flyer program
Earn Qantas Points with Qantas Wine
Qantas Wine offers some of the best opportunities to boost your points balance. Some cases can come with up to 20,000 bonus Qantas Points attached. Crafty readers sometimes buy these deals just for the points – which credit very quickly – and end up with bonus wine to enjoy or give away.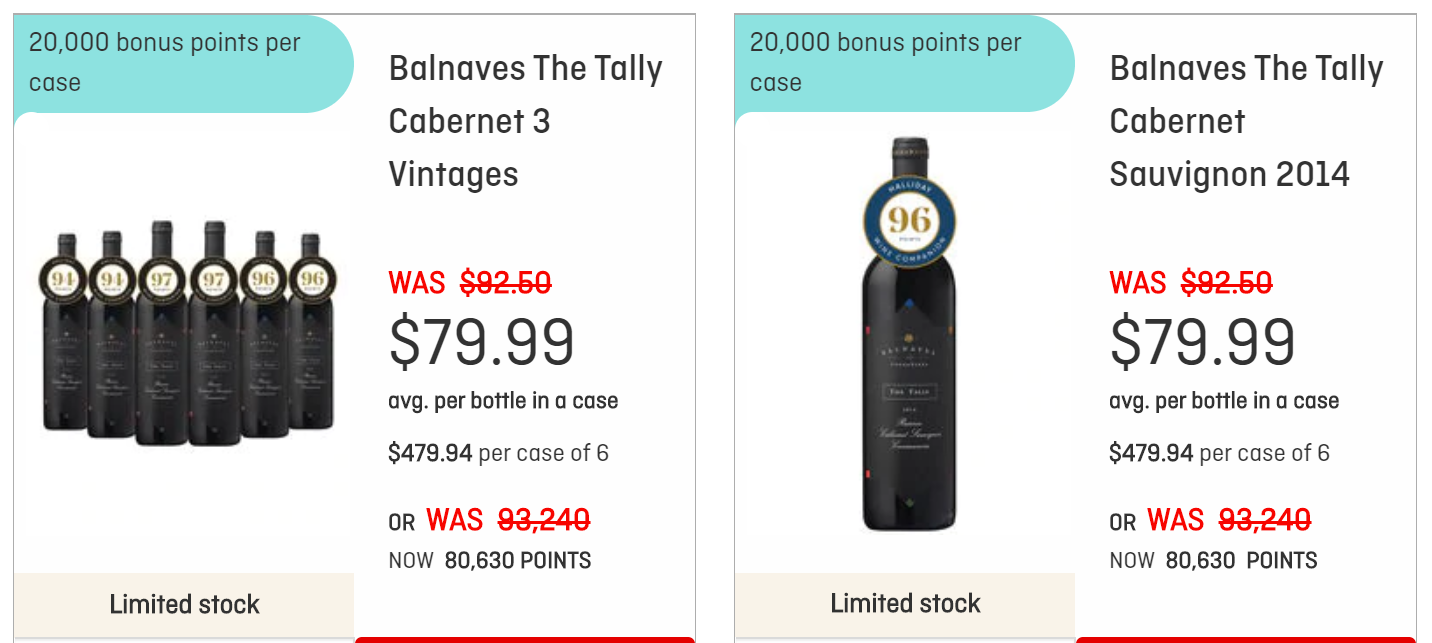 Anyone can shop and earn at least one point per dollar spent. Qantas Wine Premium Members take home three points per dollar spent, plus free shipping. Best of all, there are ways to get Qantas Wine Premium Membership for free, including by holding a Qantas American Express Ultimate Card.
You'll need to double-check prices, though, as sometimes your local shop will have better pricing without bonus points. But Qantas Wine can certainly be competitive with bonus points included.
Earn Velocity Points with Virgin Wines
Virgin Wines focuses more on subscriptions, though you can buy one-off deals as well. Velocity Frequent Flyer members are rewarded with two points per dollar spent. This increases to three points per dollar spent if you're part of a Wine Club.
Earn Velocity Points with the Velocity Wine Store
The Velocity Wine Store by Laithwaites is more your traditional wine store. Here's where you'll find bonus Velocity Points on cases of wine. The usual earn rate is two points per dollar spent.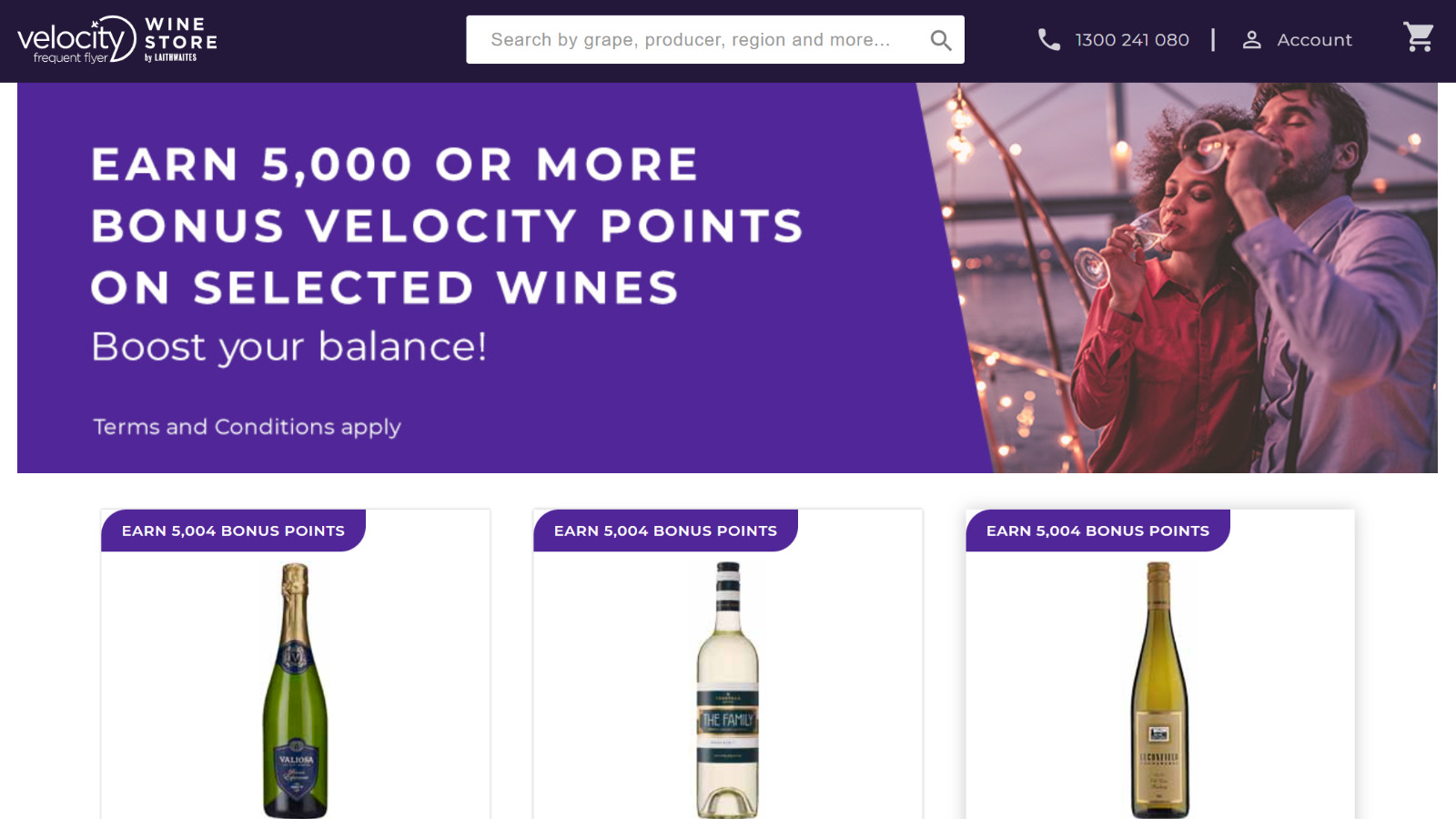 Earn points with Qantas Shopping or Velocity e-Store
The Qantas Shopping and the Velocity e-Store online malls don't have any alcohol-specific retailers. That said, certain retailers such as David Jones do sell a few Champagne varieties, along with glassware. Catch.com.au also stocks a selection of beers and wines. You'll earn points per dollar spent via either of those online malls.
Ad – Scroll down to continue reading.Minimum spend, terms & conditions apply.
2. Buy gift cards with the Amex Platinum Edge
If you want to keep shopping in your usual local chain stores, a certain card might prove to be very rewarding. That's the American Express Platinum Edge card, which has a tiered points-earning structure. Happily, supermarkets top that list at three Membership Rewards points per dollar spent.
Then simply buy gift cards for those stores from Coles or Woolworths supermarket. With the Platinum Edge card, you'll pick up three points per dollar as the gift cards count as supermarket spending.
Purchase a Wish Gift Card from Woolworths to use at:
Dan Murphy's
BWS, and
Cellarmasters
Purchase a Coles Myer Gift Card at Coles to use at:
Liquorland
First Choice Liquor, and
Vintage Cellars
3. Don't forget supermarket reward programs!
Supermarkets and some retailers have their own rewards programs that can provide extra savings when you shop.
Woolworths Everyday Rewards
Earn Woolworths Everyday Rewards points at BWS. You'll earn one point per dollar spent, but do keep an eye out for 'Booster' offers on the Everyday Rewards app.
Once you hit 2,000 Everyday Rewards points, you can claim your choice of $10 off at Woolies or 1,000 Qantas Points (which auto-converts if you select that option).
Flybuys
If you're shopping at either First Choice Liquor or Liquorland, then be sure to include your Flybuys number to earn one point per dollar! Both retailers occasionally do bonus Flybuys points as well, so keep an eye out for promotions.
Like Woolworths Everyday Rewards, you have choices once you hit 2,000 Flybuys points. Either choose $10 off at Coles and other retailers or get 1,000 Velocity Points, which you can manually transfer.
Summing up
Like most points-earning activities, a bit of simple planning can easily help make your next wine, beer or spirit purchase a lot more rewarding. Qantas and Velocity make it easy to earn frequent flyer points with wine. You can also earn points with Everyday Rewards or Flybuys with supermarket-affiliated bottle shops.
We still recommend you take a moment to compare pricing between different stores, particularly for a larger order. If the stars align, you'll get a great discount and also more points to send you on your holidays sooner. We'll cheers to that!
Earning points with your favourite tipples
was last modified:
December 7th, 2023
by