The 28 Degrees Global Platinum Mastercard doesn't have a linked loyalty or frequent flyer program but is still relevant for travellers and overseas spenders thanks to some unique features.
With no annual fee, recently-added global wifi access and some platinum perks, it is useful for frequent overseas jetsetters and those who make plenty of online purchases with overseas retailers.
What are the benefits of the 28 Degrees Global Platinum Mastercard?
The benefits of using the 28Degrees Global Platinum Mastercard include:
No annual fee
No currency conversion fees
No international transaction fees on purchases
Free wifi access at more than 1 million hotspots worldwide
Boingo coverage comes in handy when travelling through airports and overseas. You can see that it has the widest coverage in Asia (especially Japan, China, Thailand and Indonesia), North America and Western Europe.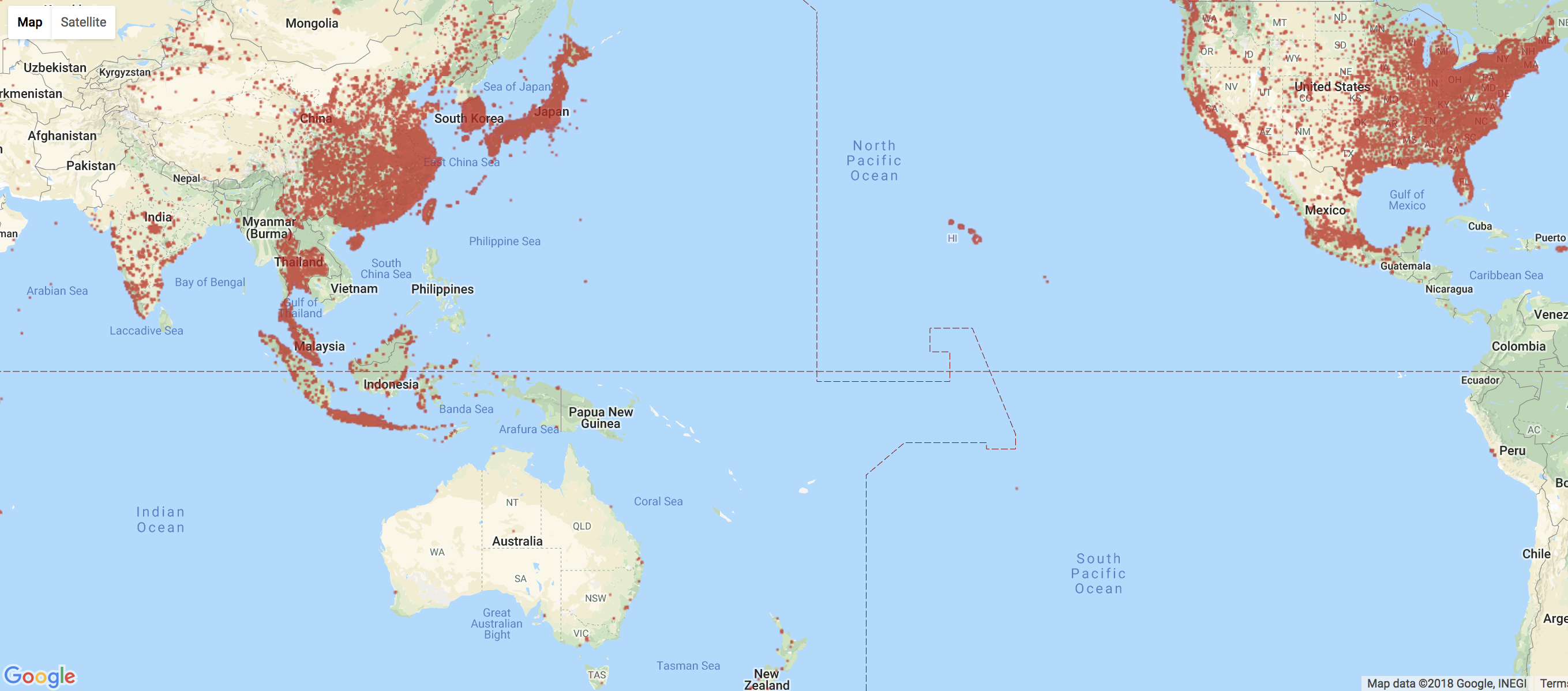 Is everything no fee? Well, almost…
The relevant fees for the 28 Degrees Global Platinum Mastercard are as follows:
Card Details
| | |
| --- | --- |
| Card | 28 Degrees Global Platinum MasterCard |
| Annual Fee | $0 |
| International transaction fees on purchases | Nil |
| Currency Conversion fees | Nil |
| Payment handling fee | $0.95/2.50 (online/in person) |
| Late fee | $30 |
| Mobile wallet | Apple Pay, Google Pay and Samsung Pay |
| Paper statement fee | $2.00 |
With most other credit cards, 2-4% of each transaction spent on non-AUD transactions is charged.
This does not sound like much in isolation but it can quickly begin to add up when many foreign currency purchases are made, which would be the case on an overseas trip.
With no foreign exchange fee, the 28 Degrees Global Platinum Mastercard can provide substantial savings for those who frequently transact in foreign currencies, such as overseas merchants via eBay or Amazon, foreign online stores such as Macy's or when travelling overseas.
Some other cards on the market that offer no foreign exchange fees and points-earn are the Bankwest Platinum and World Mastercards.
For example, say you spend $100 on an overseas purchase, the currency conversion fee on a points-earning credit card is 3%, and the earn rate is 1 frequent flyer point per dollar spent, then you'd earn 100 points, with per point cost of 3c (equal to the 3% surcharge, of course).
Our valuation to acquire Qantas or Velocity point is currently 1.9 and 1.8 cents respectively. As a result, using a no foreign exchange fee card would usually have you come out ahead.
Insurance
The 28 Degrees Global Platinum Mastercard comes with a variety of insurance options but they come at an additional cost. These include:
Price Protection, which gives cardholders who use the card to purchase a product and then see the price of that product from the same retailer fall within six months after the purchase date, get a refund of the difference back on the card. The cost of this protection is 0.5% of the monthly closing balance
Merchandise Protection, covers purchases bought on the card if it is lost, stolen or damaged within 6 months from the date of purchase.
Stolen Card Protection, which provides for a $200 payment if the card is stolen, simply for the inconvenience.
Repayment Cover, which pays 10% of the monthly closing balance while the cardholder is off work, up to a maximum of 3 years.
Life Cover, where the balance of the card is paid in full should the cardholder die, up to a maximum of $20,000.
The card also partners with Southern Cross Travel Insurance, where cardholders are invited to 'get a quote'. It is, however, not clear if there are any benefits for cardholders by getting cover from Southern Cross instead of other providers. You can read the 28º Global Platinum Mastercard PDS here.
This guide references some of the benefits of insurance policies provided with this card. You should read the PDS and obtain independent professional advice before obtaining this product.
Latitude Cards Apple Pay, Google Pay & Samsung Pay support
Latitude cards support Apple Pay & Google Pay & Samsung Pay, meaning you can use this card on your smartphone for easier payments. Find out more in our guides for each of the compatible services.
Are there any downsides to the 28 Degrees Global Platinum Mastercard?
The main weakness of the card is that there is no rewards program attached to it. This could be considered the cost of a card that offers no currency conversion fees but for holders of frequent flyer-linked cards who spend big on their card while overseas, the benefits of points accrual could outweigh the savings from no currency conversion fees.
The ATM fee also means that you won't want to be making too many small withdrawals, otherwise, the fees can add up.
28 Degrees Global Platinum Mastercard charges interest on cash advances (for when you draw cash out of an ATM), set at 21.99%, plus the greater of $4 or 3% of the cash advance total. As a result, you are going to want to pay off that cash advance as soon as you can to avoid incurring interest charges.
There is also the convenience factor of using just one (a frequent flyer-linked card, of course) rather than mixing and matching for different purposes but this is what banks are counting on when you use a card with an overseas transaction fee.
All up, using a points-earning card vs a no foreign exchange fee card will be an individual decision but one that should be considered.
Feedback
Check out the Point Hacks Facebook page for some feedback from existing users on the card.
Most were very satisfied with the card's consistently good exchange rates, ease of use, and card features such as chip/paypass/strip which allows one to use it on just about every situation. Another advantage is the buyer protection, which is calculated based on the amount owed and if you pay your balance every month, you end up getting insurance on your purchases for free.
Although this card is a good choice for overseas travel, keep in mind that there is no complimentary travel insurance included and it charges a cash withdrawal fees. Another downside according to one user is that they are relatively strict in their credit limits.
Also, make sure to always pay in foreign currency when overseas and avoid using Australian Dollars converted at unfavourable rates by local merchants to take advantage of Mastercard's wholesale FX rates.
Be aware that there is a $0.95 fee to use BPAY to load your card.
28 Degrees Global Platinum Mastercard eligibility
To be eligible for the 28 Degrees Global Platinum Mastercard, you must:
Be over 18 years of age
Be an Australian citizen or permanent resident
There is no specific minimum income requirement.
Summing up
If you're likely to make plenty of overseas purchases, then this is worth considering. While cardholders are still exposed to fluctuating currency rates, there is no additional charge for the currency conversion to take place, providing material savings to the cardholder that can otherwise be spent on other purchases closer to home.
As a bonus, the card also comes with complimentary wifi access at over 1 million hotspots courtesy of Boingo.
The catch is that the more you spend on overseas purchases, the more frequent flyer points that you will be foregoing from using a points-earning credit card.
Overall, however, this card provides healthy competition in the marketplace given its unique position of offering low fees in combination with a few perks generally reserved for higher fee Platinum cards.
A good alternative is the Citibank Plus debit card.
28 Degrees Global Platinum Mastercard: no annual or foreign exchange fees, free global wifi access
was last modified:
March 10th, 2023
by