Budget airline Jetstar offers a membership program packed with exclusive benefits. Enter Club Jetstar – your ticket to discounted flights, savings on add-ons, early access to sales and loads more, all for an affordable annual fee.
Want the lowdown? Read on for everything you need to know.
What is Club Jetstar?
Club Jetstar is the paid membership program of low cost carrier Jetstar. It's not a frequent flyer program per se. Rather, you pay for a year-long membership to access the perks of the program – which we cover in detail below.
What are the benefits of Club Jetstar?
The benefits of Club Jetstar are applicable to fares booked on Jetstar Australia's website. This includes domestic routes, as well as international routes to and from Australia.
Here's what to look forward to when you join.
Early access to sales
Jetstar often releases sale fares to its members in advance. This means you'll get the first pick of your preferred dates and routes – and of course, pocket discounts on your booking.
Member-only fares
Club Jetstar members enjoy discounts on selected Starter and Business fares. Note that the discount doesn't apply to all routes, dates and times. We cover more on how to view and book discounted fares below.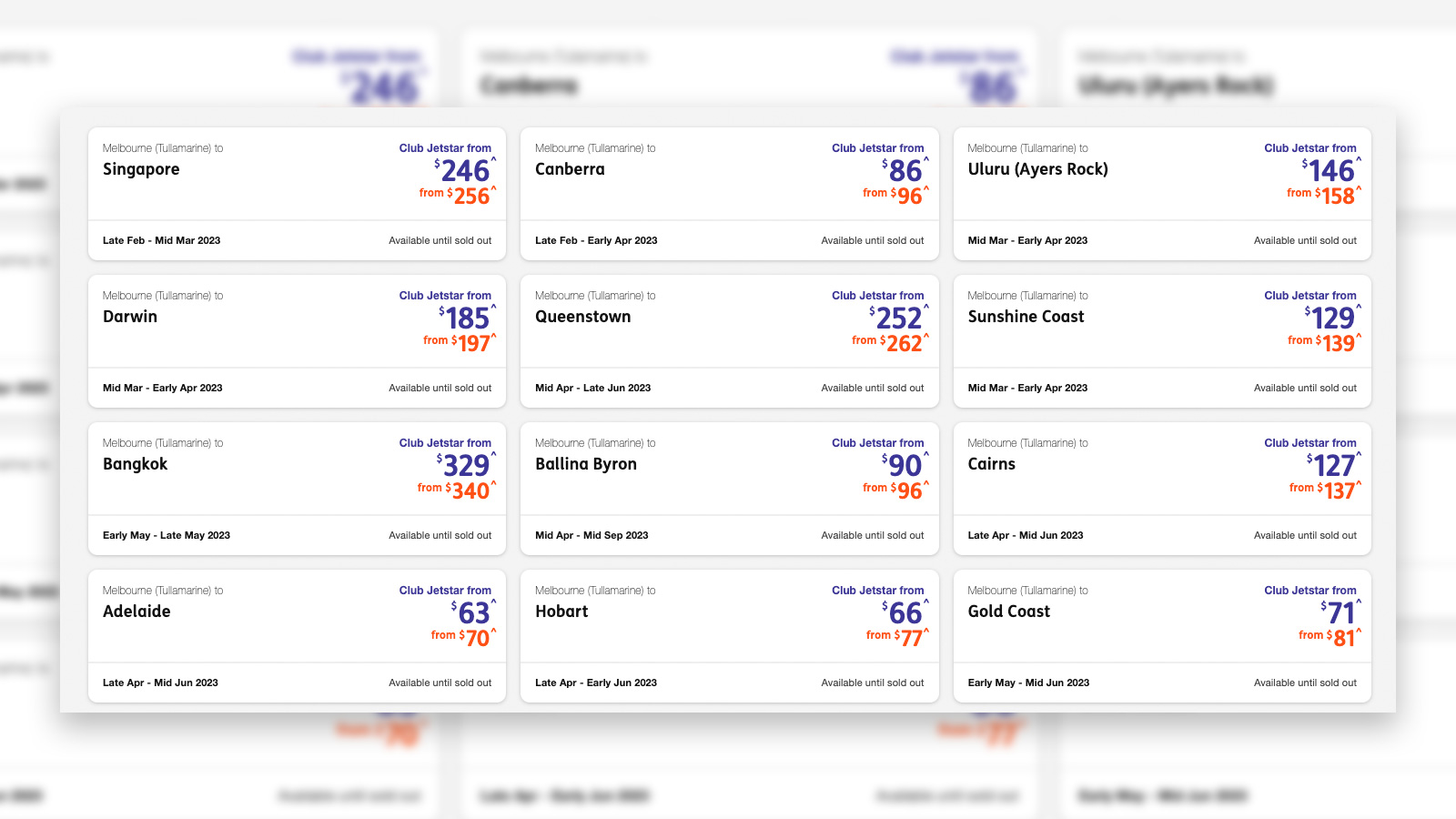 Discounts on baggage and seat selection
Jetstar is a budget carrier, which means that everything aside from a seat on the plane comes at a cost. If you've got a particular seat preference and find yourself regularly paying for seat selection, you'll be glad to know that Club Jetstar members enjoy a 20% discount. This discount also applies when purchasing check-in baggage and additional carry-on allowance.
And you don't need to explicitly book a Club Jetstar fare to avail of the discount. As long as you've got a membership, you'll receive the discount on baggage and seat selection when booking regular fares and sale fares, like Jetstar's Friday Fare Frenzy.
Partner offers
Members can enjoy exclusive deals on travel insurance, car hire and other services with Club Jetstar's partners, which include Hertz and endota.
Free Qantas Frequent Flyer membership
If you're yet to get started with the Qantas Frequent Flyer program, holding a Club Jetstar member is just one of the ways you can join Australia's largest frequent flyer program without paying the $99.50 joining fee.
Discounts for travel companions
If you're travelling as a group, your Club Jetstar benefits extend to up to four companions when you book together. You'll just need to be logged into your Club Jetstar account when booking. This is a great incentive for travelling families, or even if you fly regularly with a partner, as only one person needs to hold a Club Jetstar membership.
How do I search for and book Club Jetstar fares?
Even if you're not a Club Jetstar member just yet, you can still view member pricing while you search so you can determine if the program is worth joining.
When you search for fares on the Jetstar website, the calendar will show dates that have Club Jetstar prices available, indicated by the purple logo.
Once you've selected your dates, you'll be able to view all available flights – and you'll notice the Club Jetstar pricing highlighted in purple.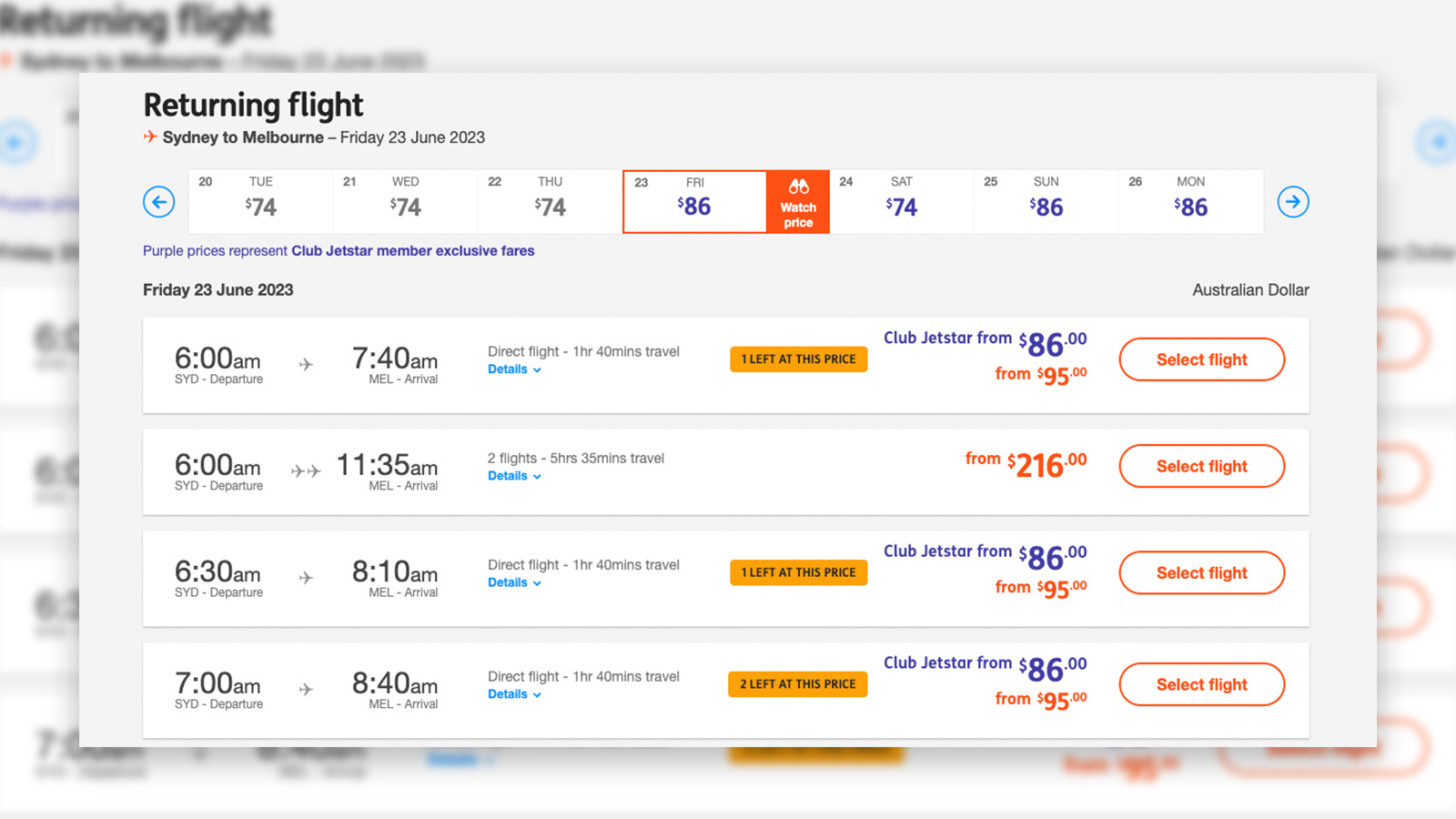 Now it's just a matter of following the purple trail through to checkout. You can also add baggage and seat selection at a reduced fee – keep an eye out for the purple pricing to see your savings stack up.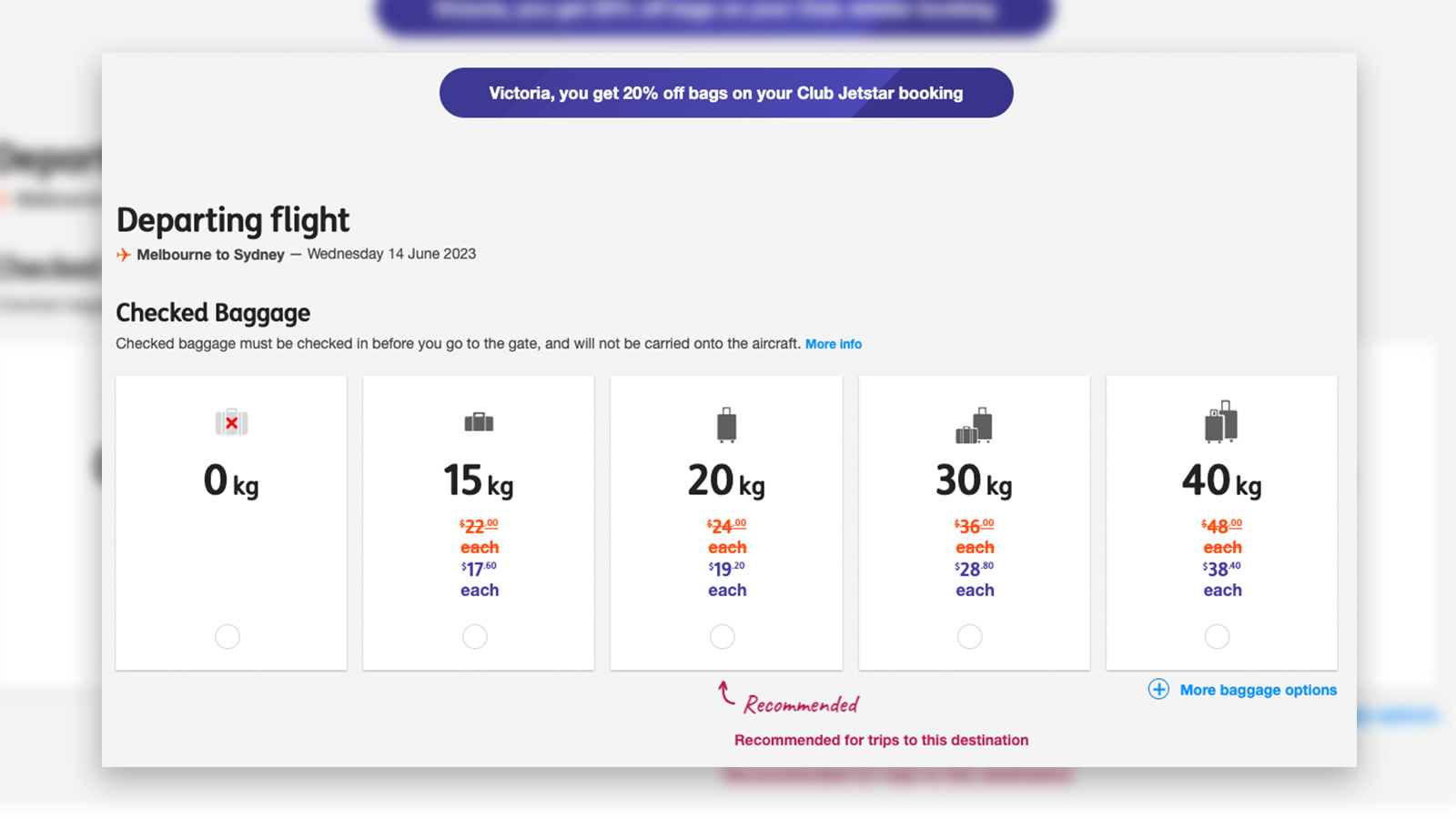 Pleasingly, the discount also applies when purchasing bundles, with selected bundles earning you Qantas Status Credits when flying with Jetstar.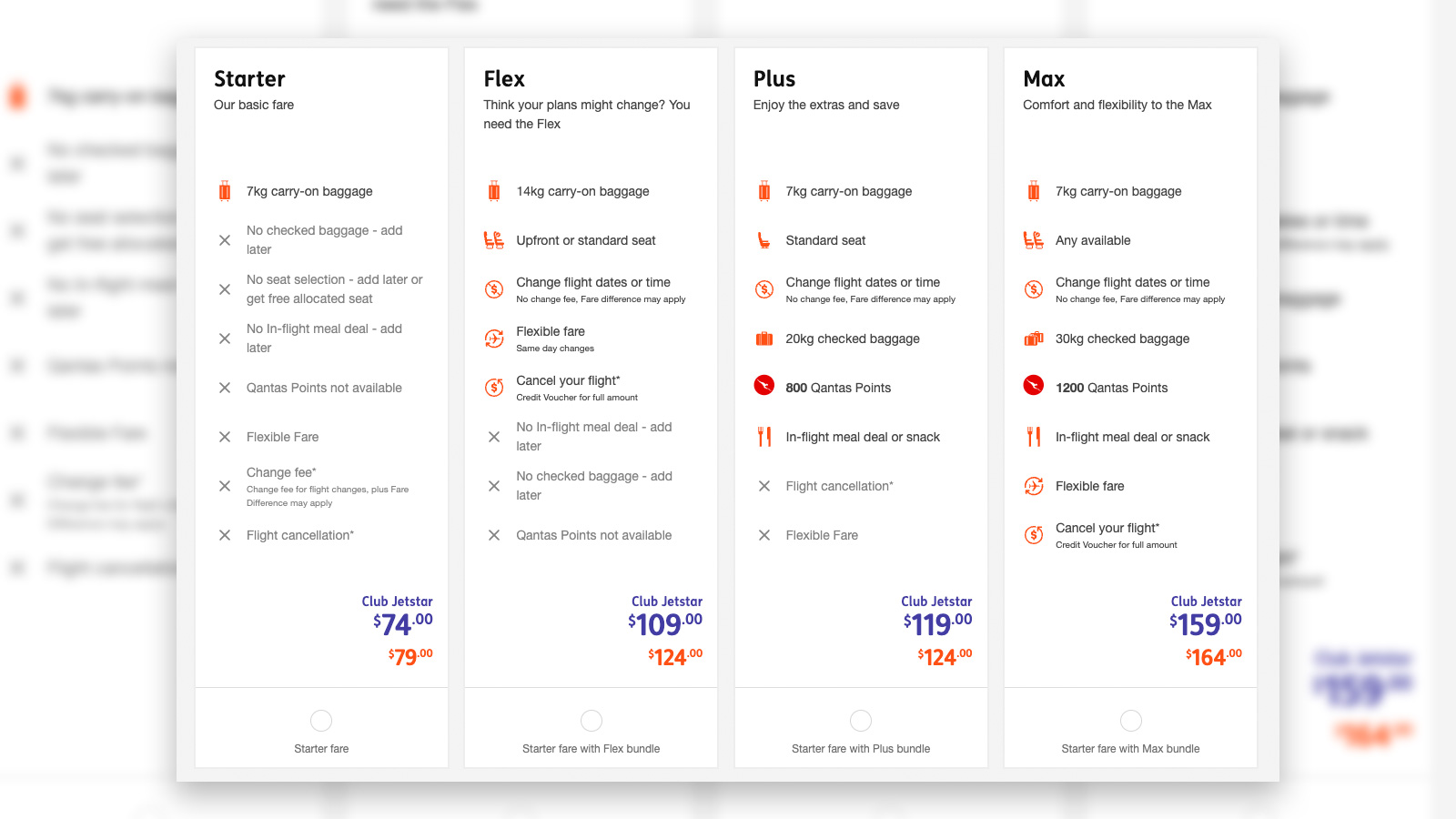 Note that if your flight doesn't originate in Australia, you can still view and book Club Jetstar fares in foreign currency. Of course, you can toggle the currency to AUD at the top of the page. Though you'll often pay less when you use local currency and pay with a credit card with no overseas transaction fees.
Ad – Scroll down to continue reading.Minimum spend, terms & conditions apply.
How much is it to become a Club Jetstar member?
Club Jetstar membership costs $55 per year. Again, the program is more of a subscription service, so you'll need to renew your membership each year to retain the benefits.
It's worth mentioning that although the price of Club Jetstar membership has increased since the program's inception in 2013, there are far more benefits for members to enjoy today.
How do I join Club Jetstar?
You can join Club Jetstar and view all the perks on the Jetstar website.
Alternatively, when you make a flight booking via Jetstar you'll be prompted to join during the booking process. The $55 membership fee will be added to your booking, and any applicable member discounts will be applied to your cart.
If you don't need continual access to the program, you can join when you're ready to book your trip to get the most out of your year-long membership. Also, note that the benefits can't be applied retrospectively to existing bookings once you join.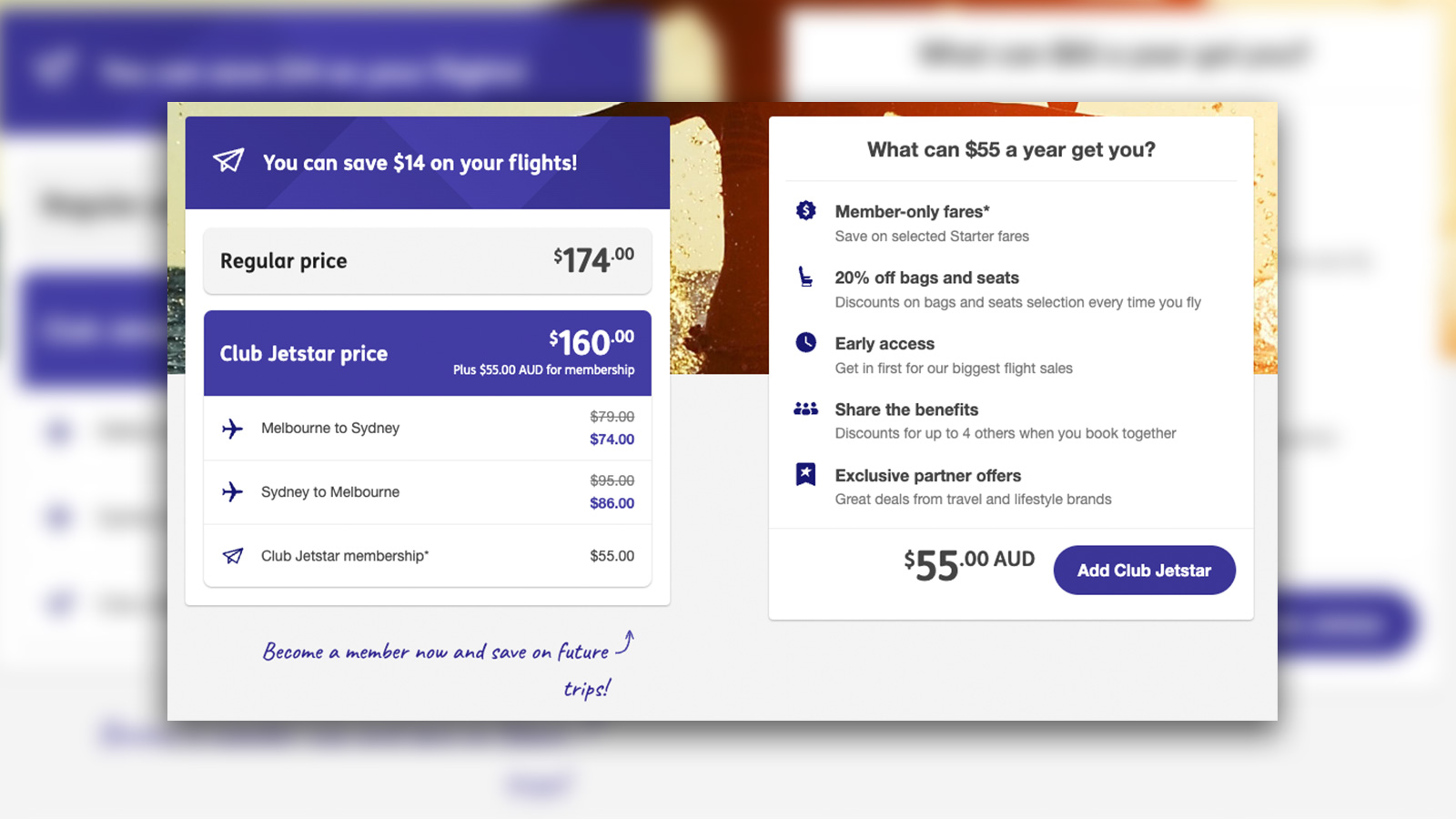 Is Club Jetstar worth it?
This one comes down to your individual circumstances. There are a number of factors that determine whether joining Club Jetstar is beneficial. This includes how often you travel, the number of people you travel with, and whether you often purchase extras like seat selection or baggage. Bear in mind that the benefits extend to up to four travel companions on a single booking.
There's a calculator on Club Jetstar where you can input your details to view the estimated savings. We've included an example below based on four people taking two trips a year with baggage and seat selection.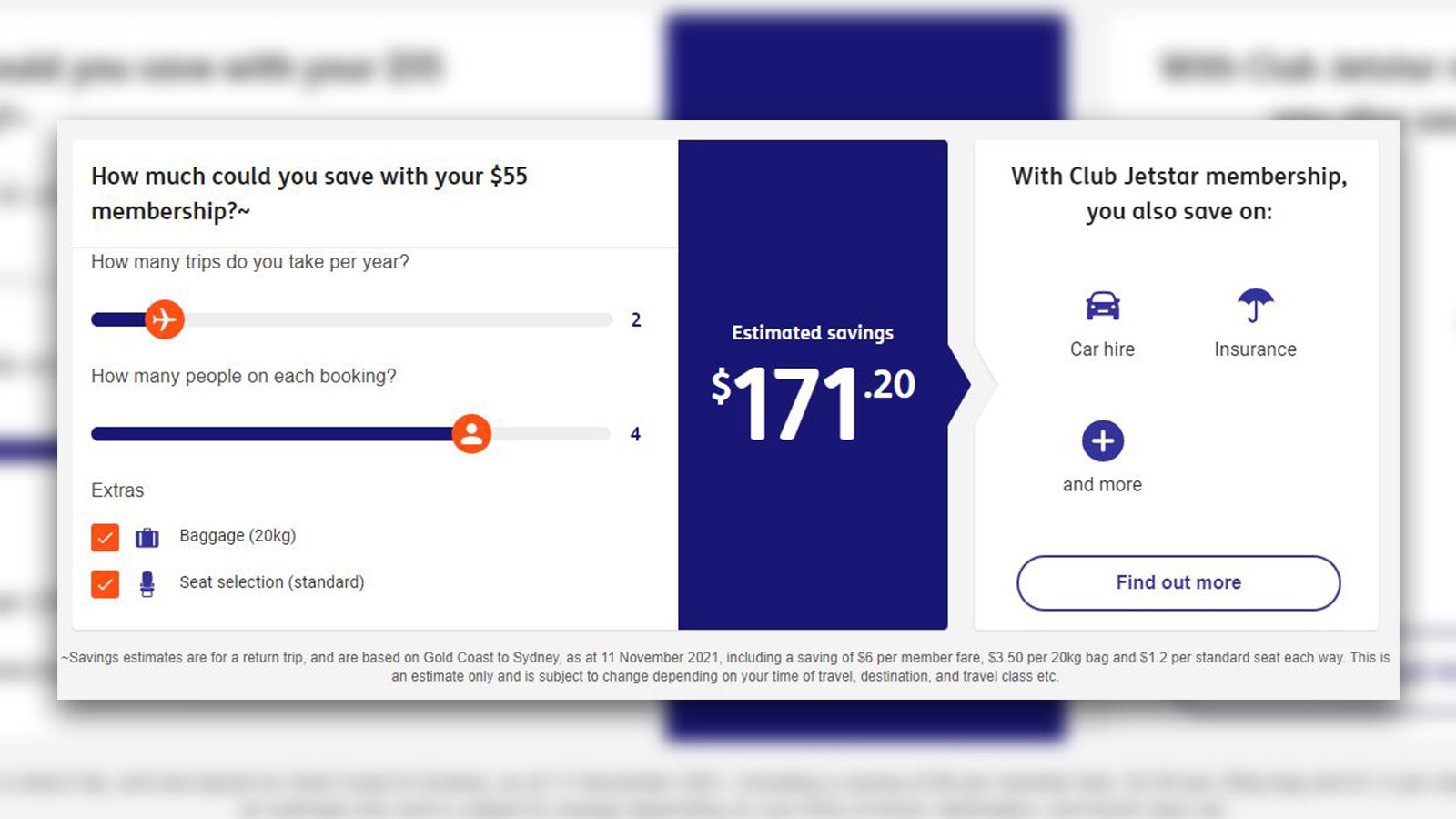 Summing up
Like any membership program, there's no one-size-fits-all solution to cater to the masses. But if you find yourself flying aboard the silver and orange carrier then the discounts on fares, baggage and seat selection, among other member benefits, can make the $55 joining fee worthwhile.
Featured image: Hendri Lidayani, Unsplash
FAQs
Is Club Jetstar free to join?
No, a one-year Club Jetstar membership costs $55.
How do I join Club Jetstar?
Simply sign up for Club Jetstar via Jetstar's website to enjoy member perks straight away. Alternatively, follow the prompts when making a booking to add a Club Jetstar membership to your cart.
The Ultimate Guide to Club Jetstar
was last modified:
October 19th, 2023
by