As I wrote about earlier, Woolworths have finally shown their hand about the new Qantas Point earning options with Woolworths Rewards – and their program is very similar to flybuys.
This means it's hard for consumers to figure out whether points earned from supermarket shopping actually matter. Let me explain why I don't think points should be a consideration in your choice of supermarket.

Worth reading for some context:
Earning points from day-to-day spend at supermarkets is not rewarding
Let's look at the points earned from a family shop over the course of year. Assume as follows:
A weekly $250 shop at the same supermarket each week equates to $13,000 on groceries over the year.
Excluding any promotional offers, this means:
13,000 flybuys or Woolworths points earned;
This is would yield a $65 shopping credit at either supermarket at the checkout
Or transfer the points to either 5,200 Etihad Guest miles or 5,655 Qantas Points
After a year's worth of shopping exclusively at one supermarket, neither amount of points is enough to buy the cheapest Economy flight between two Australian cities with either Virgin Australia (an Etihad partner) or with Qantas.
OK, let's put that thought aside – we know that playing the points game comes from compounding efforts to build your balances over time, from a range of points sources.
But still, that's a paltry number of points for a lot of effort to shop just at one retailer, regardless of which points program you prefer.
Put it this way – it could be a lot easier to buy a $250 case of wine from Qantas Epiqure to pick up 5,000 (or more!) Qantas Points than by exclusively shopping with Woolworths.
The only way to earn a significant number of supermarket points is from bonus point promotions
Anyone who has engaged with flybuys knows that they like to offer thousands of bonus points for hitting targeted promotions – these either come in your email, or on till receipts.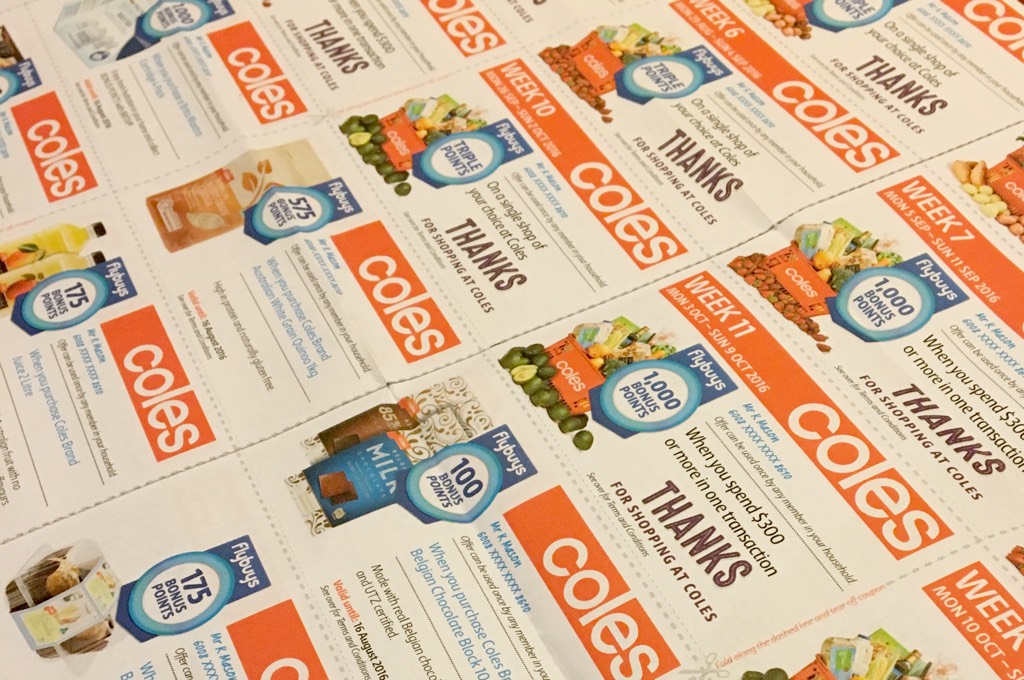 Given Woolworths has copied much of flybuys program, I think it's fair to assume they'll be doing the same, and have run similar promotions in their old rewards programs too.
As a result, the primary way to increase your points earn from supermarket spend will be from bonus point promotions like this, as well as for sampling promotions where you are rewarded for buying a specific product.
The result is that supermarket rewards programs are not loyalty programs, they are a means to gamify your shopping.
If you like spending the time playing the game to earn more points from Coles & Woolworths, and enjoy the process of doing so, then it can be a simple way to pick up more points. Go for it!
But the way to maximise your points earn from supermarkets is not through loyalty. It's the opposite.
Being disloyal to flybuys, and we will assume to Woolworths Rewards, triggers bigger bonus point promotions to bring you back.
If you don't shop at Coles or Woolworths for a while, you'll see docket deals and emails flowing into your inbox for a few thousand points here, 5x or 10x points there.
That's the opposite of rewarding loyalty – instead it becomes a game to maximise your shopping by switching retailers at the optimal time.
It's not a clear cut decision that you should use your supermarket points for travel vs using them for discounts
As I mentioned before, the value of the points returned to you is not that high. Given supermarket points are as near as good as money (in that it's likely we can use them in place of cash) and they have a confirmed, non-variable value of 0.5c per point, there is a very rational decision to make.
Should you use your points for discounts, or for frequent flyer points?
It's worth remembering that forgoing a discount in favour of points has the same outcome as buying the points directly.
Qantas Points 'bought' via Woolworths points are bought at 1.1c each – you swap $10 in Woolworths credit for 870 Qantas Points
Etihad Guest miles bought via flybuys are bought at 1.25c each – you swap $50 in Coles credit for 4000 Etihad Guest miles
The prices are comparable. The Qantas and Woolworths tie-in is a better rate, and Qantas Points are a more usable currency for the average Aussie traveller, so on the surface, that makes Woolworths more appealing.
Dig deeper though,and for both flybuys and Woolworths Rewards the rate at which you can 'purchase' frequent flyer points is getting close to the point at which it may not be worth buying.
Here's one comparison point: you can pick up a one way Business Class, East to West Coast Virgin Australia flight using 34,000 Etihad Guest Miles, which can be transferred from 100,000 flybuys points – that's a $1,500 plus flight if you bought it outright. Those same 100,000 flybuys points are worth $500 at Coles. The decision-point is which would you prefer?
Let's just conclude that it's not a clear-cut deal to use your supermarket points for frequent flyer points, and that you should think about this before you actually go ahead.
The key things to ask yourself – will you definitely be getting more value from the points than the price you are effectively paying for them? If you can confidently answer 'yes', then go for it.
Both programs put a comparable cost on earning a frequent flyer point, and both are close to the threshold to what you should pay to earn points vs earning cash.
Summing up – it's important to remember what you are trading for your 'loyalty'
You have to be a sensible consumer when it comes to supermarket points programs. By remaining loyal, you are choosing to prioritise points over convenience, price, or product choice.
Given this, I see there are a couple of different 'right ways' to work with the supermarket programs as they currently stand:
Gamify the hell out of them – don't be loyal; switch supermarkets frequently for the bonus points; and use multiple accounts if you do shop at the same supermarket brand.
Be uninfluenced: treat any points earned from supermarkets as a top up, being super-strong about not letting any promotions sway your purchase decisions
The alternative is that you remain totally loyal and committed to a supermarket thinking that the points you are earning from your shopping each week are going to add up to something significant in the not too distant future.
Doing so, you'd trade off the option to shop at small independent stores or markets, because you wouldn't be earning points. And that would be foolish, as I don't see the rewards from supermarket programs being strong enough to warrant loyalty.
What about me?
I'm in the second camp – I try as hard as possible to be uninfluenced by points from supermarket programs. I don't shop at Woolworths, even though I'd prefer Qantas Points over flybuys. Why? Because visiting Coles is more convenient in our daily life.
I also rarely receive or meet the targets on flybuys promotion offers. Why? Because I don't spend enough in single shops at Coles, instead preferring to shop at a range of other retailers, and topping up our groceries every few days at Coles.
I am not saying you shouldn't earn points at all. As long as you don't mind Coles or Woolworths knowing your buying habits, go for points – just don't expect to earn many unless you treat the whole system as a bit of a game.
I have a growing flybuys balance, but I don't know how I'll use it yet. When it comes time to book a flight that might make sense using Etihad Guest miles I'll strongly consider transferring my flybuys points over, but will only do so if it makes sense to not take the grocery discount instead.
But I might equally take a discount off our groceries, or a hotel booking through flybuys travel instead.
And let's not talk about fuel. I'll come to that in another post.
Do you agree? What's your strategy for earning and using supermarket points?
Your supermarket choice shouldn't be influenced by earning frequent flyer points
was last modified:
May 3rd, 2019
by