Formerly known as Asia Miles, Cathay Pacific's loyalty program is now simply 'Cathay'. Better yet, members can buy Cathay miles to help secure their dream flight, whether that's on Cathay Pacific or a whole host of partner airlines. Here's the drill.
How do I buy Cathay miles?
Unlike many other frequent flyer programs, Cathay Pacific doesn't sell its miles in bulk. But there are still ways to buy Cathay miles to a limited degree.
One option is to buy miles directly via the Cathay program. You'll only be able to purchase miles as part of an award redemption. That is, to top-up your balance to achieve a particular booking goal. You can't simply buy a stash of miles and keep them parked in your account for a rainy day.
To buy Cathay miles, you'll need to tick all of these boxes:
You already have at least 70% of the miles needed to secure your chosen reward.
Miles purchased cannot exceed 30% of the total miles required for that booking.
You're ready to make that desired flight booking, or splurge on a 'lifestyle' redemption.
For award flights, there's reward seat availability on the flight(s) and date(s) you wish to travel.
Miles can only be purchased as part of the checkout process for any given reward.
Miles are only sold in blocks of 2,000.
When buying Cathay miles for a specific reward, your remaining mileage balance cannot exceed 2,000 miles after booking that reward.
Any miles purchased are non-refundable.
If you are able to abide by these rules, the program charges US$60 per 2,000 Cathay miles. That's about AU$92.50 for every 2,000 miles purchased, putting the 'cost per mile' at around 4.625c (AUD).
This isn't one of those times where buying miles can realistically unlock 'lower-priced' travel. But if you have most of the miles needed for an award flight and are just a few thousand short, buying miles as a top-up could be better value than having to pay full fare for a ticket.
Buying Cathay miles for flight bookings
Let's say you want to book Cathay Pacific from Sydney to Hong Kong. A one-way Business Class flight costs 45,000 Cathay miles (plus taxes and fees) when there's an award seat available.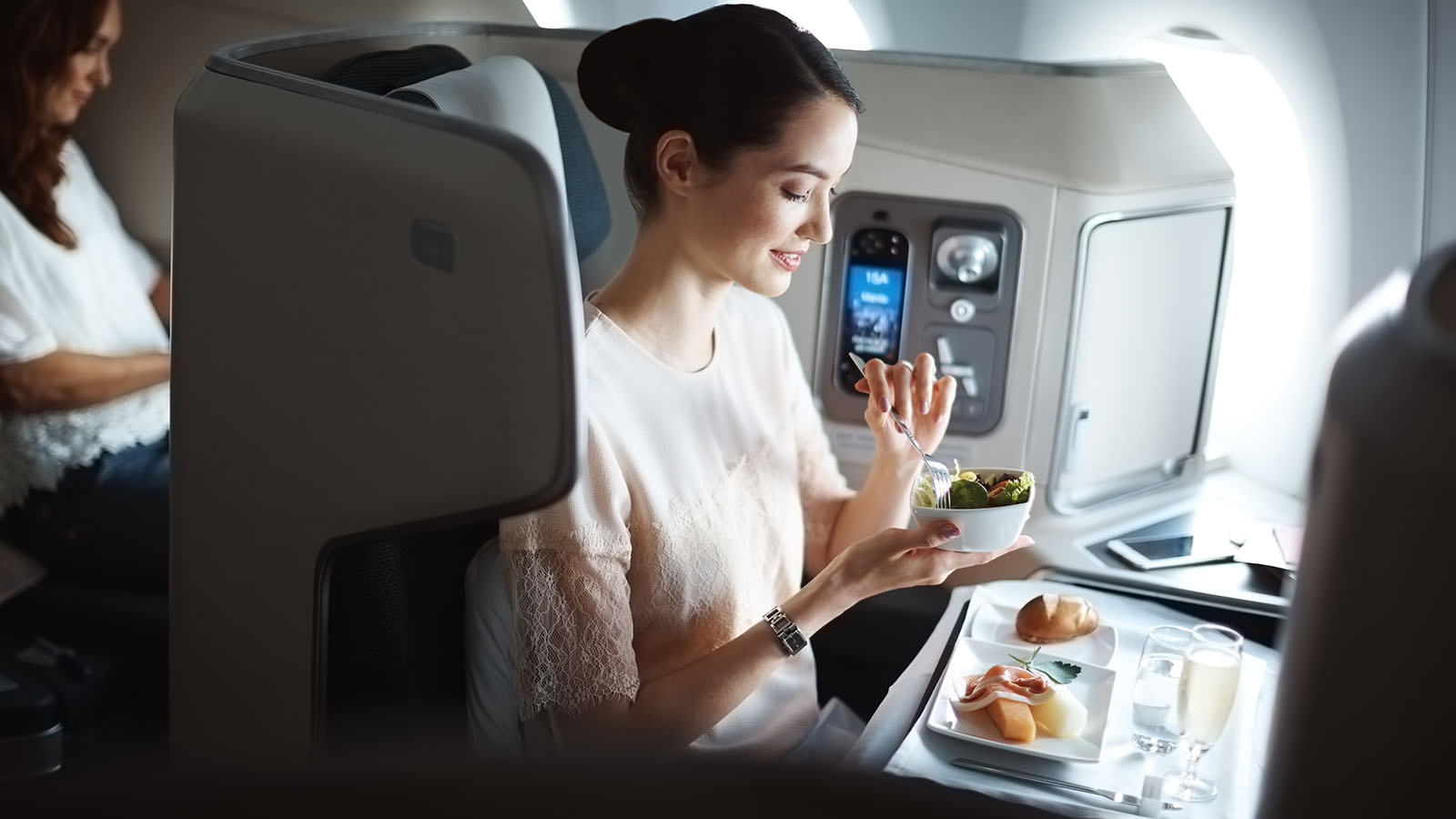 Given you need at least 70% of the miles in your account to purchase a top-up, having a balance of at least 31,500 Cathay miles is a good place to start. But at the same time, you can't buy more than 30% of the miles needed for any given award.
Of course, 30% of 45,000 is 13,500. But that's the most you can buy – and remember, Cathay only sells miles in chunks of 2,000. Rounding up to 14,000 would put you over that 30% maximum, so you have to round down. That reduces the maximum purchase on this award to 12,000 miles.
As a result, you'd really need a starting balance of at least 33,000 Cathay miles for this particular itinerary. That would keep you within the 'at least 70% of the miles' rule, as well as the 'not buying more than 30%' policy.
With 33,000 Cathay miles in your account, buying those missing 12,000 miles costs US$360 (AU$554.50). Again, it's not fantastic value – but it's an option all the same, and one that could still get you flying up the pointy end at a reasonable price.
Transferring points into Cathay miles
As an alternative to buying Cathay miles, you may be able to transfer points from elsewhere. This could help you avoid the need to buy miles at all, or reduce the number that you need to buy.
Here are some of Cathay's most notable and beneficial points transfer partners in Australia:
Depending on the program, you may need to convert a minimum number of Cathay miles with each transaction.
Where can I go with Cathay miles?
As we've looked at above, you can of course spend your Cathay miles on Cathay Pacific flights. But you can also use them to book flights with any other oneworld Alliance member.
In Australian skies alone, that covers American Airlines, British Airways, Japan Airlines, Malaysia Airlines, Qantas, Qatar Airways and SriLankan Airlines. Further afield, airlines like Finnair and Iberia can also prove useful, as can Royal Air Maroc and Royal Jordanian.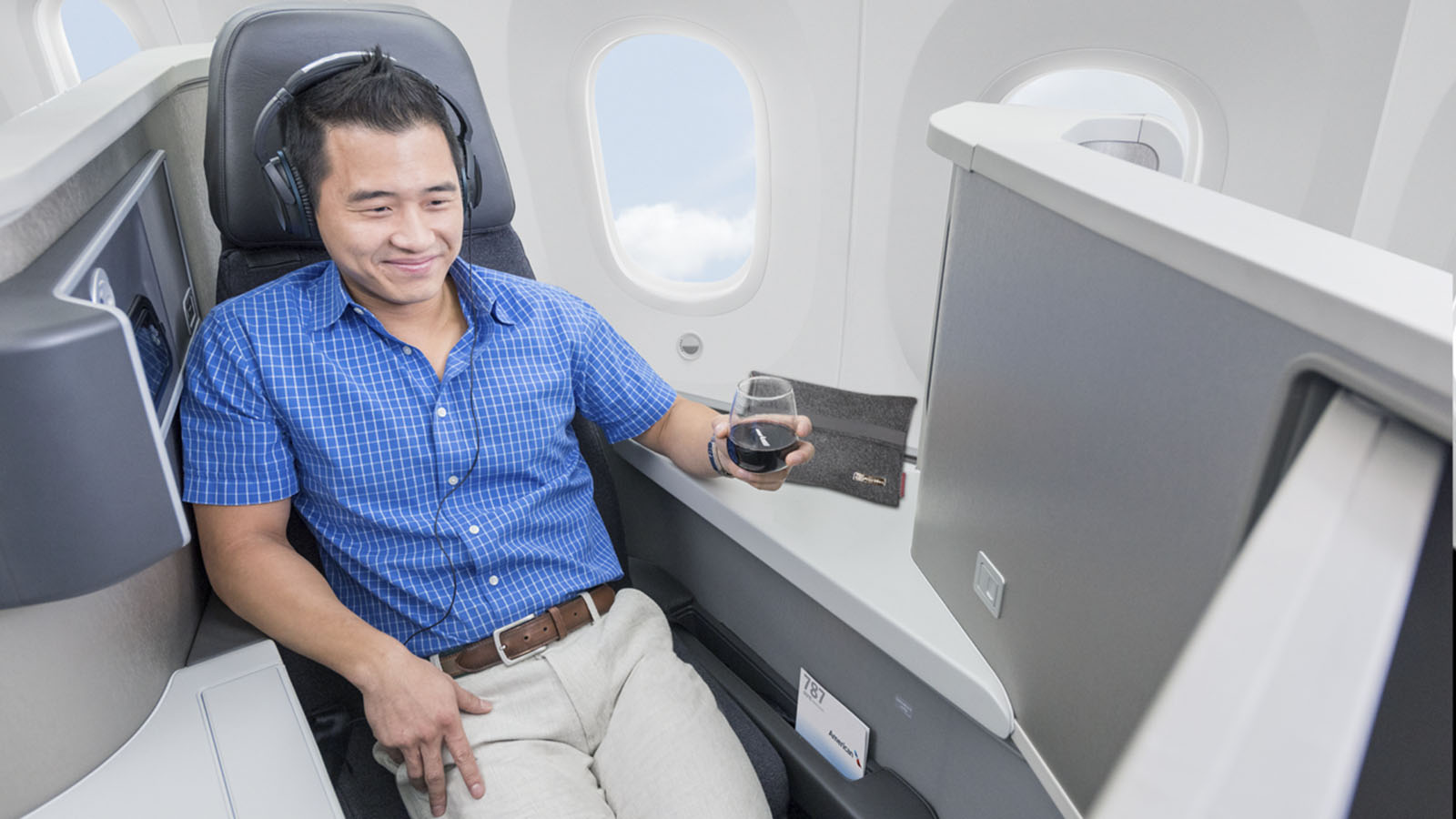 But the Cathay program counts many other airline partners on which you can spend miles.
Air Canada, Air China, Air New Zealand, Austrian Airlines and Bangkok Airways are some of your many options – and that's only 'A' and 'B' of the alphabet. You can also redeem on Fiji Airways, Gulf Air, LATAM, Lufthansa, Shenzhen Airlines and SWISS.
Here are a few highlights where the rates can be competitive.
| | | | |
| --- | --- | --- | --- |
| Airline | Route (one-way) | Economy Class | Business Class |
| Qantas | Sydney, Melbourne or Brisbane to Perth | 15,000 miles | 30,000 miles |
| British Airways or Qantas | Sydney to Singapore | 27,000 miles | 61,000 miles |
| Bangkok Airways | Bangkok to Malé (Maldives) | 15,000 miles | 30,000 miles |
| Fiji Airways or Qantas | Sydney to Nadi | 15,000 miles | 30,000 miles |
| LATAM or Qantas | Sydney to Santiago | 40,000 miles | 75,000 miles |
| Malaysia Airlines | Perth to Kuala Lumpur | 15,000 miles | 30,000 miles |
As with all reward flight bookings, taxes, fees and charges are payable in addition to the miles required.
You can check how many miles you'd need for most Cathay Pacific and partner flights via this page of the Cathay Pacific website.
Summing up
Buying Cathay miles isn't something that would suit most travellers. The high cost of purchasing them, combined with the restrictions in doing so make the concept largely unappealing for those who habitually purchase miles.
But buying miles still has its place with Cathay. It's good to know you have the option – and if you are a few miles short of your dream flight, topping up is straightforward… Once you have your head around the rules, of course.
It also means you can snap up that perfect reward seat right then and there, while you know that flight is available for booking using points. Waiting days for points to transfer from other programs could see the option vanish.
But the best option of all with Cathay is to be organised and get miles into your account before it's time to book. Then you'll be ready to pounce when the perfect travel opportunity comes up.
Frequently asked questions
Can you buy Cathay miles?
Yes, you can buy Cathay miles in limited quantities. You'll pay US$60 per 2,000 miles, but can only buy miles when directly redeeming for a reward.
How long are Cathay miles valid?
Cathay miles now expire after 18 months of inactivity. By simply earning or spending miles at least every 1.5 years, your balance of miles will never vanish. Some transitional arrangements apply to miles earned during 2019 and earlier.
Has buying Cathay miles helped you secure a reward flight? Share in the comments below!
---
Stay up to date with the latest news, reviews and guides by subscribing to Point Hacks' email newsletter.
How to buy and use Cathay miles
was last modified:
December 7th, 2022
by