One of the hardest things to get your head around when looking at rewards and frequent flyer credit cards is exactly how many cards are out there on the market and how many points they will actually earn when you use them.
I've spent (quite literally) days compiling this master resource to help – note, you'll need to be Point Hacks Community member to gain access..
The table has a large amount of the data you might want to know to effectively select a credit card that suits your own personal spend habits. For those working through the 'Earning more points from your credit card' email course, I hope this will become invaluable in a few weeks.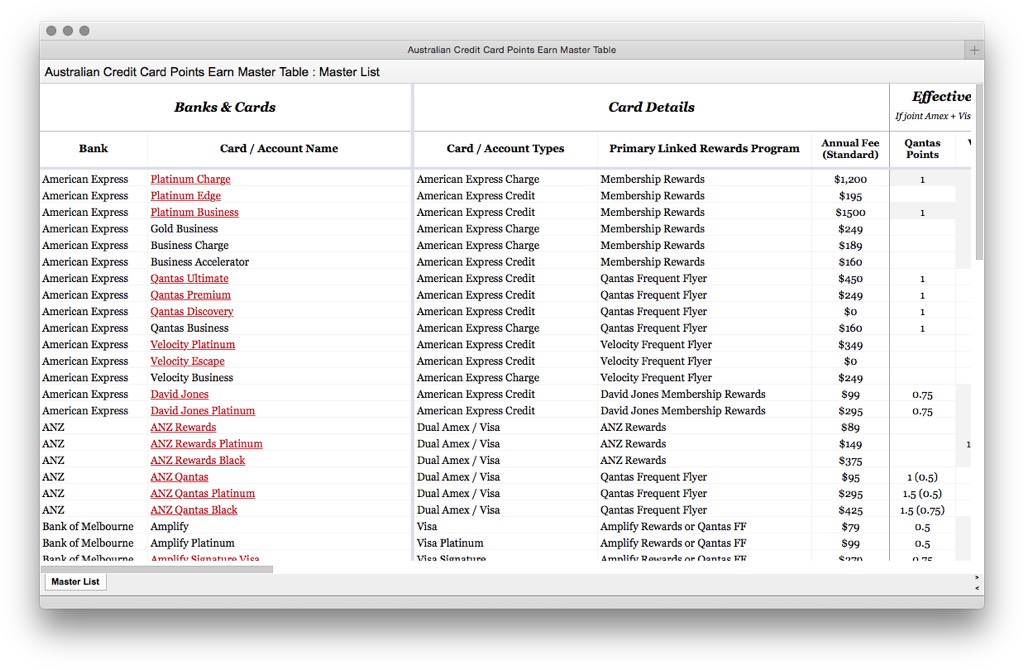 This is what is covered off:
Issuing bank and card or account on offer
Card types (American Express, Visa, MasterCard) – and their different flavours, e.g. Visa Prestige or World MasterCard
Standard annual fees
Effective earn rates per $ – factoring in transfer rates to partner programs and earn rate on the card
The full set of frequent flyer or hotel program transfer partners for each card
Bonus point categories on spend – e.g overseas transactions, with airlines
Work in progress – whether the card issues points on ATO transactions
Points caps – what cap is in place on the card and how many points you'll earn once you exceed it
Airline lounge access benefits – whether any are offered
What it doesn't include:
Current bonus or sign up offers – points or discounted annual fees
Any existing transfer offers, such as the 15% bonus to Velocity that runs every so often
If you have ideas for any more comparison points that are essentials, add a comment and I'll get them added in.
Hope you find it useful!
New Point Hacks Community resource – the ultimate credit card master comparison table for points collectors
was last modified:
March 13th, 2019
by