When it comes to flying in Australia, does it make sense to buy miles and redeem tickets on Qantas or Virgin Australia Business Class?
In this guide, we compare four programs: Etihad Guest, Alaska Mileage Plan, American Airlines' AAdvantage and British Airways' Executive Club.
Etihad Guest allows you to redeem flights on Virgin Australia, whilst Alaska Mileage Plan, AAdvantage and British Airways programs allow you to redeem flights on Qantas.
There are in-depth guides to buying miles in each program here:
---
Further reading about buying points
If you're new to all this, it might make sense to read some of Point Hack's intro guide on buying points or miles for cheaper premium flight redemptions.
Buying miles to redeem for domestic Business Class in Australia
When you look at buying points to redeem for flights there are a number of factors to consider, including:
Class of travel (Economy or Business)
Distance, duration of your flight
Availability of reward seats
Remember that it is also important to factor in currency exchange rates as well given that these programs sell their miles in US Dollars or British Pounds. Our weak AUD (as of mid-2019) means these purchases of miles will cost more for Australians overall.
1. Consider the class of travel
First, the best value use for purchased points/miles is for Business Class travel and not Economy – just as it is for most points redemptions. This is because Economy fares are generally cheaper to purchase outright on the airline's website.

Having said that, during peak periods, some Economy Class tickets could fetch more than $1,000 so it's still worth keeping the option in mind, only if reward seats are still available (often they won't be though).
2. Consider the duration of the flight
Secondly, look at the distance of your flight. Unlike Qantas and Virgin Australia, which price redemptions by distance brackets, Alaska MileagePlan and AAdvantage award charts are region-based.
On the AAdvantage partner award chart, redeeming points for a business class ticket would cost you the same amount of points for a Sydney to Melbourne flight as it would for Sydney to Perth flight, even though the latter might be three times as long and with better lie-flat Business Class Suites.
With Etihad Guest and British Airways, rewards are priced within distance brackets, so longer flights will require more miles to redeem.
3. Consider reward seat availability
Finally, availability – some routes are just more popular than others. You also have to be realistic with your expectations and flexible with travel dates and times. Make sure to research whether there's availability for your intended travel dates before you jump in and make a miles purchase. Read our guide on how to search for frequent flyer award space here.
Some programs, like Etihad Guest, also have restrictions on how last-minute you can make your redemptions (in this case, it's 14 days prior to travel).

Etihad Guest miles for redemptions on Virgin Australia
You can buy a maximum of 100,000 Etihad Guest Miles per year (not including bonuses), with a maximum of 60,000 miles per transaction. The usual cost is $0.02 USD per mile, or $20 USD per 1,000 miles. See the latest Etihad Guest deals here.

When there is a purchase bonus offer on, you can sometimes get value as low as 1.54 cents (USD) per mile, such as when there was a 30% more miles bonus on purchases.
| Route (Business Class one-way) | Etihad miles required | Cost in taxes ($USD) | Total cost $USD (points + taxes), no discount | Approx cost of paid ticket ($AUD) |
| --- | --- | --- | --- | --- |
| VA: Sydney to Brisbane, Melbourne | 13,800 | ~$20 | $300 USD/ $330 AUD | $650 AUD |
| VA: Sydney, Melbourne, Brisbane to Perth | 33,800 | ~$20 | $700 USD / $1020 | $1899 AUD |
The rates in this table are assuming no discounts and are correct as of September 2019. With a 'buy miles' promo of 20-30% bonus, you could be getting a short Sydney-Melbourne Business Class flight for under $350 AUD or Melbourne-Perth for $790, which is much cheaper than the cash rates.
Ad – Scroll down to continue reading.Minimum spend, terms & conditions apply.
Alaska Mileage Plan
Mileage Plan has sales a number of times a year, selling points in blocks with a maximum bonus of up to 50%. The program now has a cap of 150,000 miles purchased per year, unless you happen to be an elite member of their program. Additionally, one credit card can only make four purchases every 30 days.
With a 50% bonus, you can purchase a total of 60,000 + 30,000 bonus Mileage Plan miles for US$1,773.75, equating to ~1.97 US cents per mile.
MileagePlan has a region-based redemption chart, so regardless of the distance you fly, it's a flat rate "Intra-Australia" award, which is 12,500 points one-way in Economy or 20,000 for Business.
| Route (Business Class one-way) | Miles required | Cost in taxes ($USD) | Total cost $USD (points + taxes), no discount | Approx cost of paid ticket ($AUD) |
| --- | --- | --- | --- | --- |
| QF: Sydney to Brisbane, Melbourne | 20,000 | $26 | $576 USD / $840 AUD | $799 |
| QF: Sydney, Melbourne, Brisbane to Perth | 20,000 | $26 | $576 USD / $840 AUD | $1,899 |
If there's a 50% bonus offer (1.97 US cents per mile), you could get the above redemptions for $420 USD / $610 AUD including all taxes and charges for a one-way Business Class flight.
With a Sydney-Melbourne flight costing the exact same as a Sydney-Perth flight (thanks to region-based pricing), Alaska MileagePlan makes the most sense for those longer flights.
It is even better for someone who needs a one-stop domestic flight, as the price remains 20,000 miles in Business Class with slightly higher taxes (such as Hobart to Perth via Melbourne).
When booking an Alaska MileagePlan redemption which involves stops, make sure that the redemption does not have a "chair icon" next to the cost of taxes as this indicates that it is a mixed cabin booking where one leg has an economy class seat (like the example above).
American Airlines Advantage
American Airlines lump Australia, Easter Island, Fiji, French Polynesia, New Caledonia, New Zealand, Papua New Guinea, Republic of Tonga, Western Samoa as one zone – South Pacific.
This means it is a flat rate redemption for flights on Qantas, LATAM or Fiji Airways between all those cities. You can buy a maximum of 100,000 AA miles per calendar year (not including bonuses) and it has regular sales throughout the year.
Despite the higher cost and due to the annual cap, it is best to buy miles during a bonus sale rather than a discount sale promotion. Let's look at recent promos to compare the difference –
| Example promotion | Cost per mile ($USD) | Total cost ($USD) | Total points |
| --- | --- | --- | --- |
| 35% discount | 2.09 cents | 2091.31 | 100,000 |
| 56% bonus (90-100k miles purchased) | 2.06 cents | 2884.13 | 140,000 (90,000 + 50,000 bonus) |
Now let's look at awards:
Route (Business Class one-way)
Miles required
Cost in taxes ($USD)
Total cost $USD (points + taxes), assuming 2c/p
Approx cost of paid ticket ($AUD)
QF: Sydney to Brisbane, Melbourne
20,000
$14
~$414 USD / $602 AUD
$799
QF: Sydney, Melbourne, Brisbane to Perth
20,000
$14
~$414 USD / $602 AUD
$1,899
QF/LATAM: Sydney, Melbourne, Brisbane or Perth to New Zealand
25,000
$90
~$590 USD / $860 AUD
$899 (SYD)
$1,500 (PER)
There are some good savings to be had, especially the Perth to New Zealand direct on Qantas (seasonal Airbus A330 service) costing the same as the much shorter Sydney/Melbourne/Brisbane to New Zealand.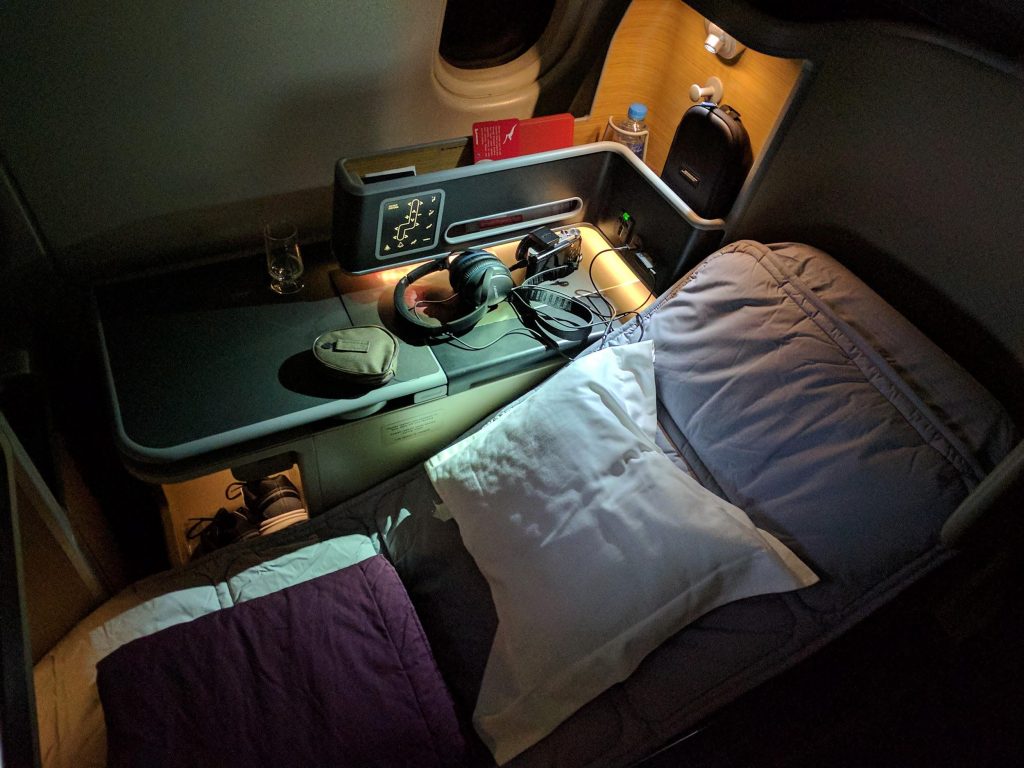 British Airways Avios
British Airways Executive Club program is a useful addition to AAdvantage as the primary value to be had with them is for more expensive short flights – either in Economy or Business Class.
Sydney to Melbourne, for example, prices at 12,500 Avios one-way in Business Class, which if bought during bonus miles promotions could have you sitting in domestic Business Class for ~$350 depending on the exchange rate.
| Route (Business Class one-way) | Avios required | Cost in taxes (£GBP ) | Cost in taxes £GBP (points + taxes), no discount | Approx cost of paid ticket ($AUD) |
| --- | --- | --- | --- | --- |
| QF: Sydney to Brisbane, Melbourne | 12,500 | £21 | £221 GBP / $400 AUD | $799 |
| QF: Melbourne to Perth | 22,000 | £21 | £373 GBP $680 AUD | $1,899 |
| QF: Sydney, Brisbane to Perth | 38,750 | £21 | £641 GBP / $1,170 AUD | $1,899 |
These figures are without discounts, so the total cost should be even cheaper when there are promotions. As you can see, using Avios gives the opposite value compared to Alaska MileagePlan or AA – longer flights are worse value compared to shorter flights.
This is especially true for flights from Sydney and Brisbane to Perth, which are nearly double in Avios cost as Melbourne to Perth, presumably as they fall into a higher distance bracket (BA don't publish reward charts, so this is speculation).
If you don't have enough Avios, you may be able to pay more in fees and less in points, although the value overall starts to suffer.

Qantas and Velocity points and status
It's worth remembering you won't earn any points or status credits for Qantas or Virgin flights booked using partner miles.
However, you will be able to use any existing status benefits such as lounge access (or Qantas Club) on your ticket – just call Qantas or Virgin to have them update your ticket with your frequent flyer number to your ticket once you have made the booking (or do it online through 'Manage Booking').
Summing up
There's some excellent value to be had by purchasing miles for Domestic Business Class in Australia, with the sweet spots appearing mostly for longer flights from Perth (some good news for Western Australians for once!).
In summary, those longer flights on Qantas are best booked through Alaska Airlines MileagePlan or American Airlines AAdvantage, depending on which has the better purchase deal at the moment.
Shorter QF flights are best through British Airways Avios, while Etihad Guest provides more value redeeming for shorter Virgin Australia flights (although longer Perth flights aren't too bad value either).
You'll probably need to value the comfort of travelling in Business Class for these flights over Economy, as the cost is usually going to be higher than paying for a discounted Economy fare.
This content contains affiliate links from which Point Hacks may earn commissions from transactions generated from new customers, bookings and general enquiries. Find out more here.
How to buy miles and points to redeem for cheap domestic Business Class travel on Qantas and Virgin Australia
was last modified:
November 30th, 2021
by