Zip Pay and Zip Money are both increasingly popular services for people to buy things now and pay it off later without interest. While those 'things' are typically physical products, travel experiences are slowly becoming more available too.
Unlike its rival AfterPay, which breaks transactions down into four fortnightly instalments, Zip lets you carry the whole balance over and pay it down as it suits you. There is no interest charged most of the time, but expect a $6/month account fee if you carry a balance, and more fees if you miss the minimum monthly payments.
Not many travel providers currently offer Zip as a payment method. We highlight the handful that do, just in case booking your next trip through Zip is something you want to do.
What is Zip?
Zip is a payment platform that offers consumers the ability to buy now and pay later, usually with no interest charged. Fees and minimum repayments do apply though. In a nutshell, there are two types of Zip payments:
Zip Pay: Under $1,000 limit. No interest or establishment fees
Zip Money: Over $1,000 limit. Establishment fees may apply, and there is a minimum 3-month interest-free period on all transactions before interest may start to be applied
Both accounts require a minimum of $40/month repayments, plus charge a $6/month account fee which is waived if you have no balance. Both services also usually conduct a credit check on your file upon sign-up, so keep that in mind.
Using Zip with AirAsia
Much like Jetstar is the only airline to offer Afterpay, AirAsia is the only airline to offer Zip payments for flights originating from Australia.
A possible explanation for this is low-cost carriers usually have simpler and newer booking systems than older legacy airlines, so these payment methods are more easily integrated.
As long as you have enough balance in your Zip Pay (under $1,000) or Zip Money (over $1,000) account, then eligible airfares can be charged to your account to be paid off gradually.
Of course, now is probably not the best time to be booking international flights with a low-cost carrier, but keep this option in mind for down the track.
Ad – Scroll down to continue reading.Minimum spend, terms & conditions apply.
Using Zip with TripADeal
There are no dedicated hotel booking channels that offer Zip as a payment method, but TripADeal does curate a list of tours and escapes which might be perfect for an intra-state getaway if travel restrictions allow.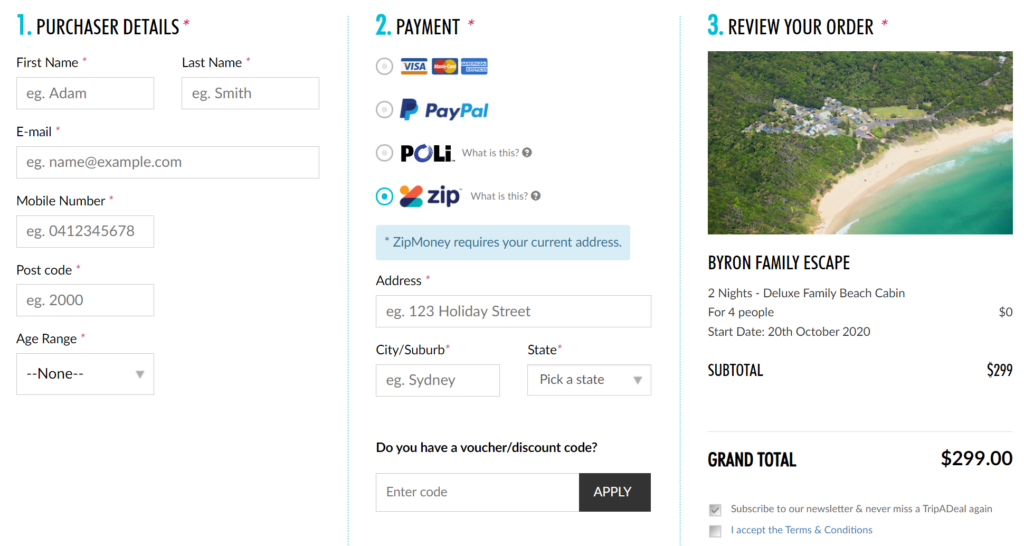 Although multiple references are made to 'Zip Money' on the website, those with the lower-limit 'Zip Pay' accounts should still be good to checkout.
Using Zip with Contiki
Contiki tours don't strictly fall into 'flights' or 'accommodation', but it's worth mentioning for the younger readers out there who are itching to travel. Australian domestic tours are available for booking over the 2020/2021 summer holidays.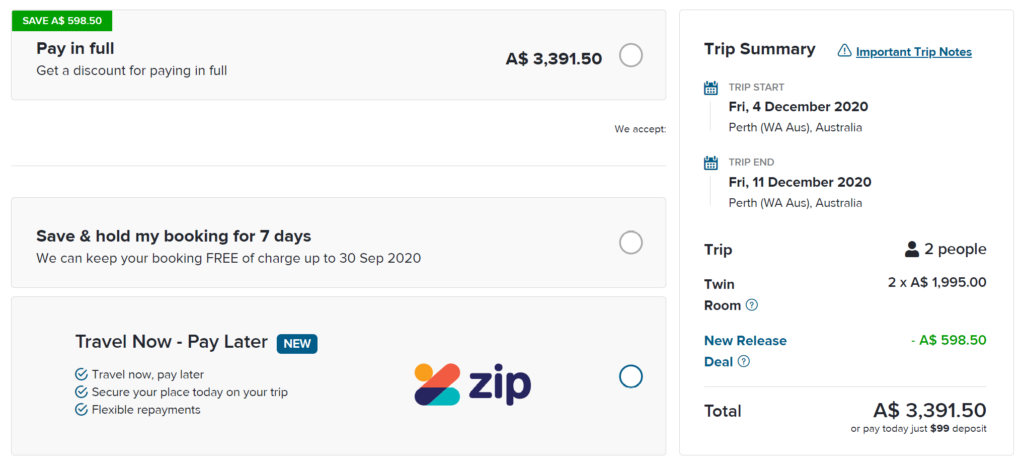 Note this option may not be suitable for everyone as Contiki tours tend to be quite expensive, and Zip does not always grant a high spending limit initially.
Summing up
Using Zip to travel now and pay later might work out for some people, though you would have to be quite a responsible spender and committed to paying it off as quickly as possible to avoid account fees building up.
As this is Point Hacks, we would be amiss to not point out that you can still earn rewards points on Zip transactions, as long as you're paying off the balance with a points-earning credit card.
But if you can avoid using services like Zip and Afterpay where possible, it's likely going to be better for you financially in the long run, but as always, make sure to speak with a financial professional if you are unsure about what will best suit you.
Nearly all credit cards already offer up to 55 days interest-free on purchases, which should be enough for most people to pay the balance off.
Point Hacks has no affiliations with Zip.
How to use Zip to book flights and accommodation
was last modified:
September 28th, 2020
by