AfterPay is an increasingly popular buy-now-pay-later service which, if used correctly, could be a way to break bigger purchases into smaller and more manageable chunks.
Recently, AfterPay also inked up a temporary agreement with Qantas Frequent Flyer to offer members the ability to earn up to 5,000 Qantas Points with eligible spend through AfterPay.
While AfterPay is quite prominent in the retail space, it's yet to make much of a splash with the travel industry — one factor being the complexity of flight and hotel booking systems.
However, there are a few places where you book flights or accommodation and split the bill into four fortnightly instalments.
Using AfterPay with Jetstar Australia
Budget carrier Jetstar is the only airline in Australia to natively offer AfterPay through its own website. However, there are some catches to be aware of:
A 1.5% payment fee is charged for AfterPay (compared to 0.99% for credit cards including American Express)
Flight itineraries must be booked at least 48 hours in advance and not exceed A$2,000 including the payment fee.
Valid on Jetstar Australia (JQ) domestic and international flights departing from Australia.

Book Jetstar Australia flights here →
Using AfterPay with Agoda
Hotel aggregator Agoda now offers AfterPay with the majority of properties on its website. Just keep an eye out for the AfterPay logo at the checkout. You will need to pay in advance, of course, as it's not possible to use AfterPay when paying the property at check-in.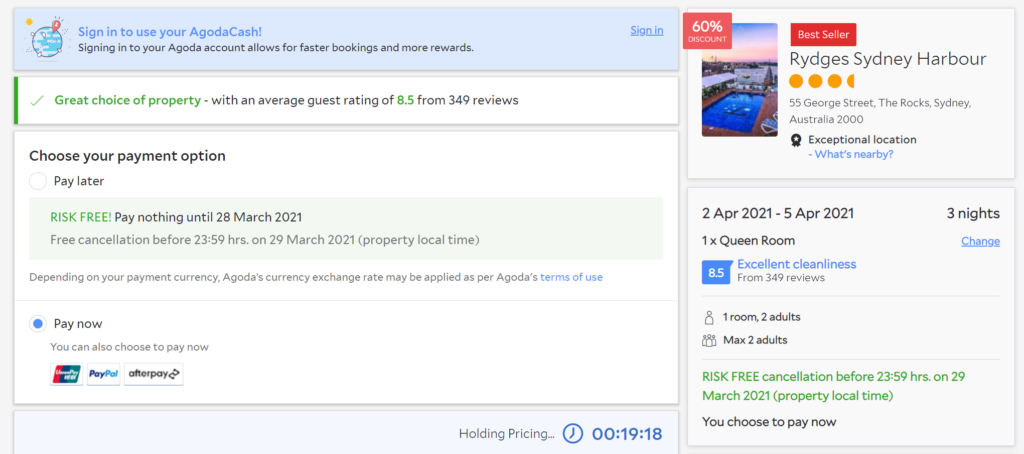 Be sure to the check out the Agoda AfterPay landing page to see if there are any specific offers to use AfterPay, such as a global 10% discount that was offered in August 2020.
Ad – Scroll down to continue reading.Minimum spend, terms & conditions apply.
Using AfterPay with Webjet
Want to put general flights and accommodation onto AfterPay? You can do that in one package with Webjet. The T&Cs indicates that just a few basic criterion have to be met:
Available on flights, hotels and package bookings up to A$3,000
Not available on car hire or stand-alone insurance
Valid for Australian residents over the age of 18 with a current Australian credit or debit card
However, note that Webjet charge the following fees per flight bookings, so be sure to compare with other alternatives if you want to avoid extra fees:
Varying payment fees are included in the price breakdown on Webjet's checkout page, once your payment method has been selected.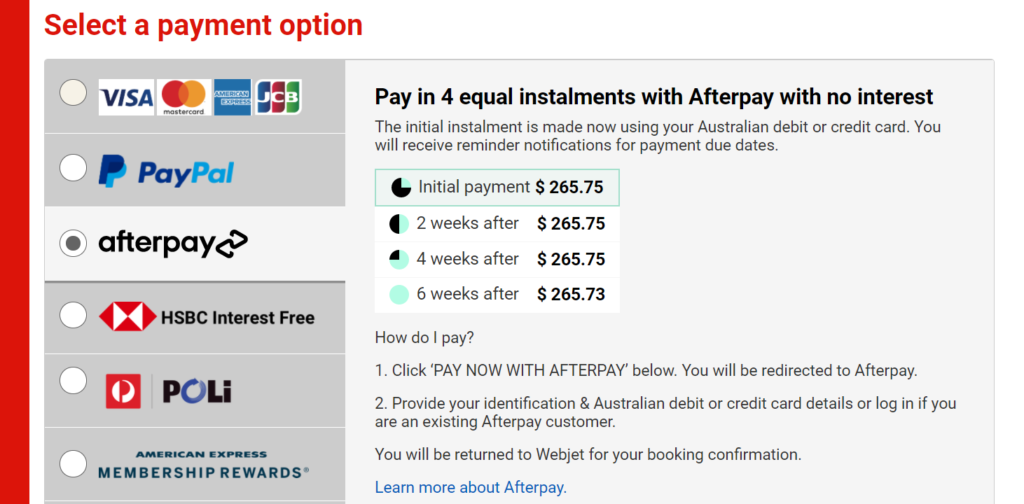 Using AfterPay with Play Travel
Rounding up the list, Play Travel is a new travel service by AfterPay. It doesn't use the traditional four fortnightly instalments structure — rather, you pay over weekly or fortnightly interest-free instalments instead, spanning 2 to 12 months depending on the booking date.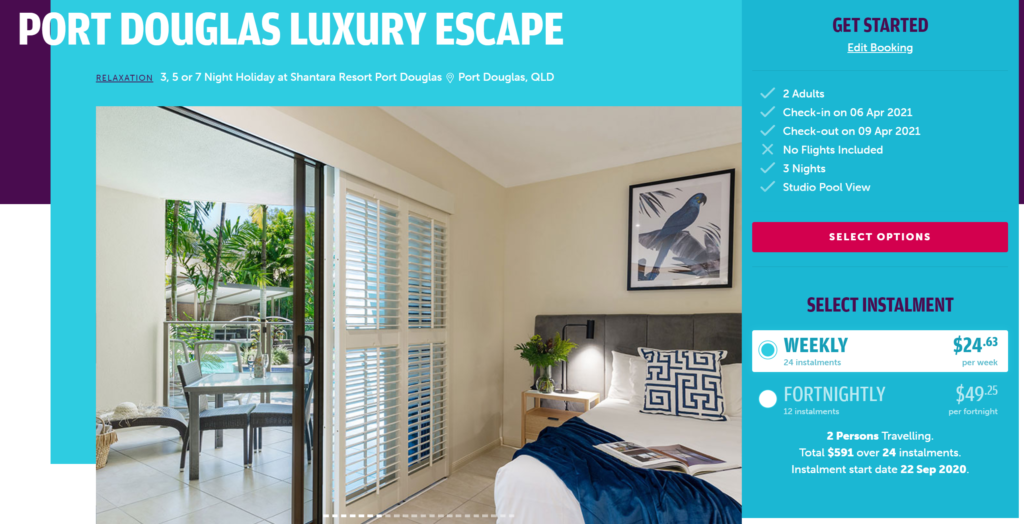 At this stage, Play Travel is only offering hotels, tours, campervans and cruise bookings through its online portal. Start by searching for your desired stay dates as usual, then proceed with one of the payment options.
The main differences in making a booking with Play rather than checking out with AfterPay is:
You don't need an AfterPay account to book with Play
American Express cards are accepted for payment
There are different fees and policies regarding missed payments
Also, be aware of the following caveats when booking with Play:
Flexibility for most trips is limited to a 30-day cooling off period, where you can cancel for no charge
A retail markup is applied to the packages through Play, compared to if you sourced it from other channels
Curious to find out more? Book with Play Travel here →
Summing up
There's no denying that services such as Afterpay are reshaping the way consumers spend. Traditionally, the travel sector has been resistant to such changes, but this is slowly changing.
Being able to pay off large holiday bills in instalments may be beneficial for some people in certain circumstances. But it could equally become a deep hole for those who can't afford the repayments, especially since credit checks are not always performed.
Another downside of using AfterPay is that higher fees are levied in most cases, compared to paying outright with a card. This is usually to cover the costs of that service provider using AfterPay.
Overall, AfterPay is a good option to keep up your sleeve, particularly if you're earning bonus Qantas Points on top. But if you have the capacity to pay for travel the usual way, your finances might be better off because of it.
Point Hacks has no affiliation with AfterPay.
How to use Afterpay to book flights and accommodation
was last modified:
May 26th, 2022
by