Etihad unveiled their new A380s and 787s in 2015, with the Australian market one of the first to receive service to and from Sydney, Melbourne, Brisbane, Perth and Abu Dhabi.
Etihad also recently announced it would be upgrading Paris to an A380 service from 1 July to 28 October 2017 at the least, which is a great win for (usually) additional award space, plus access to First Class Apartments.
Despite the high costs in both points and taxes, Etihad remains an appealing and somewhat unique way to redeem Velocity Points thanks to its modern Business & First Class cabins.
In this guide, we get into the details of how to redeem your Velocity Points with Etihad – costs, researching availability, and how to book.
When and why should you use your Velocity Points to travel with Etihad?
In 2016, we suffered a few changes to Etihad's service and the way we can redeem Velocity points for Etihad Business & First Class – firstly, Velocity's revision of its award chart increased the costs in points along with hundreds of dollars in additional fees.
Etihad announced that they would stop operating a three-class 787 with First Class to Brisbane but also launched A380 service to Melbourne.
However, as the Gulf carrier with the newest inflight cabins across the board (bar Qatar's A350 service to Adelaide), and arguably more taste than the bling of Emirates, using your hard-earned Velocity points to experience their Business Studio or First cabins is still desirable – but how much depends on your preference for flying with Etihad.
This guide goes into more detail on the sweet spots of the Velocity award chart that allow you to book Etihad's First and Business Class cabins, but it's worth noting now that Velocity's Etihad redemptions now come at a premium versus Velocity's other major partner Singapore Airlines – but that's only really relevant where your end destination overlaps.
---
Etihad's route network to/from Australia, the US and Europe
The primary use for Etihad redemptions would be to travel from Australia to Abu Dhabi and the Middle East, and then on to Europe or the USA.
Focusing on these continents, Etihad flies to these cities when it comes to Etihad-operated flights: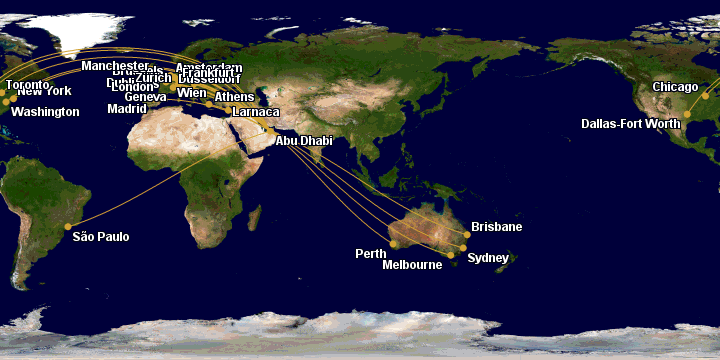 In Europe, that's to Amsterdam, Athens, Brussels, Dusseldorf, Dublin, Frankfurt, Geneva, Larnaca, London, Madrid, Manchester, Vienna and Zurich.
As of March 2017, Etihad operates its updated Business Studios and First Apartment cabins on the following A380 routes:
Sydney
Melbourne
New York
London
Paris (seasonal service from 1 July to 28 October 2017)
Mumbai (until 30 June 2017)
The airline operates the following Boeing 787 routes with the new Business Studios product as well as First Class (not Apartments):
Washington Dulles
Zurich
Tokyo
Singapore
and these Boeing 787 routes don't have First Class but do have the updated Business Studios product:
Brisbane
Perth
Athens (summer service)
Dusseldorf
Johannesburg
Shanghai
Beijing
Riyadh
Hopefully, other services with Etihad's new cabins will be next on the list, but the costs, tips and techniques in this guide to research availability still apply regardless of new aircraft or not.
Etihad, of course, has a much wider network than just Europe, the Middle East, Australia and the USA, but given the need for extensive back-tracking to get to Asia or additional hours flown to get to some African destinations, that's not the focus of this guide.
Velocity costs for Etihad Business and First Class redemptions
Ultra long-haul flights like Etihad's service from Abu Dhabi to East Coast Australia and the US are usually very expensive if paying by cash for Business or First Class.
As a result, using Velocity points for these flights still has some value, many with 24+ hours' flying time coming in at 139,000 Velocity points for Business Class or 203,000 Velocity points for First Class.
A comparison of Velocity with Etihad Guest and AAdvantage redemptions
The other options for redemptions on Etihad flights are to use Etihad Guest miles, from Etihad's own frequent flyer program, or American Airlines AAdvantage miles, which can be purchased in bulk and used directly on Etihad flights too.
Here are some comparisons for travel on Etihad using Velocity points vs Etihad Guest miles vs AAdvantage miles:
| Route (one way, Business) | Velocity points | Etihad Guest miles | AAdvantage miles |
| --- | --- | --- | --- |
| Perth - New York | 139,000 | 179,870 | 150,000 |
| Melbourne - New York | 139,000 | 182,641 | 150,000 |
| Brisbane - London | 139,000 | 163,244 | 122,500 |
| Sydney - Abu Dhabi | 104,000 | 97,229 | 80,000 |
| Route (one way, First Class) | Velocity points | Etihad Guest miles | AAdvantage miles |
| --- | --- | --- | --- |
| Perth - New York | 203,000 | 238,152 | 215,000 |
| Melbourne - New York | 203,000 | 241,862 | 215,000 |
| Brisbane - London | 203,000 | 216,170 | 162,500 |
| Sydney - Abu Dhabi | 152,500 | 128,780 | 100,000 |
I've outlined how to redeem AAdvantage miles to Europe from Australia here, with Etihad being one of the key options.
Fees & Taxes for Velocity redemptions with Etihad
Velocity added the 'Etihad Airways Reward Seat Carrier Charge' from June 2015.
The charges of:
$50 USD in Economy
$205 USD in Business
$300 USD in First Class
are added to any bookings using your Velocity points for travel with Etihad.
The killer piece to this change is that the charge applies per flight sector, not per booking.
This means that a return flight to Europe in Business Class, with a transit in Abu Dhabi, costs an extra $820 USD on top of the fuel surcharges for your chosen route. It's worse for First Class too, at $1200 USD.
This is the biggest disincentive to use Velocity Points for Etihad flights.
---
Etihad's Business & First Class Cabins
This is the new Business Studio on the Etihad A380: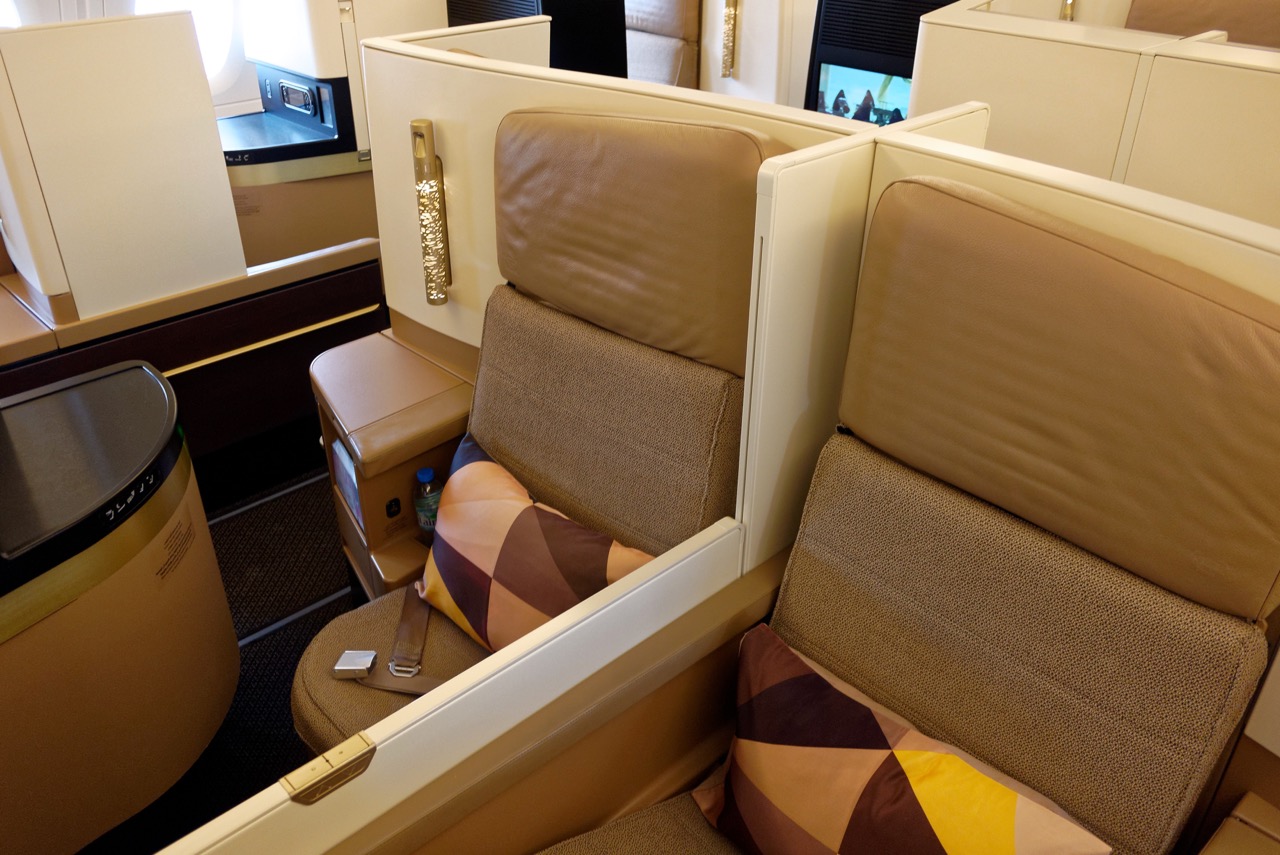 With the First Class experience on the A380 looking like this: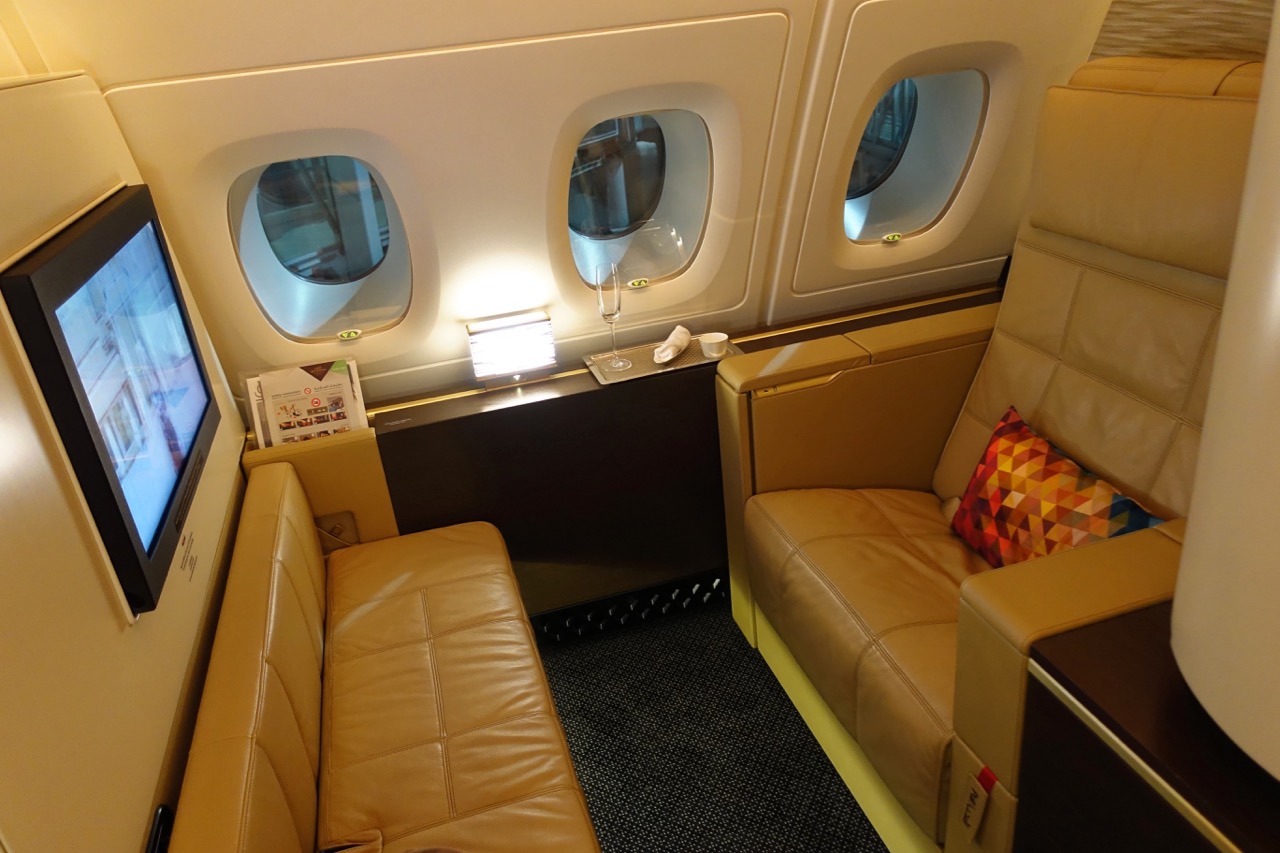 Etihad's older Business Class cabins look like this: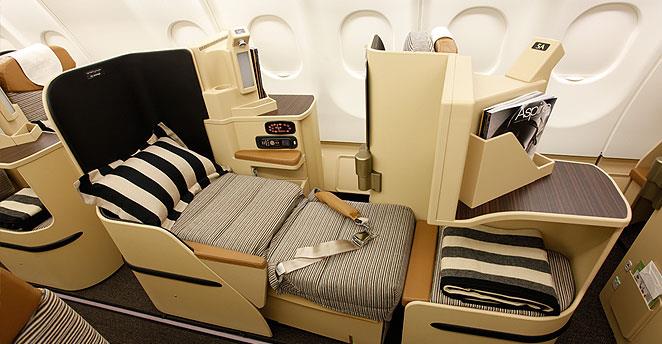 And First Class on their older A330 and 777s is still a great way to fly: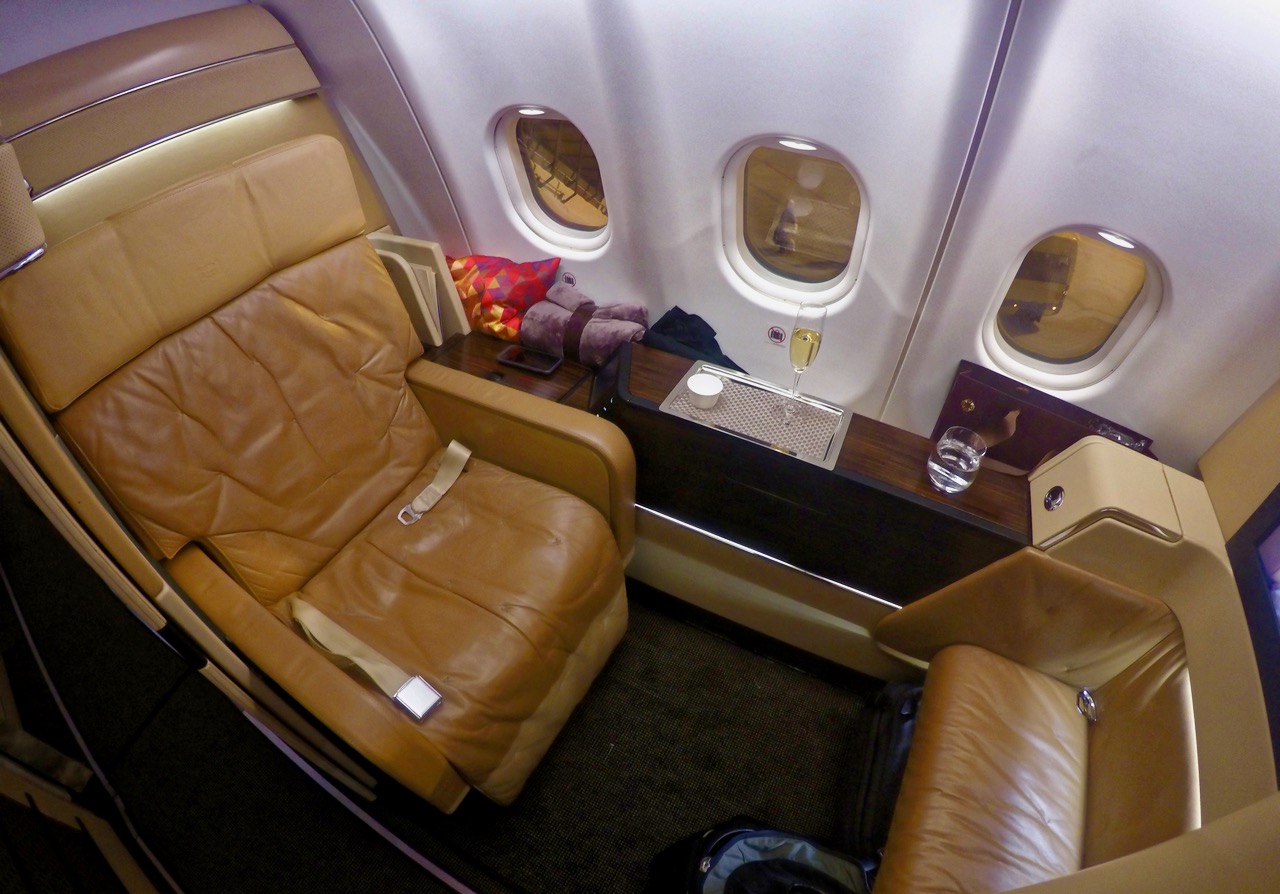 ---
Researching availability and making the booking
1. Choose a search tool
The two primary places to search for Etihad redemption seat availability are Etihad's own website, and on Virgin Australia's site too which was upgraded earlier this year to include Singapore Airlines and Etihad operated flights.
Etihad – log in and then access this page to start the booking flow (it's kind of hard to find)
Virgin Australia – log in with your Velocity account (optional), search by selecting 'Use Points + Pay' – but you won't be able to search Etihad First Class this way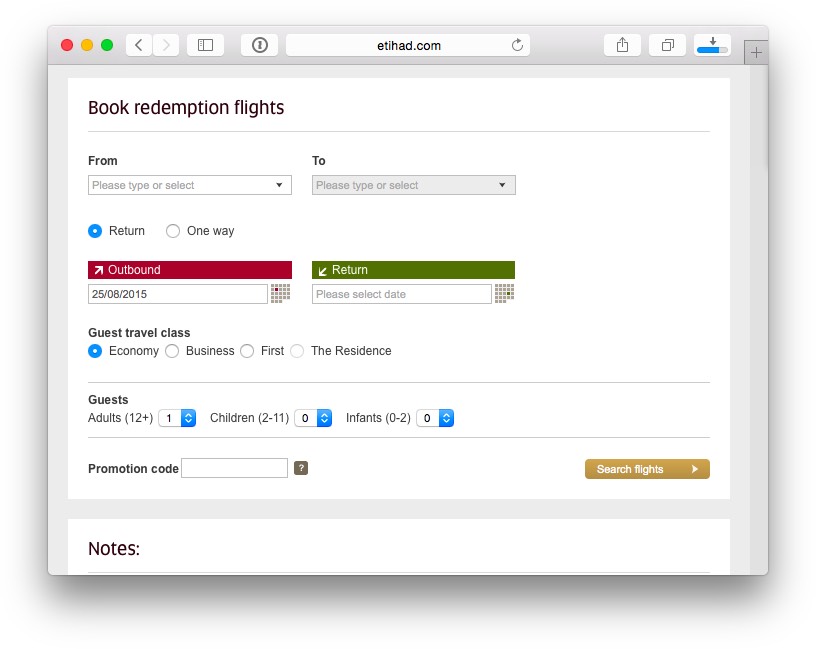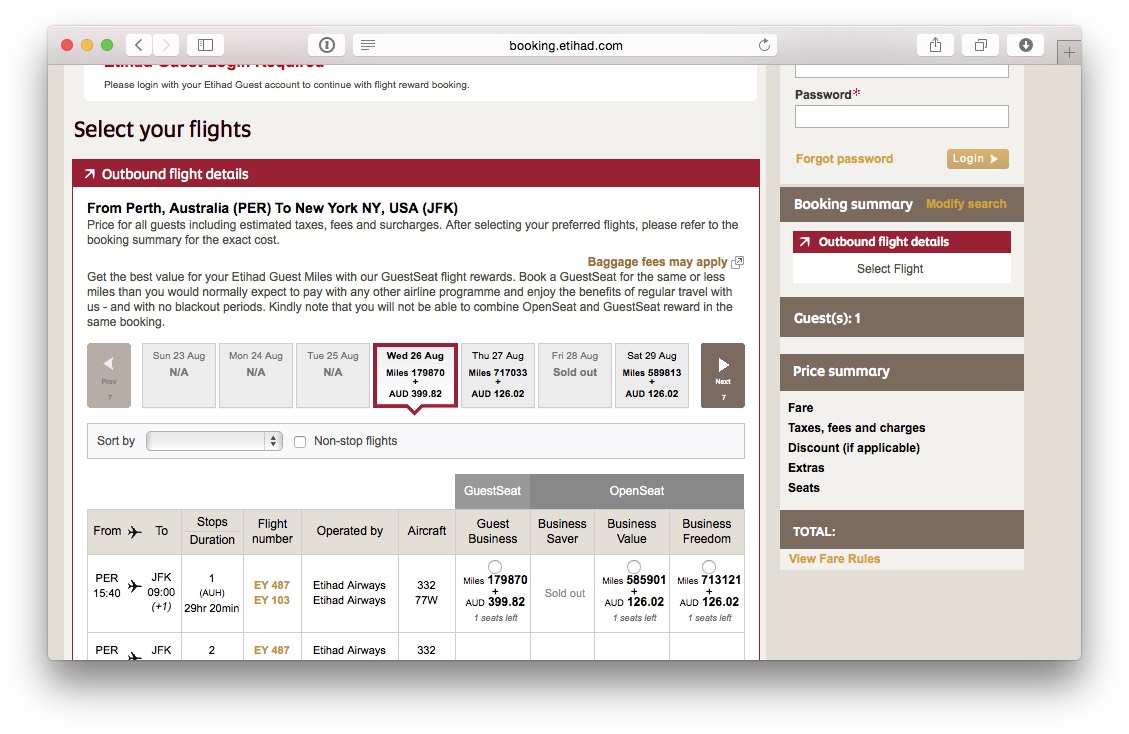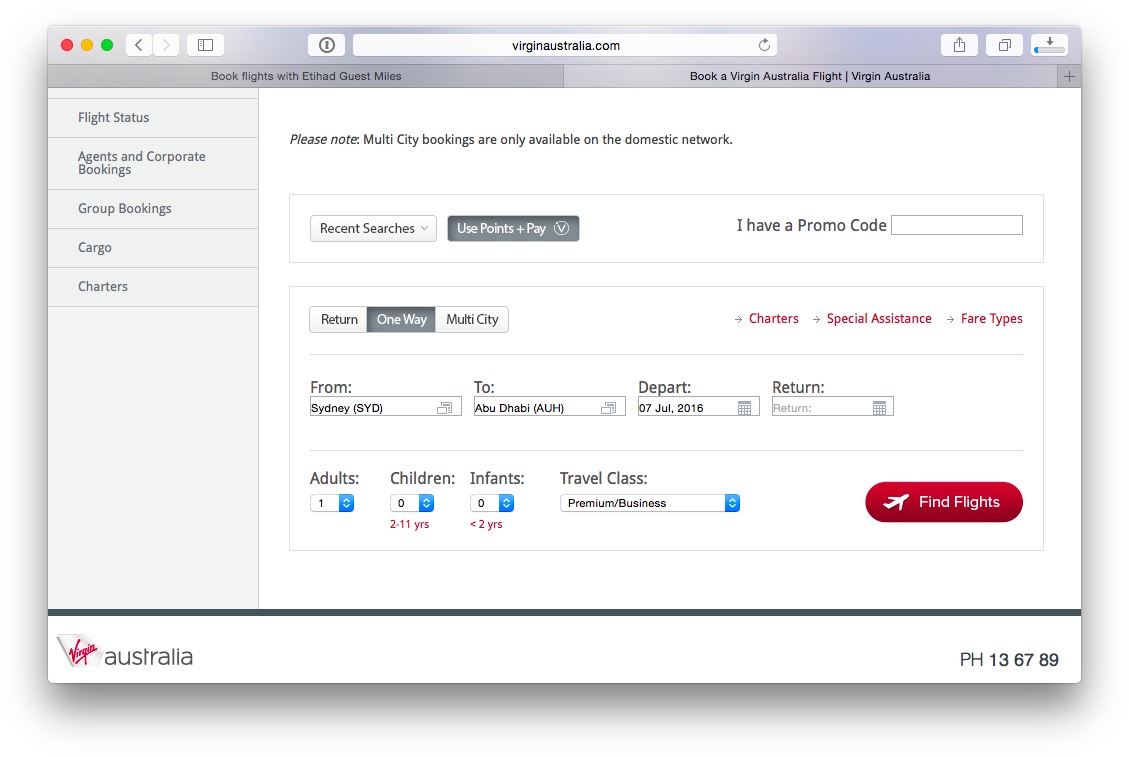 You'll also need to do a lot of scrolling to see the Etihad direct flights, so I'd recommend sorting by 'stops' or 'direct flights' to have them appear higher up the list.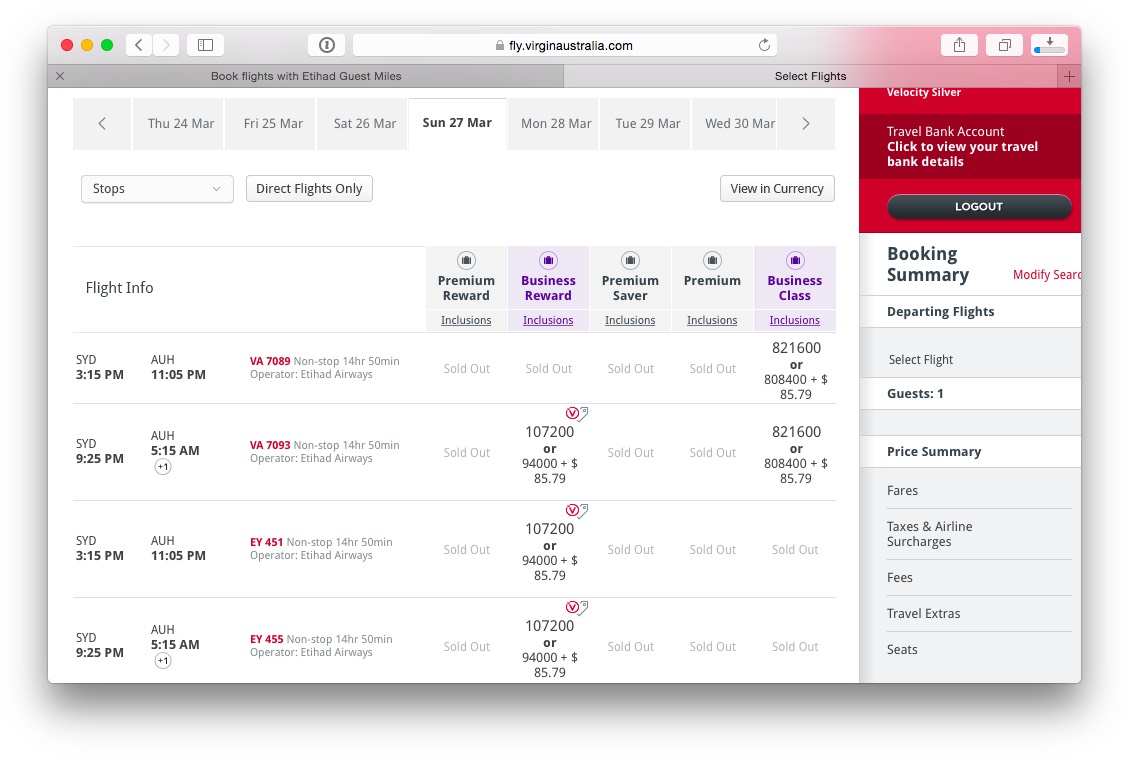 I have noticed some recent discrepancies between Velocity and Eithad Guest award availability – but these have actually been in Velocity's favour, with some flights on virginaustralia.com showing more availability than through Etihad.
You would normally chalk these up to ghost seats that aren't bookable – but in both cases I verified the availability with Velocity over the phone and yes, these additional seats were bookable using Velocity points – the only difference being that the Virgin Australia linked availability is ticketed on VA codeshare flights, rather than EY. It's an odd quirk.
My recommendation is to search on both sites for availability, starting with Virgin Australia, and then moving to Etihad to verify any differential.
2. Search for your trip flight by flight
When looking via Etihad's website it's far more productive to search for availability for each leg of the journey you are travelling, e.g. Melbourne to Abu Dhabi and then Abu Dhabi to New York rather than Melbourne to New York in their respective search tools.
The same applies for Virgin Australia's site – it won't show you any available options for Etihad redemptions when searching for Australia to/from the USA as the most logical routings are on Virgin Australia and Delta.
Remember that to get the pricing I outlined in the costs section above, you'll need to connect to your next flight less than 24 hours after you arrive into Abu Dhabi (or other connecting airport), otherwise Velocity will charge you for breaking your trip – with a cost of two redemptions, not just one.
As you get availability for the days you are looking for, note them down – you'll need them to piece together your final itinerary (in the next step).
3. With the available inventory, figure out which connections work for your purposes
For such long flights to and from the US it can be pretty confusing to figure out exactly which ones to aim for to optimise for both the right aircraft type (you'll probably want Etihad A380s and 787s where possible over other Etihad aircraft, or leased aircraft operated by Etihad) and to optimise for stopover length.
This depends on your own personal preferences – for me, I don't particularly want to break a long trip to the US if I can help it, but others would be fine with spending a night in Abu Dhabi in order to spend more time in Etihad's more premium cabins on operated by the A380, or to spend a night in Abu Dhabi.
The best part is that availability is relatively good – when looking far enough in advance, you will hopefully be able to find 1 or 2 seats in Business and First Class on some dates between most city pairs.
The best way to do this is to fire up Excel or Google Docs and start noting which flights are available, their departure times and arrival times, and then searching for connecting flights that same day and the following day to meet the 24 hour connection rule.
Here's a quick template of what I mean:
| Date | Departs Sydney | Arrives Abu Dhabi | Departs Abu Dhabi | Arrives New York |
| --- | --- | --- | --- | --- |
| 1st | 2 seats on EY451 | | | |
| 2nd | | 5.15am | 2 seats on EY101 dep 10.20am | 4.35pm |
| 3rd | 2 seats on EY451 | | | |
| 4th | | 5.15am | | |
| 5th | | | 2 seats on EY103 dep 2.55am | 9am |
Rework this format for your own purposes as you research availability.
4. Call Velocity to verify and book
Once you've pinpointed your perfect combination of flights and dates, you'll need to call the Velocity redemption team between 8am and 8pm on 136 789.
Be prepared to feed them the exact flights, passengers, cabin and dates you are looking for
Let them know you are specifically ensuring connecting flights are less than 24 hours so they know they aren't looking at multiple redemptions, just one
Hope that it all comes out as you'd hoped!
What about earning and using Etihad Guest miles?
Etihad Guest is a partner with American Express Membership Rewards and Citi Rewards with the Prestige Visa, alongside flybuys.
However there are generally fewer points earn opportunities for Etihad Guest miles from day to day activities than from Velocity.
In many cases Etihad Guest's pricing is also more expensive than redeeming through Velocity, which is why the Velocity redemption angle is appealing – although the extra fees can sting.
Summing up – using Velocity points for Business and First Class Etihad flights
It is well worth understanding the ins and outs of how to redeem your Velocity points for Etihad flights.
The 139,000 point top band for multi-flight redemptions still offers some value compared to the other options out there for redeeming your points on Etihad, and given how many opportunities there are to build up your Velocity balance, these are fairly achievable goals.
However, with the per-sector Etihad fees imposed by Velocity, you need to take into account both the cabin you are flying in and number of sectors you are booking in order to calculate the true points + dollar cost to you (and your travelling companions).
Ultimately you need to question whether redeeming Velocity points with Etihad is the best goal to aim for with your point balance.
Etihad redemptions have many things going for them – often good redemption availability, an excellent cabins, service and lounges, but you'll now be paying a premium to fly with Etihad when using your Velocity points.
The main alternative to Etihad redemptions, at least to Europe from Eastern Australian capitals, is with Singapore Airlines. From WA, you could also consider Singapore Airlines as a logistically viable, and cheaper alternative to get to San Francisco or Los Angeles.
Featured image courtesy Airbus