Not every travel experience is created equal. Some airlines squeeze passengers in, while others provide a little more room around the knees. Why 'chance it' on your next trip, when the Legroom for Google Flights extension can help you pick the most spacious seats every time?
It's not only Economy Class flyers that can benefit, either. In Business Class, doing your research helps to avoid travelling in a reclining seat, when you could have stretched out in a flatbed for the same price.
So which airlines offer the most legroom?
There's no such thing as one 'perfect' airline for legroom. The options available will depend on when and where you're travelling.
But you can find the airlines offering the most legroom for each trip by making savvy use of Google Flights, and the optional Legroom for Google Flights extension.
Viewing legroom via Google Flights without the extension
Sure, you don't need to have the Legroom for Google Flights extension installed to investigate the legroom for particular flights. But without it, you'll only see those details by clicking on each individual flight and expanding the details.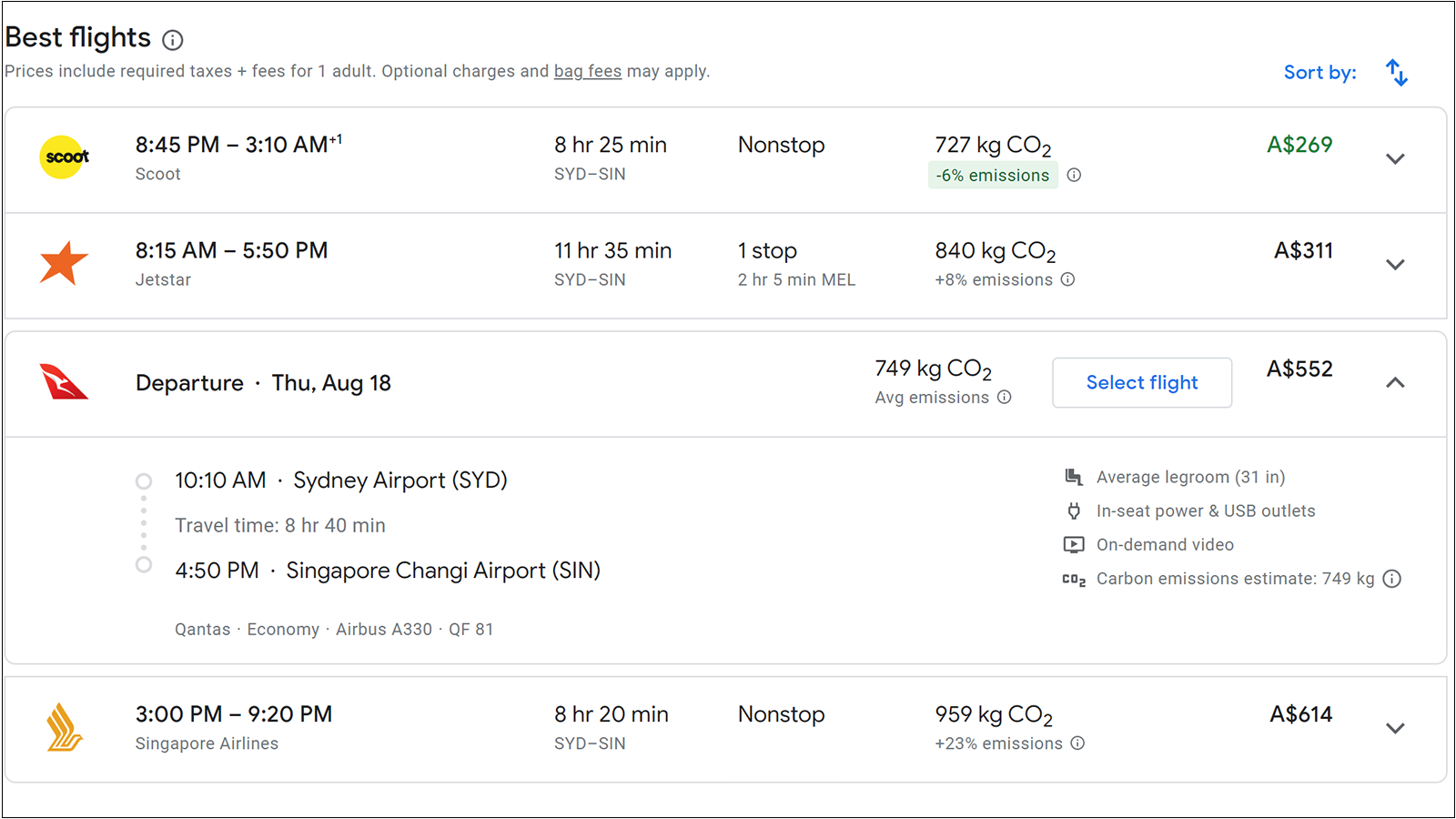 You might notice that 'legroom' is described here in inches. These measurements are actually 'seat pitch'. That's the amount of space between a point on your own seat, and the same point on the seat of the passenger in front or behind.
It's not a measure of how far you can stretch your feet forwards, or how much room sits in front of your knees.
In general, the higher the number here, the more space you'll have onboard. For Economy Class, 31 inches is about standard. Anything more is generous, and anything less can start to get a little squishy.
Ad – Scroll down to continue reading.Minimum spend, terms & conditions apply.
Google Flights search results with the extension
Here's where the Legroom for Google Flights extension comes into play. As you'll see, it's useful whether you're flying upfront or sitting down the back.
Economy Class
When flying Economy Class, that 'seat pitch' is what impacts your journey most. So Legroom for Google Flights highlights this, allowing you to quickly and easily compare your options.
Here's an example based on a search for flights between Sydney and Singapore later in 2022.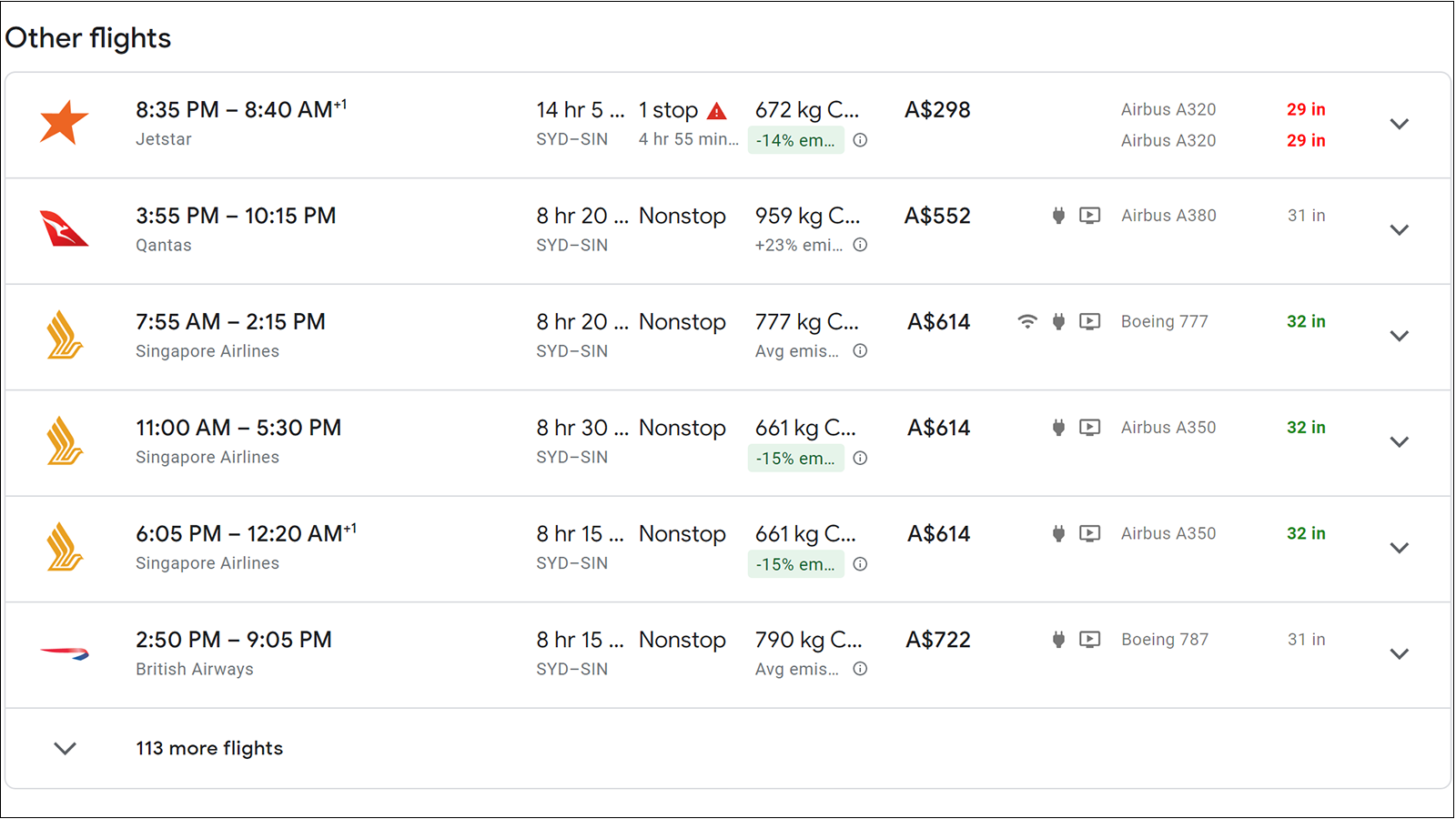 Flights with more generous legroom show these figures in green, while those in red are a tighter squeeze.
But legroom is rarely the only consideration. Price, entertainment options, aircraft type and frequent flyer program all have their place. Having said that, you'll be in a better position to be comfortable with your decision when you've considered legroom as well.
Business Class
In a cabin like Business Class, you expect to be comfortable. This makes seat pitch far less of a concern.
The biggest difference for Business Class flyers is whether your flight offers a reclining chair or a flatbed. Fortunately, Legroom for Google Flights has you covered here too.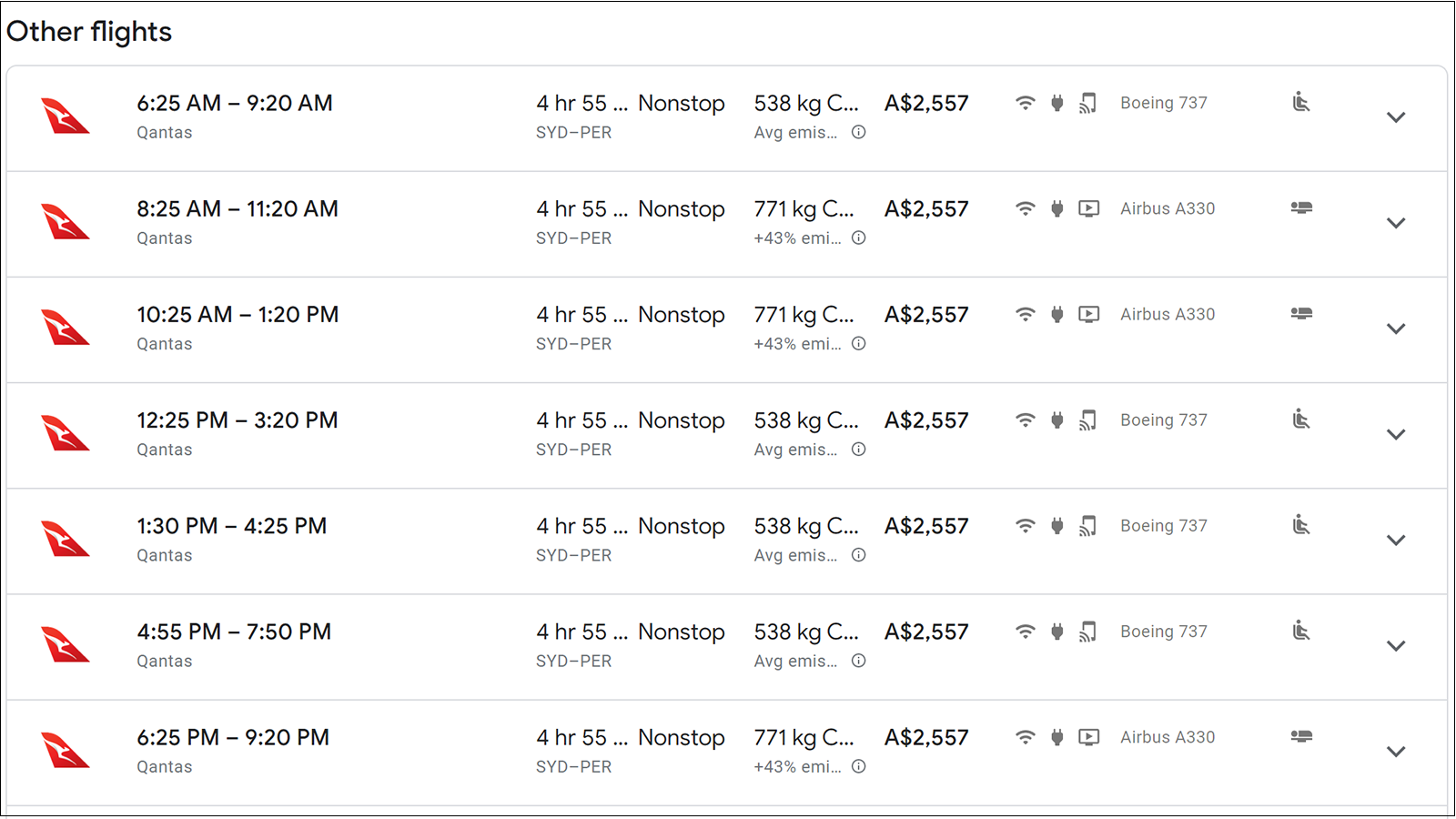 Take the example above for a journey between Sydney and Perth. Some flights in Business Class offer a fully-flat bed. But others come with only a reclining armchair.
Given you're paying the same price either way, which would you prefer to travel in?
First Class
This one is for the fussiest of high flyers. Some airlines see First Class as a more spacious bed, while others offer true suites with closing doors.
Mirroring the approach with Business Class, look to the icon for the clue.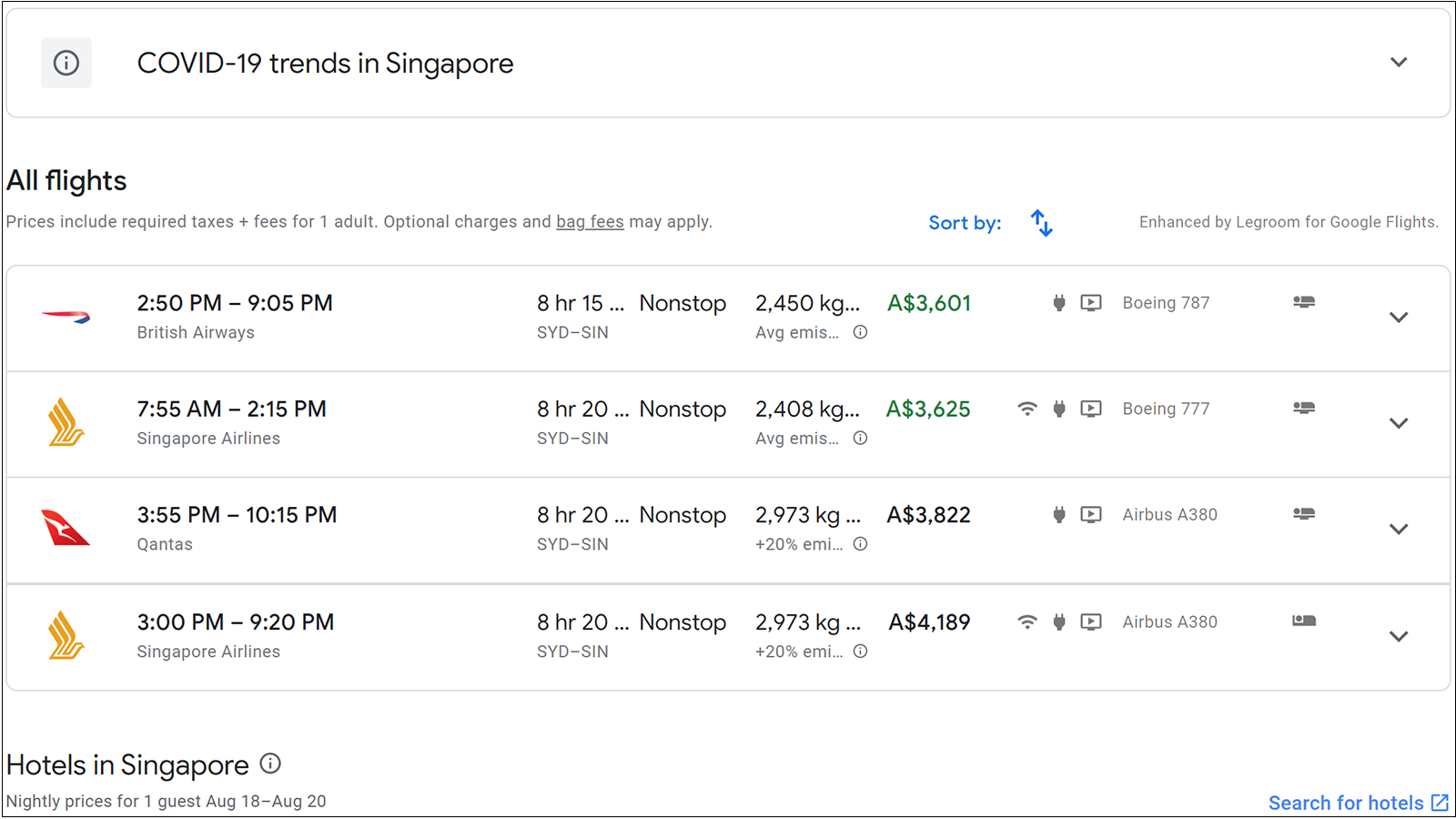 Can't spot the difference? Look towards the bottom at the afternoon Singapore Airlines flight. Rather than a person lying on a bed (or what looks like a table), the icon instead includes a bedhead. That's your clue that the experience brings more of a 'room' than just a 'bed'.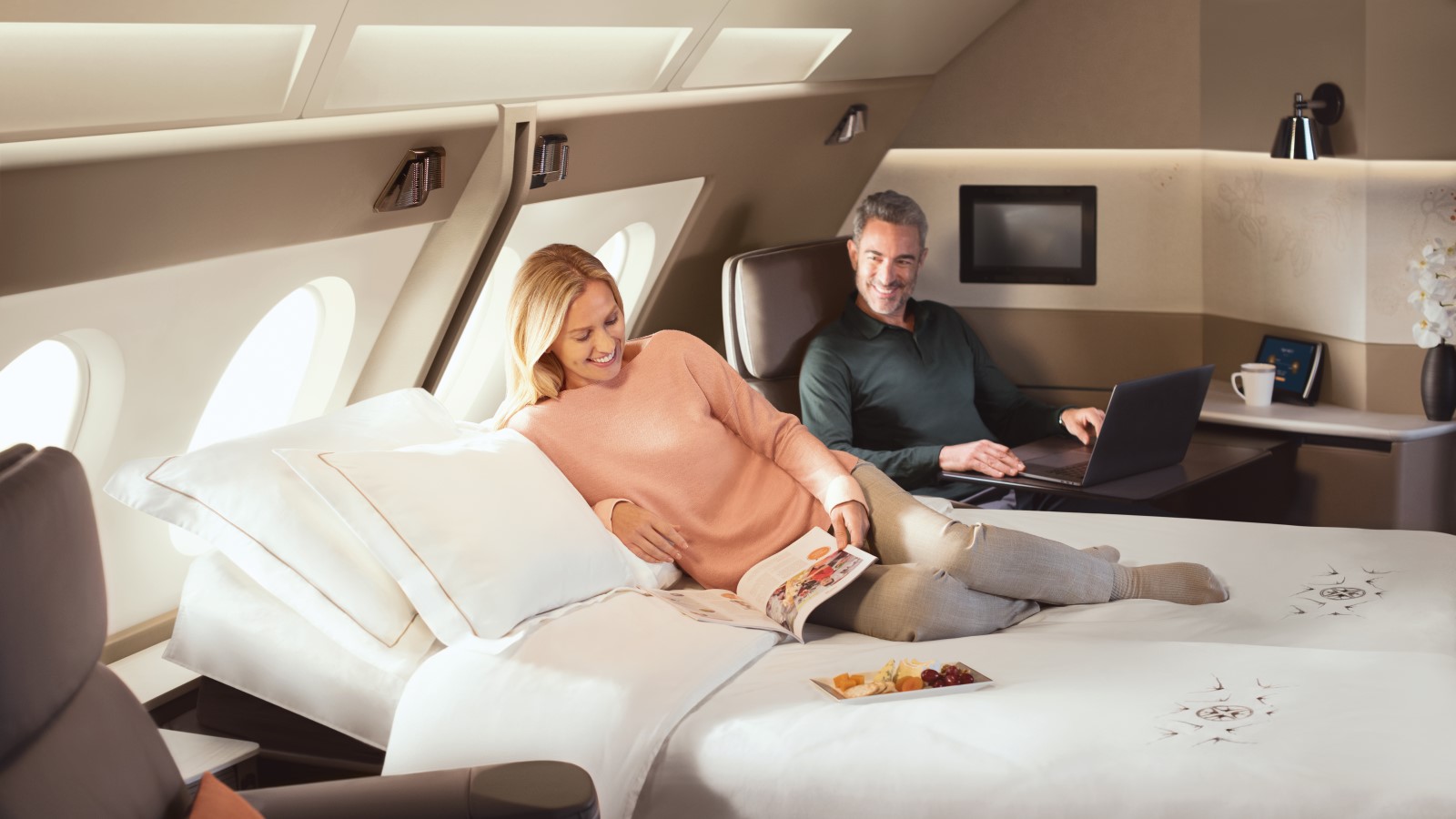 And after all, if you're booking First Class with Singapore Airlines, why wouldn't you want a private suite?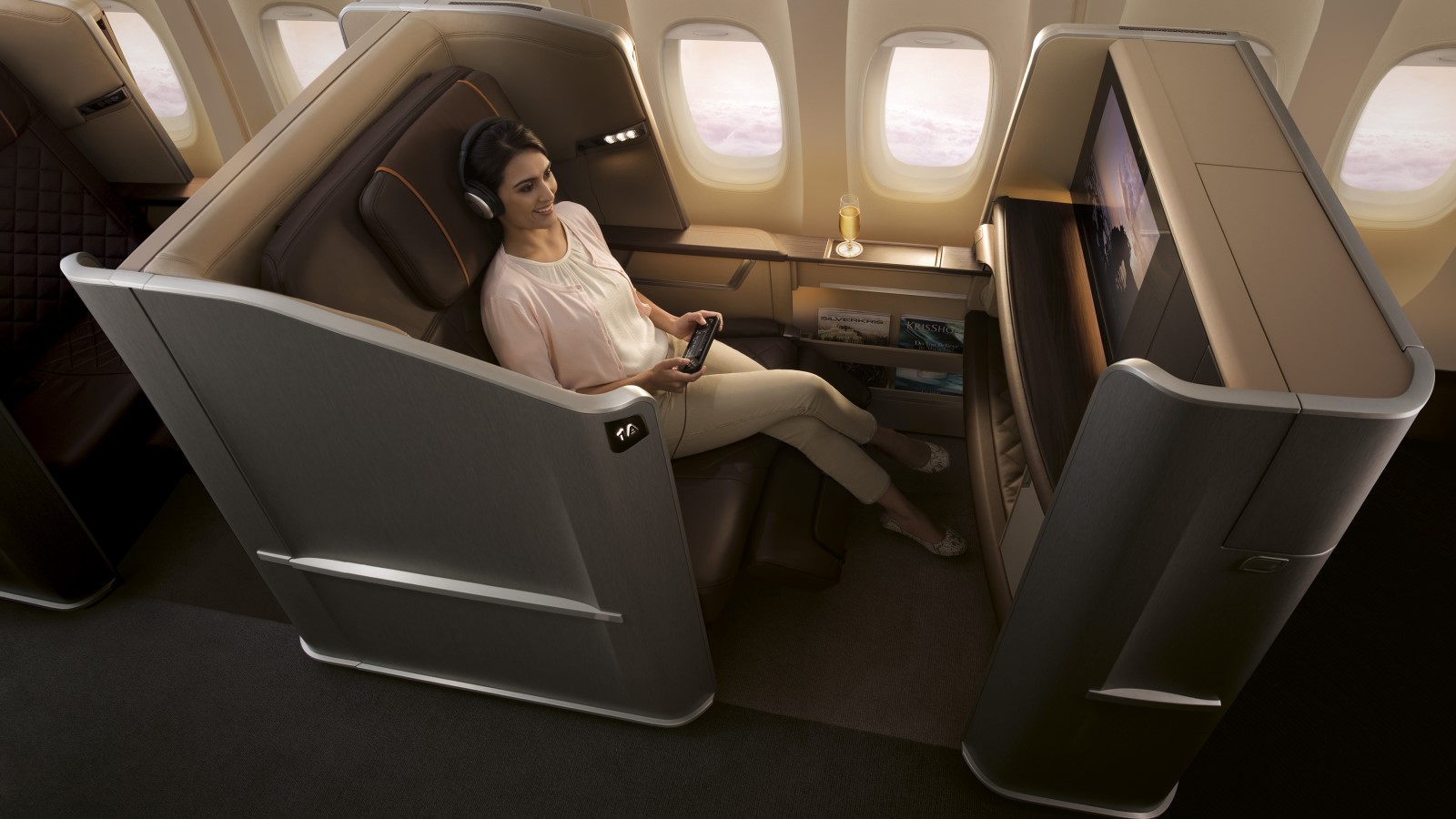 Premium Economy
Unfortunately, Google Flights isn't so helpful with Premium Economy. Even with the Legroom for Google Flights extension installed, most options will just say 'extra reclining'.
This is where you'll need to click into each flight to suss out the legroom, in the same way as you would without the Legroom extension.
Baggage information for US flights
If you're using Google Flights to research legroom, you might also find it useful to compare airline baggage policies.
This doesn't require the Legroom for Google Flights extension. But it's a very useful feature to be aware of, particularly when you know how many bags you plan to travel with.
For example, here's a look at what you'd currently see searching for a flight from Los Angeles to San Francisco.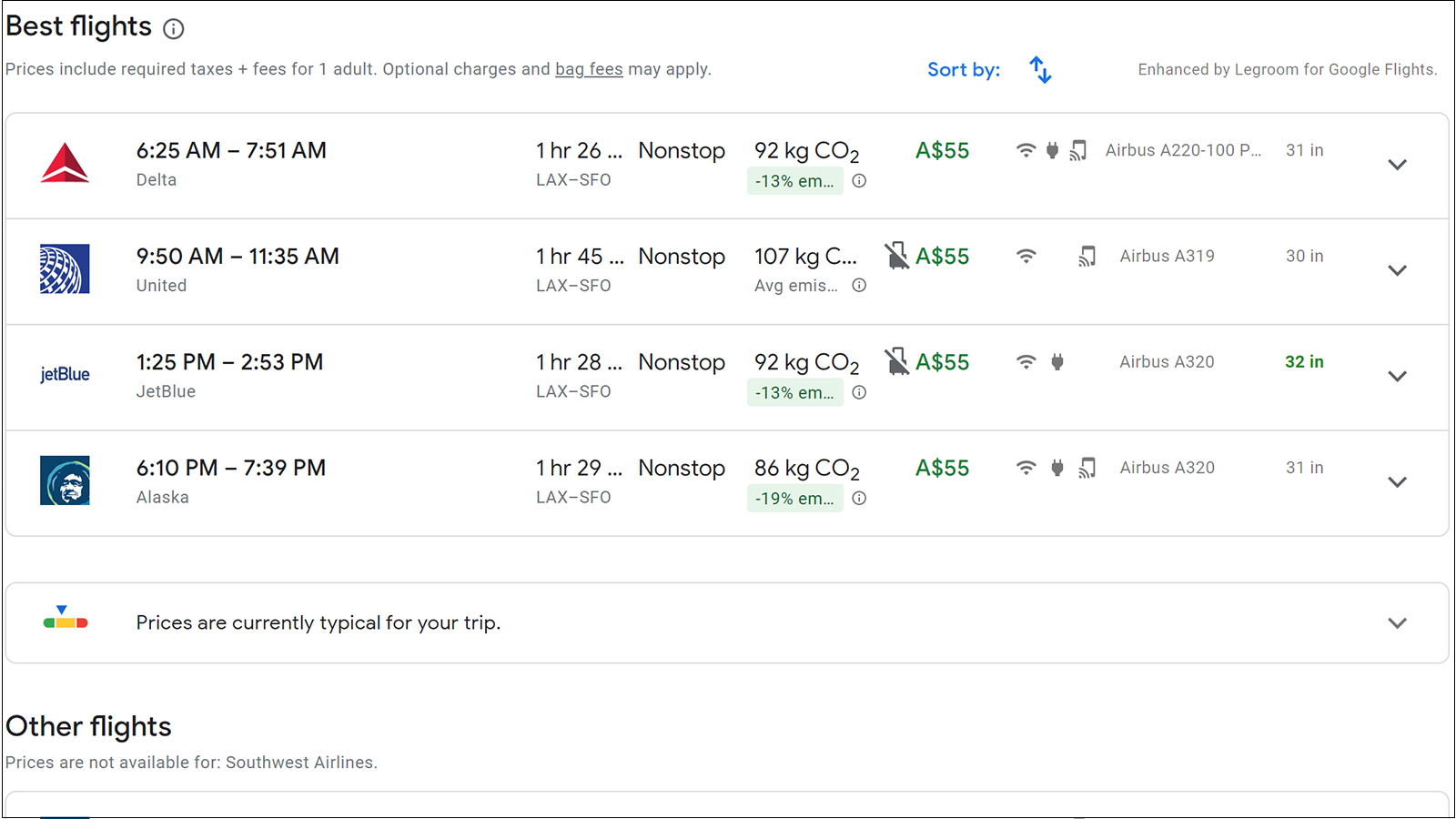 Given four airlines are selling tickets for the same price, it's really the baggage policy that sets them apart. On that front, Alaska Airlines and Delta Air Lines include standard cabin baggage. On the other hand, JetBlue and United don't allow passengers to bring large cabin bags on these fares.
You can see how the results change when we select a full-sized carry-on bag using the Bags filter.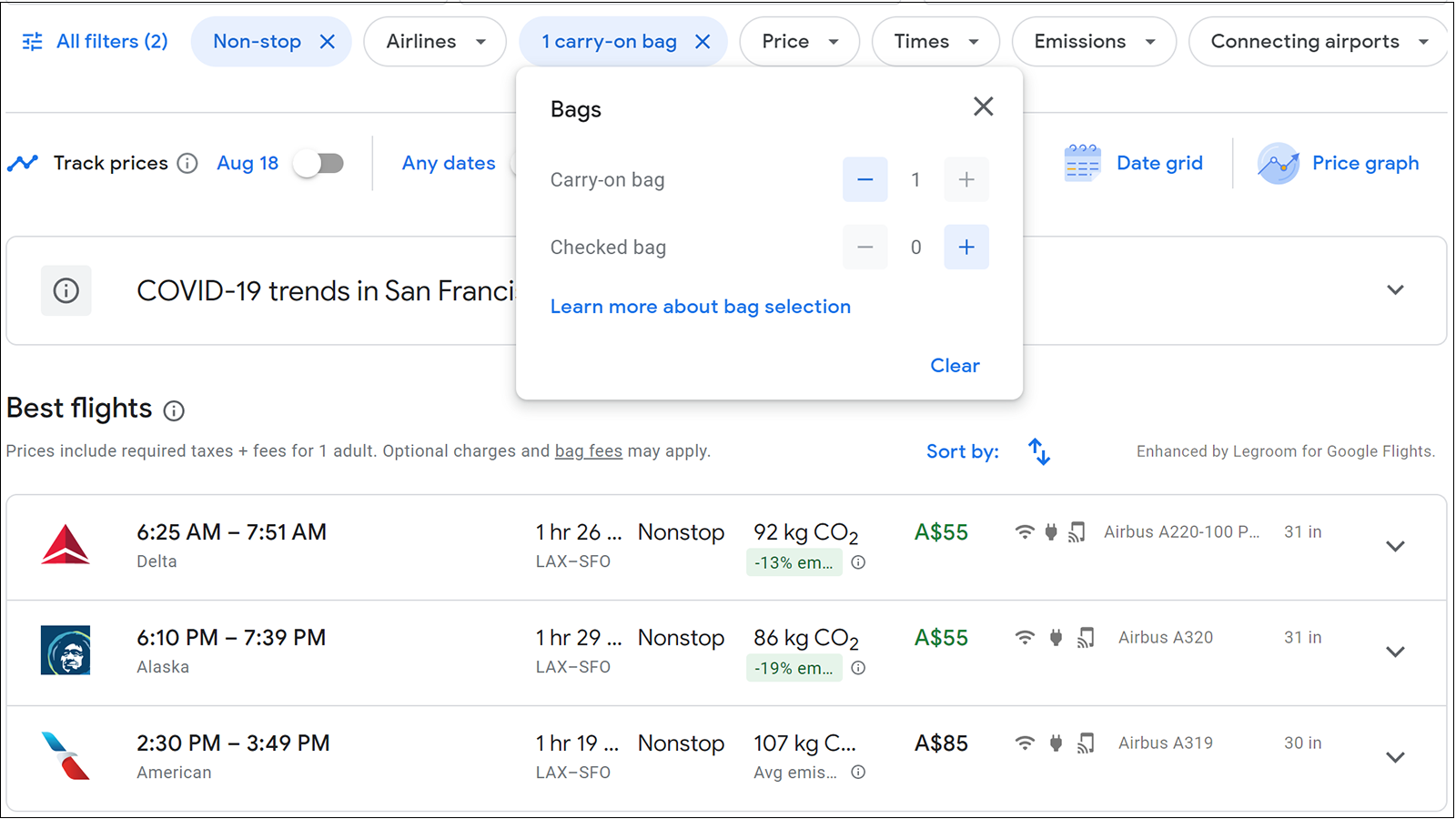 In the curated list of 'best flights' that are highlighted, American Airlines proves the next-most competitive when travelling with a cabin bag.
Planning your own trip to the United States? Read our tips for saving on checked baggage fees on domestic flights within the US.
How to install Legroom For Google Flights
Installing the Legroom for Google Flights extension couldn't be easier. Simply:
Install Google Chrome, if you haven't already.
While using Google Chrome, install and activate the Legroom for Google Flights extension.
Browse Google Flights as normal, enjoying the improved results.
Summing up
Google Flights can be a great way to research your trip, even without the Legroom for Google Flights extension installed.
But with that extension activated, your search results get even better. Google Flights, Legroom for Google Flights and Google Chrome are all free, so what are you waiting for?
Keep in mind, we've only just scratched the surface on Google Flights in this article. It can also be a great tool to find itineraries that can include free stopovers, or for setting price alerts to be among the first notified of great airfare sales.
How has your own experience been with Google Flights and this great extension? Share your thoughts in the comments below.
This article was originally written by Matt Moffitt. Photography courtesy of Qatar Airways and Singapore Airlines. Screenshots courtesy of Google.
Which airlines offer the most legroom? Find out using Google Flights!
was last modified:
March 1st, 2022
by