If you find yourself travelling to Scotland in the next two months, here is a great promotion to get a flat rate of £15 ($25 AUD) for a one-way Standard Class ticket and £30 ($50 AUD) for First Class between London and Scotland.
Via UK frequent flyer blog Head For Points, you just have to enter your name, email address and the date when you were planning on travelling (you can make this up), and you will receive a unique code to access this promotion.
You can travel between London King's Cross and ten stations in Scotland, including Edinburgh, Stirling, Perth and Dundee, as well as Berwick-upon-Tweed, just before the English-Scottish border on the English side. You could technically just deboard the train at any of the intermediary stops on the way if you had an alternative destination.
Both Keith and I travelled on Virgin East Coast Trains earlier this year, Keith in First Class to York (which he reviewed here) and me to Edinburgh in Standard Class, which was also a very pleasant journey.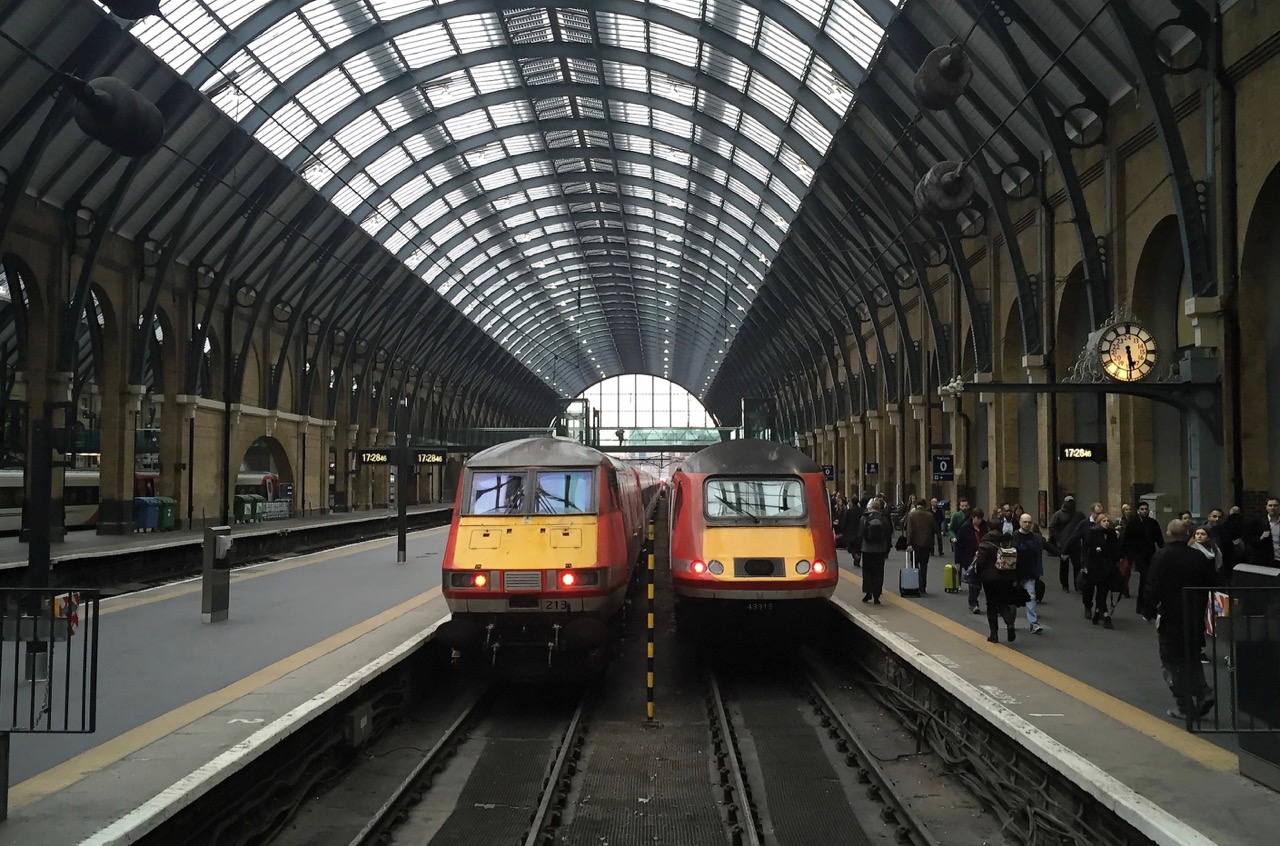 The key benefits of travelling in Virgin Trains First Class are:
Virgin Trains lounge access at key stations
Food: a relatively decent breakfast and dinner service (outside of weekends), and sandwiches at all other times
Drinks: complimentary tea, coffee, wines, beers and spirits (from lunchtime on weekdays)
I searched for a one-way ticket from London to Edinburgh in two weeks from now without the promotion and it was £50 for Standard Class and £75 for First Class, which is quite pricey: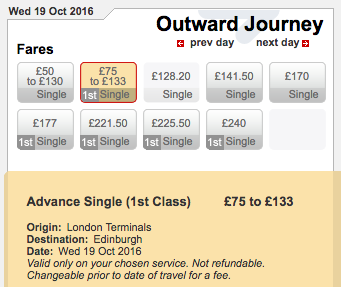 But once I registered for the promotion, the price was reduced to £15 for Standard Class and £30 for First Class, which is great value: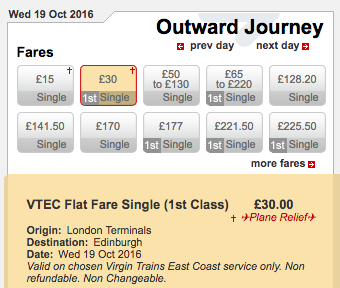 For comparison, a quick look at the lowest price of flights between London and Edinburgh over the next two months show £10 for Ryanair from Stansted for weekday departures (cheapest low-cost) and £41 on British Airways from Gatwick for most weekdays and weekends (cheapest full-service). Once you factor in baggage costs to the Ryanair fare, the train wins.
You have two frequent flyer earning opportunities:
You must claim your code by 3 November, purchase your ticket by 10 November and travel by 16 December 2016, purchasing your ticket at least one day in advance.
The code is valid for up to four adult and four child tickets.
Tickets are non-changeable and non-refundable.
Over 50% off Virgin Trains tickets between London and Scotland for next two months
was last modified:
December 20th, 2017
by