While I do love jumping on a plane (usually), I also find it just as fun to travel by train – and I'd love for high-speed rail to become a realistic option in Australia at some point in the future.
It's been reality for decades in Europe – and as part of trip to the UK earlier this year, we had a day booked to visit friends living north of York, while we were staying in London.
It was an intriguing look at the experience of travelling in a 'premium cabin' not on plane; it's interesting to consider what the 'Virgin experience' is like translated to trains; and yes, I managed to earn frequent flyer points from the journey too.
In terms of distance, this journey was about 180km. Google Maps had it pegged as a 2h 15m drive from Central London – around the same distance and time as between Sydney and Goulburn.
A train covering the same distance between Sydney and Goulburn would take a bit over 3 hours – while this same distance journey on Virgin Trains East Coast (somewhat) high speed rail (HSR) clocked in at just under 1 hour 20m. Fun fact: we hit 195km several times.
However, this isn't true HSR – other trains around the world clock in at speeds well in excess of this – but is faster than we find here in Australia.
Why I booked Virgin First Class
When booking train tickets in the UK you can pick up First Class tickets for only a little more than standard class fares, when booking in advance.
We paid £62 per adult around 2 weeks prior to travel, whereas standard class was around £42. Would I recommend paying more for First Class? Sure, we had an enjoyable time and appreciated the drinks and snacks on offer at no extra cost. Is it an obvious choice on a 1h 20m train journey? Of course not.
The key benefits of travelling in Virgin Trains First Class are:
Virgin Trains lounge access at key stations
Dining – a relatively decent breakfast and dinner service (outside of weekends), or sandwiches at all other times
Drinks – complementary tea, coffee, wines beers and spirits (from lunchtime on weekdays)
Seat selection is free for all advance purchase tickets and can be done online, as we're well used to with most airline online check-in platforms now. You can even check seat availability before you book to help with deciding which train you should aim for.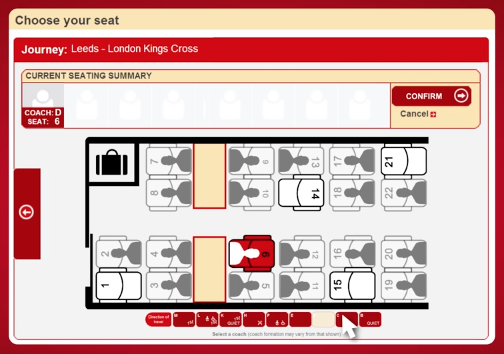 Tickets are delivered to your choice of address in the UK, or can be collected in person at your departure station – digital tickets are starting to become available on most routes too.
Our Virgin Trains East Coast First Class experience
While we had lounge access included in our ticket, we showed up to Kings Cross station around 15 minutes before our train departed so there was no need to use it. I expect this would be the case for most passengers, but if you were visiting London and ended up with time free before your train, it could make sense to hang out in their lounge for a while.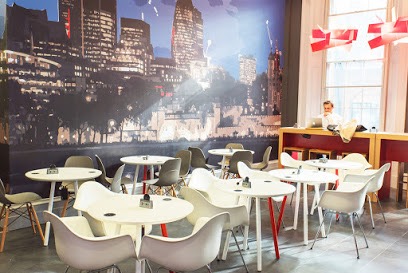 Anyway, we got our act together and got to the train as fast as possible. The First Class carriages are clearly marked, and each seat is numbered and with named tickets sitting on top so it's clear which is your seat.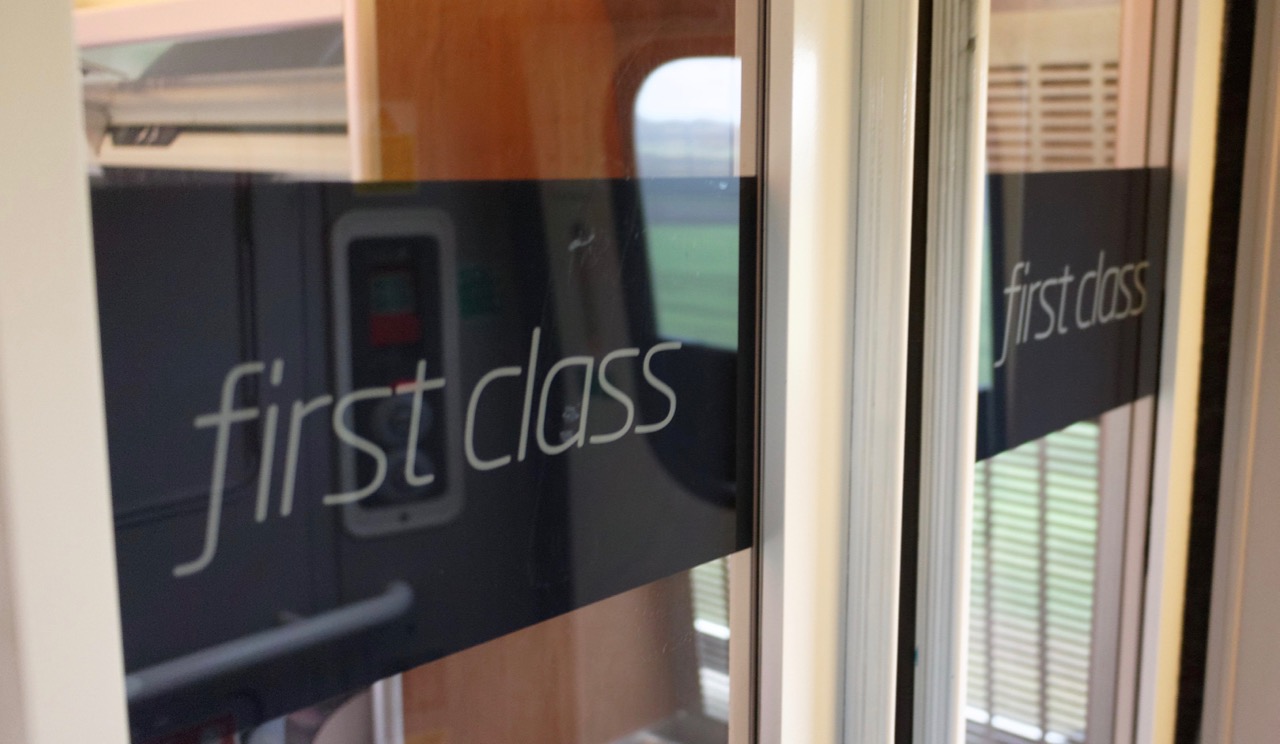 Each First Class carriage has a 1-2 configuration – so a single column of seats in pairs or alone, with a wider second column mostly set in fours – all with tables, pretty much.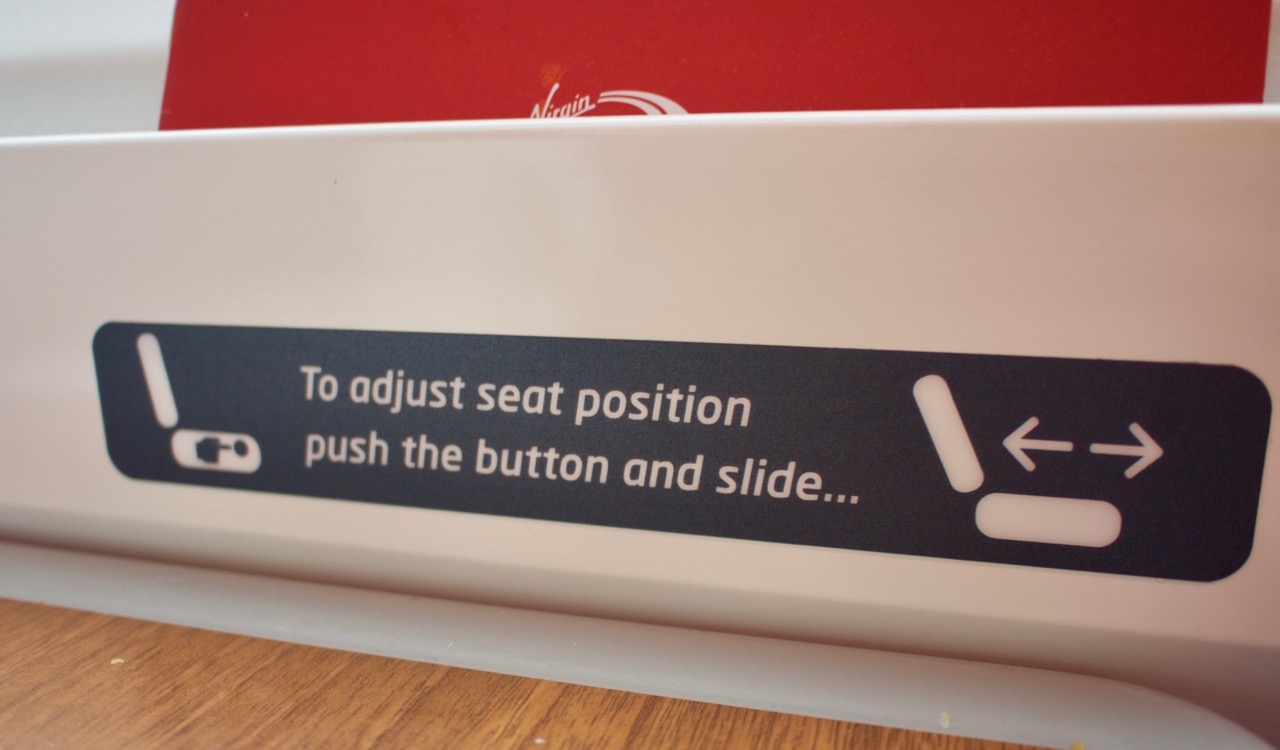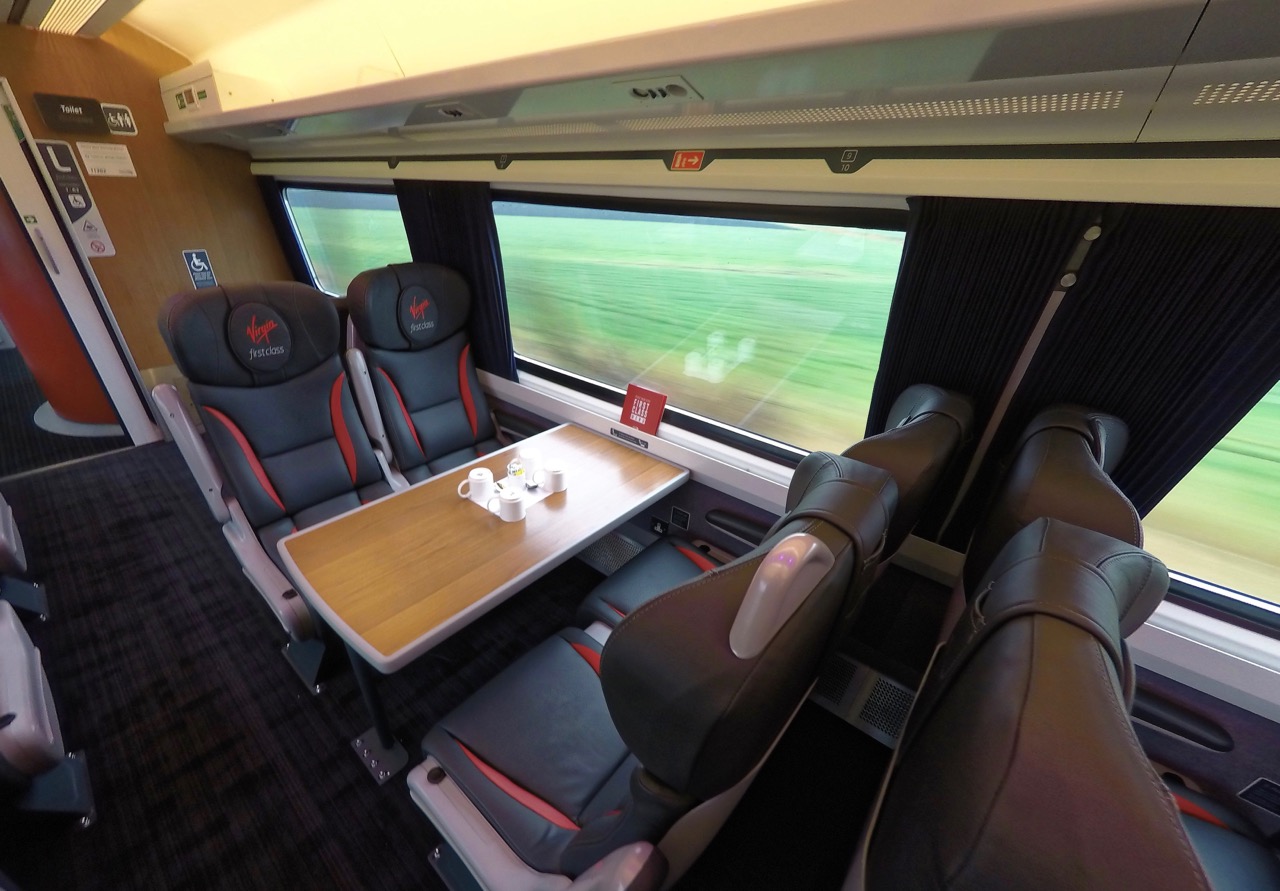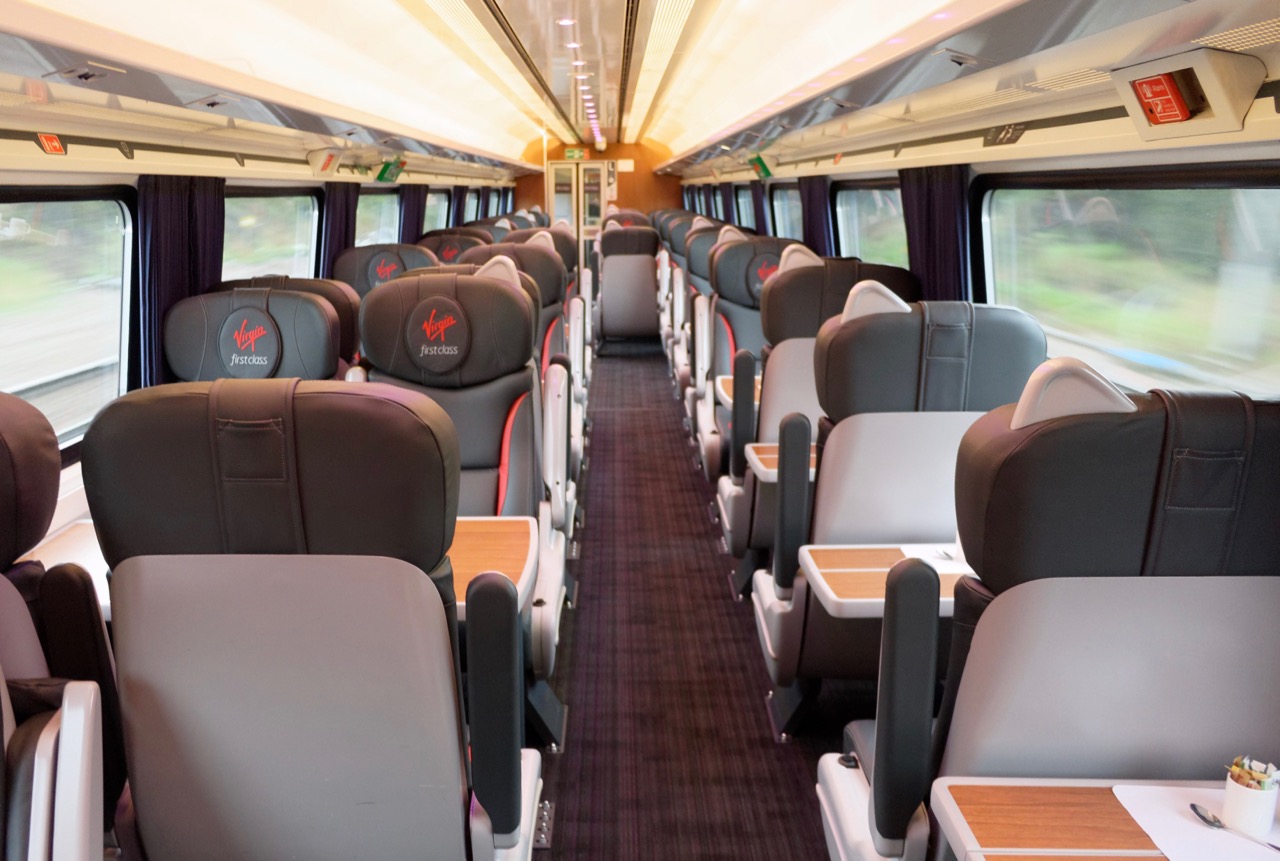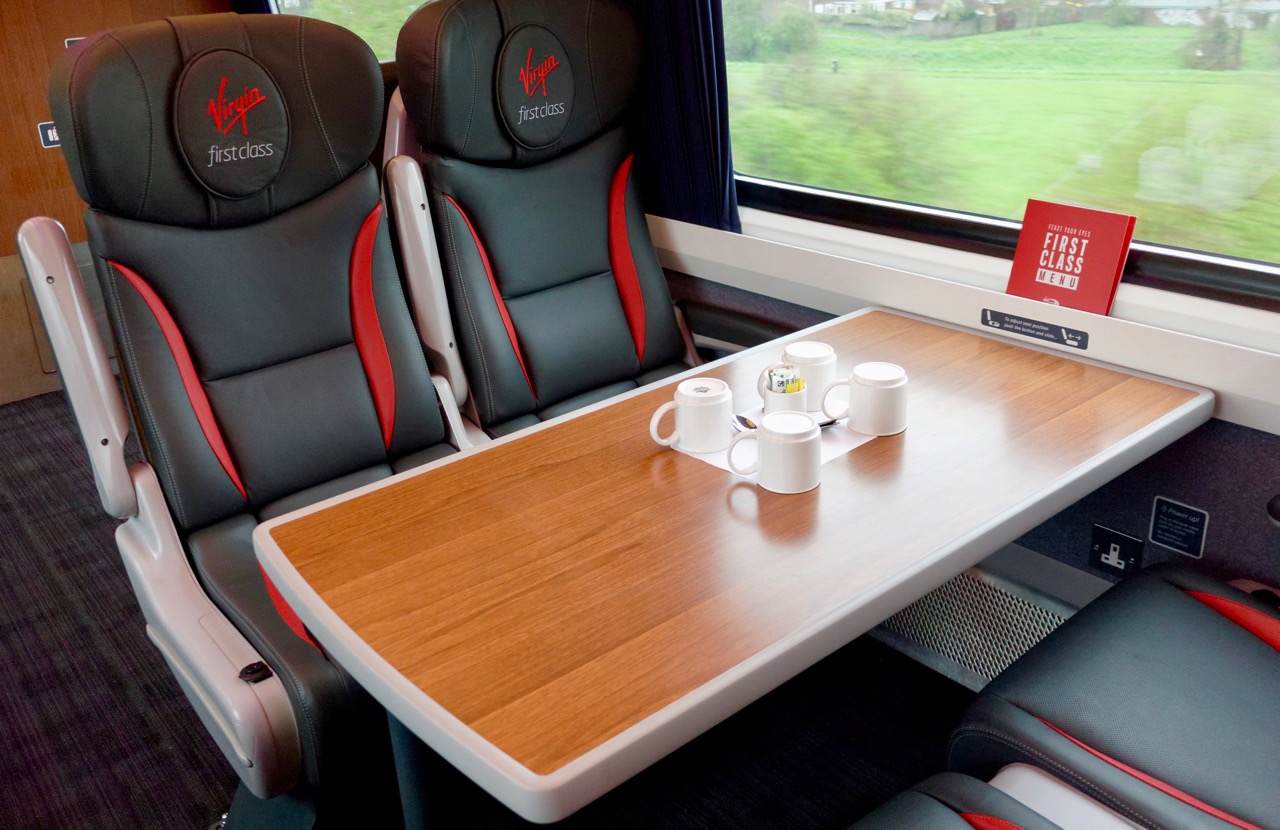 All chairs were clad in leather – or decent feel fake leather, at least, and offer a decent enough amount of recline. Given you could be travelling on one of these trains for around 8 or 9 hours up to Scotland, you might end up using it.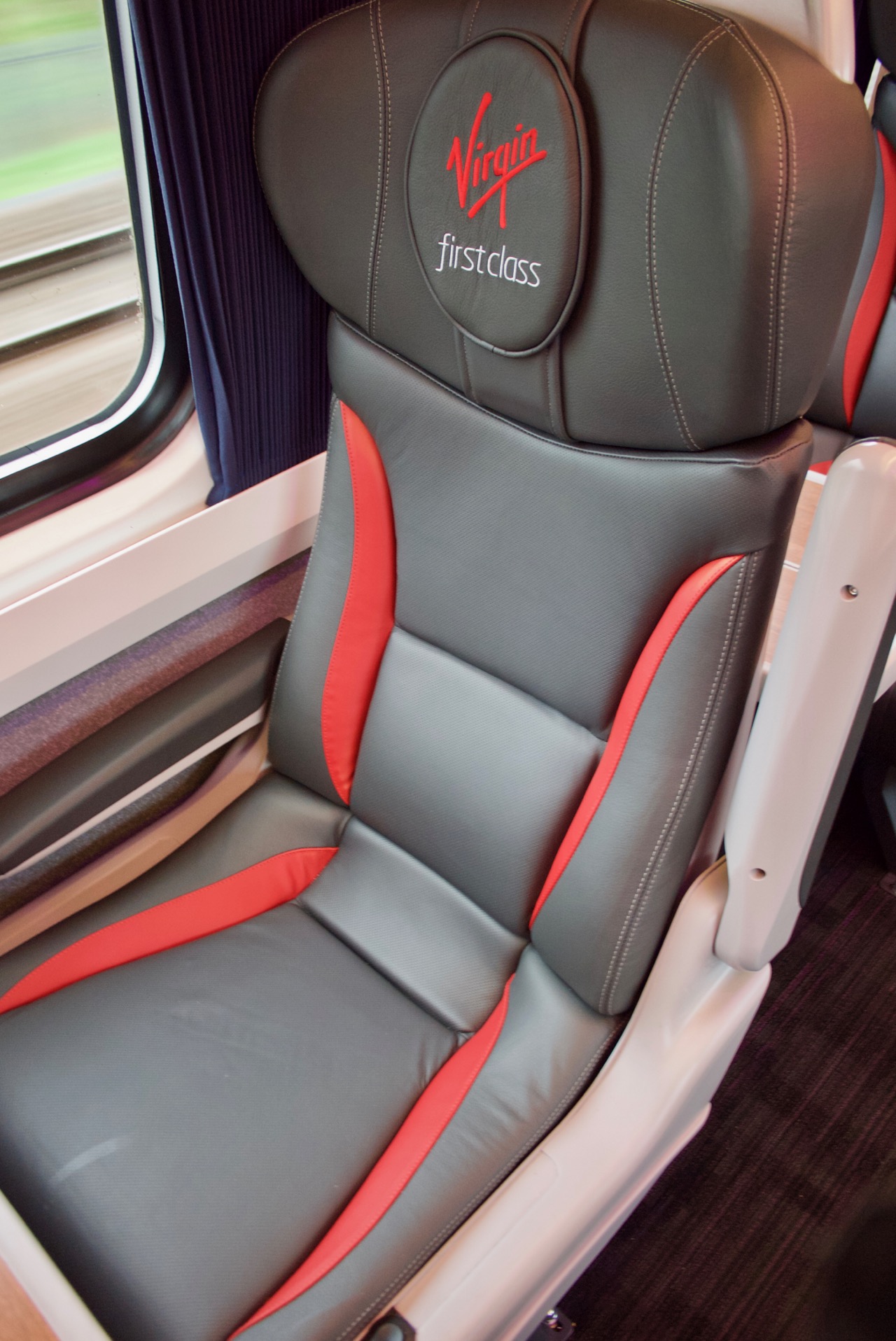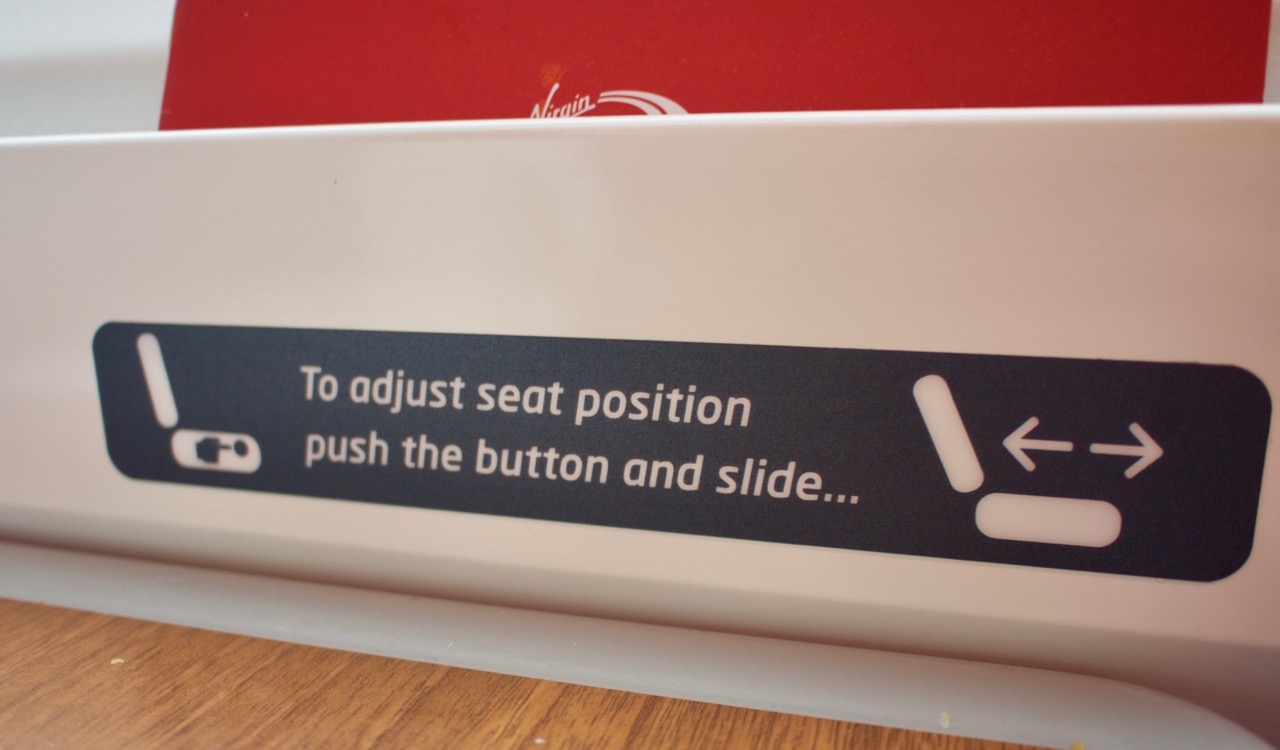 Also included – the signature Virgin purple lighting, just like in-flight.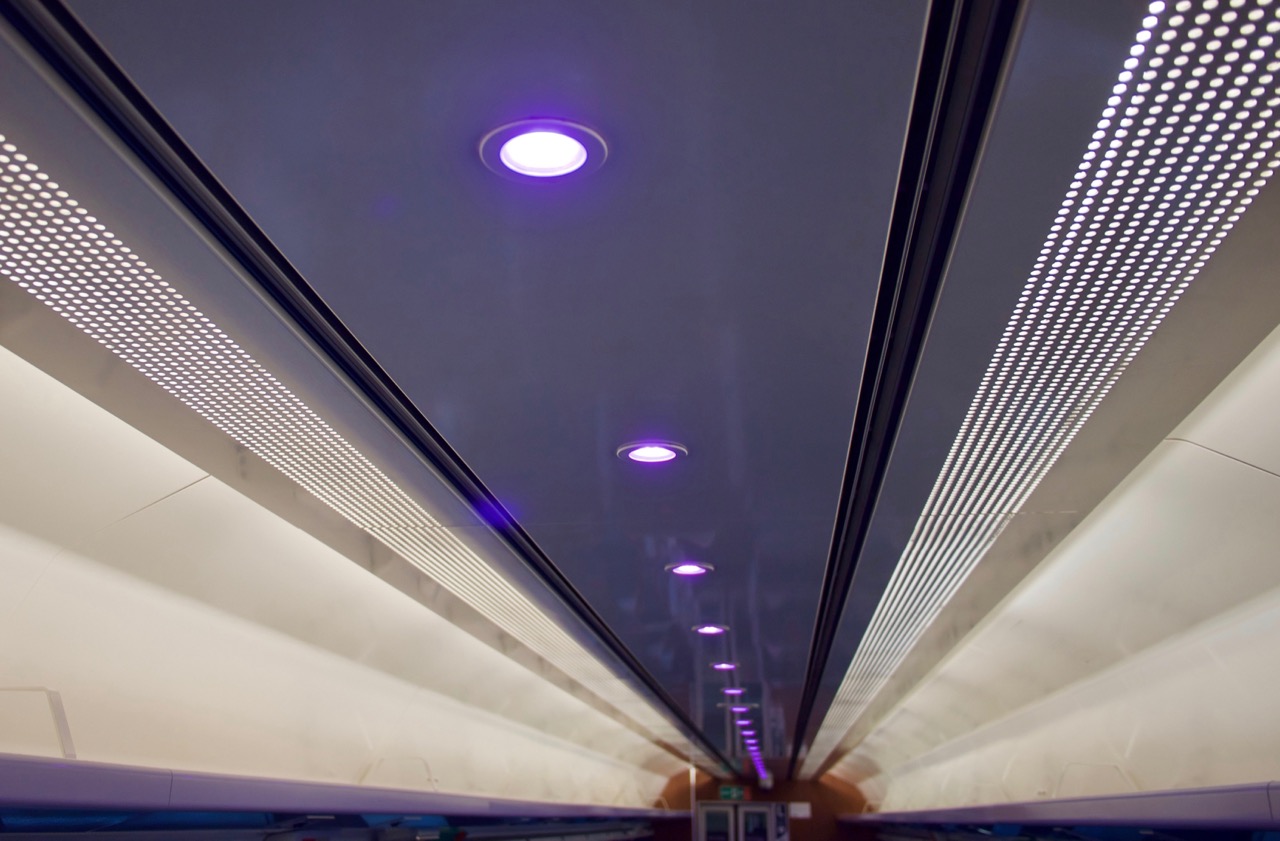 Each seat comes with direct power access. The majority of the passengers on our train, a 9am departure, were hard at work on their laptops.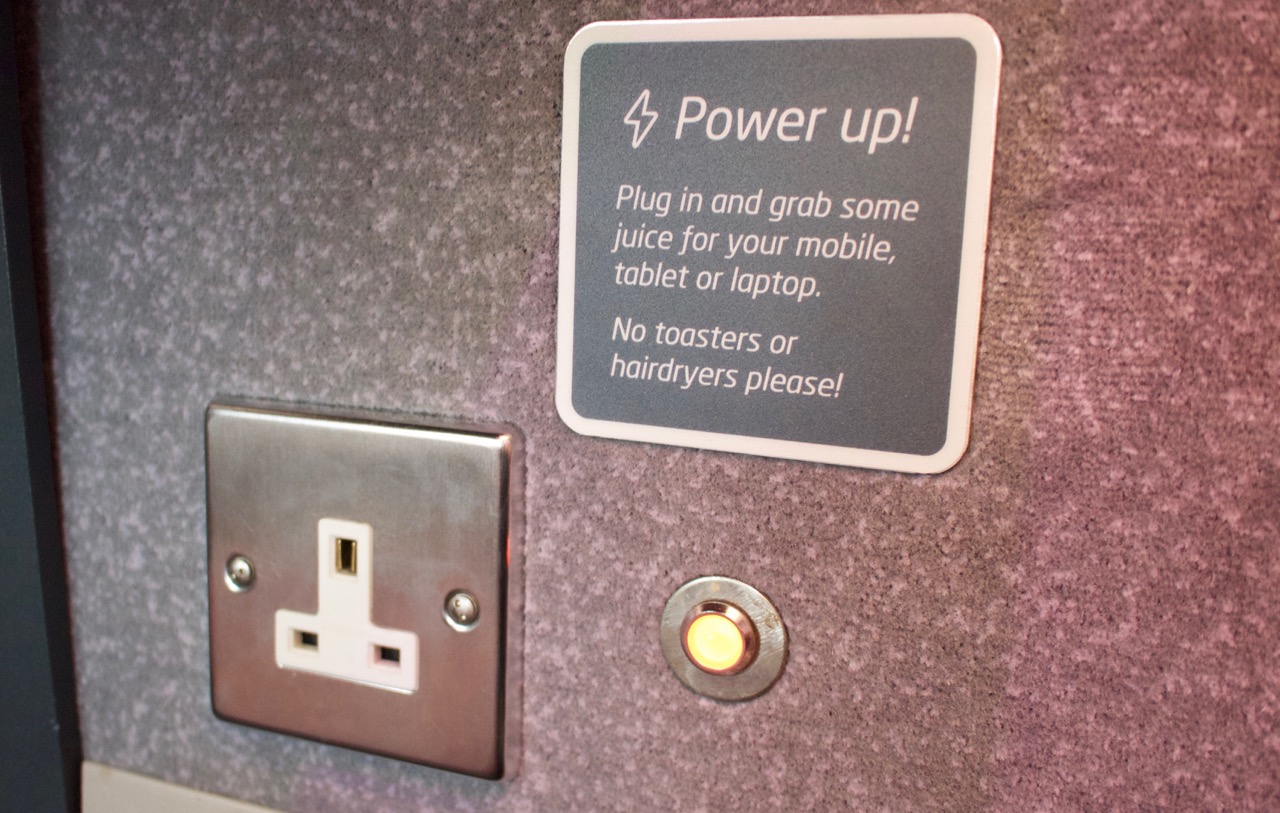 As a 9am departure, we were offered a cooked breakfast. I took a pretty decent bacon sandwich, which was made to order.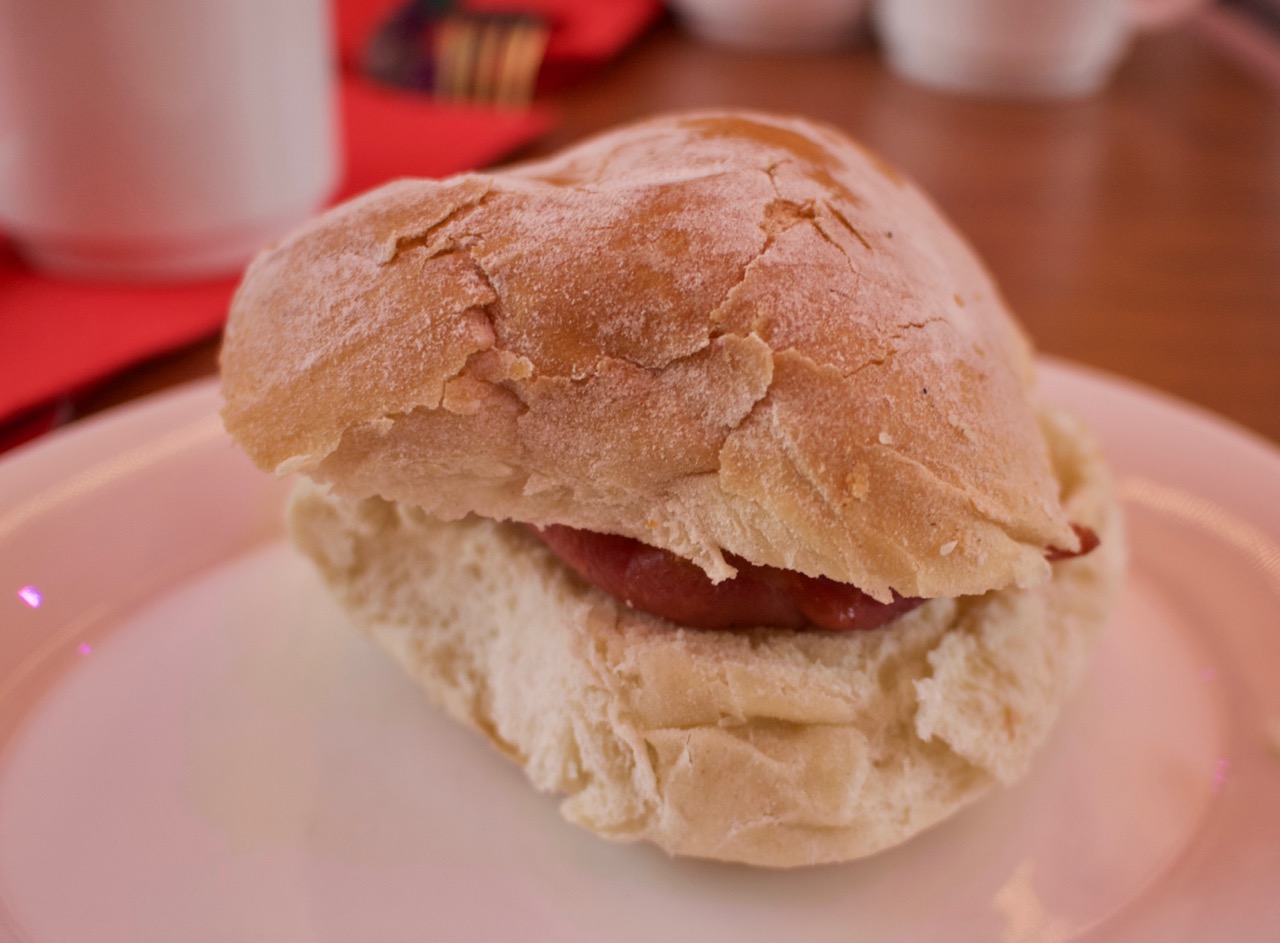 On our return in the late afternoon, we were offered afternoon tea. No, I didn't eat all of these muffins. Also on offer were the usual selection of unhealthy chips and chocolate, plus tea, coffee or alcohol.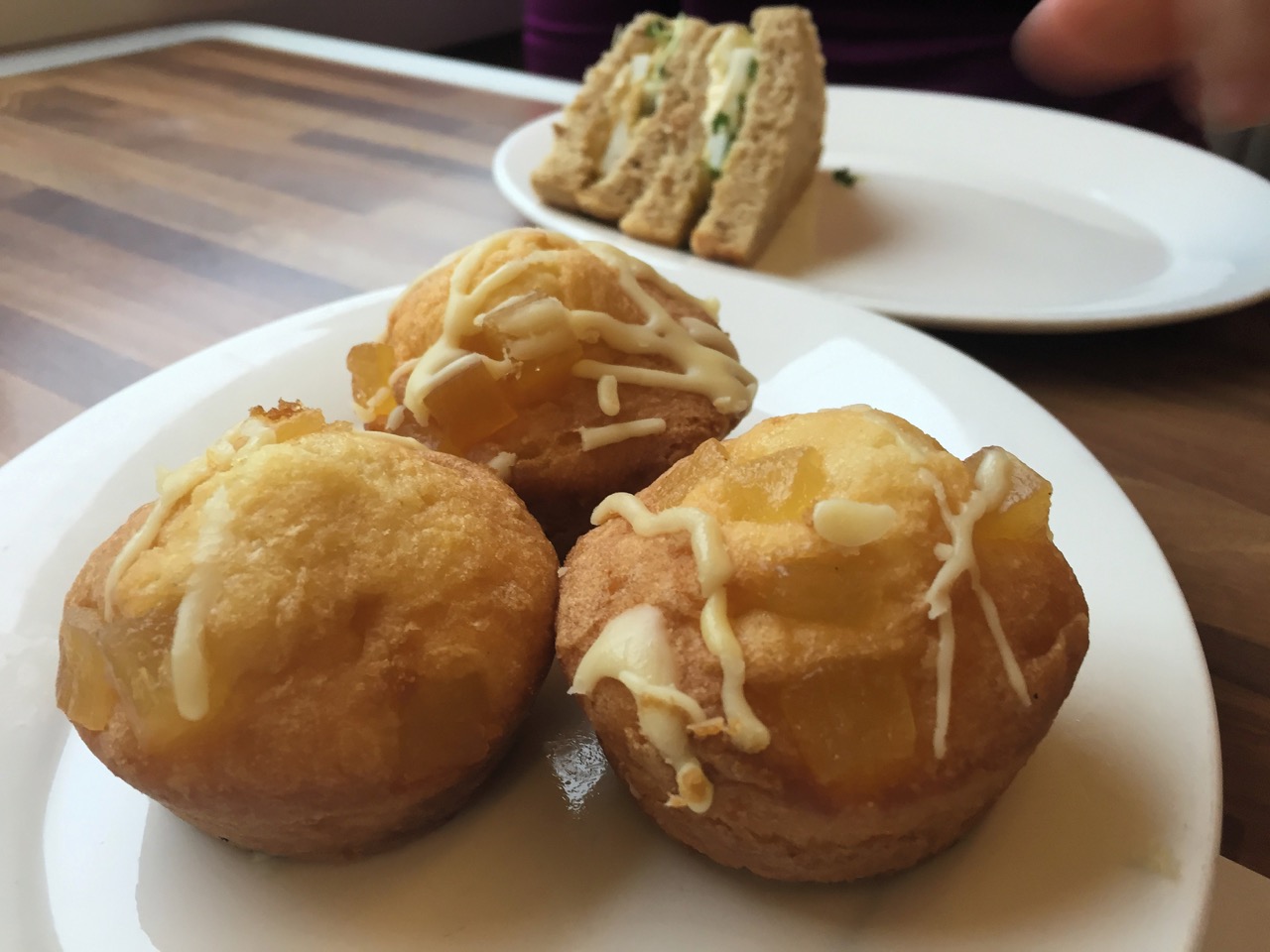 Here's the full menu:
All up, it was an impressive way to travel a couple of hundred kilometres in a short space of time.
Now, if you happen to be looking into train travel in the UK for yourself, the Virgin Trains route network in the UK looks like this: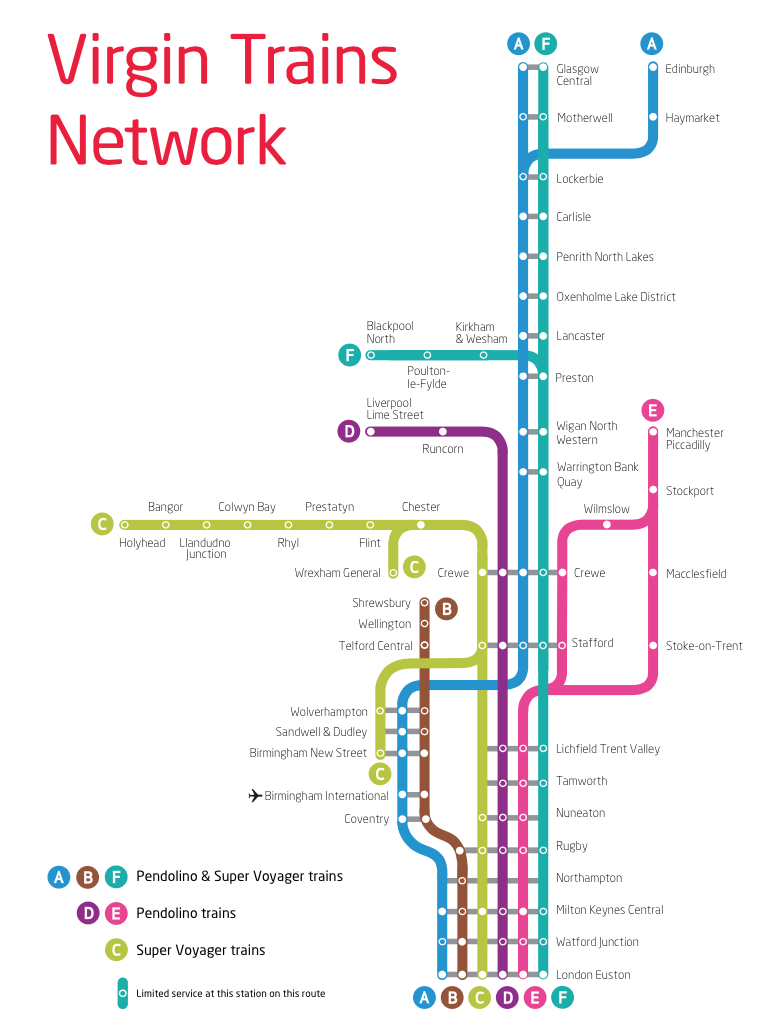 And for Virgin Trains East Coast:
The First Class experience between each does vary, and my understanding is that the trains we travelled on were the most modern in the Virgin fleet.

Earning frequent flyer points with Virgin Trains
Virgin Atlantic Flying Club
There's a very natural link between Virgin Atlantic Flying Club and Virgin Trains. You can collect 2 Flying Club miles per pound spent, which is a pretty decent earn rate considering – that's only if you book direct with Virgin Trains.
I picked up my Flying Club miles – not that I know what I'll do with them yet, but Flying Club are an American Express Membership Rewards partner so maybe I'll get some use out of them in future. I'd imagine these would rack up fairly quickly if you needed to commute on Virgin Trains.
Virgin Trains has a couple of key route networks in the UK, with 'Virgin Trains' covering a block of routes from London to Glasgow, Liverpool and Manchester up the centre and West Coast of the UK, and 'Virgin Trains East Coast' (this experience) covering London Kings Cross up to Edinburgh and beyond along the East Coast.
Taking a step back, this is a nice reminder of how all-pervasive the Virgin brand is. Maybe soon you could work out in your local Virgin Active, head to the airport to fly Virgin Australia domestically in Australia, then internationally to Hong Kong (once the Hainan Airlines investment kicks in); followed by Virgin Atlantics from Hong Kong to the UK, followed by a Virgin Trains trip in the UK, all the while bringing your handset connected to Virgin Mobile with you. It's a modern brand empire.
Summing up – comparing train vs car vs plane
OK, so you wouldn't fly between Sydney and Goulburn, or between London and Grantham. So we need to look at longer distances for a comparison.
After Grantham this same train keeps on heading up the East Coast of the UK, all of the way to Edinburgh and beyond to Aberdeen and Inverness.
London to Edinburgh is not as far as Sydney to Melbourne, admittedly, but it's not too different – the same trip makes for a good comparison at least. At it's quickest the train takes 4 hours 17 minutes with Virgin East Coast.
By the time you factor in getting to and from the airport, meeting minimum check in times, and then arriving away from the centre of the city – the train has the plane beat in terms of comfort, reliability and simplicity at the least, and it's not far off in terms of time taken as well.
Recent studies have a Melbourne to Sydney high speed rail journey coming in at a little under 3 hours, a goal that any infrastructure would have to meet to push flying out of the equation.
I'm not passing judgement on whether the cost of high speed rail for Australia between our major cities is worth it – I'm not informed enough for that. But based on my couple of experiences in the UK, if it did happen, it would absolutely be something to look forward to as a passenger.
Now here's a thought-starter… if HSR in Australia does become inevitable over time, maybe Qantas and Virgin should be first off the blocks in pushing for it and becoming operators.
They are experts in transport logistics, passenger experience, service and yes, loyalty programs – our inflight experiences in Australia are some of the best in the world. Why shouldn't they look to use their expertise for different forms of transport too?
I find it interesting to consider at least. But until then, we're left 'up in the air' here in Australia.
Our look at Virgin First Class train travel in the UK – this is the high speed rail experience we don't get in Australia
was last modified:
October 7th, 2020
by