Vietnamese low-cost carrier, VietJet, is powering its way through the Australian market. It started 2023 with no routes heading Down Under, but will end the year with four – Ho Chi Minh City to Melbourne, Sydney, Brisbane and Perth.
With connectivity to many popular destinations within Asia and the occasional promotion of ultra-discounted fares (to the point where you're practically just paying the taxes only), VietJet might appear on your radar for your next budget-friendly family trip.
So if your travels take you to Ho Chi Minh City and beyond, here's how to maximise your returns with VietJet's SkyJoy frequent flyer program. After all, why not collect the points if you're already flying?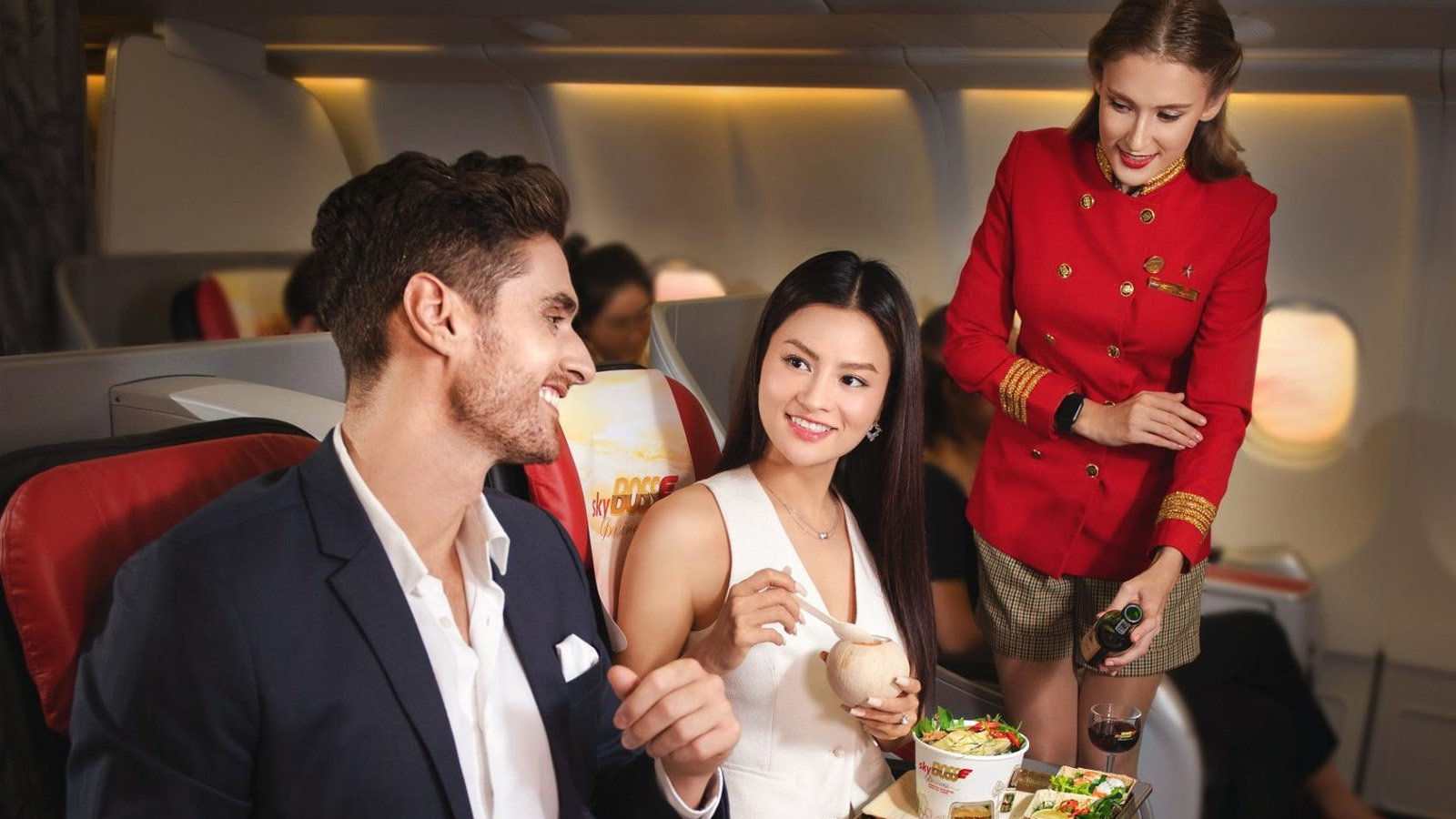 How do I join VietJet SkyJoy?
It's easy to become a VietJet SkyJoy member. The program is free to join and accessible to all nationalities.
Go to the SkyJoy website or download the app. It can be tricky to find the registration page so we've linked it here for your convenience.
Enter your personal details, including a mobile number (mandatory). If you have issues with the OTP, try again later (it took us a few attempts to get it).
You are now a member of VietJet SkyJoy – at the time of writing, you'll get 500 SkyPoints for free, enabling you to start booking certain reward flights (+ fees and charges).
How do I earn SkyPoints?
SkyPoints is, unsurprisingly, affiliated with many brands within Vietnam. You probably won't be earning SkyPoints with most of them as Australian-based travellers, but the rideshare app Grab is the most relevant. For example, Grab has previously run an offer where you can claim a bonus of 11,000 SkyPoints. To get it, you needed to complete five rides with a minimum fare of 100,000 VND (AU$6.55) each.
Otherwise, you'll most likely earn SkyPoints by flying on VietJet. You can earn SkyPoints on paid fares and most surcharges including admin fees, fuel surcharges, flight change fees, seat assignments, upgrades and pre-book meals.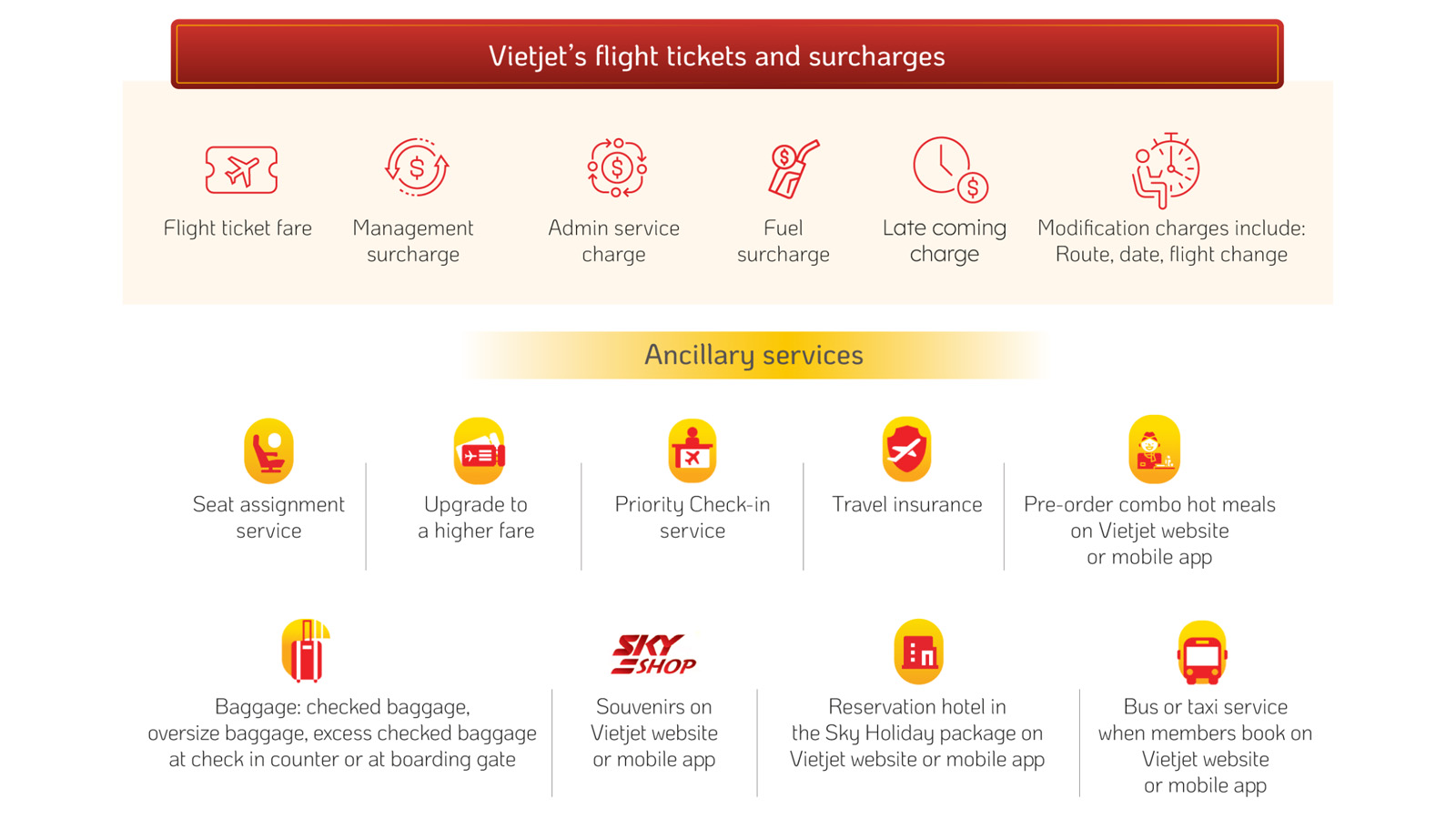 Earning SkyPoints on VietJet
SkyPoints are earned per 10,000 VND spent on those eligible charges. The accrual rate depends on your status in the program (more on that later) and the fare you purchase.
| | | | | |
| --- | --- | --- | --- | --- |
| Fare/Status | Red | Silver | Gold | Diamond |
| Eco | 0.5 | 2 | 3 | 4 |
| Deluxe | 1 | 4 | 6 | 8 |
| SkyBOSS | 1.5 | 6 | 8 | 10 |
| Business | 2 | 8 | 10 | 12 |
SkyPoints accrual rate on VietJet flights per 10,000 VND spent.
For example, someone spending AU$500 (~7,650,150 VND), excluding taxes on a return fare to Ho Chi Minh City on a Deluxe ticket would earn 765 SkyPoints as a Red member or 4,590 SkyPoints as a Gold member.
Ad – Scroll down to continue reading.Minimum spend, terms & conditions apply.
What are the VietJet membership tiers?
If your travels take you on VietJet more frequently, you might want to look at ascending through the membership ranks. There are four status levels in total, with each status level earned through flying qualifying sectors:
Red: Just enrolment in the program (0-3 sectors)
Silver: 4-9 sectors
Gold: 10-29 sectors, or buy it for 5,000,000 VND (~AU$329 a year) + VAT
Diamond: 30 and above Qualifying Flown Sectors
As a low-cost carrier, VietJet's higher membership tiers still don't include traditional perks like lounge access. But unlike AirAsia's rewards program, VietJet offers priority check-in, boarding and bag claim from Gold status onwards. You'll also earn bonus SkyPoints if you fly on your birthday and on 'special occasions' such as Valentine's Day, International Women's Day (8 March) and Single's Day (11 November).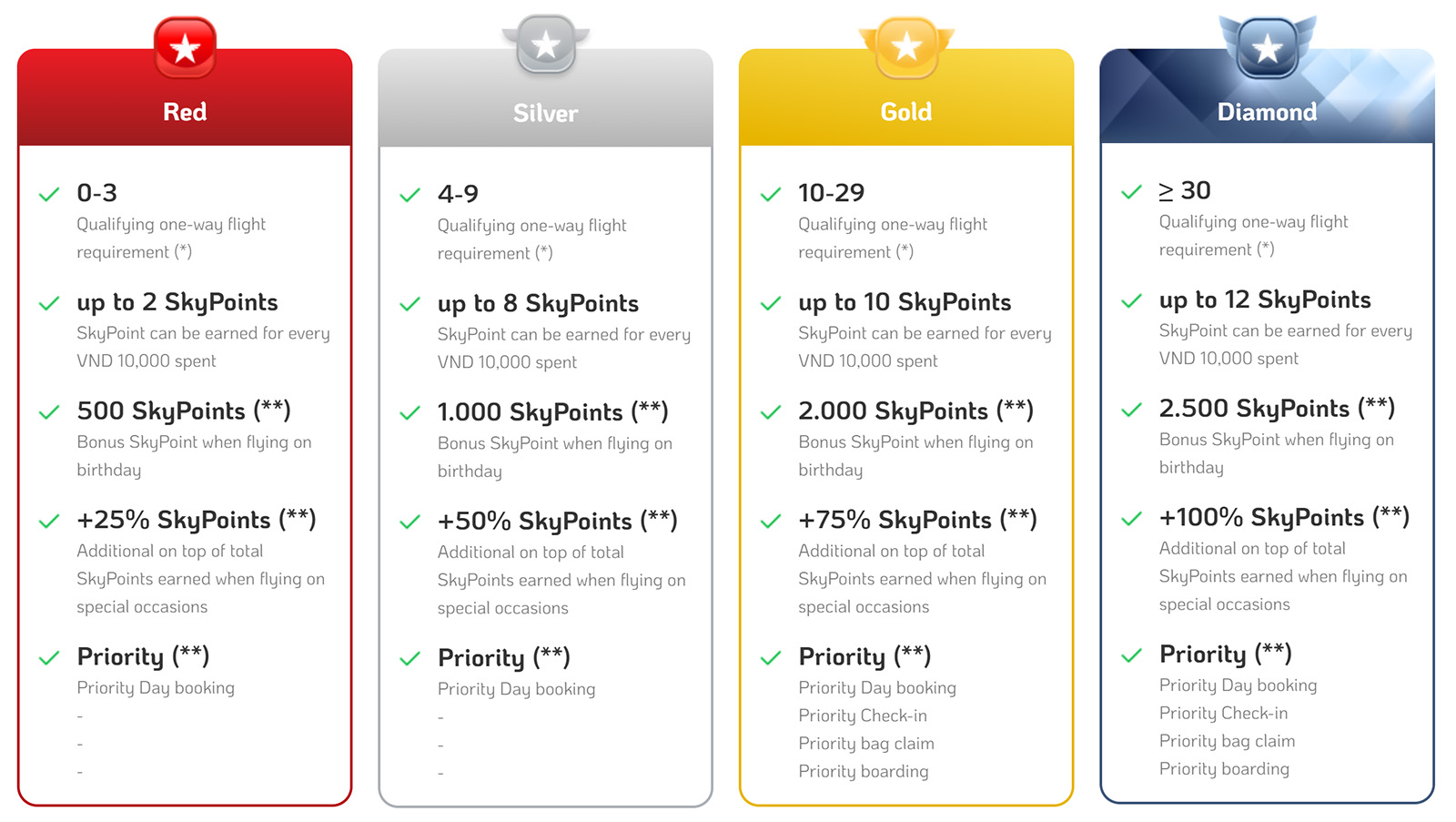 VietJet sells a shortcut to Gold status. Called 'SkyPlus', it costs around 5,000,000 VND (~AU$329 a year) + VAT and might be suitable for those who fly to Vietnam under four times (eight return flights) a year. The biggest difference between buying SkyPlus rather than earning Gold status is a bonus of 30,000 SkyPoints (worth around AU$141) to redeem on flights.
How do I redeem SkyPoints on VietJet?
SkyPoints can easily be redeemed on VietJet's website for reward flights. There are two types – Fixed Price and Market Value. Fixed Price is closer to what we would consider 'reward seats'. Market Value is similar to 'Points + Pay', where each SkyPoint is worth around 0.47 cents AUD.
VietJet ticket redemption rates don't include fees and taxes though. You can pay for those charges with additional SkyPoints or convert them to cash. We often see 'zero point' redemptions across the network, even on the long flights from Sydney to Ho Chi Minh City, as below.
But in this example, even though the base fare is free, the fees and charges cost 40,257 SkyPoints or 2,894,076 VND (~AU$190) one-way. We recommend paying this in cash rather than using your SkyPoints at the 'Market Value' rate. It's still not bad for a reward ticket, though, as you'd also need to pay fees and charges with other airlines.
You must use a minimum of 500 SkyPoints on a redemption booking, though you can top-up the remainder with cash. That's where the starting bonus of 500 SkyPoints for signing up will come in handy!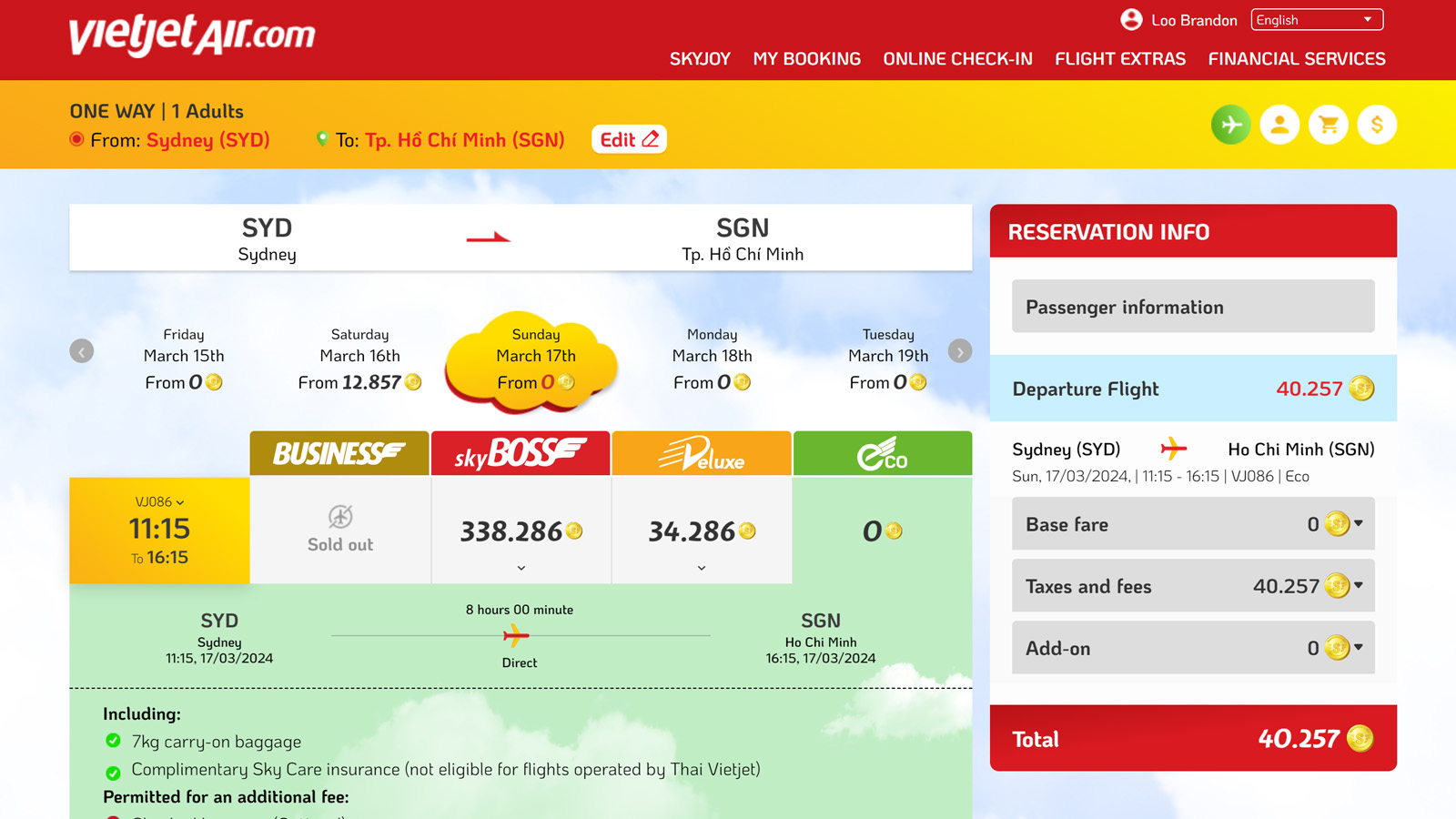 Outside of free and heavily-discounted base fares, Fixed Price rewards are the next-best option. For flights from Vietnam to Sydney/Melbourne/Brisbane, expect to pay 20,000 SkyPoints + fees and charges.
Perth flights haven't yet been updated on the Fixed Price table yet, but we expect these will cost 16,000 SkyPoints + fees and charges as the journey is just under seven hours.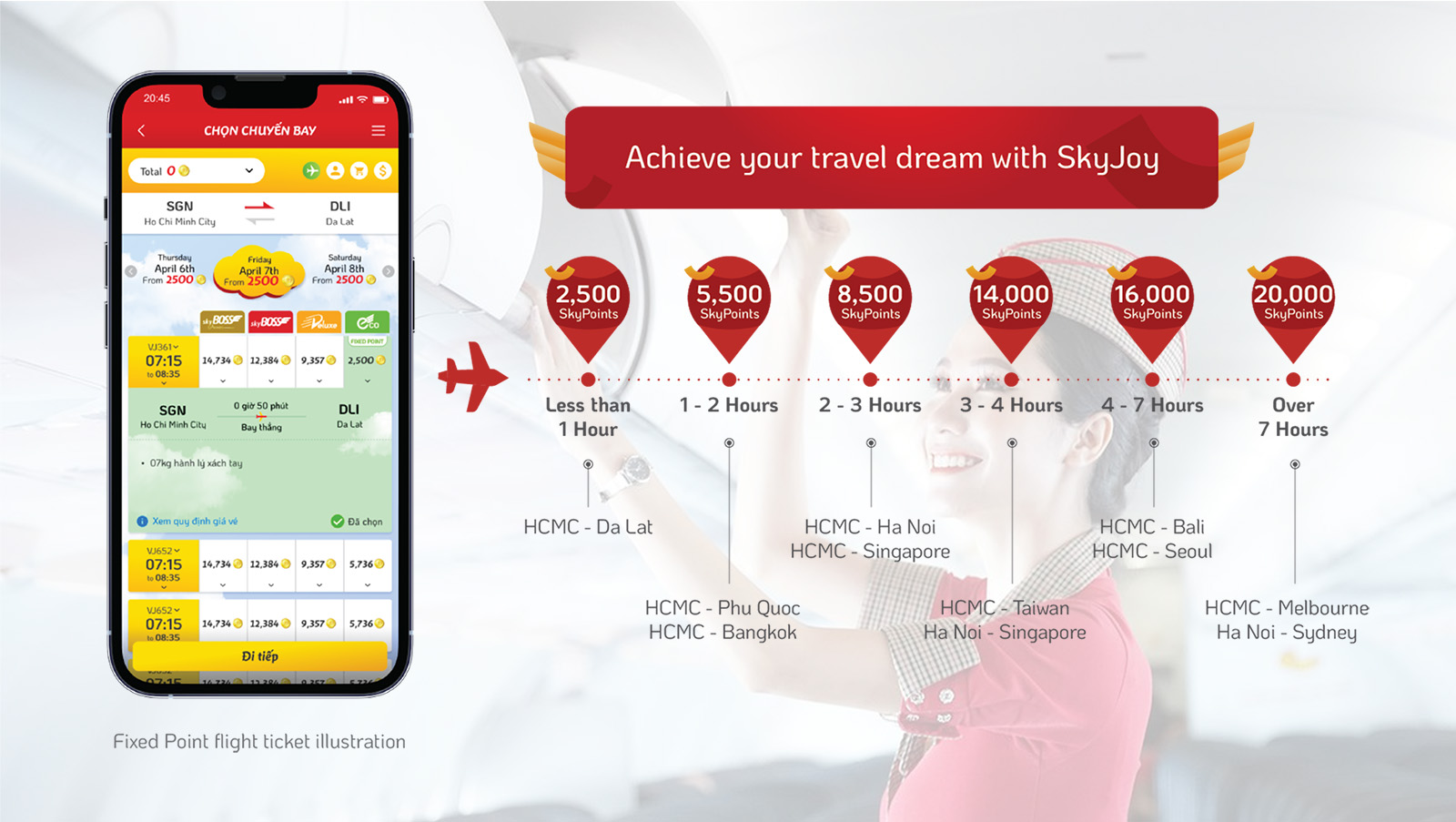 One final thing – the website will automatically pick a paid 20 kg baggage allowance while you're checking out. If you don't need this, be sure to go and select 'no thanks' before making payment.
How to contact VietJet SkyJoy
The best way to contact the program for any queries or assistance is via email: [email protected], or call +84 1900 638 380. Want to make a SkyJoy flight redemption over the phone rather than online? Contact +84 1900 1886 or email [email protected].
Summing up
VietJet SkyJoy is a fledgling frequent flyer program that offers a pathway to membership perks and rewards if you fly VietJet often enough. With no other partner airlines to earn points with, you might as well earn SkyPoints whenever you fly VietJet. Only 500 SkyPoints is enough to unlock access to reward seats, including the popular 'zero fare' seats where you just need to pay fees and taxes.
---
Stay up to date with the latest news, reviews and guides by subscribing to Point Hacks' email newsletter.
Ultimate guide to the VietJet SkyJoy program
was last modified:
August 24th, 2023
by