Malaysian airline AirAsia rewards regular flyers through its airasia rewards program (formerly AirAsia BIG). It's useful for those who fly on AirAsia flights which reach over 130 destinations throughout Asia and the Pacific. For Australia, this includes Melbourne, Sydney, Perth and Gold Coast.
Aside from flights, airasia rewards points can be earned through using an AirAsia credit card, online shopping, car rentals, points transfers from bank rewards programs and a number of travel partners like Agoda and booking.com.
This guide will teach you how to make the most out of the program even if you're thousands of miles away.
How do I join airasia rewards?
It's easy to become an airasia rewards member. The program is free to join and accessible to all nationalities.
Go to the airasia rewards website or download the AirAsia Super App
Enter your personal details
Choose your communication preferences
How do I earn airasia points?
Although Malaysia-based airline AirAsia is far from Australia, its rewards program runs in partnership with a number of local and international businesses which makes earning points from afar simple.
Members of the airasia rewards program can earn points through the following:
Flying on AirAsia and AirAsia X flights – the carrier services four Australian cities
Shopping online through airasia shop
Converting points from bank award programs like CommBank Awards
Converting points from partner programs
Using hotel and car online booking portals
For Australians, flying to or from Kuala Lumpur with AirAsia X – the airline's long-haul sister company – can be the easiest way to accumulate points. If you need to top up your balance, you could also convert CommBank Awards points at a rate of 2.5 Award Points to one airasia point. Though it's worth bearing in mind that CommBank Awards' flexible points can also be transferred to programs like KrisFlyer, Velocity or Marriott Bonvoy.
What is AirAsia Freedom Flyer Programme?
Here's where it can get tricky. The airasia rewards scheme offers a loyalty program called AirAsia Freedom Flyer Programme. While you can earn airasia rewards points through a number of avenues and partners, status towards the AirAsia Freedom Flyer Programme is only earned through flying with AirAsia.
There are four status levels in total, with each status level earned through flying qualifying sectors:
Red: 0-13 Qualifying Flown Sectors
Gold: 14-23 Qualifying Flown Sectors
Platinum: 24-49 Qualifying Flown Sectors
Black: 50 and above Qualifying Flown Sectors
Unlike some other frequent flyer programs, AirAsia Freedom Flyer Programme doesn't offer high-level members benefits like additional checked baggage or priority boarding. Instead, the sole advantage of holding status is your ability to earn more points from your booking as you progress through the tiers.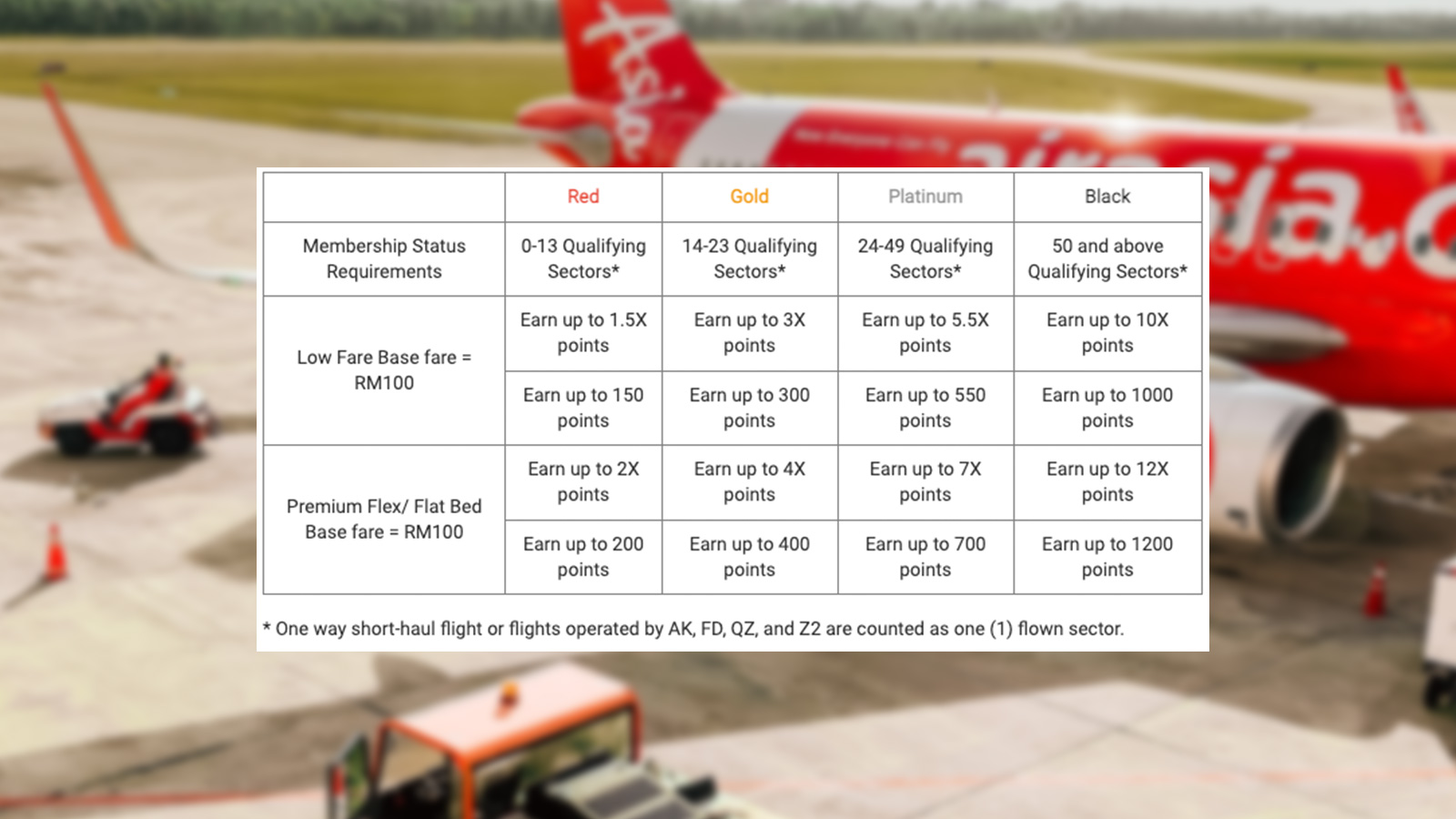 Members of airasia rewards are automatically enrolled into the AirAsia Freedom Flyer Programme. This means if you're new to airasia rewards, you don't need to sign up separately to be included, and you'll begin accumulating qualifying sectors straight away.
Ad – Scroll down to continue reading.Minimum spend, terms & conditions apply.
How do I redeem airasia rewards points?
The airasia rewards program lets you redeem points for flights on AirAsia and AirAsia X. You can redeem a minimum of 100 points to knock a portion off the total of your flight booking. To do this, log into your account and tick 'redeem airasia points' when conducting a search.
Alternatively, Final Call deals on the AirAsia Super App give members the opportunity to redeem flights just using airasia points. Fares and routes can vary.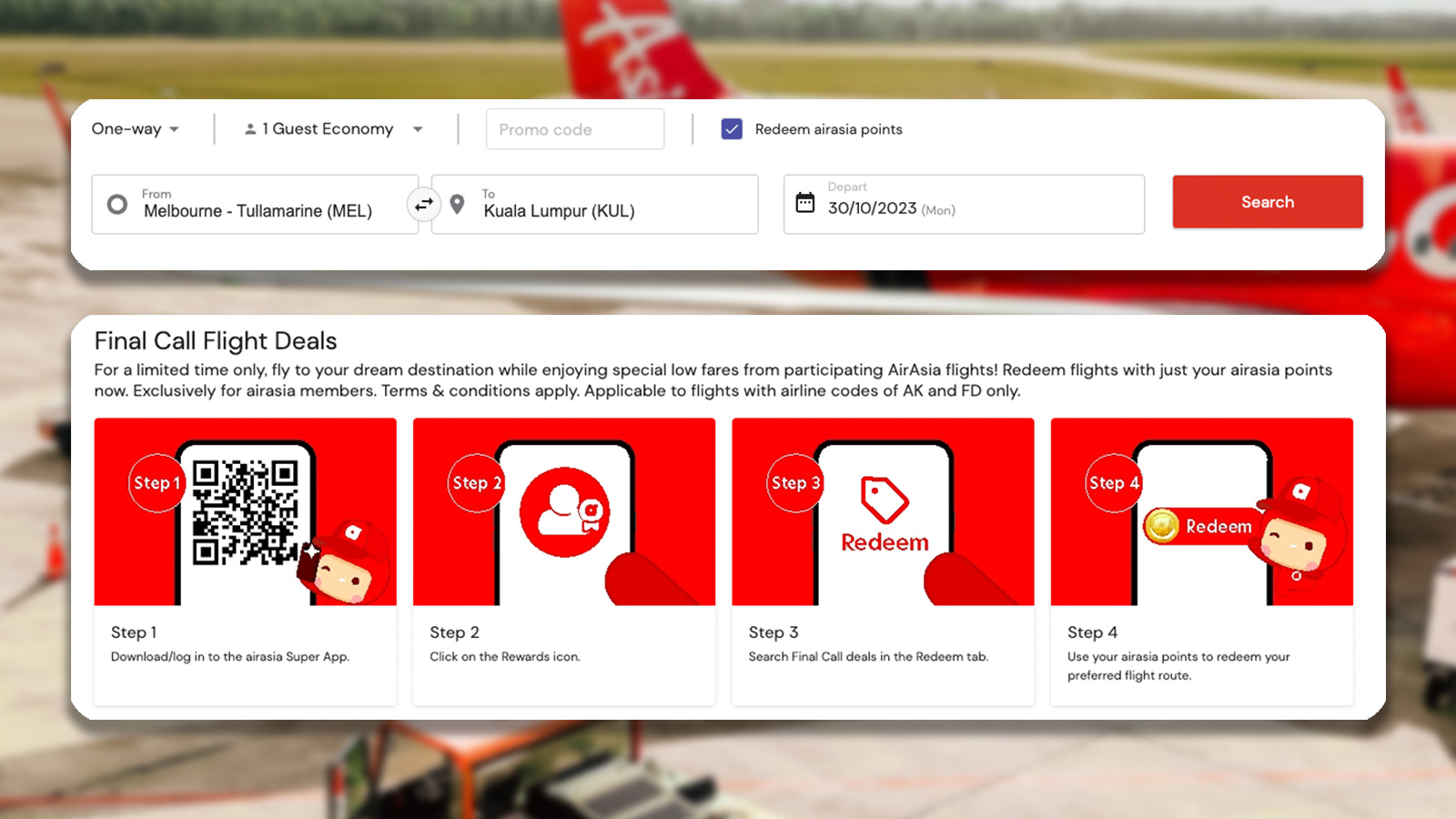 Points earned through airasia rewards can be used to redeem rewards through most of the same partner hotels, car rental services and travel operators it offers the opportunity to earn with. While airasia points can also be redeemed for shopping, entertainment and food and beverage, many of these operators are based in Malaysia. But it's handy to have these options if you're spending an extended period of time in the country.
Points can also be redeemed for products on airasia shop. For passengers travelling between Australia and Malaysia, the best option is to have your order delivered to your seat during your flight. Other options include collection at select airports, or delivery to certain areas in Malaysia, Indonesia and the Philippines.
How to contact airasia rewards
The best way to get in touch with the program for any queries or assistance is via email: [email protected]
Summing up
If you find yourself regularly flying through Asia or spending a lot of time in Malaysia, then joining airasia rewards can be a wise move. Working in collaboration with a number of local and international partners, the program is free, easy to join and has decent earning potential.
FAQs
How do I earn airasia rewards points?
Flying with AirAsia and AirAsia X is the predominant way for Australians to earn points. Other ways include through the airasia shop, converting points from partner programs and through online hotel and car rental platforms.
How do I redeem airasia rewards points?
Airasia points can be redeemed on flights throughout the AirAsia network. Other ways to redeem points include hotels, car hire and other travel operators. You can also redeem points for restaurants and entertainment partners based in Malaysia.
Do airasia points expire?
Airasia rewards points expire 24 months after the date they were issued.
Can I transfer airasia points?
With the AirAsia Super App, members can transfer airasia rewards points to another airasia rewards member.
Where does AirAsia fly to in Australia?
AirAsia X operates direct routes from Melbourne, Sydney, Perth and Gold Coast to Kuala Lumpur.
The Ultimate guide to airasia rewards
was last modified:
October 19th, 2023
by