Want to earn some quick and easy Velocity Points when you'd otherwise be aimlessly scrolling on your phone? It's possible through its partner e-Rewards, which offers points for completing surveys.
Plus, your opinions could go a long way in shaping future products and offers from retailers down the track! Here's how to get started, and potentially snag some bonus sign-up points as well.
What is e-Rewards?
e-Rewards is an international survey platform that offers rewards (Opinion Points) for completing surveys. You'll get a better and more relevant selection of surveys once you fill out your profile a bit more.
The number of Opinion Points you can earn depends on the survey type — this could range from 25 points if you attempt a survey but don't qualify, to more than 300 points if you complete a 20-minute survey.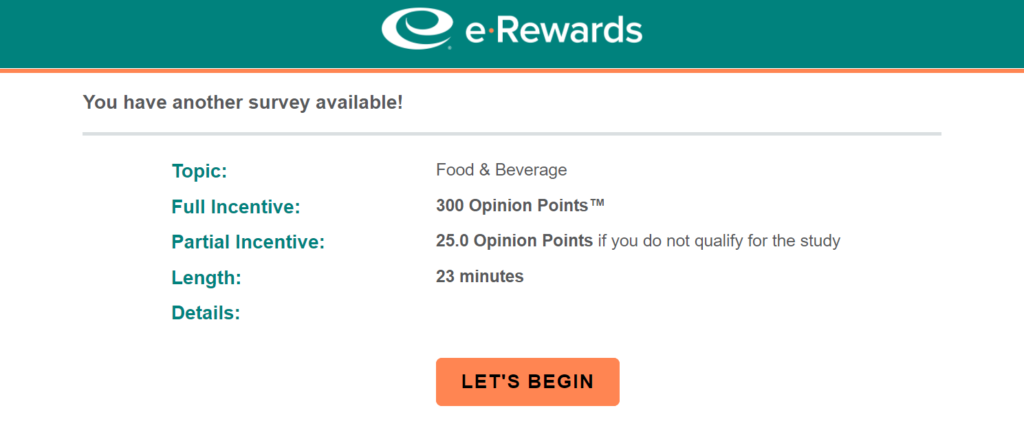 Ad – Scroll down to continue reading.Minimum spend, terms & conditions apply.
How do I earn Velocity Points with e-Rewards?
There are occasionally new-user signup bonuses for new members. Check out the 'Special Offers' tab on the Velocity website to see if there are any deals for you with e-Rewards.
At the time of writing, the offer is: earn a bonus 850 Velocity Points when you sign-up and complete a survey within 90 days.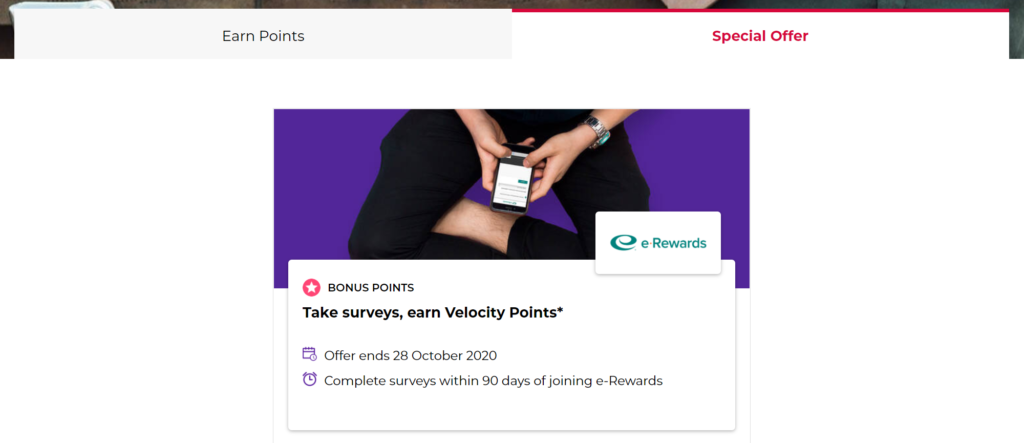 Aside from bonus offers, the usual way to earn Velocity Points is to first accumulate e-Rewards Opinion Points, and then convert it to Velocity Points through the 'Rewards' section of the website.
The reward rates are:
250 Velocity Points = 1,200 Opinion Points
500 Velocity Points = 2,000 Opinion Points
1,000 Velocity Points = 3,500 Opinion Points
2,000 Velocity Points = 6,000 Opinion Points
This tiered scale means it's better to hold on to your Opinion Points for the longer-term rather than cashing-in for the smallest amount whenever you can. 100 Opinion Points is worth 20 Velocity Points at the lowest tier, and 33 Velocity Points at the highest tier.
It's also important to note that some T&Cs apply:
You can redeem Opinion Points for Velocity Points once every 30-day period
Allow 4-6 weeks for Velocity Point redemptions to appear in your account
Summing up
e-Rewards is a survey platform that Velocity Frequent Flyer members can use to earn Velocity Points during their spare time. There's no cost for you to join, so there's no harm in signing up with a bonus offer and completing a few surveys for rewards.
Surveys are generally anonymised, so the information you input can't be traced back to you personally. However, e-Rewards occasionally offers you the chance to answer some more personal questions in order to get access to a bigger pool of surveys.
But this is completely up to you, of course, and you are free to select 'Prefer Not to Answer' as an option where asked.
How to earn Velocity Points from completing surveys with e-Rewards
was last modified:
October 27th, 2020
by