This new partnership has you earning at least 100 Velocity Points every time you board the bus, plus our tips to earn extra points by buying roundtrip, family and multi-trip tickets.
Perhaps travellers deserve the opportunity to earn points on what is the most expensive airport-to-CBD mass transit service of any major city in Australia ($18), beating out train fares to central stations in Brisbane ($17.50) and Sydney ($16.78). But at least you get wifi on the SkyBus and Brisbane's Airtrain services.
Earn rates
Below is the table showing how many Velocity Points you'll earn, with the white column on the left showing the ongoing rate and the red column on the right showing the bonus double points available until 28 February 2017: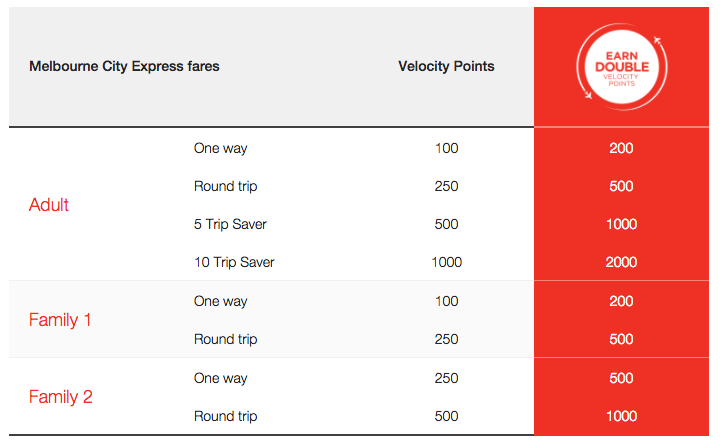 You'll only earn Velocity Points on trips between the airport and City/Southbank Docklands, not on the St Kilda Express or Frankston & Peninsula (FAPAS) routes.
Three sweet spots to earn extra points
1. Book roundtrip if travelling alone
Basically, you'll earn 100 Velocity Points for each ride on an Adult fare, except you'll earn an extra 50 points if you book a roundtrip instead of two one-way tickets (250 points for roundtrip versus 100 for two one-ways).
2. Book Family 2 fare instead of two one-way Adult fares if travelling as a two-adult family
If you are travelling with up to four children aged between 4 and 16 years old (they don't mention anything about infants on their website), they ride for free.
If you're the only adult, you'll travel on the Family 1 fare and get the same earn rate as a single Adult (100 points one-way and 250 roundtrip).
However, if you are two adults travelling with up to four children one-way, then you are better off buying the Family 2 ticket (for the same price as two one-way Adult fares) because you'll get 250 points instead of 200 points in total if buying two separate tickets. For a roundtrip as a two-adult family, booking the adult tickets separately or together doesn't make a difference in terms of points earn.
3. Stock up on five- and/or ten-trip passes now
One-way and roundtrip tickets are valid for six months, but if you buy a five- or ten-trip pass, you'll get 12 or 18 months to use it, respectively.
So if you know that you will use the bus service up to ten times over the next 18 months, then you can take advantage of the current double bonus points offer by stocking up on passes before 28 February 2017.
How to earn points
Buy online: enter your Velocity membership number on the booking page. Make sure the name on your booking matches exactly the name on your Velocity Frequent Flyer account.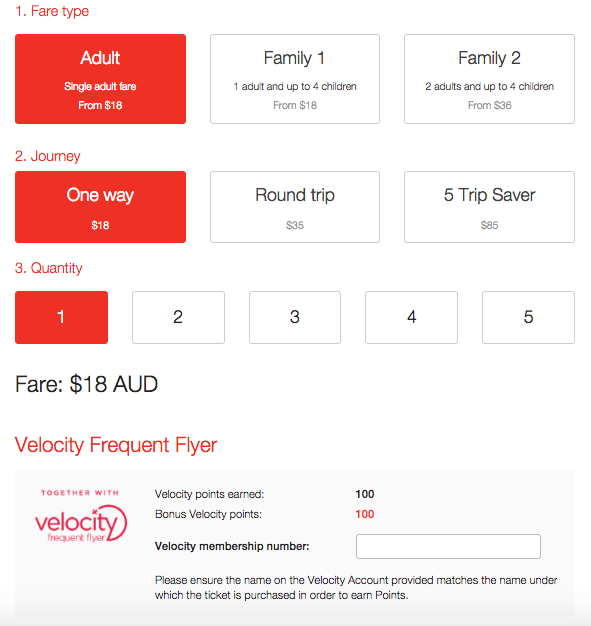 Buy in person at a ticket booth: swipe your Velocity membership card (you need to have your card physically with you)
Points are not available when booking at an e-kiosk.
Summing up
This is a great way to earn Velocity Points on a service you may use already.
If travelling solo, a roundtrip will earn you more points than two one-ways; and if you are two adults travelling with a family, make sure to buy a Family 2 ticket instead of two separate one-way Adult tickets.
Keen points hoarders can stock up on multi-trip tickets before the end of February 2017 to take advantage of the double points offer.
All images courtesy of SkyBus.
Earn Velocity Points on Melbourne's SkyBus service (double points until February 2017)
was last modified:
February 6th, 2019
by