Emirates is tapping into a relatively new market with the release of its Skywards+ subscription packages. For an annual fee, you can enjoy perks such as Business Lounge access, more checked luggage and more Skywards Miles on flights. Plus, there are discounts on Classic Rewards and upgrades as well.
While most Australian-based travellers will, sadly, not get much use out of Skywards+ right now, we break down the three membership tiers to see how this interesting new concept stacks up once international borders again open up.
What is Skywards+?
Skywards+ is Emirates' new premium frequent flyer subscription. Rather than earning travel benefits through Tier status, Skywards+ lets you purchase a select range of perks for an annual fee. Your choices are:
Classic (US$399/A$542): A 'good starter package' to make journeys more rewarding
Advanced (US$699/A$949): The mid-tier package with an enhanced set of benefits
Premium (US$999/A$1,355): Designed to help you reach the next tier faster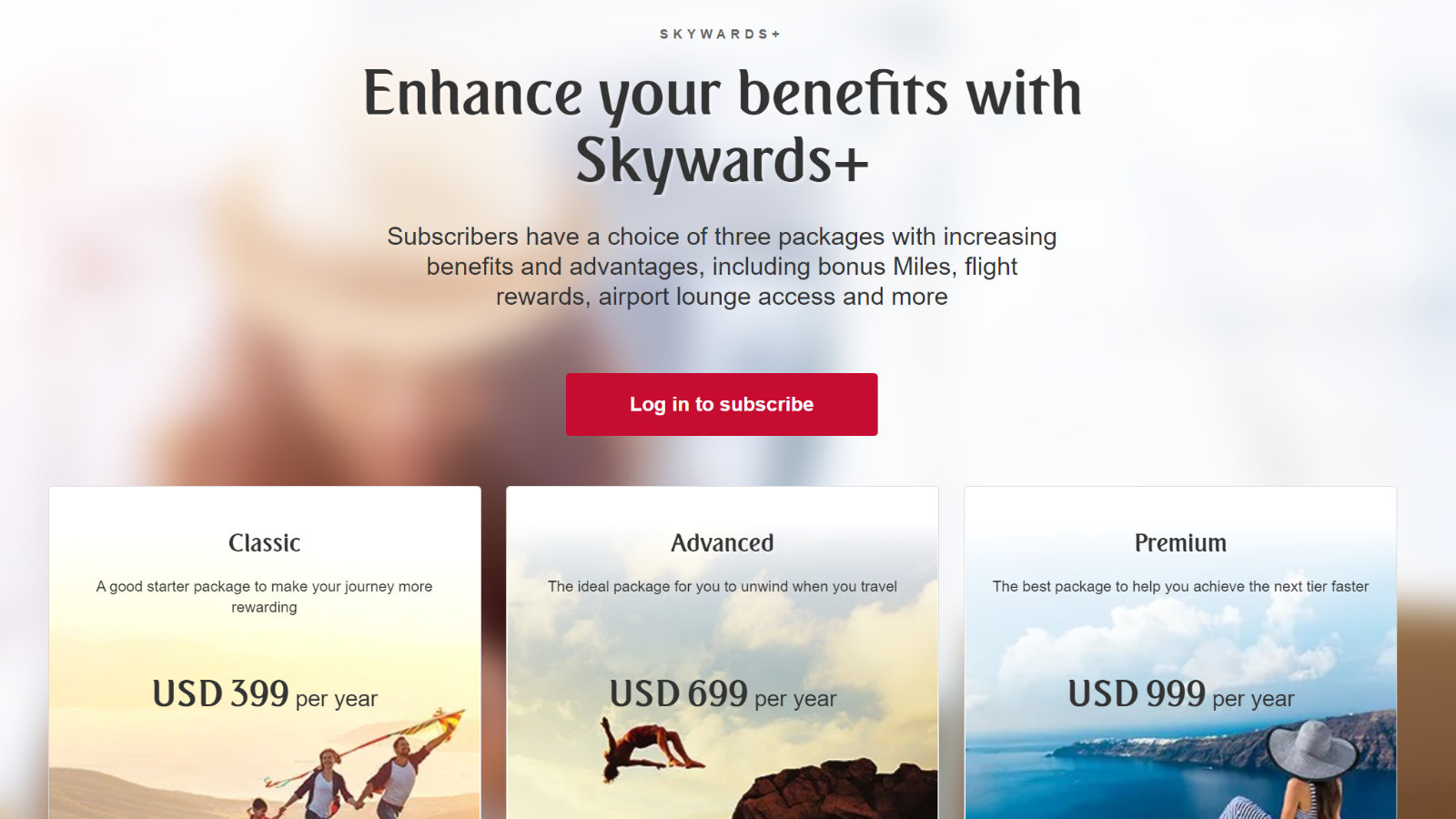 Ad – Scroll down to continue reading.Minimum spend, terms & conditions apply.
What benefits do I get with Skywards+?
Here's a summary of the perks you get with a paid Skywards+ subscription:
Classic
Advanced
Premiium
Annual cost
US$399
(A$542)
US$699
(A$949)
US$999
(A$1,355)
Bonus Skywards Miles
20% more
20% more
20% more
Bonus Tier Miles
✘
✘
20% more
Discount on Classic Rewards
20%, one-time
20%, one-time
20%, one-time
Discount on Upgrade Rewards
✘
20% discount
20% discount
Lounge access passes
2 passes
5 passes
10 passes
Preferential Cash+Miles rate
✓
✓
✓
Extra checked luggage (kg)
5kg more
10kg more
10kg more
Extra checked luggage (pieces)
✘
1 extra piece
1 extra piece
20% discount on Classic Rewards
If you collect Skywards Miles, then the one-off 20% discount on Classic Rewards is easily one of the best perks available. You have to time it right, but it can offer great savings.
It applies to all travellers within the same booking
You can use it for one-way or return reward bookings
It makes sense to save this benefit for the biggest reward booking you can make within your membership year – such as one that involves multiple passengers in a premium cabin class, on a return flight.
For example, say you redeem 2x return Business Class tickets from Sydney to London, costing 512,000 miles. With this offer activated, you'd get 102,400 Skywards Miles back. We currently value Skywards Miles at 1.10 cents each, so 102,400 Skywards Miles is worth about A$1,126.40. That could easily cover the cost of a Skywards+ membership.
20% upgrade on Upgrade Rewards
If you happen to (or plan to) fly Emirates cash tickets, then the 'Advanced' and 'Premium' plans give you recurring access to 20% off upgrades with miles! However, there are quite a few caveats to note:
Only commercial tickets issued on emirates.com are eligible, and only online upgrades will be discounted
Instant upgrades at check-in, and onboard upgrades aren't discounted
'Special' and 'Saver' tickets can't be upgraded with the discount
20% bonus Tier Miles
Need a helping hand with earning or maintaining elite Skywards tier status? The expensive 'Premium' Skywards+ plan can get you there sooner with 20% bonus Tier Miles on flights marketed and operated by Emirates.
Business Lounge access passes
With 2 to 10 Business Lounge passes on offer, you might be wondering how you can use them. Well, it's valid for yourself (the subscriber) and any accompanying guests at 'select' Emirates Business Class Lounges.
Unfortunately, Emirates is yet to advise which overseas lounges are participating, but we do know you can use the passes at the airline's Dubai-based lounges.
Summing up: is Skywards+ worth it?
Used smartly, Skywards+ can certainly deliver more value than you've paid for. While it might not be as useful as a Netflix subscription in current times, Skywards+ is worth considering in future years when we're able to spread our wings once more. If you're just after some lounge passes and the yearly 20% discount on Classic Rewards, then the cheapest 'Classic' option is a great fit.
'Advanced' would suit those who might fly through Dubai a few times a year, and perhaps want to bring extra luggage for conferences or shopping sprees (both are equally important). Finally, 'Premium' is probably only good for those who are looking to earn bonus Tier Miles to earn status sooner.
If you do decide to buy Skywards+ one day, heed this quick tip from us: purchase the membership early in the month. You'll be able to enjoy nearly 13 months for the price of 12, as your subscription is valid for a year and until the end of the last month.
For example, if you purchase it on 1 November 2021, your membership is valid until 30 November 2022.
Here is Emirates' paid Skywards+ 'loyalty subscription'
was last modified:
August 14th, 2023
by