For those who travel more than most, Shangri-La Circle offers Jade membership. It's a solid starter with free daily breakfast, room upgrades and more. When that's not enough, Diamond kicks things up a notch with perks like Horizon Club lounge access. But for those in the know, Shangri-La Circle has one more tier… A secret tier, known as Polaris.
Polaris isn't an advertised level in the Shangri-La Circle program. But get the bump beyond Diamond and a serious world of superb privileges awaits you.
Here's a little teaser from the Polaris membership portal. 'Just as the North Star has served as the guiding light for travellers, Polaris leads the way into a brand-new world of personalised privileges at Shangri-La – curated for our closest members.'
Curious? Don't worry, we've brought our telescope – come take a peek…
How can you become a Shangri-La Circle Polaris member?
As with most VIP tiers, there isn't a specific number of nights or stays that can qualify you for Shangri-La's elusive Polaris level. Instead, this very top rung of Shangri-La Circle is strictly for those handpicked for the high life.
'We don't disclose the qualification criteria,' a Shangri-La spokesperson hints to Point Hacks. 'Polaris is Shangri-La Circle's invitation-only tier.' However, it's understood that Polaris is for the chain's most loyal guests.
On that front, consider for a moment what it takes to qualify for Shangri-La Circle's highest public tier, Diamond. Members only reach Diamond after staying for 50 nights in a year. Or by notching up 15,000 Tier Points over the same period – akin to US$15,000 (~AU$22,278) in annual hotel spend.
Remember, that's just for Diamond – and to merely scrape through. To find yourself among the Polaris ranks and set yourself well apart from the Diamonds, you'd likely need to spend significantly more.
Exclusive benefits of Shangri-La Circle Polaris
So what awaits when you're a Polaris member with Shangri-La? In short, the benefits are spectacular – and in fact, among the best I've seen for a VIP tier in the hotel space.
It begins with a privilege known as Shangri-La All Access. It sounds like a backstage pass… And it practically is. Polaris members who aren't even staying at a hotel can swing by any Shangri-La property and enjoy most of the same privileges as Diamond members staying in-house.
Want to pop by a hotel's Horizon Club lounge for a meeting – or even just the evening canapés? It's no bother. How about some laps in the hotel pool, or a workout in the gym? Consider it done. Need to do some printing on the go? The business centre can take care of that.
These privileges could be of use while travelling, or even in a member's home city. Imagine having a complimentary year-round pass to Shangri-La Sydney's Horizon Club, any time you felt like popping by. There's a clear reason this tier is by invitation only…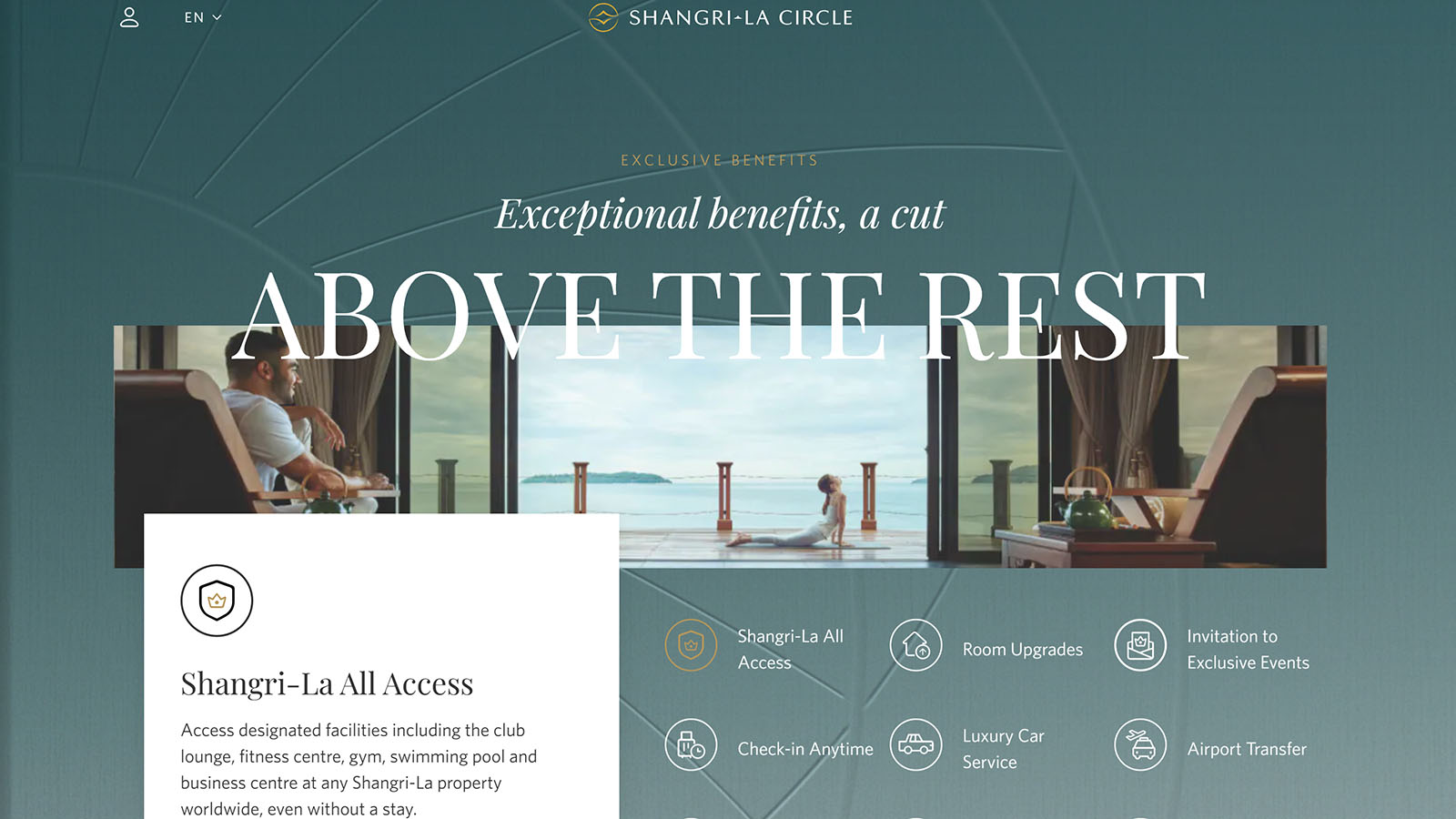 But remember, Shangri-La Polaris is for the program's most loyal guests. To continue enjoying the anytime 'freebies', the member needs to keep exceeding the regular commitments of Diamond. Otherwise, those excellent Polaris perks return to being available only during a member's stay, if they were to drop down to Diamond.
Speaking of status levels, Polaris members can gift a Shangri-La Circle Diamond card to one family member of their choosing. This privilege renews every year that the primary member remains at Polaris.
Even more perks with Shangri-La Circle Polaris
According to the Polaris membership portal, VIP-tier travellers can expect even more benefits than we've already outlined. For instance, 'exclusive invitations to Shangri-La and coveted global events.' The benefits of Shangri-La's concierge services also remain available to Polaris members year-round.
But when these members are staying in-house, the privileges are next level.
Fancy an early check-in? When you're a Polaris cardholder, you can get the keys to your room any time from midnight on the day of your arrival. That's right – not just a few hours before the public pre-set check-in time. Literally any time on the first day of your stay.
Oh, and if you're arriving in Beijing, Hong Kong, Shanghai or Singapore, the red carpet treatment gets even better. Up to six times each year, Polaris members can request a complimentary airport meet and greet service. Not just at baggage claim, but right from the aerobridge.
This fast-track welcome provides a swift path through immigration. And once any bags are collected, a private transfer straight to the hotel. For what it's worth, I've experienced this with the Pudong Shangri-La in Shanghai. Not only was there a Rolls-Royce waiting for me at Pudong Airport, but I was whisked straight from the car to my suite to complete the check-in formalities in private. Now that's secret squirrel service.
During each and every stay, Polaris members can also book a hotel driver for a four-hour period. This could be to hop between meetings while venturing out for dinner, or anything else that the journey has in store. Again, when you're Polaris, there's no charge.
How about when it's time to depart? Keep the room all to yourself until 6 pm on check-out day. And as a Polaris member, that late departure is gratis. These perks are subject to availability, however. But it's safe to say, if a hotel can make it happen, they will.
Polaris members also enjoy all the usual privileges afforded to Diamond cardholders. For instance, one complimentary suit pressing per stay. And the promise of being able to book a guaranteed room at otherwise sold-out hotels. It's a tough life being a VIP.
Summing up
For most travellers, the regular ranks of Gold and Platinum will do… Or in Shangri-La's case, Jade and Diamond. But for those who travel more than most – or with Shangri-La, spend more than most – Polaris provides something above and beyond.
It's akin to saying, 'you're always welcome here.' And when you're a Polaris member, you really are. Even when you're not enjoying a paid stay, hotel facilities remain ready and waiting. And when you are booked for your next trip, you won't have to lift a finger from the time you step off the plane. Literally.
But it must be said, many of these perks will sound sweetest to those on the 'outside'. For most people, reaching Polaris means spending a lot of time in hotels. And by extension, when a Polaris member isn't actively travelling, the last thing they'd probably want to do is go sit in another hotel.
After all, for those who practically live at Shangri-La, being at home is the real novelty. Just knowing that you could go for drinks in the Horizon Club if you really wanted to is probably benefit enough.
Also read: Shangri-La Circle rolls out new welcome amenities
Feature image courtesy of Shangri-La.
---
Stay up to date with the latest news, reviews and guides by subscribing to Point Hacks' email newsletter.
Polaris: the hush-hush Shangri-La Circle tier above Diamond
was last modified:
August 1st, 2023
by