I had booked us into the Sheraton Towers around 6 months before the Grand Prix when room rates were getting borderline outrageous – at least $450 (AUD) per night.
The Sheraton Towers still had Starpoint availability, and at 12,000 points per night, per room, this was a great value use of Starpoints.
The Sheraton Towers also proved to be a great location for the Grand Prix, with the MTR a short walk away, and then just a few stops to the action. After the race, amazingly we were back at the hotel in just 25m.
After heading to Singapore from Sydney on Singapore Airlines, we arrived at the hotel at around 7pm on the Friday of race weekend.
I was meeting family in Singapore, so had booked two rooms for 3 nights at 12,000 Starpoints per night. We had a connecting Deluxe Twin and Deluxe Double room, which was ideal for our setup.
I took some pictures of the King Deluxe Room before we all got settled in.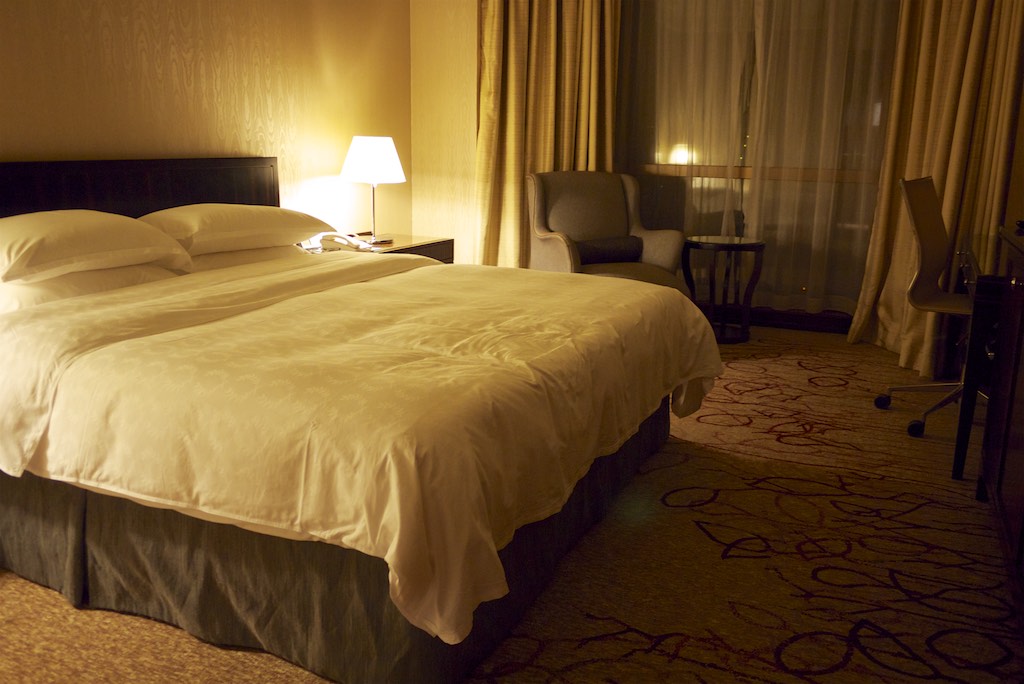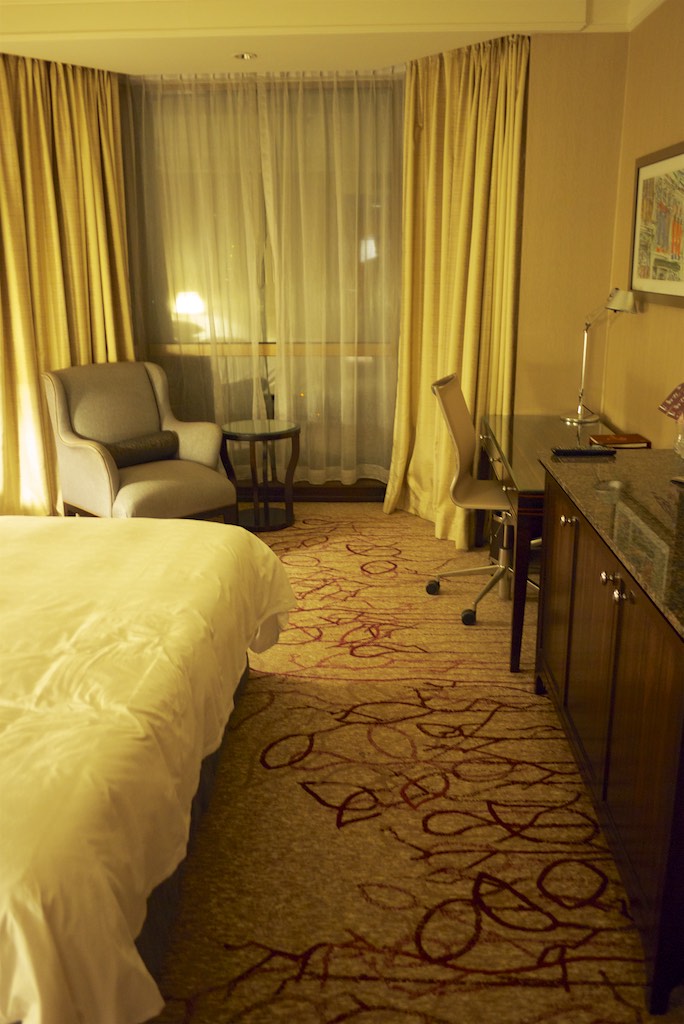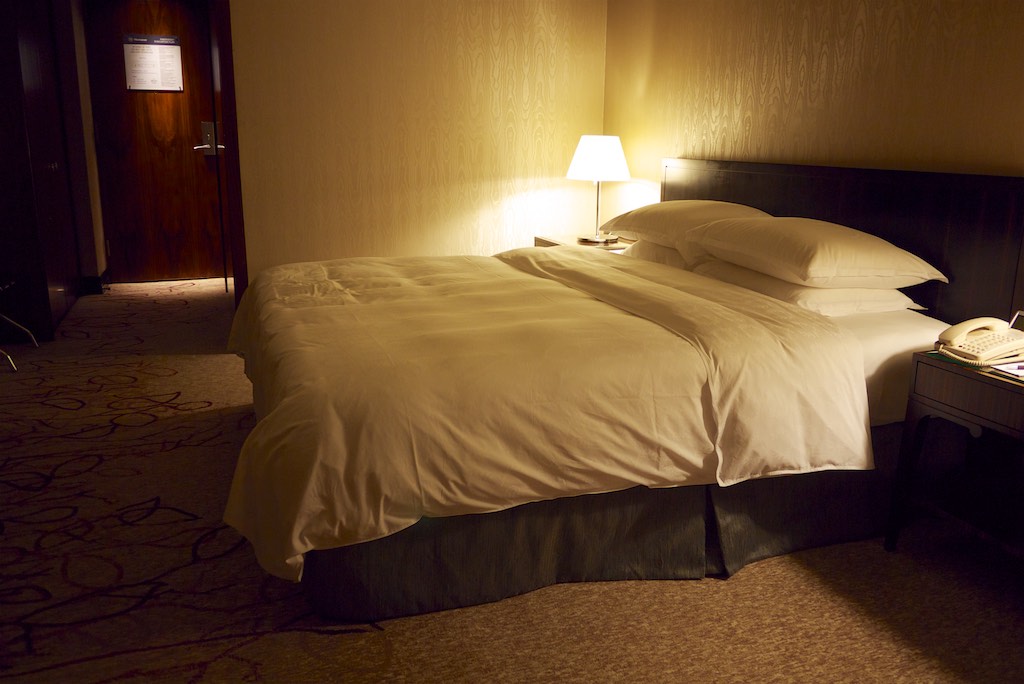 The decor and furniture in these rooms aren't ultra-modern (along the hotel as a whole). But the ceilings are high and the floor space relatively generous. I thought they were absolutely fine for a basic room redemption.
The bathrooms were similar – functional beige marble from top to toe.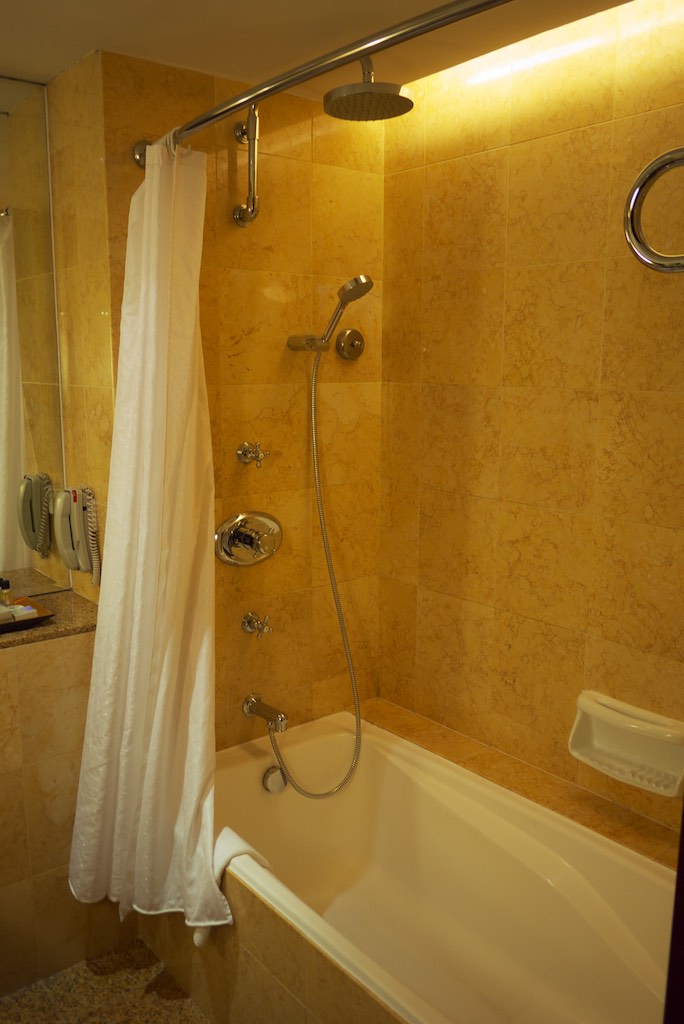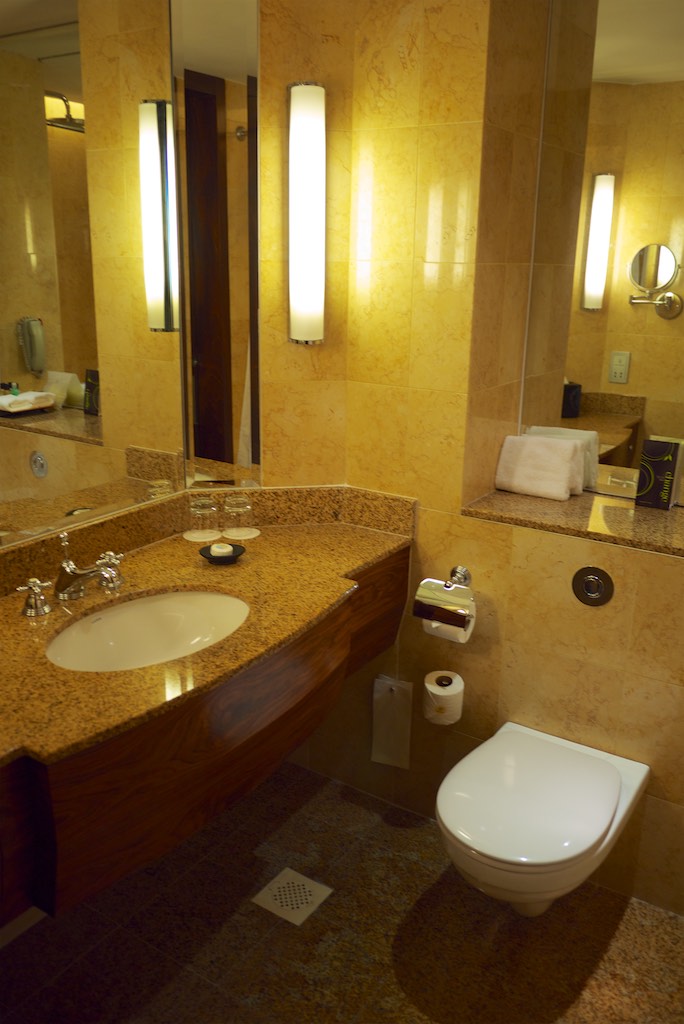 The beds were great for jumping fun though.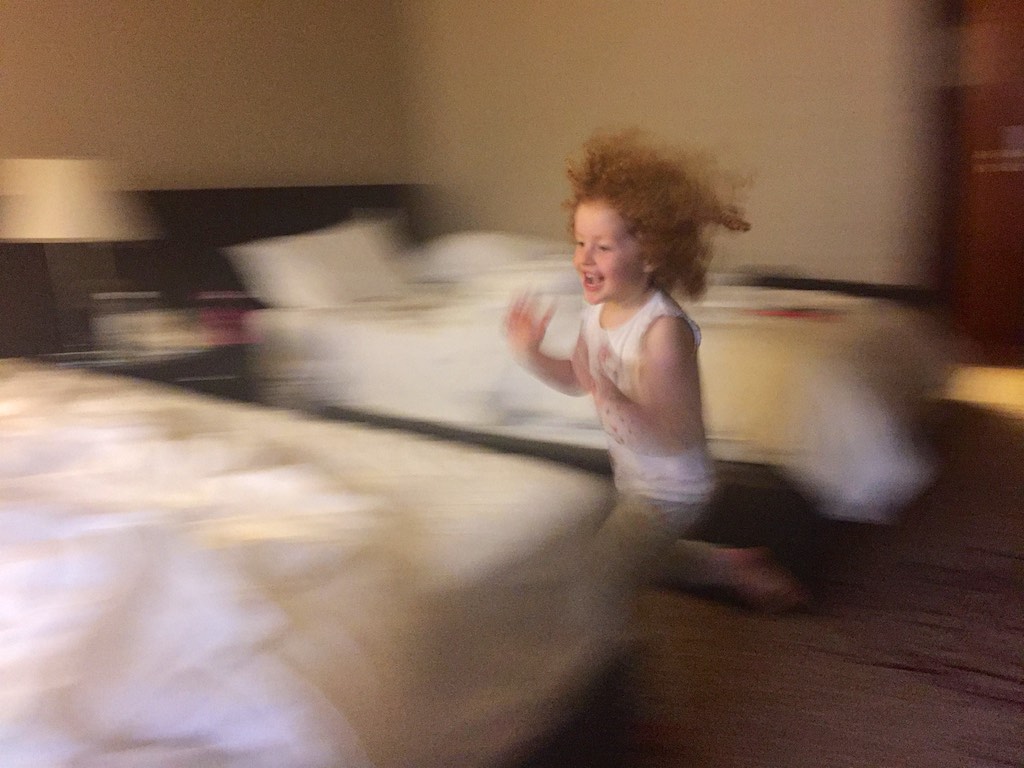 We took breakfast in the main restaurant each morning, which is connected directly to the main lobby.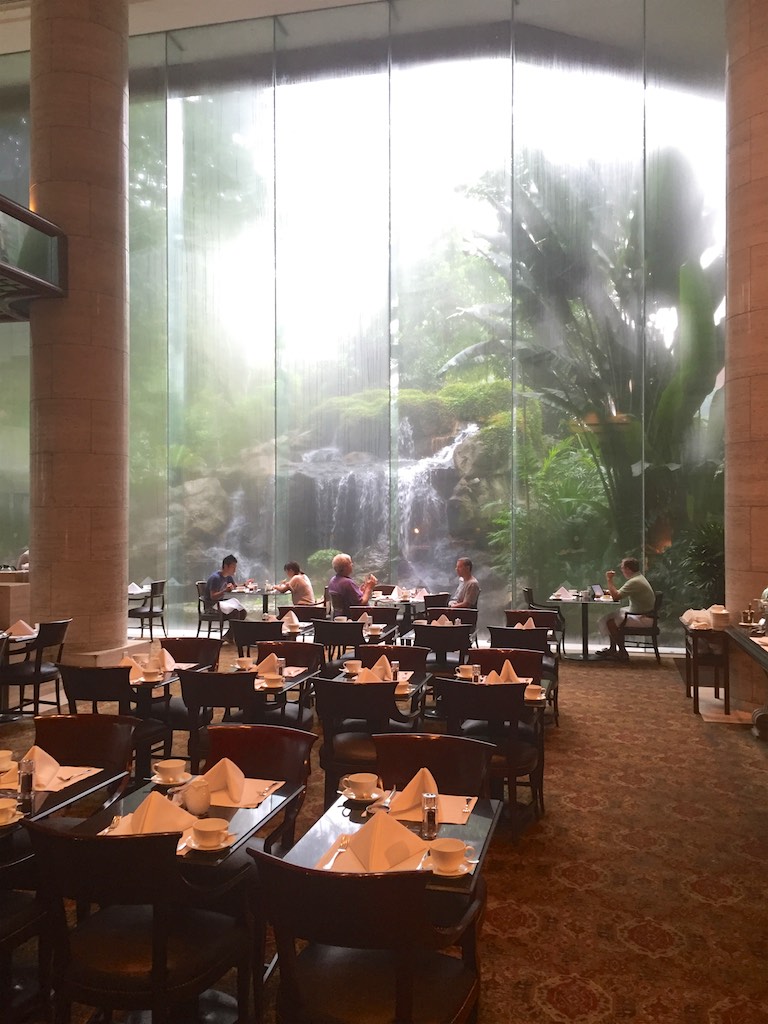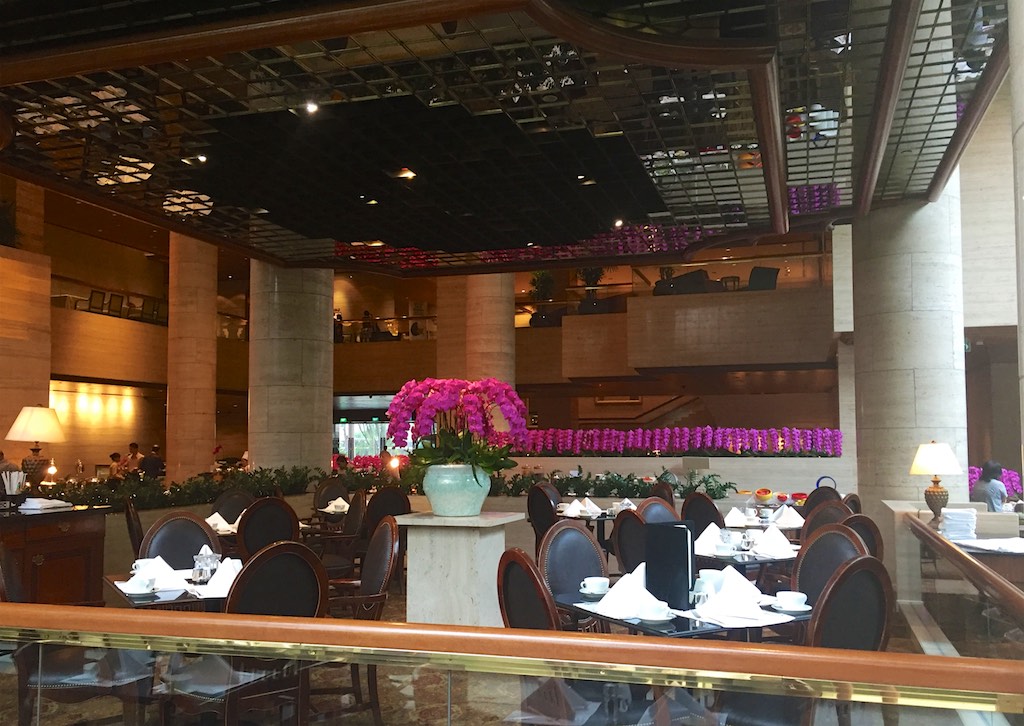 It's an impressive space, with a waterfall and pond directly outside – but you couldn't really see this from the inside when up close due to the condensation on the windows.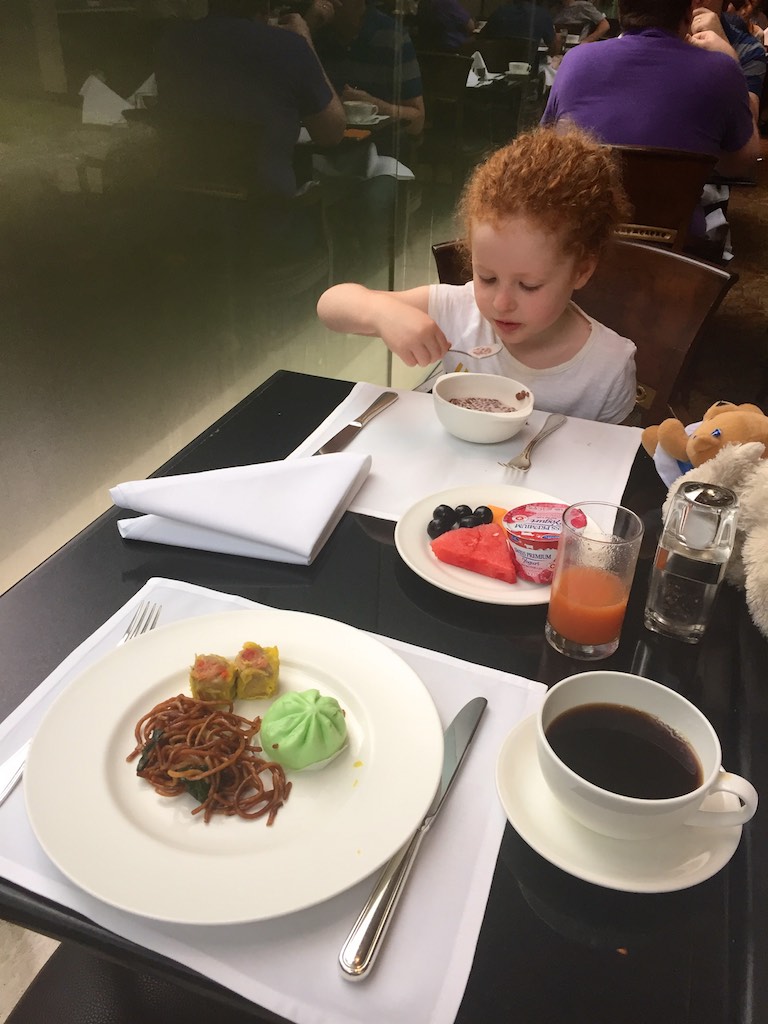 The breakfast buffet was pretty varied – not the most amazing hotel breakfast I've seen, but perfectly adequate.
The hotel has a large swimming pool, outdoor bar and fitness area. It was well used with a lot of guests hanging out poolside, but as it's a large pool there was a lot of room to have fun.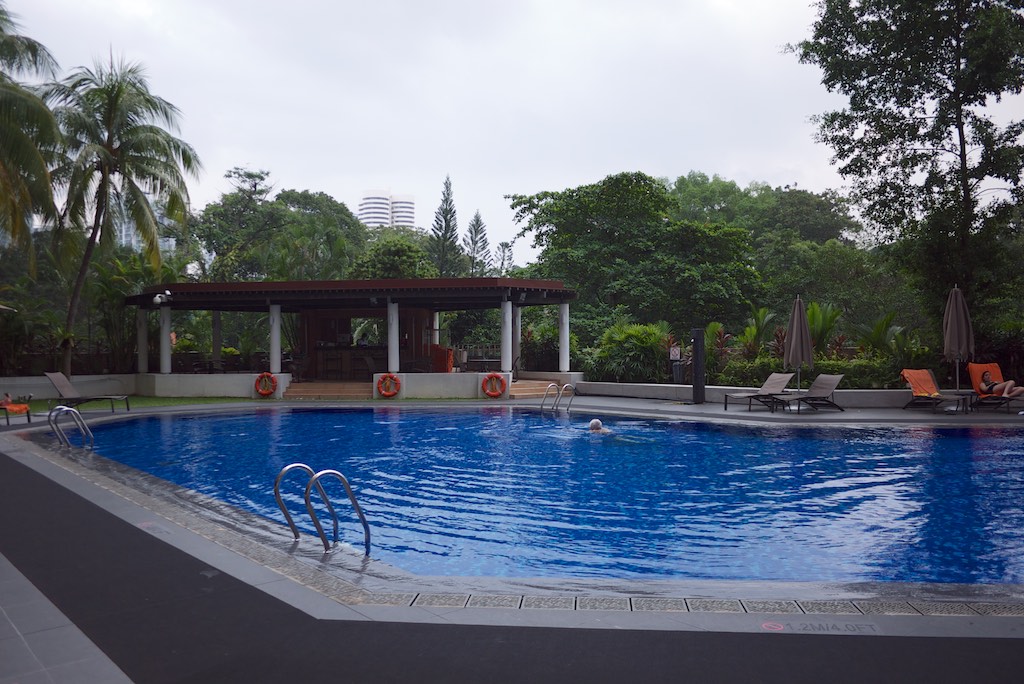 The hotel location with perfect for our Grand Prix tickets, which was complete luck rather than any plannng. Just 4 stops on the MTR had us right at the gate for our grandstand.

On the Grand Prix – well, it was a spectacle, and I enjoyed checking it out for the first time.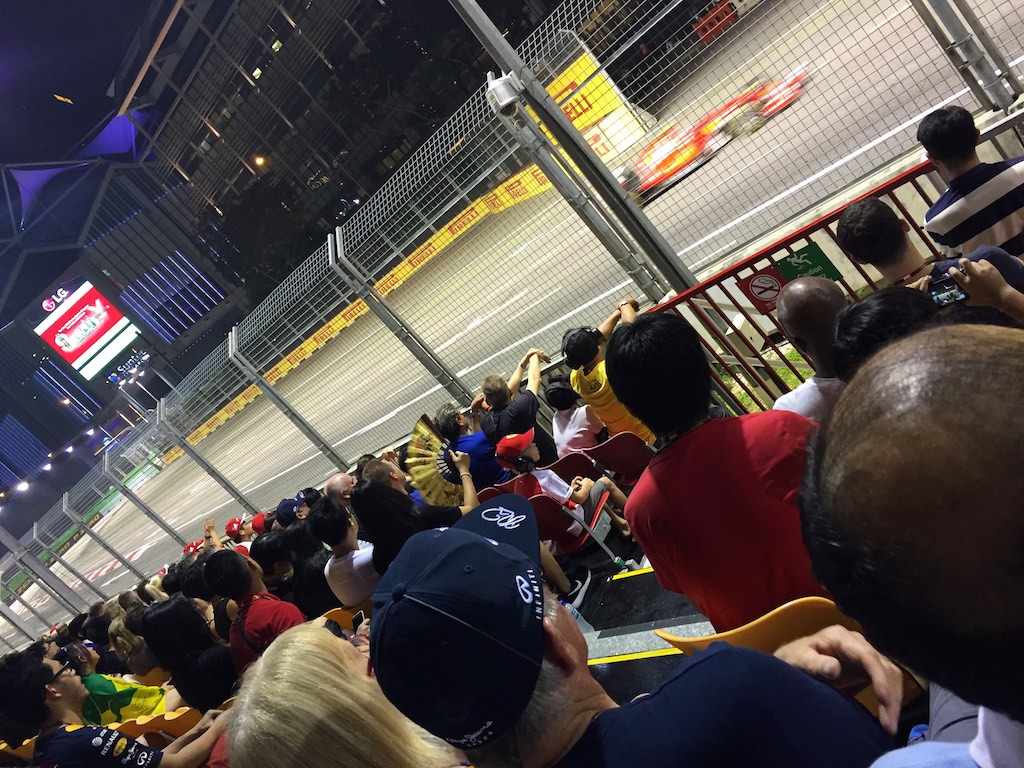 My biggest complaint was the grandstand seat legroom – I know that's a focus of this site given we're mostly trying to get into larger seats on planes using our points, but this was nearly intolerable for two 6'2" guys sitting next to each other for two hours. Another inch would have made all the difference.
Otherwise, the facilities were excellent, and I'd definitely go back to check it out from a different grandstand in future.
Summing up – Sheraton Towers Singapore
I liked the Sheraton Towers Singapore – I thought it was well-priced in terms of Starpoints, and everyone we interacted with was great to deal with and helpful.
I probably wouldn't return for a normal trip to Singapore given how many hotels there are to try, but given our good logistical experience with the Grand Prix and the value on offer, I'd definitely consider it for that again.
To Singapore for the Grand Prix! Sheraton Towers Singapore – Deluxe Room review
was last modified:
November 11th, 2020
by