As part of a trip to Italy earlier this year I chose to use my Qantas Points for Qatar Airways excellent flagship First Class between Sydney and Doha, connecting to a Business Class flight to Venice.
To Australia, Qatar flies their A380 to Sydney, Melbourne and Perth. You'll find there is regular redemption availability in First Class, although less often in Business – so if you have enough points (at least 152,000 Qantas Points one-way but will jump to 170,800 Points from 18 September 2019) it makes a great use of your Qantas Frequent Flyer balance.
This is my take on what to expect from First Class with Qatar Airways, as well as a look at which points you can use for this same experience.
Qatar Airways' A380 Fleet & Routes
First Class with Qatar Airways is featured only on the Airbus A380, which currently serves the following destinations:
Sydney
Melbourne
Perth (except 12 September to 12 December 2019)
Bangkok
Frankfurt
Guangzhou
Paris
How to redeem points for Qatar Airways A380 First Class
There are three main programs that Australia-based travellers can use points with on Qatar Airways flights:
Qantas Frequent Flyer
Cathay Pacific Asia Miles
American Airlines AAdvantage
You'll see that AAdvantage offers the best value on point per point basis, followed by Asia Miles and Qantas in last place:
Destination
AAdvantage
Asia Miles
Qantas Frequent Flyer
(before/after 18 September 2019)
To Doha
100,000
130,000
152,000 / 170,800
To London/Paris
115,000
160,000
203,000 / 227,500
In reality, AAdvantage miles are best suited for Aussies looking to buy miles and redeem outright as the earning options in Australia for Qantas Points or Asia Miles are much wider.
Personally, I redeemed 160,000 Asia Miles for a First Class award from Sydney to Venice, although the Doha – Venice flight was operated by an A330 with their angled-flat Business Class. Given you are paying for First Class but getting a lesser Business Class it's not the best value redemption, but I was happy to fly to Venice directly from Sydney with a short layover in Doha, so the trade-off was acceptable.
The Cabin and First Class seats
Eight First Class open suite seats are arranged in two rows in a 1-2-1 configuration at the front end of the upper deck of the A380.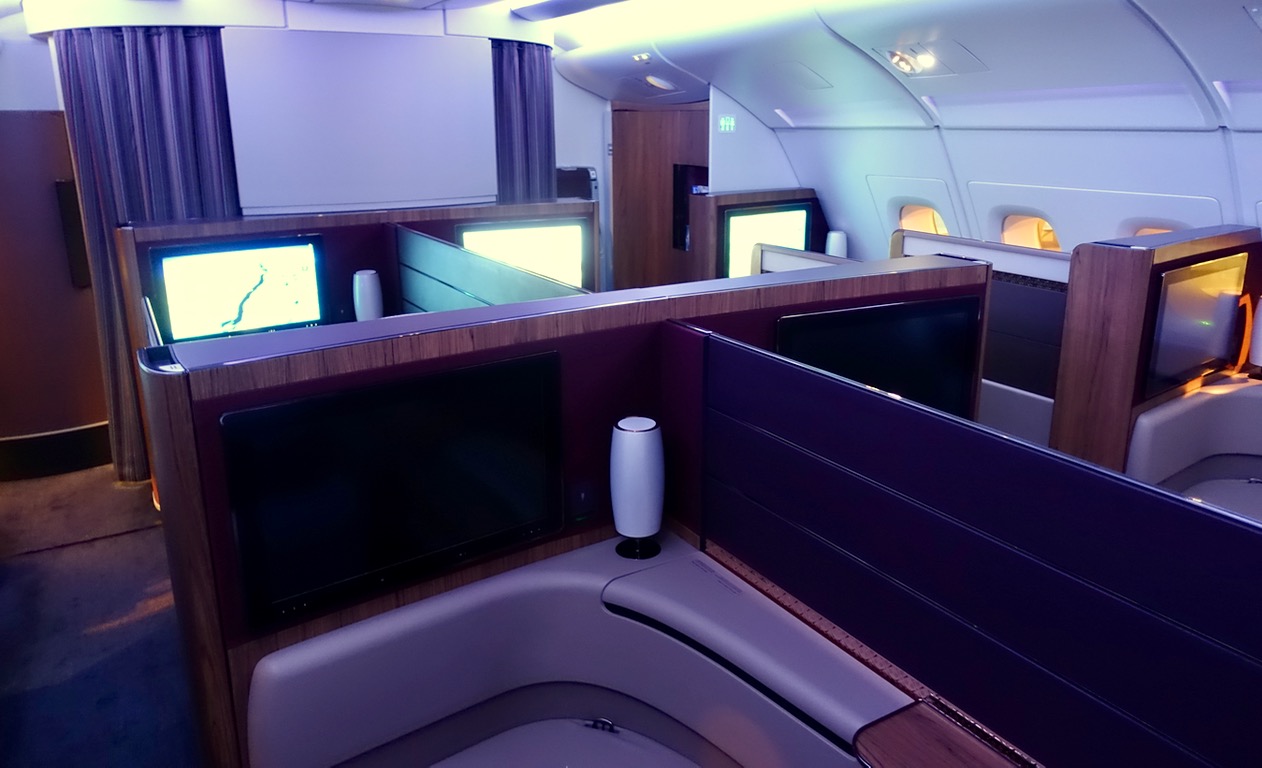 There are 48 Business Class seats directly behind the First Class cabin, also in a 1-2-1 configuration, followed by 56 Economy Class seats in a mini cabin at the back of the upper deck, with the remaining 405 Economy seats taking up the entire lower deck.
Start by taking a look around the First Class cabin in this interactive tour:
The seat is, as you'd expect, massive – but fairly open to the cabin around you. Privacy can be increased easily by raising the large divider next to the aisle, but it's not as enclosed as offerings from Singapore Airlines (A380 Suites), Etihad or Emirates.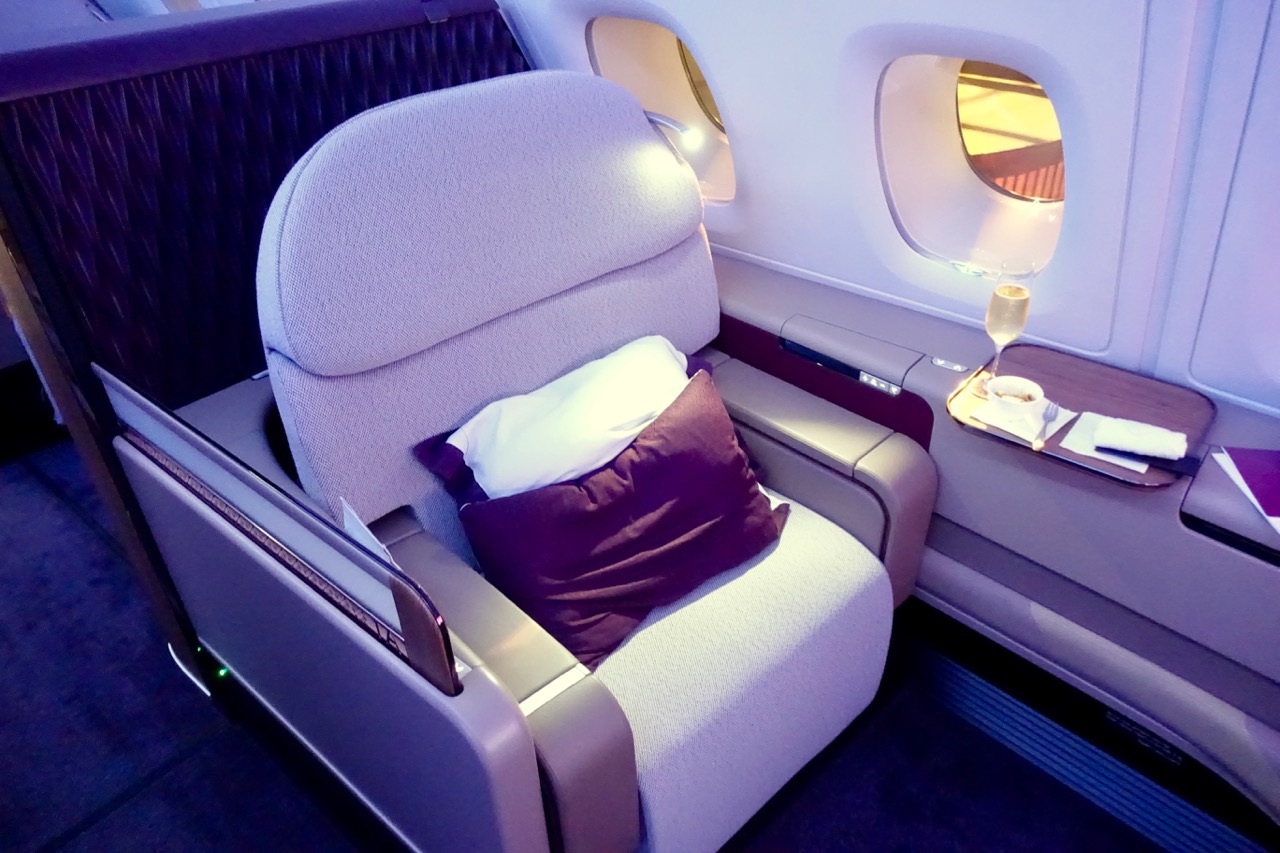 The central aisle dividers can also be raised or lowered to afford more privacy or intimacy between travel companions: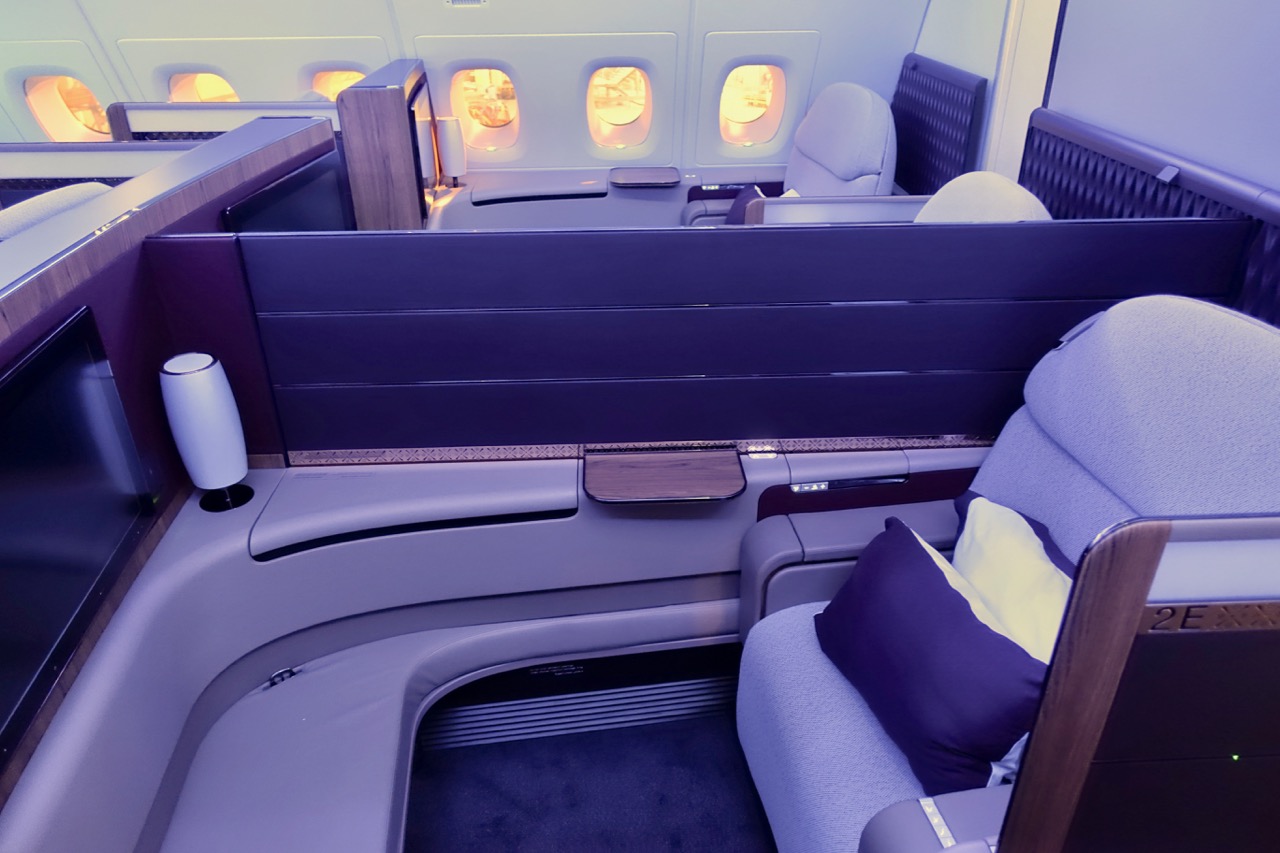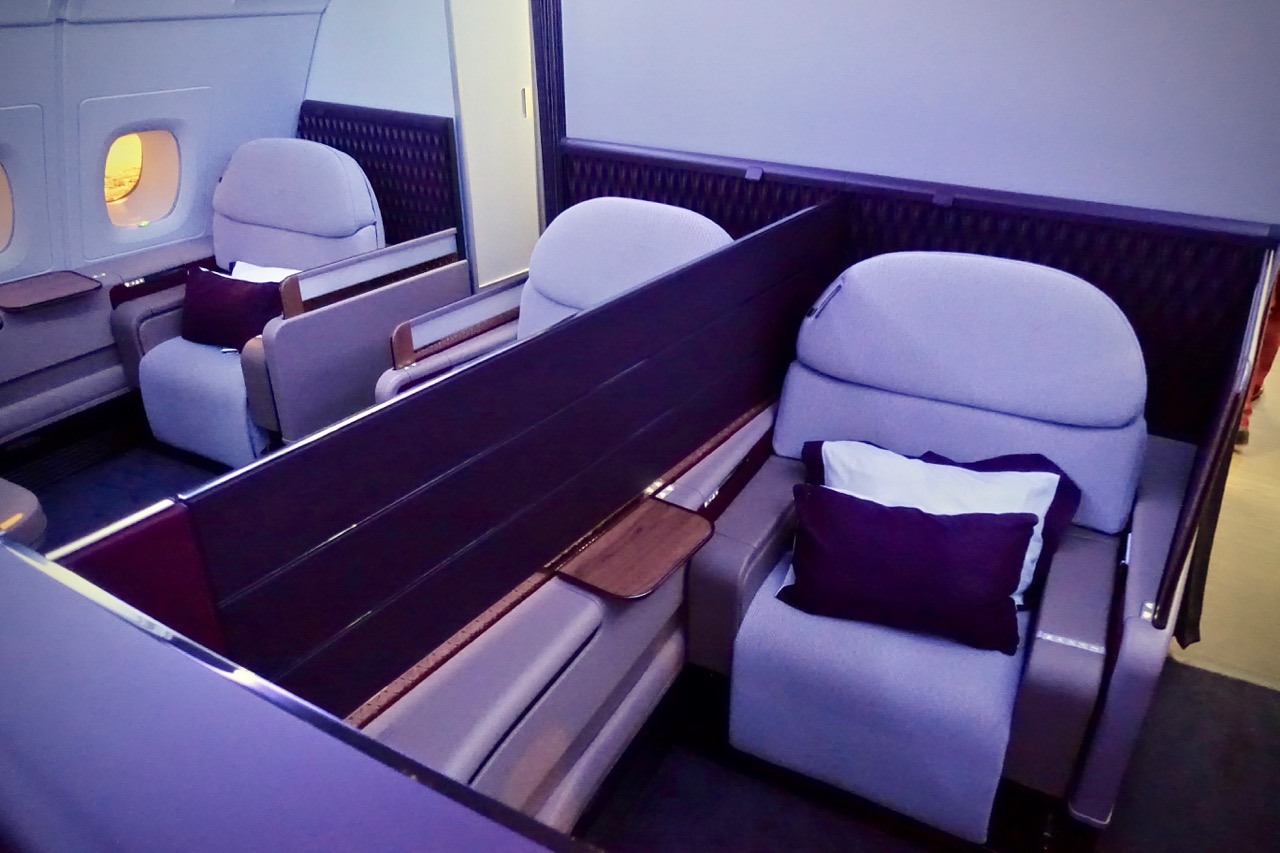 All of your seat, privacy and lighting controls are handled by a large touch screen right next to your seat around your elbow. It can be easy to accidentally touch this but it's an otherwise handy location.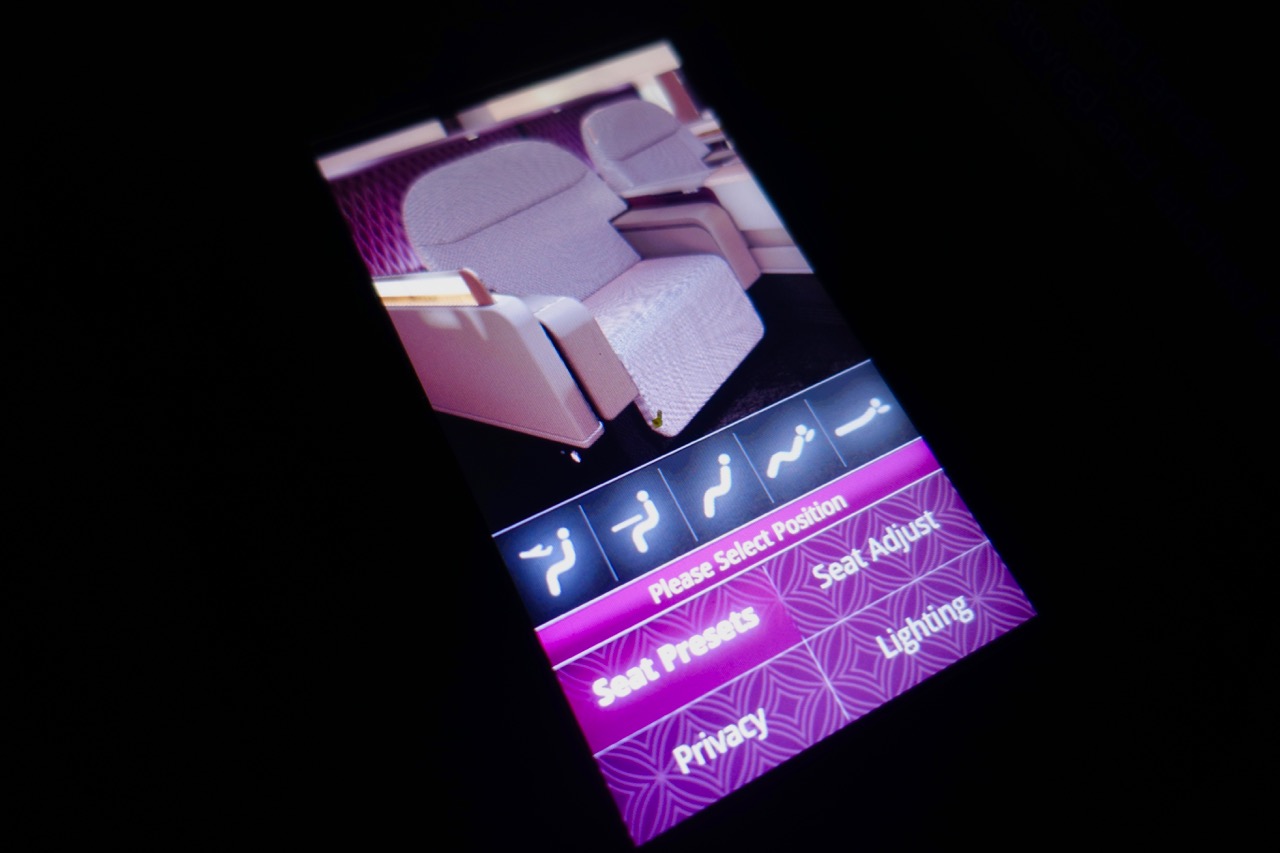 You can turn on a small lamp next to your TV screen in the corner of the suite, which is immediately in front of the large tray for eating, using your laptop or tablet.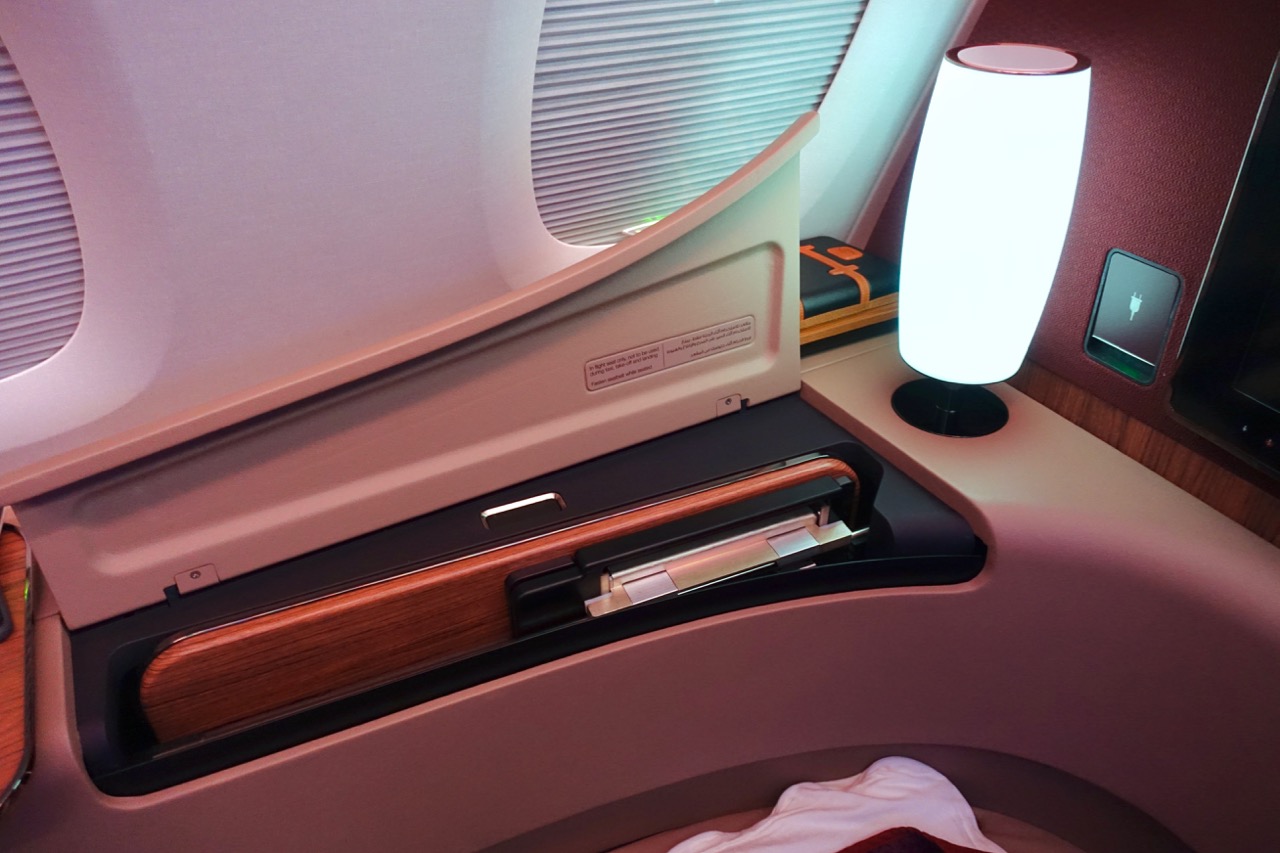 The small side table can be used for resting drinks, snacks, cameras, or whatever you like – it has a small lip which prevents objects flying away.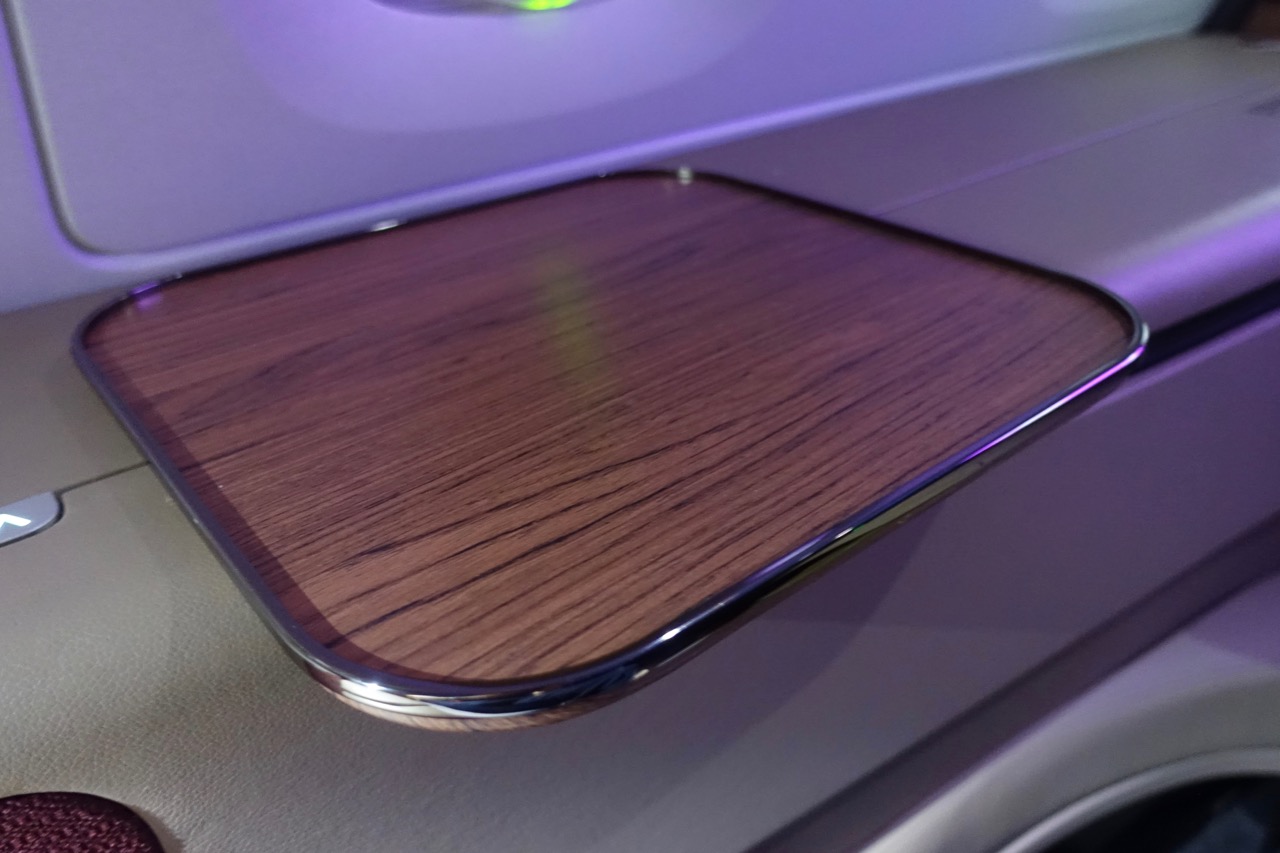 There are no overhead lockers, with instead enough space for a small carry on under the foot bench in front of you (which can also be used as a seat for dining with a companion). Otherwise the crew will take your carry on and stow it in a cabinet at the front of the cabin.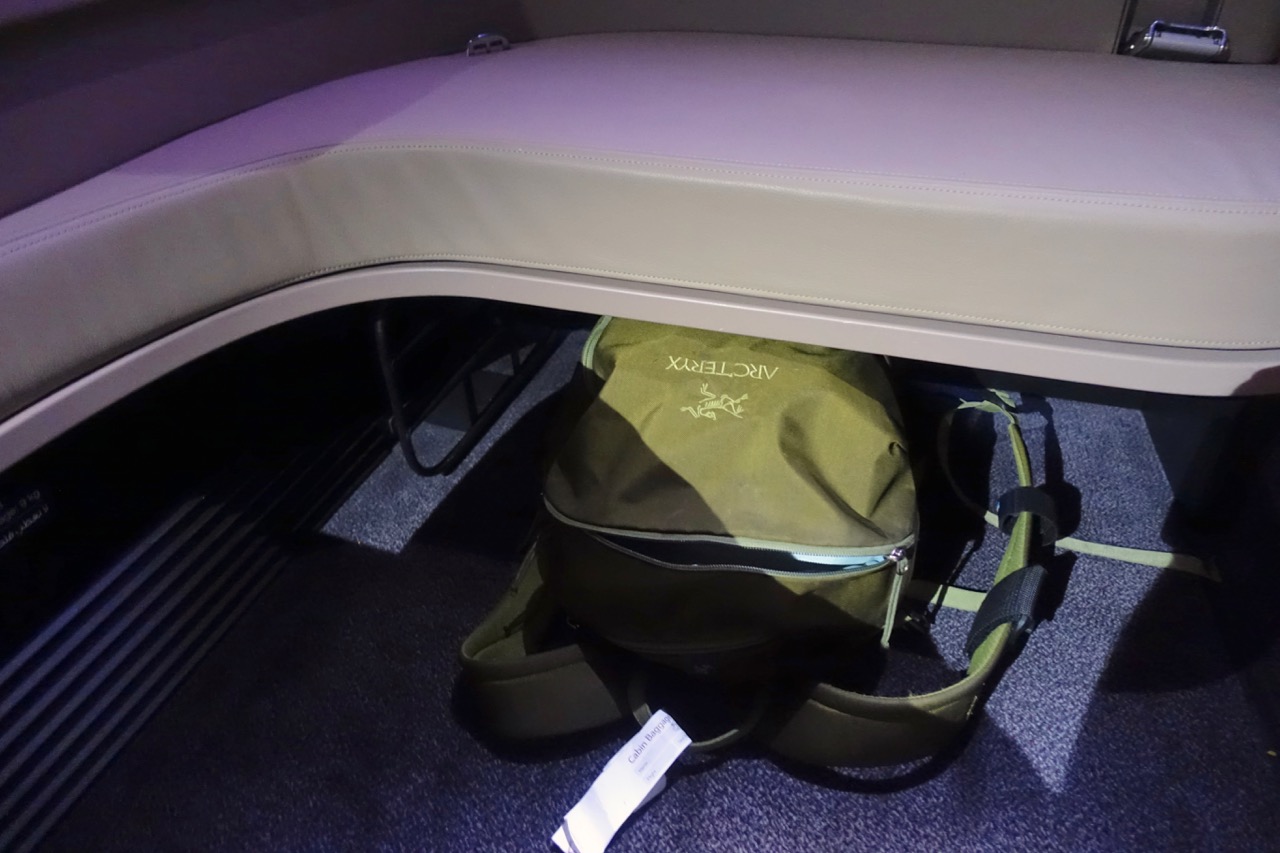 The seat converts into an 81-inch-long bed: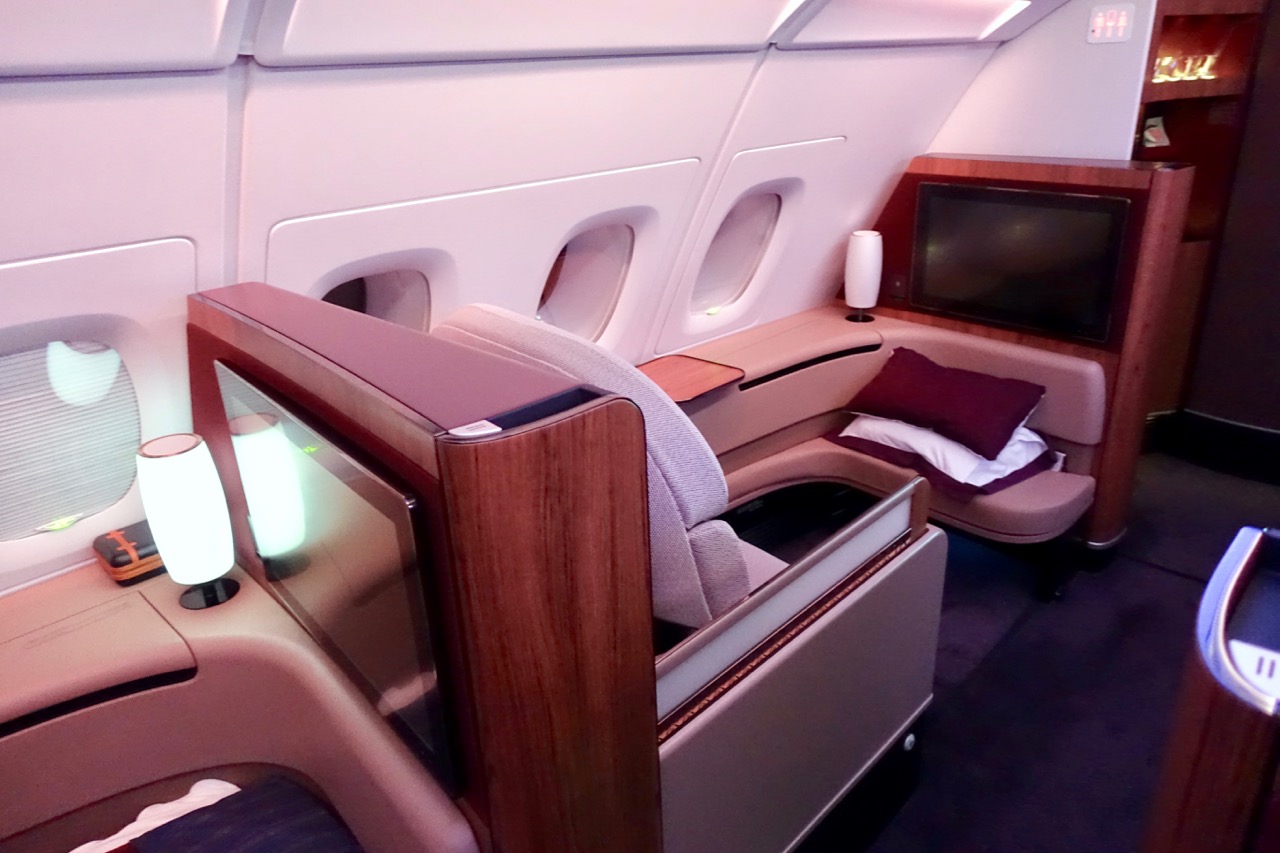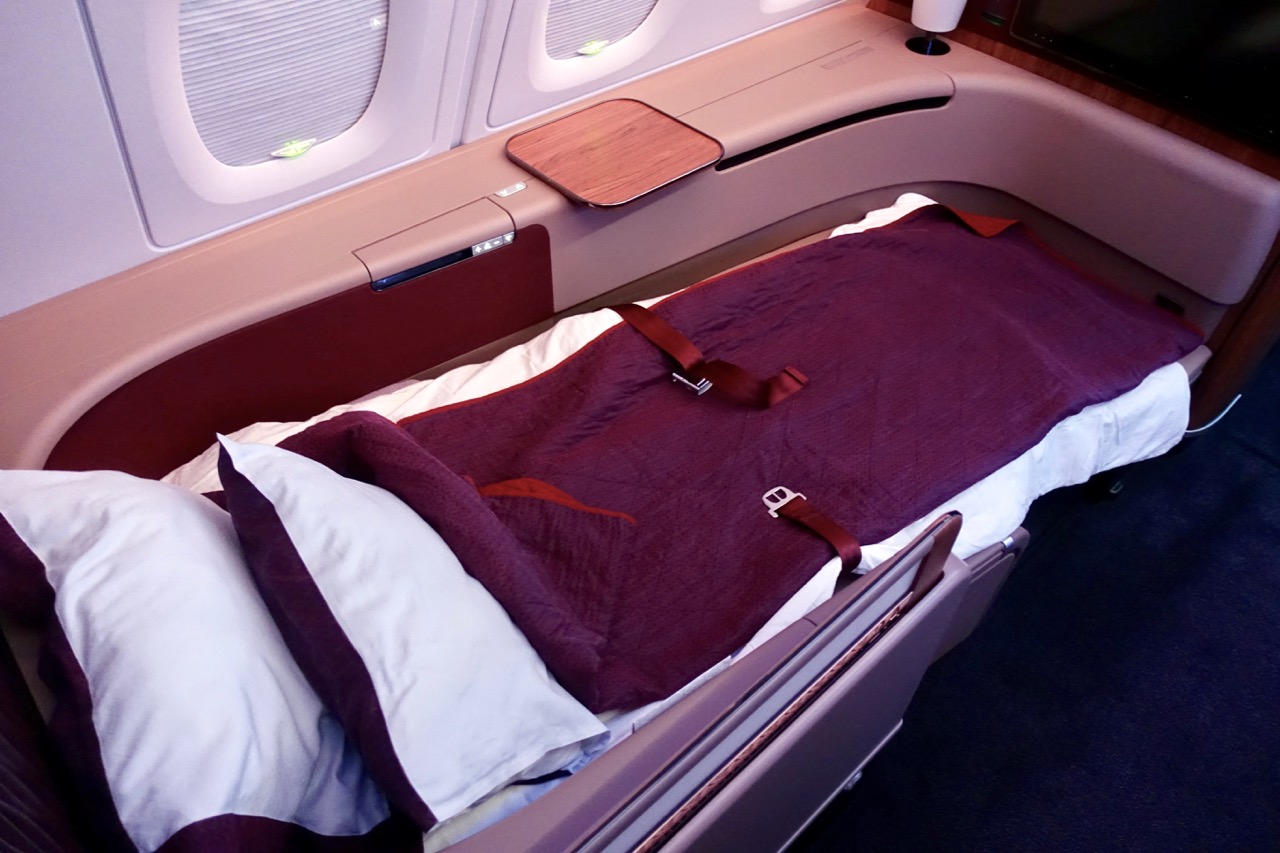 It was exceptionally comfortable. On this flight, there were only three seats occupied of eight – with one other couple using the pair of seats at the front of the aircraft. This meant I could spread out over two seats behind.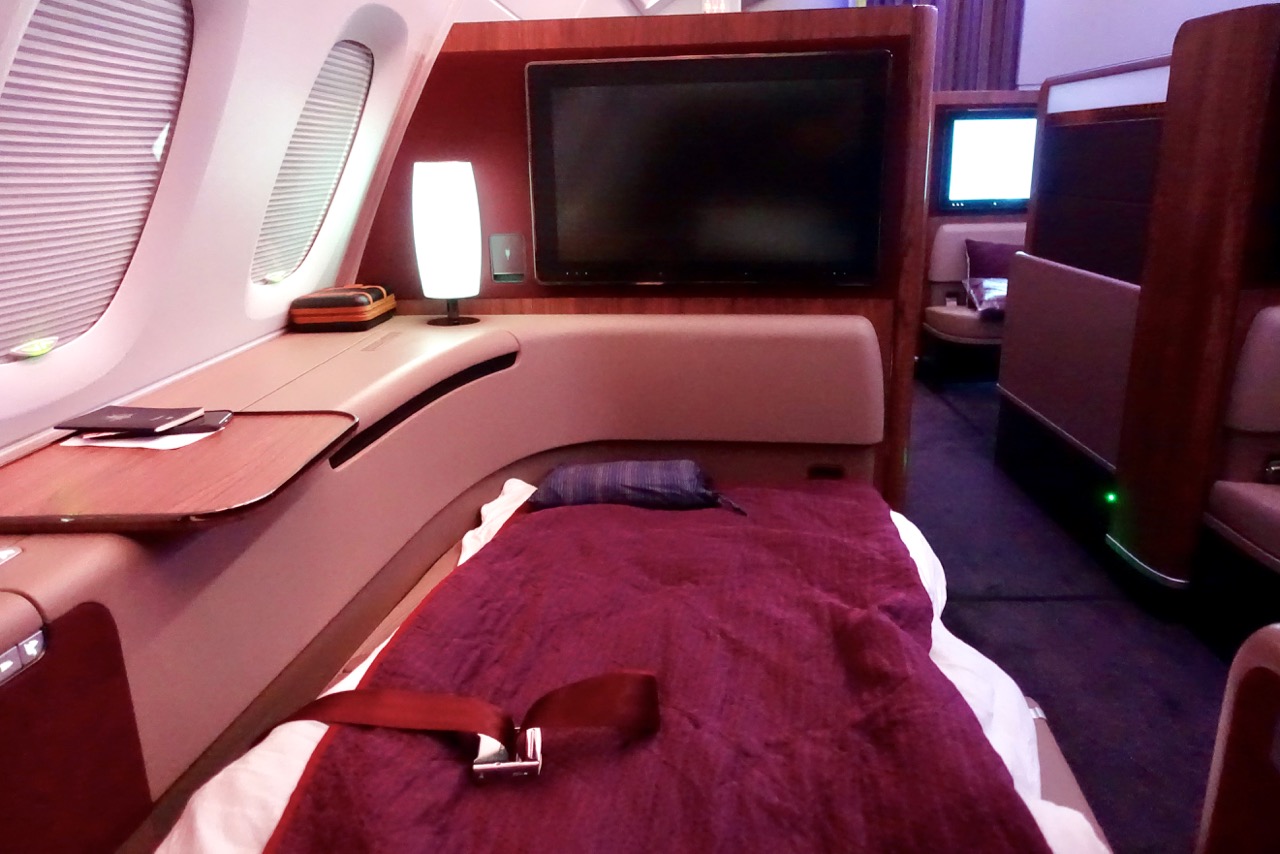 Inflight Entertainment
There's the usual standalone touchscreen remote: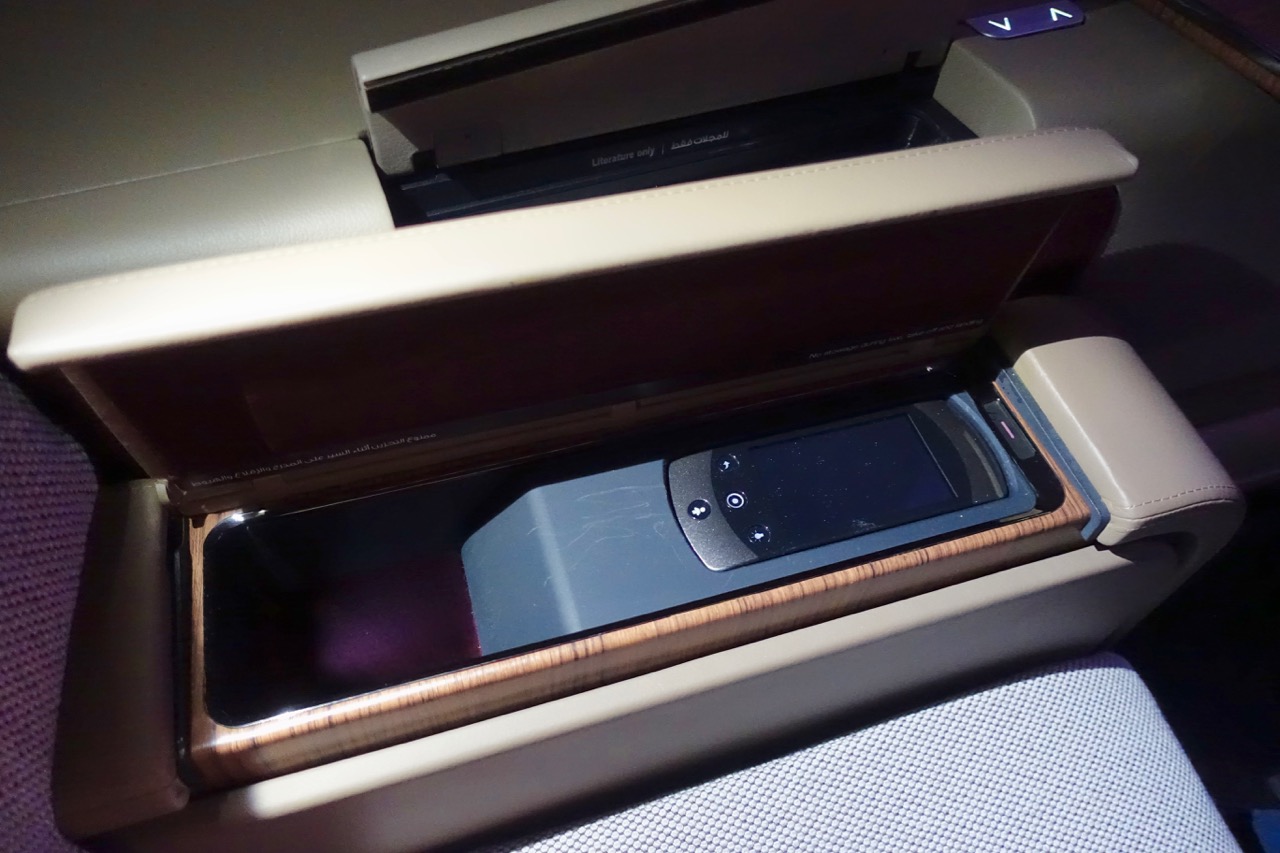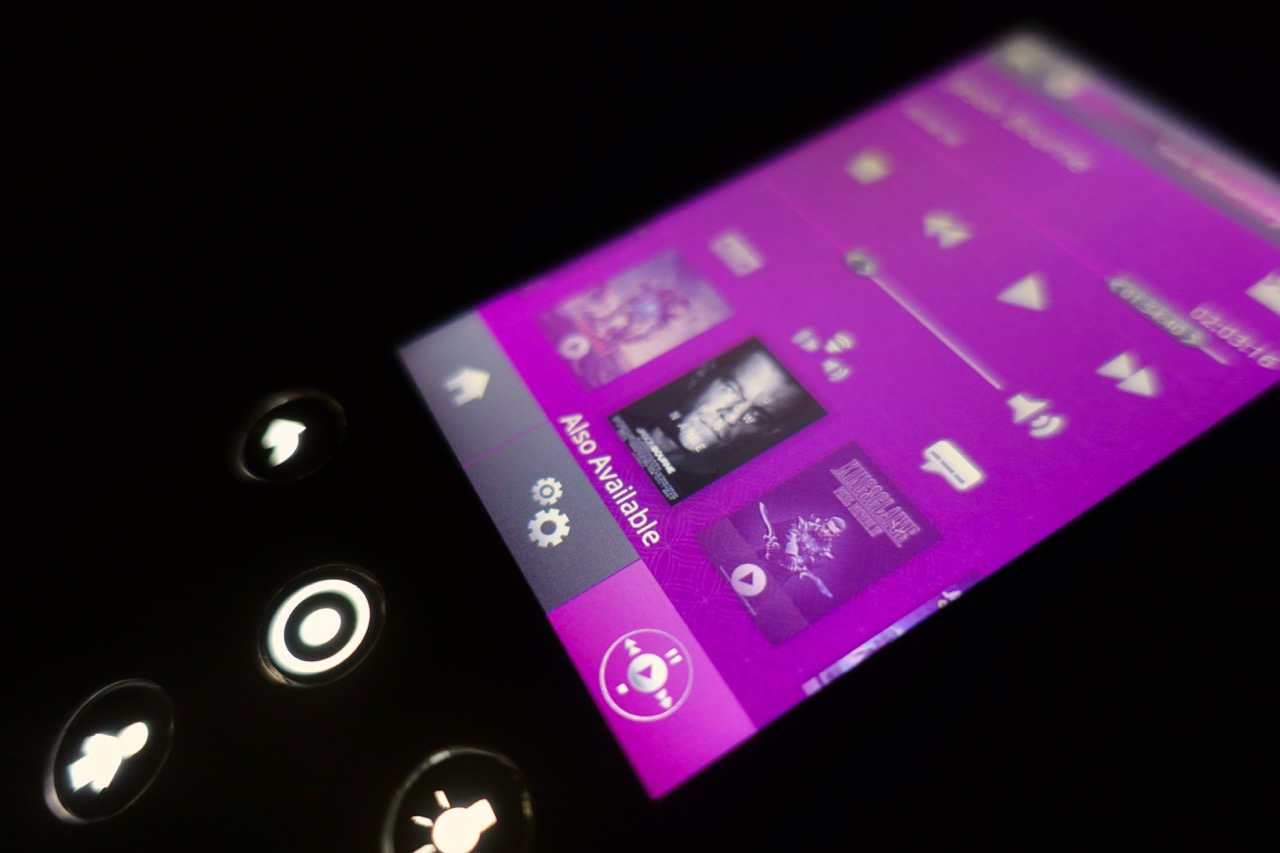 for your 26-inch screen: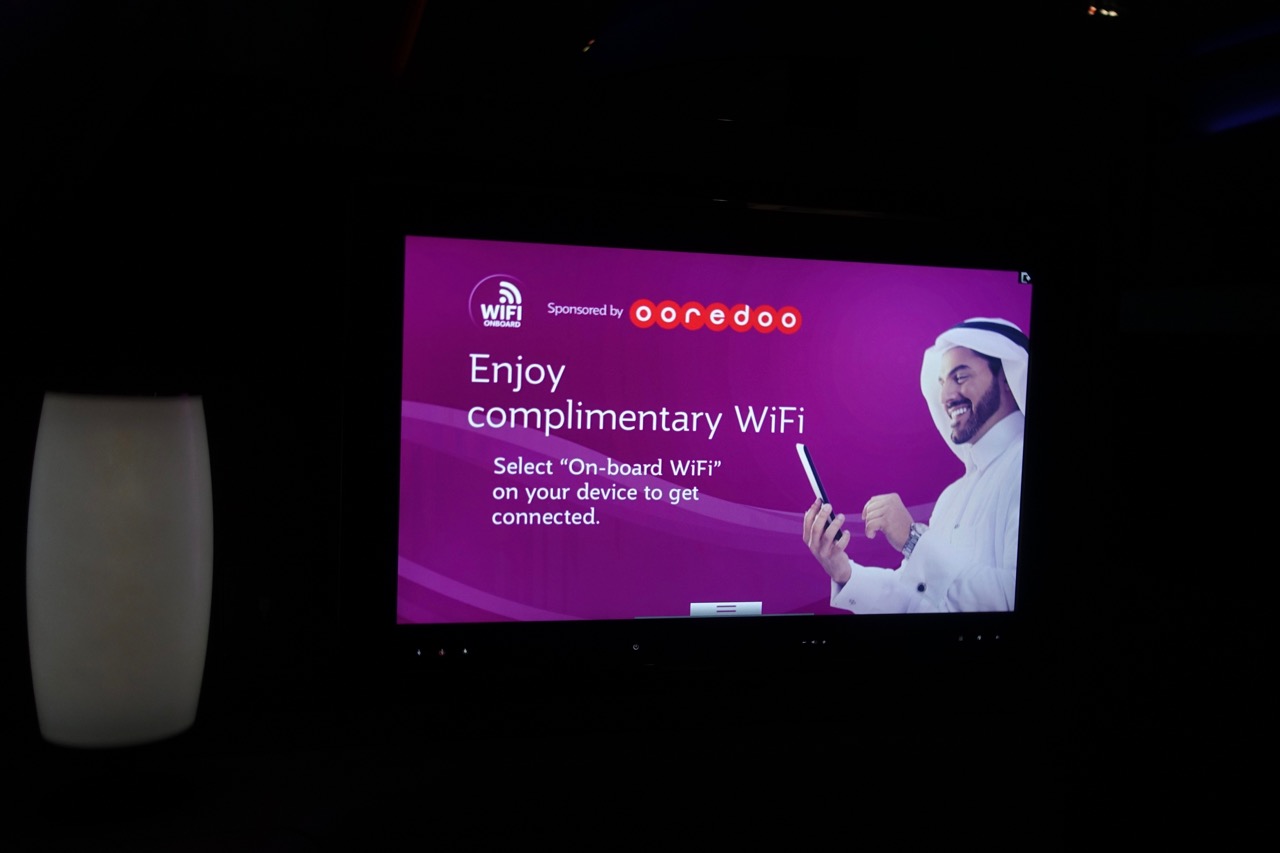 And as advertised, complimentary inflight wifi, which was usable for simple email and browsing.
There are outlets for USB and Apple products: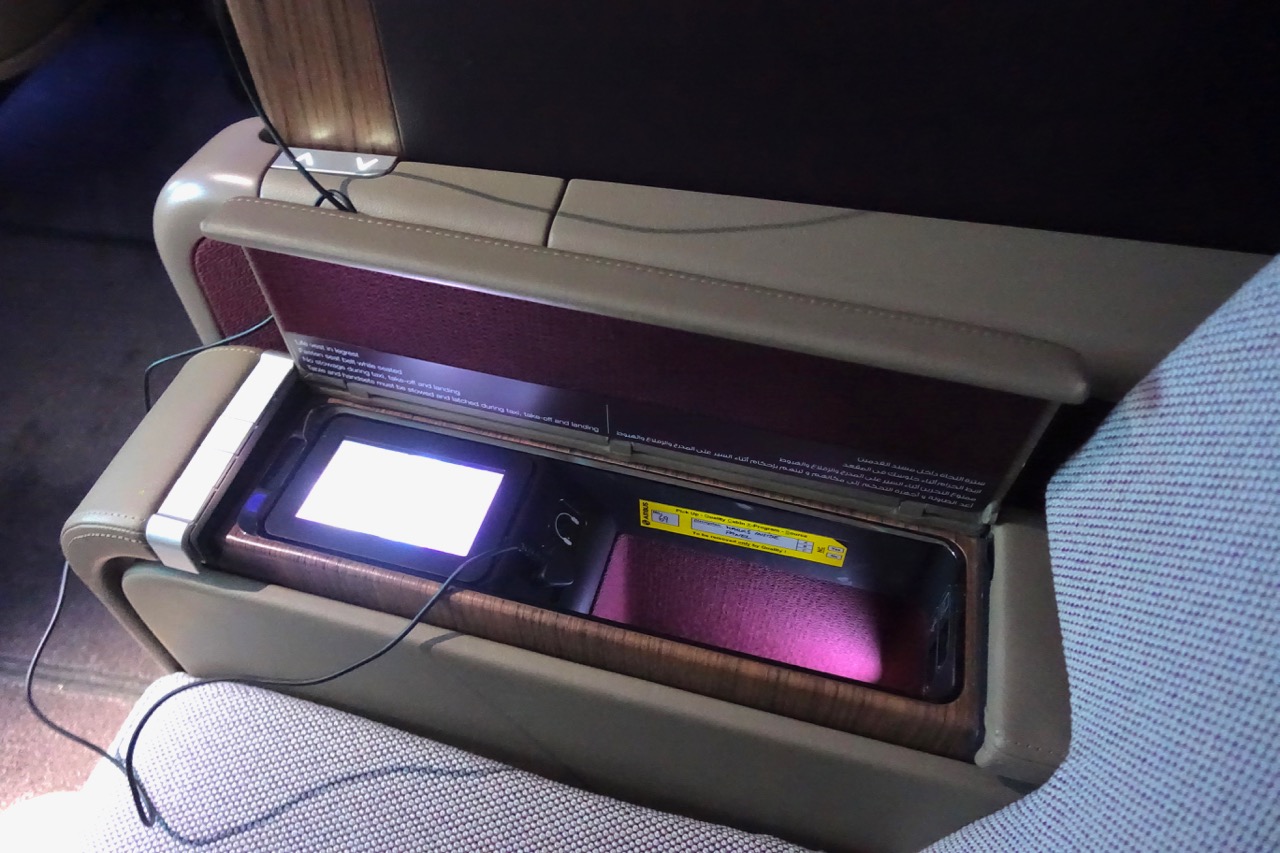 You are also supplied with a pair of noise-cancelling headphones.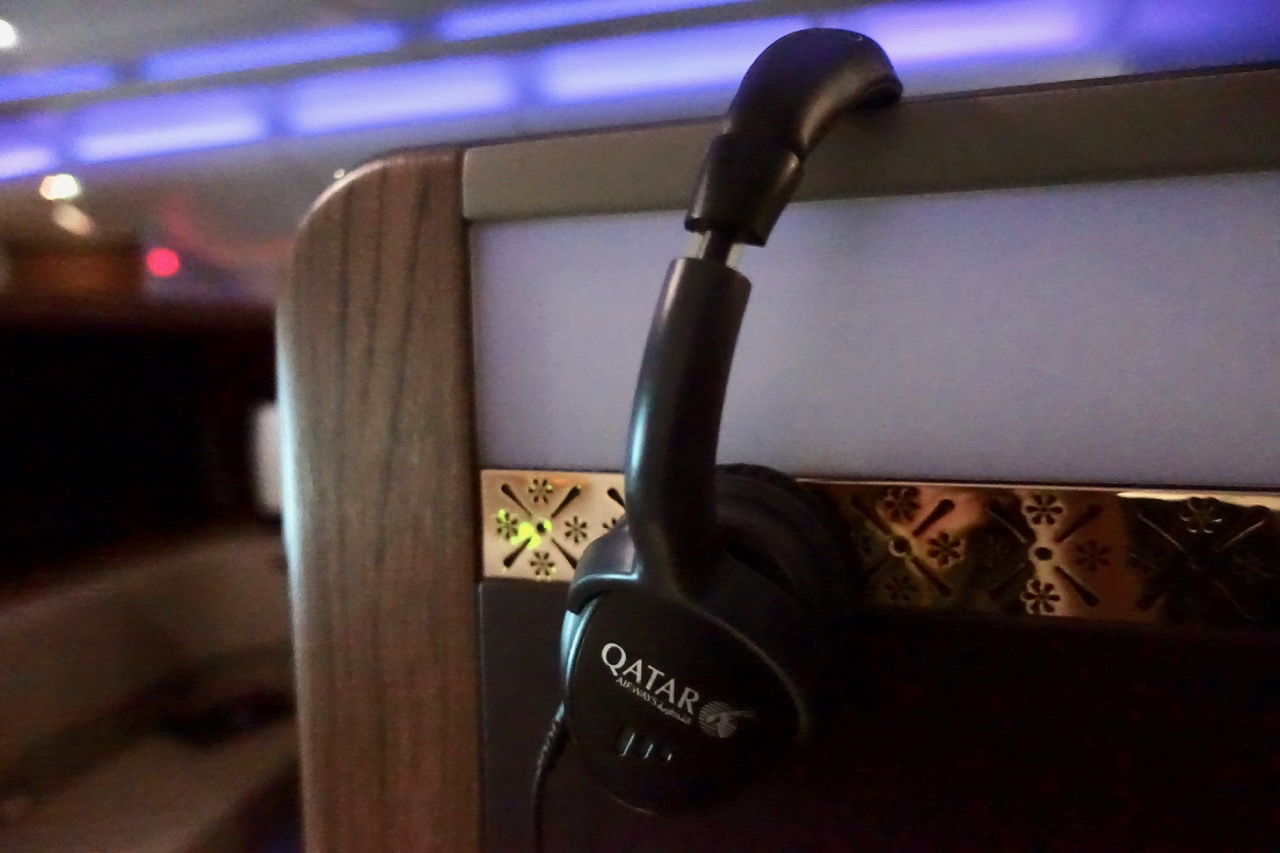 The First and Business Class Bar
As a First or Business Class passenger you have access to a large bar with snacks and drinks on hand.
The onboard bar is located between the Business and mini Economy Class section on the upper deck of the plane, serving top-shelf spirits as well as Krug champagne.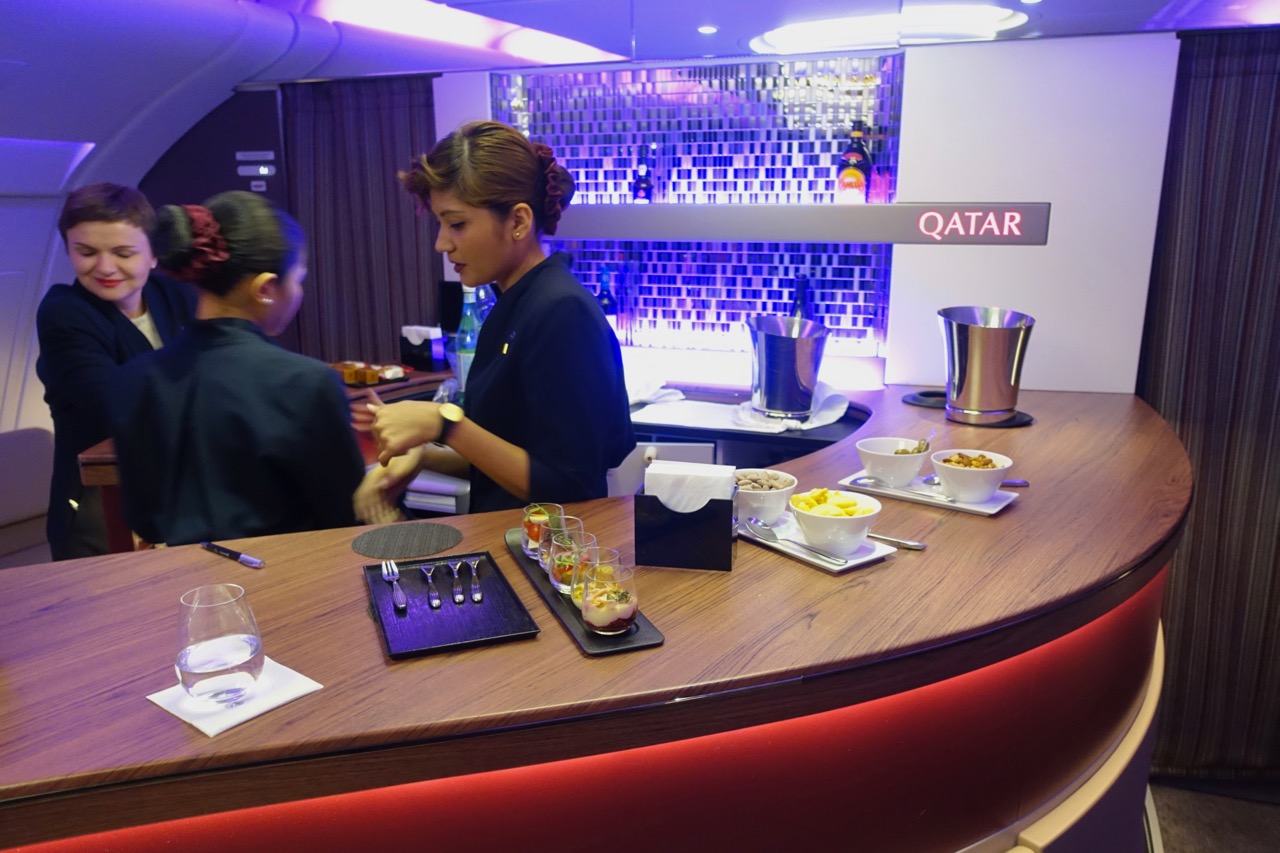 Snacks on offer include canapes, muffins and cheese platters.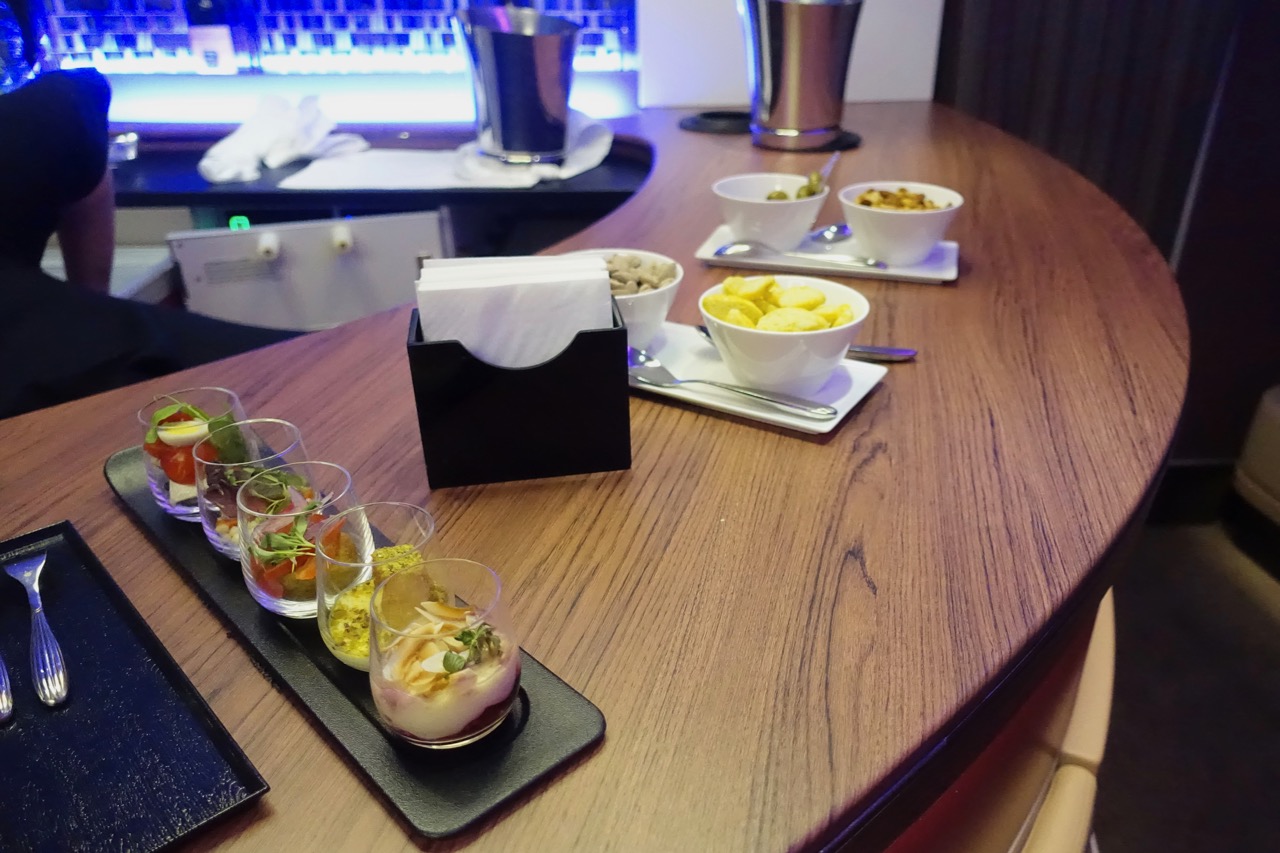 The ten-seat curvy lounge area is comfortable for relaxing.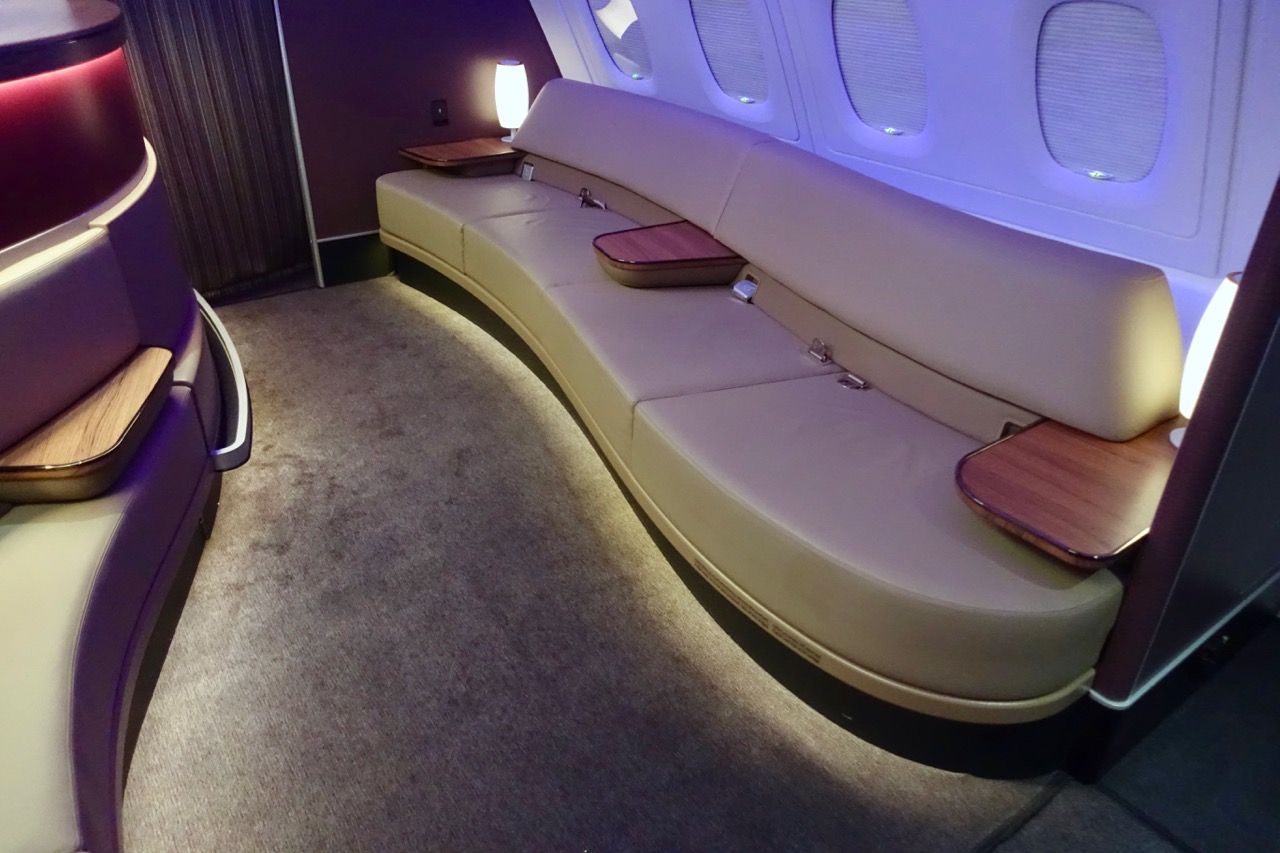 Service: Food & Drink
First Class dining with Qatar Airways is a full 'dine on demand' service. I would strongly advise you to spend some time considering the rhythm of your flight and how you want to sleep, eat or entertain yourself and when.
If you don't think it through and just order everything up front, then the 10pm departure time from Sydney will have you begging for sleep after a few courses – or at least if you're not too hardy, like me.
In my case, I had a glass of champagne after dining in the Qantas First Class lounge, and decided to call it a night and spend the next day inflight enjoying breakfast and lunch.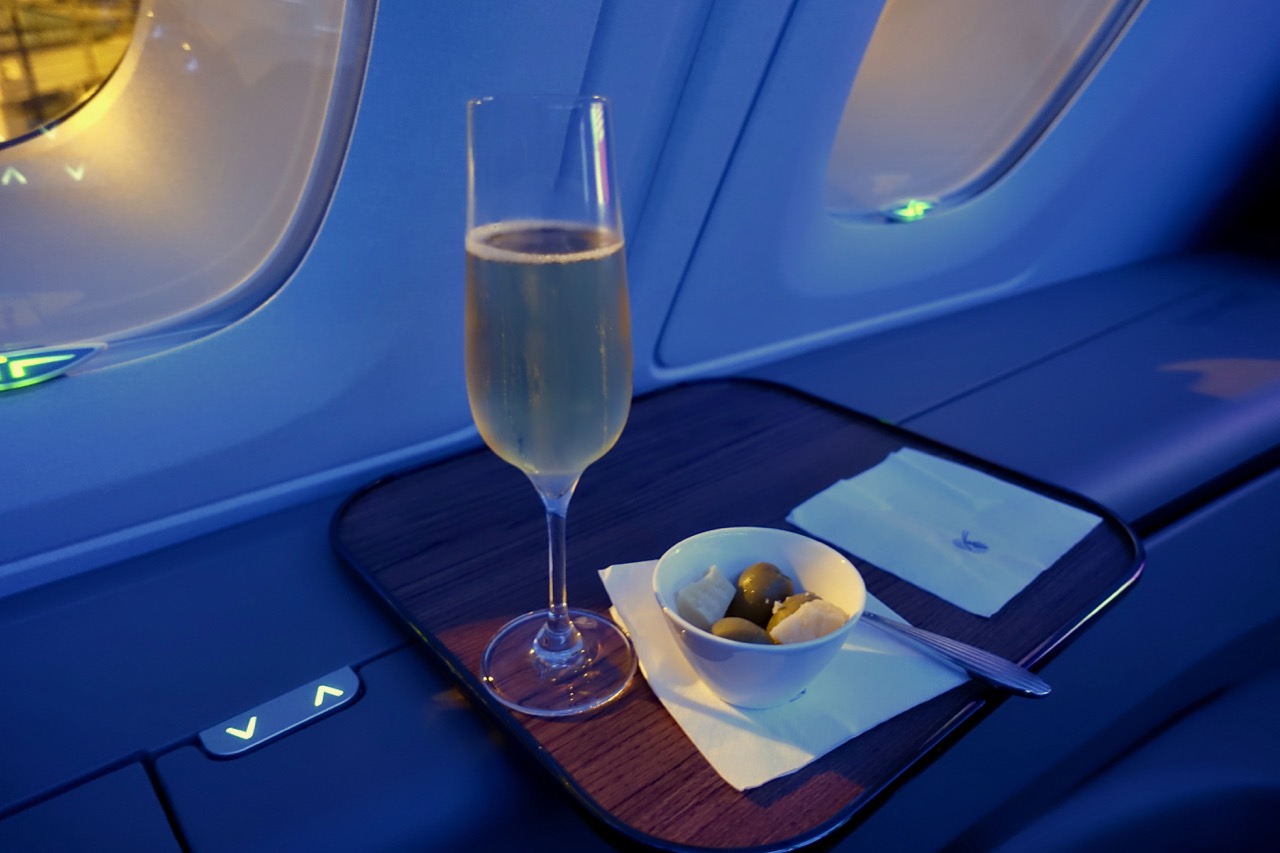 I ordered breakfast before I went to sleep, and on waking I was brought coffee, juice, bircher muesli, pastries and my omelette.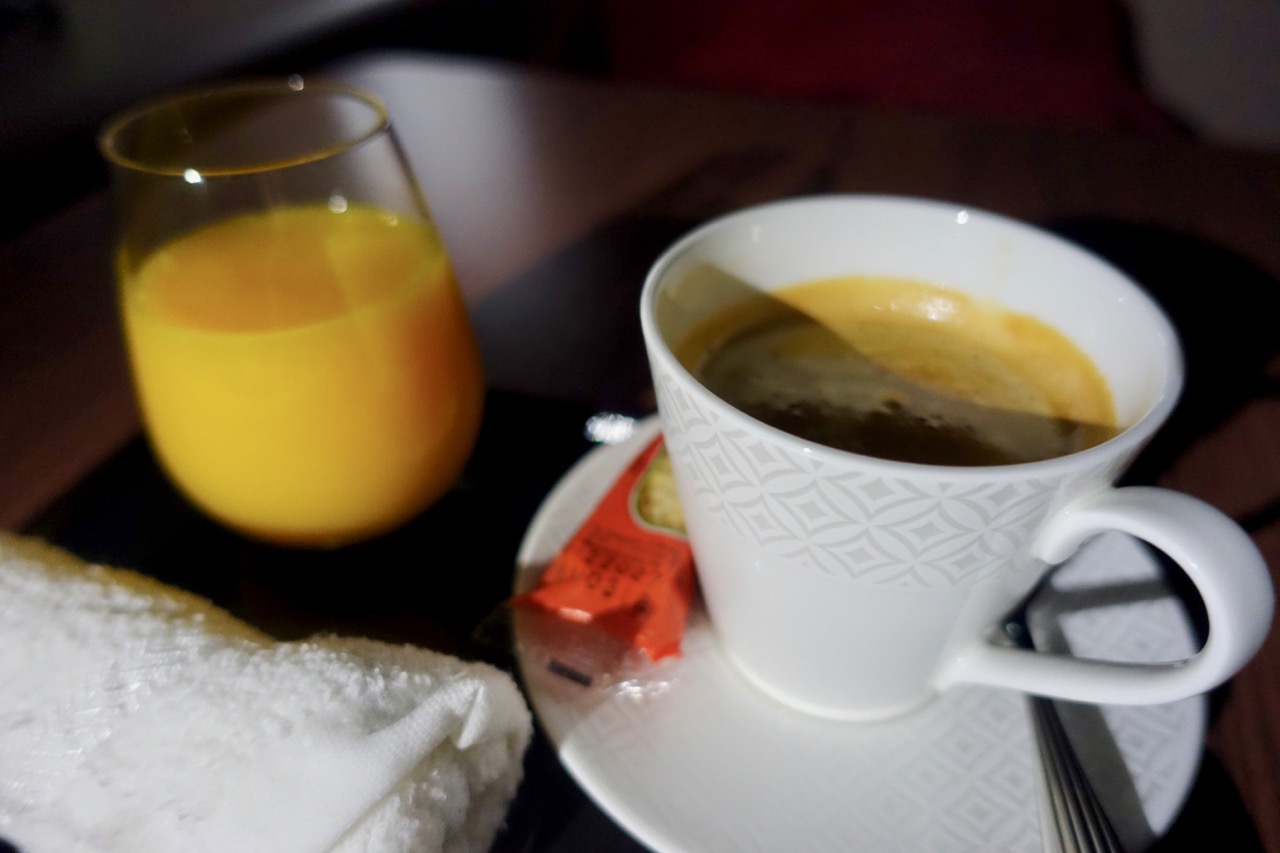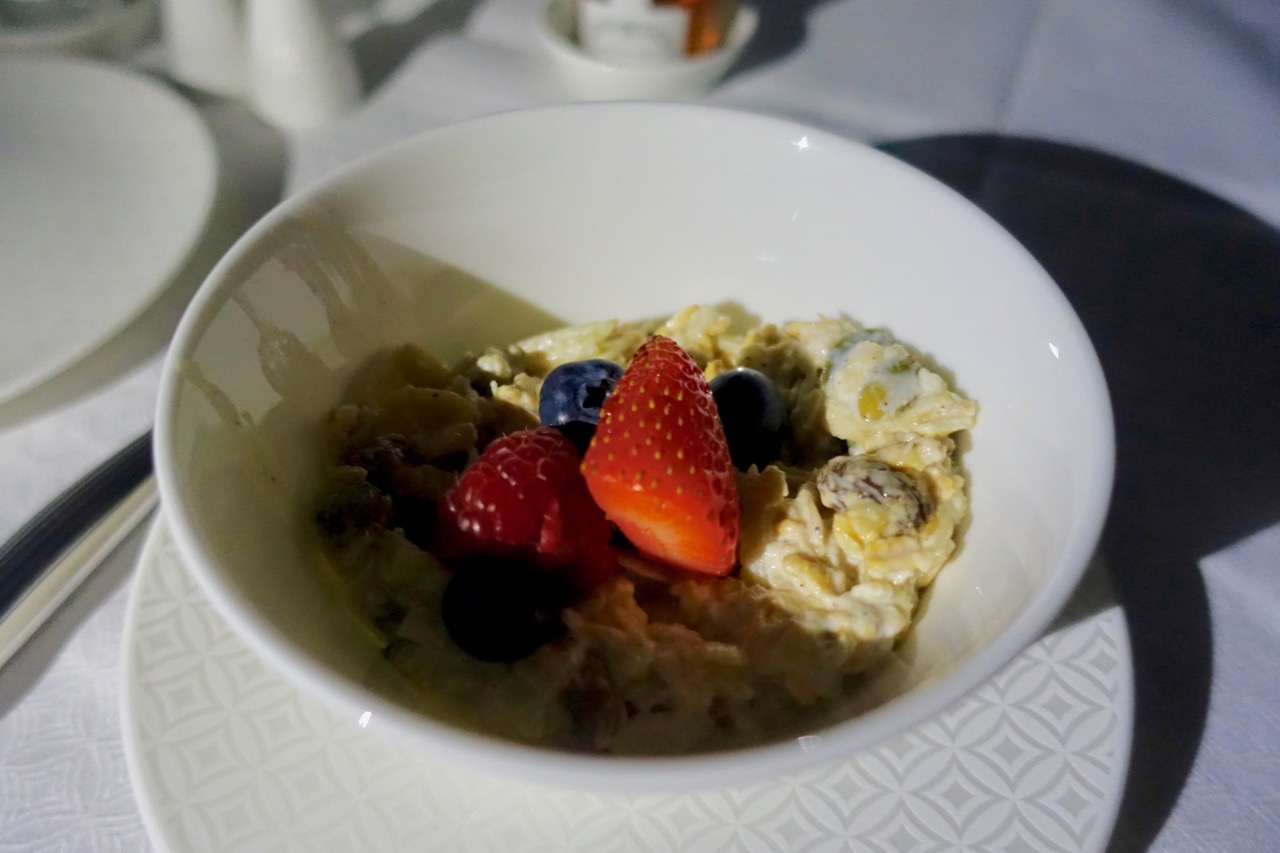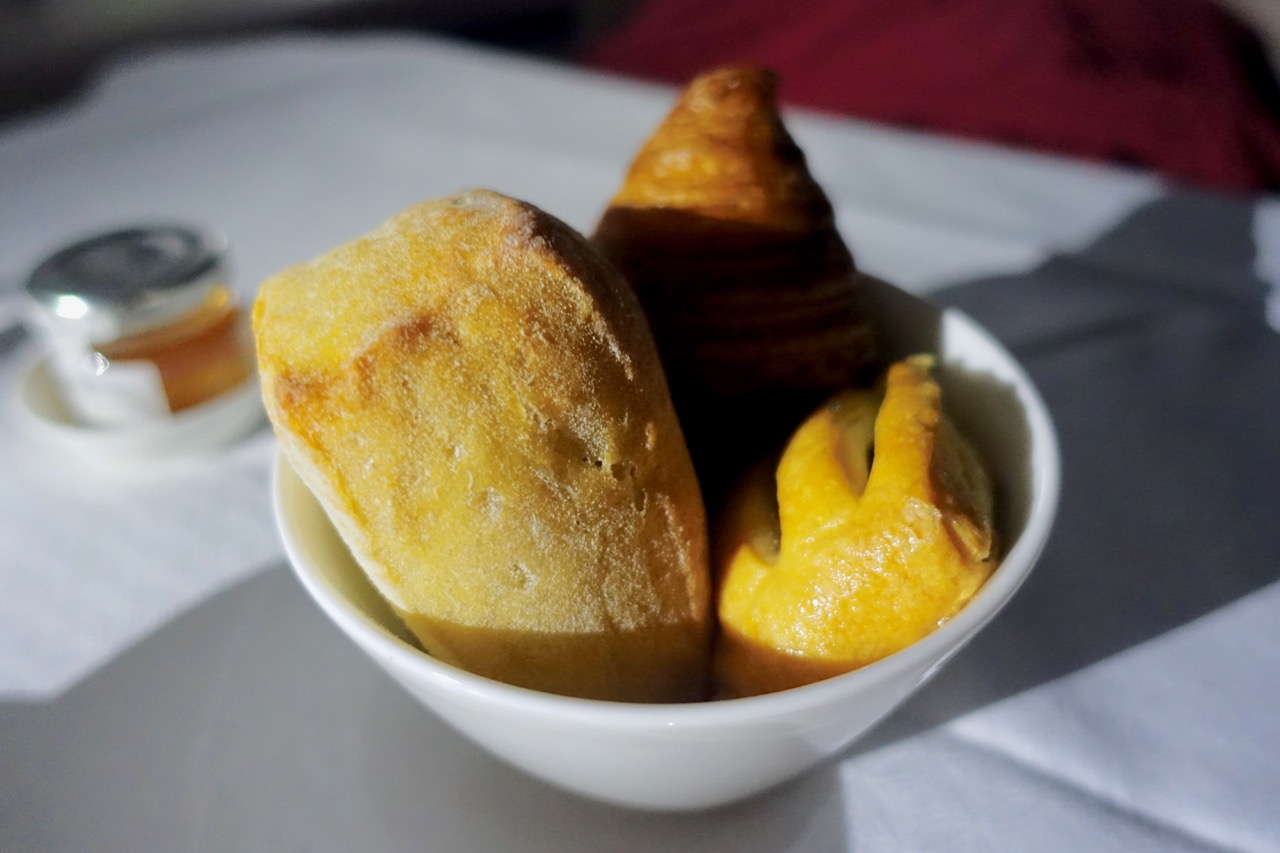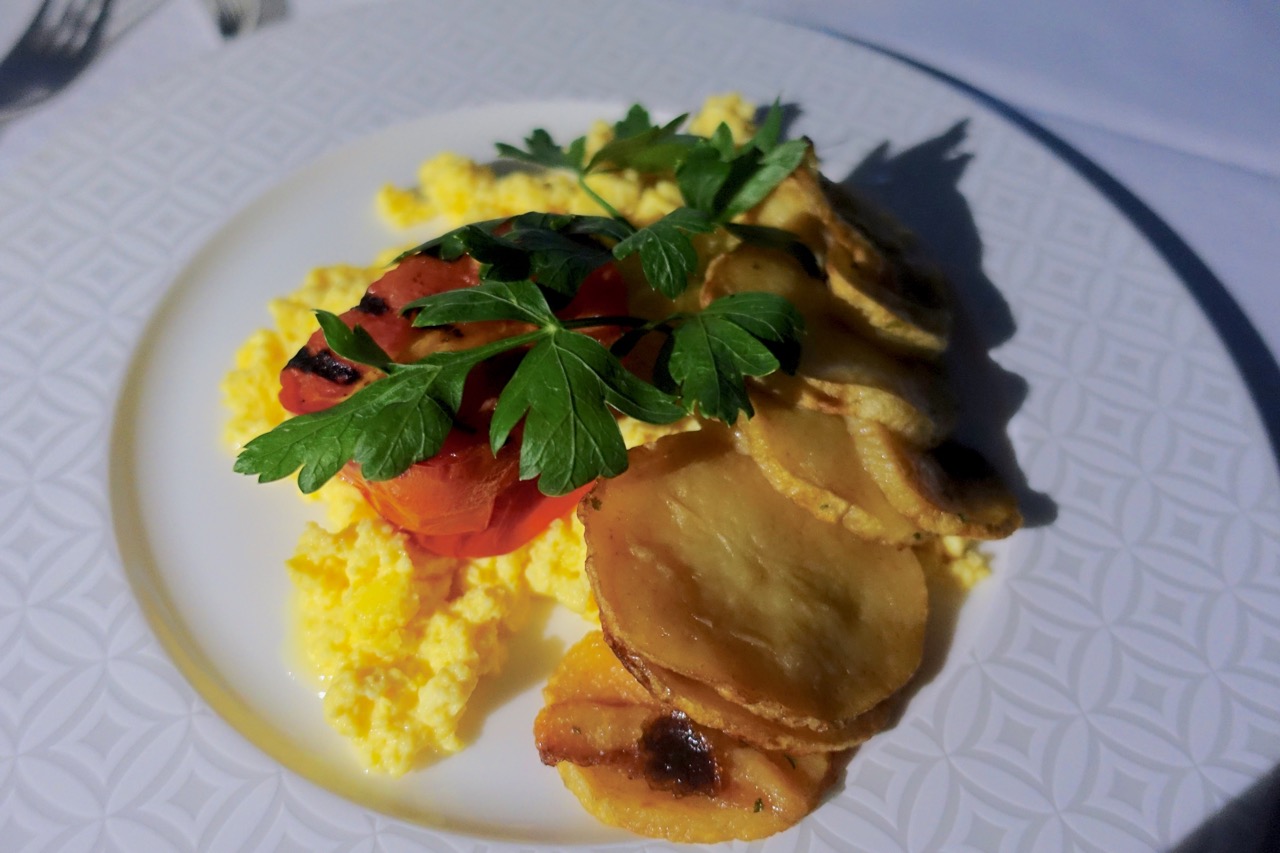 I chose a baked fish and rice course for my lunch a few hours later.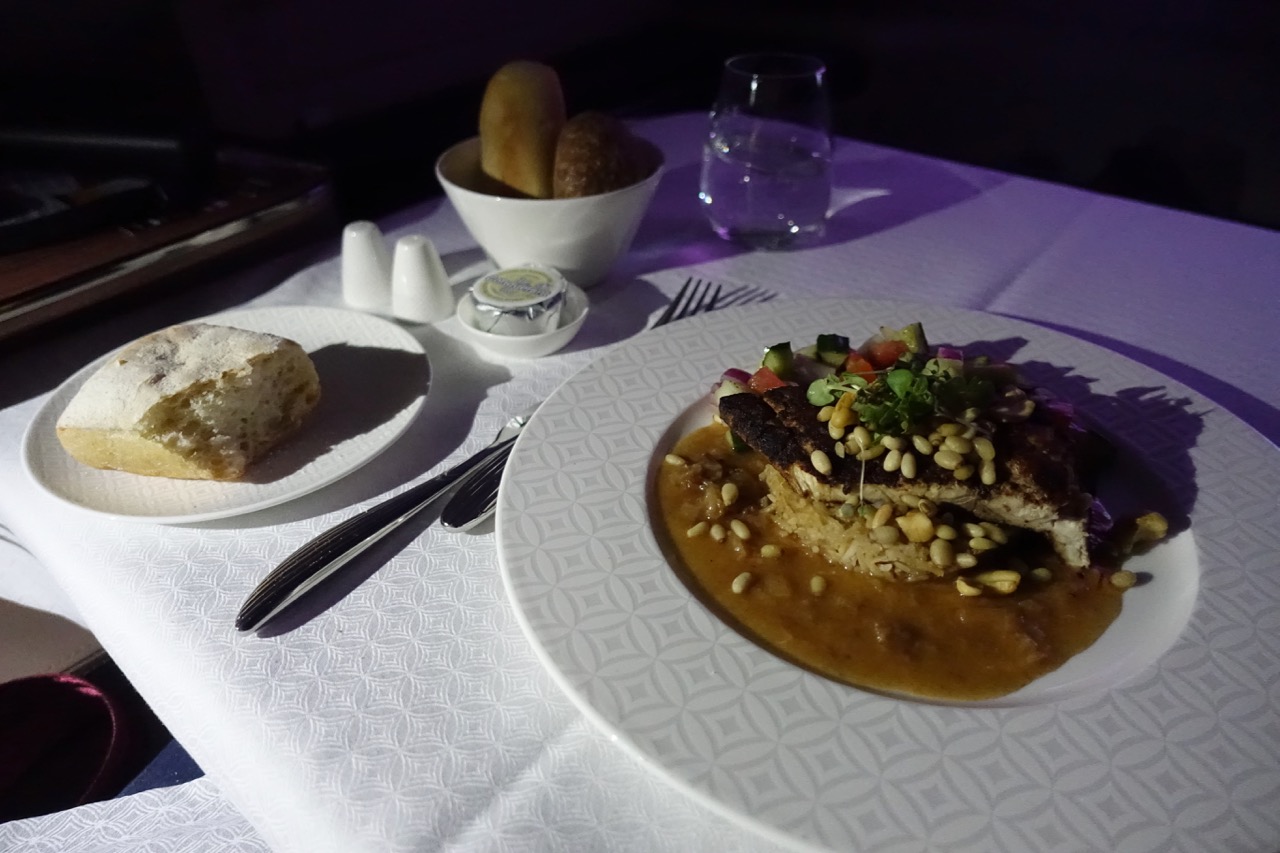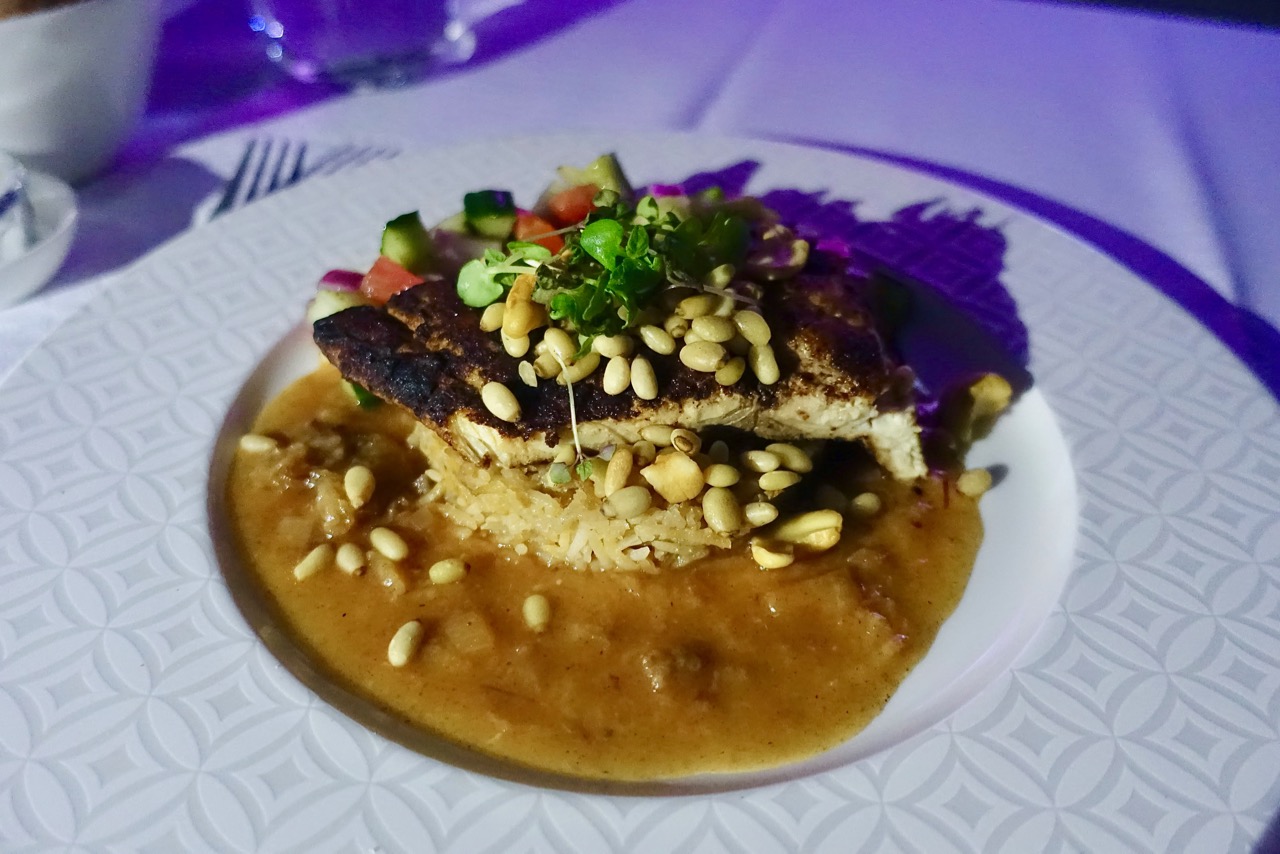 Food and Drinks Menu
Here's the full set of menus on offer for this flight.
Inflight amenities
There are two large bathrooms located at the front of the First Class cabin: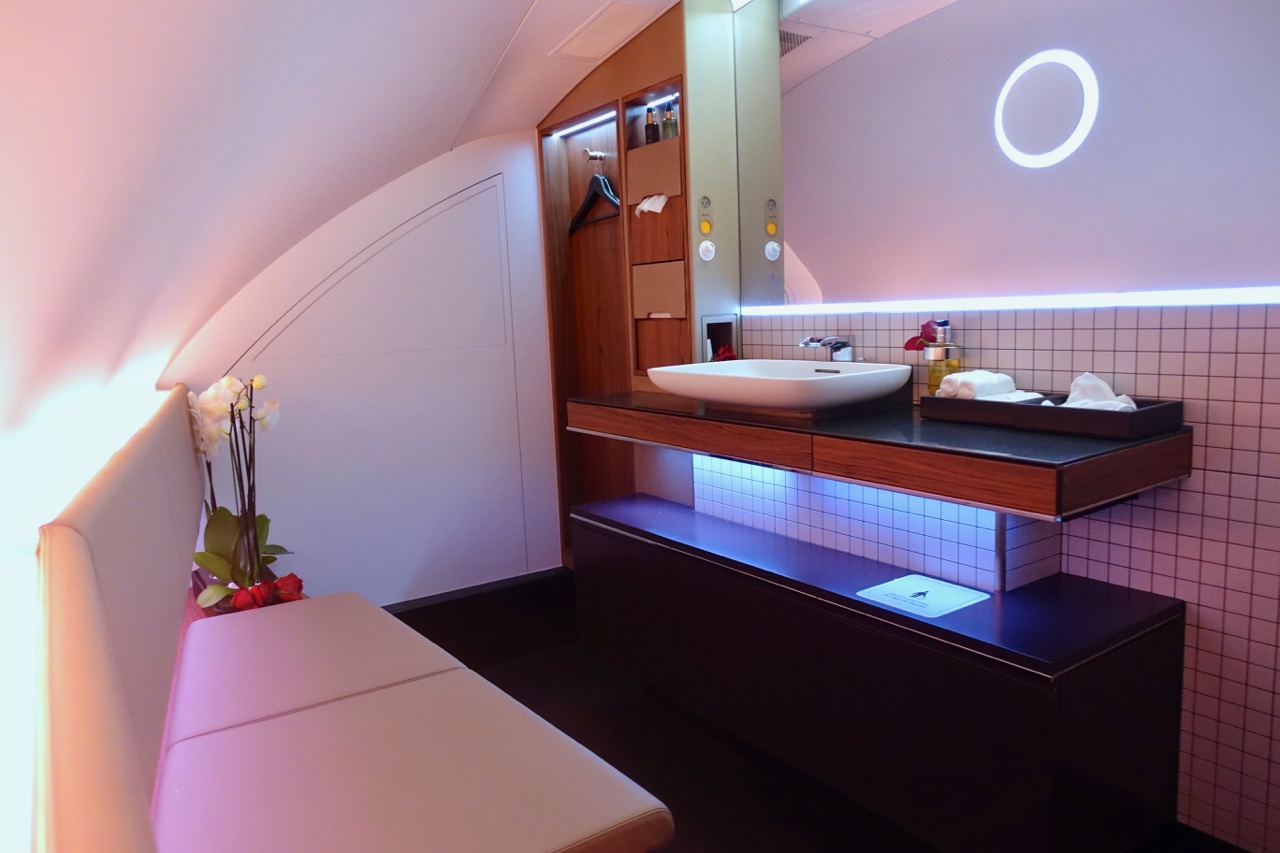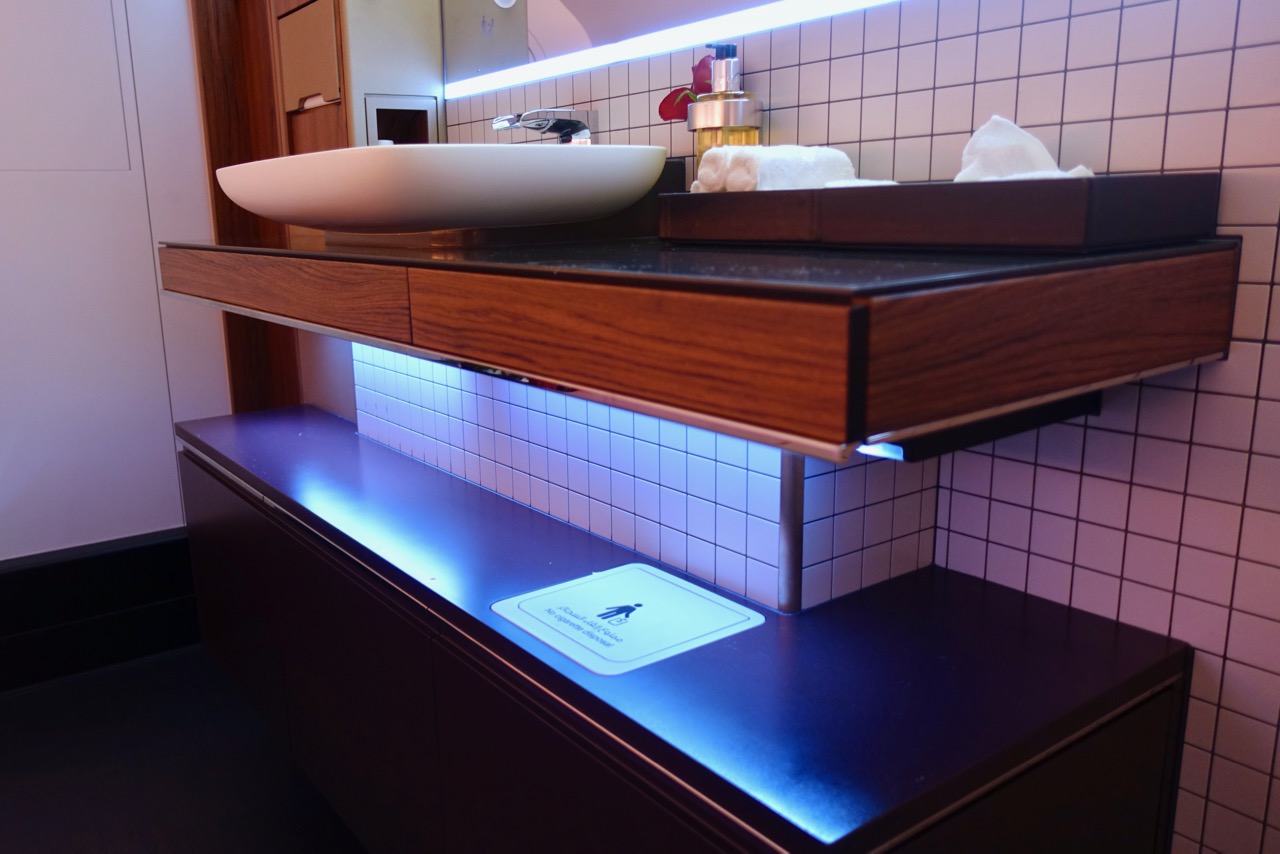 However there are no showers on Qatar's A380s, unlike Etihad and Emirates. That's not a complaint – just a fact!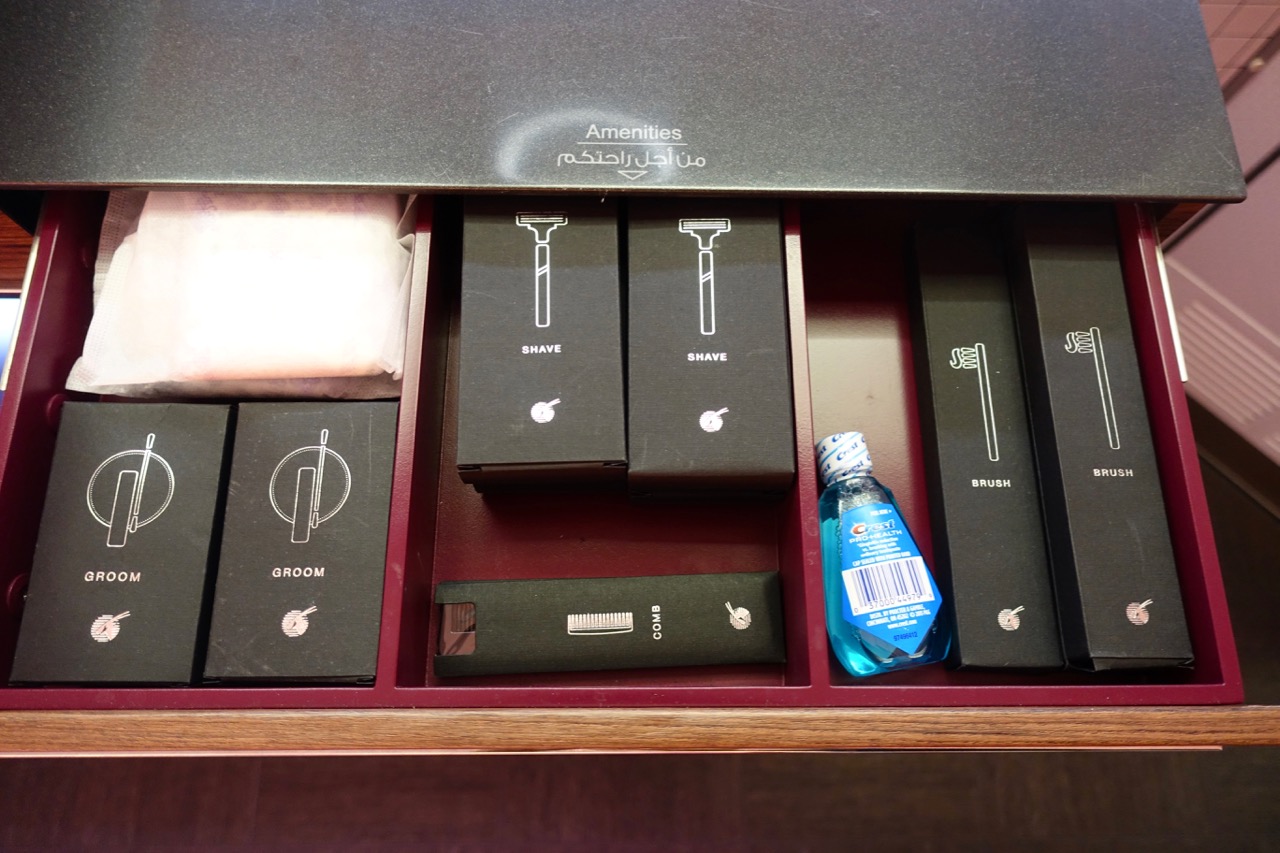 Pyjamas and slippers are supplied by The White Company and amenity kits by BRICS and Castello Monte Vibiano Vecchio.
Our Other Qatar Airways Reviews
Matt has also flown with Qatar on their Boeing 777 in Business Class, which is commonly found on routes not operated by their more modern A380 or 787 fleet.
Here is Greg's take on the Airbus A350 Business Class.

And here is Ben's experience with the Qsuite Business Class.
Our Other A380 First Class Reviews
Etihad has a little more coverage than Emirates here on Point Hacks – we have a review of Emirates First Class coming soon. Of course they are all excellent – I really liked the design of Qatar's A380 First Class, but the lack of privacy around the seats I thought was a negative compared to the suites on offer from their competitors.
Summing up: why choose this flight?
Qatar Airways are a welcome partner for Qantas Frequent Flyers looking to redeem their points – even though their pricing is higher than flying with Qantas or their partners on similar length routes, the ability to use points for some unique routes or when Emirates / Qantas flights aren't available makes them important for members with a decent Qantas Point balance.
The seat / bed was very wide and comfortable, and I slept well. That's the benchmark for me – if I don't get a good sleep in Business or First Class, then you haven't received a key part of what you paid for.
Service from the staff was mixed – some of the crew were very friendly and attentive, while others were professional but detached. Certainly the more senior crew members went out of their way to say hi, chat and check on us in the First Class cabin. But otherwise I have had better service from other carriers. That's not a particularly large negative though.
The food on offer was all good but somewhat unremarkable – nothing stood out as being either amazing or not worthy of being on the menu.
All up, this flight with Qatar was made by the comfortable seat, empty and quiet cabin, and the relaxed and calm way the crew went about their business and made themselves available. The only downsides compared to other First Class options out there was the comparable lack of privacy and no inflight shower.
I can hardly believe I just typed those words – I am incredibly lucky to be able to travel in this way and fly in amazing machines in such comfort. On a head to head comparison, I wouldn't go out of my way to pick Qatar's A380 First Class, but I am glad they are serving the Australian market and would definitely redeem my points with them again if it made sense for my travel plans.
Qatar Airways A380 First Class Overview – Sydney to Doha
was last modified:
March 16th, 2022
by