The Qantas Domestic Business Lounge in Perth opened in 2015 to much fanfare, as the first of the new-look domestic lounges modelled off its international counterparts. More than 6 years on, there's still a lot to love – from the delicious food and premium beverages to the relaxing ambience designed by Australian architects, Woods Bagot.
Right now, eligible travellers can waltz straight through when travelling domestically on Qantas or Jetstar. Prior to the pandemic, this lounge also hosted Qantas' international flights to Singapore, Auckland and London (though passengers on the London service could also access the nearby International Transit Lounge as well).
Location, location, location
After clearing security in T4, head up the escalator to the departures level. You'll see a large sign on the wall that points out the Domestic Business Lounge (just adjacent to Gate 15).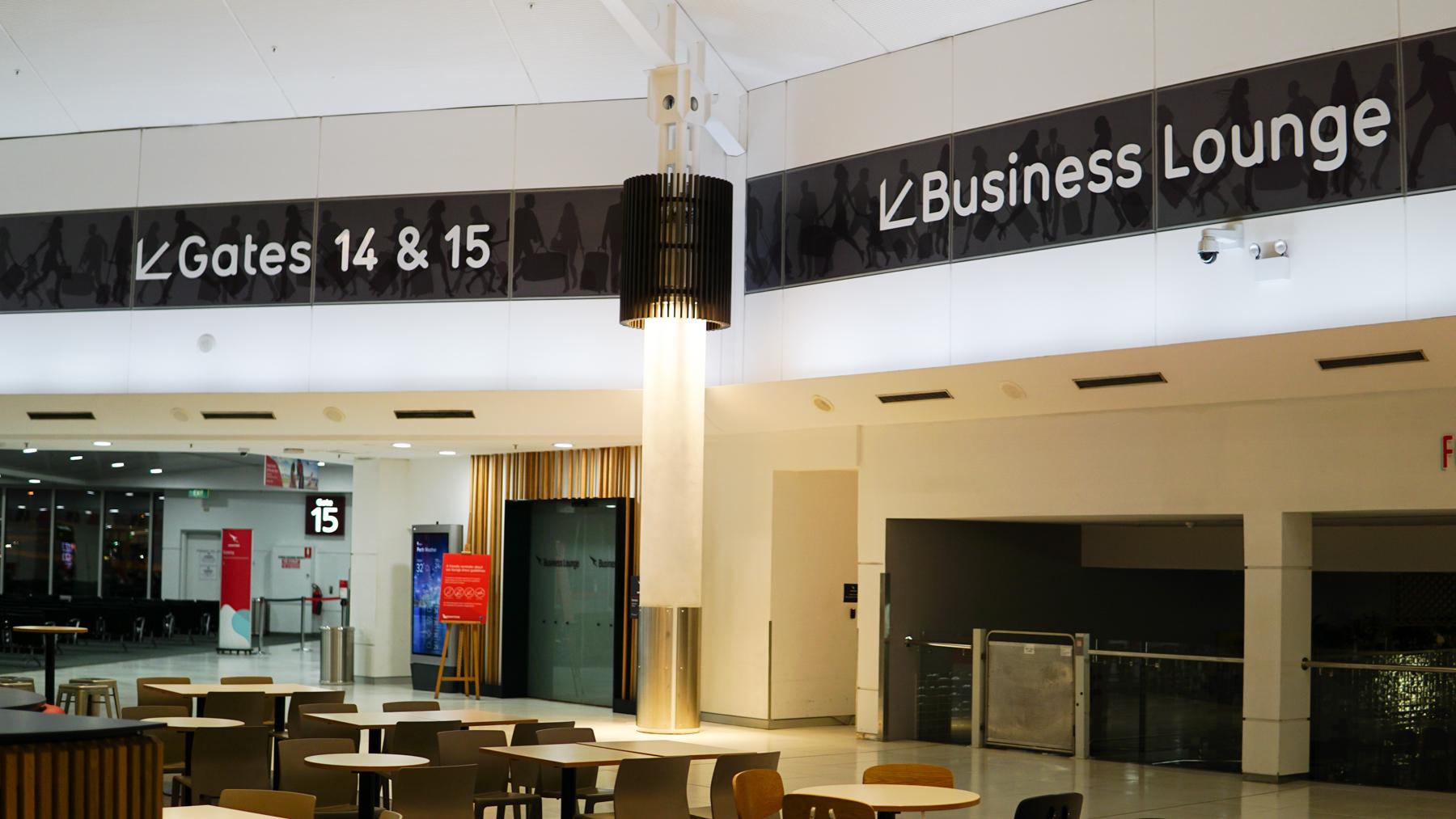 If you've checked in at T3 for Jetstar domestic flights, then after security, head left to the walkway connecting T3 to T4. At the end of the walkway, turn right and you'll find the Business Lounge about 20 metres ahead.
Head through the frosted doors, and flash your boarding pass at the podiums inside.
Lounge layout and seating
As I saunter straight into the lounge, I spy a now-defunct meeting room on the left, as well as a quiet seating area. This space is relaxing – there are limited info screens and it's worlds away from the buffet and bar. I imagine this is also one of the last spaces to fill up if the lounge gets busy.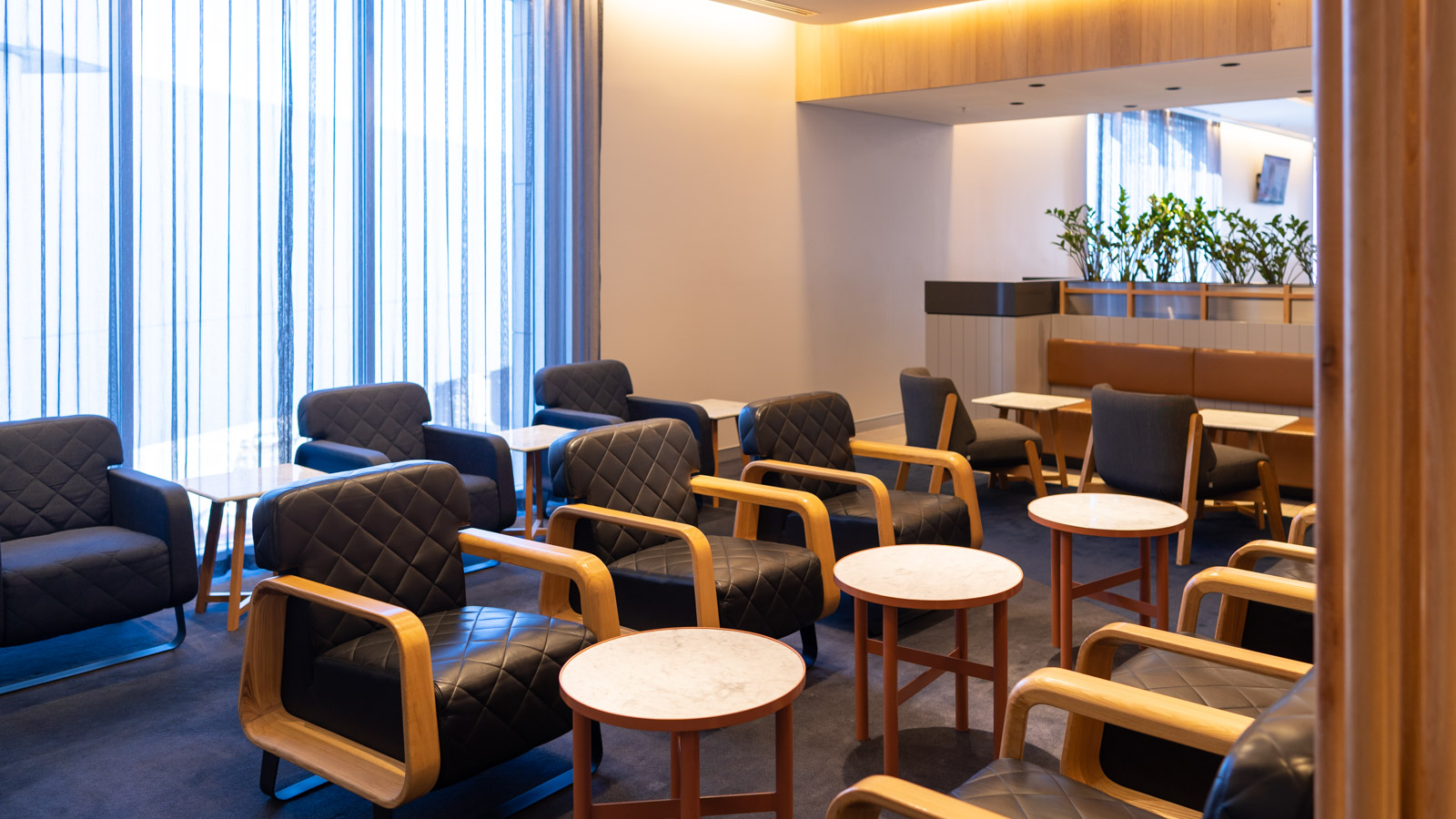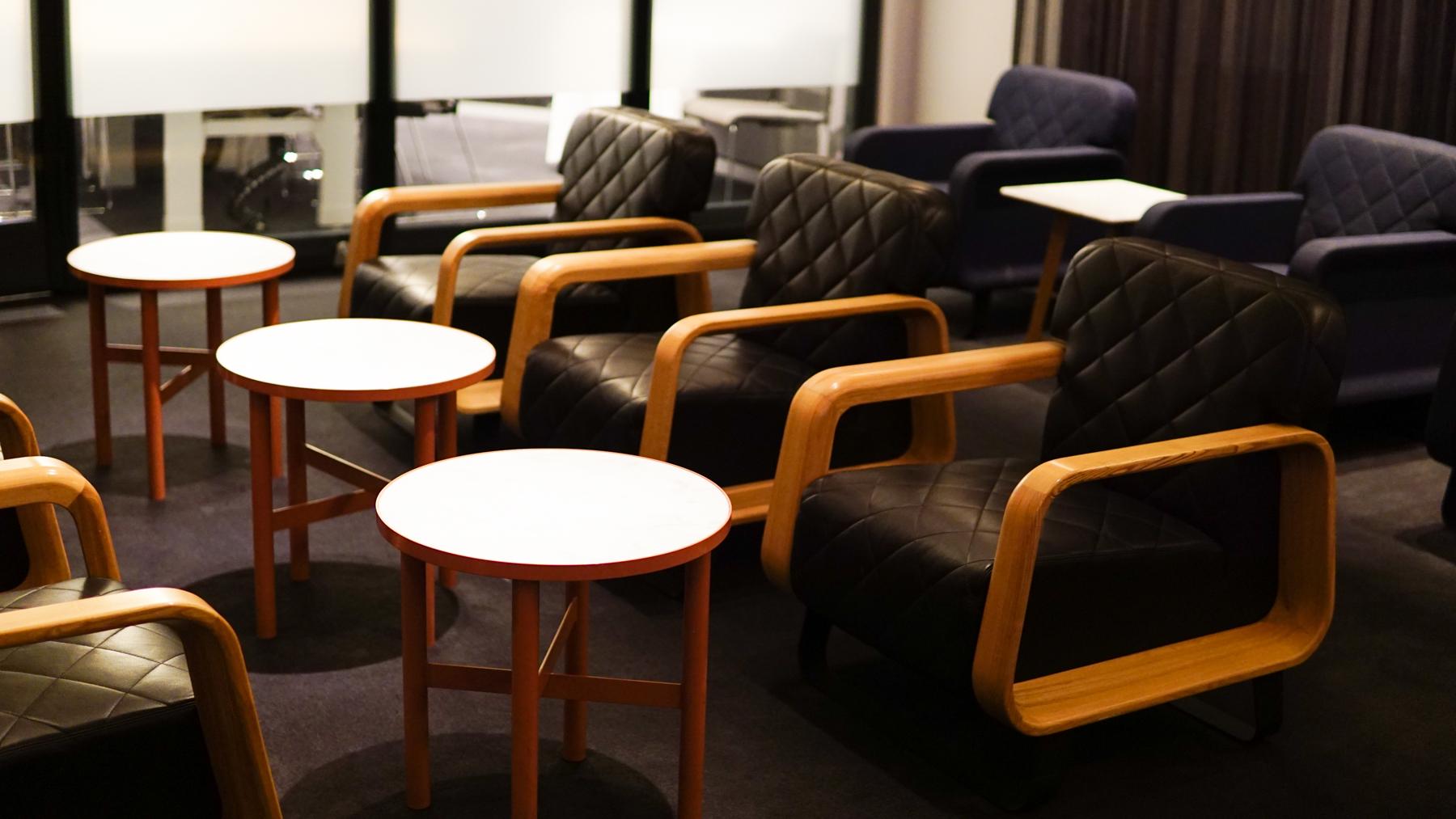 Heading further in, there is more seating to the left and directly ahead. Need that morning (or afternoon – we won't judge) caffeine hit? Make a beeline for the barista coffee station and satellite bar, which will be on your right. Perch yourself here if you want to be among all the action.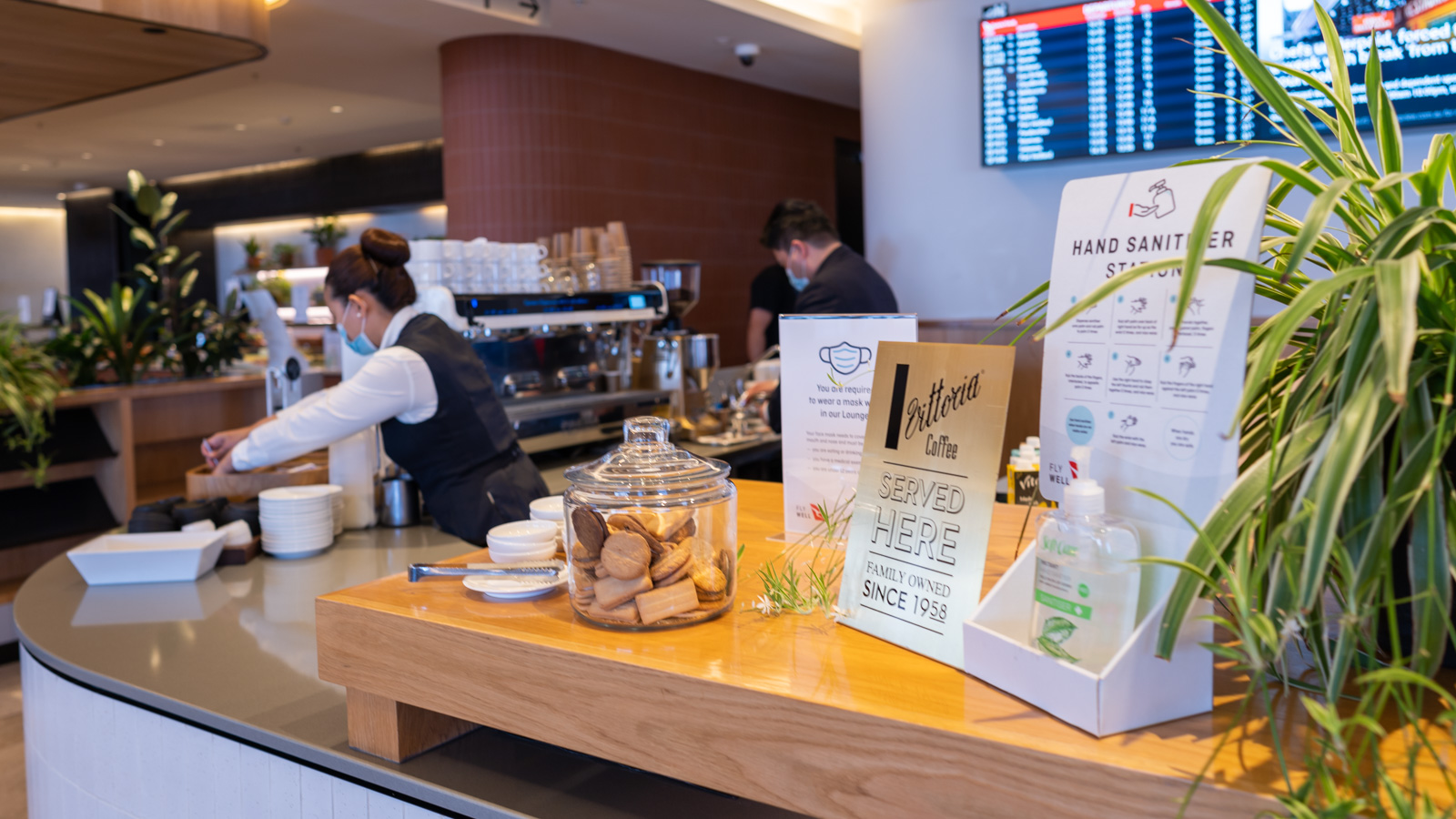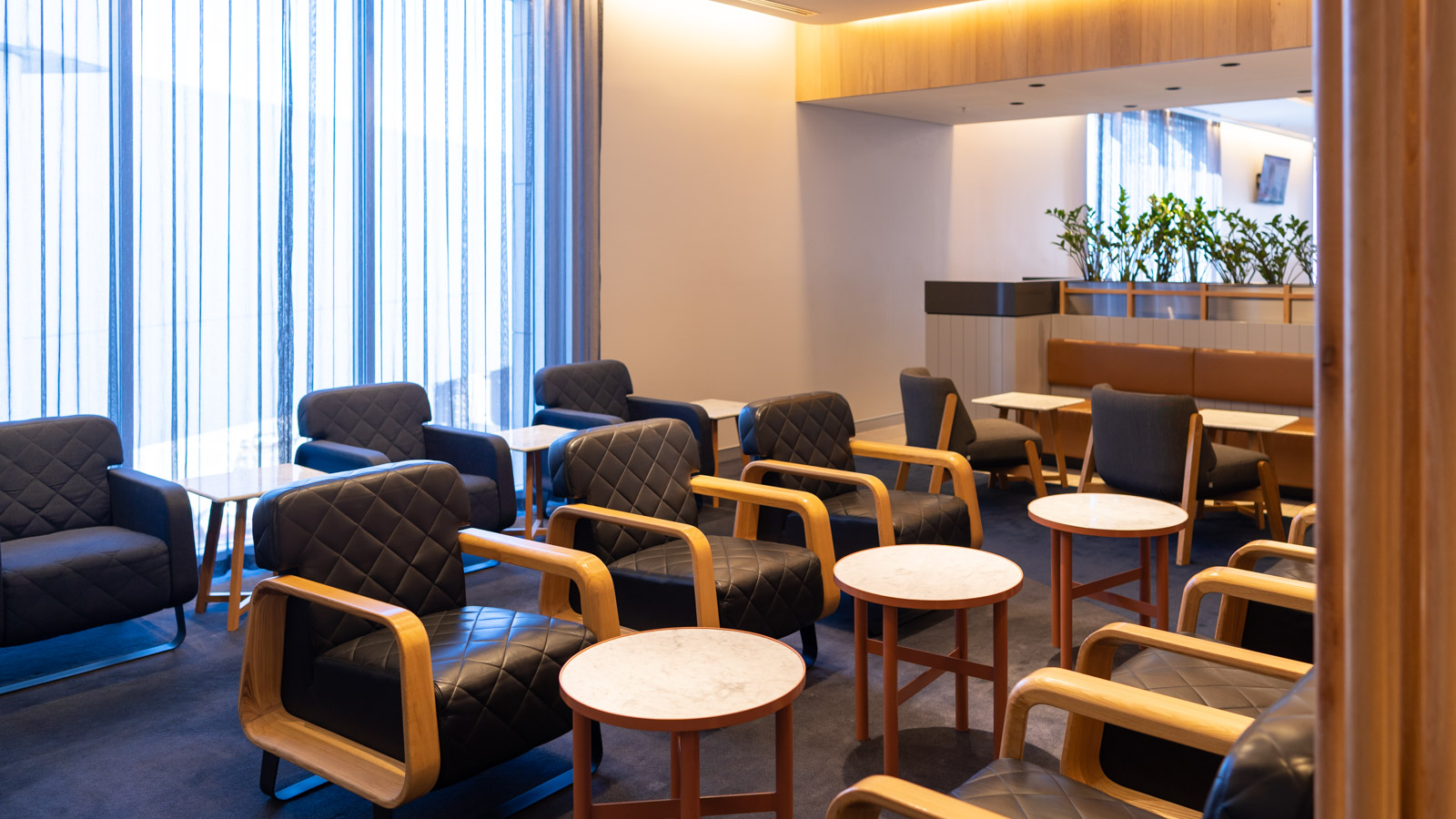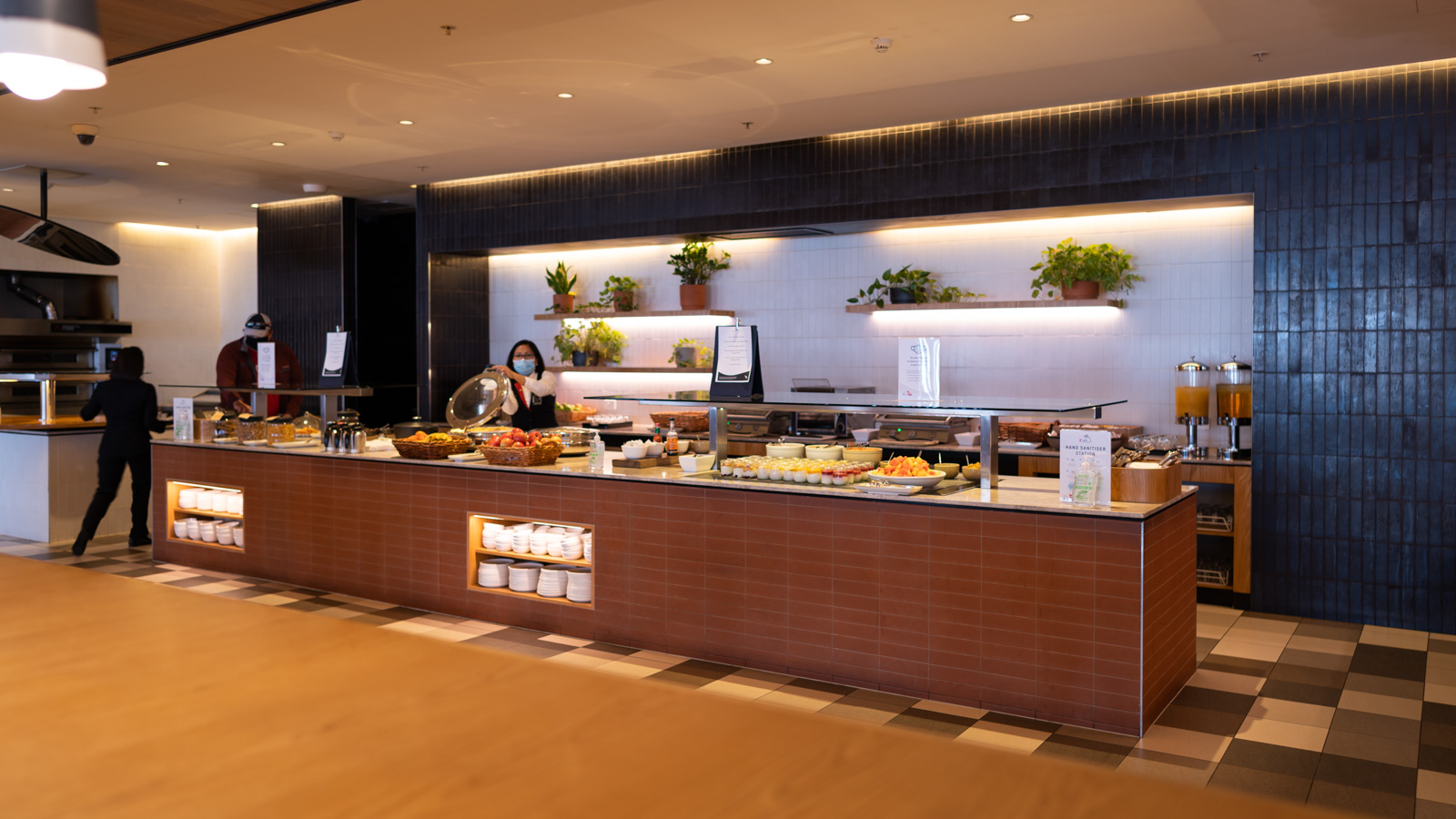 Moving into the heart of the lounge, there's a magazine stand (currently empty due to COVID), the buffet station and a pizza kitchen (yippee!). Yes, the Qantas Perth Domestic Business Lounge is known for its fresh oven-cooked pizzas from lunchtime onwards. Let me tell you, they're absolutely delicious.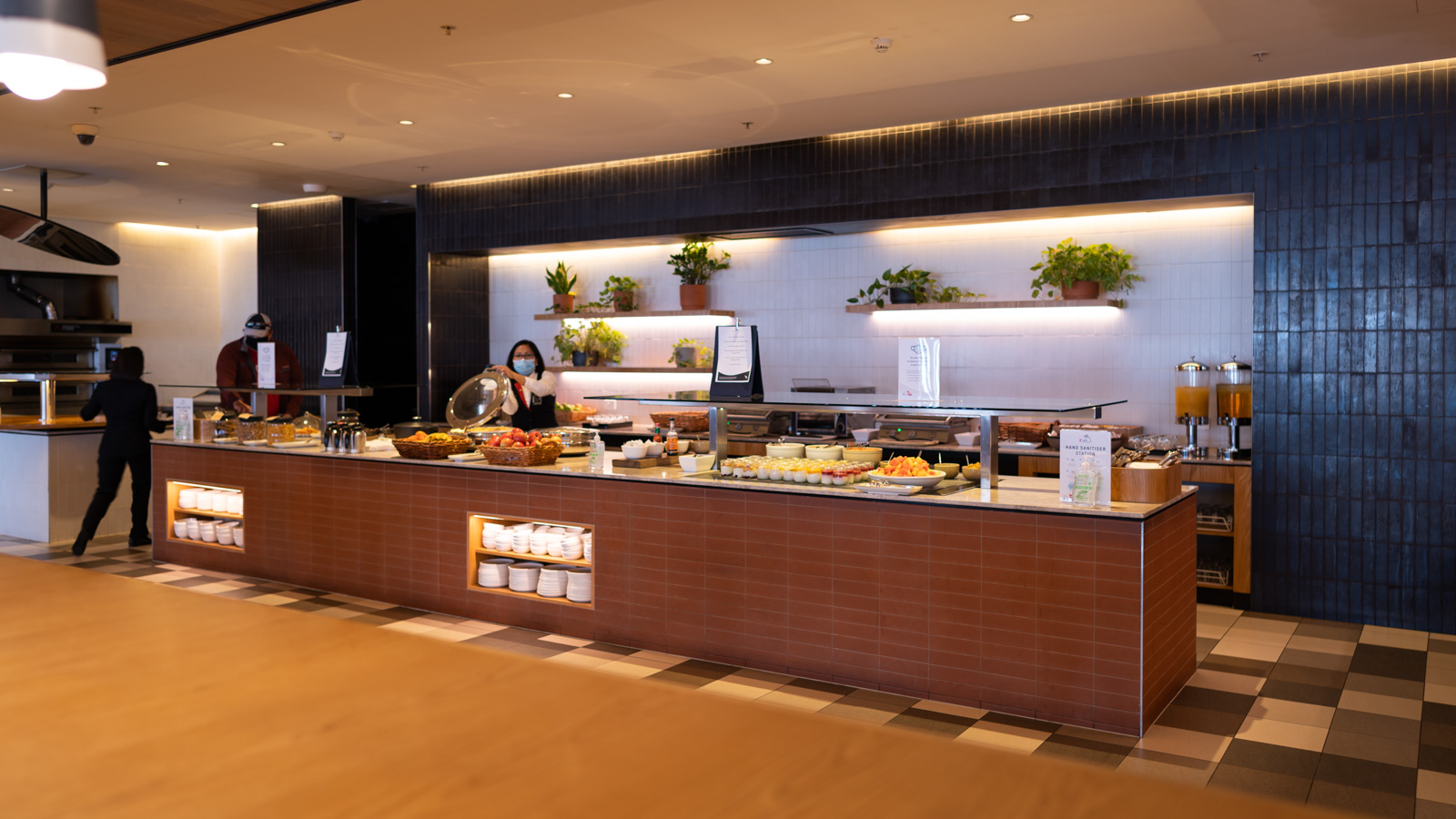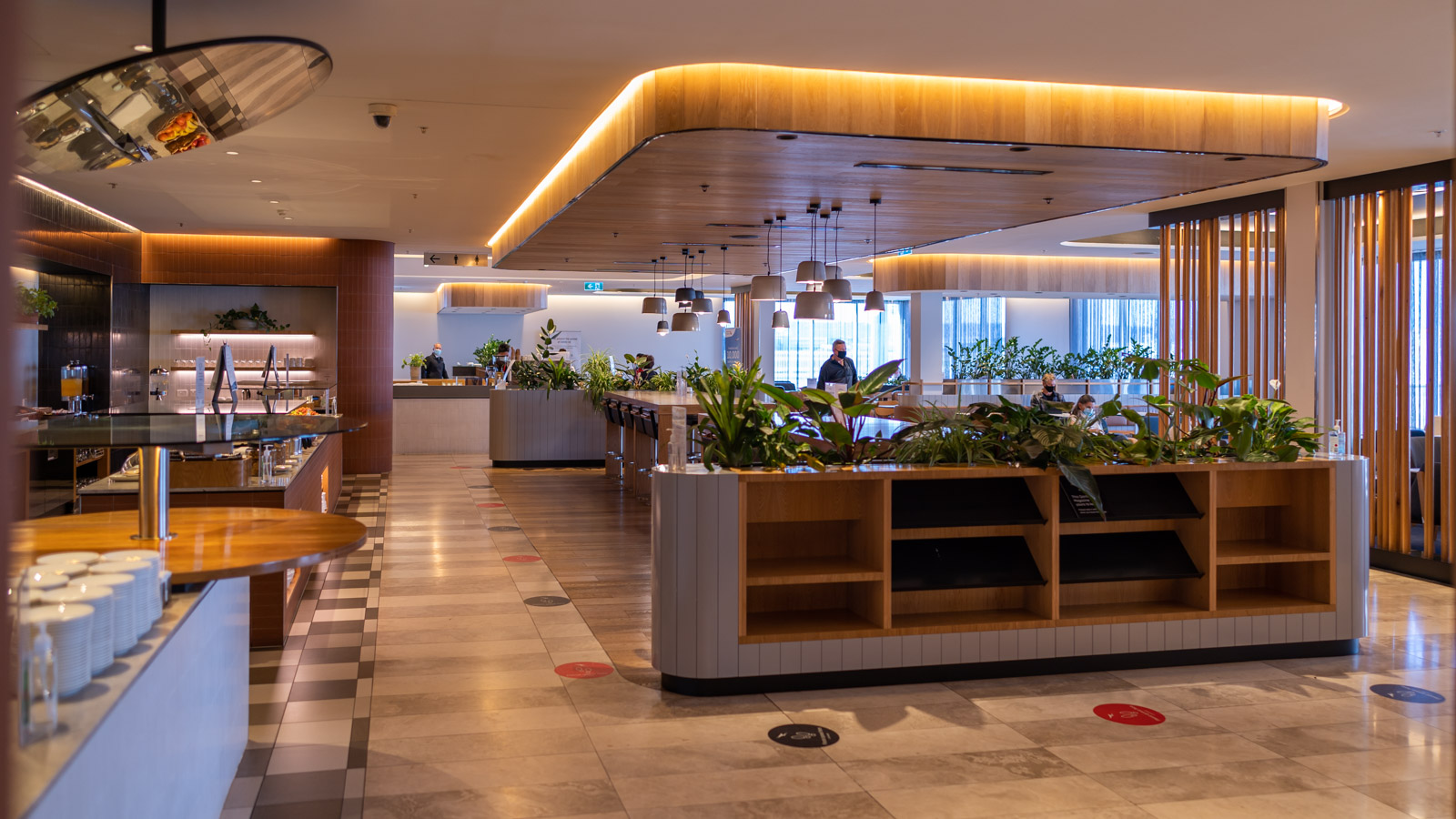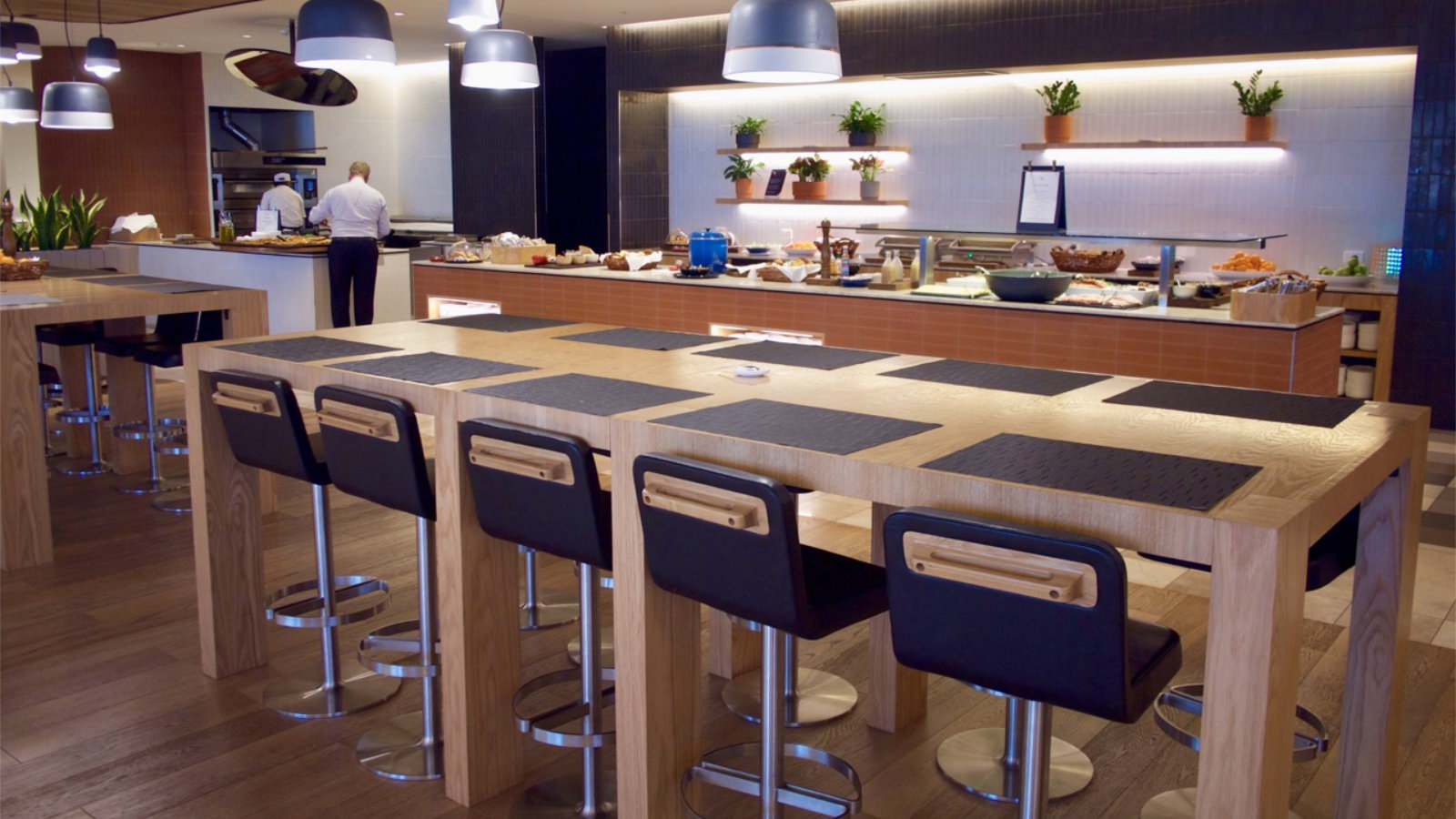 Snaking around the corner is the main drinks bar and TV lounge area, which proves to be the best space to socialise in. There's plenty of communal seating around here. Look under the benches for AC and USB powerpoints.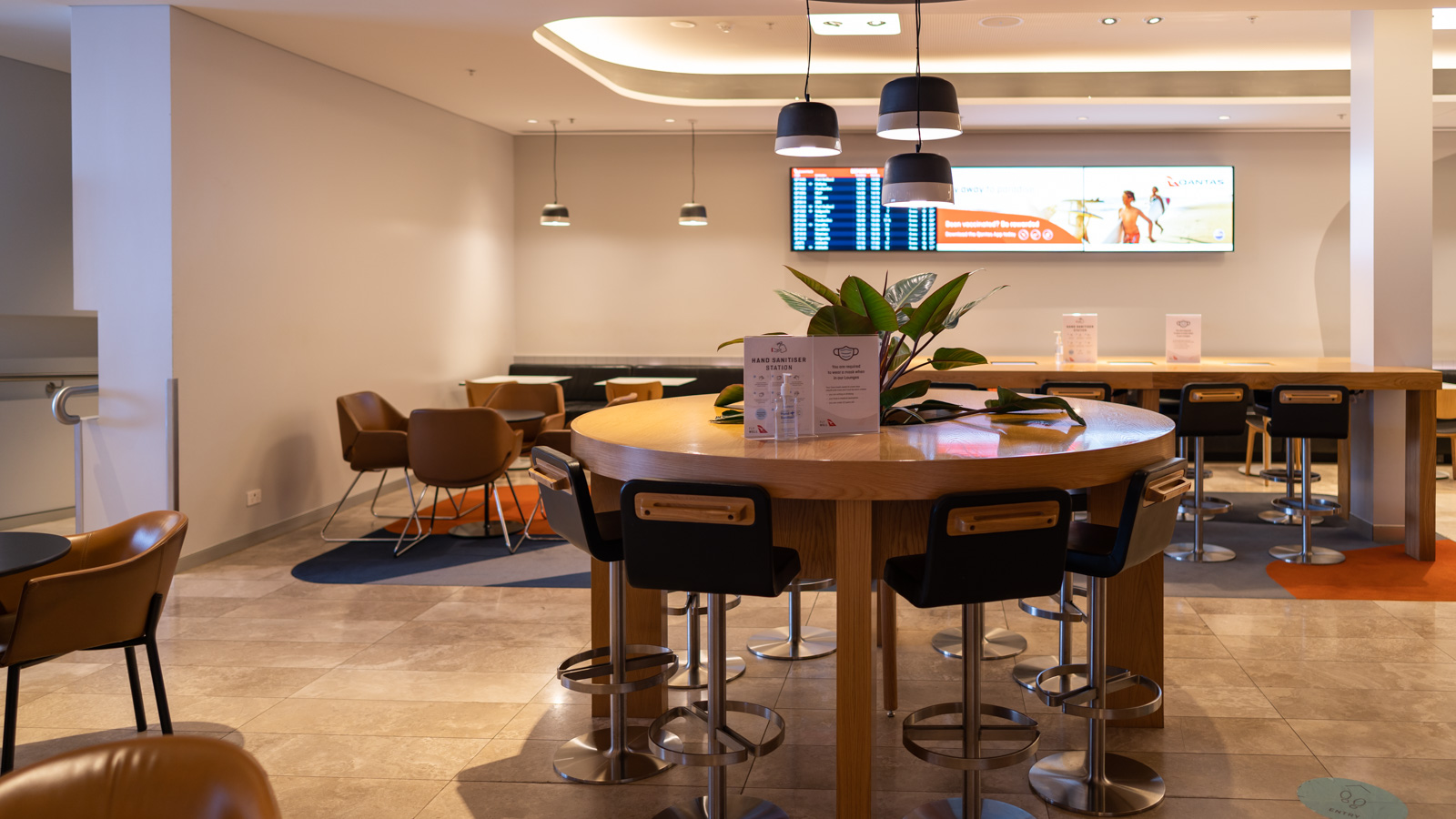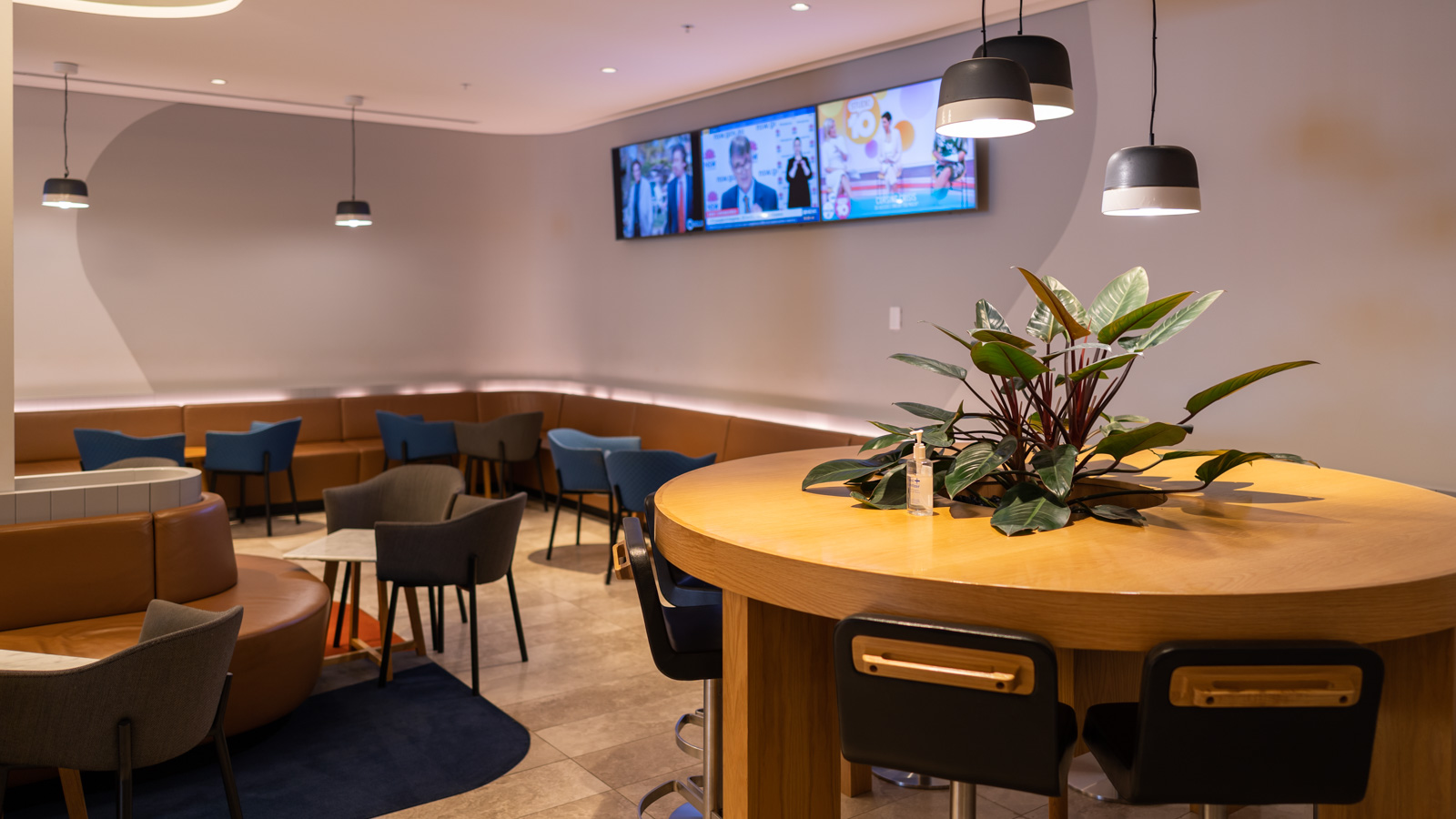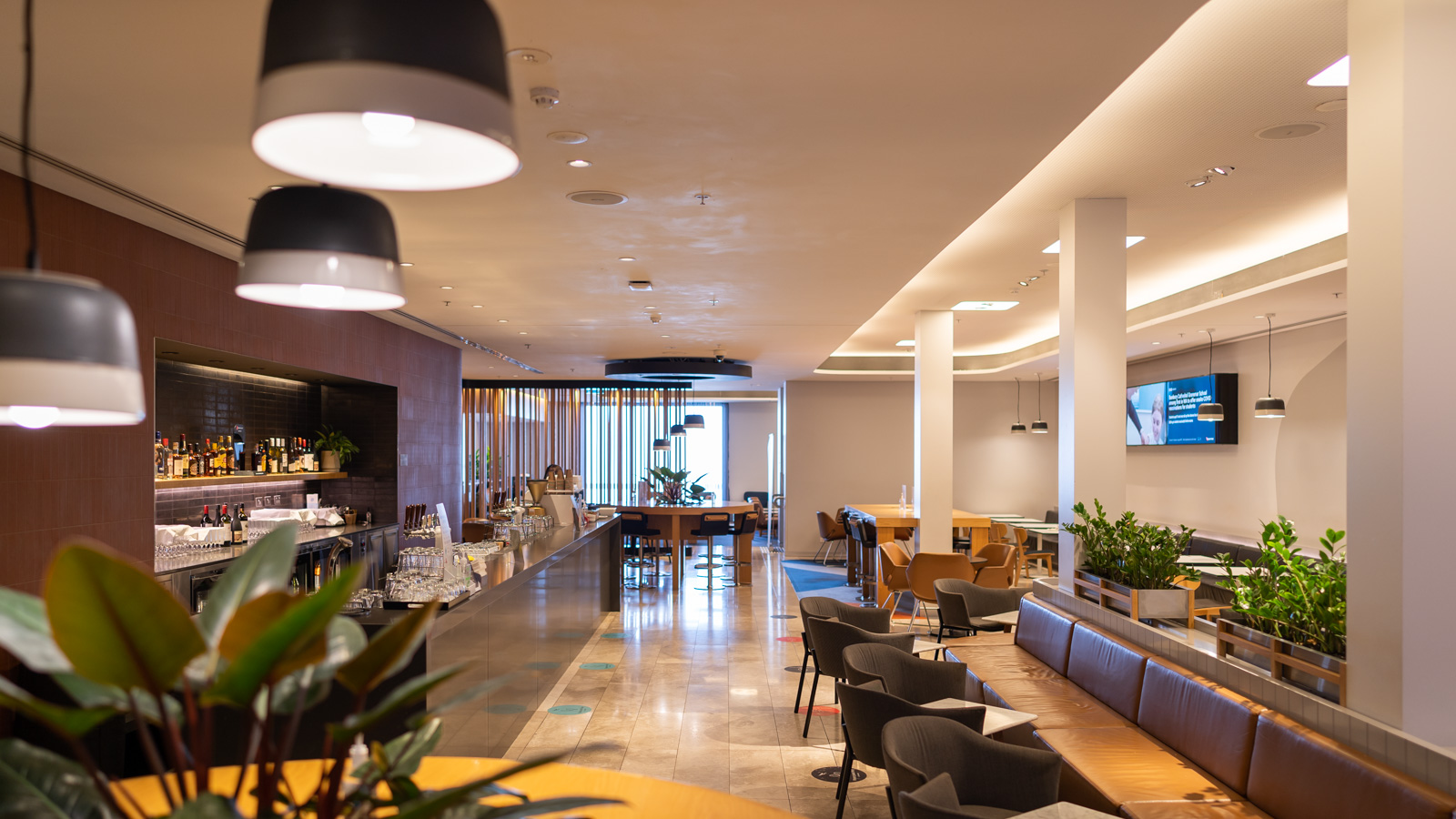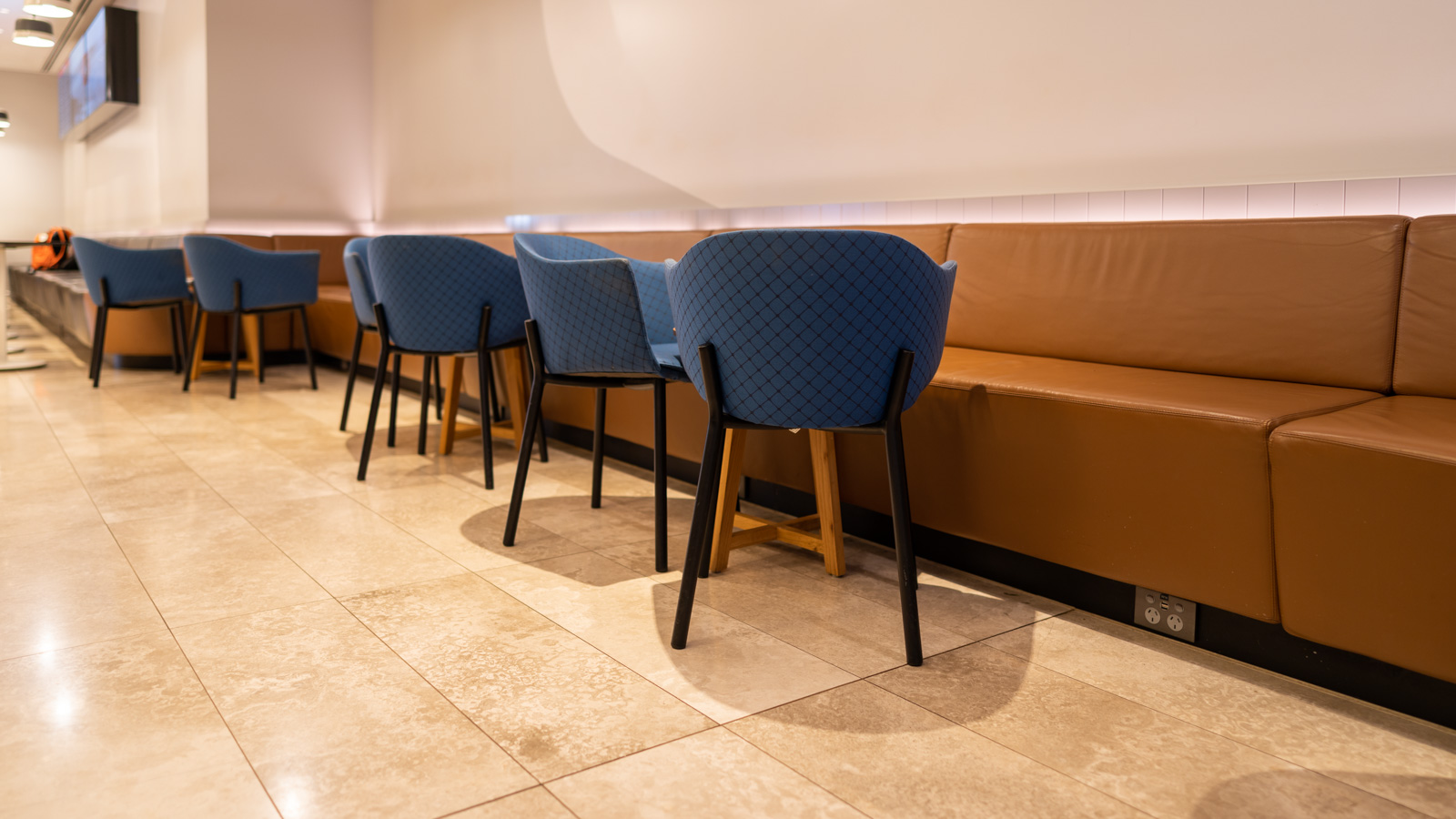 Let's eat and drink!
There's an ample selection of food options from the buffet. One of the lounge's team members eagerly points out to me that as of mid-September 2021, the Perth lounge is one of a select few that is permitted to go back to buffet-style dining.
As I browse the breakfast options, I see the likes of fresh fruits, muesli and yoghurt – along with scrambled eggs and sausages. As much as I love a cooked breakfast, I tend to eat lighter before a flight.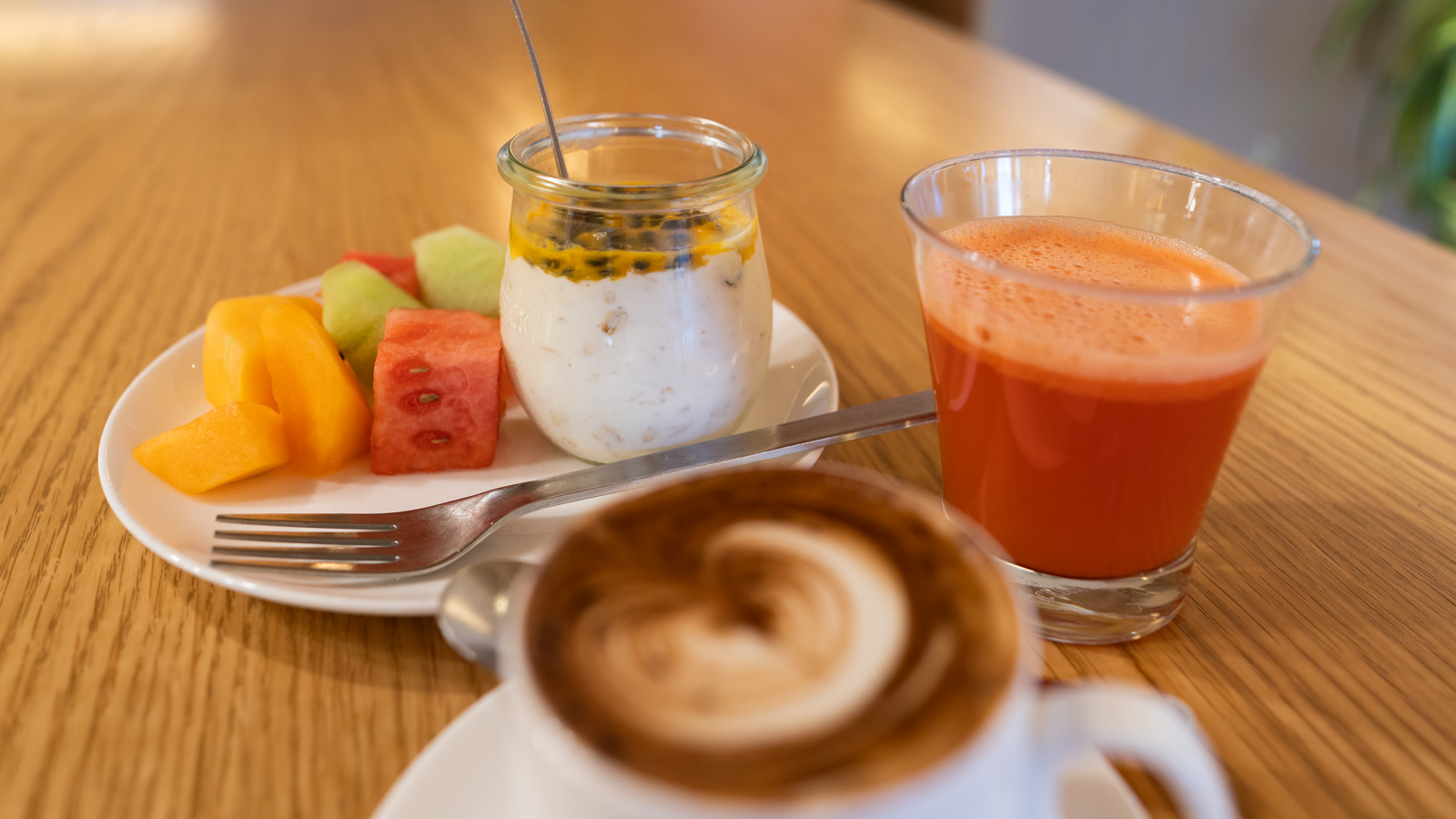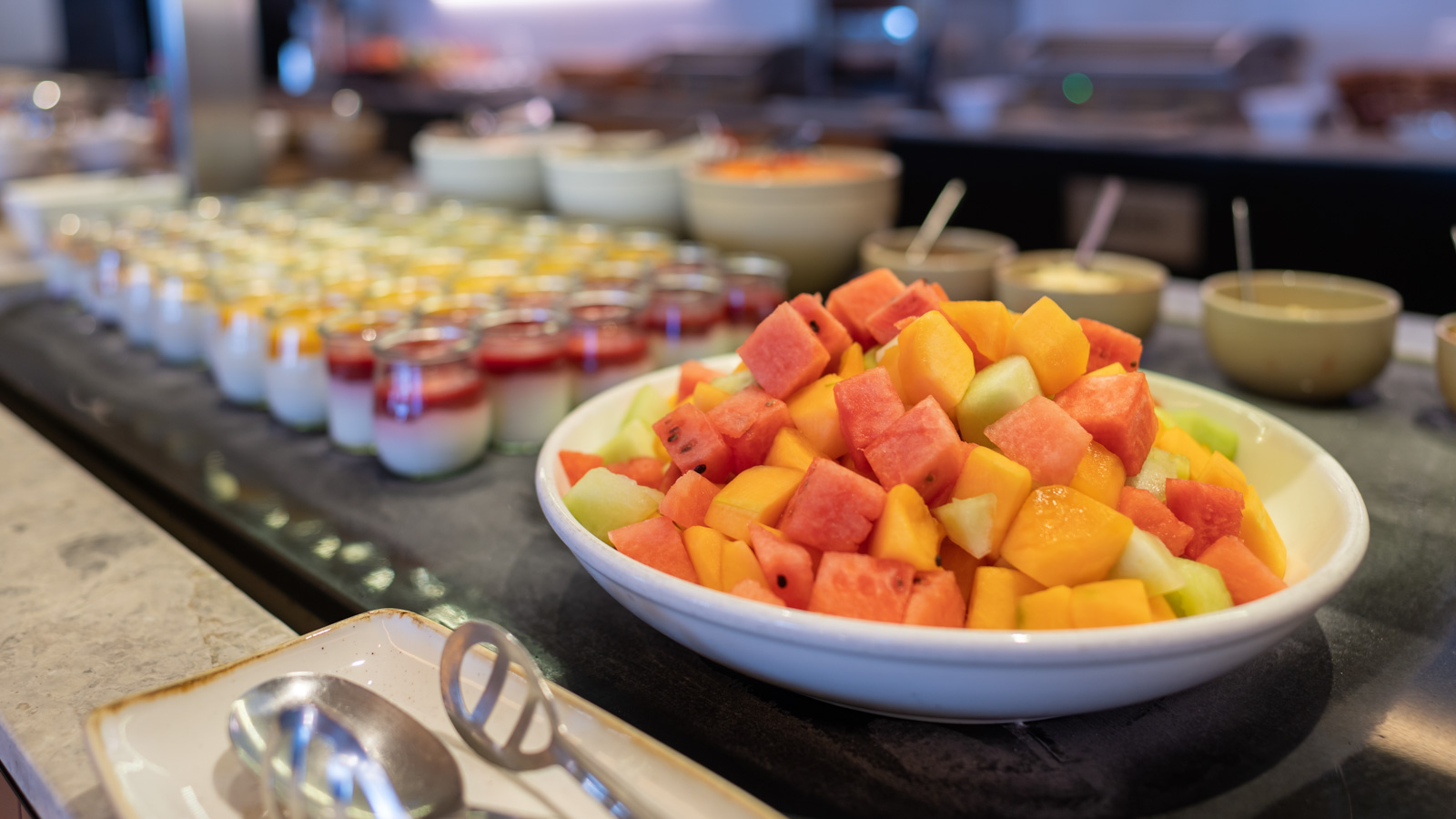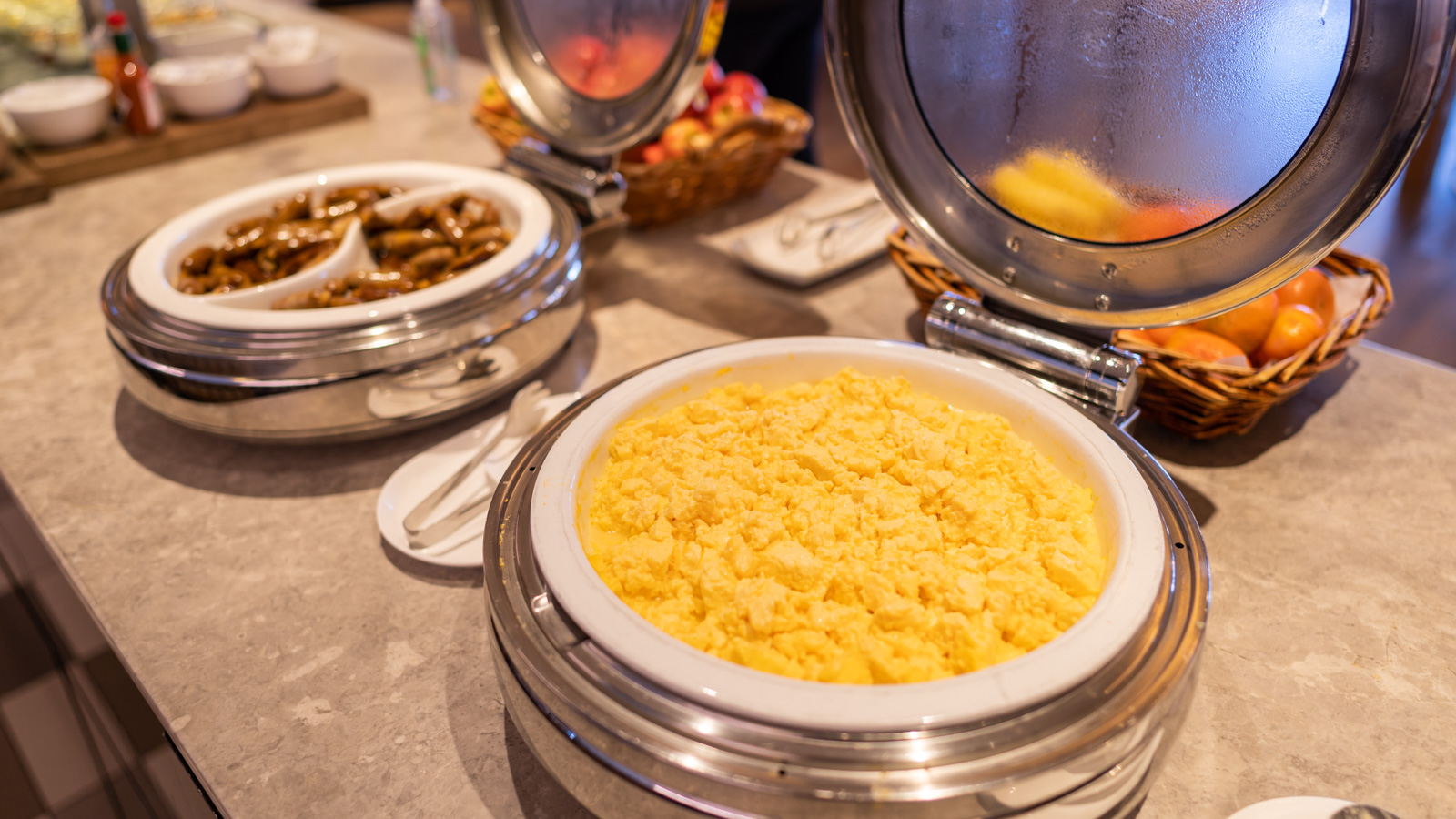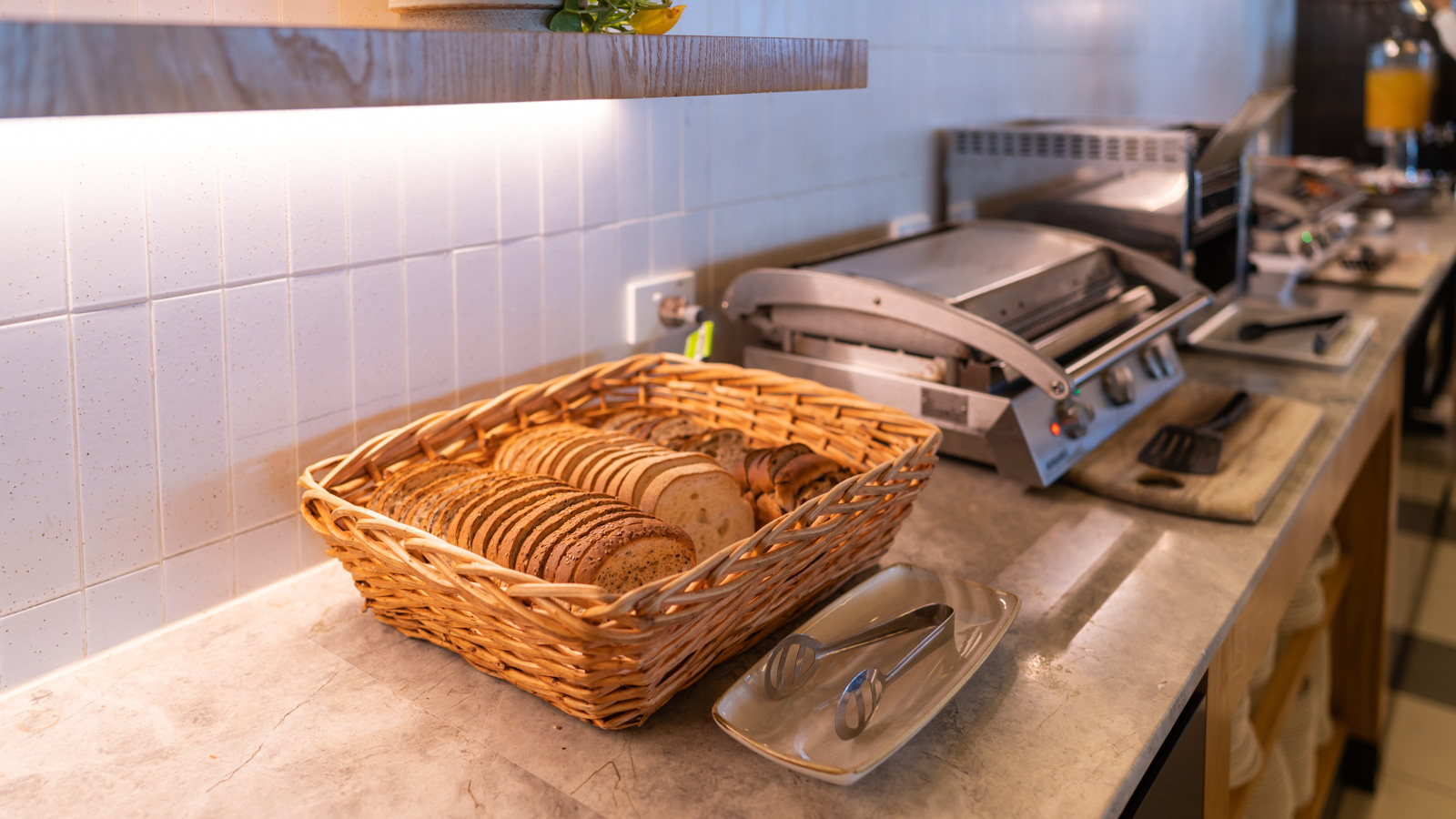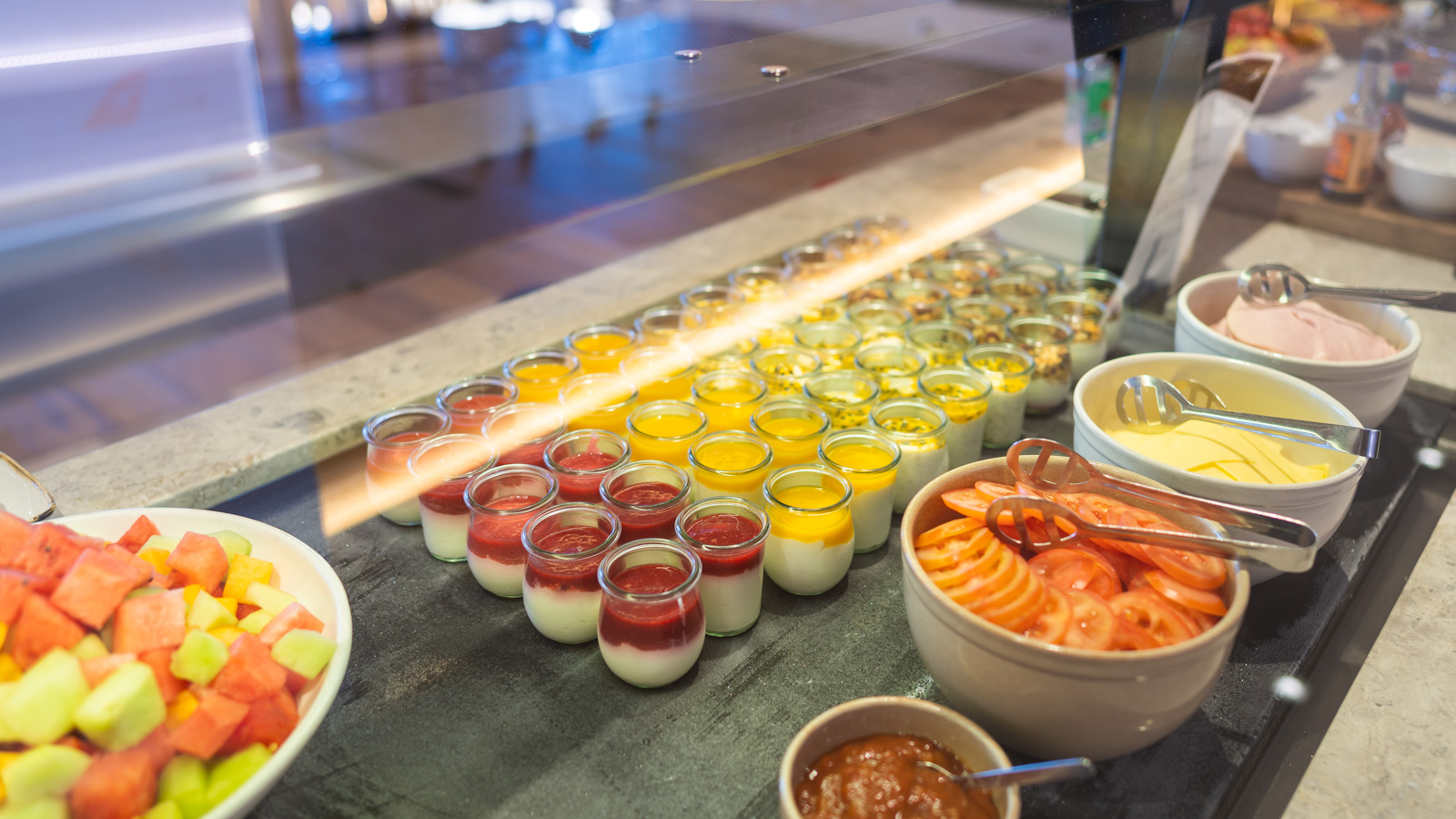 Visiting later in the day? You're in luck. The lounge serves a tasty range of fresh salads, plus you can make your own toasties. You can also indulge in a hot meal option (such as curry and soup), as well as the specialty pizza.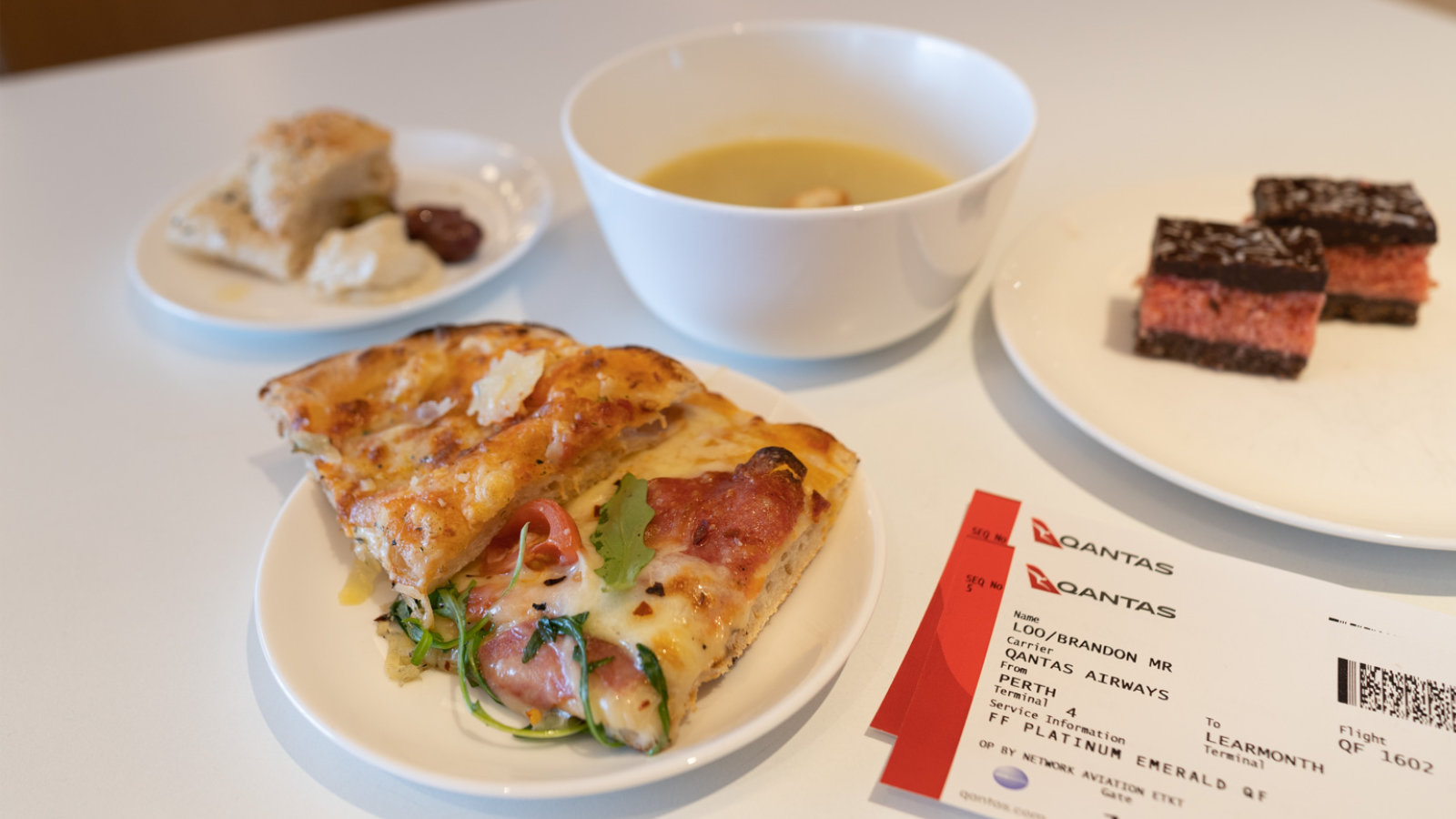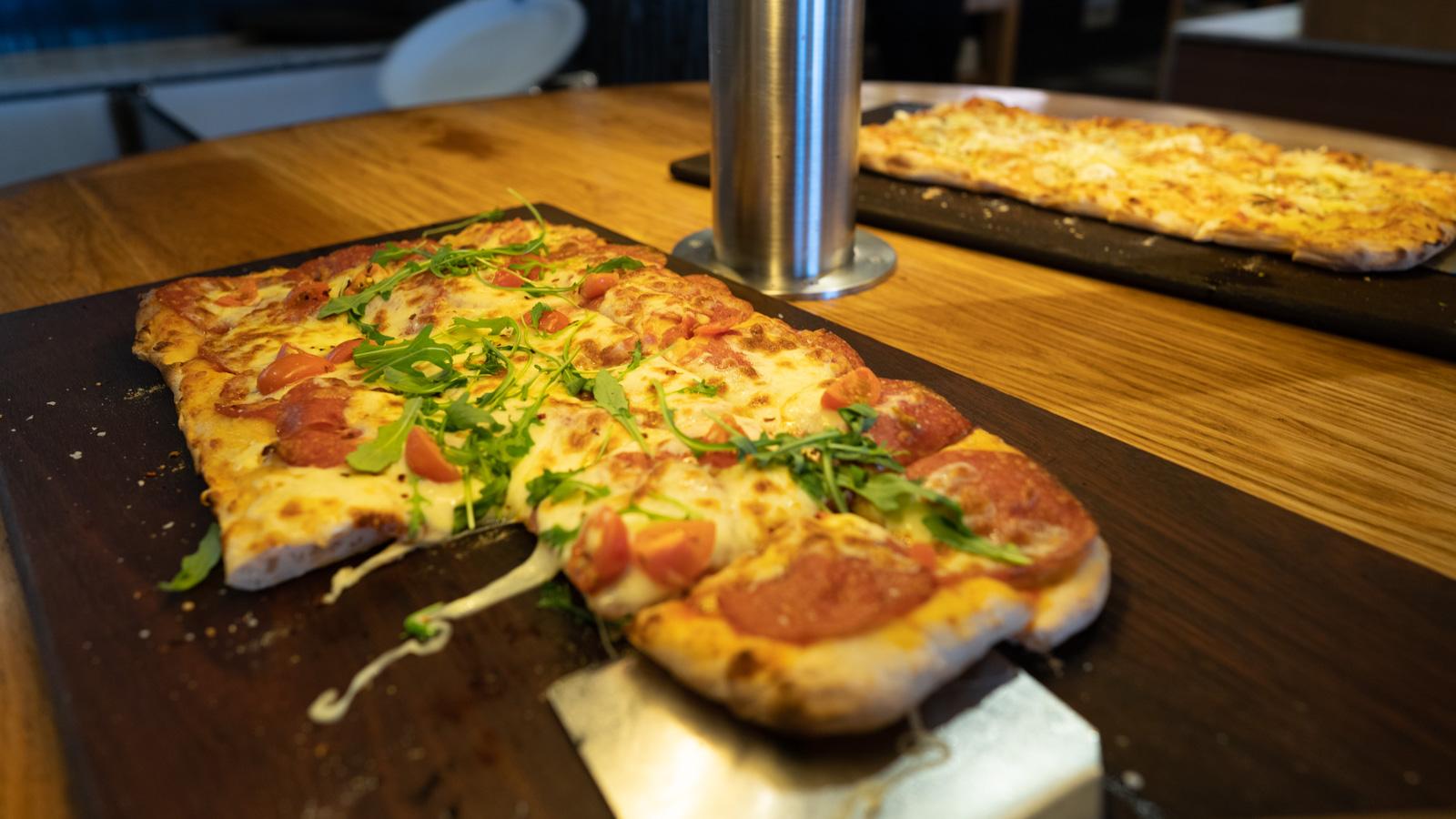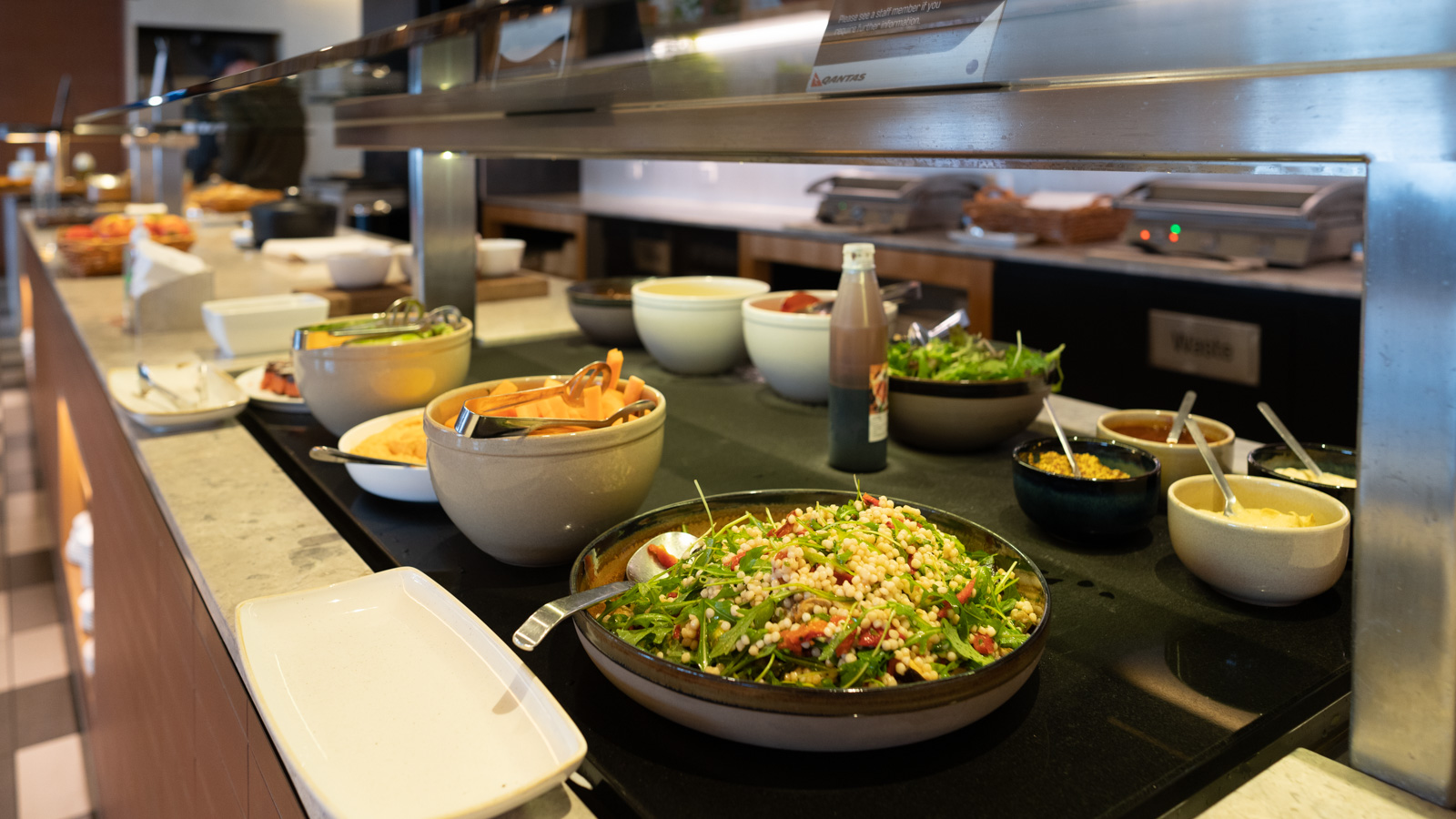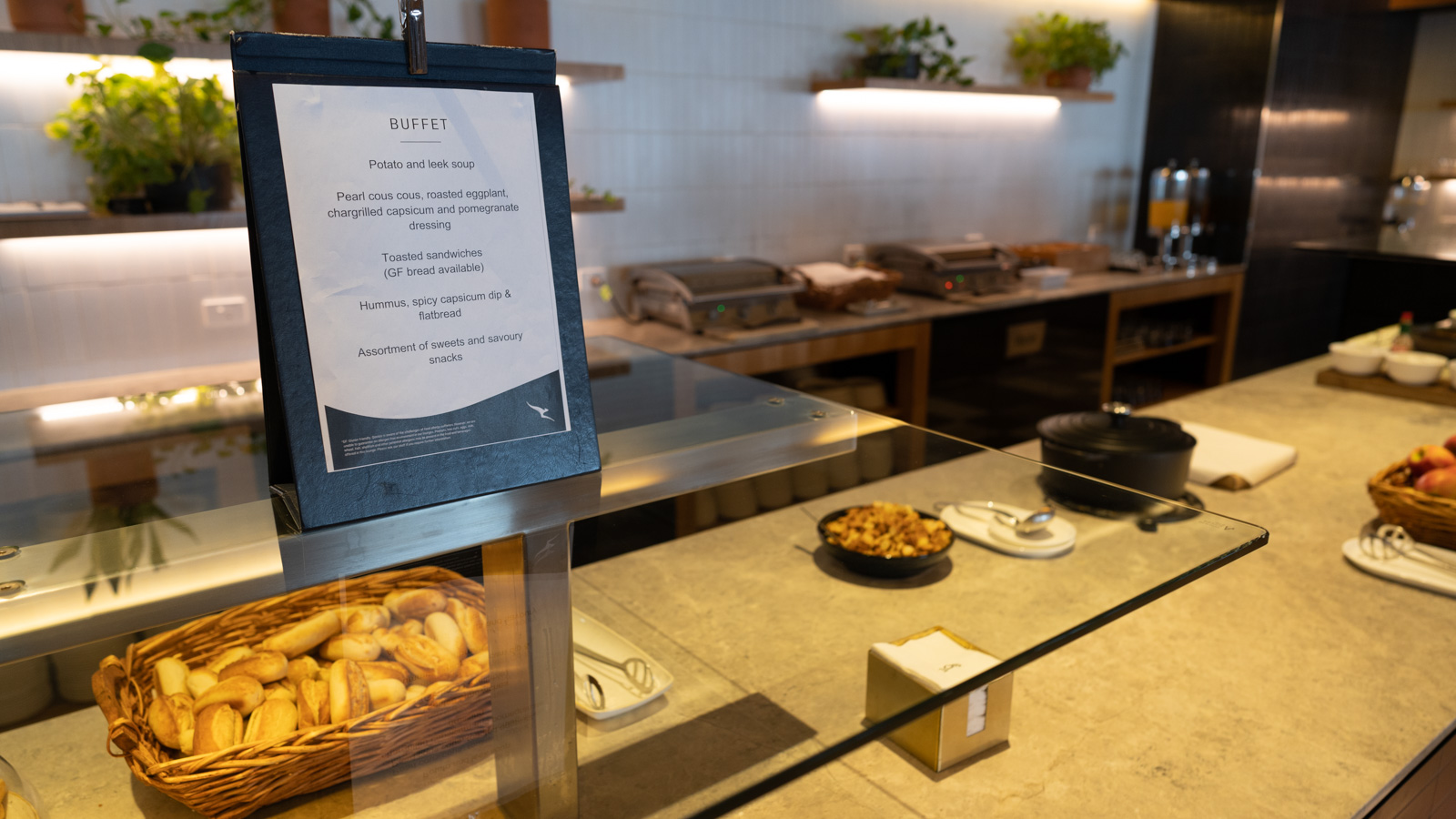 There is a decent selection of wines on offer, although an Australian sparkling wine takes the place of champagne. In the morning, I really appreciate the fresh juicer, which is a feature of Domestic Business Lounges nationwide. Simply toss in your choice of carrots, watermelon and apples before juicing away.
For non-alcoholic options, you also have barista-pulled Vittoria coffee, tea, juices and soft drinks.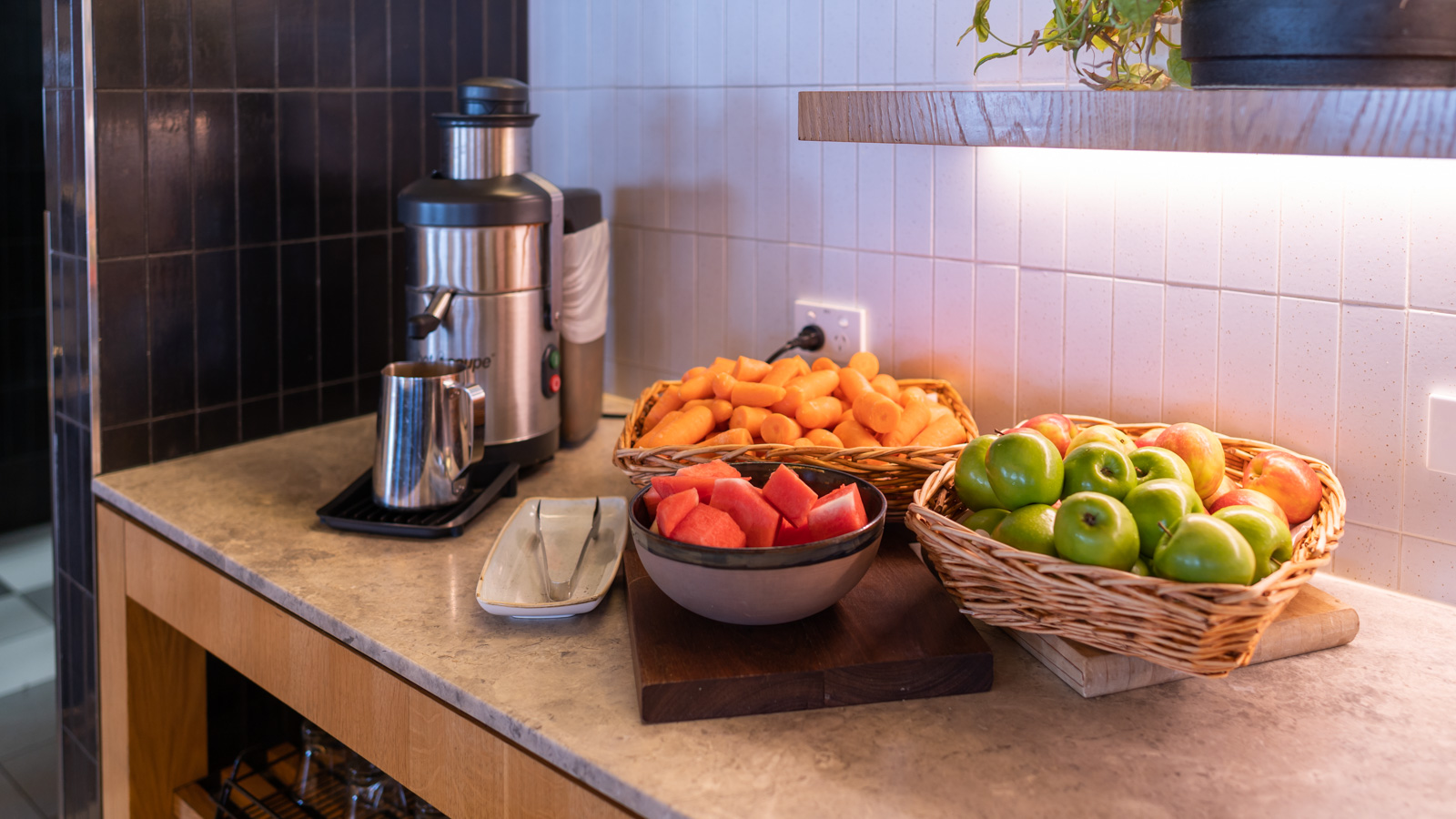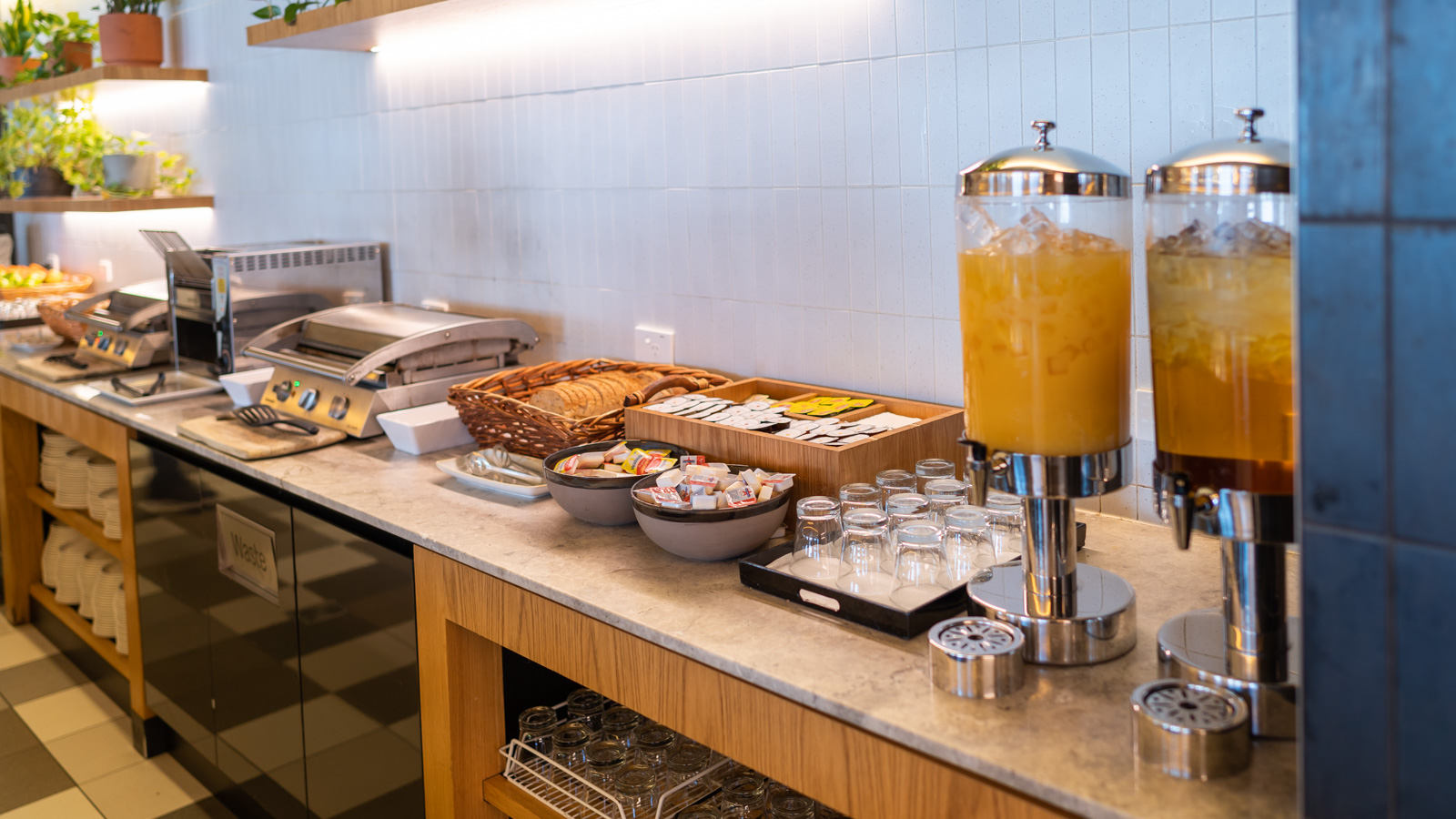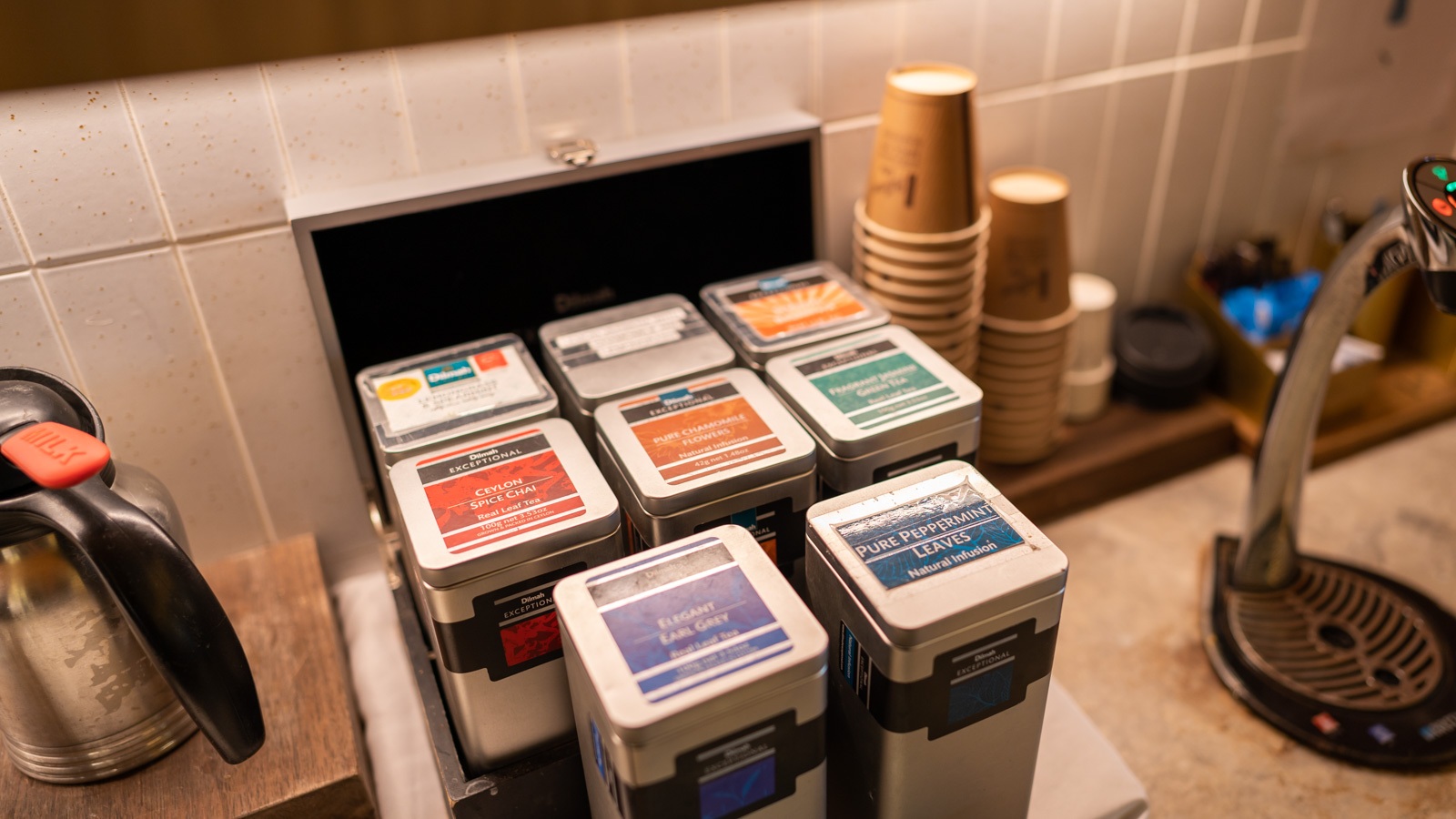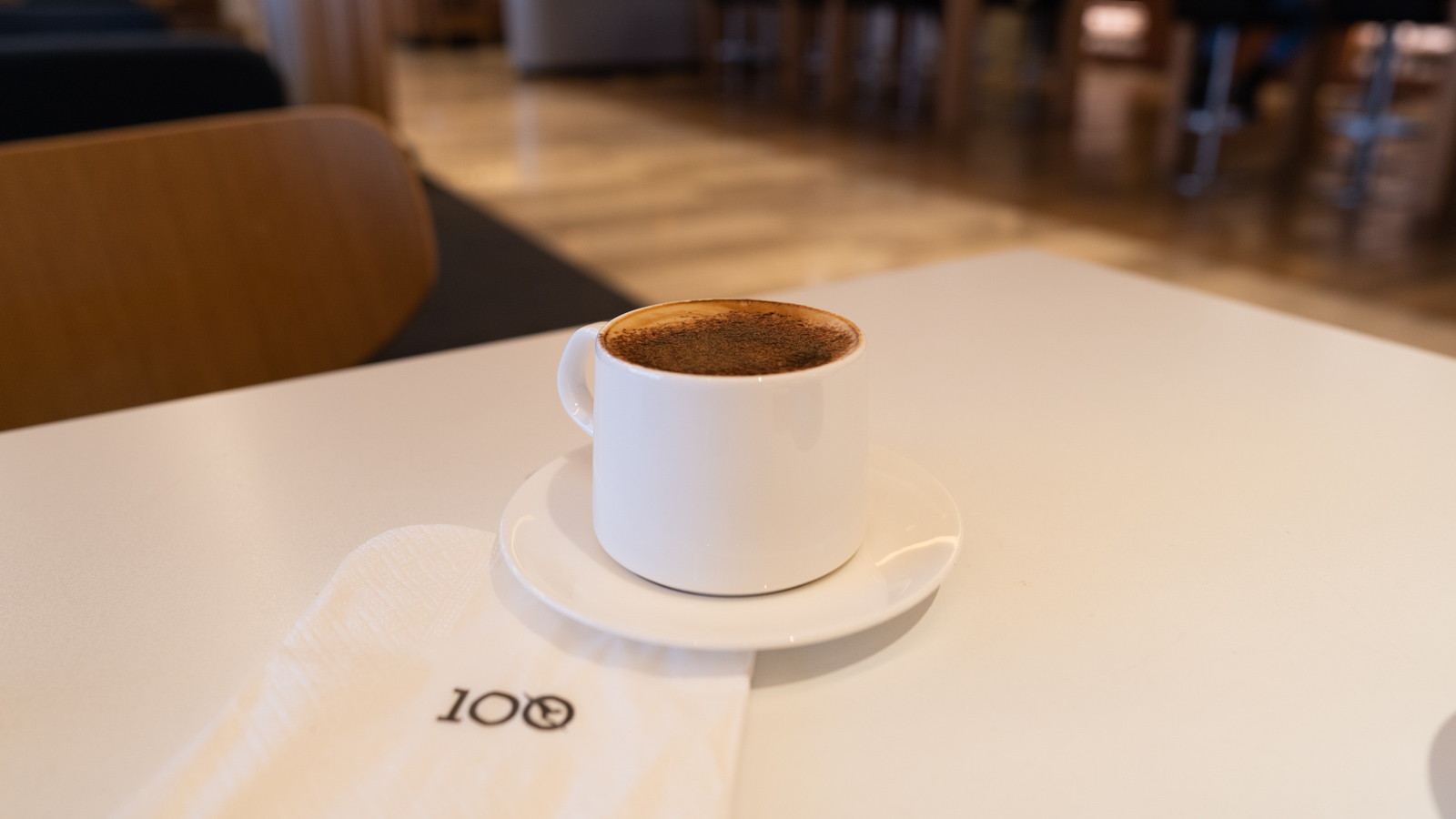 Excellent news: from 12 pm, the bar opens for alcoholic drinks! Fill your glass with beers and ciders – available on tap and bottled in the fridge – showcasing Western Australia's famed Little Creatures Brewery.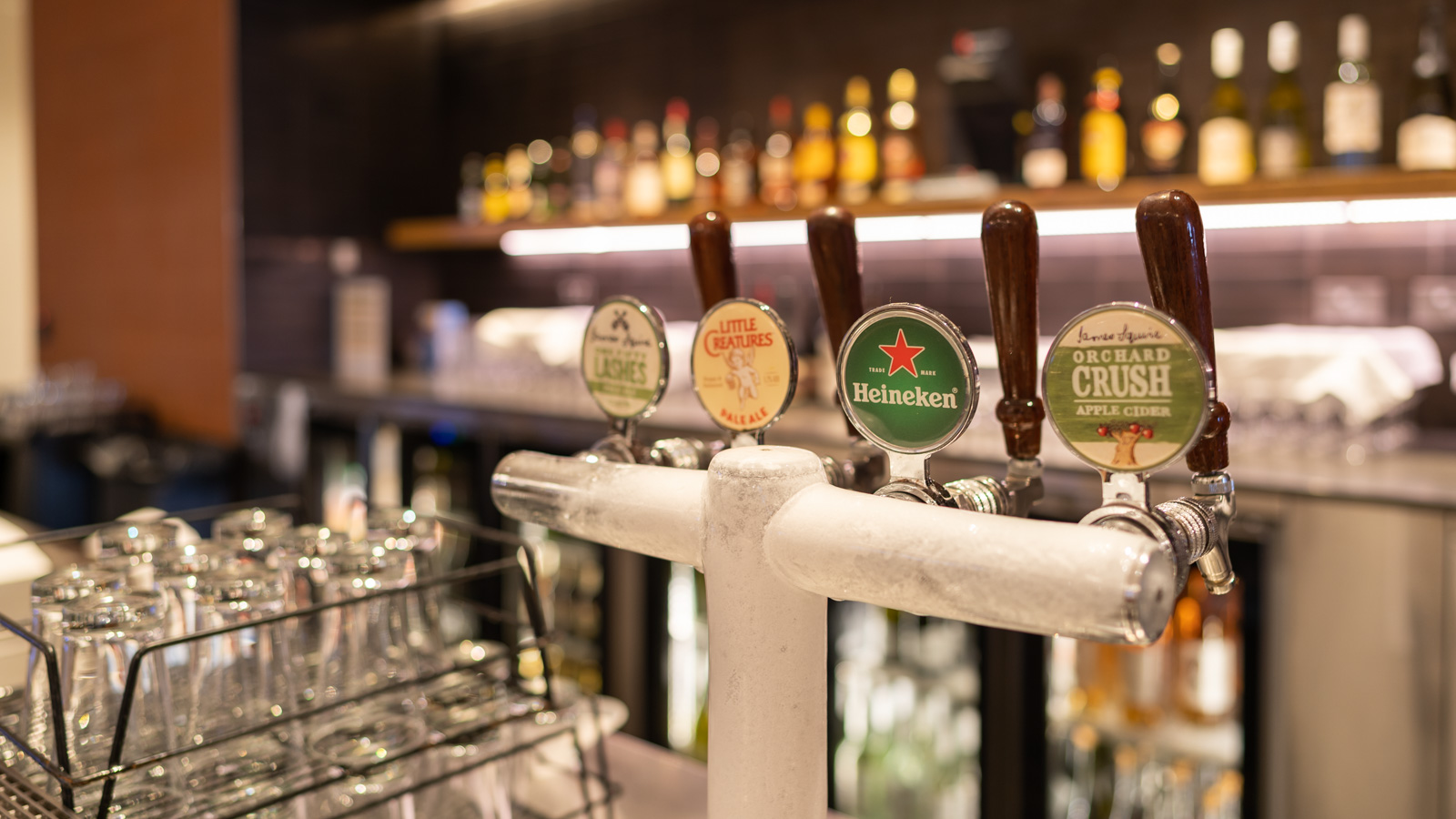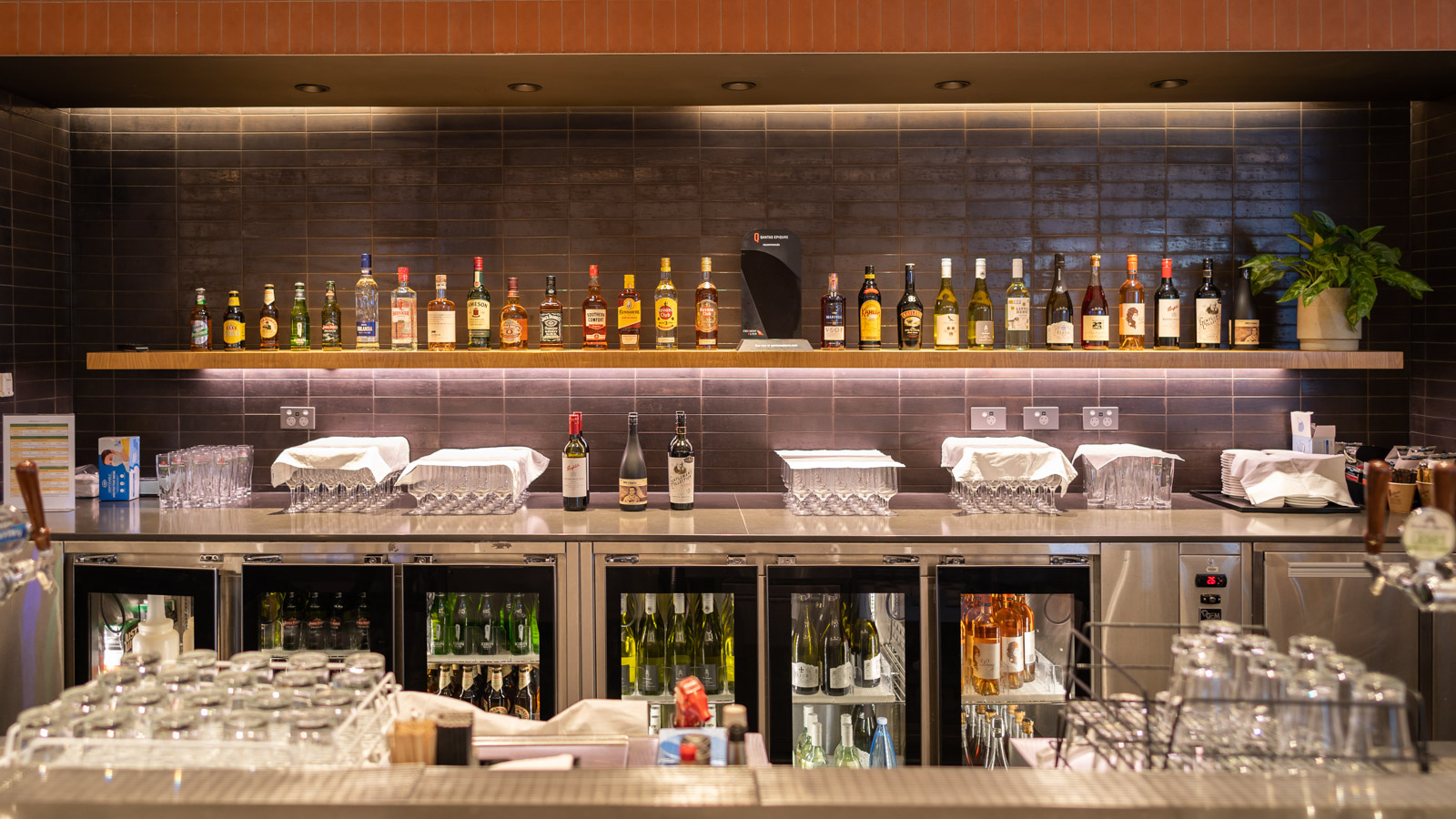 From midday, your standard selection of spirits and mixers are also at your service, so to speak. Our advice? Don't go too heavy on the shots or mixed drinks. This is an airport, after all.

The refreshing 'Quench' station is no more, unfortunately. It previously offered soft alternatives such as fruit-infused waters and Rockpool signature tisane tea, complete with iron cast pots and Bickfords cordial.
How are the Qantas lounge amenities and service?
Bathroom facilities
In line with the other Domestic Business lounges, the well-appointed bathrooms are stocked with Li'Tya soap and hand creams, plus thick paper towels. I notice that the bathrooms are regularly kept clean.
The separate shower rooms are outfitted with rainfall shower heads and 3 types of shower products. A towel set is usually already placed in the room if it's clean. However, you can ask reception for a new pack if needed.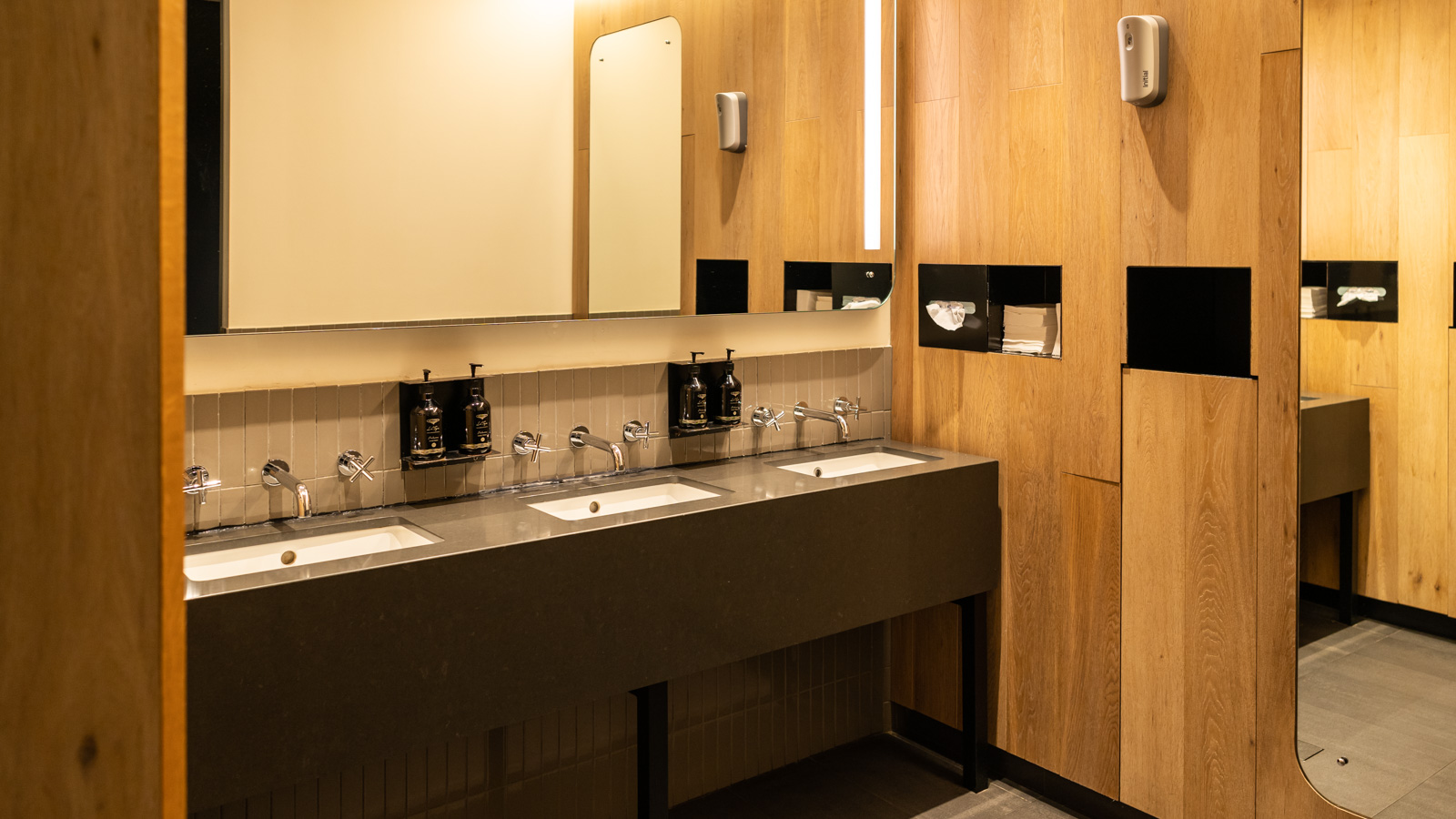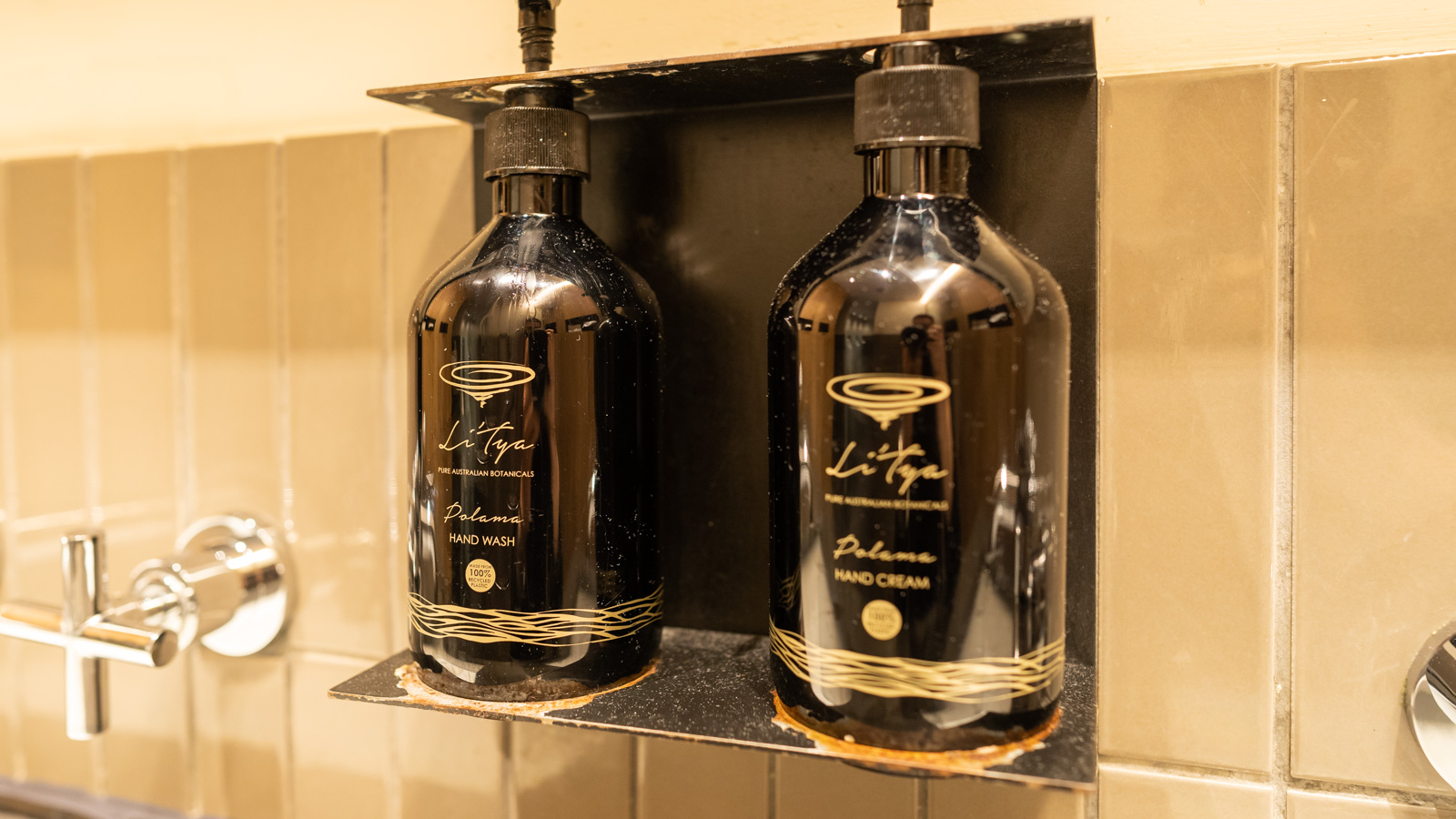 Business traveller amenities
Due to the pandemic, I don't see any magazines or work PCs available. But thankfully, the WiFi is free and very fast. I reach download speeds of 61 Mbps and can upload files at a rocket-paced 92.39 Mbps.
To put this in perspective, I send a few hundred megabytes of video footage to the cloud within minutes. It doesn't get much more business-friendly than that.
Lounge service
My my – the staff at the Qantas Domestic Business Lounge are buzzing. Never before have I seen such friendly and proactive service, domestically. Staff members roam around to take coffee orders, delivering your beverage of choice to you wherever you may be. From Perth, at least, it's a great time to be flying.
Large sets of monitors on the walls show Qantas' signature airport content, including departure info, weather, news and more. Boarding announcements are made as well.
How do I access the Qantas lounge?
Before travelling domestically
Class of travel: Domestic Business Class on Qantas or connecting from international Business/First Class, even if the domestic leg is in Economy (one guest)
Airline frequent flyer status: Qantas Platinum and Platinum One (+2 guests)
Airline partner frequent flyer status: Emirates Platinum Skywards and China Eastern Miles Platinum (+one guest)
Alliance frequent flyer status: oneworld Emerald (+one guest)
The Qantas Perth Domestic Business Lounge welcomes passengers travelling solely on the QF10 Boeing 787 service from Perth to Melbourne. If you're not arriving from London, you can't access the transit lounge.
If you have Platinum status or higher, you can access this lounge even when on a domestic Jetstar flight, as those depart from the neighbouring T3 gates – a leisurely 5-minute walk from the lounge.
Credit cards, Qantas Club membership and individual day passes aren't going to get you into this lounge flying domestically, but they may get you into the neighbouring Qantas Club.
Guests are usually allowed in the lounge (one-2 depending on your entitlements) and don't usually need to be travelling at all. But due to COVID-19, this option may be temporarily restricted.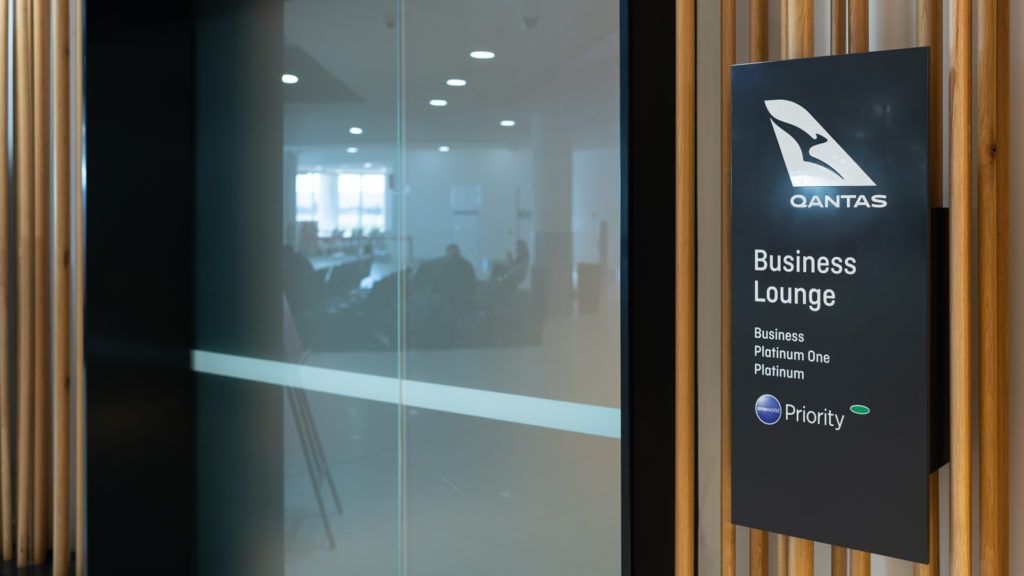 Before travelling internationally (pre COVID-19)
Note that as of September 2021, there aren't any Qantas international flights from Perth. Here are the rules that previously applied if you were flying Qantas overseas from Perth:
Class of travel: international Business or First Class on Qantas or Emirates or connecting domestically from international Business/First Class, even if that leg is in Economy (+one guest)
Airline frequent flyer status: Qantas Gold, Platinum and Platinum One (+one guest)
Lounge membership: Qantas Club membership (+one guest)
Airline partner frequent flyer status: Emirates Gold and Platinum Skywards (+one guest)
Alliance frequent flyer status: Oneworld Sapphire or Emerald with onward oneworld flight (+one guest)
Credit card: refer to our definitive guide to Qantas lounges for credit cards that offer access to Qantas lounges like this one (only before Qantas international flights from T3).
Day pass: from achieving Qantas Silver, or sometimes offered for purchase via email before your flight for $49—not available at the door (only before Qantas international flights from T3).
Summing up: the Qantas Perth Domestic Business Lounge
The Qantas Perth Business Lounge certainly continues to set the bar high as part of Qantas' new-look domestic lounges. Even though Qantas now has newer Domestic Business Lounges in Melbourne and Brisbane, the Perth space still holds its own.
Qantas' Perth Business Lounge has a relaxing ambience and 'premium' feel to it, complete with high-quality furnishings and amenities. We have absolutely no qualms with the WiFi speed either. Future international passengers will certainly find this lounge to be a step-up from the old T1 International Business Lounge they would have used previously.
At least from Perth, I'm glad to report that the Qantas lounge experience is very much 'business as usual'.
Brandon travelled with Qantas on behalf of Point Hacks, which paid for the ticket with Qantas Points.
All photos are the author's own.
Qantas Domestic Business Lounge, Perth
was last modified:
June 30th, 2022
by