Heading to Sydney from Auckland in Emirates Business Class in late 2016, I checked out the Emirates Auckland International Lounge.
This lounge caters for Emirates First and Business Class customers flying from Auckland to Brisbane, Melbourne and Dubai, and given Emirates large presence in Auckland, is predictably vast.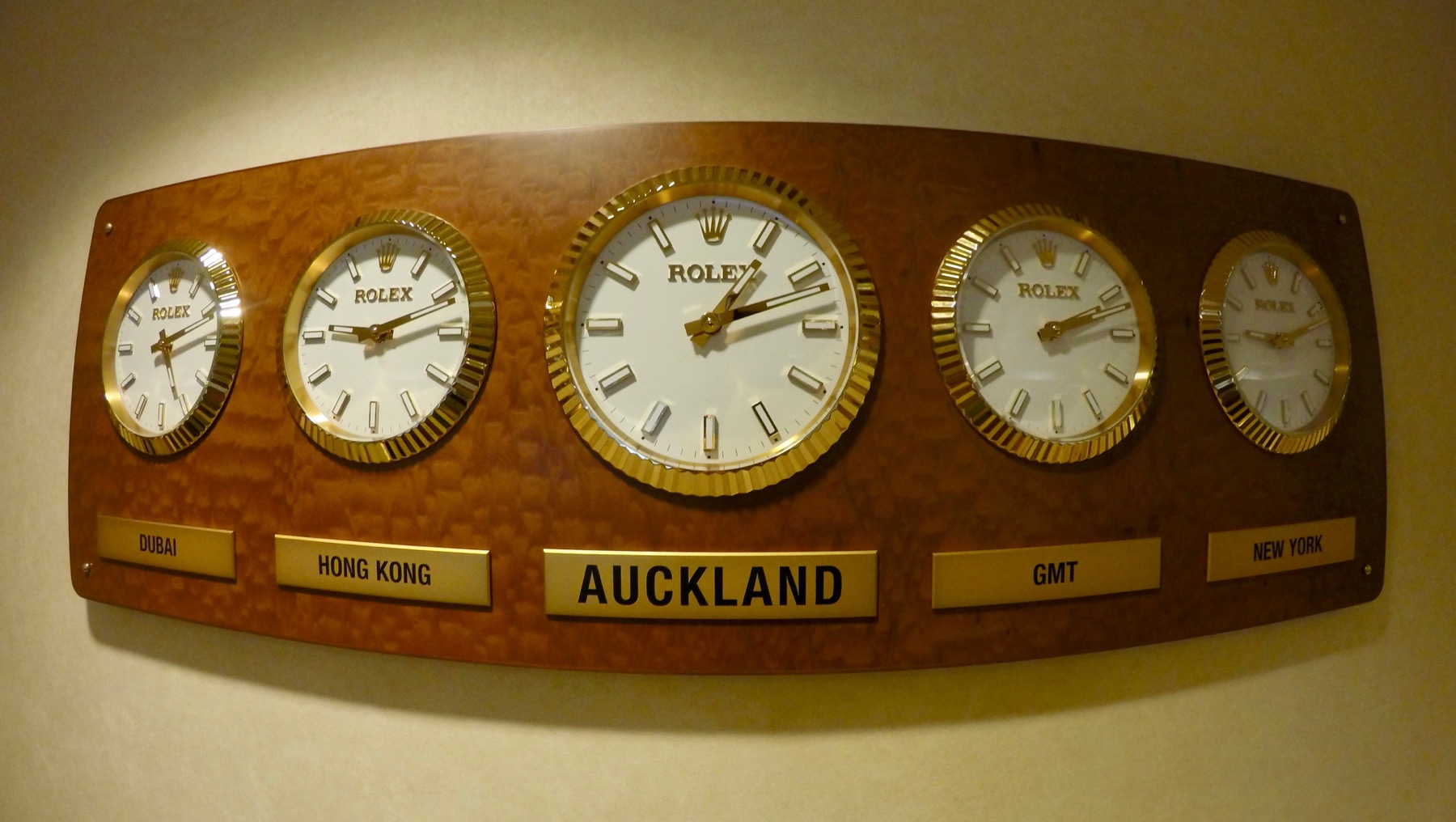 Emirates Auckland Business and First Class Lounge Details
The lounge needs to offer enough seating for all four of Emirates flights from Auckland plus access to guests of their partners – however at peak times, and just before boarding is called we understand (and observed for ourselves) how full this lounge can get.
There are no opening hours published online for the lounge that we can see, but we understand that the lounge opens at 2.30pm or slightly earlier, with Emirates departures from Auckland starting in the mid afternoon and running through until the evening.
The lounge offers sit-down buffet dining, showers, several self-serve alcohol stations, free wifi and a business centre.
Lounge Location
Emirates' Auckland lounge is found in the premium lounge complex in Auckland, close to the Qantas International Business Lounge and Emperor Priority Pass lounge.
There's about a 10 minute walk from the lounge to the Emirates' A380 departure gates once your lounge time comes to and end.
Lounge Seating
The lounge follows Emirates current global lounge aesthetic of a vast swathe of beige leather, dark wood, and with green and gold accents.
It's not to my taste but at least Emirates are consistent, and there's a few different types of seating to keep you comfortable.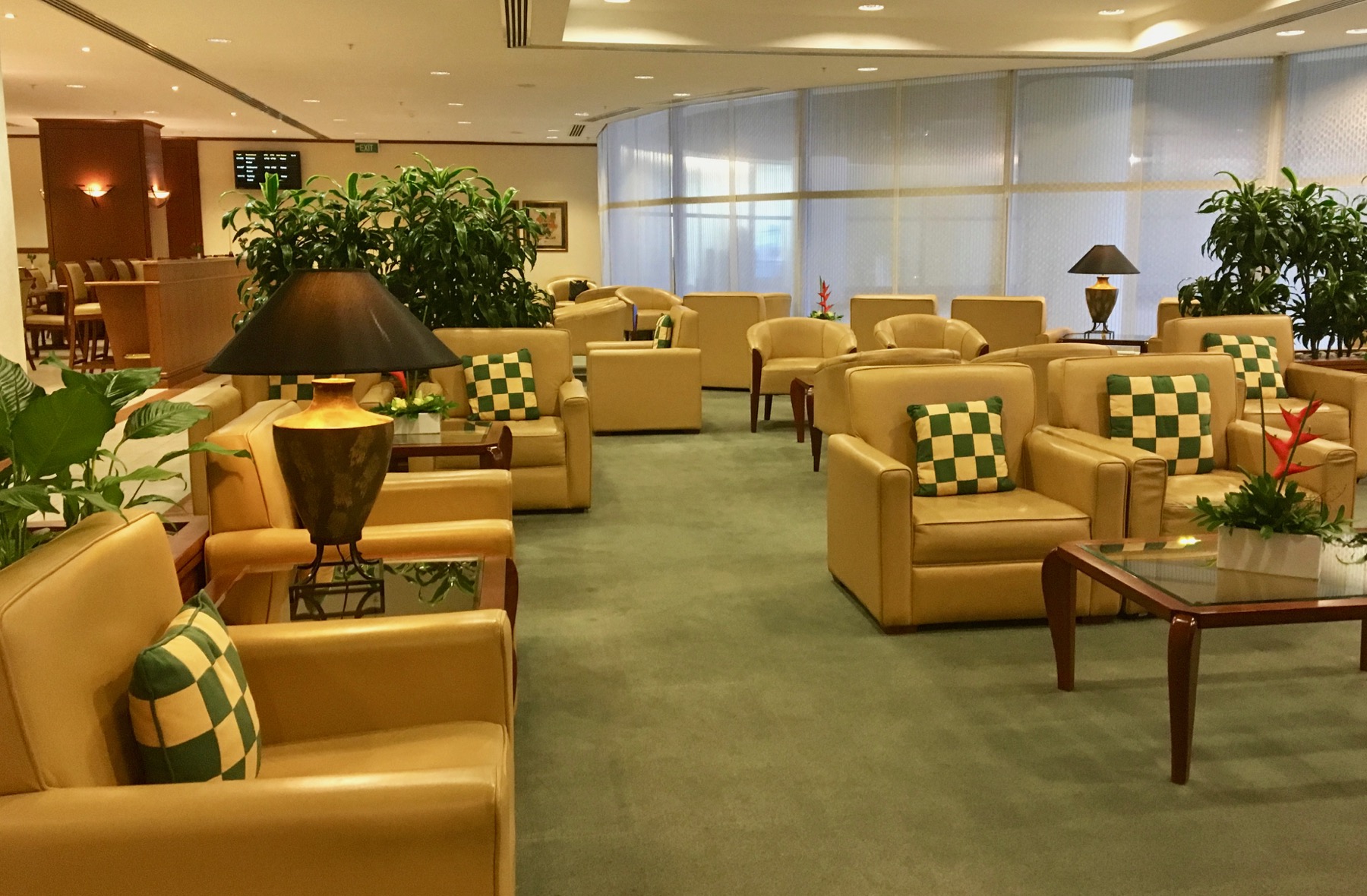 There are no real views from this lounge – it's fairly enclosed, although some natural light does filter through from the shaded windows which overlook the terminal and out to the tarmac. Window seats aren't ones to go after though.

There are several TVs which the lounge staff were happy to tune and adjust the volume of on request.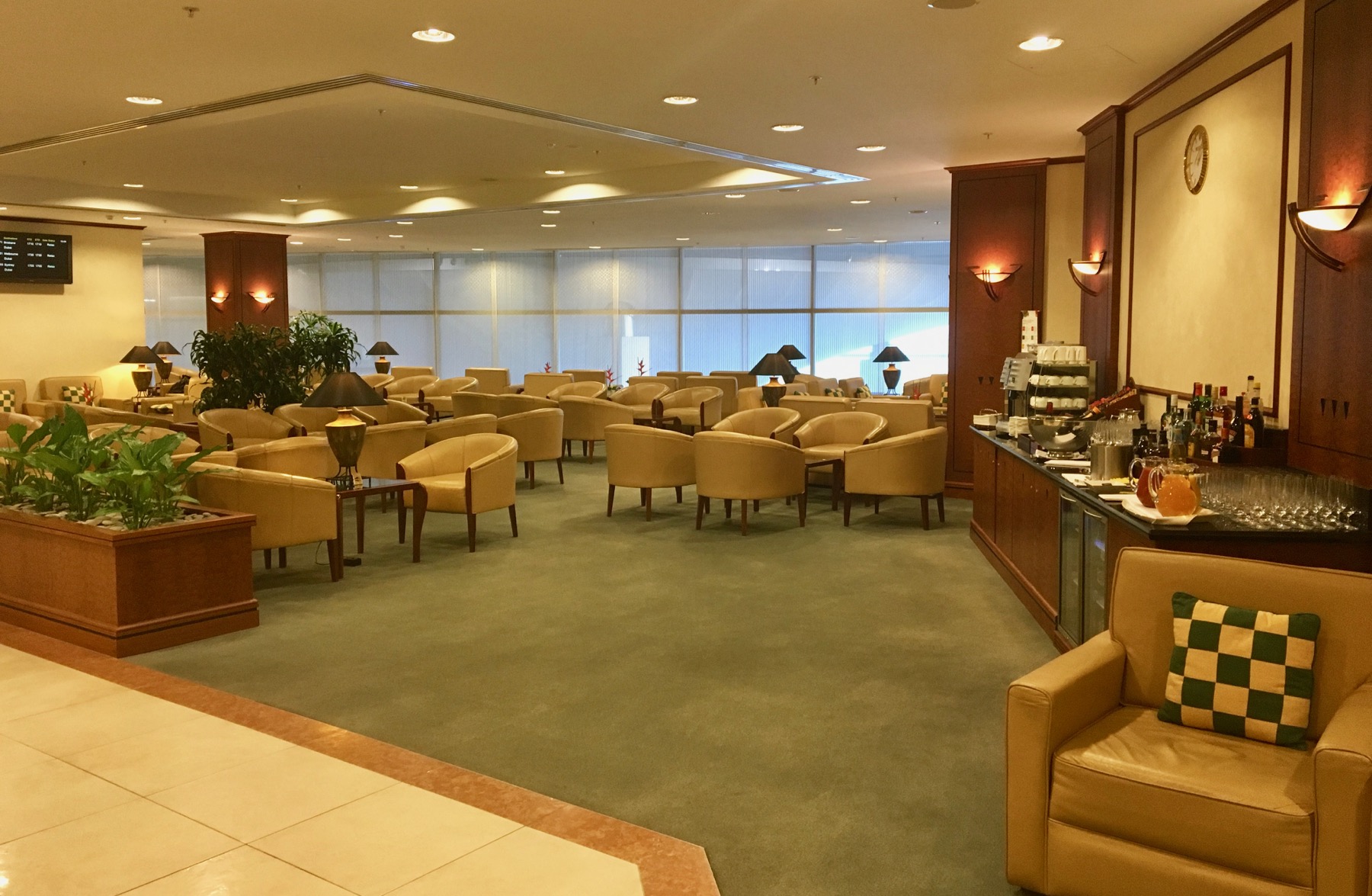 The business centre has a few open desks, and some with PCs available if you need a dedicated spot to get stuck into some work.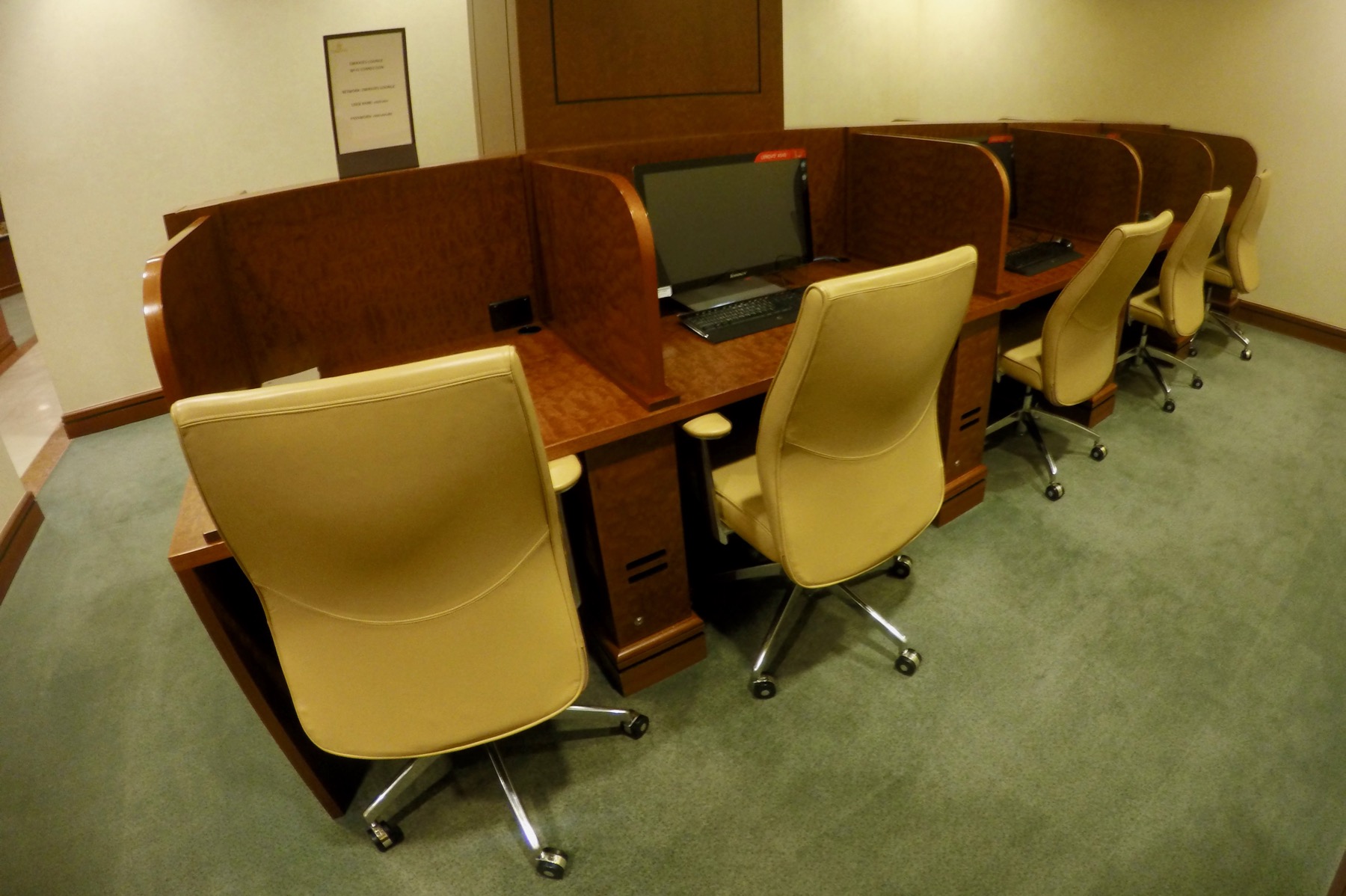 Food and Drinks
Emirates offer a large buffer with decent tables and chairs to use to sit down and eat, rather than having to perch your food on your lap on low chairs as you find in other lounges.
You'll find the buffet split between cold options on the circular open table, and a number of hot meals available too. Mix and match as you wish.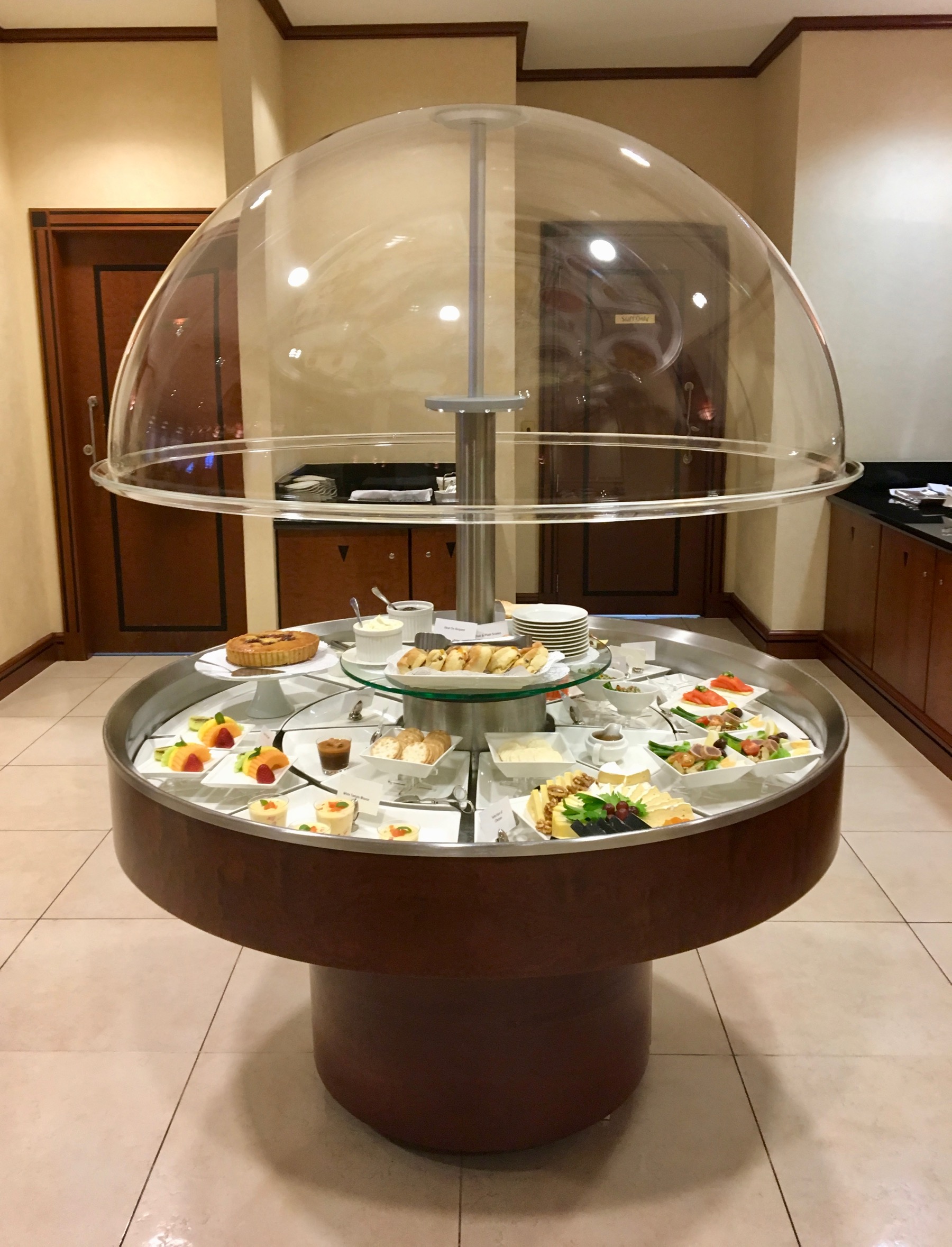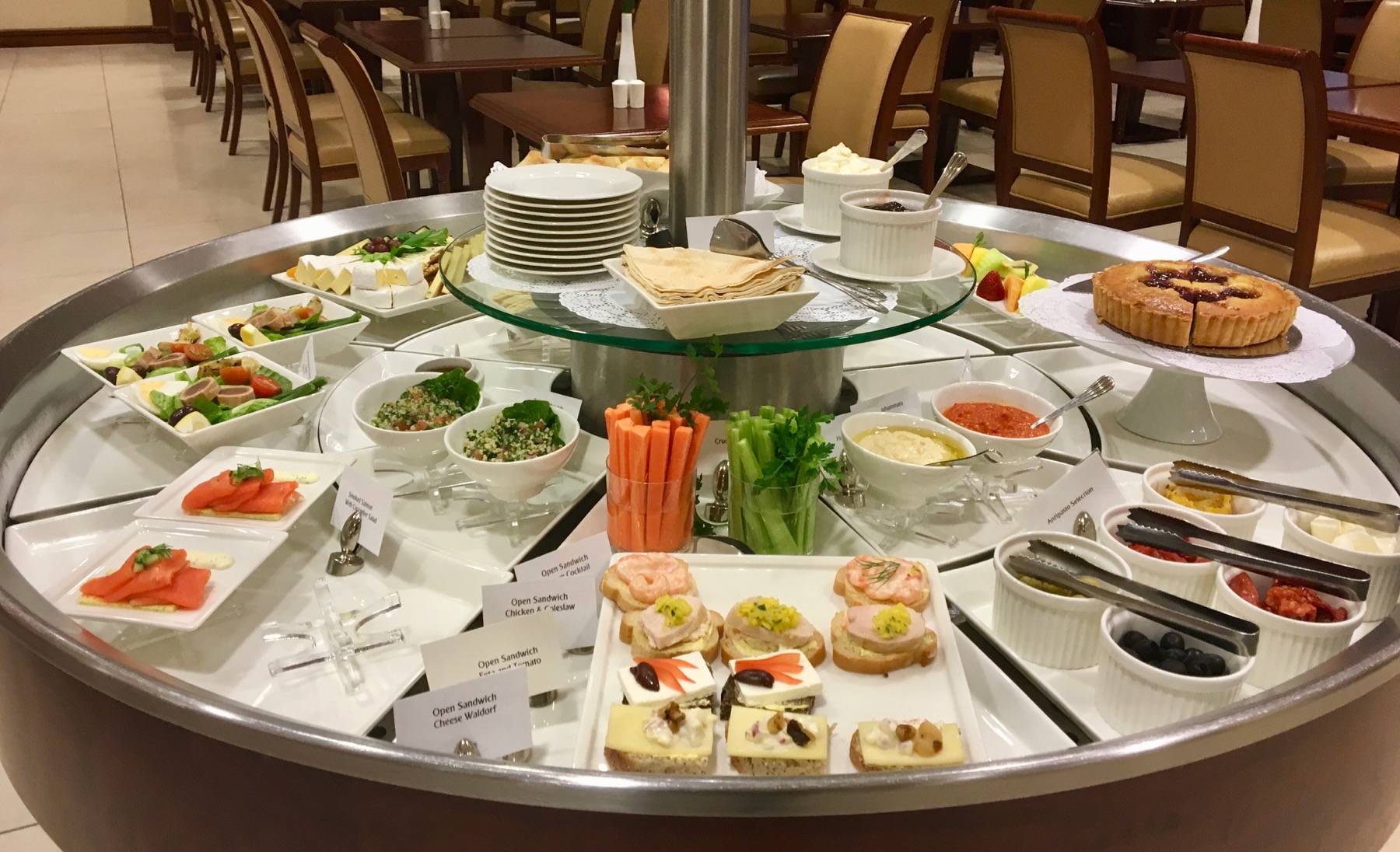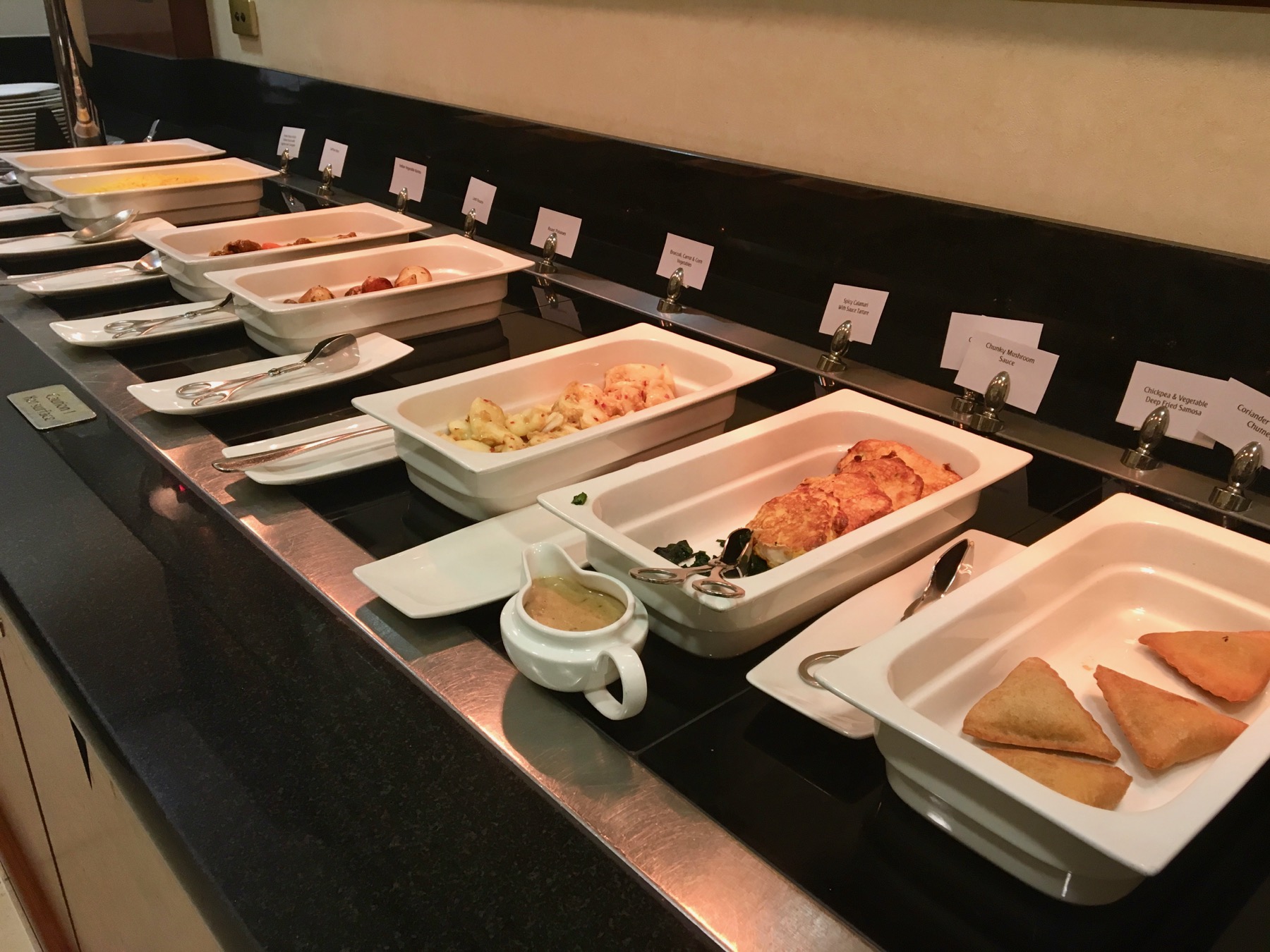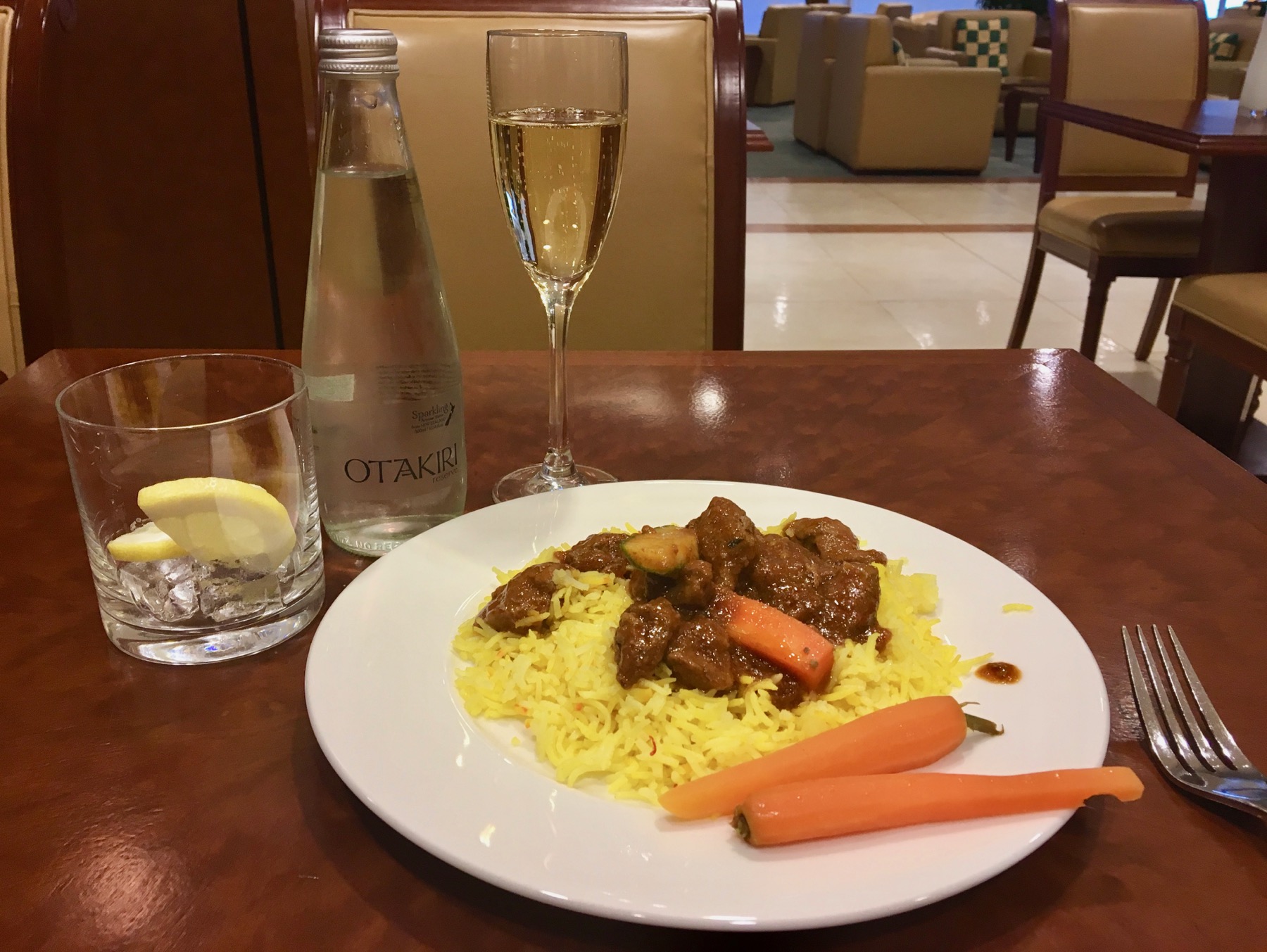 There's also some bar-style seating which is best for solo travellers looking for a quick spot to stop, eat and then move on.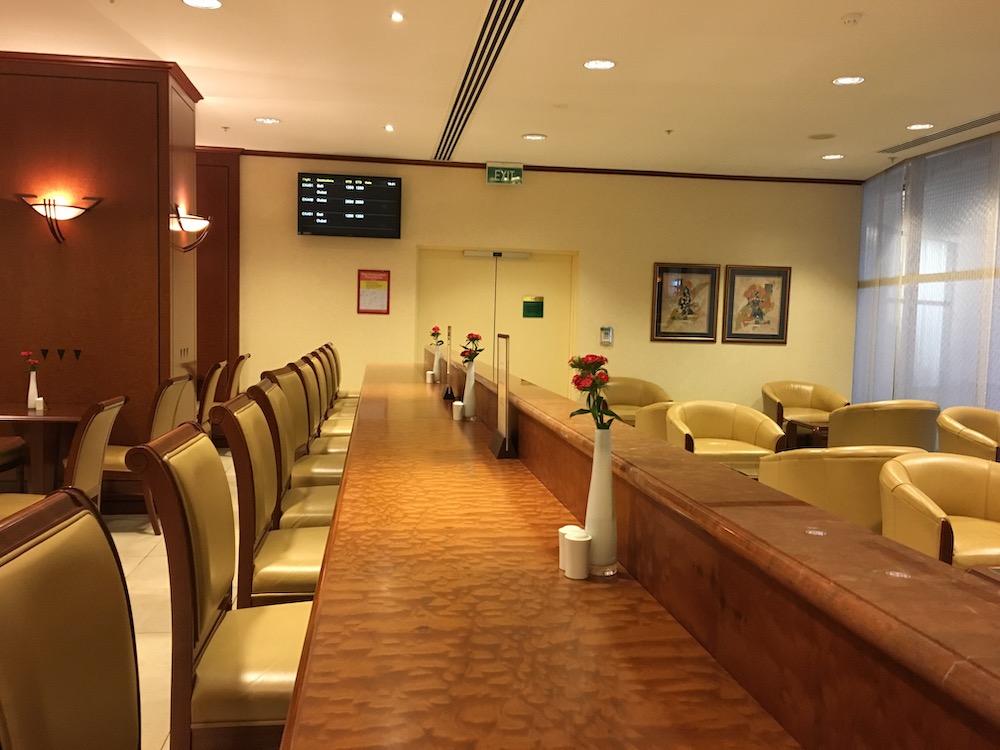 The alcohol selection is excellent, with self-serve spirits, mixers, ice and lemon, along with Veuve Clicquot and other wines available as you desire.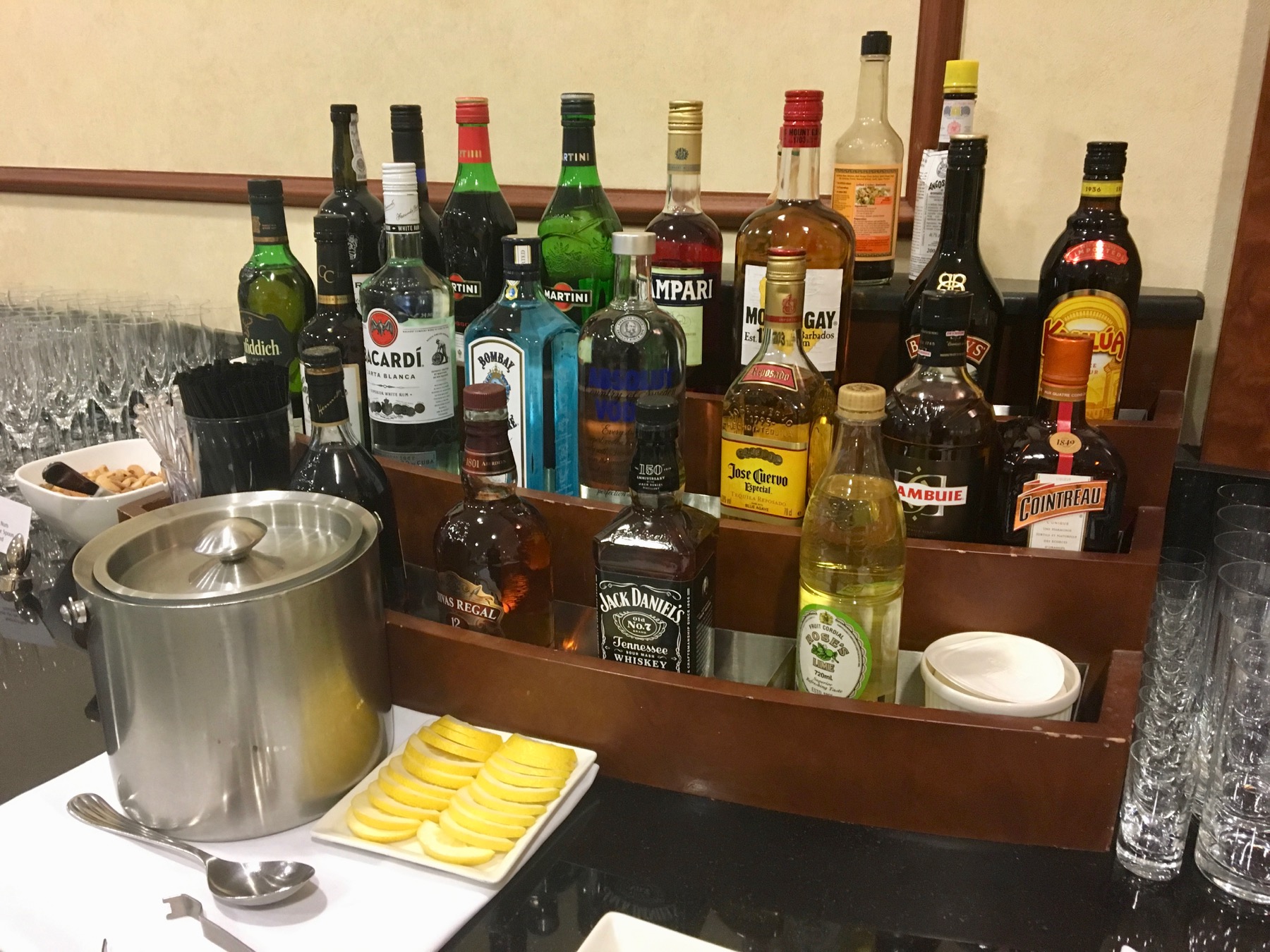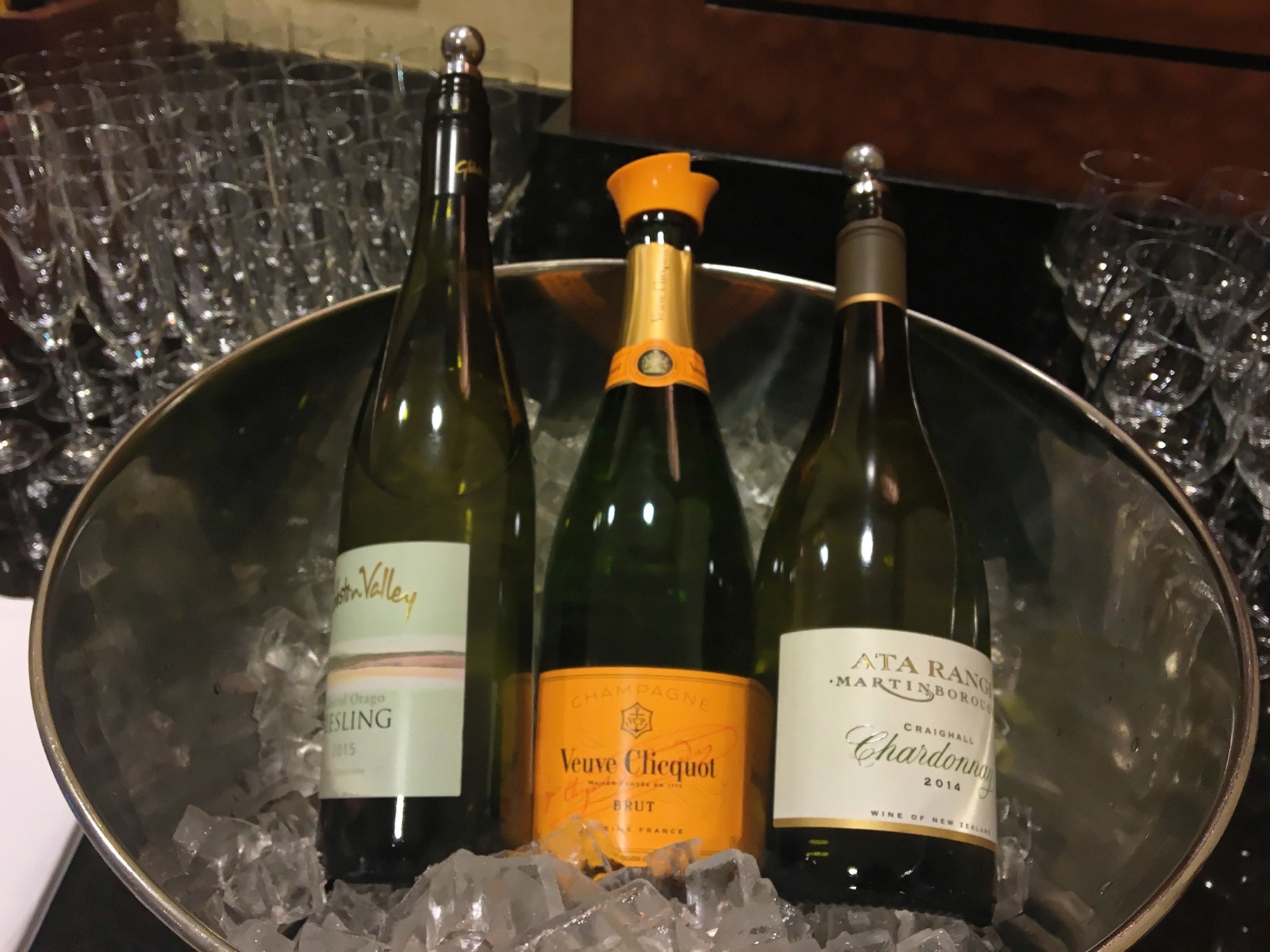 Lounge Access Options
You can access this lounge:
By class of travel: First or Business Class travelers on a Emirates or Qantas flights
By Emirates Skywards status: Emirates Skywards Platinum or Gold members traveling on Emirates or Qantas flights
By Qantas Frequent Flyer status: Qantas Gold, Platinum and Platinum One when traveling on Emirates or Qantas flights
Credit cards are not an option when visiting the Emirates Auckland lounge for Aussie or NZ cardholders – unfortunately the Citi Emirates MasterCard lounge passes are only valid in Australia. Access is limited to status holders, Business and First Class travelers with onward flights on either Emirates or Qantas only.
Other Auckland lounge review
Emirates Auckland Business and First Class Lounge – Our Take
This lounge is big, although not exactly spacious with the need for a lot of seats to fit all of Emirates passengers with lounge access.
In addition, any Qantas Business Class flyers or Gold / Platinum status-holders can also access the lounge – and in our opinion, should do so – the Qantas International Business Class lounge in Auckland is well overdue an upgrade.
Qantas' have flagged that their Auckland lounge will be brought up to scratch in the near future – and if Qantas put as much thought into that overhaul as their over recent lounge improvements, then it will probably pull ahead of Emirates.
But until then – the food, seating and drink options in the Emirates lounge are all better than you'll find in the Qantas lounge next door, assuming you can find some space.
It's not a lounge to actively seek to spend time in before your flight – but to rest up before flinging yourself from one side of the planet to the other with Emirates, or just before heading over to Australia, it's worth a visit.
Emirates Auckland Lounge Overview
was last modified:
April 22nd, 2022
by