As part of my December holidays last year, my wife and I were lucky to be meeting up with my brother-in-law and partner in the Maldives for 5 nights, and given they neither of us had ever been to the Maldives, we were both very excited. This guide reviews the Conrad Maldives Rangali Island, which is where we stayed during our trip.
---
Conrad Maldives Rangali Island review series
---
Research & booking
The Conrad Maldives Rangali is ranked #51 out of 92 5-star hotels in the Maldives by Tripadvisor.
With the Maldives being a popular tourist destination for the most of the year, but especially in December, along with the Conrad Maldives being a luxury resort on an isolated island, the rack rates are quite expensive. This combination provides a perfect opportunity for point hackers such as ourselves to maximise our earned points, and was the biggest incentive for us to look to redeem our points here.
We booked our stay with a combination of Hilton Honors points, Hilton free night certificate (from the Macquarie Hilton card – no longer accepting new applicants at the time of writing) and cash.
The Conrad Rangali Maldives is a Category 10 Hilton (highest category) property, meaning it costs 95,000 Hilton Honors points for a base villa. Base villas at this property are the Beach Villas and Water Villas (made available from 2018).
If you are a Silver Hilton Honors member or higher, you could enjoy the fifth night for free, driving the point costs per night further down to 76,000 Hilton Honors points.
I booked the villas via the Hilton website when paid using Hilton Honors points or cash. To use the Hilton free night certificate, I had to call the Hilton hotline.
Why was this redemption good value?
To have sufficient points to fund this stay, we topped up up our Hilton Honors point balance during a 'Buy Hilton Honors points' promotion, which can reduce the price of each point to as low as 0.5 US cents per point depending on how many points you purchase. A 95,000 point per night villa works out to be US$475.
Contrasting this amount to the cash price in December of a Beach Villa at US$1000 and Water Villa at US$1300 clearly highlights the financial benefit to be gained from redeeming points.
Other options worth considering
The Waldorf Astoria Maldives Ithaafushi is opening in mid-2019. Waldorf Astoria is the top of the line brand under the greater Hilton umbrella. The resort will encompass three islands in South Malé Atoll and is a quick 20 minutes away from the airport by speedboat.
The resort has recently opened for bookings and the base villas at this property will be redeemable with 120,000 points (the only Hilton property to have base redemptions that costs more than 95,000 points, which is (was) their highest category).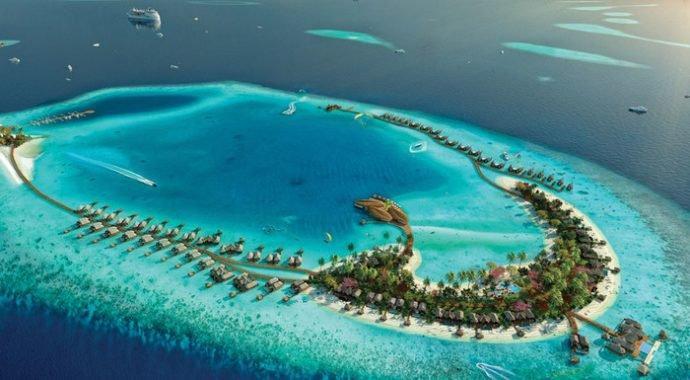 Rendering of Waldorf Astoria Maldives Ithaafushi (Source: Hilton.com)
The Resort
The Conrad Maldives Rangali resort is a 30-minute seaplane ride from Malé International Airport. The cost of the seaplane is US$590 per person return. Don't expect to get Business class service on this service as it is more about getting from point A to point B. The seaplane seats 19passengers, and it is not uncommon for the aircraft to be half filled with passengers, and the other half with cargo.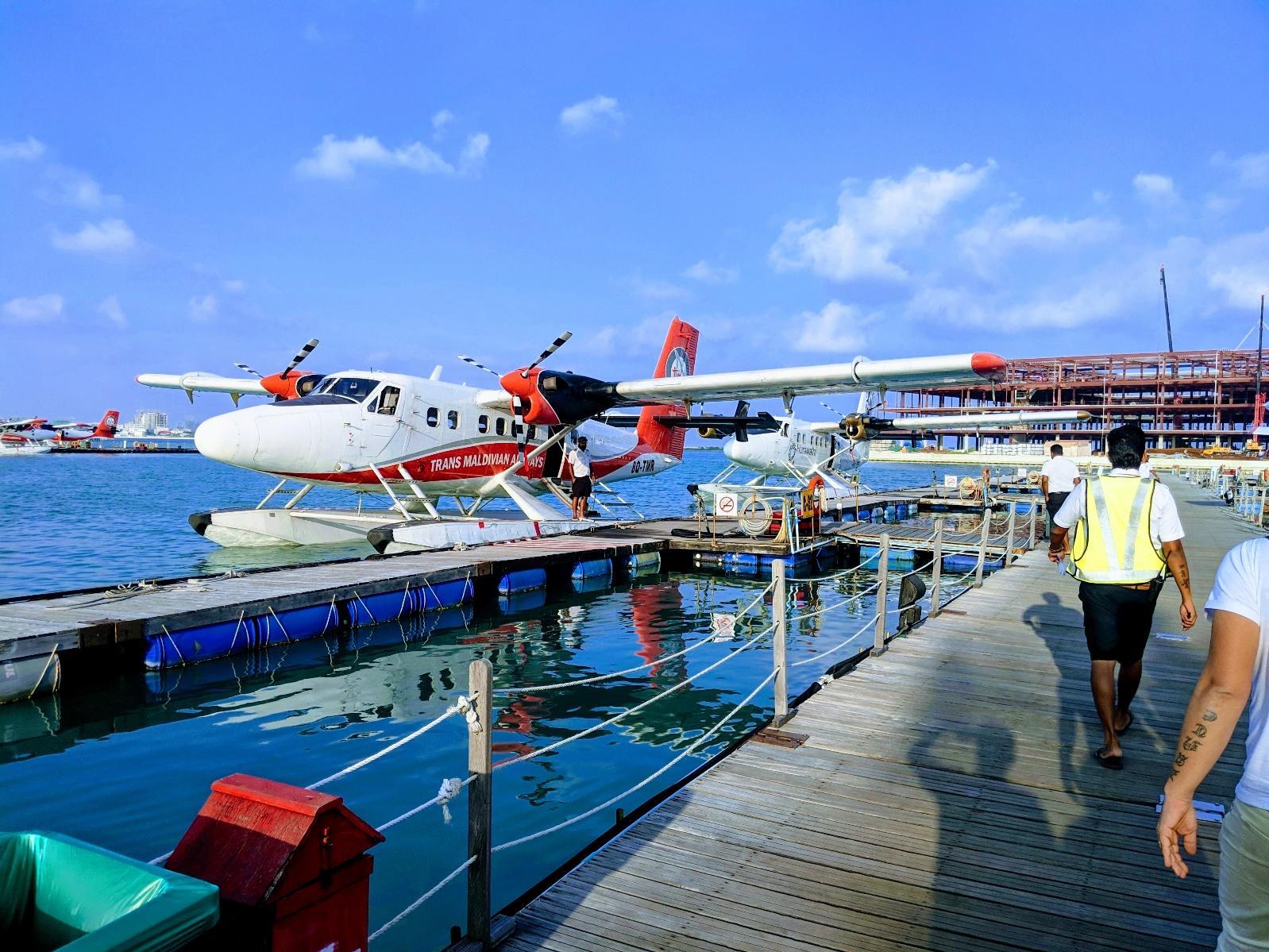 Our seaplane to the resort
The resort is spread across two guest islands, Rangalifinolhu and Rangali, with a mixture of 150 suites and villas. Rangalifinolhu is the main island whilst Rangali is the water villa island. The third island (not shown on the map below) houses staff quarters, utilities, etc.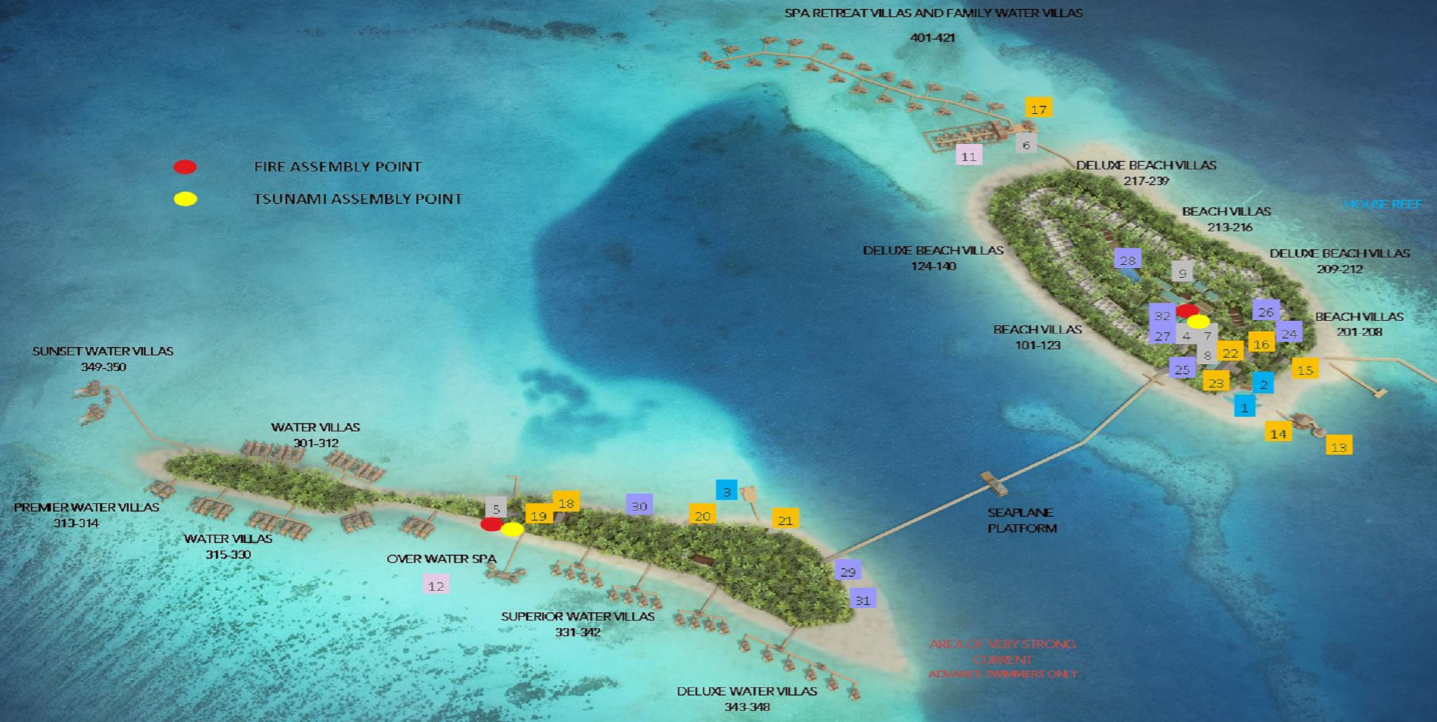 Map of the resort (Source: Hilton.com)
Around the hotel
The two guest islands are connected by a long boardwalk.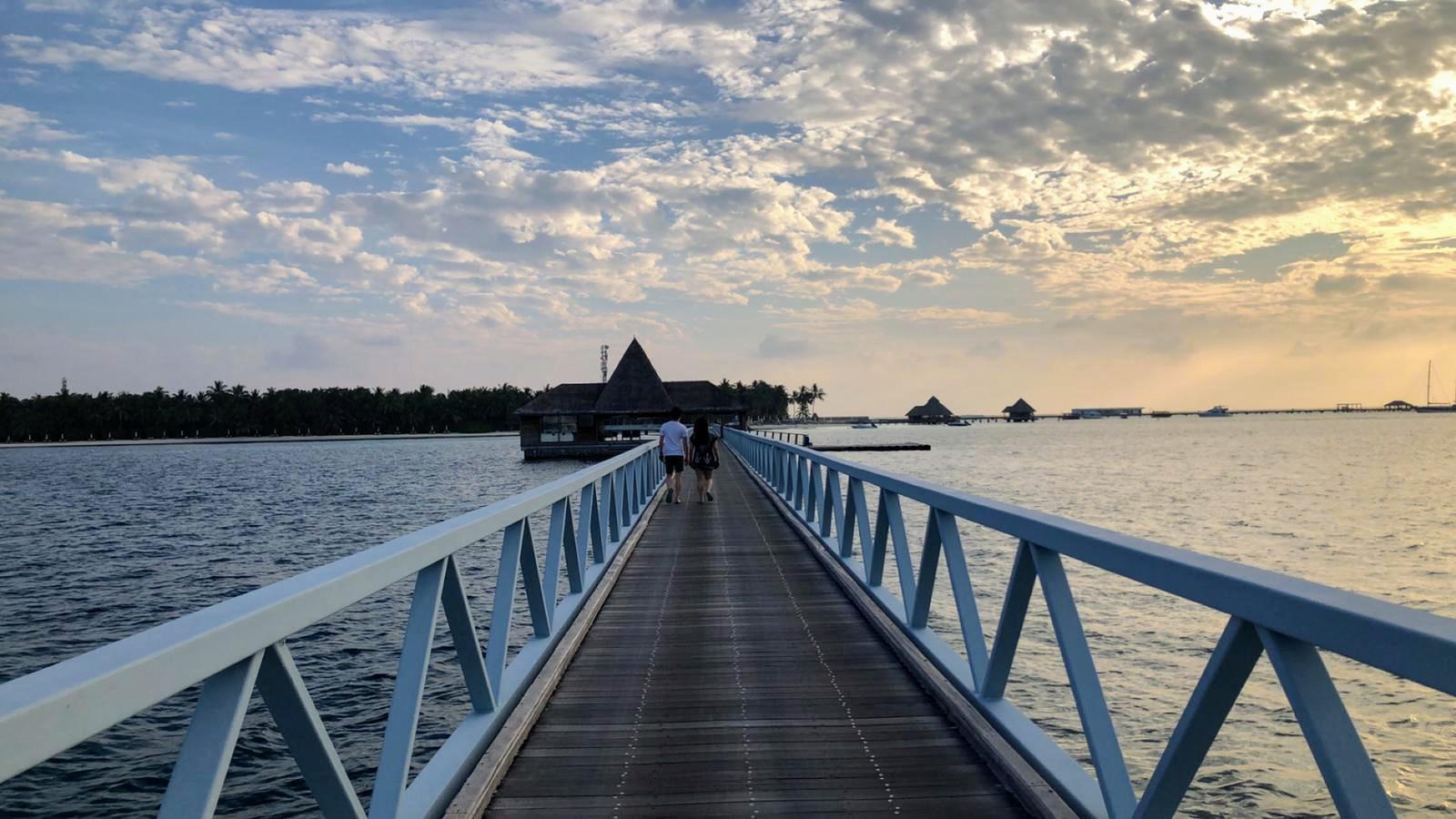 Boardwalk between the two islands
The resort includes two pools, a main pool and one exclusively for use by adults. There is also an over-water spa that has 4 treatment rooms on Rangali island and a larger spa retreat on Rangalifinolhu island.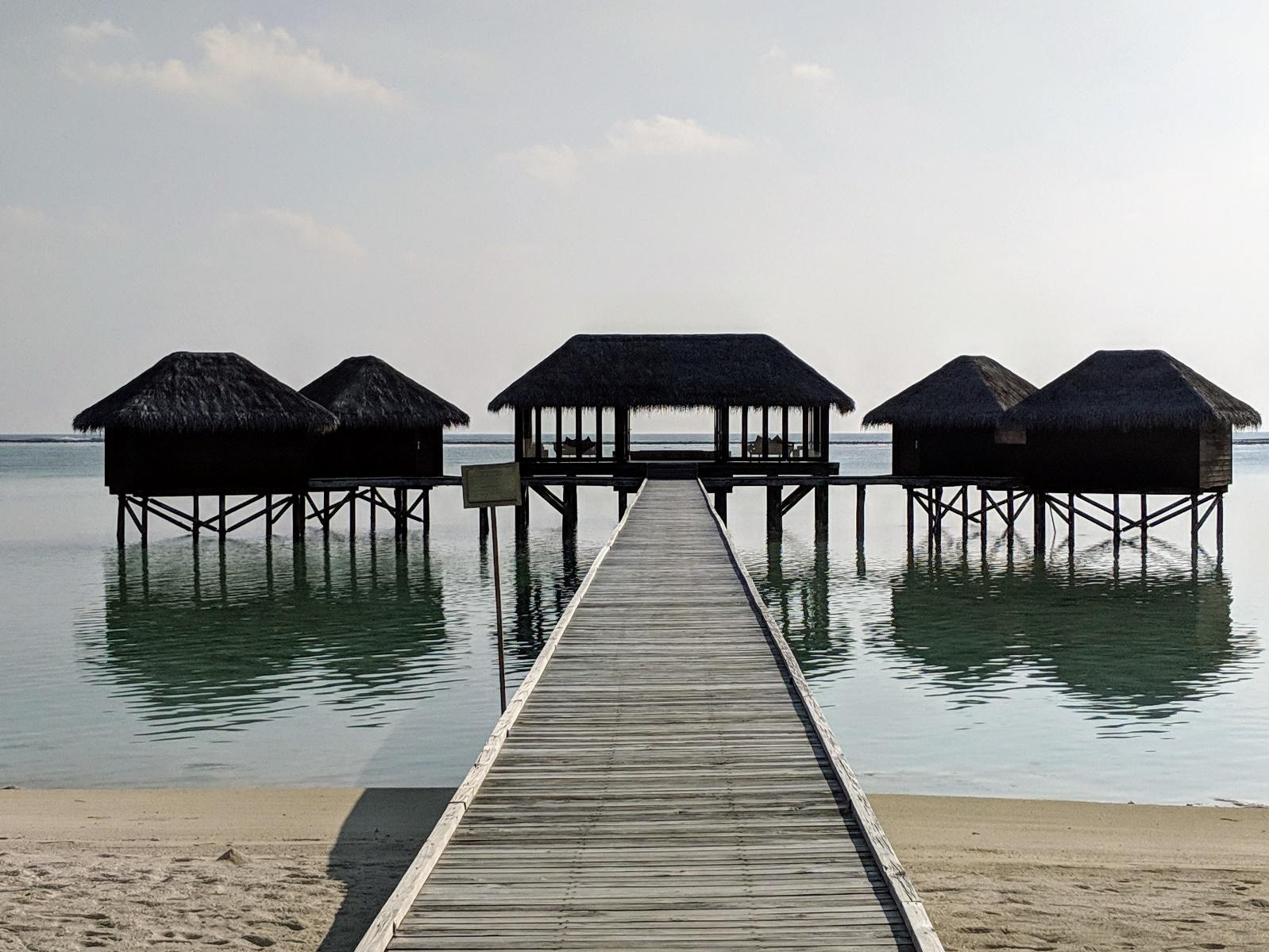 Over-water spa
The resort also boasts 8 restaurants including the first underwater restaurant in the world, Ithaa. Having a large variety of dining options allows guests to sample a wide variety of food.
Diamond and Gold Hilton Honors members enjoy free breakfast at 2 restaurants: Atoll offers a buffet style breakfast whilst Vilu bar offers a la carte style dining.
Breakfast at Vilu with a view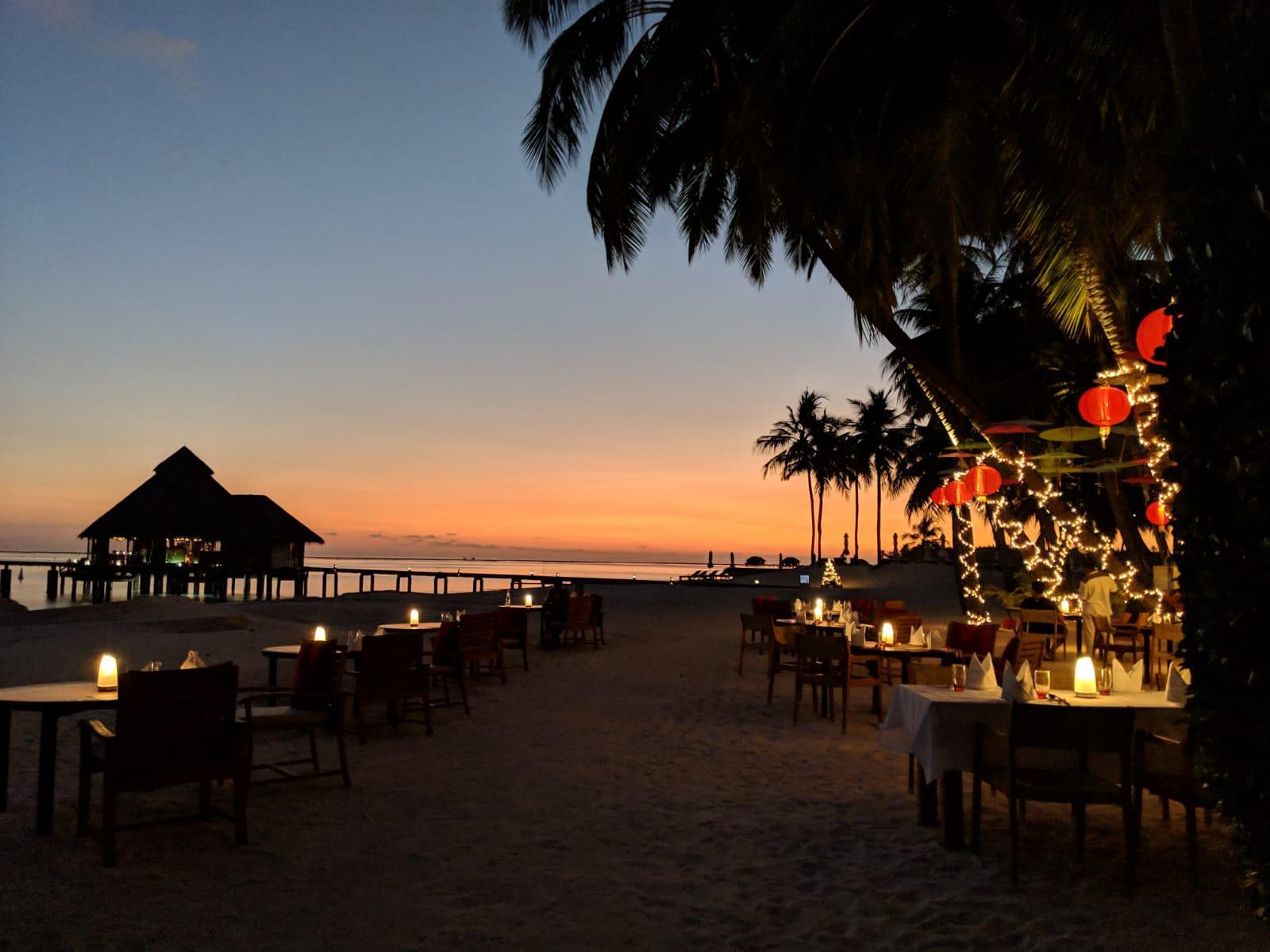 Ufaa by Jereme Leung – a Chinese restaurant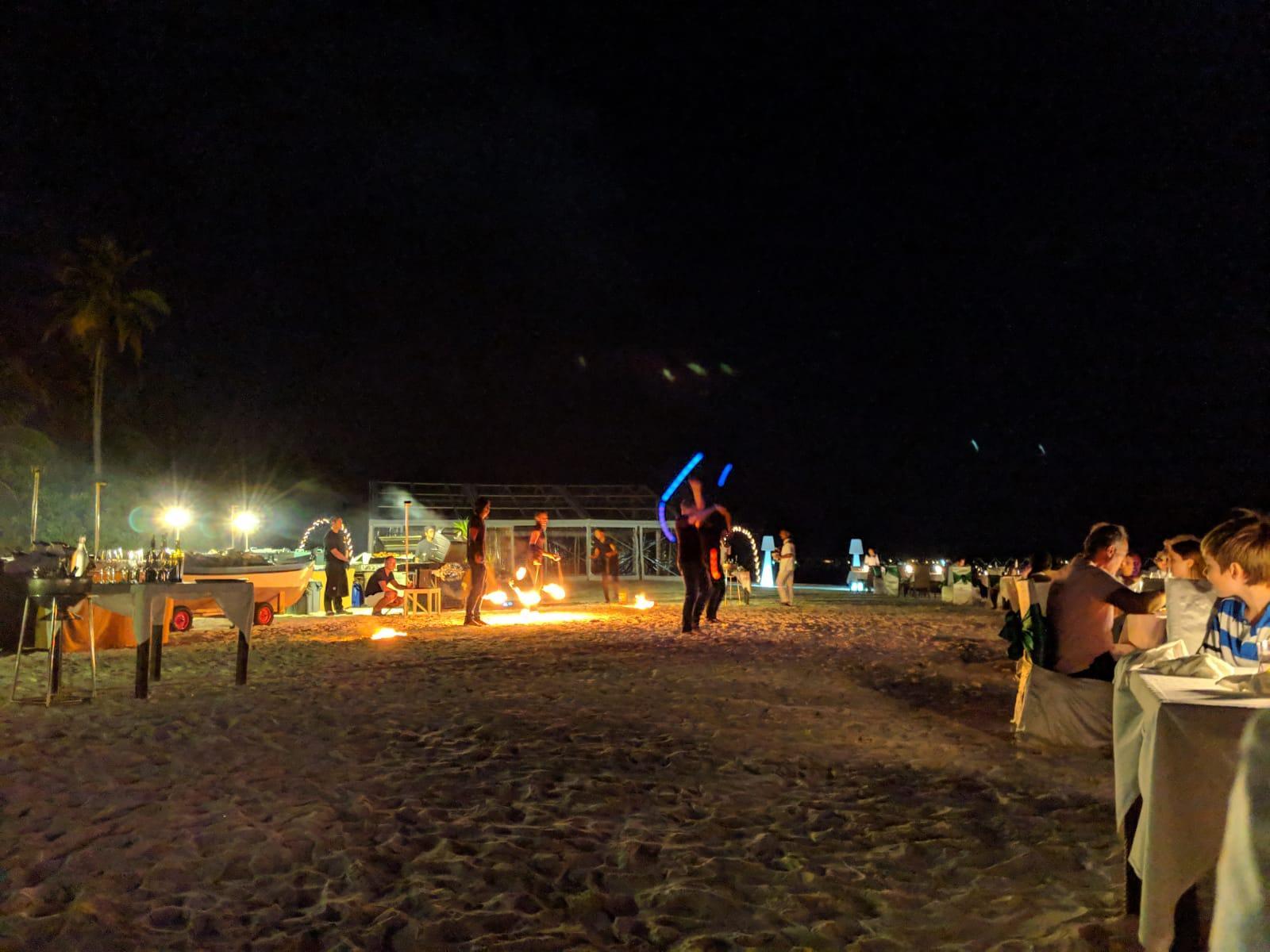 Fisherman's Barbecue by the beach
The list of activities available at the resort is comprehensive, and includes manta ray watching and snorkeling with whale sharks, to the more traditional fitness centre with gymnasium and studio offering a variety of classes, including yoga. There should be something for everyone.
The resort also includes a well-maintained tennis court and resident coach, who is available for coaching. I have heard from the resort staff that some professional tennis players often stay at the resort and practice during their off season. There are also a large range of water sports available. Activities include catamaran sailing, windsurfing, canoeing, wakeboarding, knee boarding, kayaking and Jet Pack.
The rooms
Our initial reservation at Conrad Rangali was a night at a Water Villa, followed by a night at a Sunset Water Villa (paid) and 3 nights at a Beach Villa. Both the Water and Beach Villa sleeps 2 adults whilst a Sunset Water Villa sleeps 4 adults.
Due to hotel room capacity management, we were upgraded during check in to 2 nights at a Water Villa, followed by 1 night at a Beach Suite (sleeps 4 adults) and 2 nights at a Sunset Water Villa, which we gladly agreed to.
Night 1
Night 2
Night 3
Night 4
Night 5
Booked
2x Water Villa
1x Sunset Water Villa
2x Beach Villa
2x Beach Villa
2x Beach Villa
Actual
2x Water Villa
2x Water Villa
1x Beach Suite
2x Sunset Water Villa
Part 2 of this review takes a closer look at the Water Villas and Beach Suites.
Conrad Maldives Rangali Island review – Introduction (Part 1)
was last modified:
January 25th, 2022
by