A lesser-known benefit of the Velocity Frequent Flyer program is the ability to earn Velocity Points by recycling eligible cans and bottles. This is possible through Velocity's partnership with Envirobank, a company specialising in recycling technologies.
And until 1 December 2019, all Crunch Credit transfers to Velocity will receive 15% bonus.
How does it work?
You need to follow an easy three-step process in order to set yourself up to earn Velocity Points through recycling.

Firstly, you will need to sign up to Crunch, Envirobank's rewards program, by clicking on the 'Get Involved' link, which shoots out an application form on the right-hand side of the screen. The form has space for you to include your Velocity Frequent Flyer number.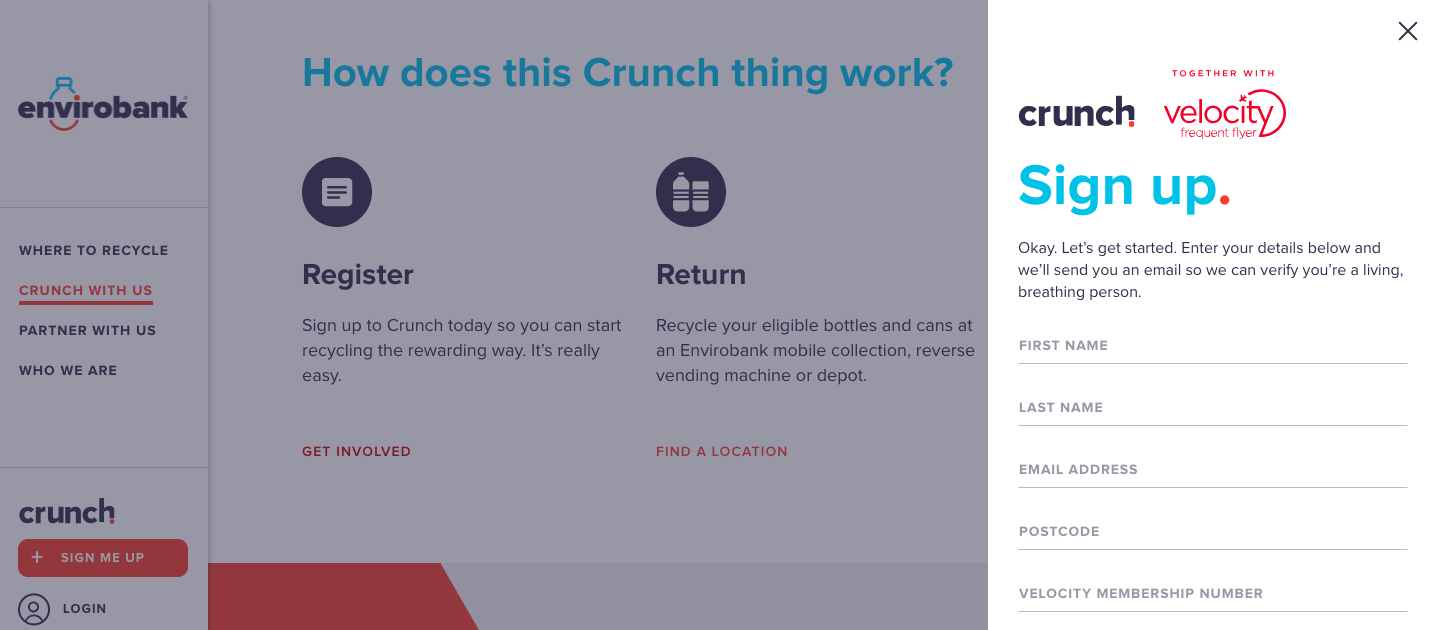 After completing this step, you are now able to begin recycling your cans and bottles, which can be recycled through either Envirobank mobile collection point, reverse vending machine or depot, depending on where you are located in Australia.
For each can or bottle that you recycle, you will earn 15 Crunch credits, which transfer to 5 Velocity Points.
Where can you recycle with Envirobank?
Envirobank locations can currently be found in Sydney, Central Coast, Newcastle, Illawarra, Melbourne, South-East Queensland, Townsville, Adelaide Perth, Darwin and Alice Springs.
This is a clear increase from just 12 months ago, and will hopefully continue to see more locations come online in the near future.
You can determine your nearest Envirobank location here.
Ad – Scroll down to continue reading.Minimum spend, terms & conditions apply.
Is it worth it?
It is probably more appropriate to ask 'How long is a piece of string?', as there are a number of things to consider when attempting to answer this question.
Do you live in a state where you can get 10-cent refund?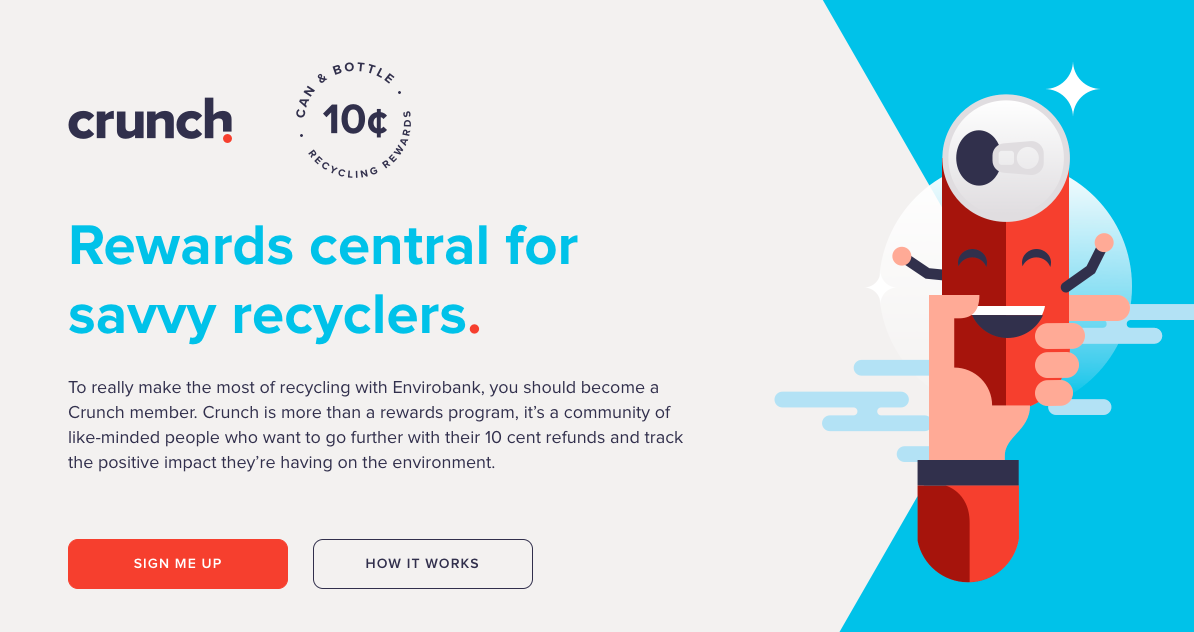 This is a very important consideration for those residents living in New South Wales, South Australia Queensland and the Northern Territory, who all currently benefit from government-operated Container Deposit Schemes. For these residents, the question becomes whether you wish to convert your 10c refund into 5 Velocity Points. And the answer to that question will depend on your answers to the other considerations highlighted below.
Keep in mind that forgoing your 10c refund for 5 Velocity Points is akin to purchasing Velocity points for 2c per point. Our guide on the value of a frequent flyer point may assist you in determining whether this represents good value for you.
The decision is somewhat easier for those living in states without a government recycling scheme, such as Victoria, Western Australia and Tasmania. For these residents, the ability to earn anything from recycling may well be better than earning nothing, which is the situation at present.
How much do you value Velocity Points?
This is an individual decision, and will likely be based on whether Virgin Australia is your preferred carrier, as well as how engaged you are with the Velocity Frequent Flyer program.
Do you live near an Envirobank location?
Whether you live near an Envirobank location may well determine whether it's worth your time and money to participate in this program. It is no use driving long distances to get to a location to earn Velocity Points if it is costing you more in fuel. With more and more sites beginning to go online, however, there is a greater likelihood that if you're not currently near an Envirobank location, you will be in the near future.
How quickly do you want to be rewarded?
Velocity Points earned through recycling can take up to 60 days to credit to your account, as it takes up to 30 days for your Crunch Credits to be received, then a further 30 days after transferring these credits to Velocity for your points to be received. You will need to consider this time delay versus the instant refund that you receive if you elect to receive the 10c refund.
Do you use enough bottles and cans to make it worthwhile?
You will need to ensure that you do go through a substantial number of bottles and cans in a short period of time to make it worthwhile or, if not, have plenty of space to store the empty and bottles and cans until you have enough to justify a trip to an Envirobank location.
Summing up
Any new points-earning opportunity is always welcome, as it provides members with an additional avenue to increase their points balance. Whether this earning opportunity makes sense for you will be determined by a number of factors, with the main two being whether you have an Envirobank location nearby and whether you value Velocity Points more than receiving instant cash.
The equivalent cost of 2c per point to acquire the Velocity Points is on the upper end of the acceptable cost, so this is not an exceptional deal. However, remember that this trade-off only applies to members residing in a number of states that have a government recycling program.
If you find yourself residing in any other state, then the effective cost of acquiring Velocity Points is simply the time taken to collect the bottles and cans, and the fuel used to transport them to an Envirobank location, which may well put you ahead of receiving absolutely nothing for your recycling efforts.
This is a case-by-case basis, and you will need to factor in all the considerations above to determine whether this is a program you wish to participate in.
Have you recycled through Envirobank-Velocity? If so, is it worth it for you? Share in the comments below!
Velocity offering 15% bonus on all Crunch Credit transfers
was last modified:
November 6th, 2019
by