This weekend, we wanted to know what you thought of the earn and points transfer rates changes coming to American Express cards in mid-April, so we asked our Facebook community this question:
What is your take on the changes recently announced by American Express? How will they affect your points-earning and redemption strategy moving into 2019?
Some were understanding of why Amex decided to do this:
It's simply a point devaluation exercise – Lawrence C.
I wondered how long it would take to be honest. Have had a good few years on the Platinum Edge with three points per dollar at most places a family with kids shops – Leigh M.
I understand what has driven this, and whilst I don't like it, reducing point earn is something we need to expect – Peter
It's not great…but what is the option…no points at all? I don't think so. I'd rather earn something than nothing – Dave B.
Whilst others expressed their disappointment:
On top of the fee hike this year for the card, this is extremely frustrating. I've also contacted Amex and expressed my anger at the changes. The more people that do this the better – Matt
This is highly disappointing and from my perspective, if they're degrading the agreed product by a proportion, like these 34-50% earn reductions, it's only reasonable to expect the annual fees—at a bare minimum—to be reduced by the same proportion – Adam
Amex have trashed their cards – Platy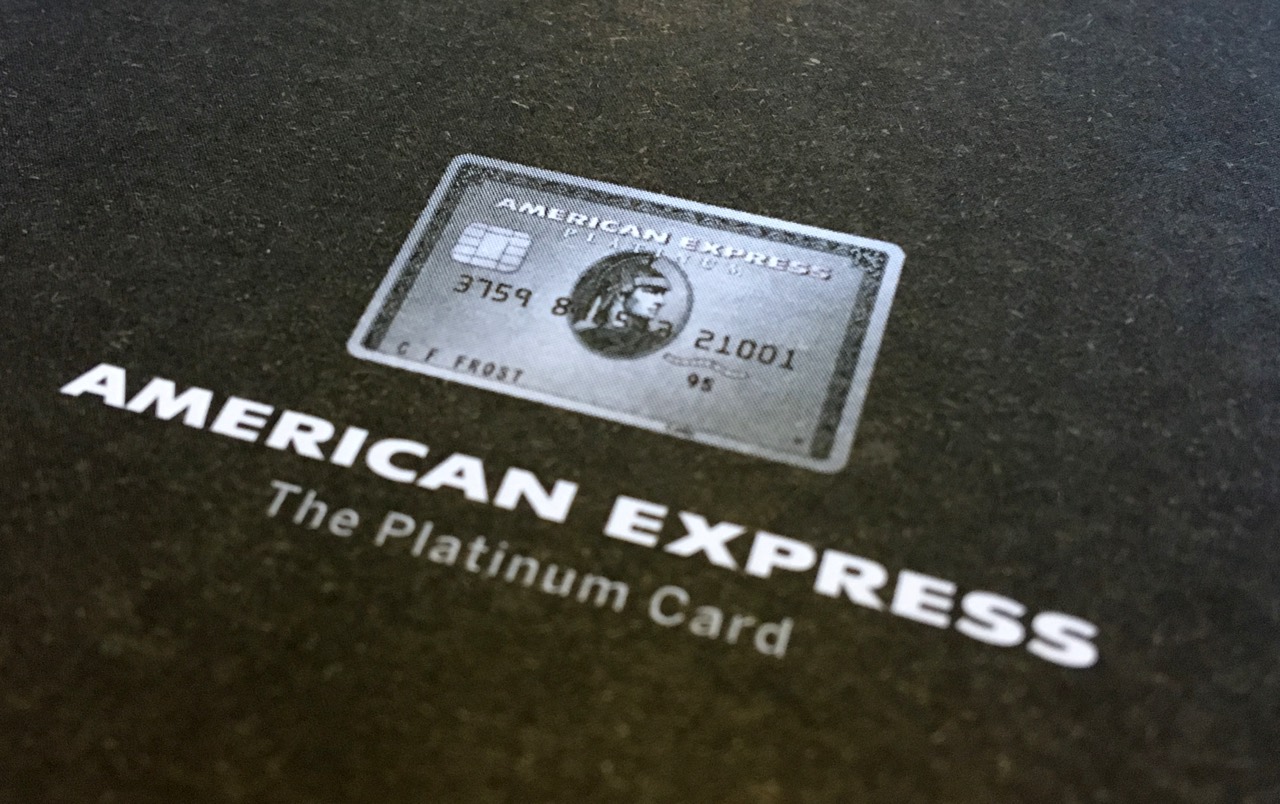 Some readers indicated they will now treat Amex cards like those from other credit card providers:
Continue to churn credit cards for the sign-up bonuses with a focus on fee-free or reduced-fee first year – Scott W.
I used to be willing to pay surcharge to use Amex. After the devaluation, it won't be worthy to do that again – Liz
If you've got an Amex card that earns Amex Membership Rewards points and you convert them to Velocity or Qantas Points, then you'd be better off switching to a direct-earn Velocity or Qantas Card. The devaluation of Amex points into frequent flyer points is significant – John J.
I would like to know how many people will renew their cards after the devaluation in April – Keith K.
For those who have a current balance of Amex Membership Rewards points, many suggested transferring them out to one of the transfer partners:
Spend what I have left with KrisFlyer and focus on collecting Qantas Points – Ryan G.
I've got a lot sitting in that account and prefer using them for Singapore Airlines flights but the problem is they expire, so I'll have transfer some to Qantas – Matt P.
This is very disappointing. It will probably be worth transferring all points to KrisFlyer or Velocity (if the bonus is good) and then reconsider my Amex – Rowlie B.
The 50% devaluation is horrible! I think I am better off moving the points in April and just making sure I use them in the three years allocated with Asia Miles – Sam
I will almost certainly transfer everything to THAI – Pisan K.
A key decision to make is that if you already have Membership Rewards points, should you do something with them now or wait for a few months. We posed this follow-up question and almost 4 in 10 responders indicated they would transfer their points out soon: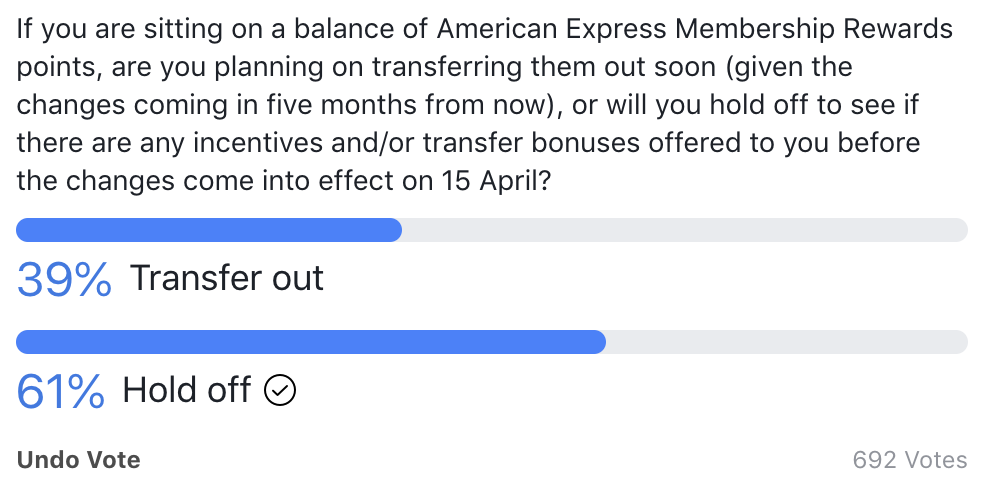 Some want to take advantage of the current transfer bonus on Velocity Points:
I know we have five months to consider a strategy but could it be worth taking advantage of Virgin's 15% bonus transfer offer before the end of November? – Adam
Currently a 15% Velocity Points transfer bonus on my card so transferring out NOW! – Andrew R.
I am transferring out as there is a 15% bonus and my Velocity Points don't expire while I continue earning – D-Ann J.
Note that there is also a bonus running this month on transfers to Qantas for Platinum Charge, Business Platinum and Centurion Card Members.
However, some readers suggested holding off:
Presumably there will be some juicy transfer bonuses coming up before April, so I'll be watching and waiting – Matt P.
You have four months before you have to transfer out…and as soon as you transfer out there is three-year expiry on your miles (depending on the program), so just wait for any further news and transfer when April comes! – Ben T.
We do not have any information on the following statement so we cannot confirm if it is true but if it is, that would help soften the blow of the changes for existing Card Members—only time will tell:
I have seen a post that indicates that any existing points will be doubled in your account at the changeover so they won't lose their value – Peter S.
You can read about the changes and our advice on what to do, and we will be sharing more of our—and your—thoughts on the changes over the coming weeks and months.
Did you have your say on the changes in our Facebook discussion? If not, share your thoughts in the comments below!
Reader responses: what is your take on the upcoming changes to Amex cards?
was last modified:
May 26th, 2019
by