Qantas is drawing back the curtains on its 'Big Points Sale', which is now live. You've got exactly four days to take advantage of the deals on offer, which include discounted flights, hotels, wines and car hire.
A spokesperson for Qantas told Point Hacks that reduced travel hasn't dampened frequent flyers' appetite for earning Qantas Points.
The majority of our members have spent the last 6 months continuing to build their points balances in readiness to splurge on a good deal. The Qantas Big Points Sale will offer discounts across the board, giving members access to great deals whether they're looking for a seaside getaway or a new coffee machine.

Qantas Frequent Flyer spokesperson
So without further ado, here are some of the deals on offer in the 'Big Points Sale', which can be accessed through this page on Qantas.
20% off domestic Points Plus Pay flights
You'll be able to take 20% off the points needed when booking a domestic cash fare through 'Points Plus Pay'.
Note that this is not the same as a reward seat, and we generally don't think of 'Points Plus Pay' as a particularly good way to use your Qantas Points. Using an example Qantas has given:
A 'Points Plus Pay' Economy Red e-deal flight from Sydney to Adelaide is now 26,600 points, save 6,700 points.
But an Economy Classic Reward Seat from Sydney to Adelaide remains at 12,000 points + A$38 taxes, which is still arguably a better deal.
There may be some scenarios where 'Points Plus Pay' will work better for you, but that is usually when you need to fly on a specific date and there are no Classic Reward seats left. Remember, you can also earn points and status credits with 'Points Plus Pay'.
20% off Top-Up Points
Running just a bit short on Qantas Points for your next reward? Top-up points is a way for you to purchase 1,000 to 150,000 Qantas Points for your account, up to four times a year.
It's usually prohibitively expensive to go down this route, so we usually advise our readers to only use this service if you really need to. Here are some price points for top-up points:
1,000 Qantas Points: A$44.8 (usually A$56)
50,000 Qantas Points: A$1,141.6 (usually A$1,427)
150,000 Qantas Points: A$3199.2 (usually A$3,999)
At the top end of the scale, you'll be paying 2.13 cents per point after the 20% off discount. This is more than the 1.9 cents we value each Qantas Point at — read more about our point valuations.
20% off Qantas Hotel bookings with points
This discount is already in effect — you can knock off 20% from the Qantas Points needed for 'Points Plus Pay' hotel bookings. There's also new exclusive deals on Hyatt hotel stays around the country, including a special discount on a 3-night New Year's Eve package at the Park Hyatt Sydney.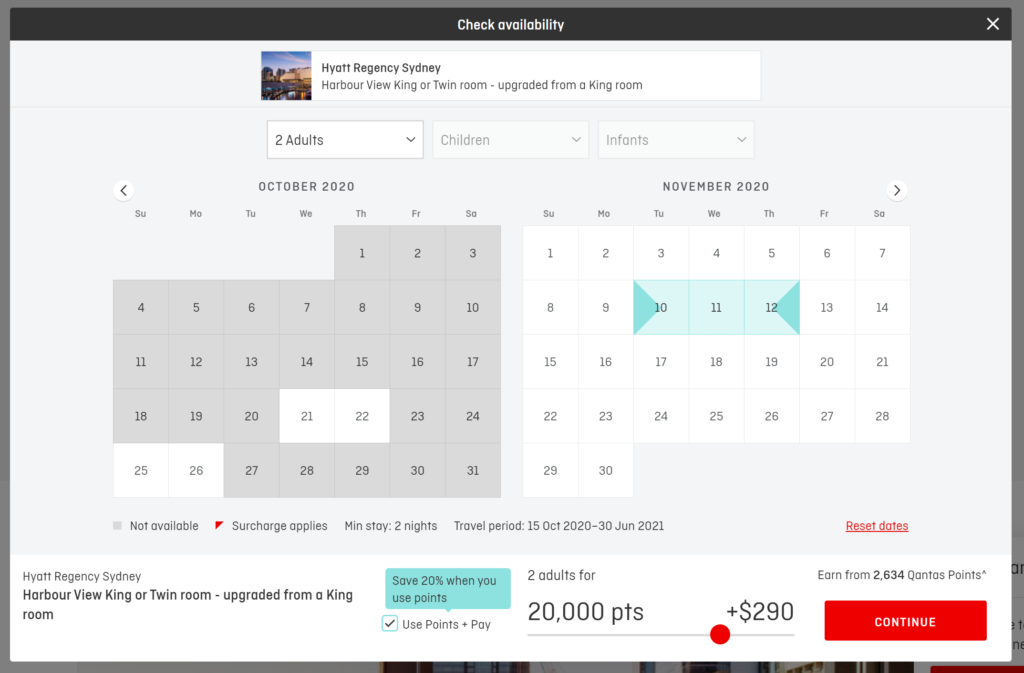 Ad – Scroll down to continue reading.Minimum spend, terms & conditions apply.
20% off Qantas Wine purchases with points
Qantas Wine is one of our favourite ways to earn bonus points, as often you'll get a lot thrown in with a case of wine. You'll get 20% off the points needed for alcohol and gifts, storewide.
Alas, the 'Big Points Sale' excludes sale items and those with bonus points from the discount. Wine susbcriptions and Penfold products are also excluded.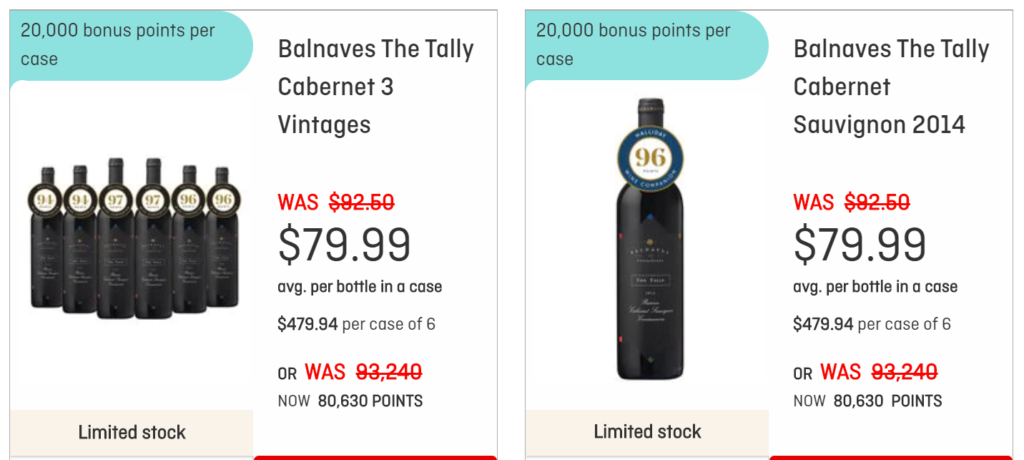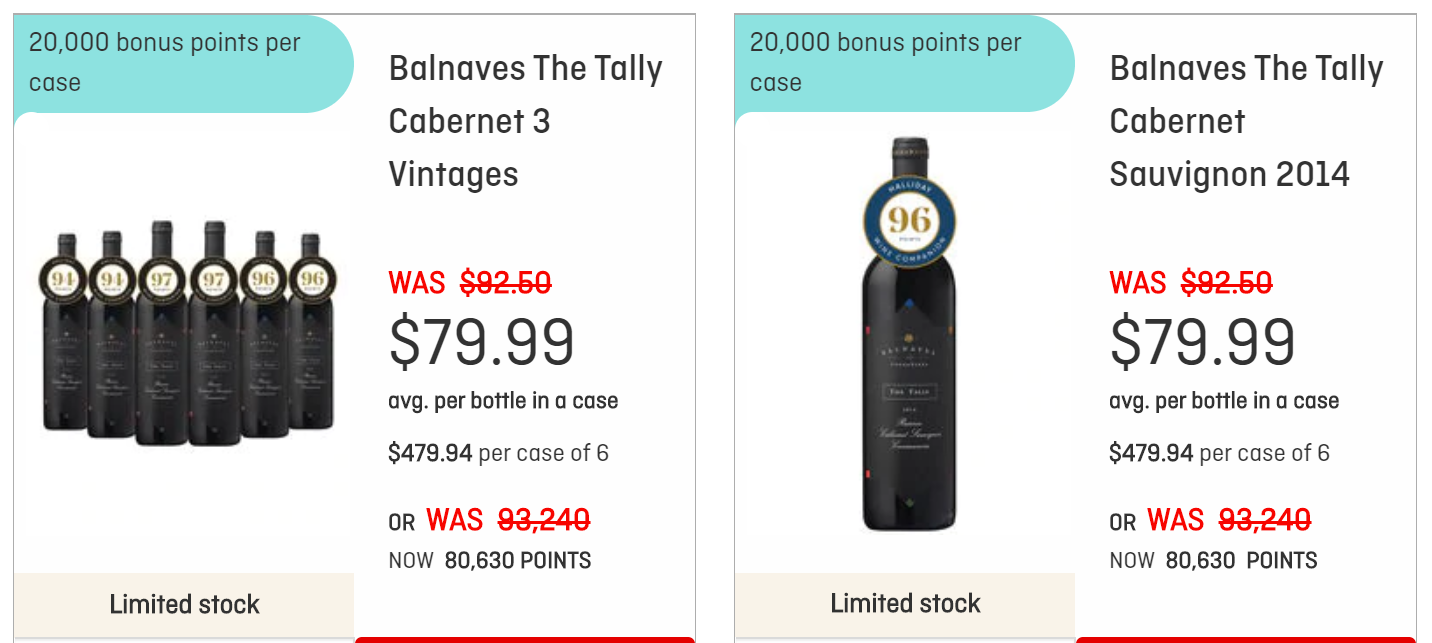 20% off the Qantas Rewards store with points, including Apple
Need some online retail therapy? Take 20% off storewide whenver you use your Qantas Points at the Rewards Store checkout. Unfortunately, sale items, gift cards and charity donations are excluded.
For example, the Dyson V7 Trigger Handheld vacuum will be on sale for 41,600 points, down from 52,000 points. With an RRP of A$299 elsewhere, that's a slightly improved return of 0.72 cents per Qantas Points.
Even big brands such as Apple, Sony Garmin and more are part of this sale. This is a rare opportunity to snag a new iPhone 12 series pre-order. It's still not spectacular value at 0.72 cents per point. But, you could justify it if you're after an iPhone 12, have no travel plans, and want to save some cash.
However, note that with some selected devices, you need to have the full points amount to check-out. Mixing points and cash is not an option, unfortunately.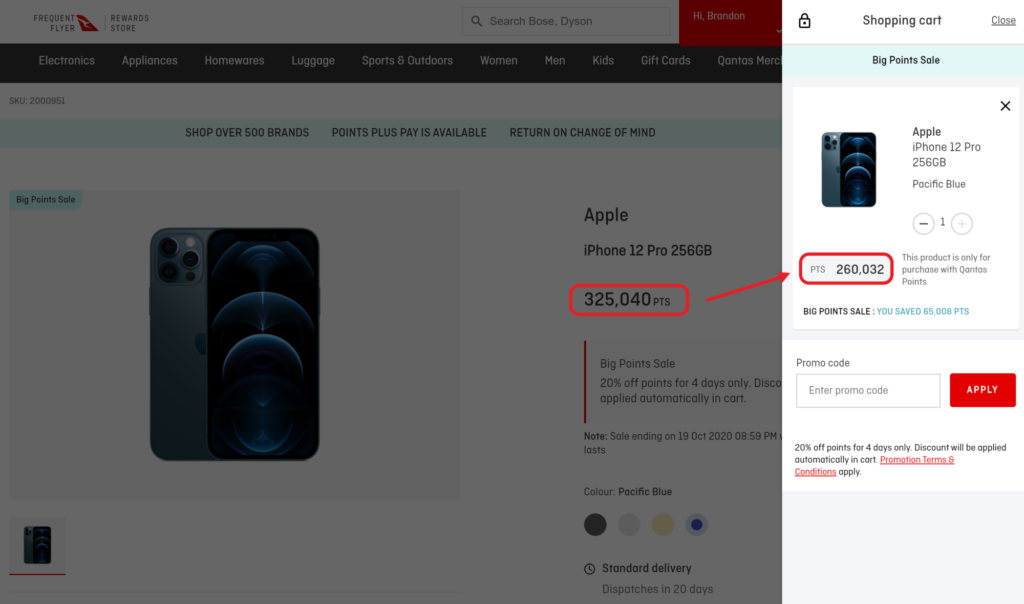 Delivery fees also now apply for most items, after having previously been included in the final price.
20% off points for Avis car hire bookings
Want to splurge your Qantas Points on car hire instead of flights? A 4-day premium car hire from Sydney Airport and back is now 60,000 points, down from 75,750 points.

Summing up
All-in-all, the Qantas 'Big Points Sale' isn't a spectacular deal. All the 'good stuff' is notably excluded, such as Classic Flight Rewards, Classic Hotel Rewards, Classic Wine Rewards, and gift cards at the Rewards Store, to name a few.
Still, there might be some useful deals out there for various people, especially the luxury accommodation offers on Qantas Hotels. Remember, our advice remains that Qantas Points are best saved for upgrades and premium flight reward bookings.
But if those aren't on your radar and your Qantas Points balance could help you get within reach of a different product, experience or booking you want, then go for it!
Here are the deals in the Qantas 'Big Points Sale'
was last modified:
August 24th, 2023
by