Qantas has pulled back the curtains on its new eco-conscious Green tier. For savvy travellers, it's a way to make meaningful green choices while being rewarded with Qantas Points or Status Credits. The carrot at the end of the figurative green stick includes 10,000 Qantas Points or 50 Status Credits.
Green tier lasts for one membership year, after which you need to renew it. While you hold Green tier, you might get exclusive invitations to sustainability events and experiences, plus earn ongoing bonus points with Qantas Wine and Qantas Hotels with eco-accredited products and stays.
You need to meet at least five out of six criteria to reach Qantas Green tier each membership year. Some are quick and easy, but others will require you to make a contribution or to book a hotel. While keeping in the spirit of the offer (that means no shady hacks), here are some tips to help you reach Green tier sooner.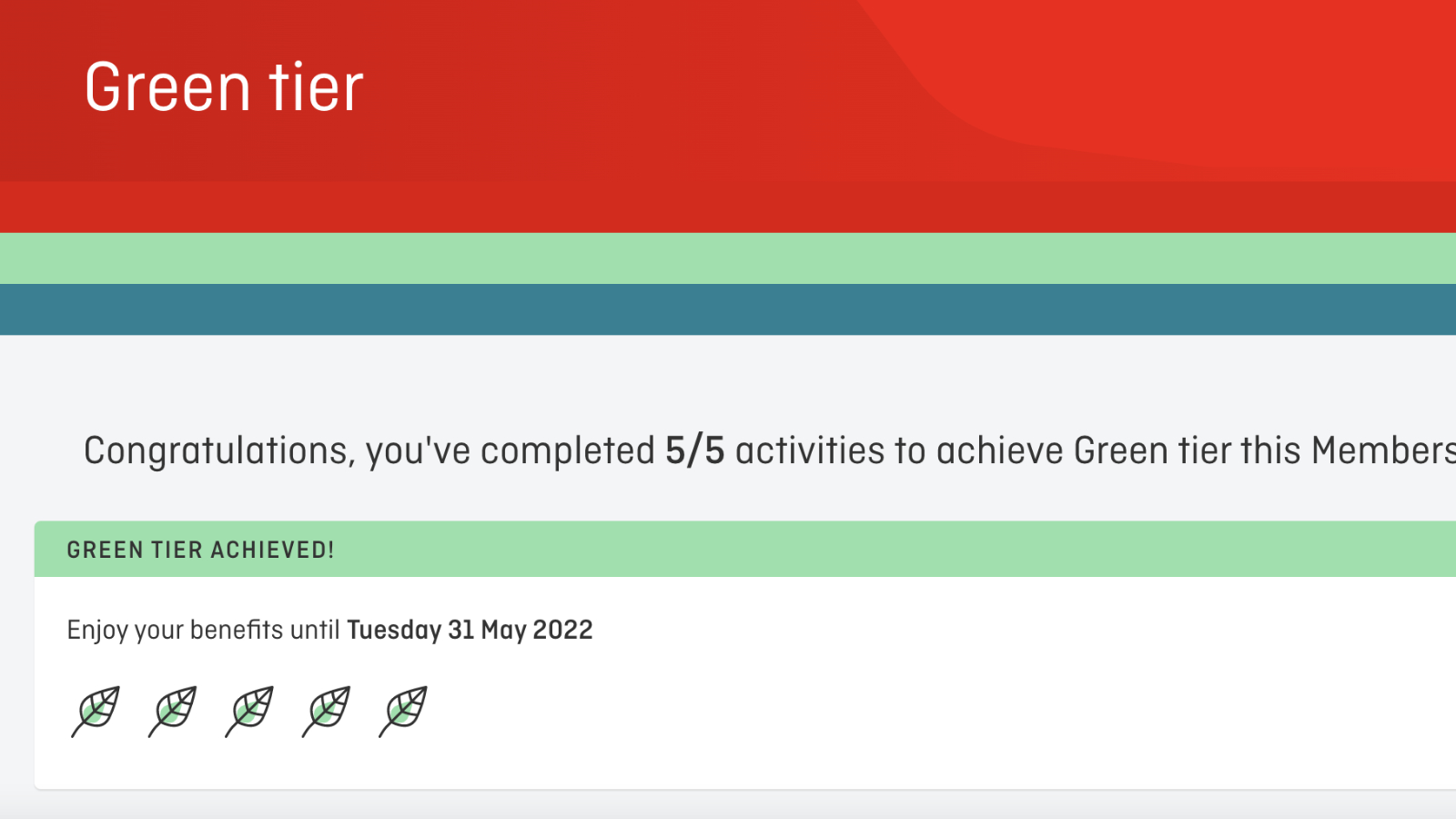 1. Complete the Wellbeing Quiz
This is the quickest and easiest leaf to nab. Simply fire up the Qantas Wellbeing App, head to the 'Challenges' section and look for the sustainability quiz at the top. Test your knowledge on nine simple questions and before you know it, you'll be rewarded with 100 Qantas Points and one of your five green leaves.
You can only do the quiz once, so in subsequent years, you'll need to find another way to re-earn Green tier.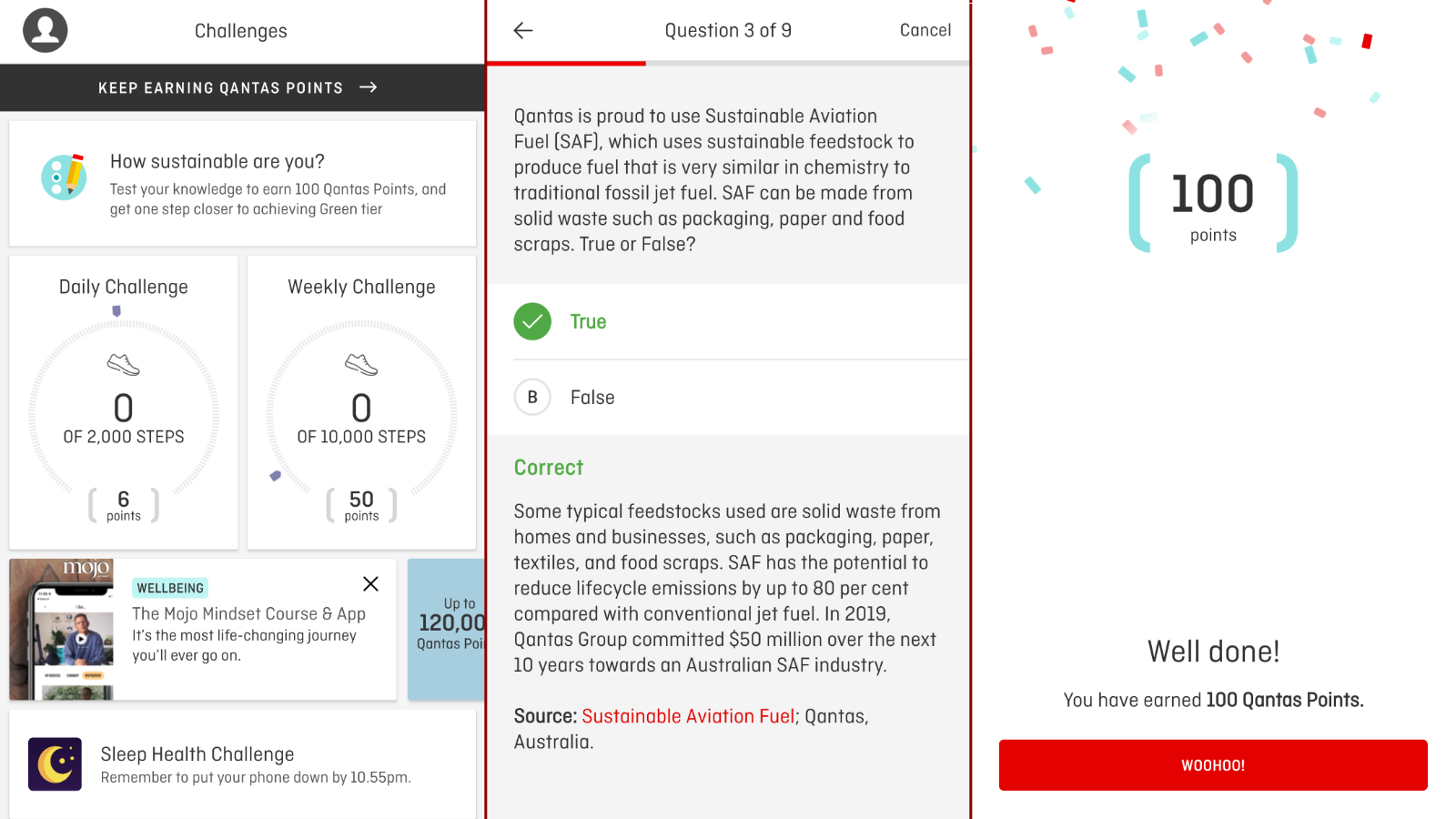 2. Make a donation with Qantas Points
Next up for Qantas Green tier is a contribution to at least one of four charities or foundations. Your options are:
The minimum donation is 3,200 points, which covers a $25 contribution from Qantas to your chosen recipient. The process of checking out at the Rewards Store is quick and easy.
Ad – Scroll down to continue reading.Minimum spend, terms & conditions apply.
3. Offset your next flight
Here's another quick and simple one. You can offset the carbon emissions from your next flight – either while booking on the Qantas website, or through 'Manage My Booking' afterwards. For shorter domestic flights, offsets start from $1. A Melbourne-Perth flight offset costs $3.72 or 404 Points. (You'll also earn 10 Points per dollar spent).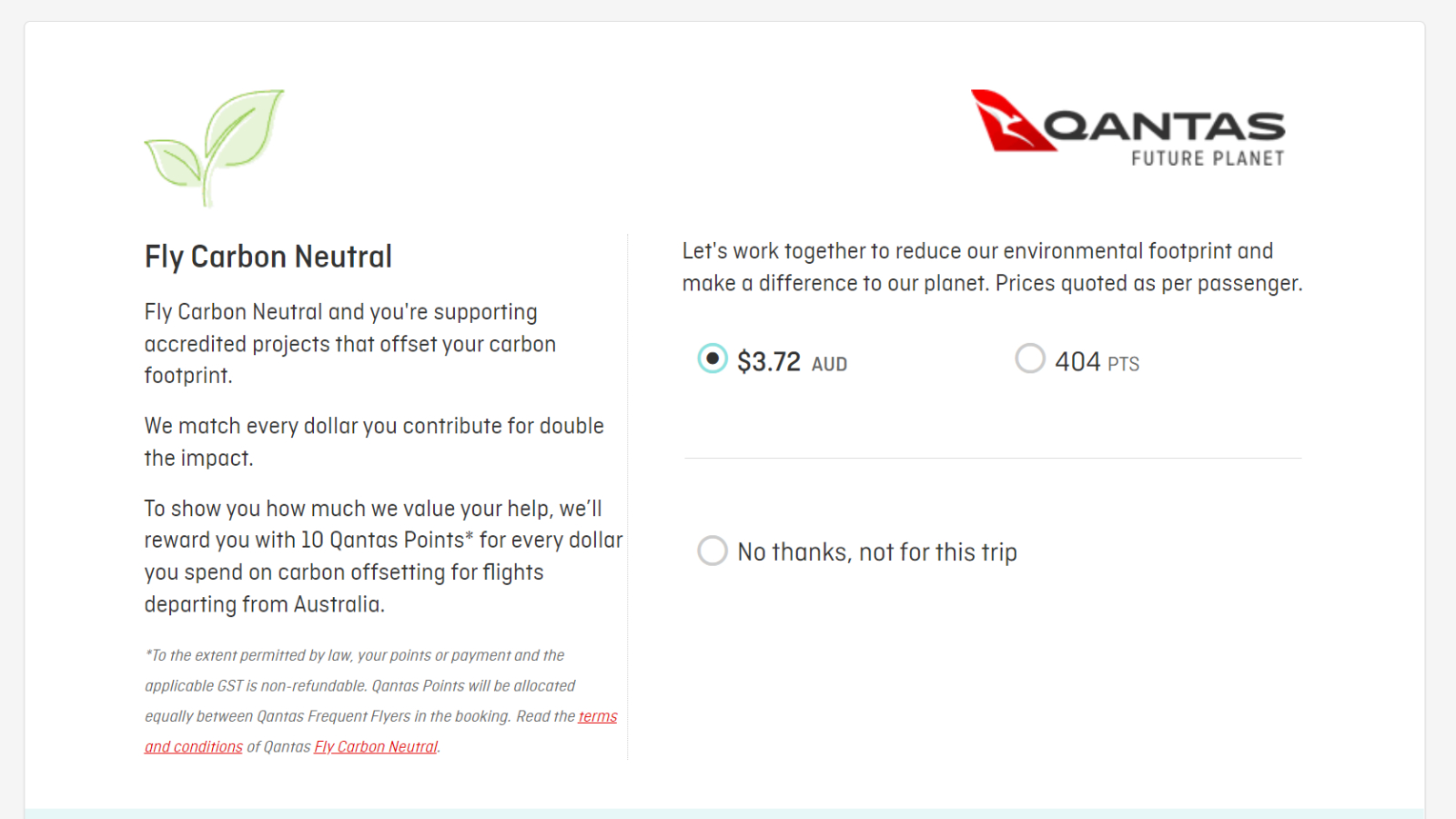 4. Offset your home and car
The Qantas Store gives you the option to offset your household emissions as well. Just like flight offsets, you'll earn 10 Points per dollar spent. Alternatively, you can pay for your offset with Qantas Points.
Because each state and territory has different sources of power generation, the cost to offset your emissions will vary by state. Tasmania enjoys the cheapest offset rates thanks to its higher reliance on hydropower, starting from $15 for one person without a car. In contrast, that same option in Victora starts from $85.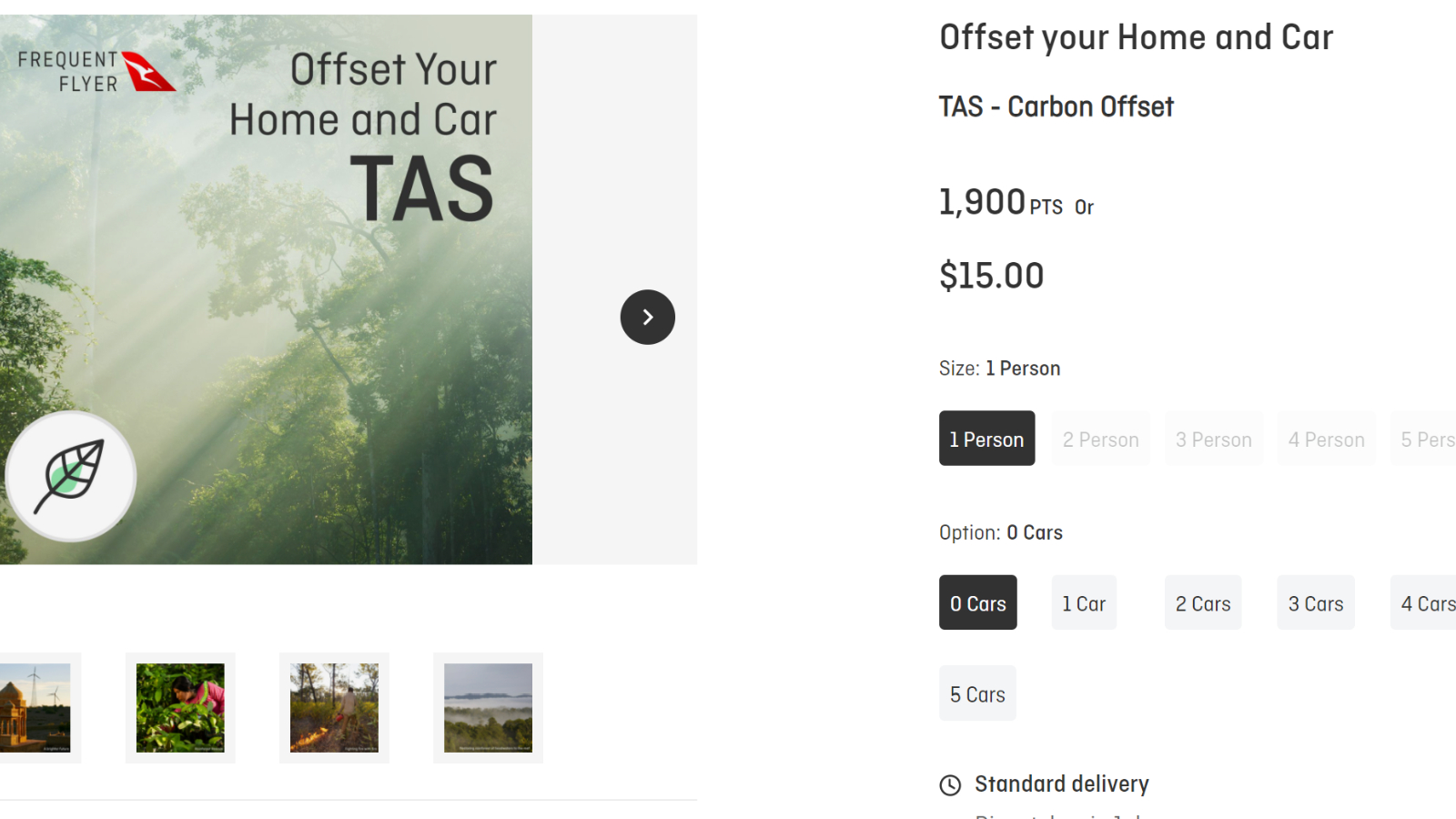 5. Offset your next wine or Rewards Store delivery
And we're up to the final leaf. Were you planning to buy anything from Qantas Wine or the Rewards Store? Perhaps a case of wine with 15,000 bonus Qantas Points attached? Well, just add $1 to your total to make the delivery 'climate positive'. All you have to do is add the 'upgrade' to your cart before checkout.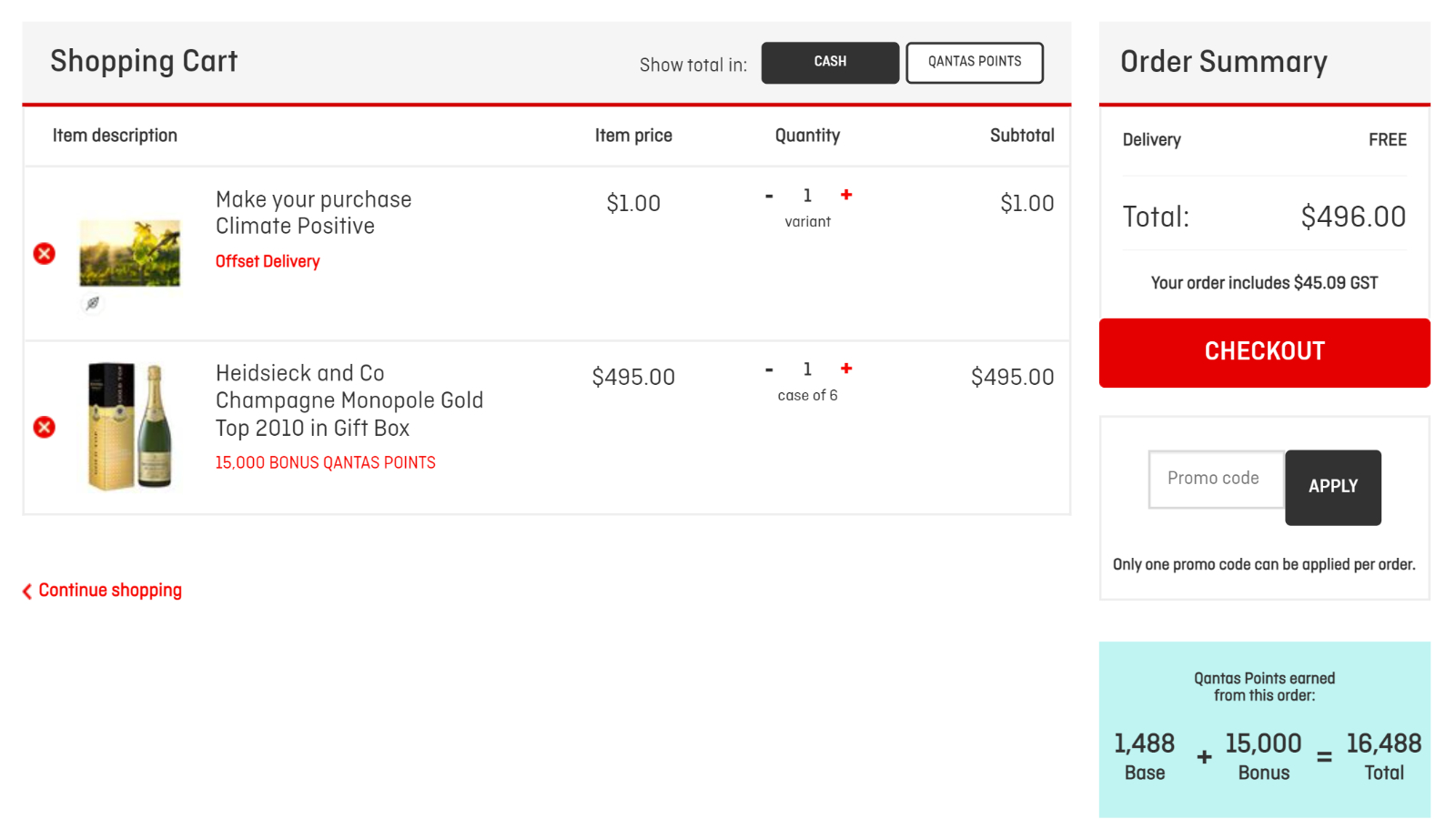 On the Qantas Rewards store, you can also spend 130 Qantas Points for the same thing.
Summing up: earning Qantas Green tier
That's all there is to it. With five easy steps, you'll meet the requirements for Qantas Green tier and earn your reward. But be patient – once you reach Green tier, it may take around 21 days before Qantas prompts you to choose your reward of either 10,000 bonus Points or 50 Status Credits.
The overall cost will vary based on where you live. Someone who offsets a household in Tasmania could get all five leaves for roughly 3,200 points and $17. But in the following years, when you can't do the Wellbeing quiz again, you could look to book a sustainable stay at an eco-resort through Qantas Hotels.
Best ways to quickly unlock Qantas Green tier
was last modified:
April 6th, 2022
by