One of international football's biggest events is the FIFA World Cup 2022, being held in Qatar across November and December 2022. Though the quadrennial event is still quite some time away, it's never too early to start planning.
If you want to secure tickets right now – no matter the cost – then Qatar Airways' travel packages are the answer. But of course, you could also use your points or miles to fly Qatar Airways and get the match tickets separately.
1. Booking with Qatar Airways Holidays
Pros: You can book it now – for the true fans.
Cons: Strict refund policy, and Qmiles not earned on the package.
Qatar Airways Holidays is selling unique FIFA World Cup 2022 travel packages for members of Qatar Airways' Privilege Club program. Flights, accommodation and match tickets of your choice are all included. Prices start from USD$3,800 (AUD$5,175) per person depending on the package chosen, but this cost is likely to be higher from Australia.
In a unique twist, you start by choosing the team you want to follow through the tournament. Then choose which matches you want to see and where you're departing from. You'll then be directed to log in to your Privilege Club account and choose a hotel, before seeing the final price of the FIFA 2022 package.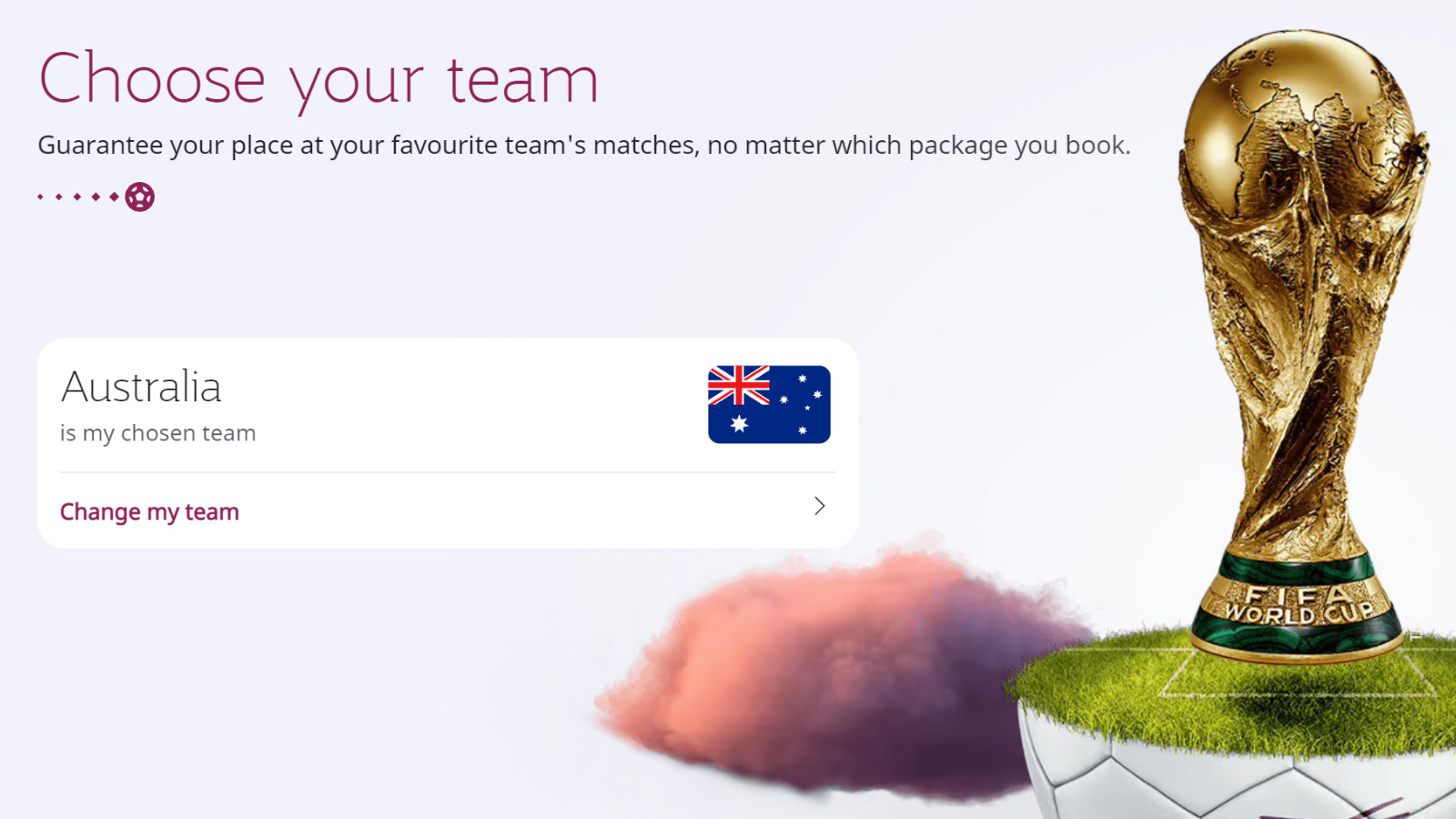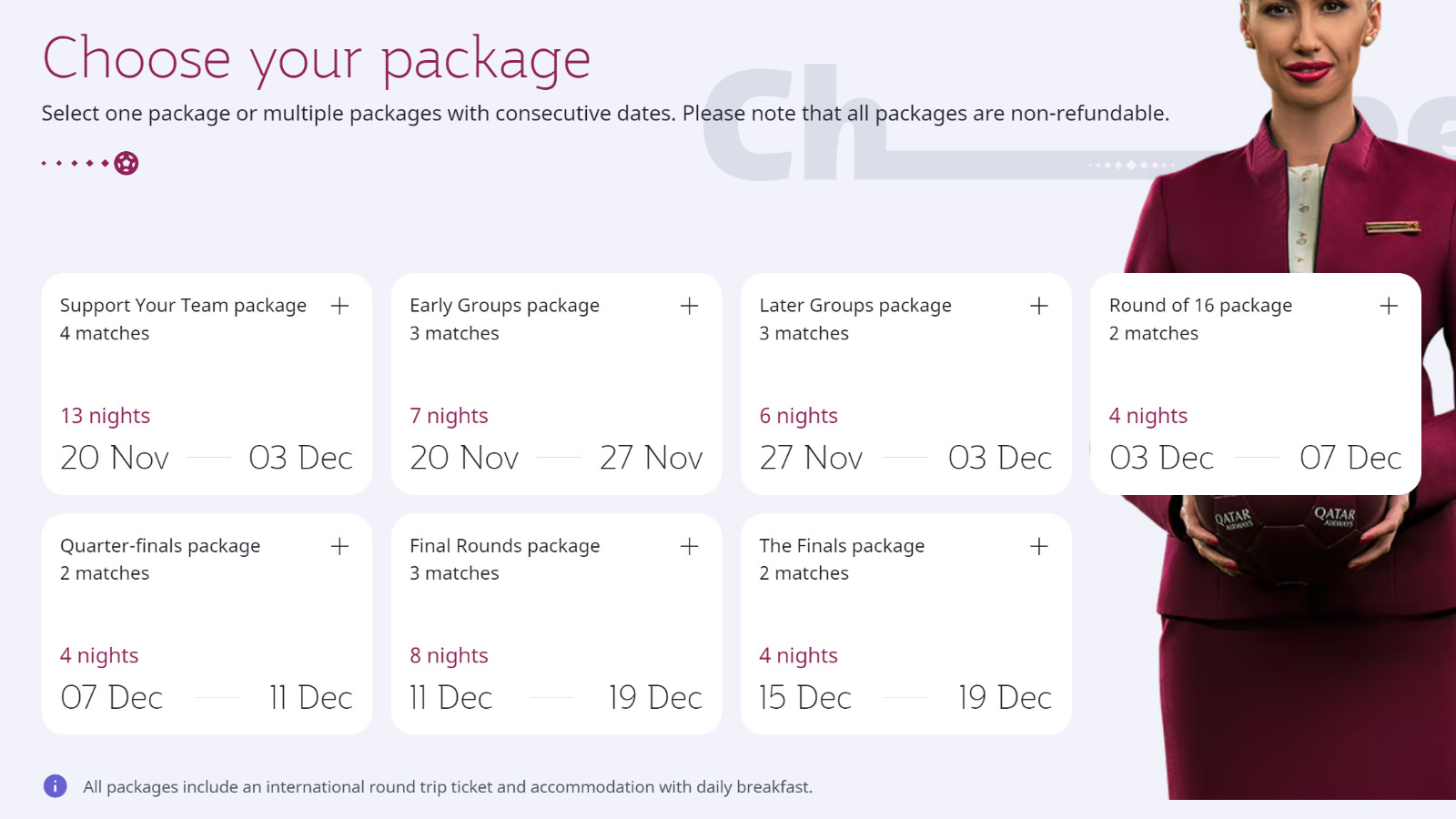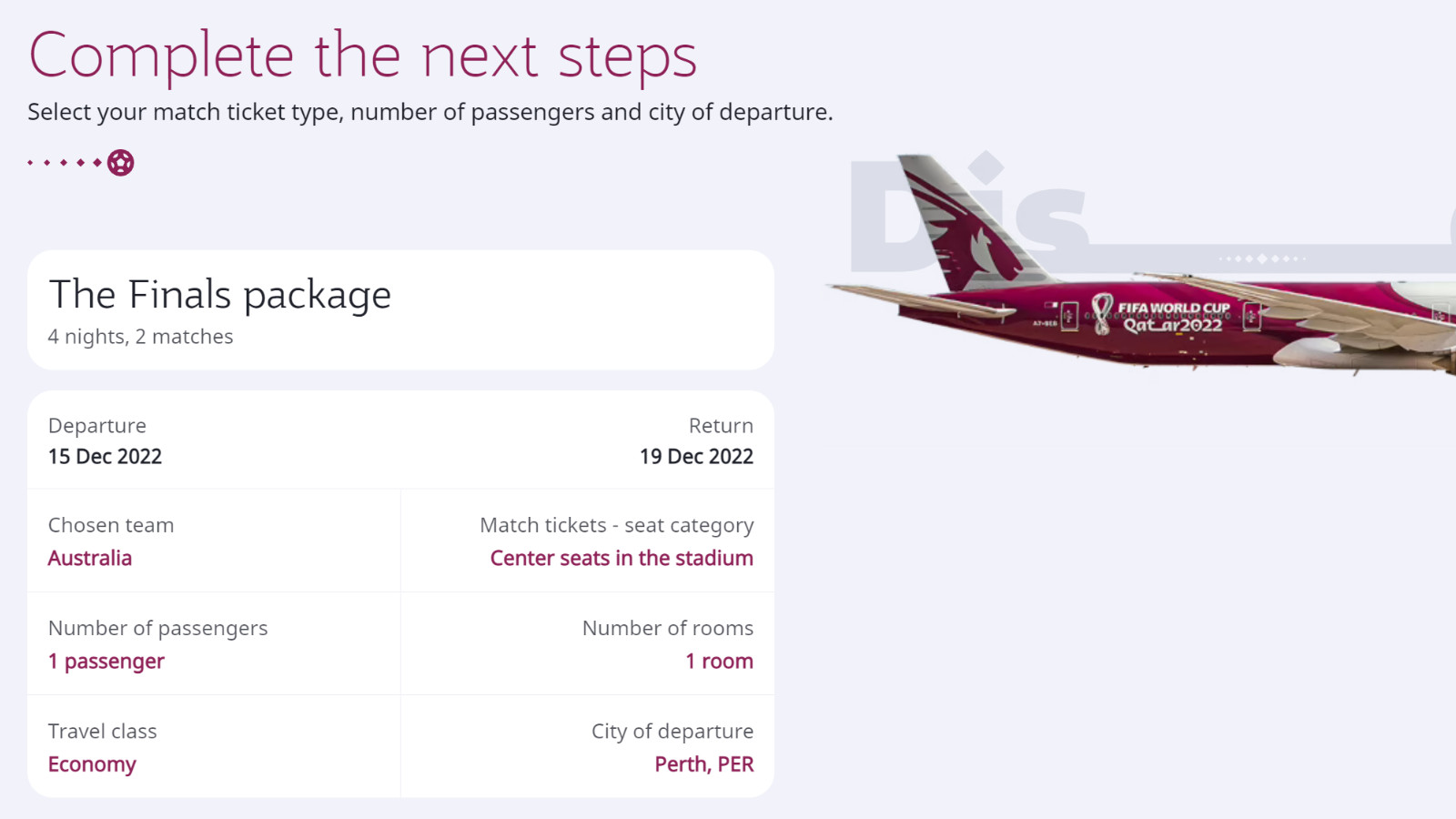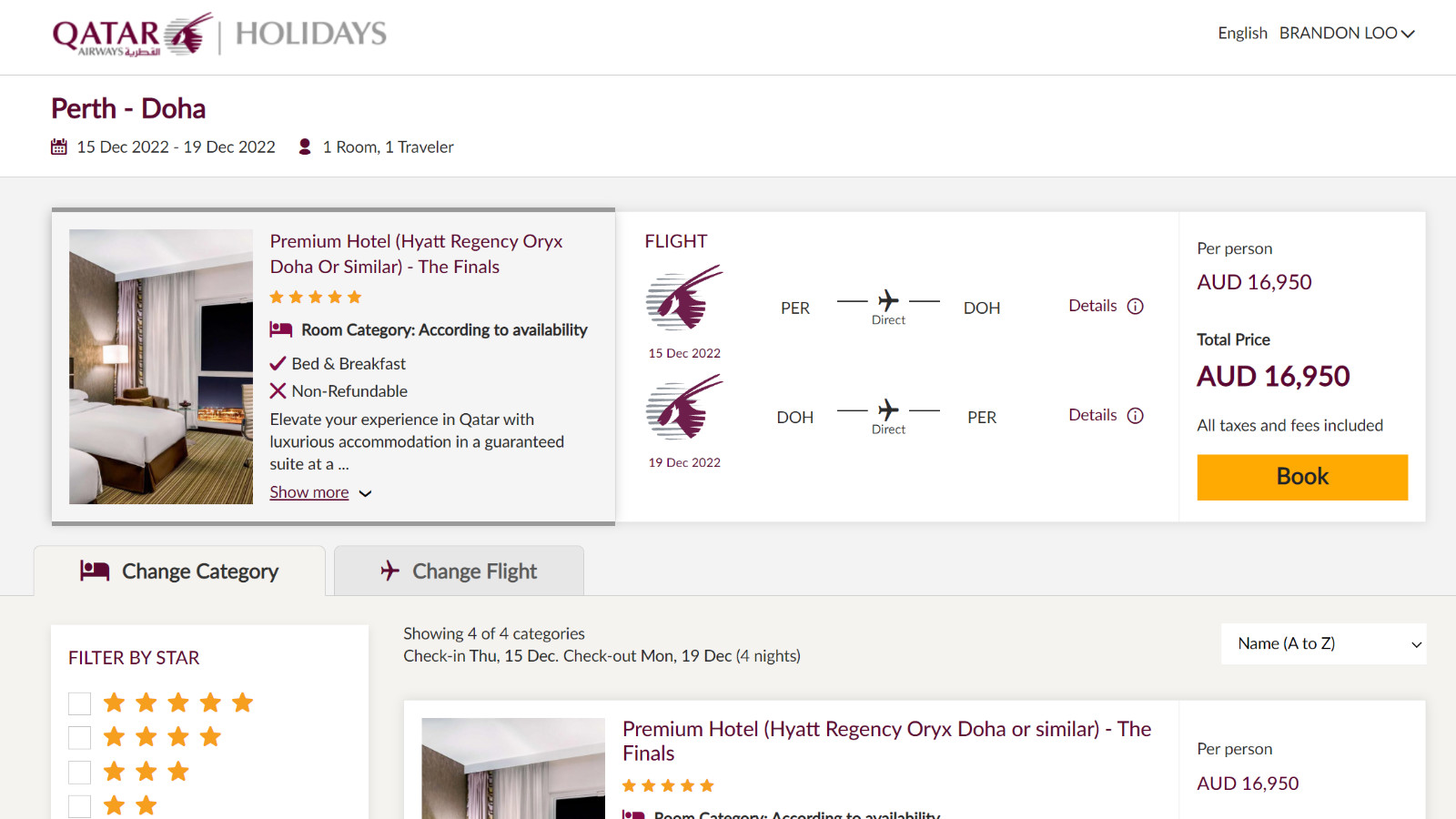 Sadly, you won't earn bonus Qmiles on the packages. But you should still be eligible to earn Qmiles on the flights themselves, as your Privilege Club membership number will be attached to the booking.
Be careful of the refund policy
Although we're clearly on track to be travelling overseas to safer destinations by November 2022, we are still in the midst of a pandemic. There's always a chance that there'll be a new spanner in the works before then.
Unfortunately, these travel packages don't offer much in terms of flexibility. You're entitled to a refund if your chosen team doesn't qualify for the tournament (or you can select a different team). But what about COVID-19?
The answers are in the FAQs (under 'Modifying bookings'). Essentially, you're out of luck. FIFA 2022 packages won't be refunded in the event of an 'emergency', including if the event still goes ahead but we can't travel to it due to border closures.
However, if the event is cancelled entirely or held behind closed doors, then you'll have a better chance of recovering what you paid for the package. So be sure to keep that in mind!
Ad – Scroll down to continue reading.Minimum spend, terms & conditions apply.
2. Booking everything separately
Pros: Minimise costs by using your points or miles.
Cons: Reward availability may be limited, and you can't book just yet.
As the matches start from mid-November 2022, it's still too early to book flights. Most airline calendars open from 353 days out, so you'll likely start booking flights in December 2021. Reward seats offer you a degree of flexibility that the travel packages simply don't have.
If you're keen to fly to Qatar with your frequent flyer points, start planning! Make sure you know how many points/miles your flights will cost. Also, have a backup plan, in case you can't find reward seats. This might include travelling on a different date or just booking a cash return fare instead.
Booking Qatar Airways flights with Qantas Points
Here are the Qantas Points you need for one-way flights between Australia and Doha with Qatar Airways. Taxes are extra and cost roughly $550 per person, each way.
Perth-Doha: 45,000 points in Economy, 104,500 points in Business.
Australia-Doha (except Perth): 50,300 points in Economy, 119,200 points in Business.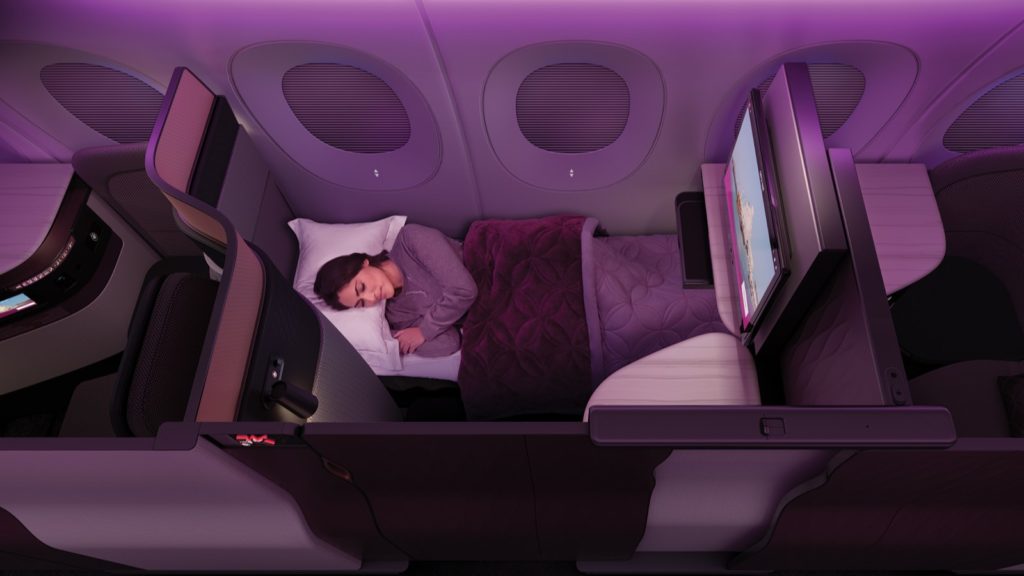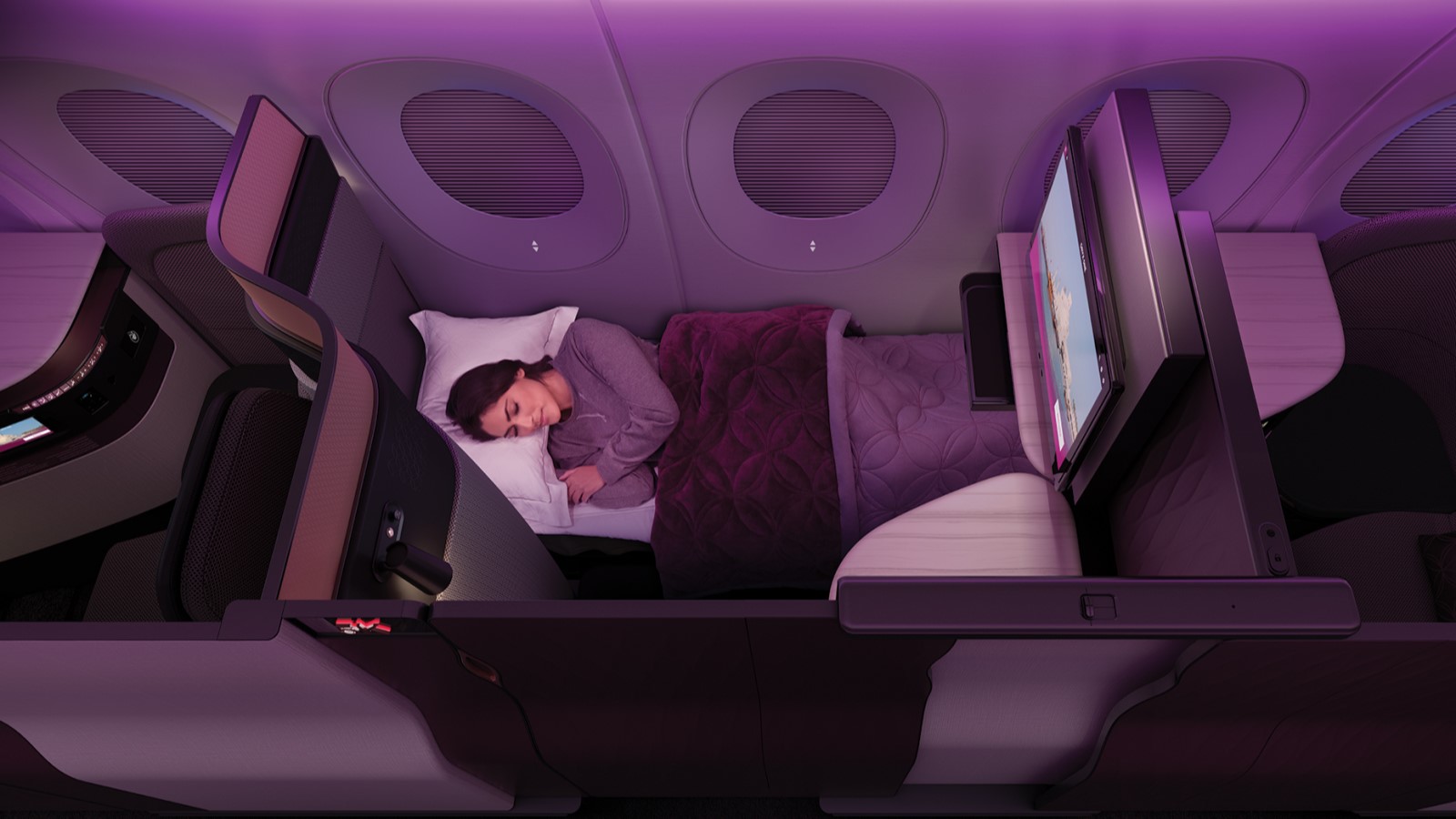 ---
Expert tip: You can't book a reward flight originating out of Doha on the Qantas website, due to technical issues surrounding the currency. Instead, we advise you to book a return trip from Australia where possible. If you can't avoid this, then call Qantas for assistance.
---
Booking Qatar Airways flights with AAdvantage miles
If you have a stash of AAdvantage miles (or want to buy a whole heap during the next sale), then you'll just need a flat 42,500 miles in Economy or 80,000 miles for Business Class. The best news is taxes are far cheaper through AAdvantage than with Qantas Frequent Flyer. You'll pay under USD$100 (AUD$135) per person, each way.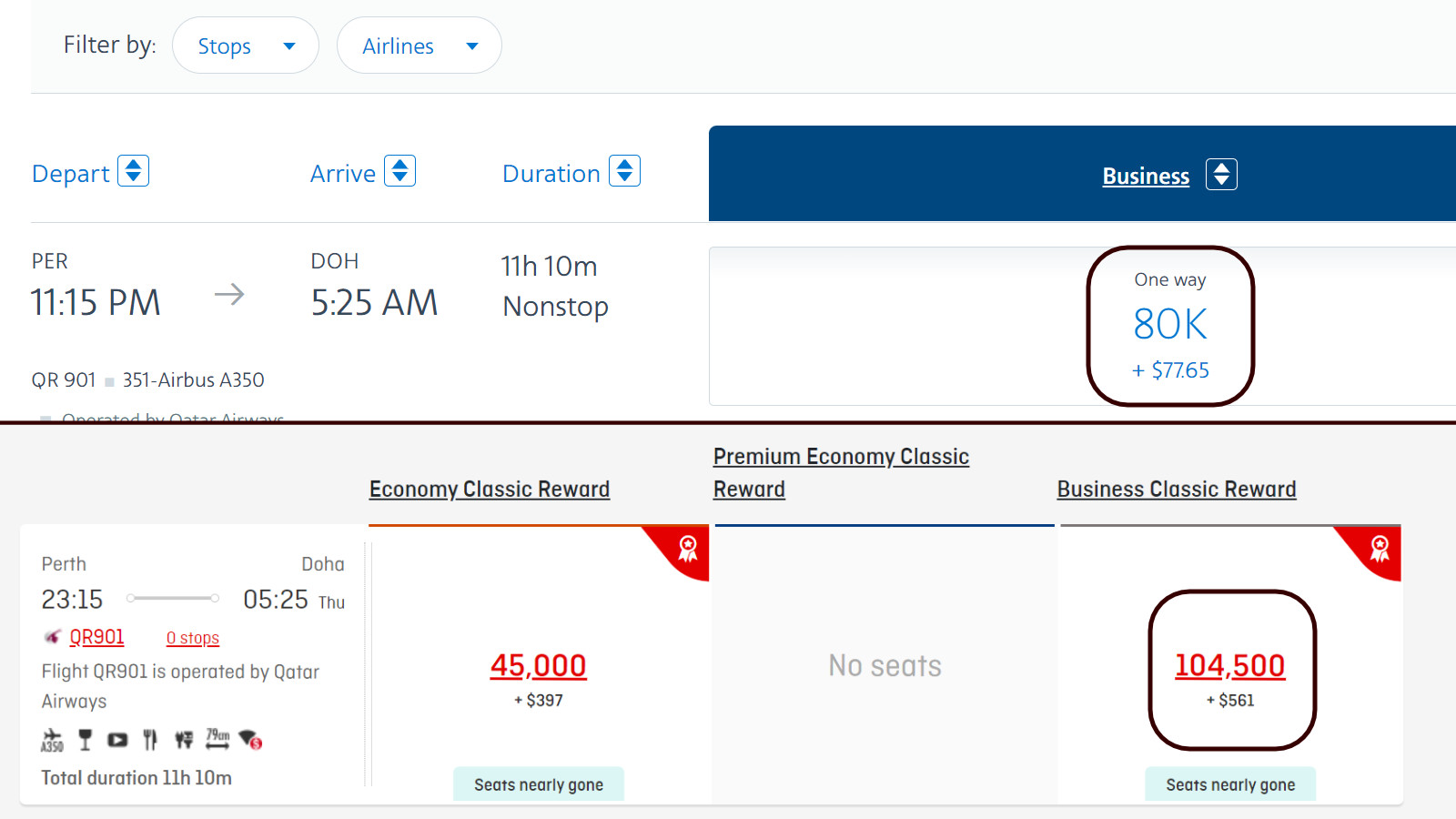 Booking Qatar Airways flights with Qmiles
Finally, if you do happen to have a stash of Qmiles with Qatar Airways, you'll enjoy the lowest redemption rates. Australia to Doha is just 35,000 Qmiles in Economy or 70,000 Qmiles in Business. (Privilege Club Platinum members do also receive a small discount on the rate, as seen below).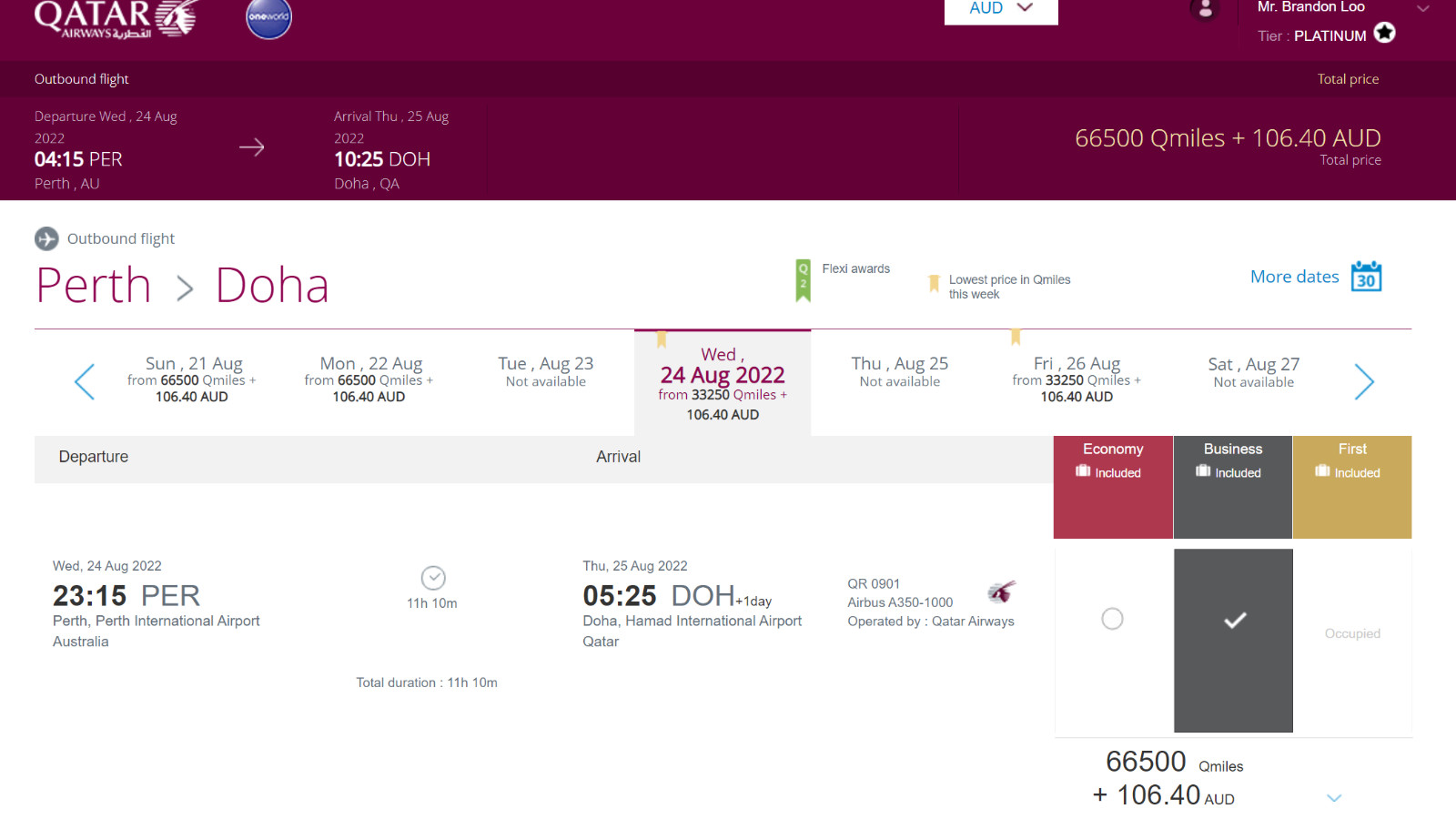 Taxes are roughly AUD$100 per person each way, as Qatar Airways doesn't levy a fuel surcharge for its own members.
Summing up
While we don't have a crystal ball, we certainly think it's possible that Australian residents can be cheering on the Socceroos in Doha in 2022. If you want to reserve your full experience now, then the travel packages are for you. Just be mindful of the cancellation policy (or lack thereof), and consider if any travel insurance will cover your circumstances.
Otherwise, wait patiently until later in 2021 to start reserving flights for 2022, and build your own package. Hotels are generally quite flexible, as are reward flights. So if things do go wrong, you'll have more control of the situation by booking everything yourself.
---
Short on Qantas Points? Get ahead of the pack and kick your points balance sky-high with our latest sign-up offers.
Live the FIFA World Cup 2022 with Qatar Airways
was last modified:
August 24th, 2023
by