Velocity Rewards Store reduces points prices
Some items are now better value, but is it still worth using points on the store?
Posted:
November 29, 2022 - 3:53 pm
What we'll be covering
In a time when costs are spiralling up, Velocity Frequent Flyer are bringing some of them down. In an unusual move, members saving up for presents rather than flights can now spend fewer points when they shop at the Velocity Rewards Store.
Of course, at Point Hacks, our general recommendation is still to save points for reward flights and upgrades, where possible. But if you don't have travel plans, or simply want to enjoy the latest Dyson vacuum with your points, then at least you'll be better off now.
Here are some specific examples that you can expect (note the 'up to'):
Gift cards: up to 10% fewer points
Electronics: up to 30% fewer points
Travel: up to 40% fewer points
Home: up to 50% fewer points
Certain high-demand products, such as Apple's latest iPhone 14 range, don't appear to be discounted.
Some products are better value now
In our recent guide, we worked out that you could previously expect around 0.51 to 0.56 cents per Velocity Point when you use it at the Rewards Store. In some cases, that's improved now.
For example, the Bugatti – Esedra 24-piece cutlery set was 80,595 Velocity Points, but now it's yours for 45,928 Velocity Points. The RRP of this set is $389, but ironically, it's currently on sale at the Qantas Rewards Store for $350 or 54,120 points. We'll use $350 as the comparison price for our calculations.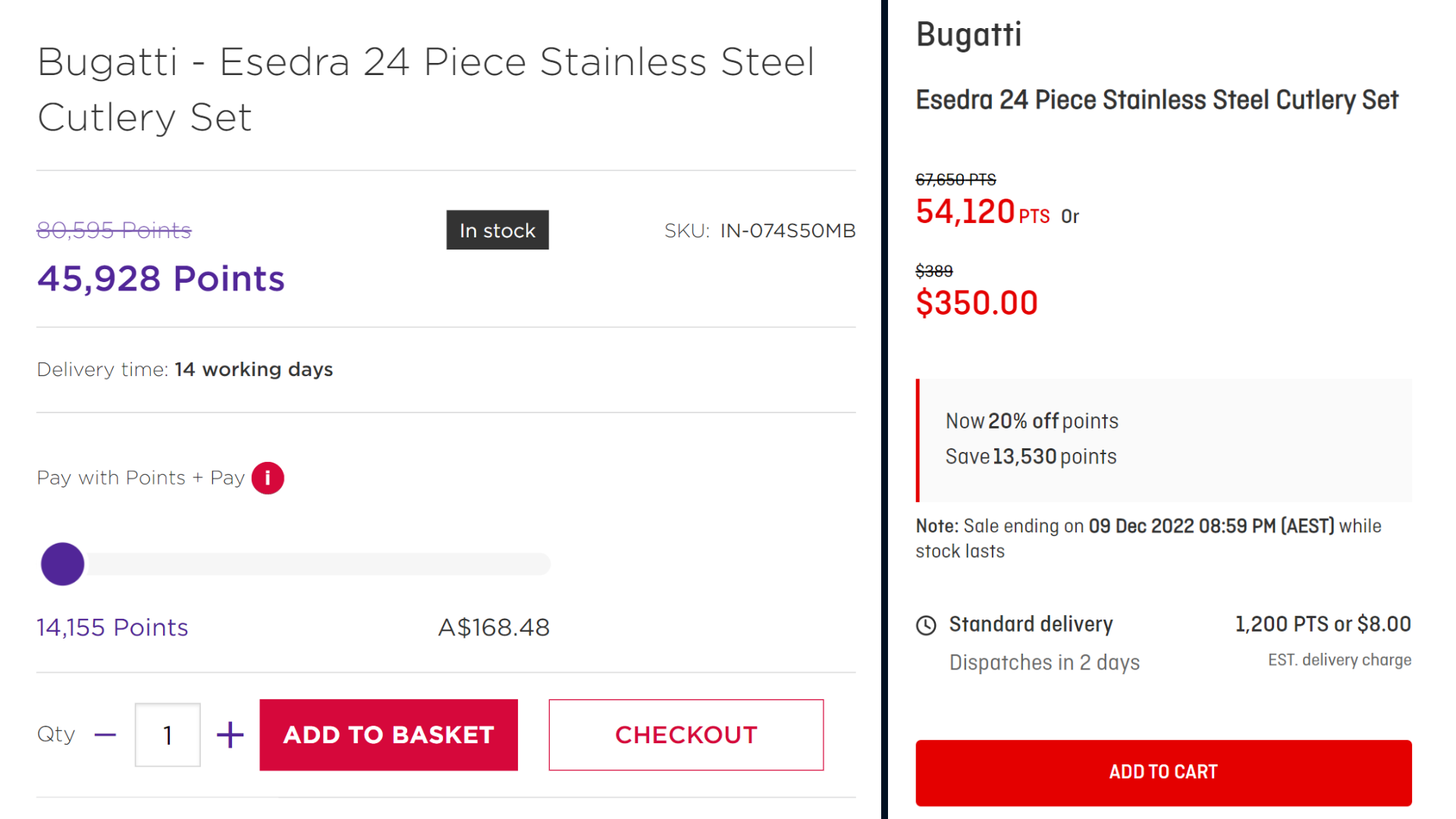 So at first glance, the Velocity Rewards Store is the winner on points pricing. But the value is even better if you use Points + Pay (seen above), as you're offsetting around $182 for 14,155 points.
Using 45,928 Velocity Points for a $350 item = 0.76 cents per point
Using 14,155 Velocity Points + $168.48 for a $350 item = 1.28 cents per point
Ad – Scroll down to continue reading.Minimum spend, terms & conditions apply.
Some products are still much the same
Most gift cards on the Velocity Rewards Store are now up to 10% cheaper than before. It's not much, but the haircut on the points needed does help. For example, the $100 'Ultimate' range of gift cards is now 18,121 Velocity Points, down from 20,299 points.
That's an improvement from 0.49 cents per point to 0.55 cents per point. Not amazing, but better than the Qantas Rewards Store as well.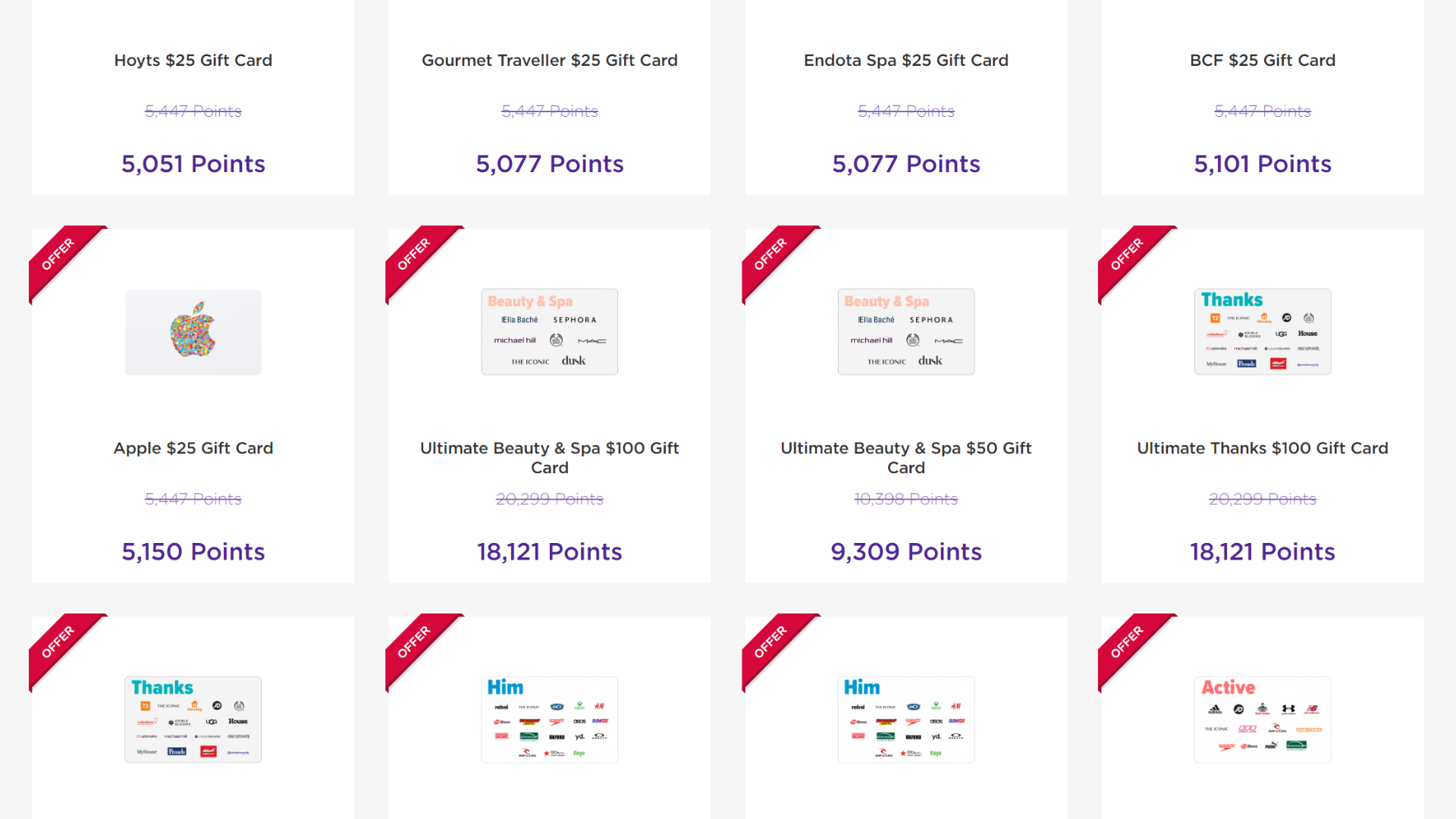 Unfortunately, high-demand products such as Apple devices are still relatively unchanged in points pricing. For example, the $1,899 iPhone 14 Pro Max 128GB requires 376,038 Velocity Points (0.51 cents per point).
Summing up
It's great that the Velocity Rewards Store is cutting the number of points needed across the board. If you were thinking of using your points on a physical gift, you'll likely be slightly better off now.
We value Velocity Points at 1.80 cents each so ideally, you'll want to spend your points on something that generates more value than that. Typically, reward flights with Virgin Australia and partner airlines are the best way to achieve that, particularly in Business and First Class.
Unfortunately, using points on the Velocity Rewards Store will fall short of that target. But as we also like to say, they're your points and you should use them for whatever makes you happy – even if it's a brand-new, sparkling cutlery set!
Velocity Rewards Store reduces points prices
was last modified:
August 24th, 2023
by