Qantas unveils new Business and First Class seat for the Airbus A350
The upcoming seats sport an all-new design and plenty of creature comforts.
Posted:
February 23, 2023 - 9:53 am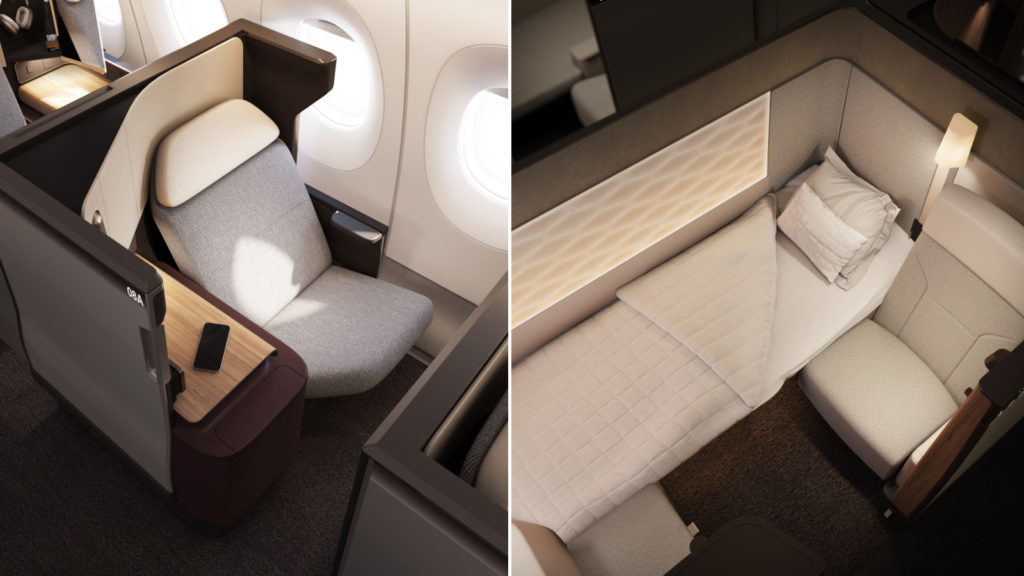 What we'll be covering
Business and First Class passengers aboard Qantas' upcoming globe-leaping 'Project Sunrise' flights will be able to kick back in the latest next-generation seats. Set to debut in late 2025 – when the ultra-long-range Airbus A350 flights begin on routes such as Sydney-London non-stop – the David Caon-designed seats offer more space and comfort compared to the current fleet.
Qantas Group CEO, Alan Joyce, revealed the new seats amidst a record $1.43 billion pre-tax profit for the first half of the 2022-2023 financial year.
We think our A350 cabins have the most sophisticated and thoughtful design of any airline, combining cutting edge technology with sleep research to shape the look and feel for what is effectively a new era of travel.

We're building on the customer experience of our extremely popular non-stop flights from Perth to London as we keep working to make it easier to connect Australia with the rest of the world.

– Alan Joyce, Qantas Group CEO, 23 February 2023
Qantas is yet to reveal the Premium Economy and Economy seats. But we now know the airline will be outfitting the jets with the latest in technology, including:
International onboard Wi-Fi with Viasat 'following completion of key satellite launches'.
Bluetooth headphone connectivity with the inflight entertainment system.
Qantas Airbus A350 First Suite
As first revealed back in May 2022, the upcoming Airbus A350 First suite is a major departure from the existing First Class cabin on the Airbus A380.
There'll be only six suites in a 1-1-1 layout. Qantas says each suite is designed to make passengers feel like they are 'in a mini boutique hotel room'. Touches include an extra-wide fixed bed, separate recliner chair, 32″ high definition screen, a personal wardrobe and buddy dining. Sliding privacy doors are a given.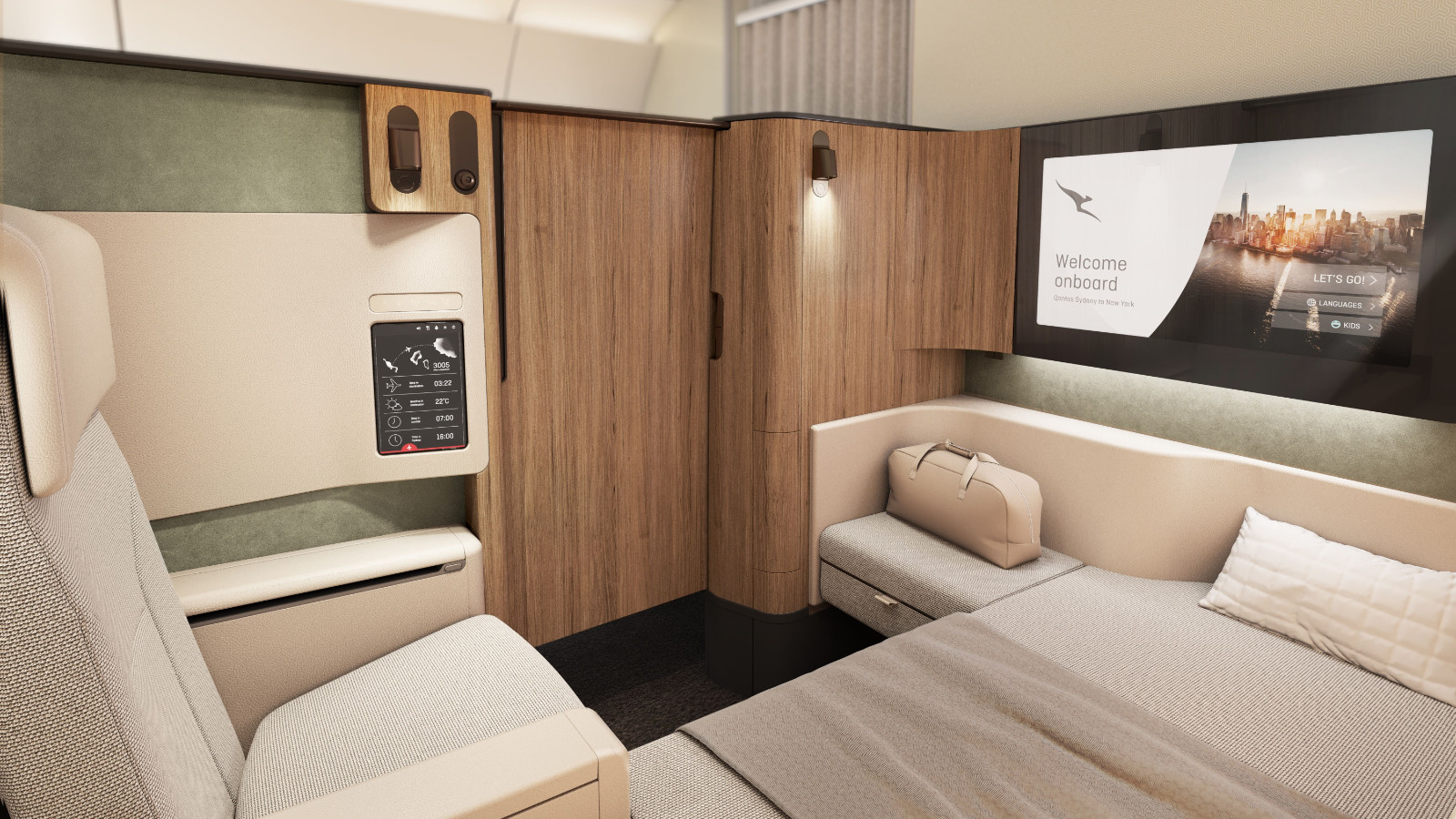 Ad – Scroll down to continue reading.Minimum spend, terms & conditions apply.
Qantas Airbus A350 Business Class
The upcoming Business Class seats – which appear to remain based on the Thompson Aero VantageXL – are now in a 'honeymoon' staggered layout. The centre seats will alternate between being close together (great for people travelling together) and far apart. The window seats will continue to alternate being close to the window and aisle.
The 42″ (106 cm)-wide suites now come with sliding doors, which is good news for those sitting closer to the aisle. Qantas says the seats offer more space than before, including:
A 2-metre long fully-flat bed – 1″ (2.54 cm) longer than the current A380 First Class seat.
18″ high-definition entertainment screen – 2″ (5.08 cm) larger than the current ones.
Large dining table with additional cocktail and work surface
25″ (63.5 cm) wide seats – 1″ (2.54 cm) wider than the current A380 Business seat.
There'll be 52 Business Class seats in a 1-2-1 configuration.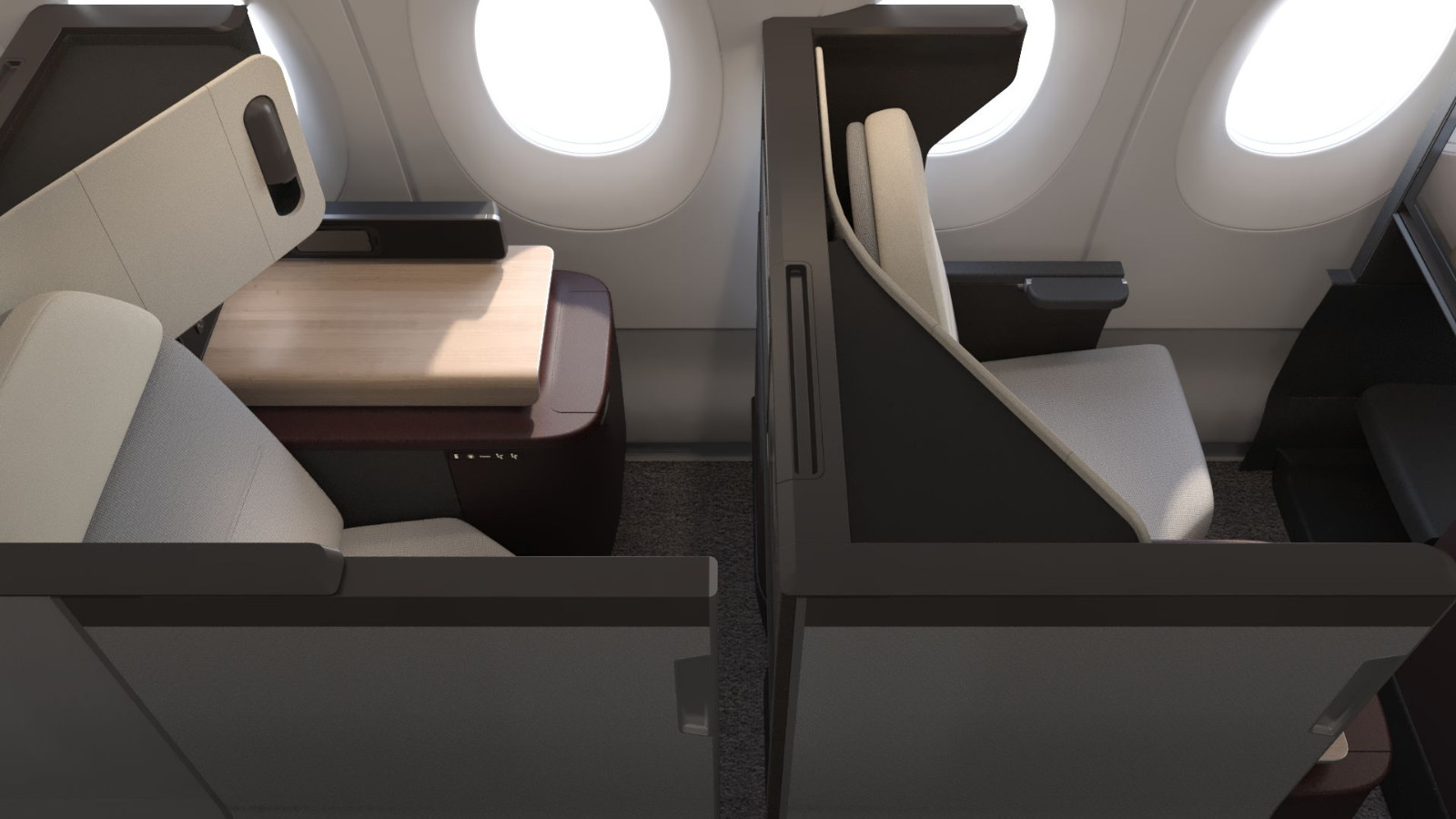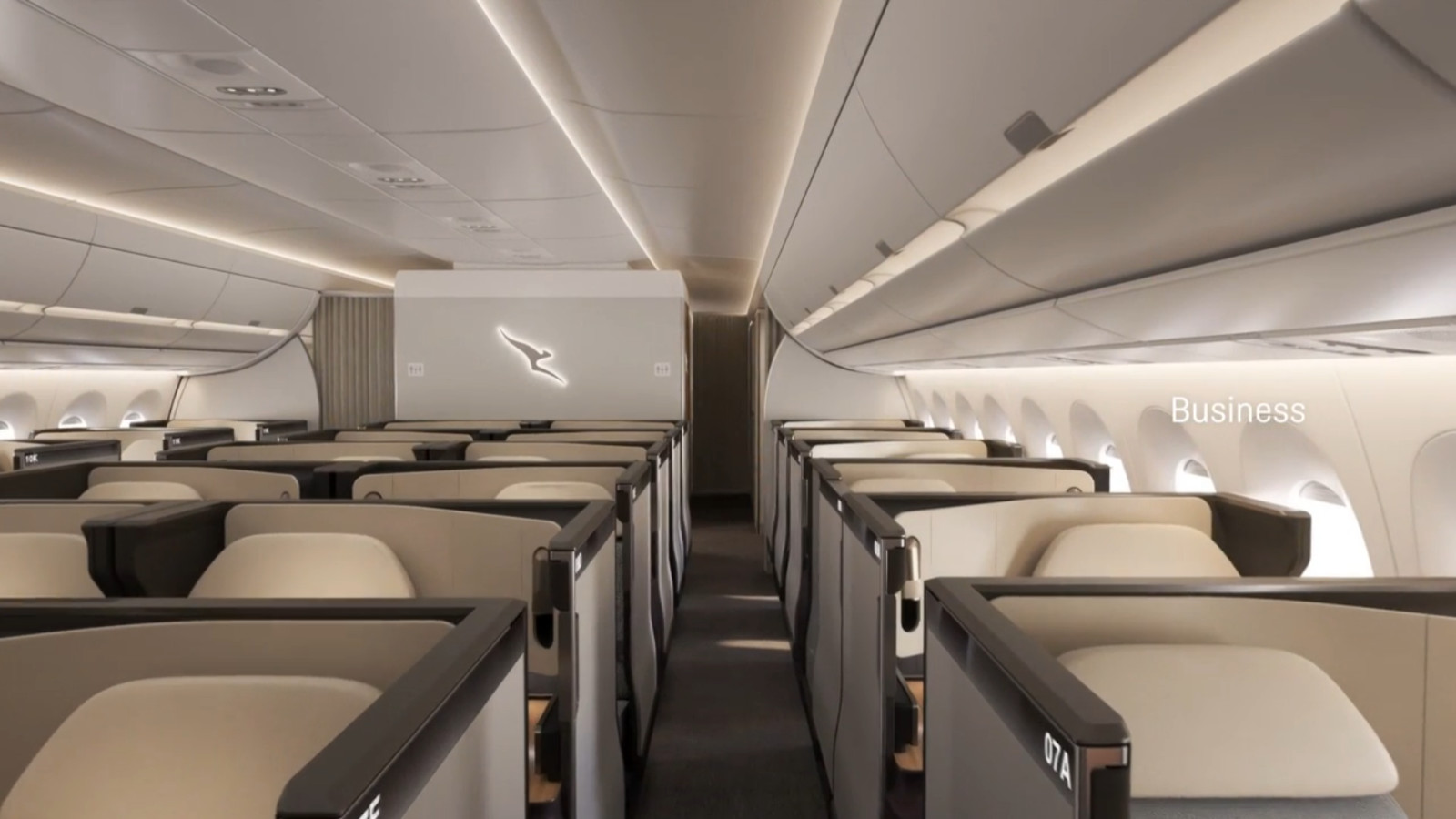 Summing up
The evolution of Qantas' international Business and First Class suites are a step in the right direction for the airline. David Caon's latest design focuses on a bright palette, which is a departure from the previous darker Business suites.
We began designing this aircraft cabin five years ago, working with Airbus and Qantas to maximise space, as well as creating a tailored lighting program that will influence mood and sleep patterns.

Every element has been created for Qantas, from the reading light right down to the fabrics, to ensure that passengers spend their journey in refined comfort.

– David Caon, Caon Design Office, 23 February 2023
Highlights across the Airbus A350 fleet include the belated introduction of international inflight Wi-Fi and the modernisation of the entertainment systems to work with Bluetooth devices. Qantas says Premium Economy and Economy seats, along with a Wellbeing Zone for all passengers, will be revealed 'in the coming months'.
Over to you, what do you think of Qantas' latest Business and First Class seats?
---
Stay up to date with the latest news, reviews and guides by subscribing to Point Hacks' email newsletter.
Qantas unveils new Business and First Class seat for the Airbus A350
was last modified:
August 24th, 2023
by