Point Hacks reader Adi posted this on the Questions & Answers section of our website:
I just made a booking for an upcoming flight and forgot to include my middle name on the reservation, even though it is on my passport. Will I be OK to fly or do I have to change my reservation?

The official word
Technically, if your middle name appears on your government-issued ID, then it should be included on your flight itinerary (note: some people do not have a middle name/s at all).
You are more likely to get in trouble when travelling internationally than domestically if the names do not match.
Most airlines—if not all—will charge you a change fee if you have to alter the name on a booking.
The reality
Some airlines require a middle name, some need just a middle initial and some do not prompt you for a middle name at all.
However, if they do require a middle name and you do not provide it, even though it is on your ID, you will probably be fine.
Ad – Scroll down to continue reading.Minimum spend, terms & conditions apply.
My recent experience
I had a flight with Cathay Pacific from New York JFK to Vancouver, flying First Class with them for the very first time (which I booked for 40,000 Asia Miles + US$59 in taxes—a great redemption by the way!).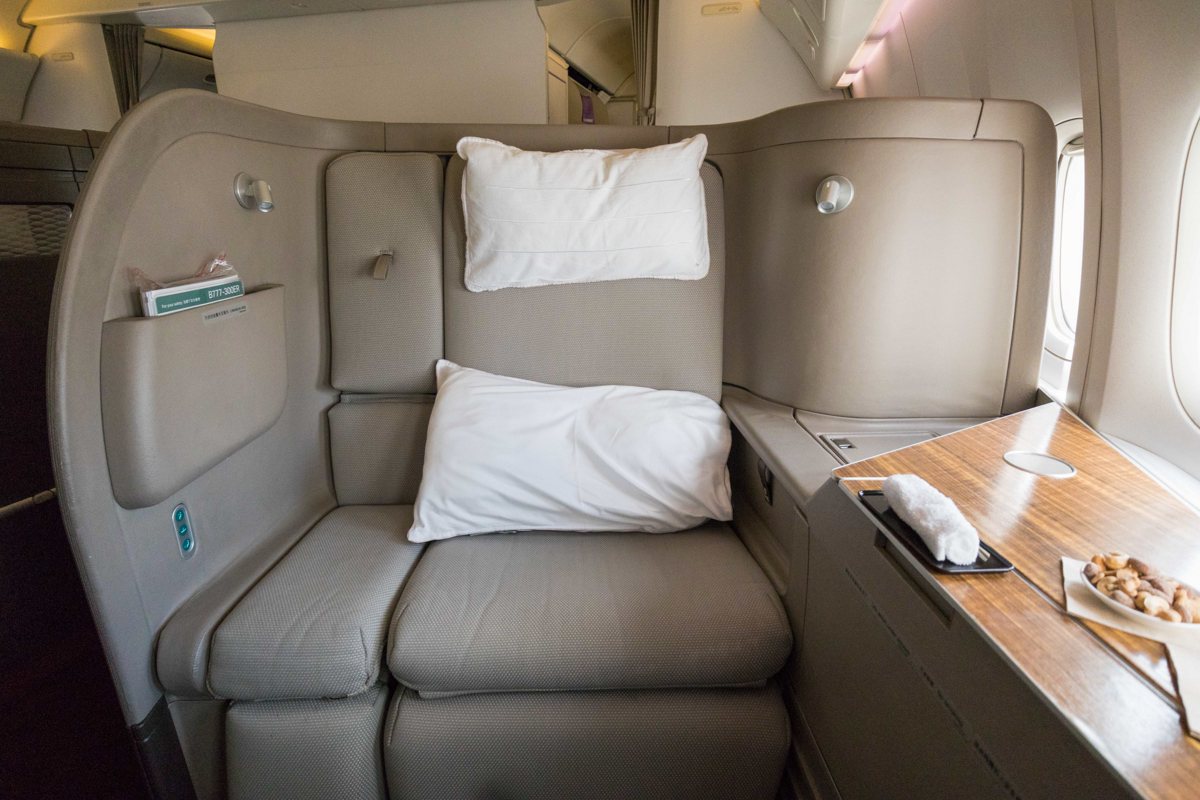 The cheapest way to use Qantas Points to fly Cathay Pacific First Class is between Hong Kong and Taipei for only 26,000 points!
A week before departure, I went into my reservation and realised that I had left my middle name off my Asia Miles account and, therefore, this ticket. I did some research, with most forums and blogs saying it would not be a problem but wanted to be sure, so I reached out to Asia Miles' (very responsive) Twitter team, who replied:
May we stress that it is essential to make the flight reservation using the exact name shown in the travel document as well as your membership profile. Due to name mismatch between the e-Ticket and the passport, passengers may not be accepted on board the flights.
I would be up for a US$100 or 10,000 Asia Miles change fee, which I really did not want to pay, so I took the risk of not changing my name on the reservation—and I boarded the flight just fine.
However, had I been denied boarding and missed out on this flight retailing for over US$5,000, I probably would not have been writing this post in this way!
Special cases
There was an isolated case of a passenger departing Canada for Iceland on low-cost carrier WOW Air whose middle name was not included on her ticket and was denied boarding.
When flying United Airlines, if the names on your passport and ticket do not match exactly, then you will not be able to check in online or at a kiosk; rather, you will need to be assisted by an employee.
I am not sure why but if you are travelling on a Cathay Pacific flight issued through American Airlines, then it is important that you include your middle name, according to reports I have read online.
If you really do not want to take the risk, then it is best for you to pay the fee to change your name on the booking.
Summing up
Question: Will I be OK to fly with my middle name missing from my ticket, or do I have to change my reservation?
Answer: Generally, it is best to make sure that your names match to reduce any stress but if you have already booked your ticket, you will most likely not have an issue travelling with your middle name missing from your ticket. There are very few instances when a passenger with a middle name on their ID but not on their ticket is denied boarding.
Have you had any issues not including your middle name on flight bookings?
---
Do you have a travel-related question?
Search the Point Hacks website using the Looking For Something? box (located to the right-hand side of any post) to see if we have already answered your question in a post.

You can post your question in the Questions & Answers section of our website and someone from the Point Hacks community, whether another reader or one of our team members, will hopefully be able to help you out.
Will I be able to fly if my middle name is missing from my ticket?
was last modified:
January 16th, 2020
by