This is a great deal for those with access to a chunky Starwood Preferred Guest balance, for example transferring points over from American Express Membership Rewards or Diners Rewards.
Marriott Travel Packages have been around for a while but the recent ability to link Starwood and Marriott accounts enables a new opportunity to move points to Marriott from Australian credit card programs.
In the case of Amex Membership Rewards for 180,000 points, a combination of partnerships, redemption options and transfer bonuses running right now can be leveraged into great value for a Marriott hotel redemption AND 144,000 AAdvantage miles.
Featured photo courtesy of Bangkok Marriott Hotel Sukhumvit's Facebook page.
Points Transfers between SPG and Marriott
Thanks to the takeover of Starwood by Marriott, a new way to redeem your American Express Membership Rewards has opened up. Given the wider use of Membership Rewards over Diners Rewards, we'll focus on that in this example.
Membership Rewards points can be earned on a number of cards including the Platinum Edge and Platinum Card, and then transferred at a rate of 2 Membership Rewards points = 1 Starpoint.
Starwood and Marriott are now allowing members of each program to link existing accounts and transfer points to each other. If you don't already have Starwood or Marriott accounts, it only takes a few minutes to create one of each.
Once your accounts are linked, Starpoints can be transferred to Marriott Rewards Points at an attractive conversion rate of 1 SPG = 3 Marriott Rewards. So for every Starpoint you transfer, you get 3 Marriott Rewards Points.
Marriott Rewards to AAdvantage
Currently Marriott is running a promotion with American Airlines AAdvantage. When you redeem your Marriott points for a Hotel + Airline Travel Package and request that the Airline redemption is redeemed with American Airlines, you receive a 20% bonus, if redeemed by November 14.
That means this deal ends in just a few days – so you'll need to get that transfer over to Starwood done today, Friday or Saturday to have the points hit your account in time, and then redeem for your Travel Certificate on Monday.
Note that the AAdvantage bonus deal ends US time on Monday, giving us in Australia a little extra time with the time difference.
If you do either of these steps outside the current Marriott -> Advantage bonus promotion period, you'll receive 20% fewer AAdvantage Miles – but this is still a decent deal and worth considering anyway.
Outside of the current promotion:
180,000 Membership Rewards points transfers to 90,000 Starpoints
90,000 Starpoints transfers to 270,000 Marriott Rewards Points
270,000 Marriott Rewards Points = seven night Marriott hotel redemption plus 120,000 AAdvantage Miles
And in the current deal, you'll receive 144,000 Advantage Miles.
What's the seven night accommodation certificate for 270,000 Marriott Rewards points all about?
If going for redemption option, you'll receive a certificate for seven nights accommodation at a Marriott Category 1-5 property.
Seven nights hotel at a Marriott property around the world is fairly self explanatory – with the caveat that it needs to be a category 1 to 5 property.
The sweetener is the bonus Advantage miles. Other frequent flyer currencies are available, such as United MileagePlus, but my focus is on AAdvantage.
Personally, I'm aiming to use these to redeem a one-way flight from Australia to Abu Dhabi in Etihad First Class or Apartment, and Abu Dhabi to any city in Europe in Business Class – for 142,500 AA miles.
If you have AAdvantage miles in your account or take advantage of the current buy points promotion, you can top up and redeem Etihad First Class/Apartment all the way for 162,500 AA miles.
You can read Keith's review of Etihad's award winning business class here.
Alternatively you can use it to redeem Qantas First or other oneworld partners to Europe for 115,000 AAdvantage miles.
Marriott does not have a limit on the number of Hotel + Airline packages you can redeem, so if you have 360,000 Membership Rewards points, you could redeem for 2x seven nights certificates at a Marriott hotel Category 1-5 and two one-way flights – so in other words a return flight.
Here are a some examples of category 5 Marriott hotels:
Ad – Scroll down to continue reading.Minimum spend, terms & conditions apply.
Is this really a good deal?
I think so, and here's why.
For the sake of this guide, we will assume we want to redeem a flight on Etihad. So let's compare what you can do with 180,000 Membership Rewards points otherwise.
As you can see below, 180,000 points is not enough to redeem an Etihad First Class flight with Velocity or Etihad Guest from Melbourne to London.
Since Membership Rewards points convert to Velocity and Etihad at a rate of 1 = 1, you would have to transfer the full points shown below.
American Express Membership Rewards
Virgin Australia Velocity
Etihad Guest
Marriott Hotel + Airline Package with American Airlines
180,000 MR
180,000 Velocity Points

Etihad First Class is
203,000 Velocity points + $600 USD carrier charge + $140 AUD (approx) fuel surcharges + taxes

Shortfall of 23,000 points.

180,000 Etihad Guest Miles

Etihad First Class is 210,145 EY Guest Miles + $482.95 AUD fuel surcharges + taxes

Shortfall of 30,145 points.

144,000 AA Miles

Etihad First/Business mixed class is 142,500 AA miles + $140 AUD (approx) fuel surcharges + taxes

And seven nights stay at Marriott hotel

Enough for mixed-class or Shortfall of 18,500 points to do whole journey on first class

And if you weren't interested in Etihad First Class, you can redeem the AAdvantage miles for other flights. Take a look at some other comparisons:
American Express Membership Rewards
Marriott Hotel + Airline Package with American Airlines
Marriott + Airline Package with American Airlines
180,000 MR
One way Qantas, Qatar, Cathay Pacific First Class Australia to Europe is 115,000 AA miles + $140 AUD fuel surcharges + taxes

And seven nights stay at Marriott hotel

Japan Airlines First Class return Australia to Japan is 120,000 AA miles + fuel surcharges + taxes

And seven nights stay at Marriott hotel

Steps to Redeem
Here goes.
If you haven't signed up for a Starwood or Marriott Rewards account, sign up now.
Log into your American Express account and request a transfer of 180,000 points for 90,000 Starpoints. You request the transfer online or via the telephone. If you have trouble adding your Starwood account online, call American Express.
If you want to redeem more than 1 Hotel + Airline package, just double that amount – and so on.
American Express takes 1-3 business days to transfer to Starwood, although mine only took 1 business day.
Once your points have transferred into Starwood, if you haven't created your Marriott account do so now and link both accounts.
Once you are logged into your Starwood account, scroll down and click on the banner "We're linked – join us"
A new window will open, click on the link Transfers Starpoints to Reward Points, and follow the prompts to make your transfer to Marriott Rewards
The transfer is instant and you can log into the Marriott account to confirm the points have moved across.
Call Marriott Rewards Support in Sydney, 02 8298 5250 and inform the call centre agent you want to redeem a Hotel + Airline 7 nights and 120,000 Miles Category 1-5 package, and credit to American Airlines, providing them your AAdvantage account number.
Some Marriott agents will suggest that you book your hotel immediately, but that is not required. Simply ask for the agent to issue you with the hotel certificate.
You can book your flights and hotels separately. You don't even need to book them on the same trip.
Once the miles land in your AAdvantage account, you can redeem anytime you want.
The hotel certificate will sit in your account and expires 12 months from the day of issue. You must redeem the 7 nights stay between the creation of the certificate and the expiry date.
Upgrading your category 1 to 5 certificate
It's logical that the higher the category, the more expensive the hotel. And whilst some category 5 Marriott hotels are nice, not all of them are.
And in some cities, there are only category 7, 8 or 9 hotels.
But you say, my certificate is only 1-5 category hotels!
Don't despair, because Marriott allows you to upgrade the certificate by paying the points difference.
This can be done in a number of ways:
Transfer more points from Membership Rewards to SPG to Marriott
Buy Marriott Rewards Points
Buy Starwood Starpoints and transfer to Marriott at 1 = 3 conversion rate.
Starwood currently has a points sale ranging from 25% – 50% and you can buy up to 30,000 Starpoints ranging from $725 to $525 depending on the discount you receive.
This offer ends December 31 2016. So you can buy 30,000 Starpoints and transfer to Marriott for 90,000 points.
That is enough to upgrade your certificate from category 1-5 to category 8. For example, in New York that is the difference between staying at Marriott Newark or Marriott Renaissance Midtown.
If you end up with a 50% discount, that means you are paying $525 USD to upgrade to a better hotel at $75 USD a night.
Here's how you find out your hotel category. Simple use Marriott.com to search for seven nights accommodation in your desired city and tick Use points.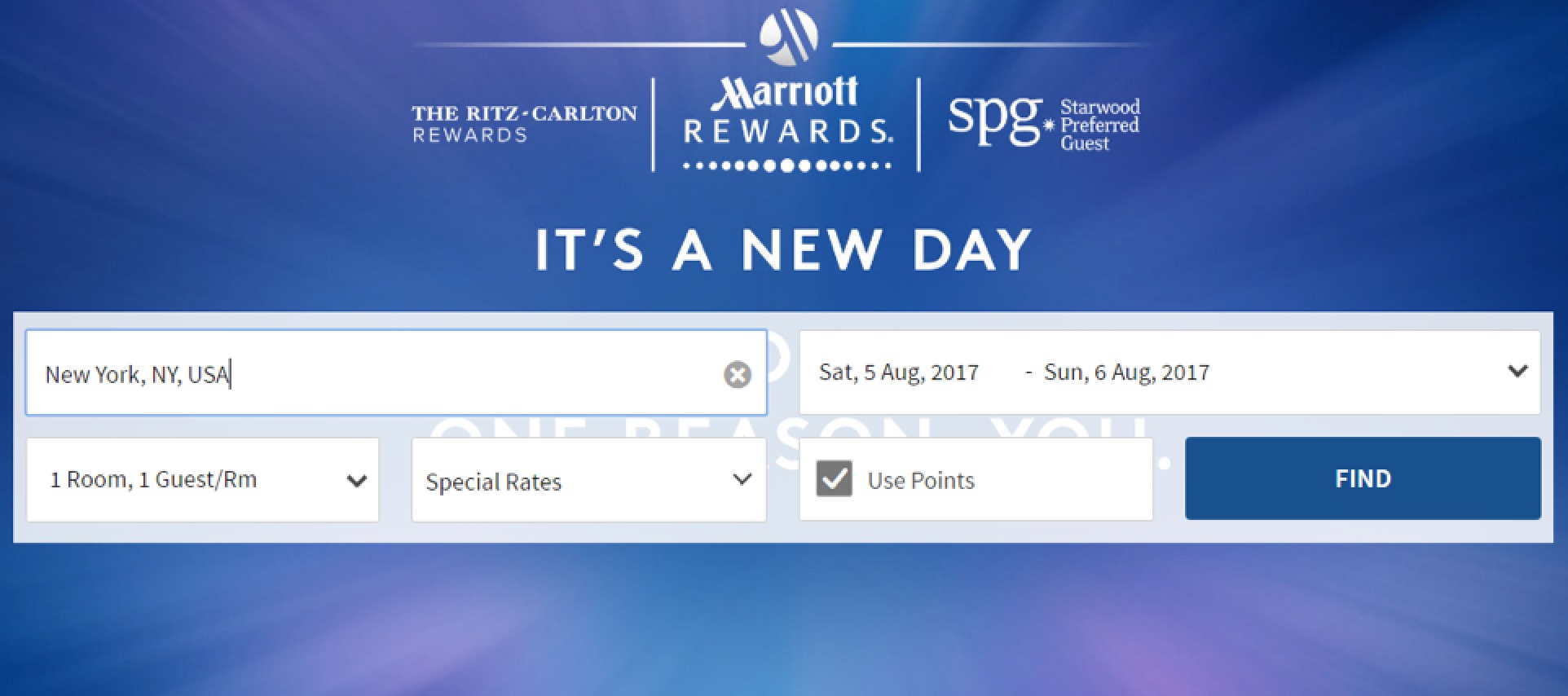 Scroll down and on the right hand side you will find the "HOTEL REWARDS CATEGORY" and click on the + sign and a menu will drop down, where you can select different categories.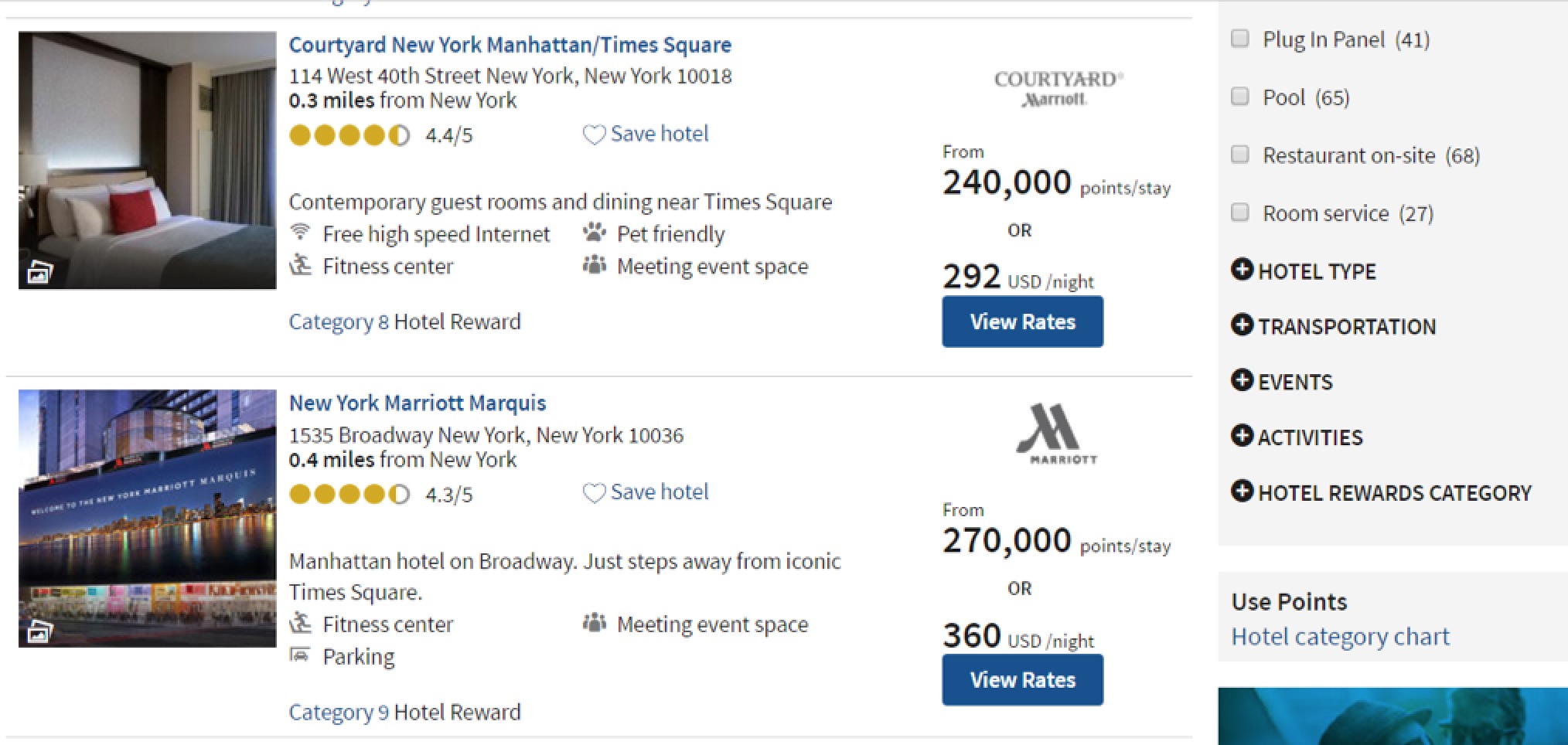 For this example, we selected Category 8.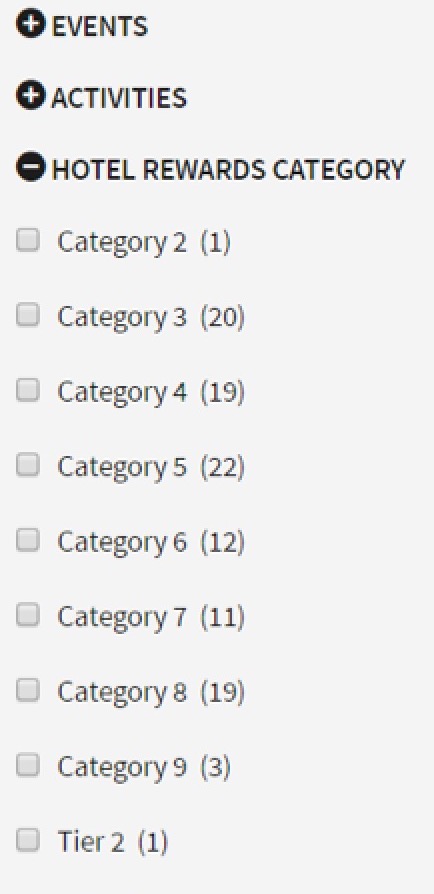 For this example, we selected the Renaissance New York Hotel 57. Then call Marriott Rewards Support in Sydney, 02 8298 5250, to book the hotel.
Summing Up
This isn't a simple hack, and requires research and understanding of both Marriott Rewards and American Airlines AAdvantage program to ensure you know what you're getting into.
You'll need to have an idea of how you'll use both the Marriott 7 night certificate and the AAdvantage miles – or at least have an idea on what they are worth to you – before you decide to jump in.
But if you do, there's potential for some particularly outsized value on offer.
This content contains affiliate links from which Point Hacks may earn commissions from transactions generated from new customers, bookings and general enquiries. Find out more here.
How to combine Membership Rewards, Starwood & Marriott for a 7 night hotel certificate and a ton of AAdvantage miles using Marriott Travel Packages
was last modified:
December 2nd, 2021
by