Some of the best value to be had from IHG One Rewards is the quarterly PointBreaks promotion, where a number of hotels globally of the InterContinental, Crowne Plaza and Holiday Inn brands are made available for an up to a 90% discount when using points.
However, this promotion used to be much better, with all properties pricing at 5,000 points. Now, most are double or triple that.
Why this is a good deal
Given some of these hotels would normally go for as much as 70,000 IHG One Rewards points, and that you can acquire IHG One Rewards points for around 0.5c USD per point in promotions that run every 1-3 months, some of these offers can be an absolute steal.
Most hotels are regularly priced between 10,000 and 70,000 points, so if we take an average as 30,000 per night, buying points for 0.5 US cents each, you would be paying just US$25/night for a 5,000-point PointBreaks property!
There are three levels of pricing: 5,000, 10,000 and 15,000 points. If you only have 5,000 points in your account, you can use them and book a 10,000-point hotel for a US$30 supplement or a 15,000-point hotel for a US$60 co-payment.
Do note that IHG did devalue its program at the start of 2018.
When does the promotion run?
Around the last Monday of the month every three months, IHG will release a list of around 200 hotels around the world which can be booked for the following three months for a maximum of two stays per hotel for unlimited nights.
The majority are located in the US, followed by Europe and Asia, and then other regions such as Oceania.
You can view the current list of PointBreaks hotels, bookable now for stays until 30 November 2018.
The best-value redemptions are usually for InterContinental and Crowne Plaza hotels. Here are our highlights from this quarter's list:
15,000 points
InterContinental Hanoi Landmark22
InterContinental Ljubljana
InterContinental Kiev
InterContinental Cartagena
InterContinental São Paulo
InterContinental Beirut
QO Amsterdam
Crowne Plaza Potsdamer Platz, Berlin
Crowne Plaza Abu Dhabi
10,000 points
InterContinental Mendoza
InterContinental Bucharest
Holiday Inn Cape Town
Once the quarterly list is released, rooms start disappearing at any desirable hotels soon after. That is because only a certain number of PointBreaks nights are made available for each hotel.
Note that you can't tweak the booking dates or hotels later; only cancel in entirety (for a full refund).
Ad – Scroll down to continue reading.Minimum spend, terms & conditions apply.
Example
I travelled to South Africa in December 2016 and booked three nights at the Holiday Inn Sandton in Johannesburg as it was on the PointBreaks list for that quarter.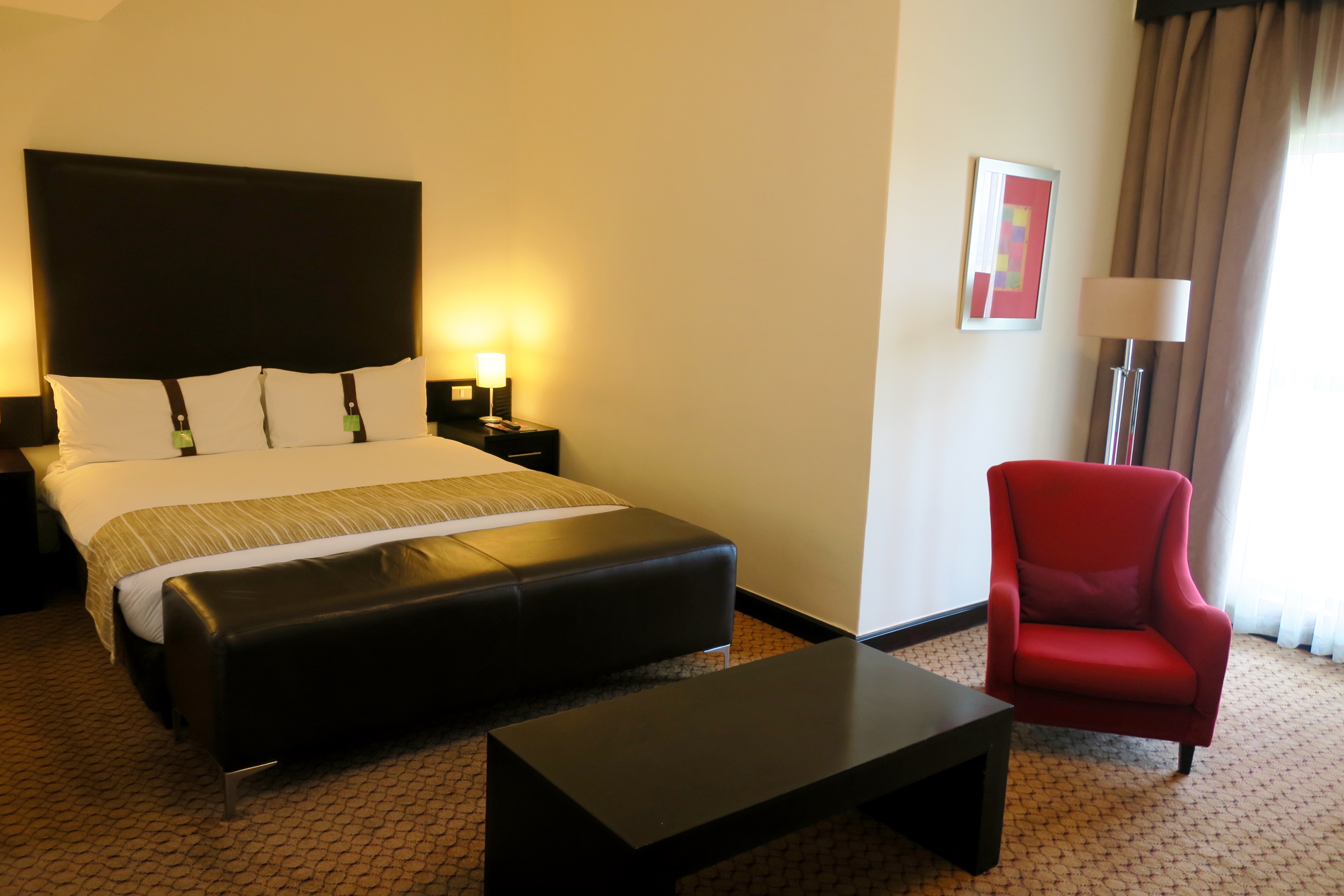 I bought some IHG points in September 2016's promotion at US 0.575c, meaning that this three-night stay at 5,000 points/night cost me 15,000 points in total, translating into US$28.75/night. Compare that to the US$94/night regular rate and I made a saving of almost 70%!
A trick to get in early
Bookmark this page: the week before the official list is released, IHG will post a preview of the upcoming PointBreaks hotels on its blog.
For example, if the next promotion is predicted to drop in the last week of October, put in your calendar to refresh that blog post page in the few days before and keep your eye out for any premium hotels like InterContinentals anywhere or in destinations that you are already planning to be.
Then the offer will be refreshed and bookings open at 9am Eastern Time in the US, which is usually just before midnight in Australia (depending on your state/territory and daylight savings). You can calculate the time difference here.
How can I acquire IHG One Rewards points?
Apart from actually paying for IHG stays with cash and earning points, the best way to build your balance is to keep an eye on the IHG One Rewards 'buy points' promotions in the hope that a good option will come up that will match your travel preferences in the next promotion.
This content contains affiliate links from which Point Hacks may earn commissions from transactions generated from new customers, bookings and general enquiries. Find out more here.
Lots of InterContinental properties in latest IHG PointBreaks promotion
was last modified:
August 24th, 2023
by