This tip isn't strictly about earning more points but does relate to managing the payments from your points-earning credit cards more effectively. With some cards, paying in the original currency will save you money and perhaps even boost your points earn!
When buying items on websites such as eBay, you're usually going to be using Paypal as a payment method. If buying from overseas sellers, Paypal defaults to converting the foreign currency price of the goods to AUD when using a Visa or MasterCard – but the exchange rate is pretty unappealing.
A number of Visa / MasterCard options offer bonus points on overseas transactions or no foreign exchange fees – and you'll probably want to have Paypal set to the foreign currency, not AUD.
If you have a card like those in the list below, purchasing in currencies other than AUD should trigger bonus points, or waive the foreign exchange fees.
Paypal makes this hard to change, and now you can only change it at the checkout. Previously, it was possible to make the change permanent through your account, but this won't work anymore.
Changing your PayPal billing currency at the checkout
Switching the currency at the check-out is easy enough. You'll just have to do this whenever you check-out. These steps may vary depending on the website interface you're using, but hopefully it will be fairly similar across the board.
1. Select PayPal as the payment method and look for a link called 'exchange rate' or similar.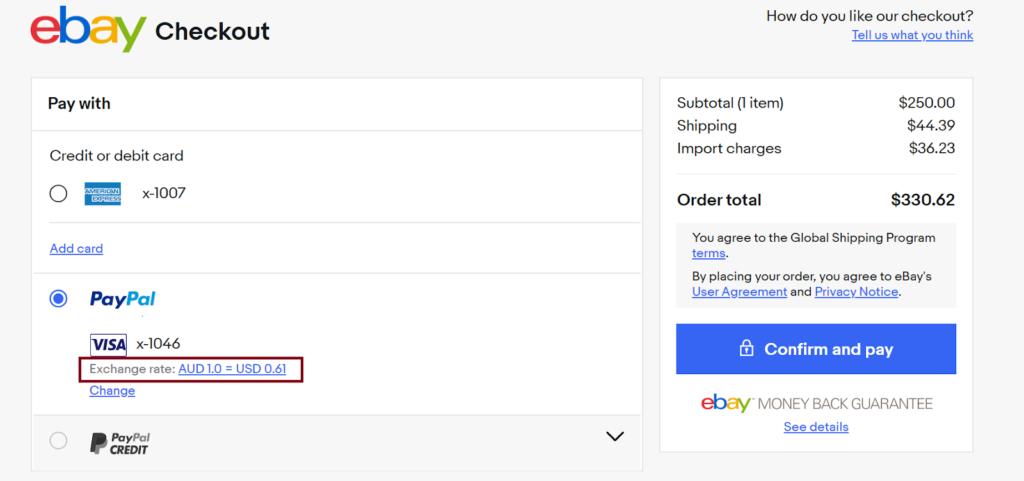 2. You will now be able to swap your payment currency from AUD to the foreign currency.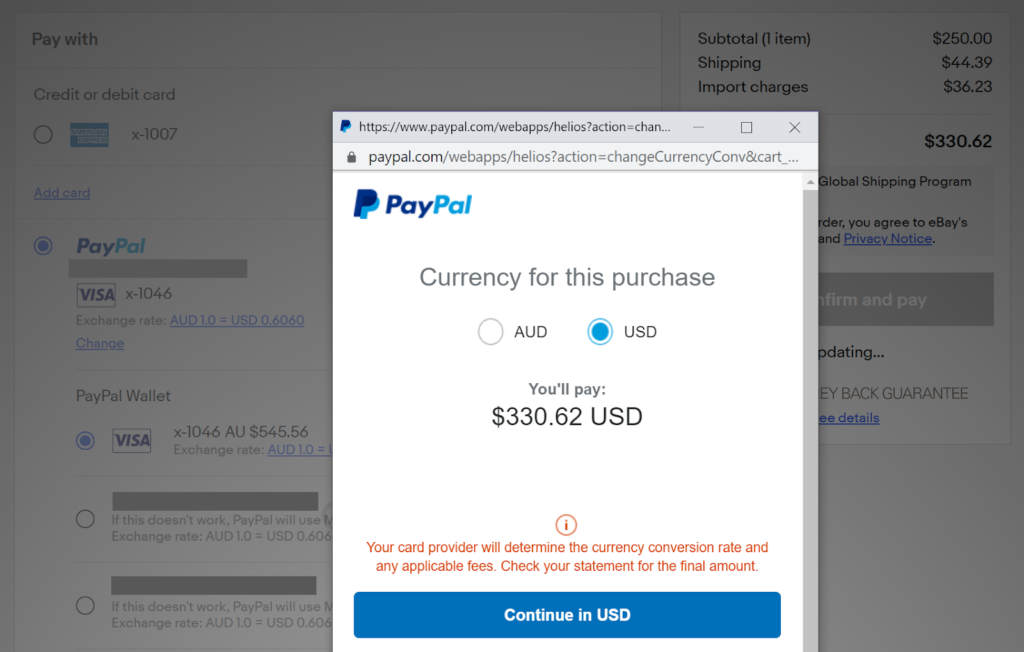 That's all to it. In this example, PayPal wanted to charge $545.56 AUD for this $330 USD purchase, an exchange rate of 1 AUD to 0.6060 USD. While this would prevent any international transaction fees on cards that don't waive it, the exchange rate is quite inflated.
By swapping the currency into USD and charging that to my fee-free card (in this case, the ANZ Travel Adventures Rewards card, which is a VISA card), I would expect to be charged around $523 AUD at the current VISA exchange rate (that's $330.62 USD × 1.584).

That's a saving of $22 AUD from the PayPal rate, plus I still earn points on the transaction.
This setting is not available for American Express cards because Paypal and Amex are set up to always charge in the overseas currency, and Paypal won't convert the charge for you.
However, for MasterCard and Visa options, this is a handy way to circumvent this setting in Paypal.
Ad – Scroll down to continue reading.Minimum spend, terms & conditions apply.
Changing your PayPal billing currency through your account
Unfortunately, it appears that it is no longer possible to permanently change your PayPal billing currency through your account. Right now, the only option is to change it at the checkout on a case-by-case basis.
The PayPal Australia User Agreement, version 20-1, as of 13 March 2020, states (emphasis underling mine):
When your payment is funded by a debit or credit card and PayPal determines a currency conversion is necessary, you consent to and authorise PayPal to convert the currency in place of your debit or credit card issuer.

In most cases, you may have the right to have your card issuer perform the currency conversion, if applicable for that card issuer and network. Currency preference selections may be presented to you in various forms, including a choice of which currency is used for the transaction, whether PayPal or your card issuer performs the conversion, or which conversion rate is used for the transaction, among others, and may be made available individually for each card and for each automatic payment agreement. If your card issuer converts the currency, your card issuer will determine the currency conversion rate and what fees they may charge.

PayPal will always perform the conversion for transactions where your PayPal balance or linked bank account is the payment method.
Summing Up
While PayPal is undoubtedly one of the most convenient ways to pay for things online, especially in international currencies, there is also no denying that they are profiting from overinflated fees and charges.
The company has removed the ability to permanently bill your cards in foreign currencies instead of converting to AUD, so you will need to manually select that option at checkout. Doing so can unlock the full potential of your points-earning credit card, especially if it offers bonus points on international transactions and no overseas exchange fees.
The changes to PayPal's User Agreements also suggests that the company is looking at ways to even completely remove the ability to swap currencies down the track if they can get away with it. Hopefully, it doesn't eventuate to that, though.

How to avoid Paypal's foreign currency fees by changing your billing currency – earn more points or save money
was last modified:
June 1st, 2020
by