PayPal is a payment processor that many online shops use for transactions. Both individuals and businesses can earn and spend money into a PayPal account, plus you can send money to friends or cash it out to your bank account.
It is generally convenient to use a PayPal account to checkout, as you can save all your cards in the account. However, PayPal charges users (predominantly merchants) quite high fees to use its services. Occasionally, consumers will also be subjected to fees, particularly when international currencies are involved.
Used correctly, PayPal can be a great tool to help boost your credit card points earning in certain scenarios. This guide will walk you through how to boost your points earn and point out ways to avoid extra payment charges.
Using PayPal where the merchant doesn't accept American Express
A common situation is where you want to pay with your American Express card (which typically earns more rewards or frequent flyer points than Visa or Mastercards), but the merchant doesn't accept it ⁠— instead, they accept PayPal.
An example of this is Australia Post's 'Post Billpay' service, which many utility companies use. In the example below, the left screenshot shows an attempt to pay with an Amex card fails, as 'the biller does not accept payment by this payment method'.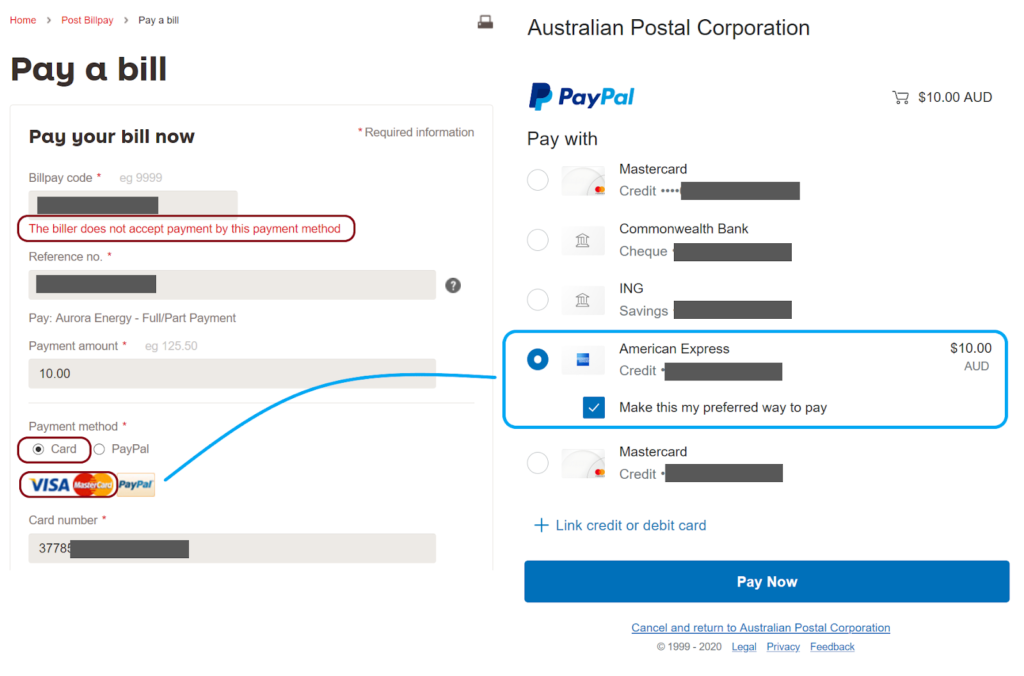 But if you switch to PayPal, then you'll see on the right-side screenshot that after logging in, I can pay with my linked American Express card, thus potentially earning more points.
Avoiding the 'government services' loophole
There's also one more important benefit that we can't overlook with this scenario: many rewards credit cards will not give any points (or offer a reduced rate) when paying utilities or government services. Since Australia Post is a government service, using Post Billpay with those cards may result in no points.

But if you go through PayPal, then you should still be awarded the standard points rate, as your card issuers will see PayPal as the payment processor rather than Australia Post.
Tip: This can work in reverse too. If there's a retailer or promotion that offers bonus points when using your rewards card, you'll generally have to go with their designated credit card processor. Going through PayPal may make you ineligible for the promotional bonus.
Ad – Scroll down to continue reading.Minimum spend, terms & conditions apply.
Using PayPal when the transaction fees are lower
In certain cases, checking out with PayPal will save you on credit card surcharges compared to using a traditional card payment method.
For example, Jetstar currently charges 0.69% for PayPal and 1.00% for using the normal credit/debit card processor. While this may just be a few dollars different on simple domestic bookings, it can certainly add up for more expensive bookings.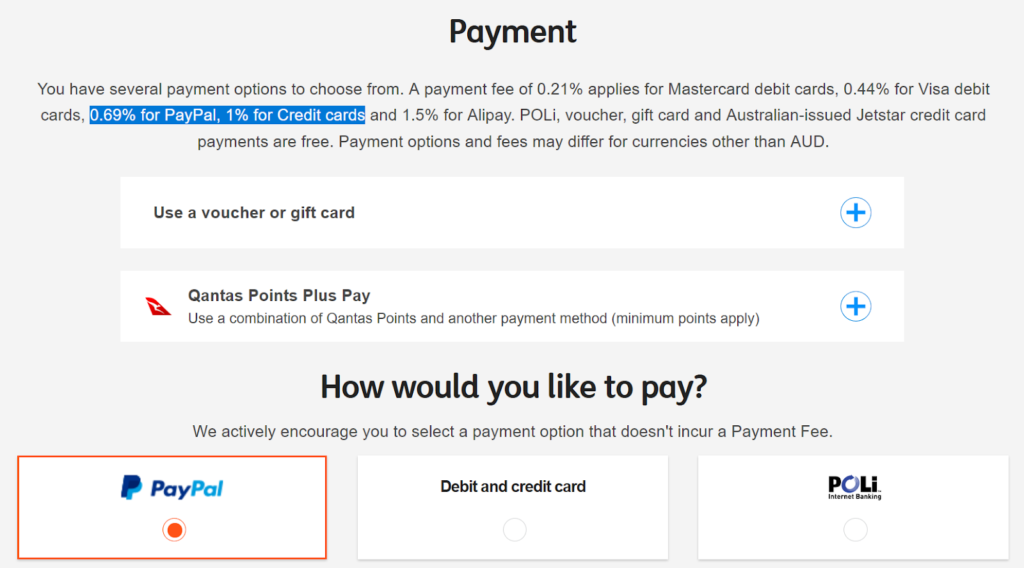 Other airlines that accept PayPal for journeys starting in Australia include Qatar Airways, Emirates, and AirAsia. See the latest list here (filter for 'Travel').
Other reasons to consider PayPal at the checkout
While not strictly points-related, I feel there are a few more benefits that you might be able to get through PayPal. The first one is buyer protection, where PayPal will allow you to file a dispute if your purchase doesn't turn out as expected (with some terms and conditions, of course).
The second is Refunded Returns, where PayPal will pay for up to eight posted returns a year, up to the value of $45 per return. This helps with returns due to wrong size, colour or even just change of mind. You need to activate this free cover before a purchase, in order to use it.

How to select PayPal at the checkout
It's a fairly simple process to choose PayPal at the checkout, with retailers that offer this option. If you're new to this, here's how to do it. We're using Jetstar as an example, but it should be fairly similar for most online checkouts.
Go to the checkout stage of your online purchase.

Review the payment options, taking into account any fees that may be charged.

If you decide on PayPal, click on the PayPal icon or button.

Sign in to your PayPal account with an email and password.

Choose which card or account you would like the pay with (IMPORTANT: Some merchants disable the ability to use American Express via PayPal).

Click 'Pay Now' to finalise the transaction.
You will be redirected back to the merchant if the transaction is successful.
Summing Up
PayPal can be a safe way to make purchases online, while also maximising the number of points you earn. As a buyer, it can also offer you buyer protection for your goods, particularly on eBay. Refunded Returns is a great perk too, provided you use it within the terms and conditions.
It can be handy to use PayPal to settle your bills, as you may be able to get more credit card rewards points from the transaction. For the average consumer, there are no extra fees charged by PayPal for purchases, or other catches. It's just like using your credit card directly.
However, the main scenario where you might be worse off with PayPal is when you are making an international transaction. PayPal likes to convert foreign currencies into your home currency, but with a big markup on the exchange rate. We have a guide on how to get around this being published soon.

Earning points through PayPal — should you do it?
was last modified:
August 25th, 2023
by