This is a cheap deal to fly a solid airline to Spain during the northern winter/spring. Plus, where to credit your points.
For ideas on what to do in Madrid, check out our Spain destination guide.
---
Depart: Sydney, Melbourne, Perth, Adelaide or Canberra
Arrive: Madrid
Stops: Doha
Dates: February to April 2018
Airlines: Qatar Airways
Cost: From $968 in Economy
---
Examples found: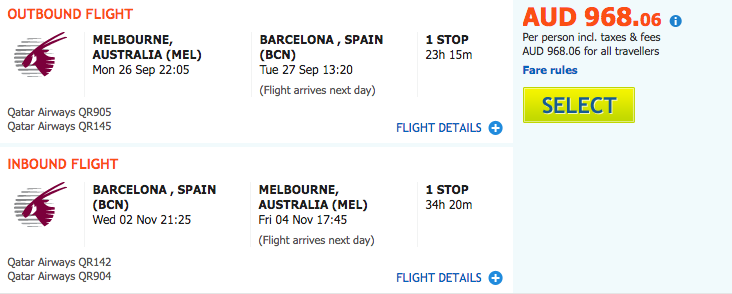 From Melbourne for $1068
From Canberra for $1072
From Adelaide for $1072
From Sydney for $1103
Points earn: Learn how to choose which program to credit your frequent flyer points to (in this case, probably Qantas, British Airways, Asia Miles or AAdvantage)
Airfare deals are typically only available on limited dates. Fares may disappear quickly, so we suggest booking as soon as you are confident in your travel dates.
H/T: Secret Flying
Flight Deal: fly to Madrid from $968 return with Qatar Airways
was last modified:
May 27th, 2022
by