Whilst some of us enjoy the chase of hunting down a sale fare (or reward seat), signing up for fare alerts on a specific route or for all destinations is a good strategy. It'll save you time and take some of the guesswork out of the equation.
There are a number of services that travellers in Australia can use to monitor price drops in airfares. It'll let you know when the price matches or falls below your target. Alerts are free and you can stop them at any time.
How to set up Qantas Fare Watch
Unfortunately, at the time of writing Qantas has stopped offerings its fare alerts feature on desktop and mobile browsers. You can only set it up through the Qantas App, but unfortunately won't let you select a specific price.
How to set up alerts in the Qantas app for cash fares
From the home screen of the Qantas app, click on Fare Watch
Input the departure and arrival cities
Choose your travel dates — it can be a range of dates, a specific month or anytime
That's it. Select 'Done' to set up the price alert. You can manage your alerts from the bottom of the Qantas App home page.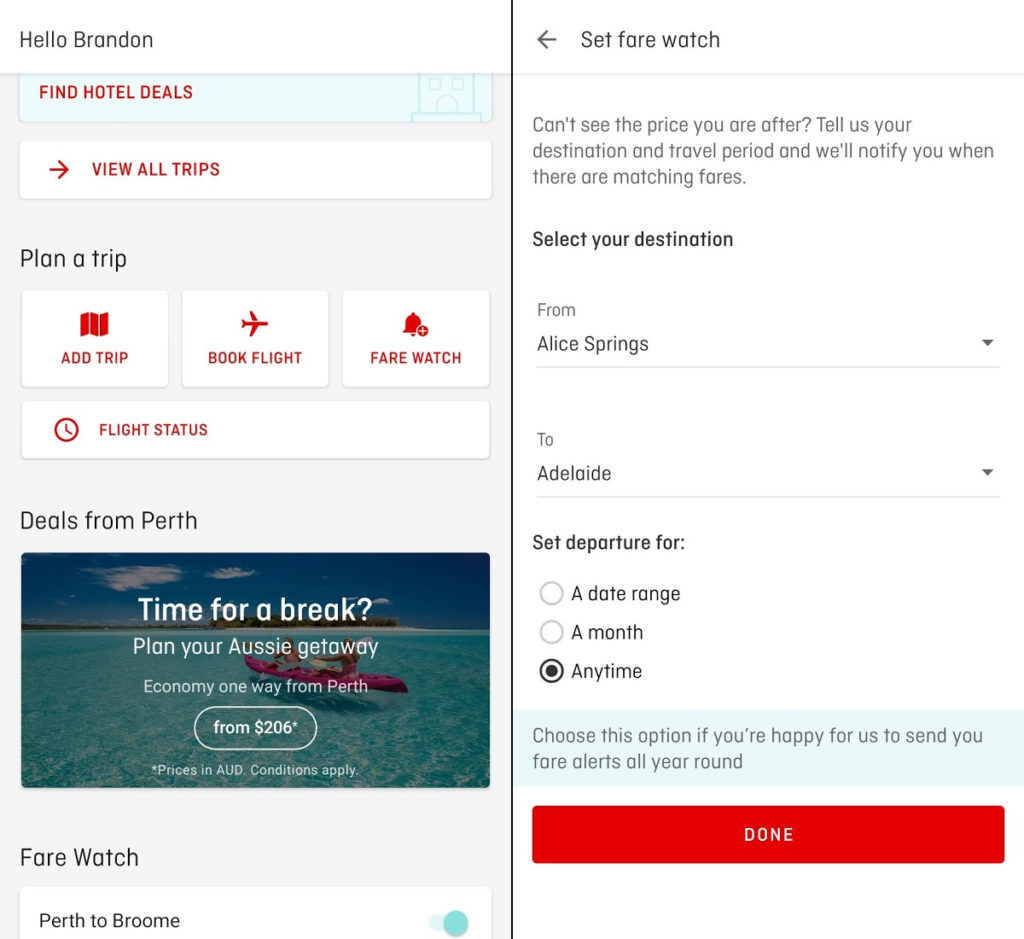 How to set up Qantas Dream Planner alerts for Reward Seats
Qantas Dream Planner is a relatively new feature that enables you to activate reward seat alerts for when you want to use your Qantas Points for Classic Flight Rewards.
Search for travel destinations on the Qantas website.
In the top-left corner, tap the 'heart' icon to save that destination to your Dream Planner.
Fill out your travel details, being as specific as possible. This includes dates, number of passengers and travel class.
Tick 'Dream Planner Email Notifications' if you wish to receive email updates on Classic Flight Reward seats.
Press the 'Save to Dream Planner' button to lock-in the request.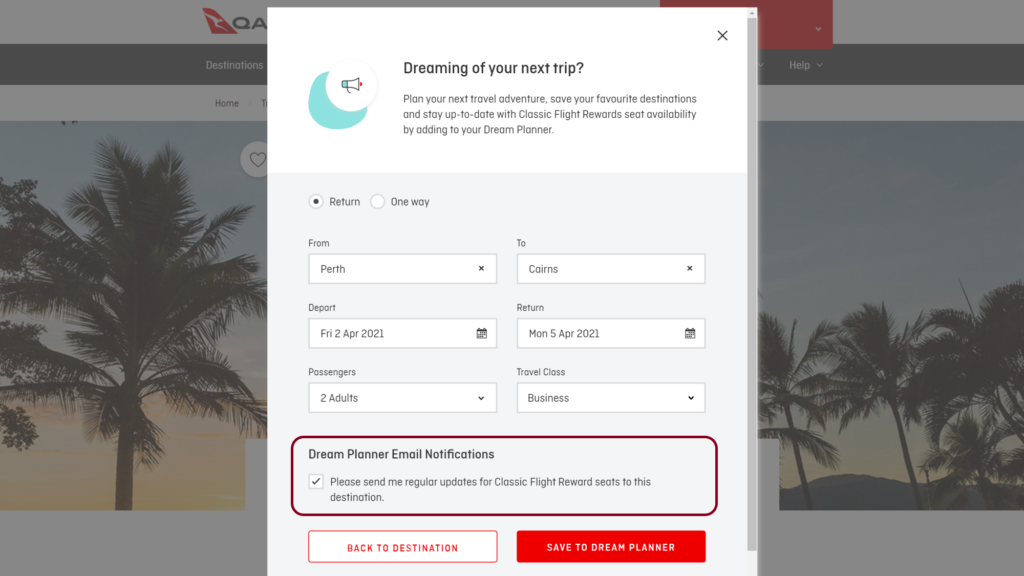 How to set up Virgin Australia fare alerts
Virgin Australia does not currently offer the ability to set fare alerts on specific routes, however, you are able to subscribe to the V-mail newsletter to receive sale alerts.
Alternatively, the Virgin Australia App allows you to browse and filter current sale fares, including setting price limits.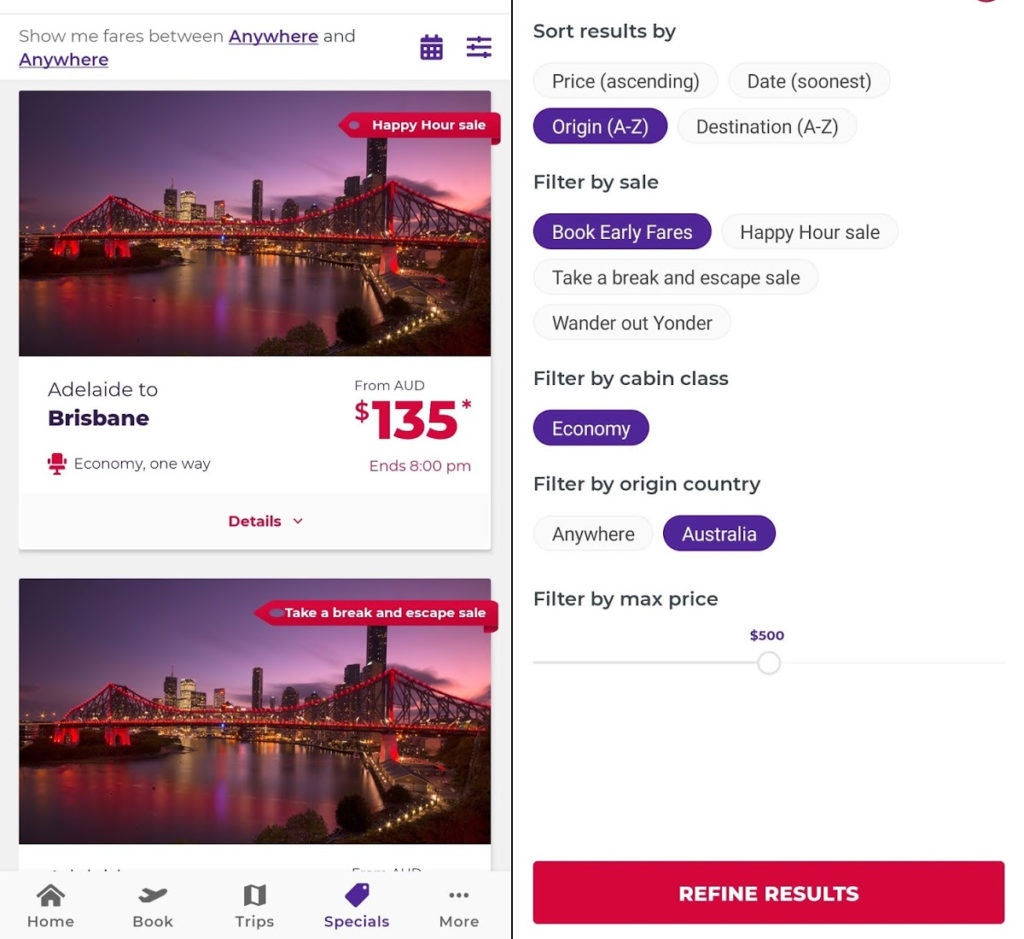 Ad – Scroll down to continue reading.Minimum spend, terms & conditions apply.
Using fare alerts on other sites to track all flight prices
How to set up fare alerts on Google Flights
This is one of our favourite flight search tools as it's easy-to-use and fast.
Click on Track prices on the left-hand side. If you're logged into a Google account, you'll start receiving email updates

How to set up fare alerts on KAYAK
Alerts on KAYAK can be set up for exact dates, flexible dates or the top 25 cities around the world or in a specific region. To create an alert, you have two options, for both of which you'll need a (free) KAYAK account:
Perform a search and toggle Track prices to On
Go to Notifications in your account and click on Create a Price Alert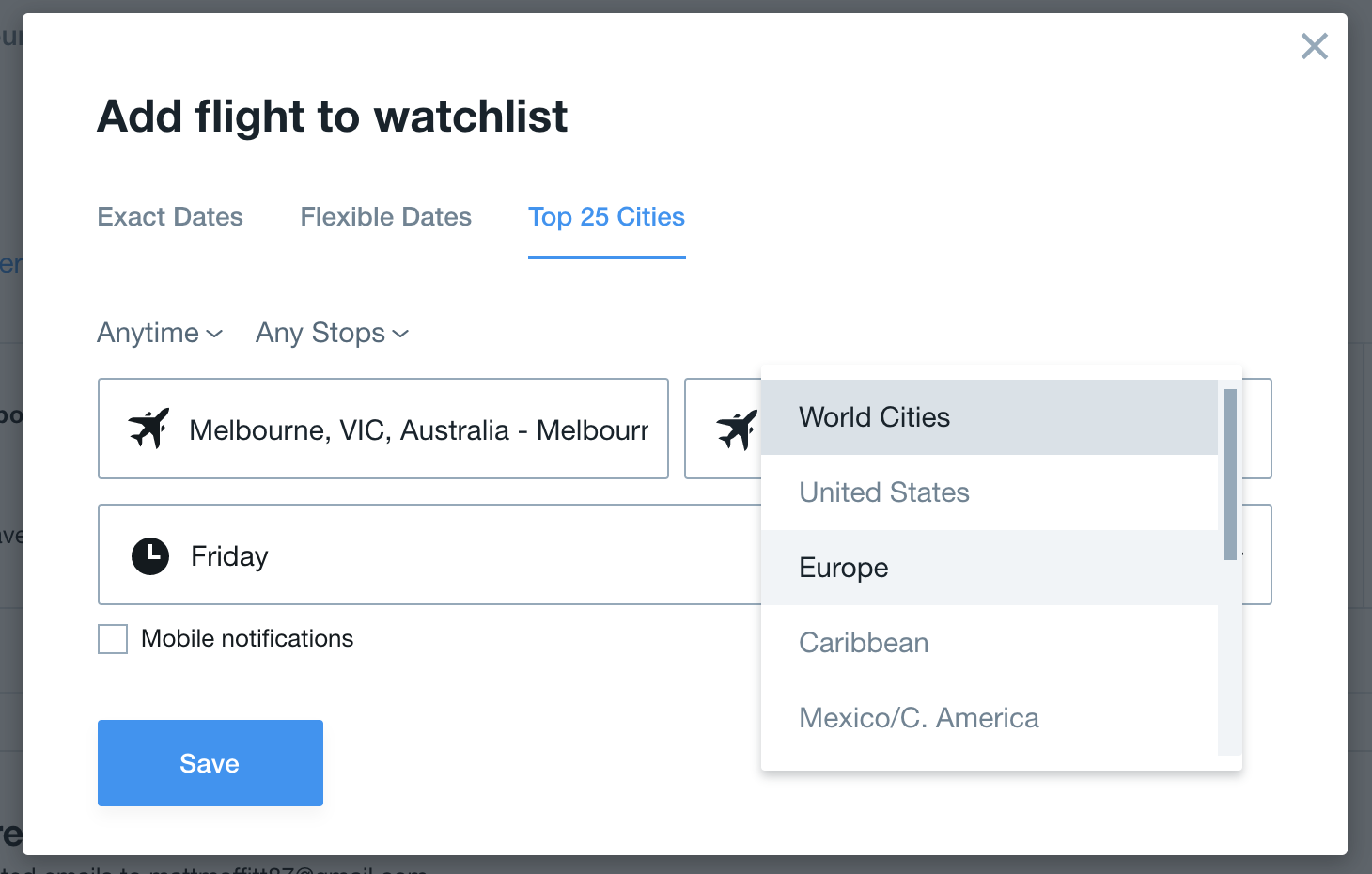 How to set up fare alerts on Skyscanner
It is simple to set up a fare alert on Skyscanner, but you are limited to exact dates and, again, you'll need an account.
Click on the Get Price Alerts button in the left sidebar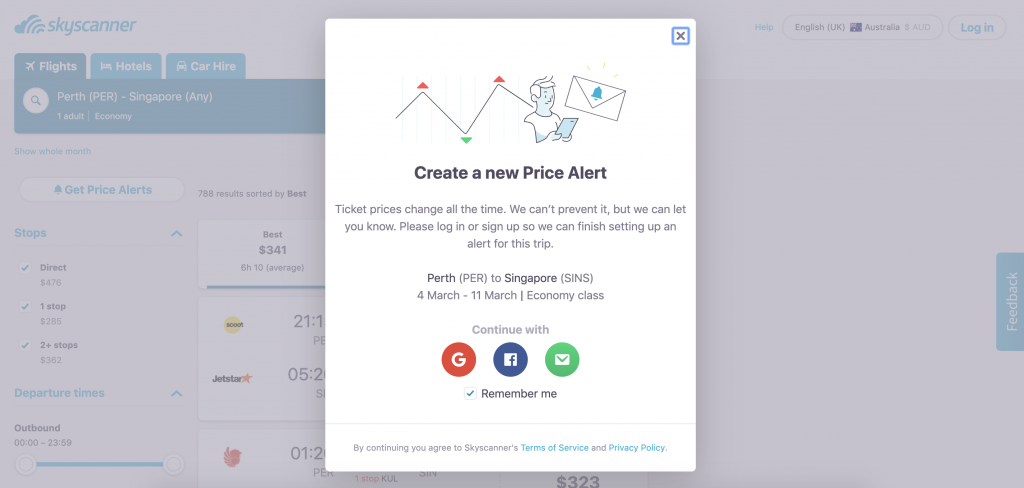 More ways to find cheap flights
Whilst there is no hard-and-fast rule for finding the cheapest flights, we might suggest the following:
Adjust your departure time: for business-heavy routes, trying flying during the middle of the day rather than the peak periods in the morning or evenings
Try a different day: Tuesdays, Wednesdays and Saturdays tend to be cheaper days to fly, with Sundays, Mondays and Fridays registering peak travel demand as people travel for work
Use alternative airports: smaller airports tend to charge lower fees to airlines, meaning lower fares for travellers, e.g. you could consider Melbourne's Avalon instead of Tullamarine, the Gold Coast instead of Brisbane, Oakland instead of San Francisco, or Paris' Orly instead of Charles de Gaulle
Break it up: for long-haul travel to Europe, consider starting your itinerary from a big Asian hub such as Singapore, Kuala Lumpur or Hong Kong and buying an AirAsia, Jetstar or Scoot ticket from Australia to Asia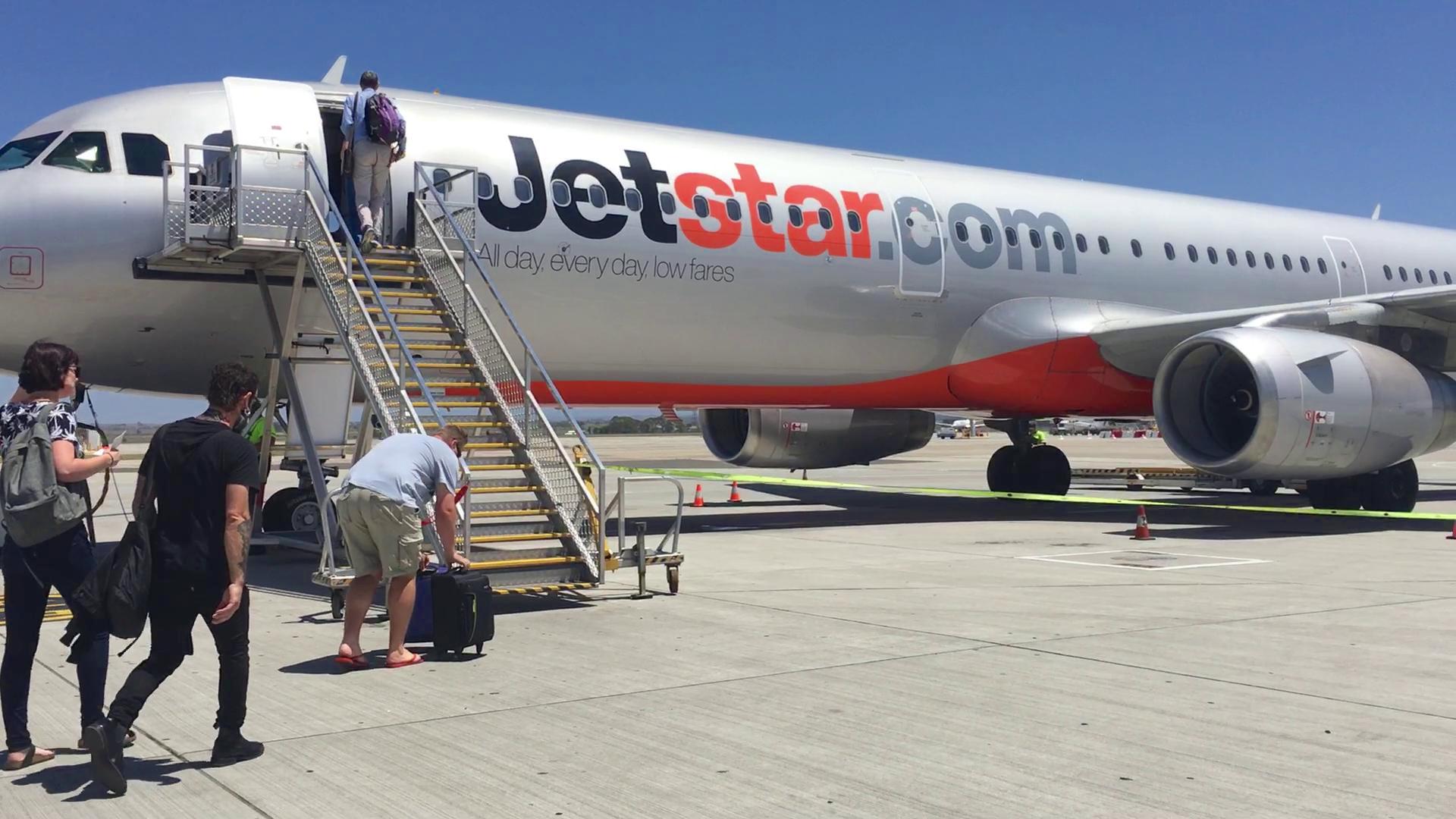 Summing up
Fare alerts are very useful in saving time and stress when searching for discounted tickets. It's not just limited to Economy, you can often find great cash fares in Business and First Class too.
You can set them up for specific airlines, or for any airline through an Online Travel Agent (OTA) like Skyscanner. If you use an OTA, you will get more results, including multiple airlines and dates.
Remember that this is a free service and can be switched off anytime if you've found what you need.
How do you find cheap flights? Let us know in the comments below.
This article was originally written by Matt Moffitt.
How to use fare alerts to search for cheaper flights
was last modified:
January 22nd, 2021
by