The ANZ Platinum card comes with a low annual fee (waived in the first year) and complimentary insurances, but keep in mind this card doesn't earn any frequent flyer or rewards points. It's marketed by ANZ as a 'simple everyday credit card', but it still offers a reasonable set of perks.
Promotion: ANZ Platinum card 0% p.a. for 18 months on Balance Transfers offer

If you've already built up some non-ANZ credit card debt and are struggling to pay it off with interest, then consider a balance transfer promotion. It's especially helpful if you have debts with multiple providers, as you can consolidate those debts onto one card account. But as always, make sure to speak with your accountant or financial adviser to make sure that a balance transfer is suitable for your financial situation.
This means ANZ will pay off your debt on the other card account(s) and transfer the amount to this new Platinum card, as long as you request this at the time of application. There is a one-off Balance Transfer Fee of 2% of the amount you're transferring.
You'll then have up to 18 months to pay off this balance with a 0% p.a. interest rate, which is really handy for avoiding more interest charges, if you're disciplined enough.
This card waives the $87 annual fee in the first year but charges it in subsequent years unless you spend $20,000 on the card in the preceding 12 months. The balance transfer promotion does not change this.
The 0% p.a. promotional rate converts back to the usual 20.24% p.a. balance transfer rate after the 18 months is over.
Important: While you have an outstanding balance transfer, interest-free periods on purchases do not apply. This means that you may have to start paying interest on new purchases straight away, if you have an existing balance transfer.
For this reason, it's best not to use the ANZ Platinum card for any additional purchases while you are paying off a Balance Transfer, as you may accrue new debt. This means you'll most likely be charged the $87 annual fee from the second year onwards.
Card Details
| | |
| --- | --- |
| Card | ANZ Platinum Visa credit card |
| Loyalty program | N/A |
| Points earned from spend | N/A |
| International transaction fee | 3% |
| Minimum Income | Unspecified |
| Annual fee | $0 for the first year; $87 in subsequent years unless you spend $20,000 on eligible transactions within 12 months. |
Effective Frequent Flyer Program Point Earn Rates
This is not a rewards credit card, so no points are earned on transactions. However, it comes with Visa Entertainment perks and offers including discounts at retailers.
Complimentary shopping and travel insurance included
The main feature of the ANZ Platinum card is the whole suite of insurances which are included, which covers your travel and shopping. You can read all the fine print here.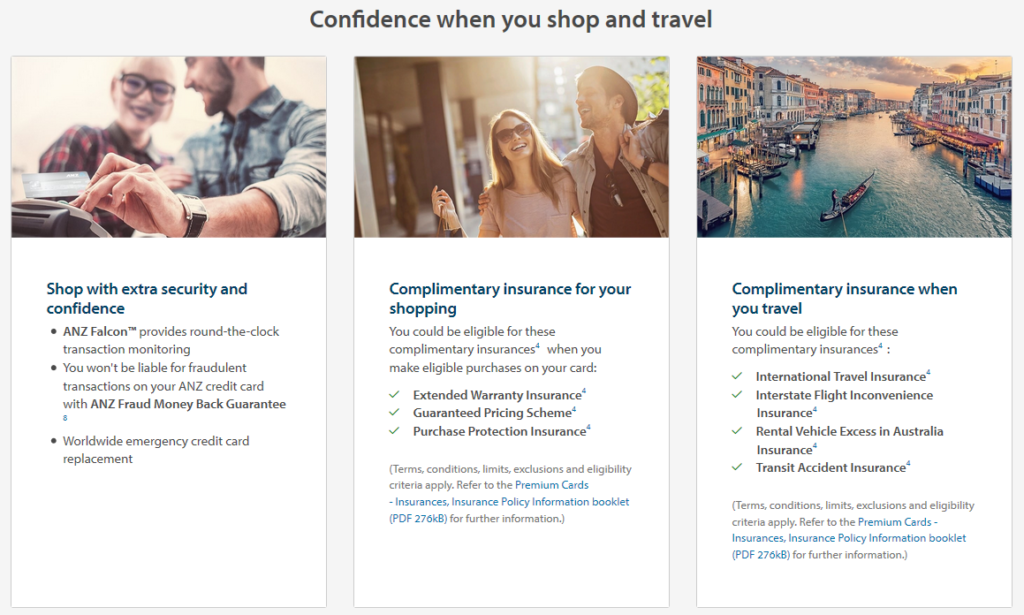 Travel insurance
The ANZ Platinum card offers complimentary International Travel Insurance, Interstate Flight Inconvenience Insurance, Rental Excess Vehicle Insurance in Australia, and Transit Accident insurance. Full details including benefits and limits are found in the PDS.
To be eligible for international travel insurance, you need to have booked a return ticket from Australia and spent at least $250 of prepaid travel costs (e.g. flights, accommodation) on your ANZ Platinum Card.
Coverage is also extended to your spouse or dependents (i.e. children) if they also have a return ticket from Australia before travelling, and they'll be with you for at least 50% of the trip.
For interstate flight inconvenience insurance, you and your spouse/dependents must have purchased the whole value of the ticket on your ANZ Platinum card.
Shopping insurance
Although you won't earn points when buying things on your ANZ Platinum card, you do get some protection.
When purchasing an item from a physical store, you're covered for 21 days of price protection. This means if you receive a printed catalogue from a store within 25km of where you purchased the item, offering the product at least $75 less than what you paid, then you'll get the difference credited back.
With purchase protection, if your new item is lost, stolen or permanently damaged within 90 days of purchase, then ANZ will fully reimburse you the cost provided you reported the loss to the appropriate authorities and fulfilled other set criteria in the PDS.
Finally, the extended warranty scheme gives you up to one extra year of warranty cover on your new products, if they break down after the usual manufacturer's warranty period has expired.
Summing up
The ANZ Platinum credit card is for those who are really trying to minimise outgoings in fees, but still get some benefits from their card. Be aware that international transactions will incur a 3% fee and the interest rate on purchases, cash advances and balance transfers are also quite high.
The included insurances are fairly comprehensive, but there are lots of exclusions and clauses that you should be reading in the PDS before deciding whether they are suitable for you.
Terms and conditions
Terms and conditions and exclusions apply. Click here to find out more.

ANZ Platinum Visa credit card – $0 annual fee in the first year and complimentary insurance
was last modified:
April 9th, 2020
by