The ANZ Platinum card comes with a low annual fee (waived in the first year) and complimentary insurances, but keep in mind this card doesn't earn any frequent flyer or rewards points. It's marketed by ANZ as a 'simple everyday credit card', but it still offers a reasonable set of perks.
Promotion: ANZ Platinum card 0% p.a. for 25 months on purchases

The current promotion is 0% p.a. for 25 months on purchases and $0 annual fee in the first year.
The 0% p.a. promotional rate converts back to the usual 20.24% p.a. purchase rate after the 25 months is over. An annual fee of $87 p.a. will be charged on subsequent years unless you spend $20,000 on the card in the preceding 12 months.
Card Details
| | |
| --- | --- |
| Card | ANZ Platinum Visa credit card |
| Loyalty program | N/A |
| Points earned from spend | N/A |
| International transaction fee | 3% |
| Minimum Income | Unspecified |
| Annual fee | $0 for the first year; $87 in subsequent years unless you spend $20,000 on eligible transactions within 12 months. |
Effective Frequent Flyer Program Point Earn Rates
This is not a rewards credit card, so no points are earned on transactions. However, it comes with Visa Entertainment perks and offers including discounts at retailers.
Complimentary shopping and travel insurance included
The main feature of the ANZ Platinum card is the whole suite of insurances which are included, which covers your travel and shopping. You can read all the fine print here.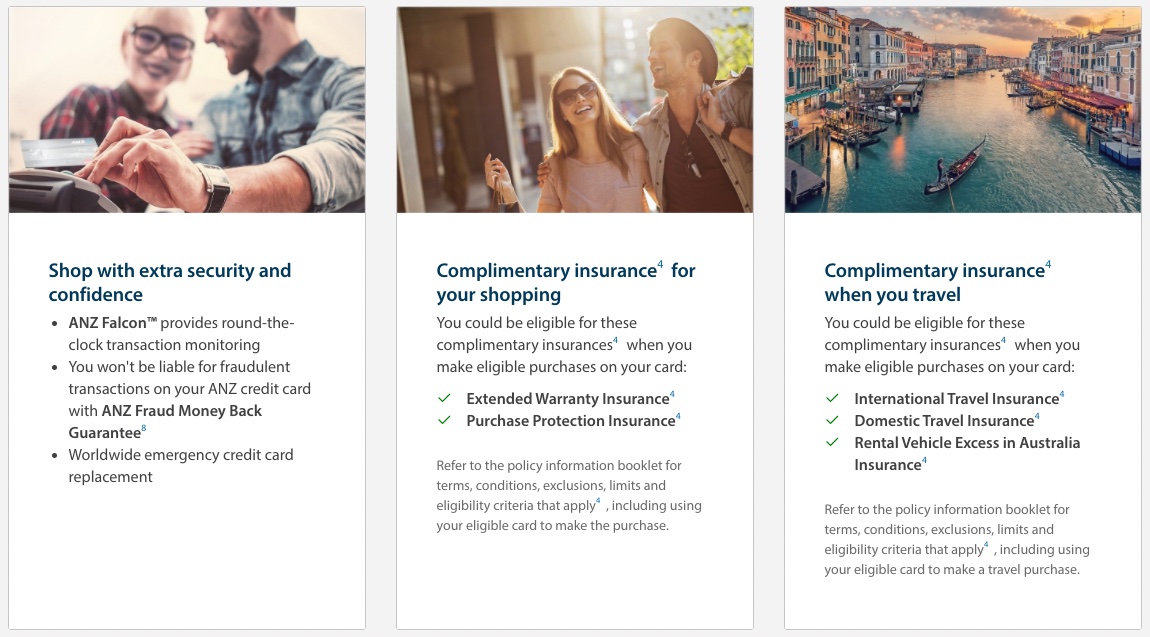 Travel insurance
The ANZ Platinum card offers complimentary International Travel Insurance, Domestic Travel Insurance and Rental Excess Vehicle Insurance in Australia. Full details including benefits and limits are set out in the PDS.
To be eligible for international travel insurance, you need to have booked a return ticket from Australia and spent at least $250 of prepaid travel costs (e.g. flights, accommodation) on your ANZ Platinum Card.
Coverage is also extended to your spouse or dependents (i.e. children) if they also have a return ticket from Australia before travelling, and they'll be with you for at least 50% of the trip.
Shopping insurance
Although you won't earn points when buying things on your ANZ Platinum card, you do get some protection.
With purchase protection, if your new item is lost, stolen or permanently damaged within 90 days of purchase, then ANZ will fully reimburse you the cost provided you reported the loss to the appropriate authorities and fulfilled other set criteria in the PDS.
The extended warranty scheme gives you up to one extra year of warranty cover on your new products, if they break down after the usual manufacturer's warranty period has expired.
Summing up: ANZ Platinum
The ANZ Platinum credit card is for those who are really trying to minimise outgoings in fees, but still get some benefits from their card. Be aware that international transactions will incur a 3% fee and the interest rate on purchases, cash advances and balance transfers are also quite high.
The included insurances are fairly comprehensive, but there are lots of exclusions and clauses that you should be reading in the PDS before deciding whether they are suitable for you.
ANZ Platinum Visa credit card – 0% p.a. for 25 months on purchases and $0 annual fee in the first year
was last modified:
April 29th, 2022
by