While some airlines hand out elite status like candy, American Airlines has always been historically tough with their elite status programs.
Unlike other major airlines, they don't offer status matches. And, to top it off, American closed their "status challenge" offer back in September.
But, good news! As of the New Year the offer is now back. And, it's pretty good, and usable by Australian's as a way to speed up reaching oneworld sapphire, which offers priority check in, seating and lounge access.

The old challenge was based on qualifying points and qualifying miles, which led to a lot of confusion. As of January 1st American no longer uses a "points system" moving instead to a strict qualifying miles system.
American Airlines AAdvantage program offers three status levels: Gold, Platinum, and Executive Platinum. Unfortunately you can't challenge Executive Platinum, but you can challenge Gold status or Platinum status that each have many benefits, especially Platinum.
Benefits of AAdvantage Gold and Platinum Status
To achieve Gold status in 2016 you would need to fly either 30 segments or 25,000 miles and Platinum status requires 60 segments or 50,000 miles.
While the AAdvantage elite status program has some great benefits like bonus elite mileage, free checked bags, and complimentary auto-requested upgrades on flights 500 miles or less, it's not a mainstream airline in Australia.
Unless you fly from Australia to California on a regular basis, it's the oneworld elite status you're after.
oneworld Sapphire/AAdvantage Platinum Benefits
Priority Business Class check-in
Extra baggage allowance and handling
Priority boarding
Priority standby and waitlisting
Preferred seating when available and offered
Access to Business Class and frequent flyer lounges when internationally for you and one guest
oneworld Ruby/AAdvantage Gold Benefits
Priority Business Class check-in
Preferred seating when available and offered
Priority standby and waitlisting
Ad – Scroll down to continue reading.Minimum spend, terms & conditions apply.
The American Airlines Status Challenge
AAdvantage Gold Status
Earn 7000 qualifying miles within 3 months
Cost of $100 USD
AAdvantage Platinum Status
Earn 12,500 qualifying miles within 3 months
Cost of $200 USD
While the AAdvantage Challenge is targeted mainly for American Airline flights, qualifying miles can be flown on flights marketed and operated by American, Finnair, British Airways, Qantas, Japan Airlines, and Iberia.
To enroll in the AAdvantage Gold & Platinum status challenges you need to call American AAdvantage at 1-800-882-8880.
How to Use the AAdvantage Challenge to gain oneworld Status
The AAdvantage Challenge is a great way to gain oneworld elite status and gain access to perks like priority check-in, free baggage, and business class lounge access worldwide.
Honestly, unless you fly American Airlines often, the Gold Challenge is not really worth the expense as the oneworld Ruby perks aren't great. If you're looking to upgrade from Gold to Platinum or want access to those lounges, the Platinum Challenge should be your target.
Under the new American Airlines AAdvantage program you earn elite qualifying miles at the following rate:
| Class of Service | Purchased Fares Booked in | Base Miles | Class of Service Bonus Miles | EQMs per mile flown |
| --- | --- | --- | --- | --- |
| Full Fare First/Business | F, J | 100% | 50% | 3.00 |
| Discount First/Business | A, P, D, I, R | 100% | 50% | 2.00 |
| Full-Fare Economy | Y, B, W* | 100% | - | 1.50 |
| Discount Economy | H, K, M, L , W, V, G, Q, N, O, S | 100% | - | 1.00 |
Now that you know the elite qualifying miles earning rate it is time to call American Airlines to enroll in the Platinum Challenge. And pay the $200 USD fee.
Are you done? OK, time to get planning. In order to complete the challenge you need to fly 12,500 qualifying miles within 90 days. Let's look at several options.
Doing it internationally – Sydney to Los Angeles
If you want to reach Platinum in one shot then book a round-trip ticket from Sydney to Los Angeles. The distance between the two cities is just under 7500 miles one-way. Multiple that by two and you'll be over the 12,500 mark.
As long as your ticket is in Economy class H or above, you should be set to earn at least 1 AAdvantage EQMs per mile flown. If you fly the route in Discount Business Class or above, you'll earn 2 EQms per mile flown, meaning you can get that status on a one way flight.
Direct flights from Sydney and Los Angeles on either American or Qantas are available on a daily basis. If you are flying with American later in 2016 and going for a challenge, the earn rates will change from distance to revenue-calculated, with the base earn set at 5 miles per USD spent for regular AAdvantage members.
This will reduce the incentive to fly on American vs Qantas for challenge purposes, as Economy fares will likely earn fewer miles than they do for those with no status undertaking a challenge.
At the time of this writing, you could book a flight through American on their new 777 direct flight to Sydney in economy for $772 USD ($1126.15 AUD).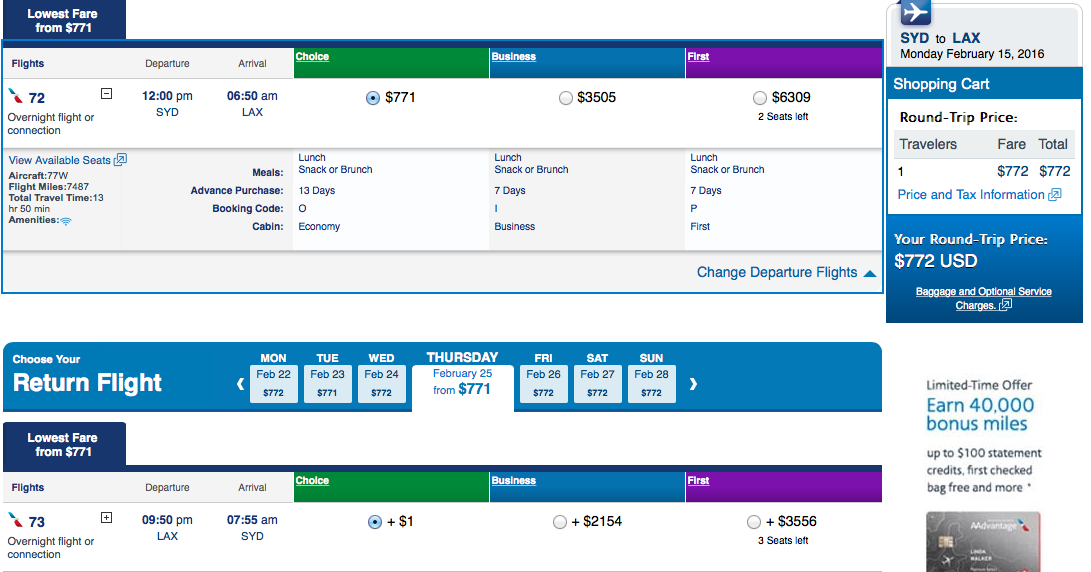 If spending 14 hours in economy makes your neck hurt, you can also achieve Platinum status domestically at home in Australia.
Doing it domestically – for example, Sydney to Perth
Another option to achieve Platinum status is to fly between Sydney and Perth a few times. The distance between the two cities is about 4000 miles round-trip.
A full fare business class ticket at the time of this writing was $3998.00 AUD. With American's new earning rate you'd yield about 12,000 miles making you just shy of the 12,500-mile goal. You'd need to add a quick jaunt to Melbourne to earn those final miles.

Flying the route in discount Business Class fare categories you'd need 3 flights between the two cities to get close to the 12,000 miles required.
If you have the extra time but not the money, flying economy from Sydney to Perth round-trip five times within 90 days will earn you enough miles and only set you back about $2600 AUD if the average round-trip economy ticket averages $520 AUD per flight.

It's also worth nothing that there's a minimum earn of at least 500 miles available – so if a flight would otherwise normally earn less than this, you are bumped up to 500 miles. This is factored in after the EQM multiplier – so for flights that earn at 0.5 EQM's per mile flown that would come in at under 500 EQMs, these will be bumped up to 500.
Checking the distances between city pairs and finding your ticket fare code
My favourite way to check the distances is by using the Great Circle Mapper tool. Input your origin and destination airports and out pops the distance – easy.
Finding your ticket fare code is a bit harder. I'll do some step by step instructions in a future blog post, but if you are booking through a travel agent then you can ask them to look it up for you, or you could call Qantas directly to confirm.
Notable terms, restrictions and other useful info
You don't receive status upfront. You will only receive it after you complete the challenge.
You can pay to upgrade from a Gold challenge ($100 USD) to a Platinum Challenge ($200 USD), but if you downgrade you won't be refunded the difference.
The Challenge cannot be used to re-qualify for your current status level. However, it can be used to upgrade from Gold to Platinum.
If you complete the Challenge in the first half of this year it is only valid through this membership year (i.e., February 2017). However, if you complete the Challenge in the latter part of the year it is valid nearly two years later (i.e., January 2018). If you have multiple trips lined up in 2016, you might be best to wait until the second half of the year for a full extra year of status.
If you lose your status after this period you'll go back to a regular AAdvantage member, i.e. from Platinum to 'nothing' not Platinum to Gold
You won't earn Qantas Points or Status Credits on any flights you accrue to AAdvantage instead
You can usually only take one challenge (per AAdvantage member account) every 5 years
Keeping your status involves meeting the AAdvantage normal requalifying rules, which for Platinum is 50,000 EQM's in the calendar year, plus at least 4 segments on American Airlines
Is it worth it? It depends. Status is only useful if you actually use it. So on the one hand, if you have a single flight booked to the US on Qantas you could try and earn status with an AAdvantage challenge, but if you won't use it then you'd be out of pocket $200 USD.
But if elite status is important to you, and you have upcoming long-distance travel on Qantas or American Airlines or you frequently travel domestically for business, the AAdvantage Status Challenge is worth looking into for the oneworld benefits.
A shortcut to earning oneworld Sapphire Status (equivalent to Qantas Gold) with the American Airlines AAdvantage status challenge
was last modified:
May 5th, 2022
by