The United Airlines MileagePlus program is offering up to 75% bonus miles on all miles purchases until 3rd July – Good for cheap Star Alliance redemptions to Asia and beyond.
This guide covers United's MileagePlus program's redemption opportunities and shows how deals like this are good for First and Business Class travel to Asia.
An example redemption
Based on the lowest price available in this promotion, you can fly First Class between Australia and South/Southeast Asia for $860 USD + taxes.
For 40,000 MileagePlus miles, Point Hacks Managing Editor Matt has booked a one-way First Class redemption on THAI for September from Hong Kong to Sydney with a five-hour stopover in Bangkok and complimentary one-hour massage in the Royal Orchard Spa.
His taxes were ~$60 AUD, making the total cost of this redemption just under $1200 AUD, less than a third of the cost of the retail fare – that's great value for 12 hours in the air and an excellent experience on the ground.
Fly First Class to Southeast Asia for under $1200: buy United miles before 3rd July
was last modified:
June 21st, 2017
by
Todd Heslin is a Point Hacks Community member and seasoned blogger over at RideHacks. He has often used United purchase miles promotions to take advantage of their key redemption rates between Australia and Asia, proving that travelling in Star Alliance business class is totally possible for not much over an economy ticket. You can read Todd's other guides on Point Hacks here:
You can also check out Todd's tips, hacks and strategies to upgrading your car rental and protecting yourself against car rental insurance mistakes over at RideHacks.
---
The current United Airlines 'buy miles' promotion
This promotion is offering miles on sale as follows:
5,000 to 14,000 miles: 25% bonus
15,000 to 29,000 miles: 50% bonus
30,000 to 85,000 miles: 75% bonus
Buying the maximum 85,000 MileagePlus miles would yield a total of 148,750 MileagePlus miles including the bonus for $3,198.13 USD including taxes, equating to a cost of ~2.15 USD cents per mile.
This is a very usable promotion when some Australia to Asia awards in First Class can be had for 40,000 miles.
The maximum number of miles you can buy per year is 150,000 – including those offered as part of a bonus promotion.
Todd's take on the best redemption?
In my opinion, the most valuable flight from all of these is flying from Sydney/Melbourne to Singapore, Hong Kong or Bangkok First Class for 40,000 miles – however this one can be harder to find.
Offer history – previous buy miles promotions from United
Date
Discount/Bonus
Notes
June 2017
up to 75% bonus
(current offer)
May 2017
up to 50% bonus
March 2017
up to 75% bonus
February 2017
up to 67% bonus
August 2016
up to 67% bonus
July 2016
up to 100% bonus
February 2016
up to 75% bonus
December 2015
up to 100% bonus
November 2015
up to 80% bonus
possibly targeted
October 2015
up to 80% bonus
September 2015
up to 75% bonus
17 August 2015
up to 50% discount
end of summer sale
11 August 2015
save 20% on transfer miles
28 July 2015
up to 50% bonus
flash sale
6 July 2015
up to 30% discount
June 2015
up to 30% discount
April 2015
up to 30% discount
March 2015
20%, 30% or 50%
mystery offer
February 2015
up to 30% discount
Example uses of United Mileage Plus miles
Business Class flights to/from Australia on the United award chart are costed as follows:
Anywhere in Australia to New Zealand in business class – 30,000 miles – if you can find availability on Air New Zealand!
Anywhere in Australia or New Zealand to Oceania in business class – 40,000 miles
Australia/New Zealand to South Asia in business class – 30,000 miles
Australia/New Zealand to South Asia in first class – 40,000 miles
Australia/New Zealand to North Asia in business class – 40,000 miles
Australia/New Zealand to North Asia in first class – 50,000 miles
Australia/New Zealand to Japan in business class – 40,000 miles
Australia/New Zealand to Japan in first class – 60,000 miles
Prices are one-way, per person and destinations can be reversed.
Guide to buying and redeeming United Airlines Mileage Plus miles
With the cheaper airlines spending their ad budgets to follow you around the internet, you may begin to think that your only gateway to the kingdoms of the East will ensue hard seats, leg cramps and a deliciously hot, plastic-wrapped container labelled 'gourmet chicken'. Or, perhaps you ponder 'maybe there is a better way?'
United Airlines aren't regarded as one of the world's best airlines — far from it. My wife and I flew from Singapore to Hong Kong in their First Class cabin and it was, well, nice but that was it.
It wasn't out of this world (like the Singapore Airlines Suites Class), or even a warm and delightful experience like Thai Airways Business Class. However, this isn't a guide about flying United Airlines, rather it's a guide to using United Airlines miles to fly on their three strategic partners in our region — Singapore Airlines, Thai Airways and Air New Zealand.
Transfer, bonus and discount miles
The cynical part of me wants to say that airlines try to confuse people with a bait and switch of good promotions with bad promotions. Maybe this is true, maybe it's not. What is certain is that they run a lot of promotions and they vary greatly in value. Let's look at the three types and how they work.
Transfer miles – When you can transfer miles from one account to another (like a partner or friend) and you get a discount on the transfer price. This can have it's own benefits but we'll leave it out of the analysis for this article.
Bonus Miles – When you buy a certain number of miles and you get some percentage extra, usually tiered where the more you buy the higher percentage you get.
Discount Miles – When you buy a certain number of miles at a discount – it becomes cheaper than if you bought them during a non-promotion period.
The biggest mistake you can make is accidentally thinking that a 50% bonus promotion is the same as a 50% discount promotion. I've been caught out on this before and paid much more than I should have.
To be clear, only 100% bonus is equal to a 50% discount promotion. That is you are buying 2 for 1 at normal rates or paying half the price for the number of miles you need.
The Star Alliance Location-Based Award Chart
Different airline mileage programs work differently. Some like Qantas Frequent Flyer and Virgin Velocity offer a 'distance-based' award. This means that each trip fits into a distance 'bucket'. Sure enough, most places fit just inside the more expensive bucket than you would like — the loyalty programs are operated at a huge profit.
However, United Mileage Plus (and others) use a location-based (sometimes called a distance-based) award chart. That is, that Australia to South Asia is the same price, regardless of city.
If you're looking to explore the closest neighbours to Australia/New Zealand there are only three things to remember.
Australia and New Zealand are in the same area
'Oceania' covers all of the Pacific Islands
'South Asia' covers the main hubs of Singapore and Bangkok and will finish west at Bangladesh (but not India) and north up to Hong Kong. China, South Korea, Taiwan, Mongolia and Japan are not included in this and are a little more expensive.
The full United award chart can be found here.
Skip page 2 and head straight down to the 'Star Alliance/Partner Awards Chart' on page 3.
You can also look into Upgrade Awards — those where you have purchased a ticket and use your United Miles to upgrade the ticket. There are strategies to take advantage of the upgrade awards but in my experience, there are too many moving parts for most people's travel hacking appetite. Aim for full award tickets but in the 'saver' category for best value.
Purchasing and Booking
You can buy a maximum of 150,000 Mileage Plus miles per account, per year. If you need to cancel or change your booking, you'll be in for a fee of between $75 and $125 USD, depending on how close the change/cancellation is to your departure date. Full details of change fees here.
Researching award availability – as you should do before you purchase any miles – can easily be done over at united.com, with United's own site being one of the best in which to look for Star Alliance award availability.
Flight Availability and 'Saver Awards'
When you hack a $2000+ fare for less than $800 you might need to negotiate something. Flexibility. Unfortunately, it can be common that the destination you want to go to, at the time when you want to go is simply unavailable. This happens.
United Mileage Plus has 'Saver' 'Standard' and 'Full' award tickets. As you can imagine, it costs more as you progress past 'Saver'. A word of advice: only ever book 'Saver' award tickets unless you are in a situation with a lot of points and you must fly on certain dates.
If you search in Asia, United will only show you Thai Airways, Air China and United Airlines. They also can offer you Singapore Airlines but don't show this online so when you're researching, ensure you give them a call to confirm if there is a Singapore Airlines flight on the day you want to book. They do have a phone booking fee and can be a little pushy to try lock you in.
Firstly, if they tell you about a flight that wasn't online, tell them you don't want to pay the fee because you would have chosen this flight online if they showed it. Their fault, not yours. Secondly, if they try and make you commit, feel free to say you have to speak to your partner/lawyer/dog before you commit.
My First Class Hack
A 'First Class Saver' fare from Singapore to Sydney (via Bangkok) is 40,000 points per person. However UA has an unofficial policy that if there isn't availability for all legs of the trip in the desired class, you get a reduction in the points required. In our case, it was 35,000 points.
A word of warning: when booking it will tell you if part of the trip is flown economy or business (if booking first class). You will find that this trip will cost 35,000 points even if you fly economy from Sydney to Bangkok and then first class to Singapore. If this was business/first it would be okay…but economy wouldn't be worth it.
Our trip was Singapore – Brisbane (Sydney was unavailable for the dates we needed) and we had two choices:
Singapore – Bangkok – Brisbane (Business for all legs)
Singapore – Hong Kong (First) – Bangkok (First) – Brisbane (Business)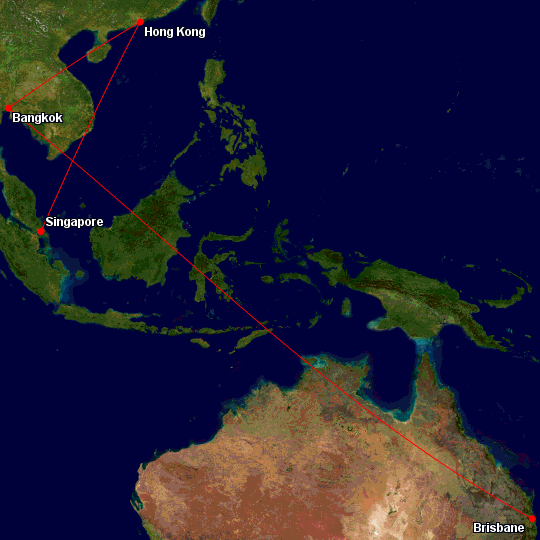 If we were travelling with kids then maybe the additional stop in Hong Kong wouldn't be an ideal transit, however, we managed to fly on the United First Class, Thai Airways A380 First Class (wow!) and finally a Thai Airways Business Class back to Australia.
Adding the extra flight to Hong Kong was only an extra 5,000 points per person, and we had two first class flights replacing a single business class flight. Why not?
For two people, this entire flight cost 70,000 points + USD$100, and I bought those points for AU$1,446.
Expert Tips
When you first buy miles there is a chance that you might have the transaction blocked or 'on hold' until they verify your account. The email I received said: 'Please note that because your account is new, a member of our corporate security team may contact you to verify the order.' A quick email fixed the problem.
With this disruption during my first United points purchase I accidentally purchased the wrong number of miles — only enough for myself and not for my wife. Whoops.
Unfortunately, the program had ended and there was no more discount. I emailed United Airlines ([email protected]) and explained that I meant to buy 80,000 miles instead of 40,000 (total) and that I'd like to take advantage of the discount because they blocked my transaction. No problems here, they let me make another purchase as an honoured the discount.
Not yet a member? Sign up for free here
Fly First Class to Southeast Asia for under $1200: buy United miles before 3rd July
was last modified:
June 21st, 2017
by
Fly First Class to Southeast Asia for under $1200: buy United miles before 3rd July
was last modified:
June 21st, 2017
by