Sendle
is one of the new kids on the block in competition for some of Australia Post's parcel delivery market.
As an incentive to try and get your postage dollar, in addition to the regular earn rate of one Velocity point per dollar spent on sending parcels, you and a friend can also earn a bonus of between 100 and 100,000 Velocity points for sending parcels over the next month.
Taking a cursory look, this service looks promising, and not just for the Velocity bonus. Sendle aims to be a happy medium between Australia Post and a courier company, with the main advantage seeming to be simple, flat pricing, and door-to-door service.
Sendle also claim to be Australia's first 100% carbon-neutral delivery service.
Their website also sprukes "Unlimited niceness", and who can't do with a bit of that in their day?
Current referral promotion
The current promotion requires your friend to register by 31st July and send parcels until 31st August. Here are the numbers:
You both earn 100 Velocity Points when your friend signs up and sends one or more parcels
You both earn 1,000 Velocity Points when your friend signs up and sends five or more parcels
You both earn 10,000 Velocity Points when your friend signs up and sends 100 or more parcels
As an existing customer, you hopefully will have received a unique referral code to share.
This is what the email looked like: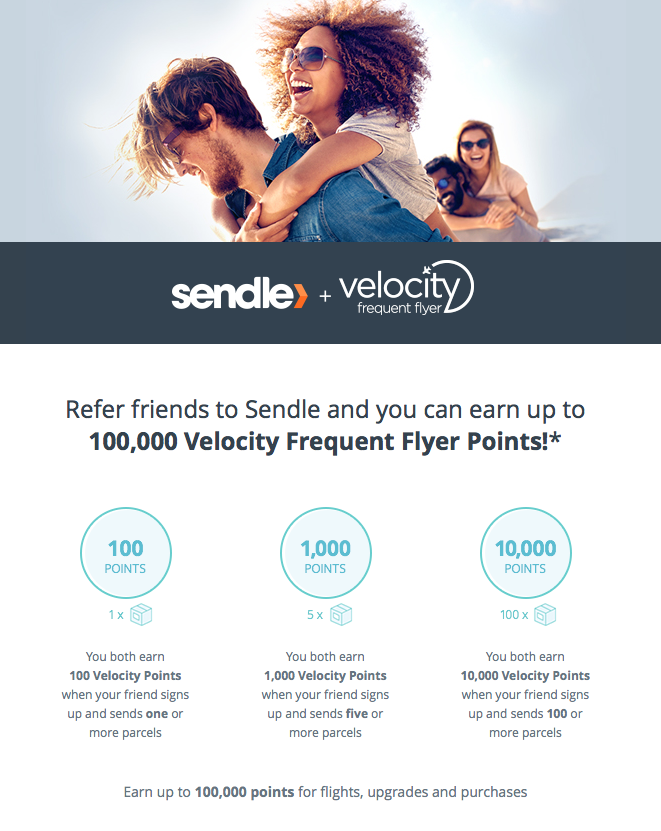 And the terms: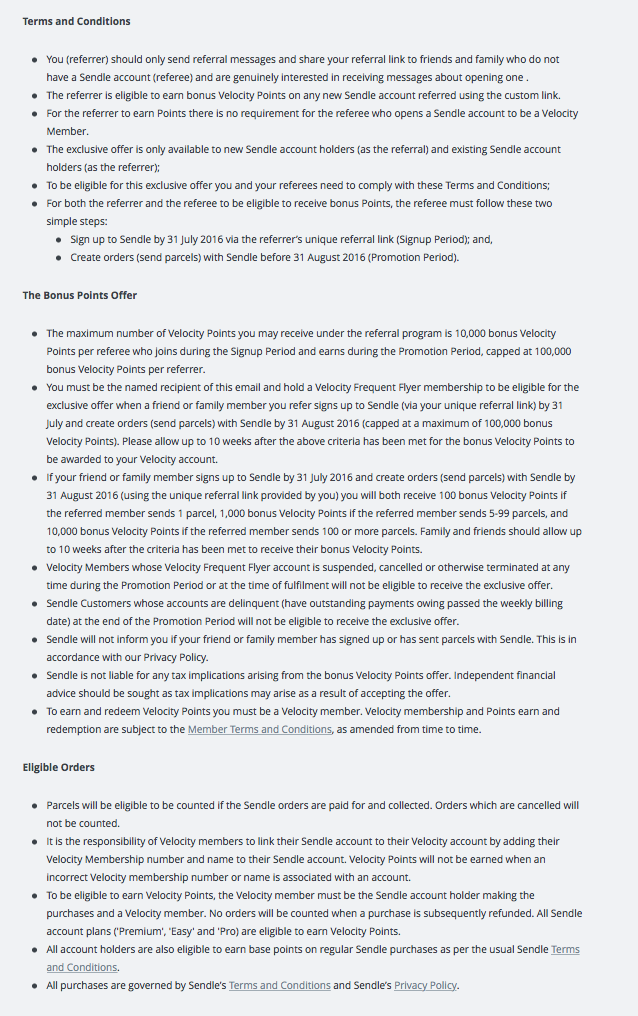 I would suggest existing (or new customers) wanting to make a referral / take part in the promotion who didn't receive the email should get in touch with Sendle support and see if they can take part.
If you're looking for a referral, feel free to use ours or if you have your own link, you can post in the comments.
Ad – Scroll down to continue reading.Minimum spend, terms & conditions apply.
Regular earn rate
Velocity members earn 1 Velocity Point for every $1 spent with Sendle once the members' 'Easy' or 'Premium' Sendle account has been linked to their current Velocity account. Velocity Points will be earned on the dollar value of orders paid for and picked up ('purchase').
Other info
Interestingly, Sendle 'Pro' account members are not eligible to earn Velocity Points for any purchases.
The terms and conditions on using Sendle to take advantage of the Velocity offer are fairly straightforward. Basically make sure your Velocity account is linked to Sendle to earn the points in the stipulated timeframe.
Step-by-step instructions for linking your accounts are on the Sendle support page.
The Sendle website is extremely helpful advising on pricing, delivery times, as well as working out what pricing category your parcel falls into. In my experience, this is far more than most couriers offer, without the need to fill in an online form or pick up the phone.
If you don't already have one, you can sign up for a Sendle account here.
Earn up to 100,000 Velocity points sending parcels with Sendle over the next month
was last modified:
December 12th, 2018
by