There's a couple of things we've been working on which I should let you know about!

Ad – Scroll down to continue reading.Minimum spend, terms & conditions apply.
New and improved Credit Cards Table functionality!
A hidden gem on the site is a complete overview of all the rewards credit cards on the market. Well, it's complete, as much as we know it to be, and can make it!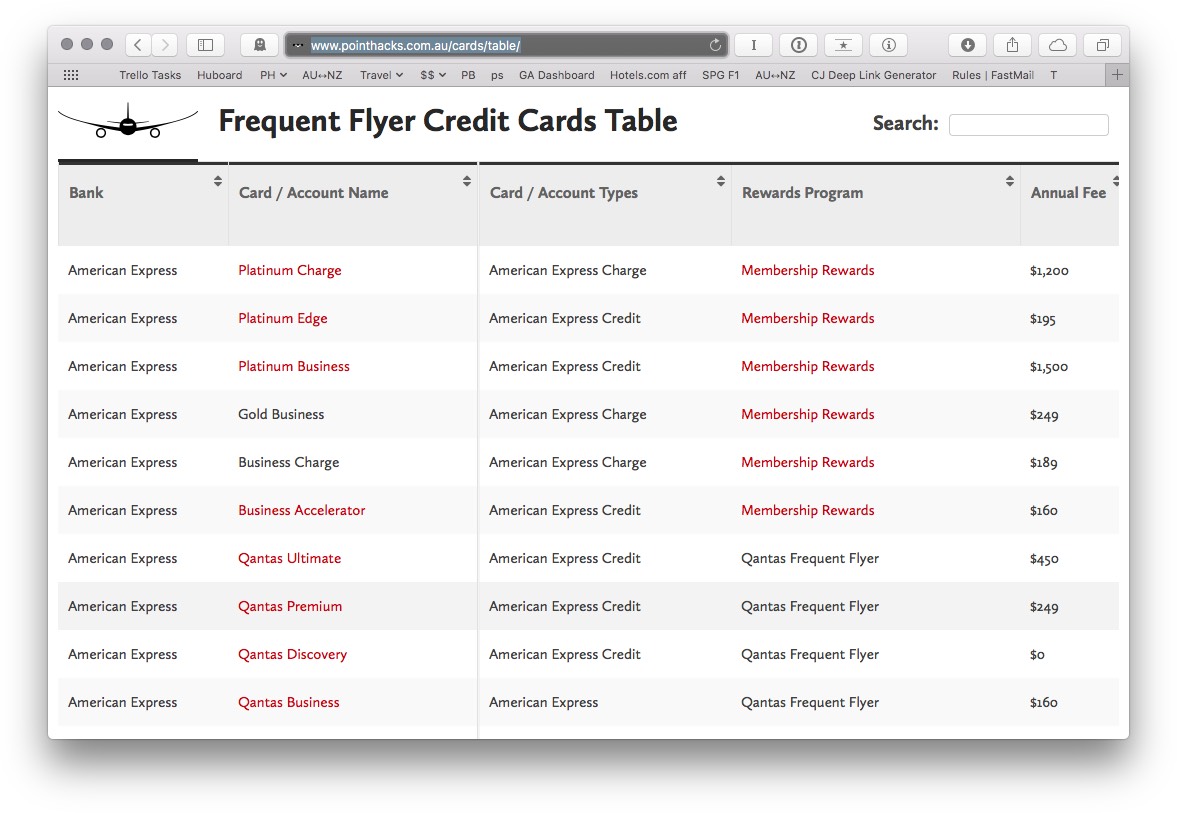 This includes…
Every rewards card on the market we know of lined up in a big table
Visa / MasterCard / Amex points earn rates into frequent flyer programs
A concise list of the various bonus point categories, travel benefits, annual fees, and card points caps
New – The published overseas foreign exchange fees applied by each card
New – sort, search, and filter across cards (OK, it's not that new, but I haven't mentioned it before)
New – fixed left hand columns to make it easier to browse
This table is a bit of a labour of love, so please let us know if there are any missing data points you would like to have included, if we've got something wrong (heaven forbid) or could make anything clearer.
Not yet sorted – getting a table this big to work on small screens. It's on the way though.
Changes to the way Point Hacks daily emails work
For the last 9 months or so, the site has been pumping out daily emails of new posts and content (to people who want them) at the end of each day (usually).
These emails go out to a few thousand people, a small slice of the total site audience that I feel that we are writing for every day. If you get our emails daily – thanks!
We're changing this slightly – for a few reasons, some technical, some not. Here's what's happening…
Daily emails are becoming nearly instant email notifications of new posts – they'll be sent within an hour of content being published
We won't send an email more than once per hour – so if we publish a couple of things back to back, your inbox won't get too clogged
The template that has the new content is cleaner – no ads, nothing to distract from the fact that there's new content. Just click through and read. Or not, up to you
The subject line of each email will make it really clear what's new
People who receive the Daily email will also get a weekly roundup on a Friday of everything new in the last week, in the existing format – containing community questions, expiring deals, that kind of stuff.
Here's a quick preview of what the new 'instant' email looks like: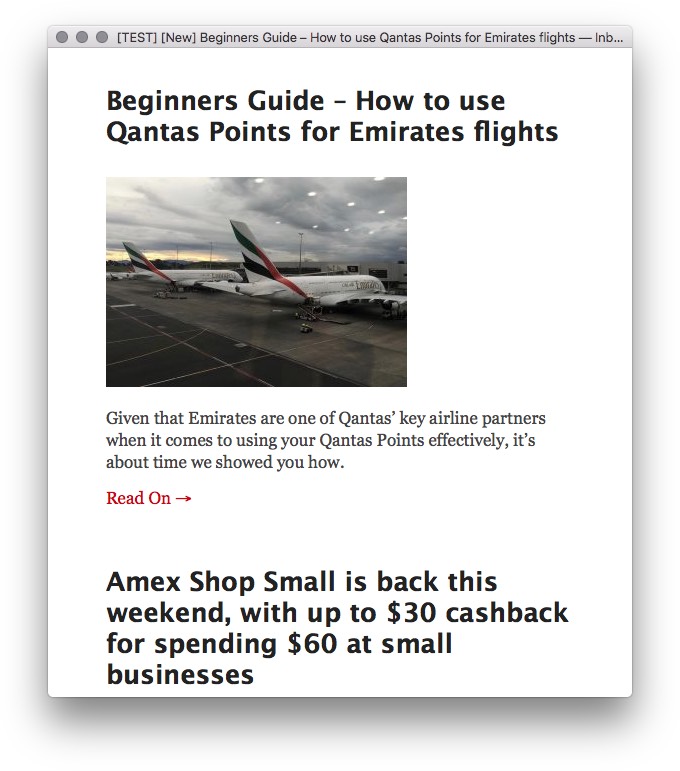 Why is this happening?
I've been pondering this for a while, but the specific trigger for the changes is because we're moving to a new email system this week.
The daily email has forced us to write to a deadline, which created some bias in how and when we publish. Now we'll be OK with hitting publish any time, without worrying about whether new content will make it in today's email.
Another hypothesis I have is that the really engaged readers who get Point Hacks content daily would be just as happy, if not keener, to get updates faster.
It's bugged me for a while that I couldn't make the subject line more representative of the content within – with multiple pieces of content in one daily email, that was too time-consuming.
If you're currently receiving the daily email and this works for you, great – you don't need to do anything.
If, after trying this out for a few days, you don't like it – please hit unsubscribe and you can choose to keep receiving the weekly round up only.
If you want to change your subscription preferences immediately – that includes signing up too! – you can do that here.
The new 'instant' emails don't look quite as great as the old daily ones – yet. We're working on that. But I think this change is worth rolling out now, and hopefully the majority of daily email subscribers will think this is better.
Fed up of email in your inbox? You can follow Point Hacks on Facebook or Twitter instead.
I don't want to send out too many emails – if you're unsure, just tweak your preferences at the link above until you're happy.
Site admin! A change to our daily emails and updates to the credit cards table
was last modified:
February 10th, 2022
by