Each January, for the last four years, my partner and I have headed to the Northern Hemisphere in search of snow for my birthday—all thanks to loyalty reward points.
In 2018 we skied the slopes of Whistler and stayed at the Westin using SPG points (now part of the Marriott Bonvoy program), and in 2019 we decided on Verbier, Switzerland as I had been reading amazing reviews of the W Hotel. The hotel has won over 12 awards including World's Best Ski Hotel for the last three years in a row.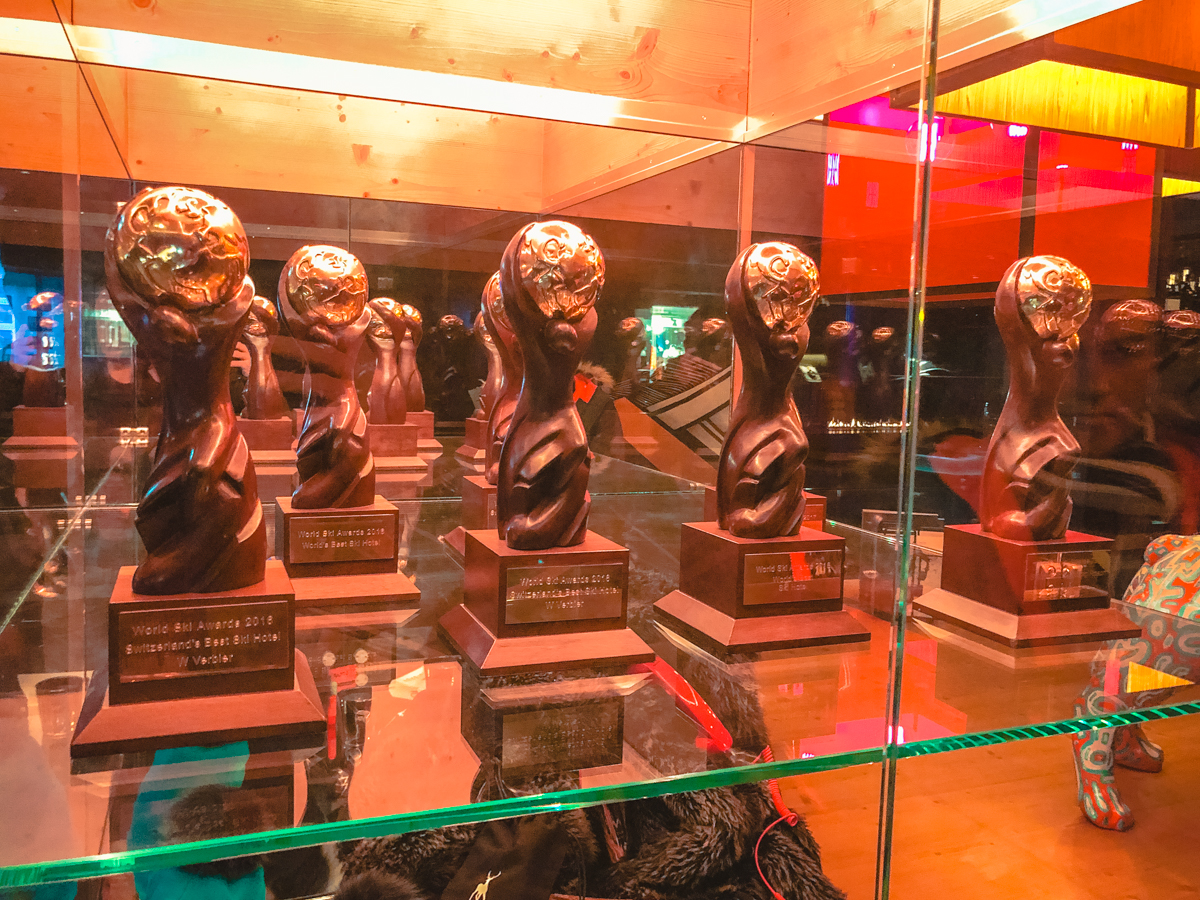 Research & Booking
The W Hotel Verbier is ranked #4 out of 23 hotels in Verbier on Tripadvisor and is currently the highest-level Marriott Bonvoy Category 8 hotel. You can book a base room for 70,000 for off-peak nights or 100,000 during peak.
Originally, we booked five nights in a 'Wonderful' room as the fifth night is free using points. I had tried applying my five Suite Night Award (SNA) upgrades to the booking to secure a suite before arrival. Every single time I applied online, it would be accepted, but then instantly removed. I tried countless times, across multiple days and browsers, but in the end, I just called the Marriott team. They had the exact same problem and to this day, no one at Marriott has been able to fix my account and I haven't been able to use any of my SNAs.
The last person I spoke to at Marriott said they would personally email the hotel to advise the IT troubles and to do their best to secure an upgrade for us.
Check-in
Verbier is located approximately 2 hours by coach from Geneva Airport and is the gateway to the 4 Valles ski area.
At check-in, we were greeted by the friendly Carlos. When I asked if a suite upgrade came through, he said the hotel was full that evening (which I had already noticed on the app before arrival) but they had already upgraded us to a Fabulous guest room which had a better view than the original Wonderful room.
I mentioned the SNA dramas and the fact I had noticed a suite was available from our second night onwards. After a few moments, he confirmed this was correct and said they don't usually relocate guests mid-stay however he would make an exception considering the IT issues.
The suite was worth 1,979 CHF for the four nights (~ AUD $3,000), which is phenomenal value for a points redemption booking.
Fabulous Room
Room
The hotel mixes the W's signature contemporary design with an alpine and Swiss touch. Extensive use of wood delivers a warm ambience with the signature Switzerland red feature walls delivering a vibrant pop of colour.
On arrival, a welcome letter accompanied a Swiss chocolate bar embossed with the local mountain ranges. Which not only looked great but tasted delicious.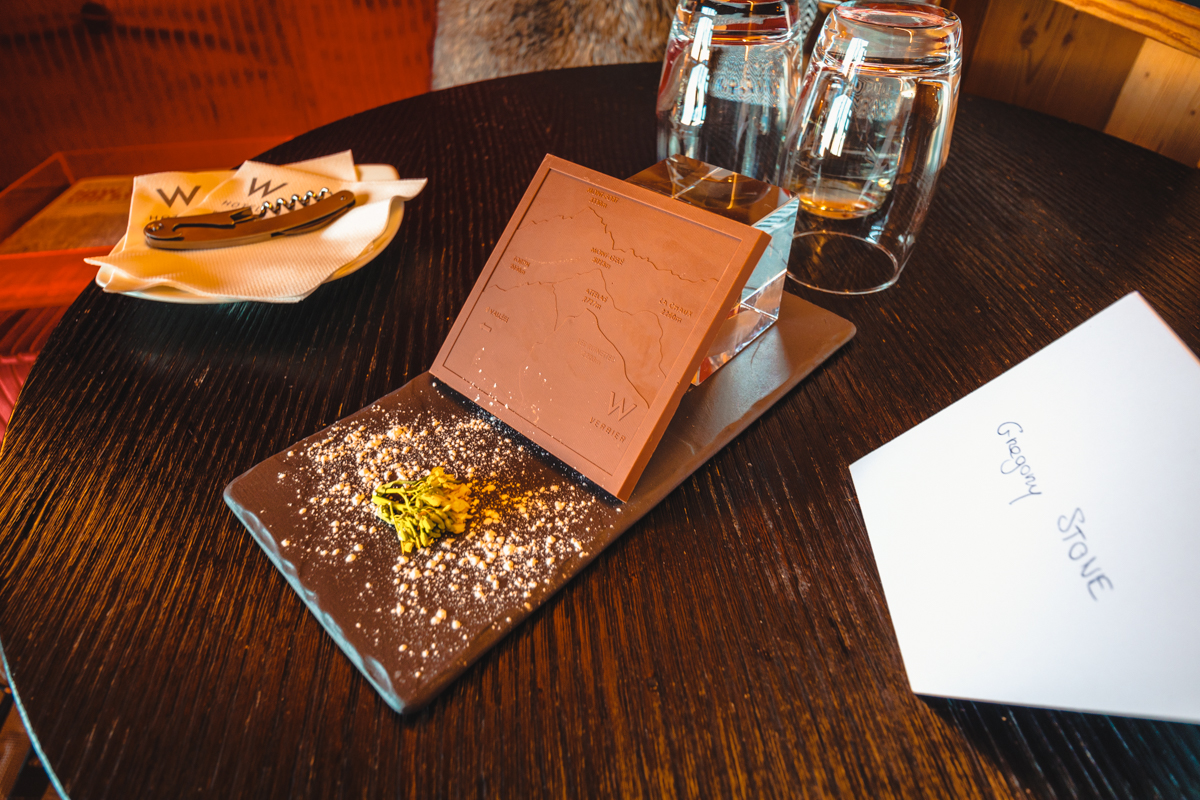 The king-size bed looks as if it is floating in the room with the ring of LED lights underneath.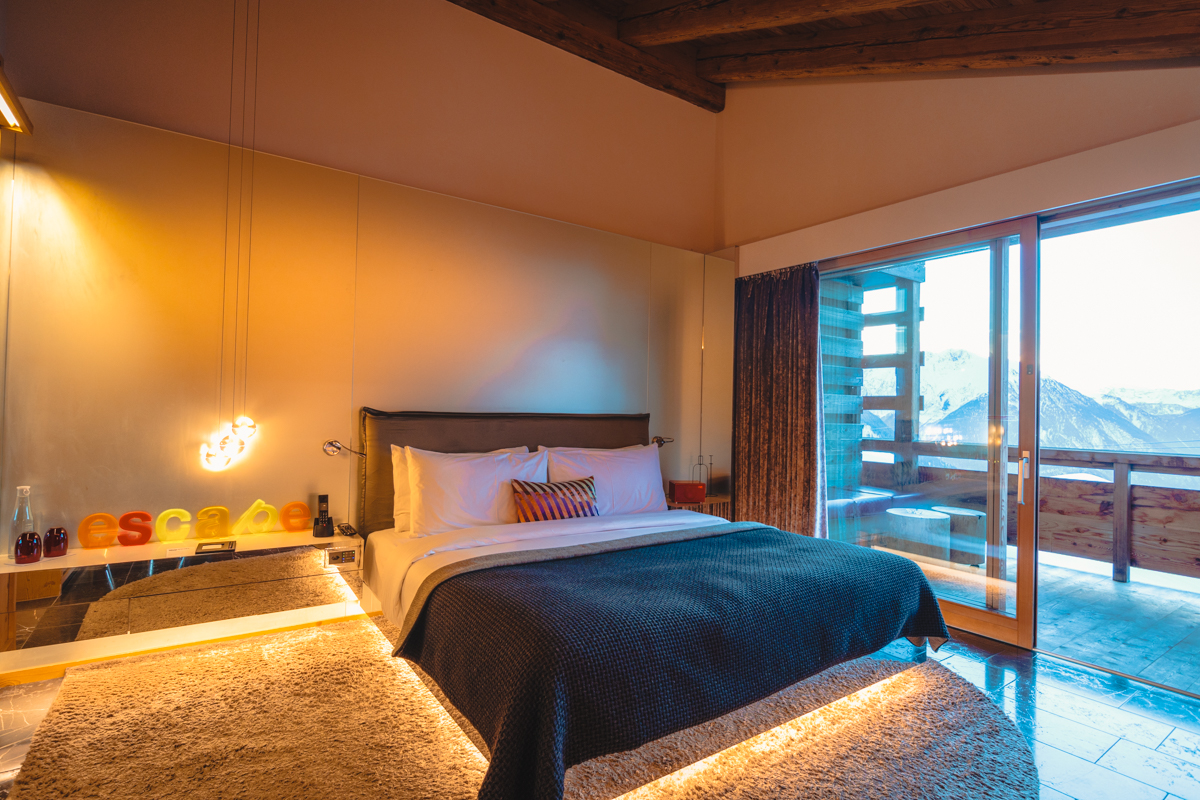 A separate desk is located under the LCD TV should you find the desire to work in this paradise.
Thankfully there is no instant coffee here, and a Nespresso machine is available to give you a morning pick-me-up to start the day.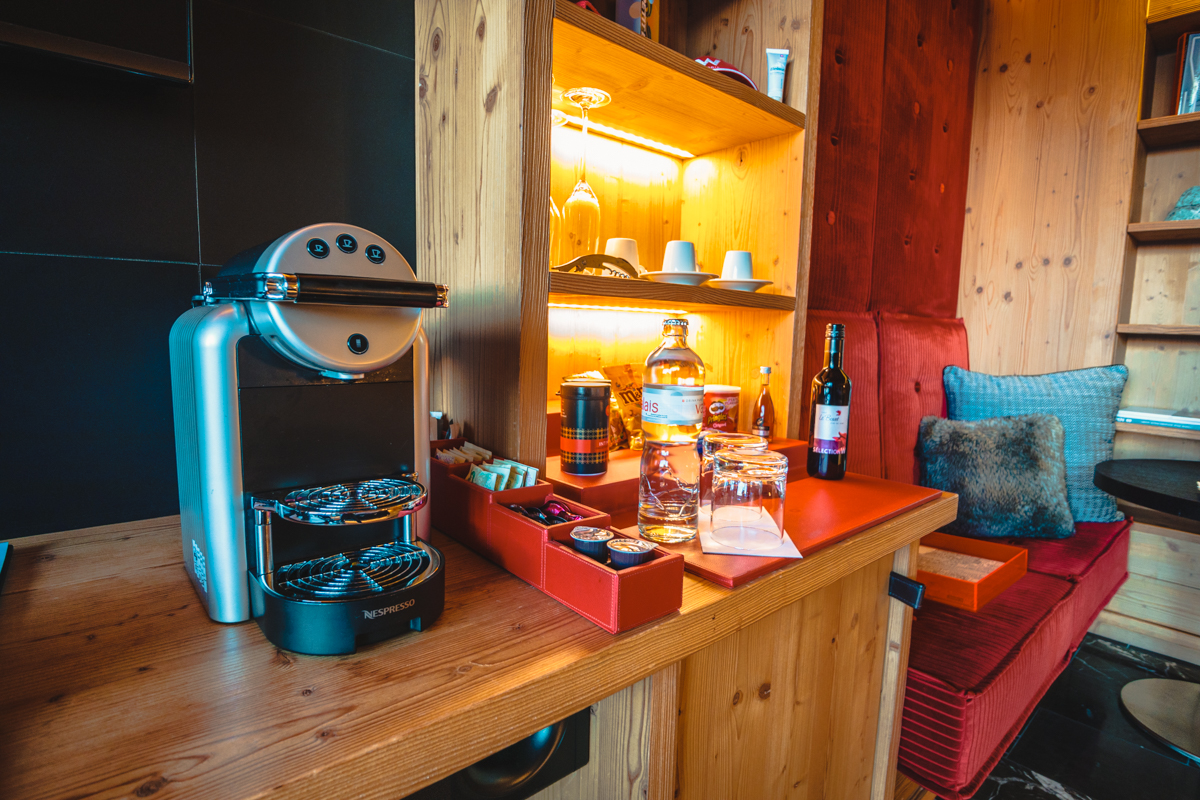 A fireplace divides the bathroom and bedroom, with an adjacent banquette seat and table providing a place to sit.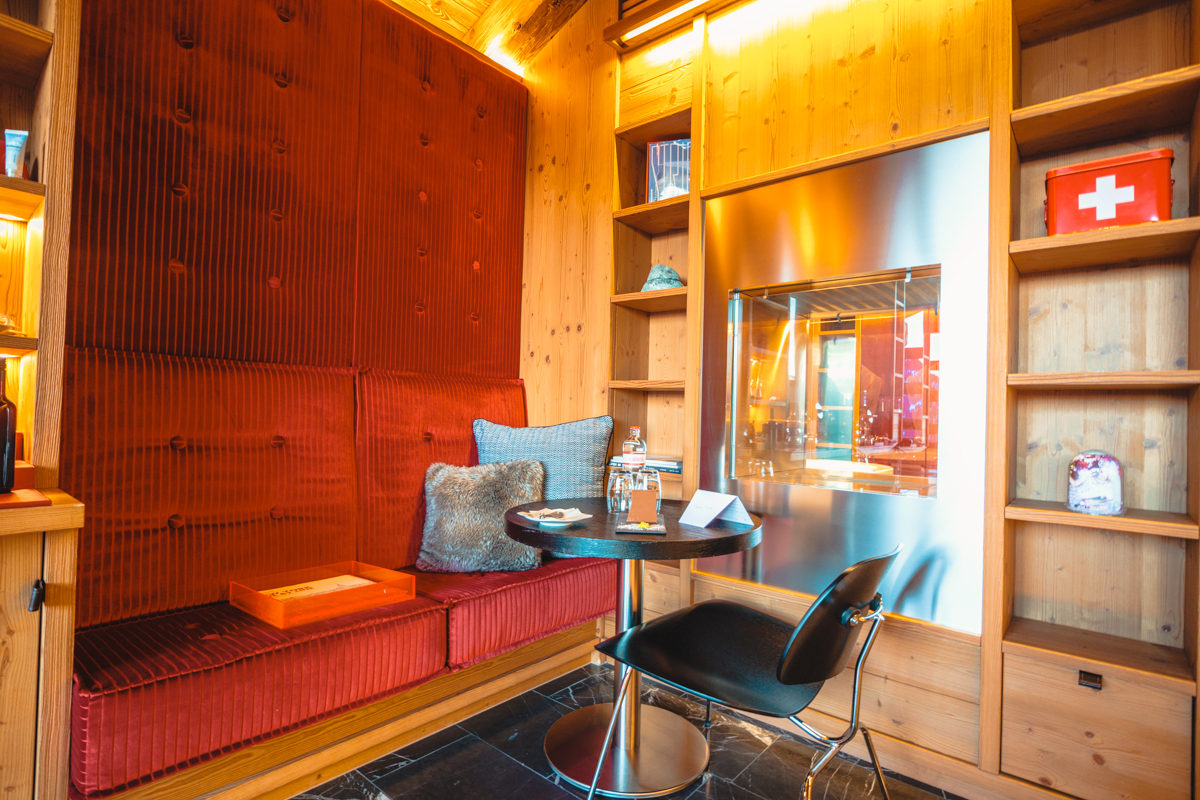 Our room was on the top floor of this building, which also meant we had a beautiful pitched ceiling that made the room feel large.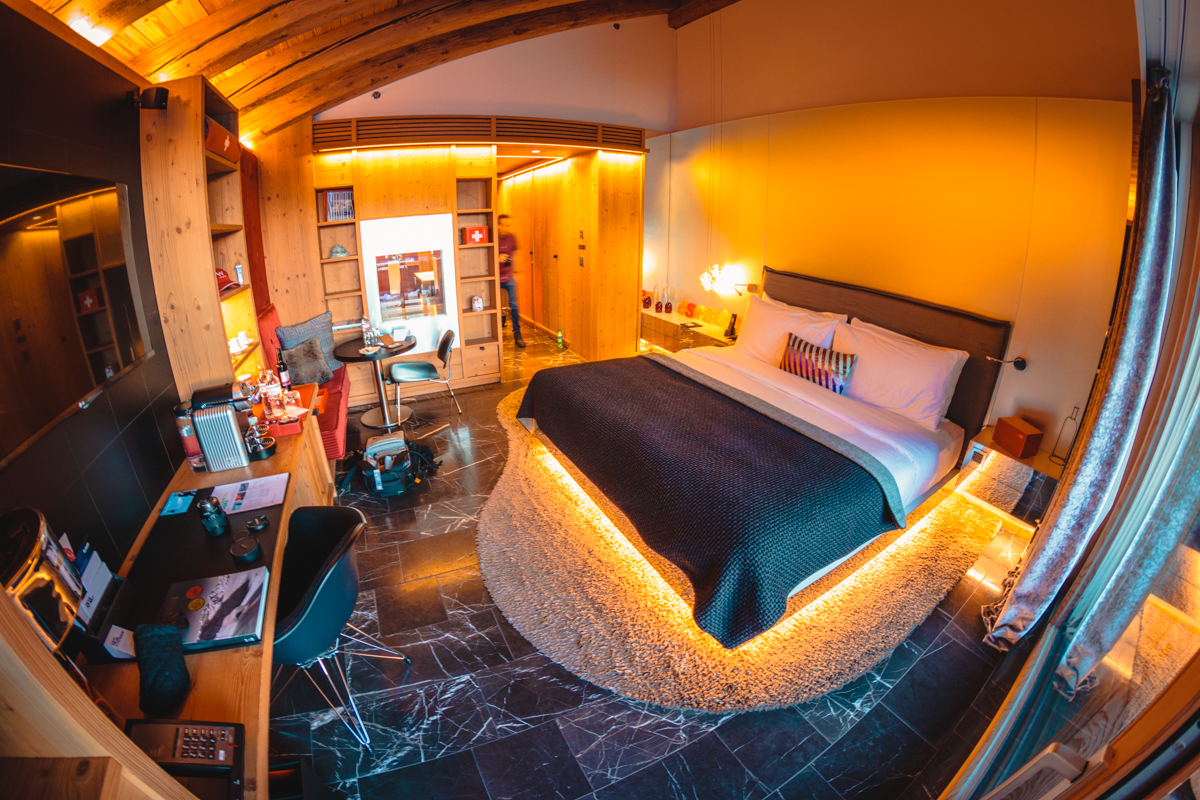 Stepping out onto the balcony takes your breath away with spectacular views across the valley. This is the only feature which differentiates a Cozy room.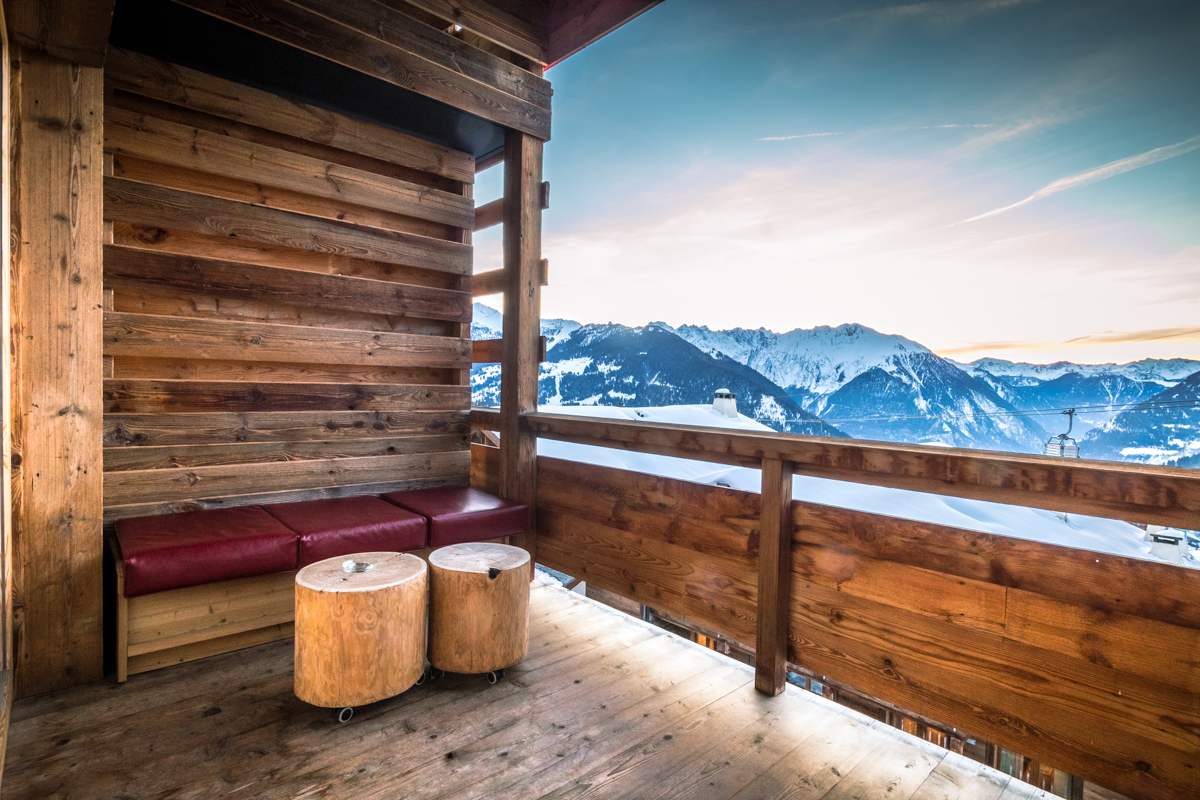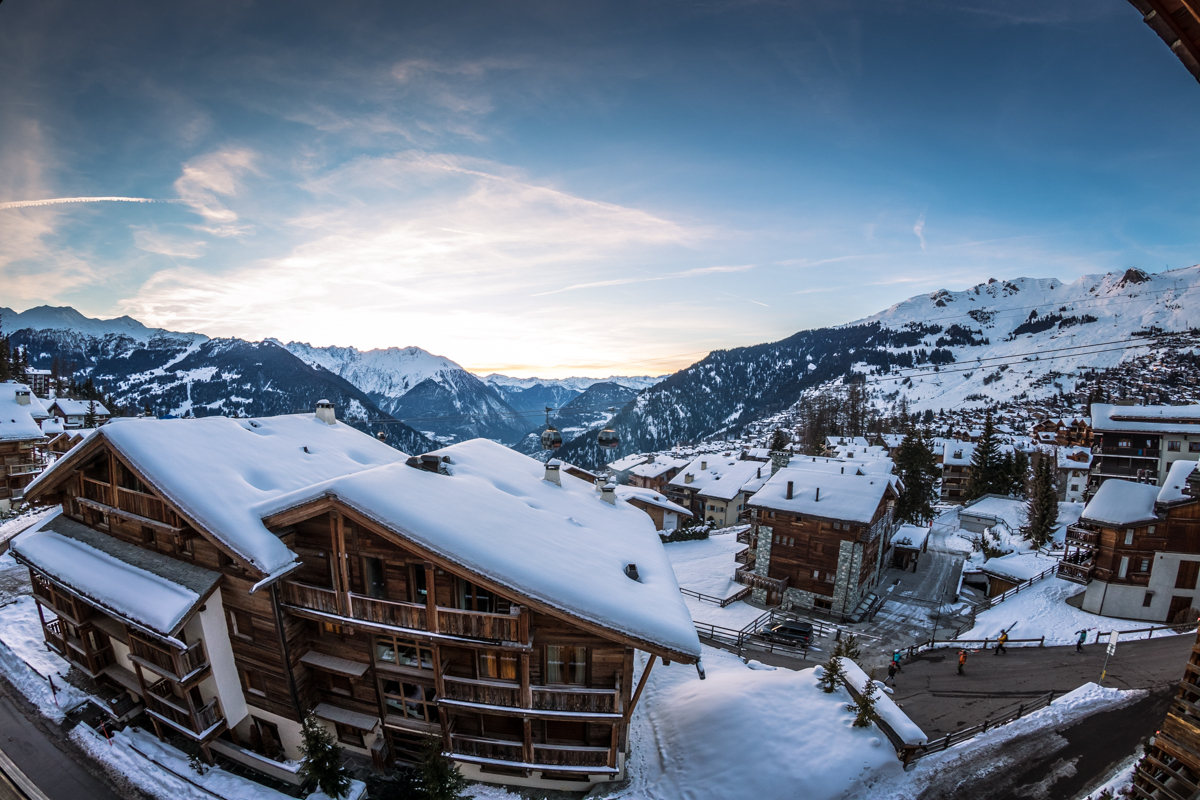 Bathroom
An oval tub provides the perfect place to soak your sore legs after a day on the slopes.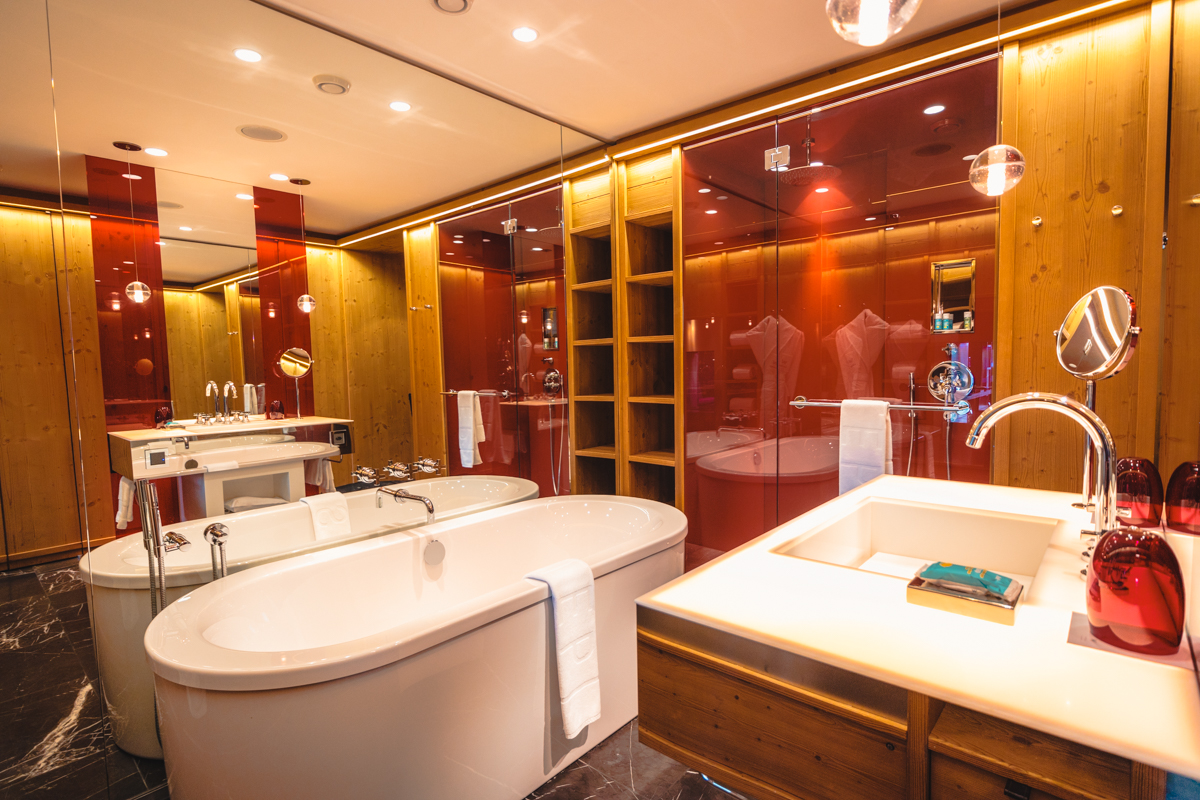 A separate walk-in shower with large overhead rainfall showerhead is behind a transparent door.
The bathroom is also exposed to the hallway and bedroom and there's little privacy, so you'll want to know your roommate pretty well if you were sharing with someone other than a life partner.
The novel Swiss-inspired taps were a cute touch.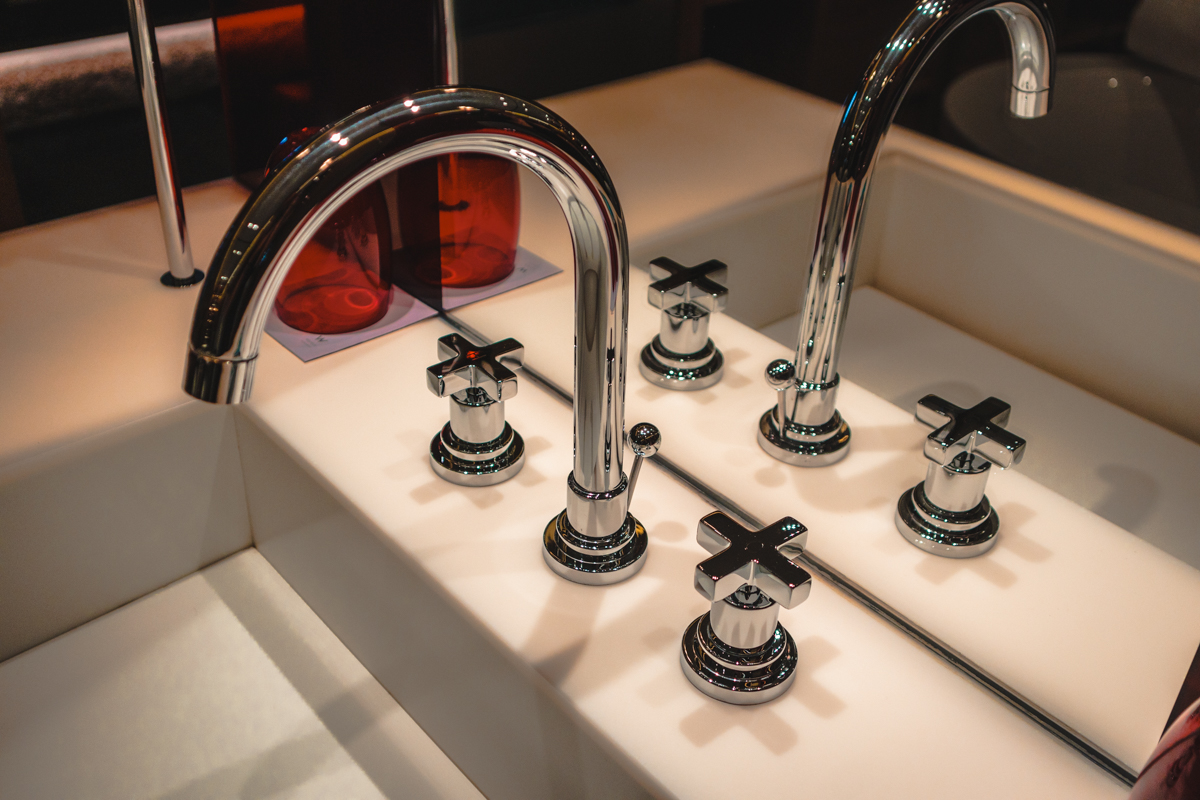 Bliss toilets are supplied as per all W Hotels.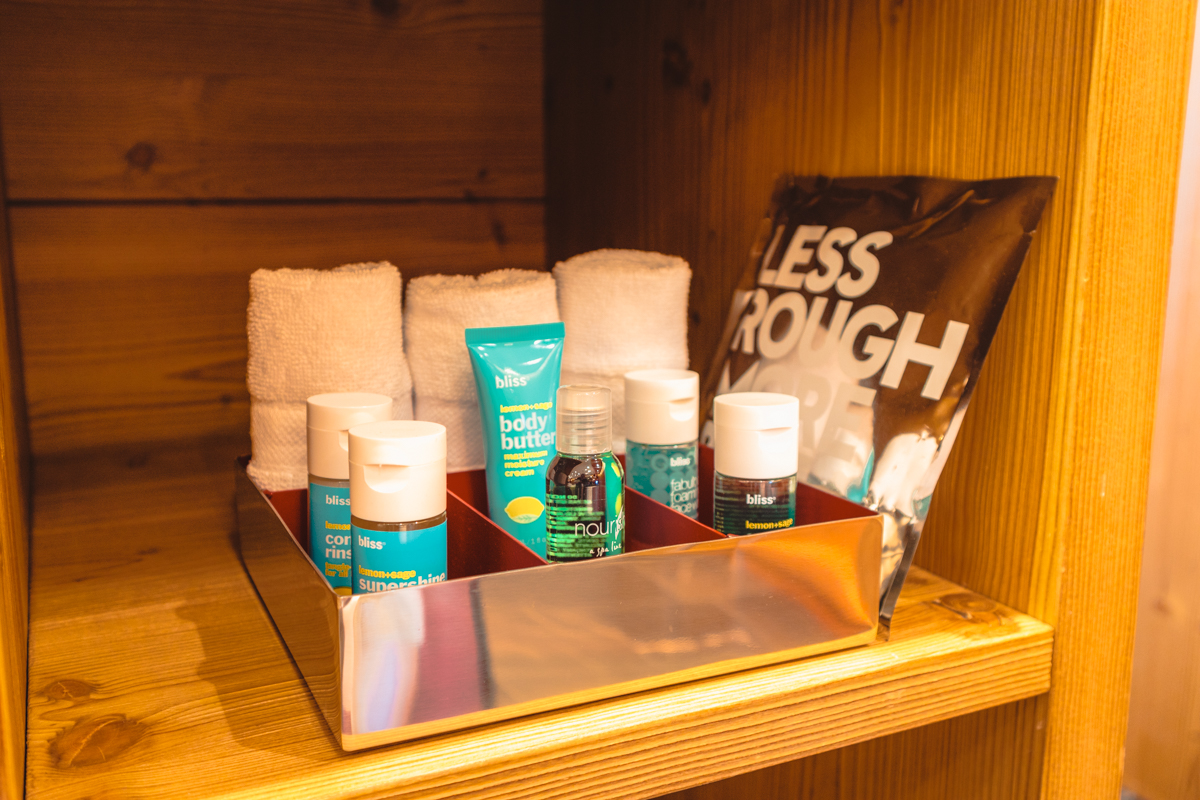 Although we only had one night in this room, it is far from a 'base' category room and I'm sure anyone would be very happy staying in a room like this for a week.
Fabulous Suite
Room
What differentiated a Fabulous Suite to our previous room was the loungeroom you step into as you enter the room. Your eyes are instantly drawn upwards at the beautiful timber pitched room, which is illuminated for further impact.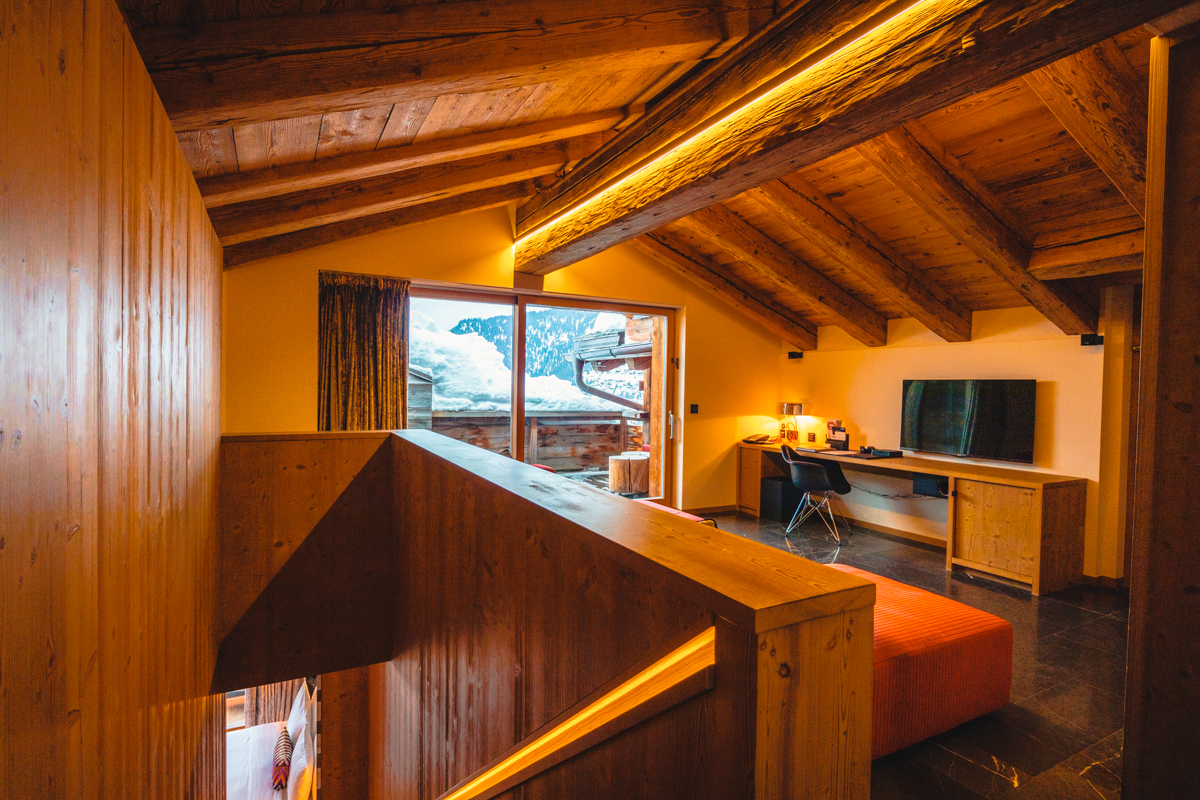 The suite had a small balcony on this level, however, didn't have a view due to the large pile of snow.
A work desk, TV, spare toilet and wardrobe was also located on this level so we didn't have to lug our ski clothing and apres boots downstairs each day.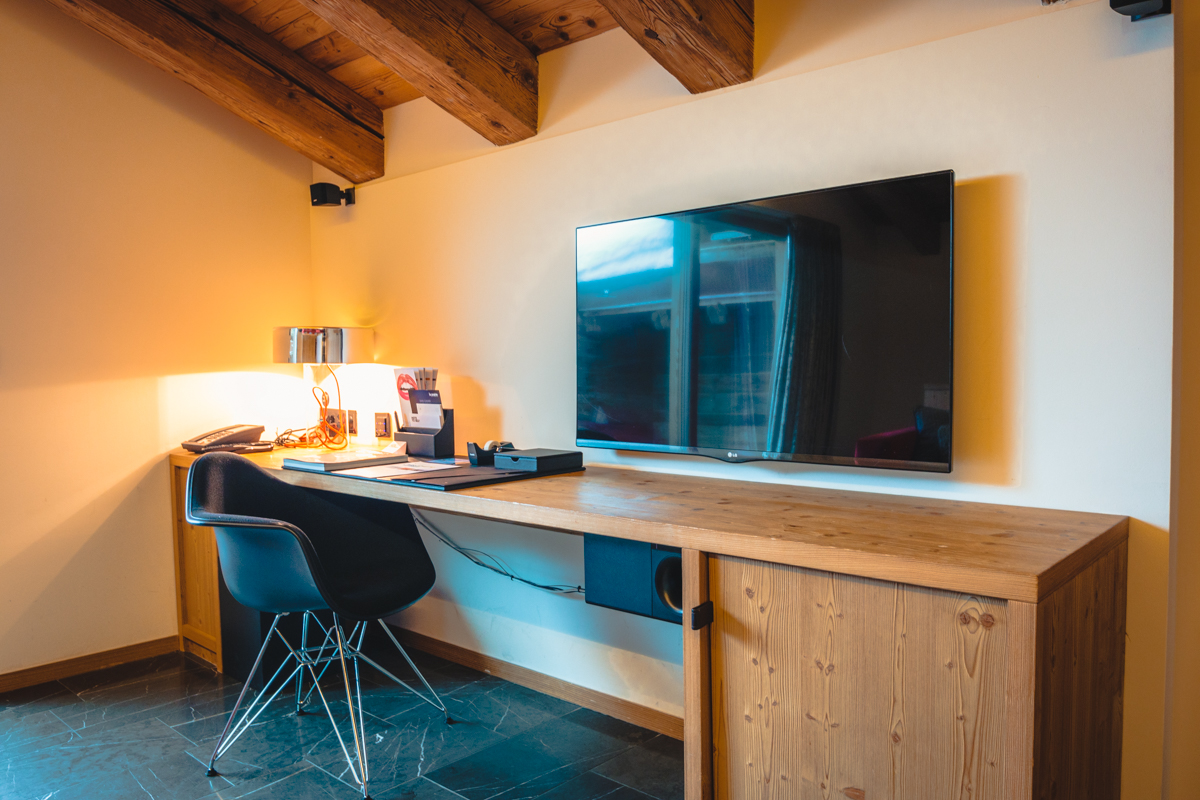 The main bedroom and bathroom were located down the stairs and was roughly the same size as the previous room with all the same facilities.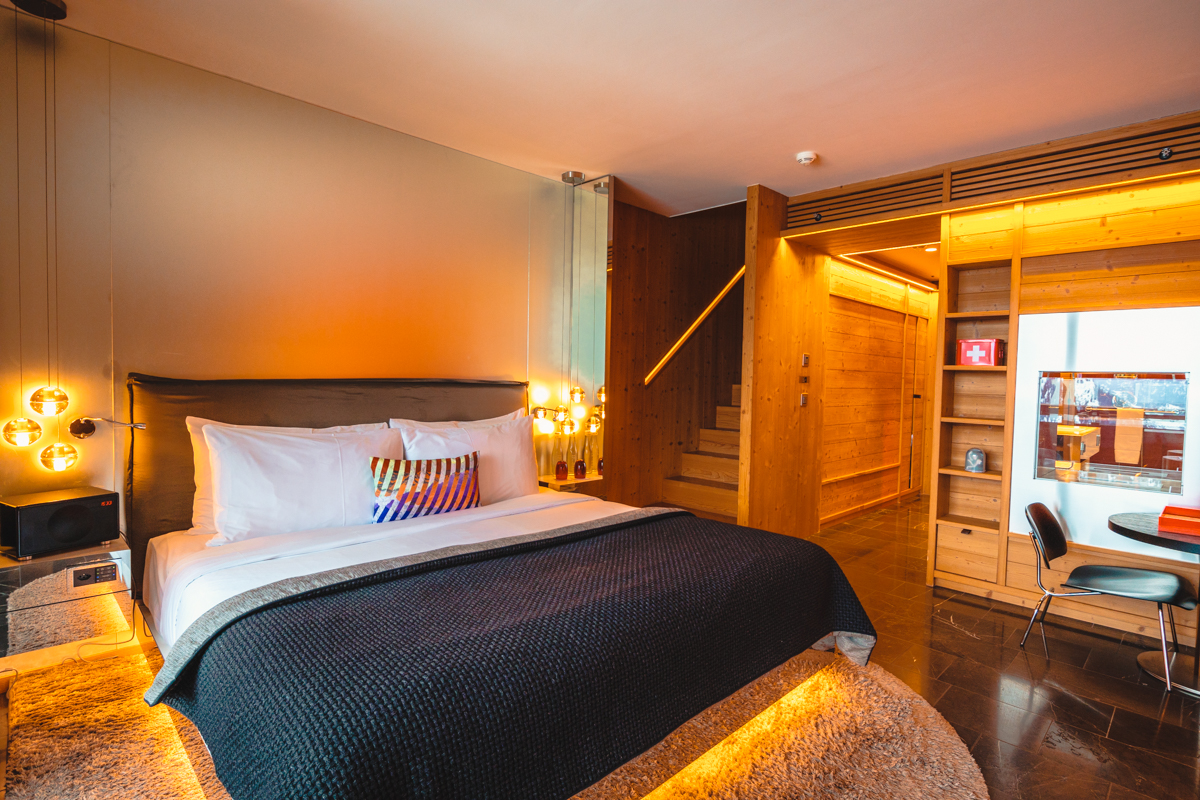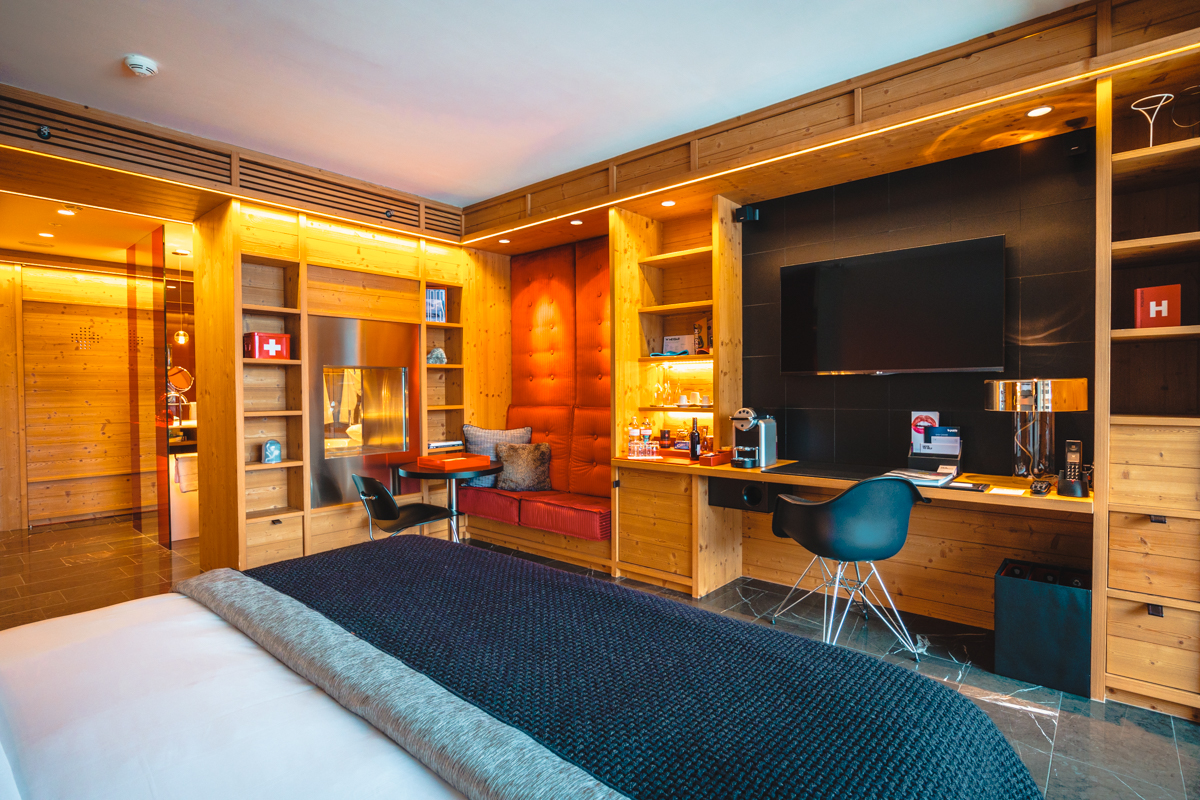 An evening turndown service is provided where all the open bottles of water were refreshed and an evening gift of either lip balm, sunscreen or chocolates.
Bathroom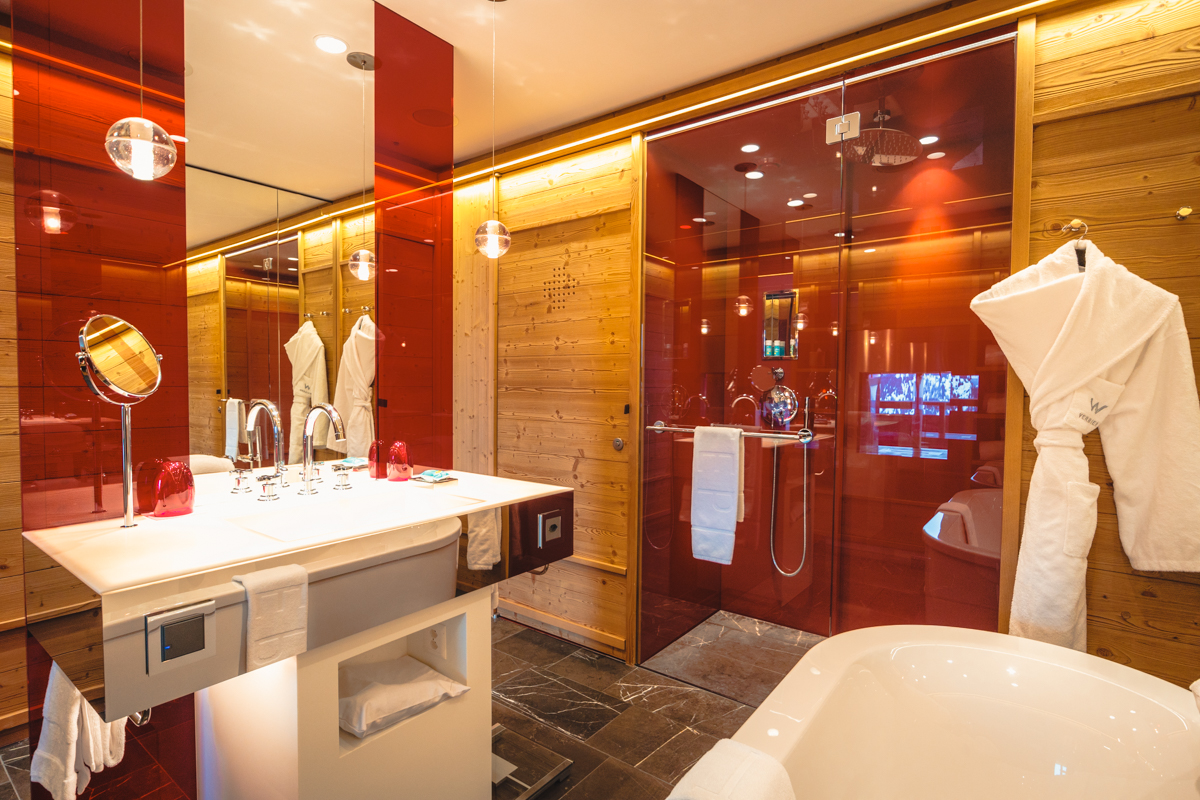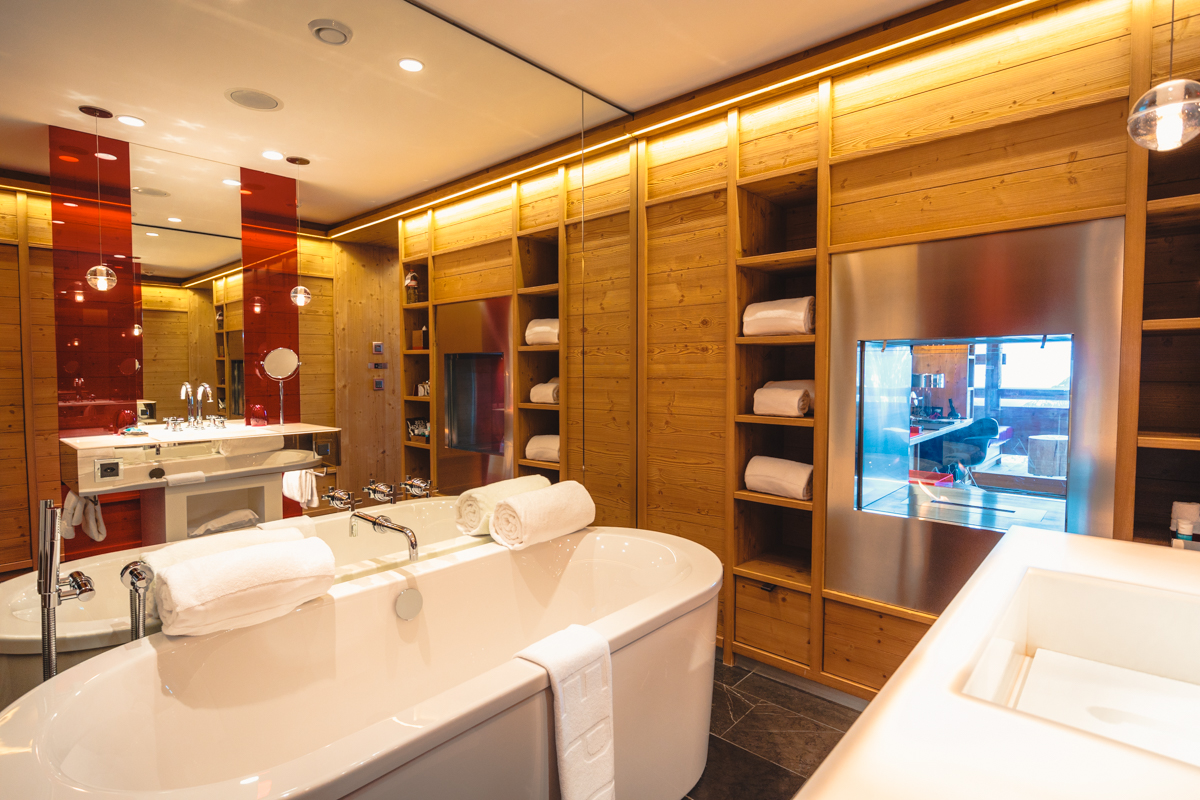 Our only complaint with both rooms was the lowest setting on the air conditioning was 22 degrees which actually felt more like 30 degrees, and with the luxuriously thick goose-down duvet, we were too warm each night and had to leave a window open to let in some fresh mountain air.
Restaurants
Fuel your body before hitting the slopes at the W Kitchen.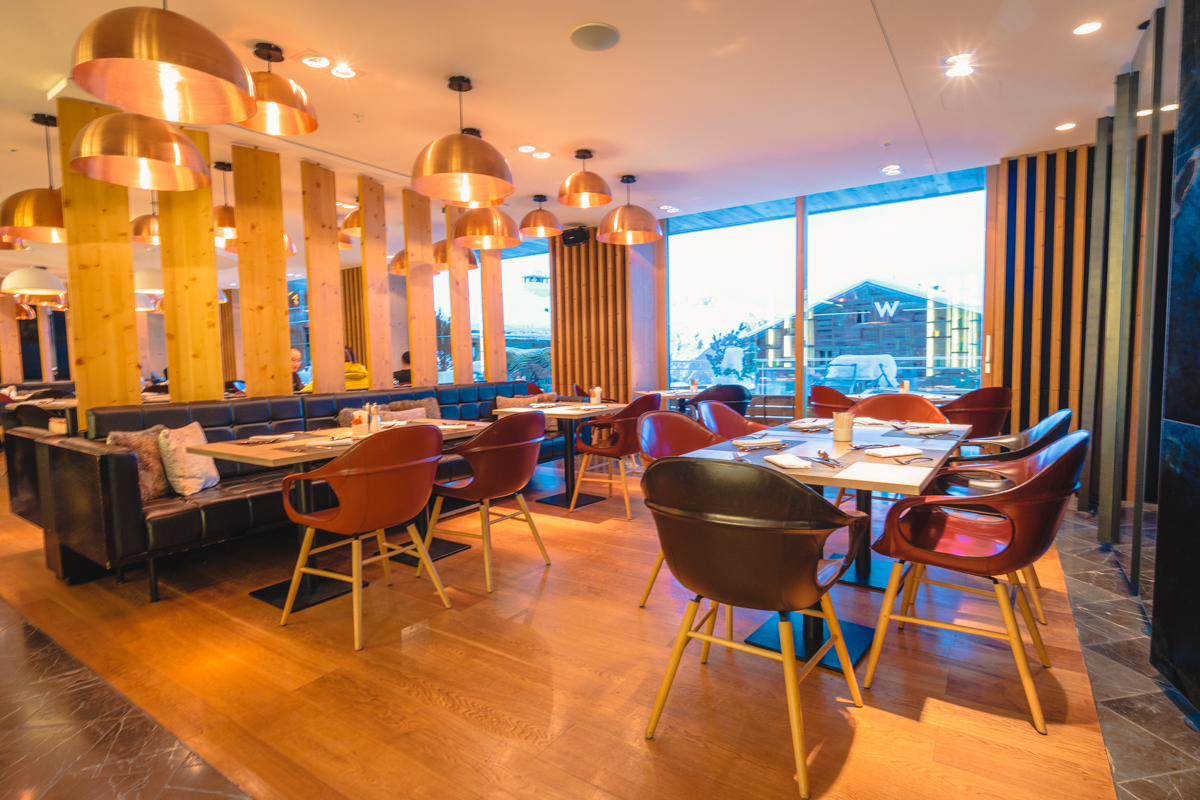 Platinum and higher Marriott Bonvoy members receive complimentary breakfast including a made-to-order main as well as anything from the buffet (including Champagne). Guests who don't have breakfast included will pay EUR 50 per person.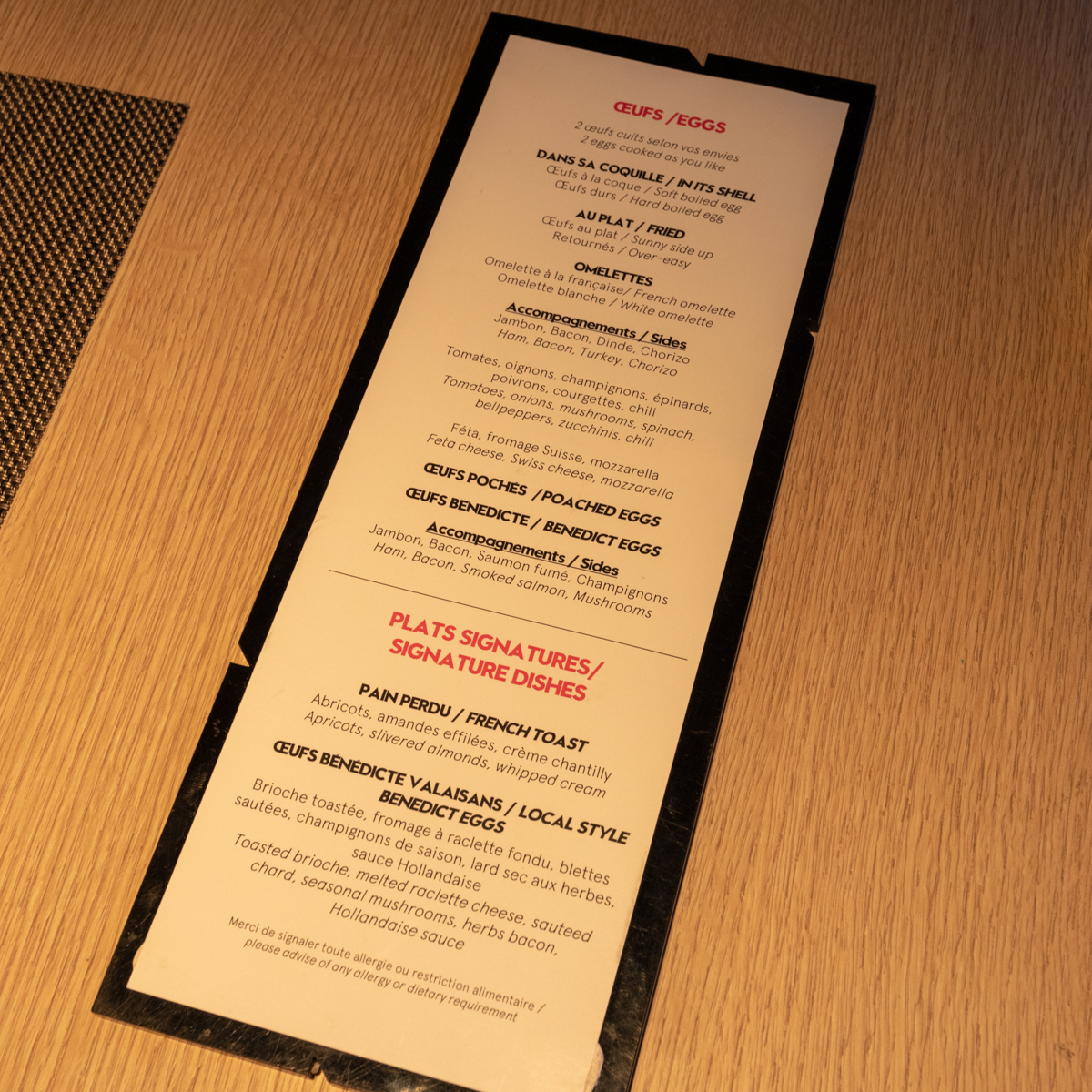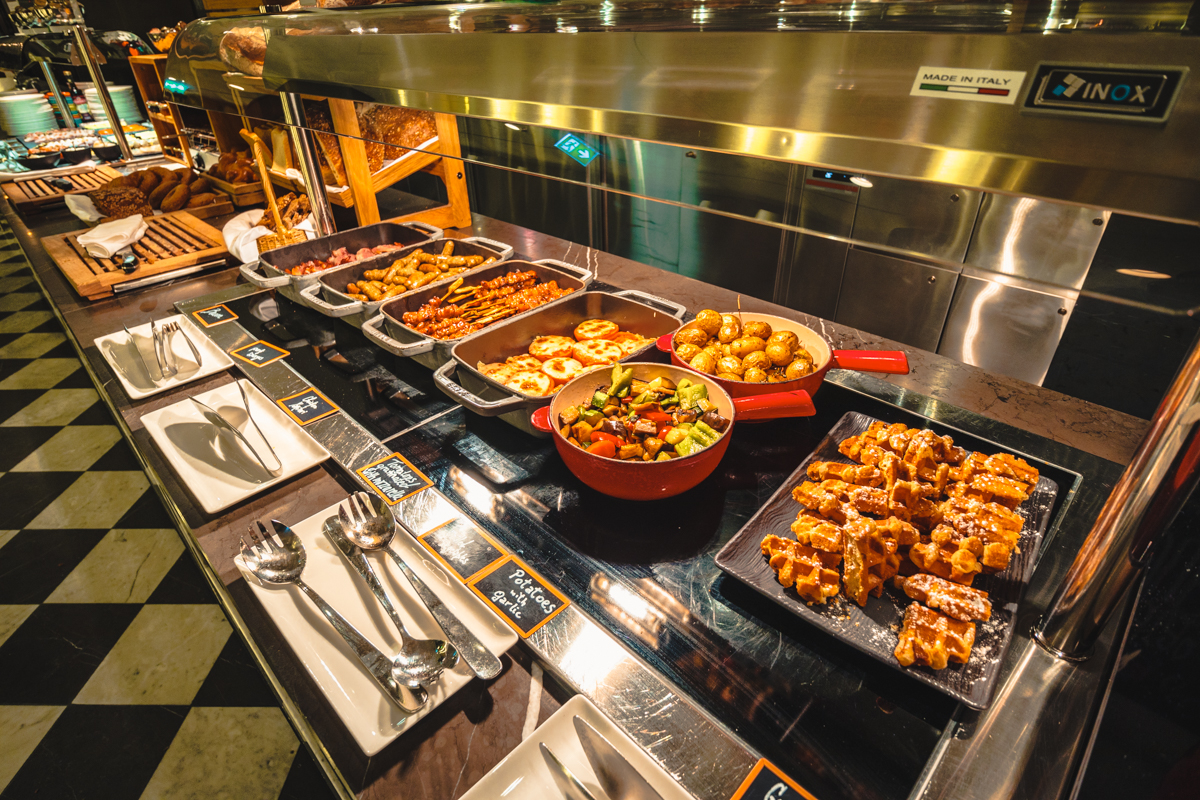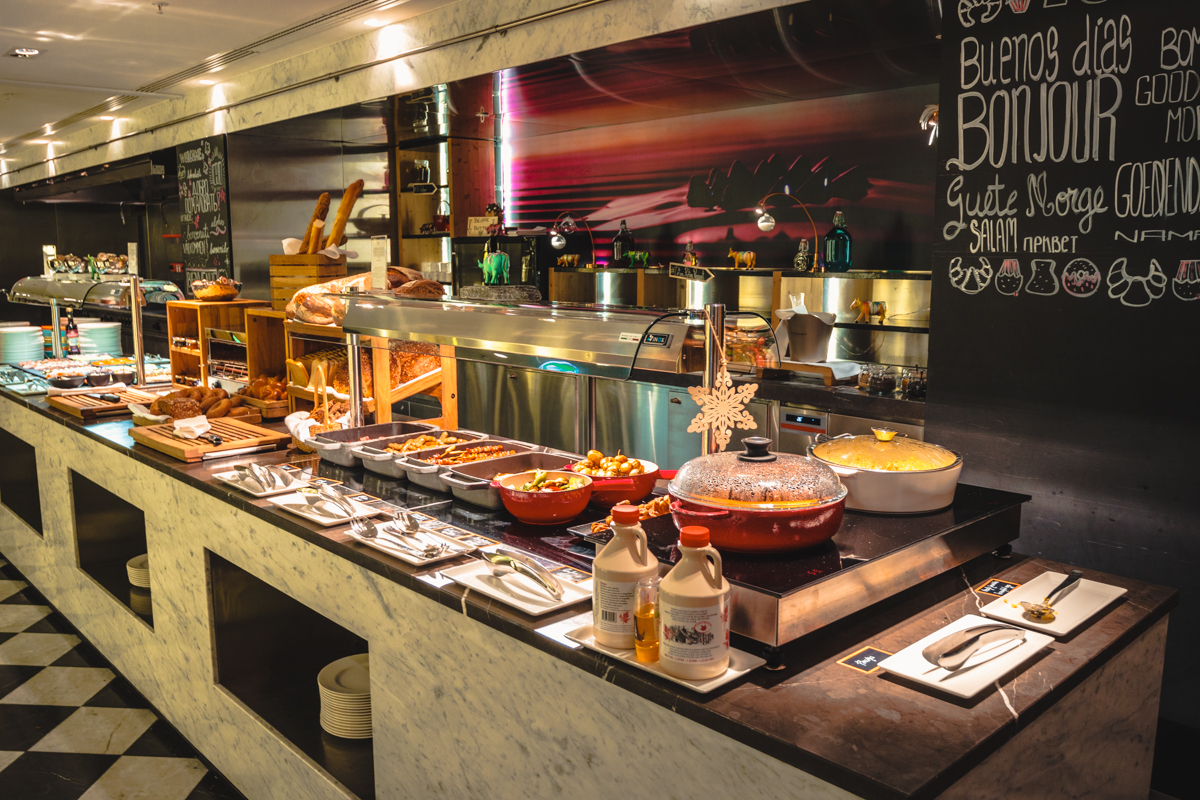 I can highly recommend the French toast, poached eggs and omelettes, but the local style eggs benedict was definitely the highlight.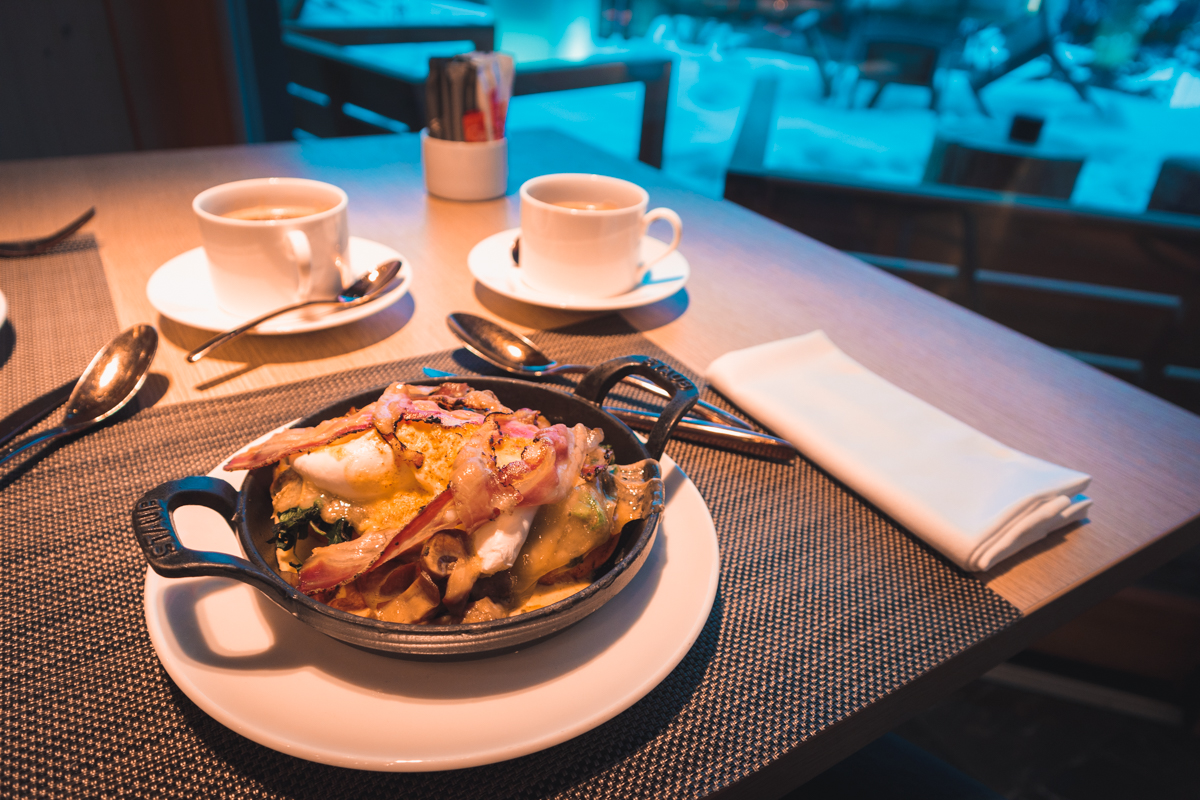 Michelin starred Chef Sergi Arola's EAT-HOLA Tapas Bar serves up his signature creations right in front of your eyes.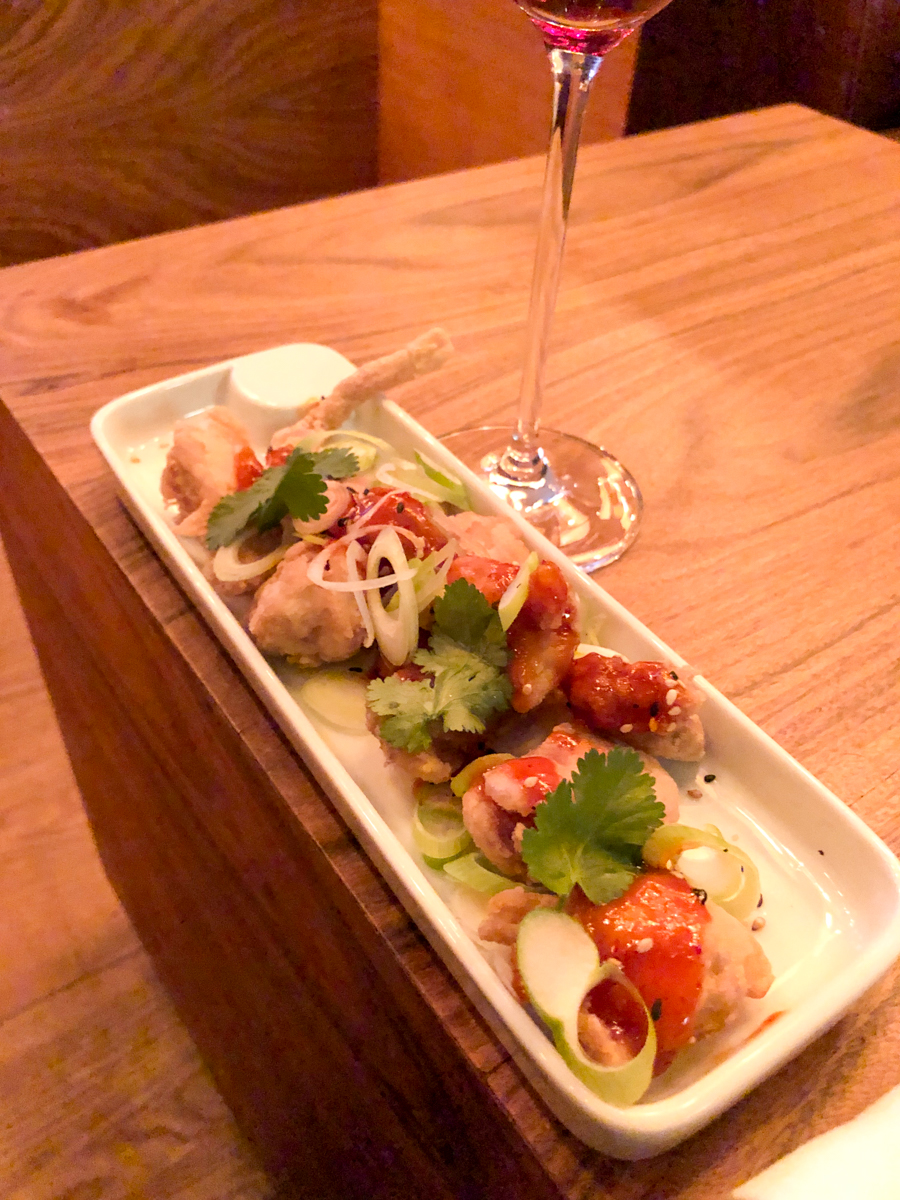 If sushi is more your thing, CARVE Sushi Bar promises the best sushi in the Swiss Alps but we didn't have an opportunity to put that to the test.
The W Living Room is open for lunch or dinner. Or a late-night drink as a DJ plays tunes. Just be mindful of the pricy beverages!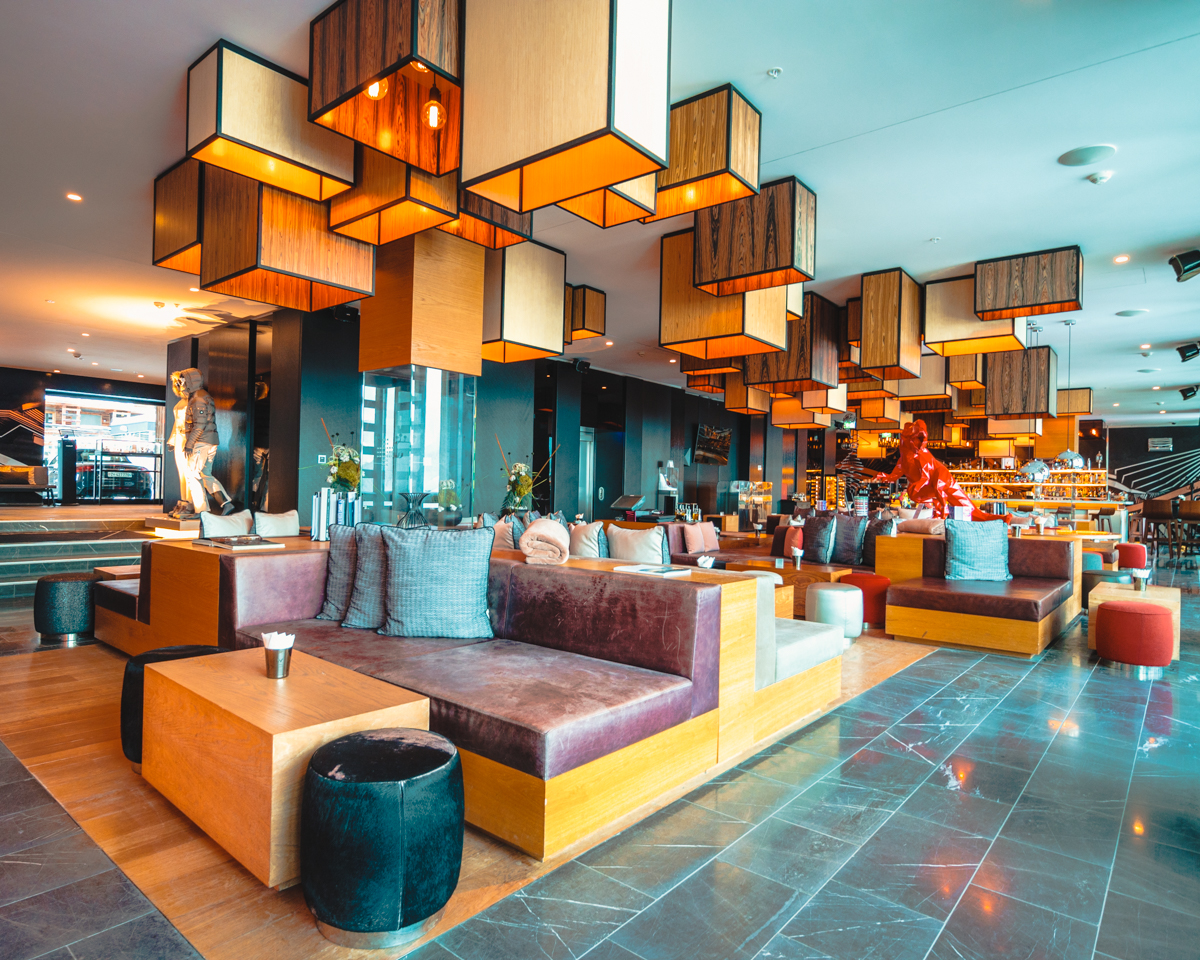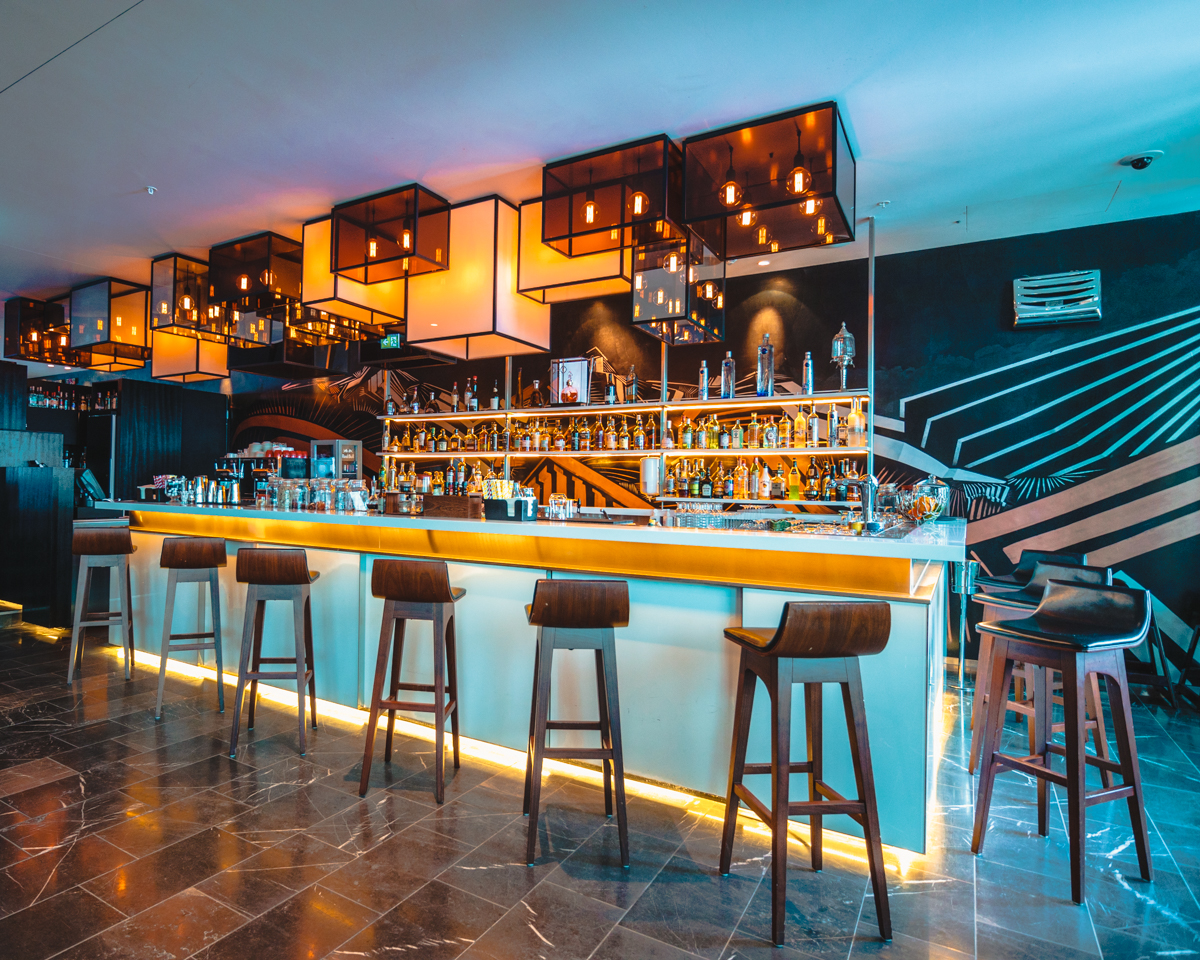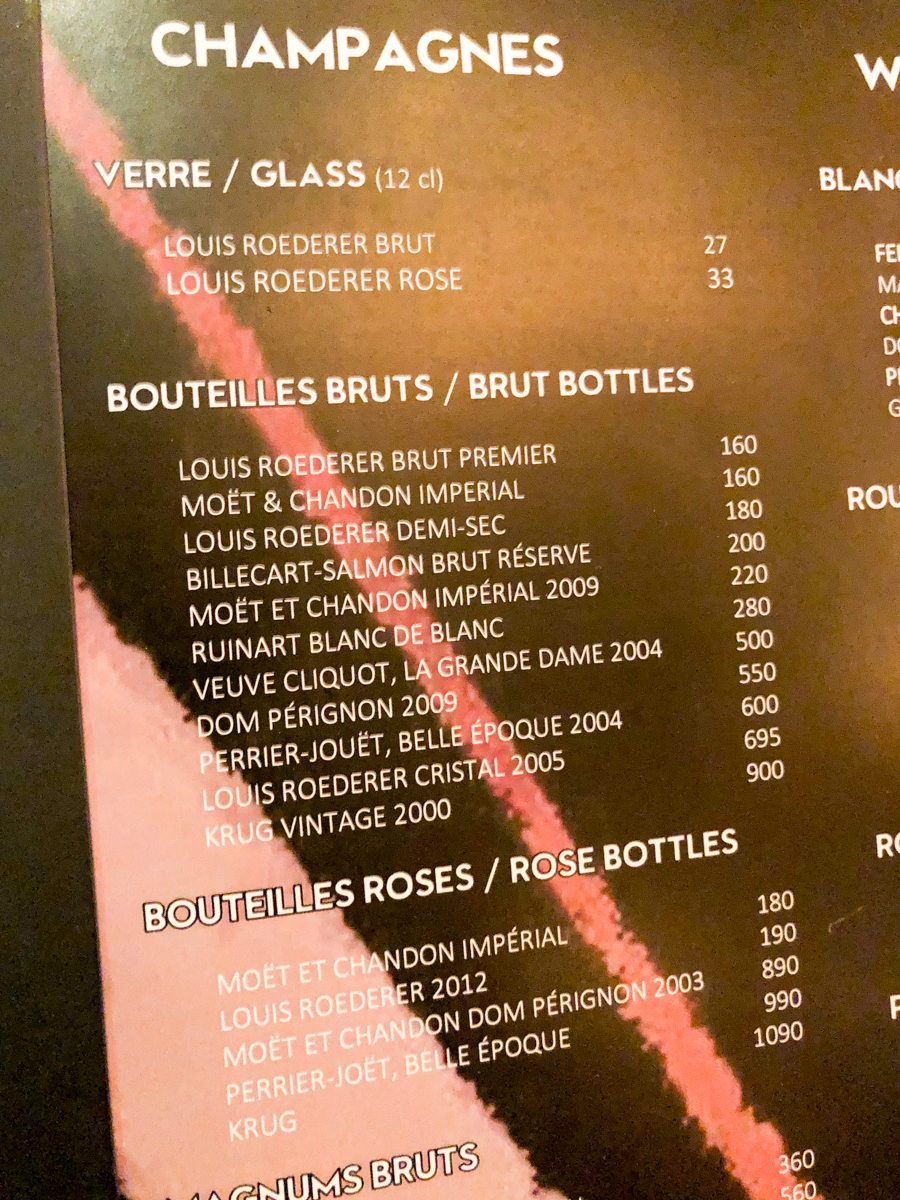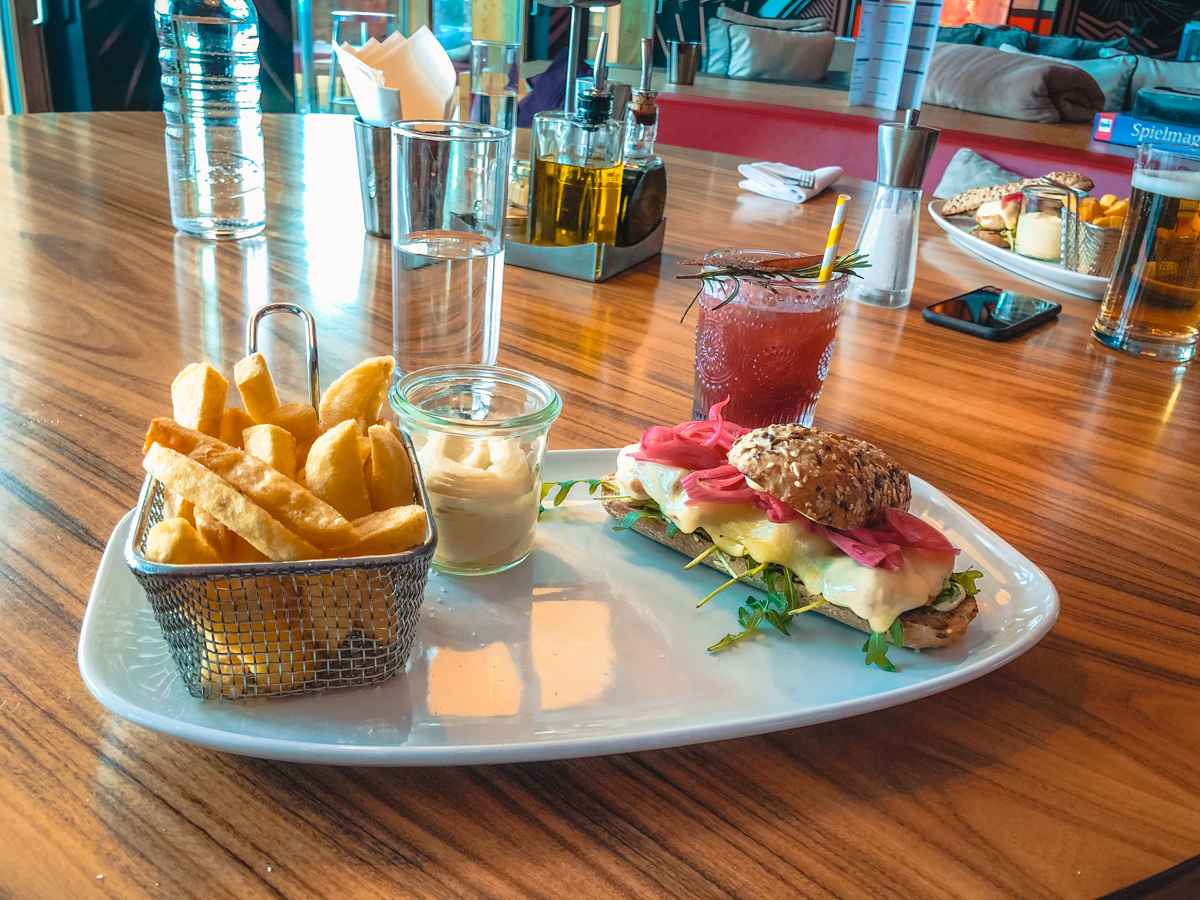 There is also a juice bar and café next to the Mountain Concierge.
Facilities
After a long day skiing, you can recharge in the W AWAY Spa and WET Indoor-Outdoor Pool.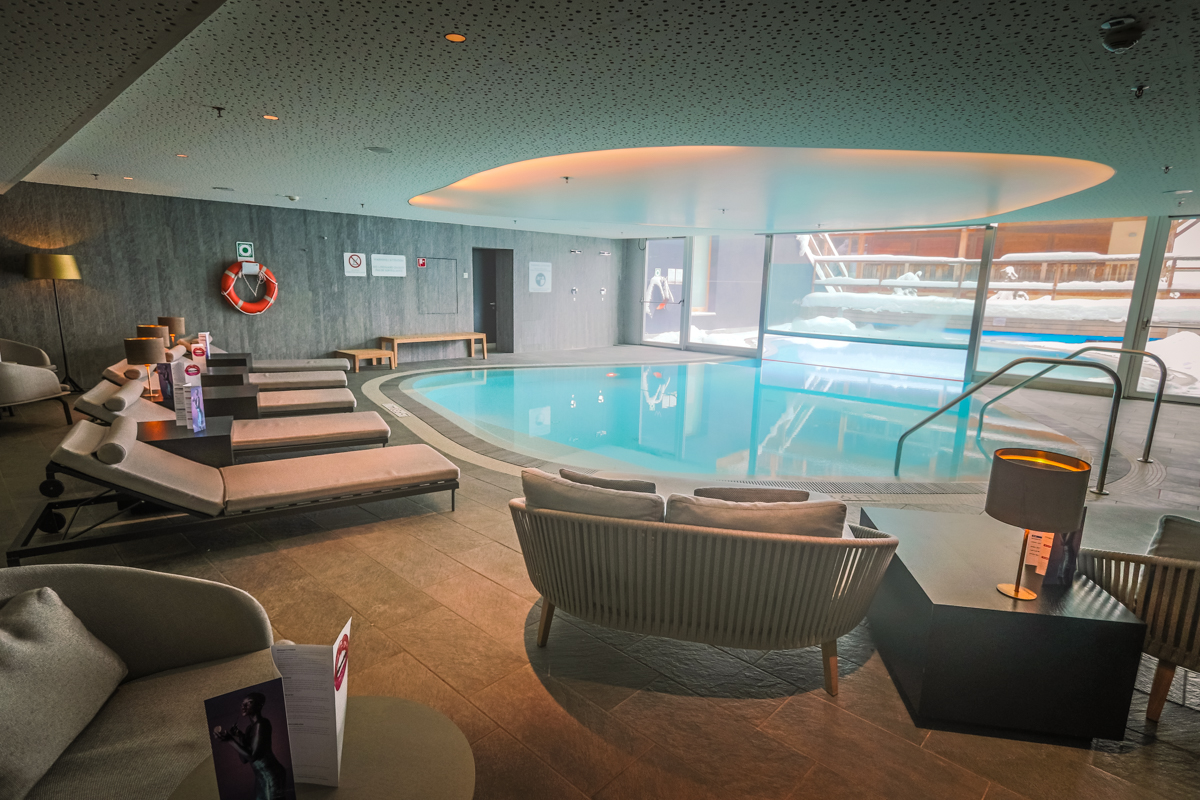 An indoor jacuzzi, hammam, steam rooms and 9 treatment rooms are located onsite.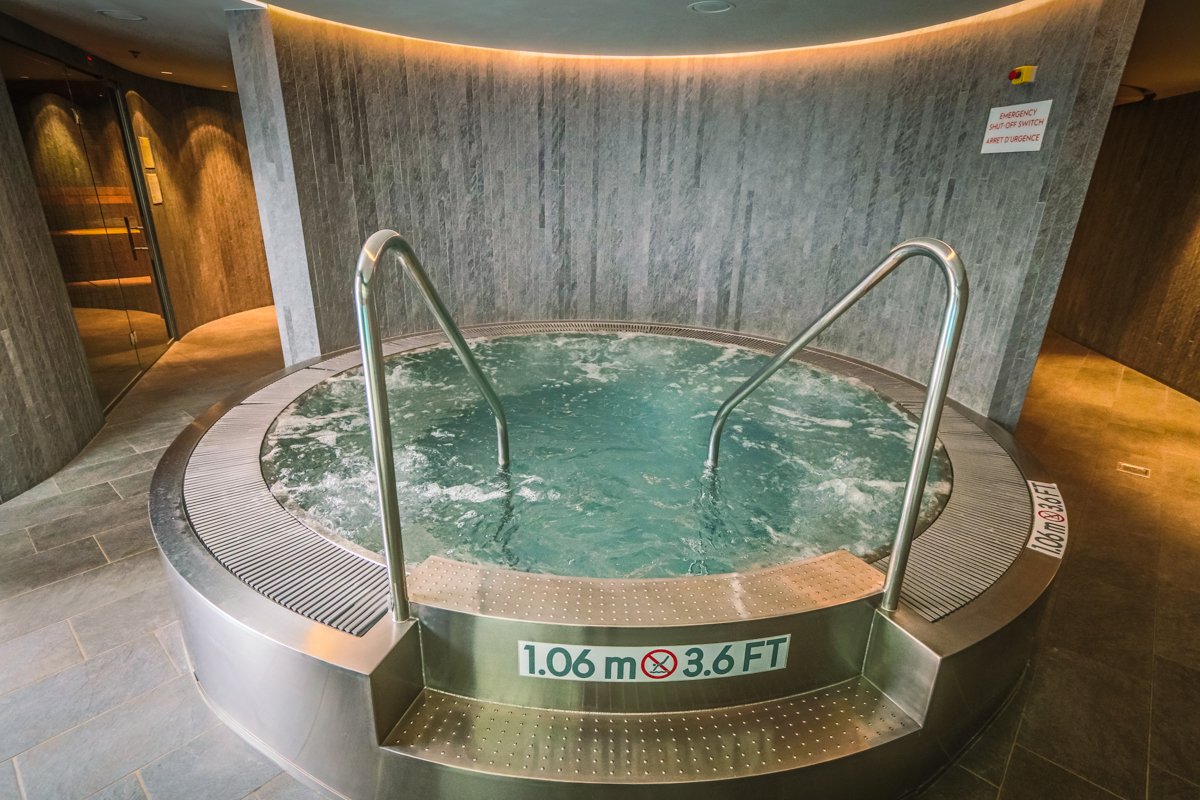 As is the 24/7 gym, W FIT, however after burring over 1000 calories skiing each day, I opted to relax in the pool and jacuzzi instead.
You can also arrange paragliding from the hotel among many other activities.
Wi-Fi was fast and free throughout the hotel.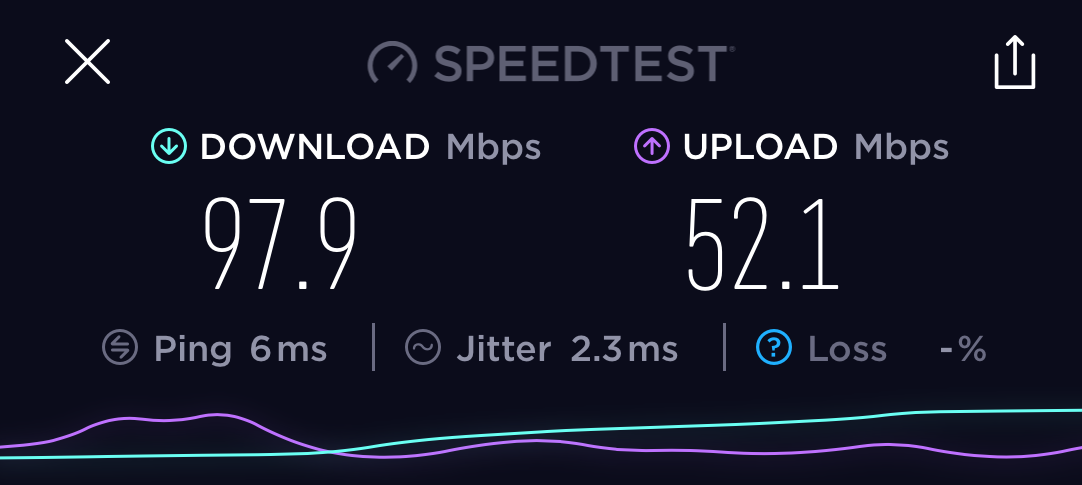 Around the hotel
The hotel is located across the road from the Medran twin chair lift at the base of the Medran home trail.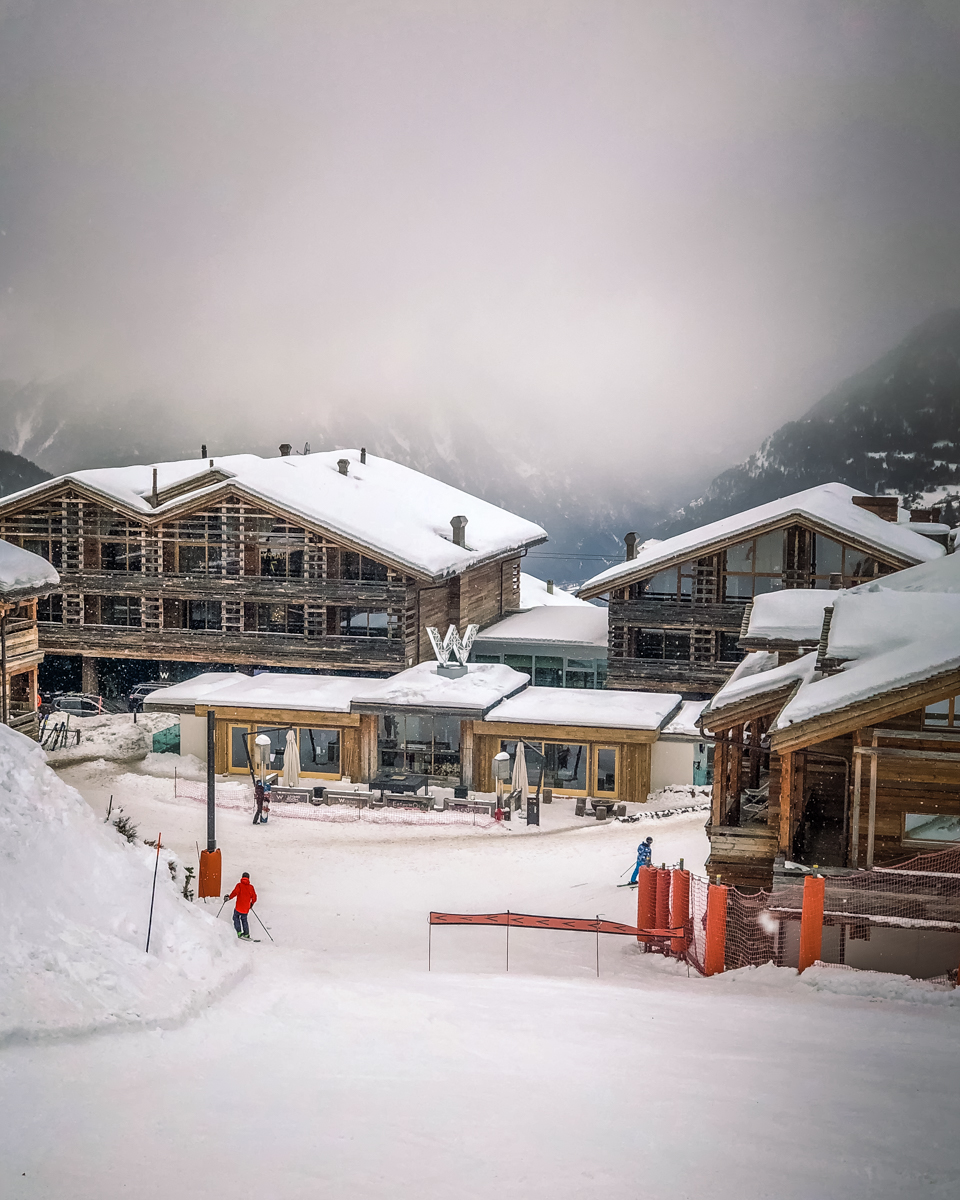 After a fun day of skiing, you can quickly unclip from your board or skis and walk straight into W Off Piste, the home of après ski. A DJ is spinning tunes whilst you sip cocktails in front of the fireplaces. It's a fabulous place to meet fellow hotel guests–I actually ran into an Instagram follower one afternoon. It's such a small world!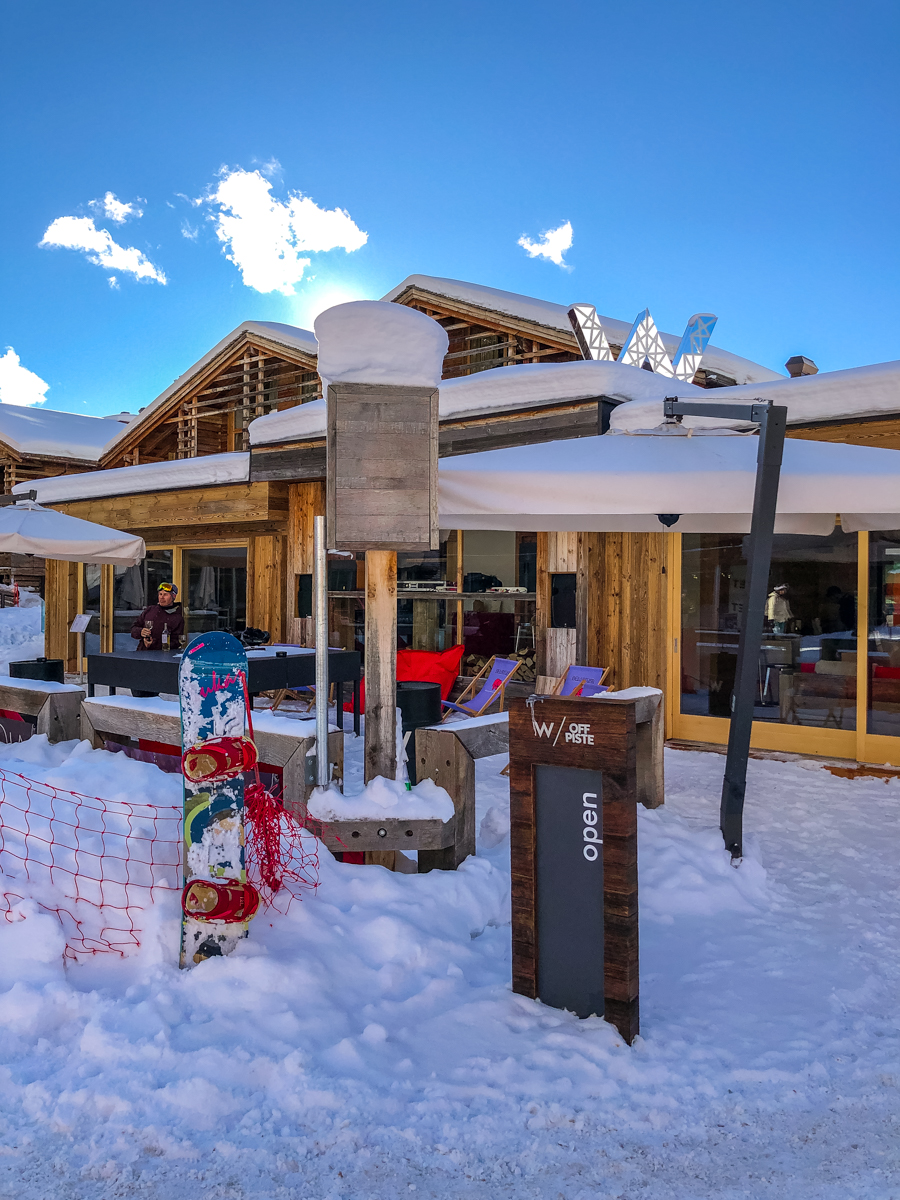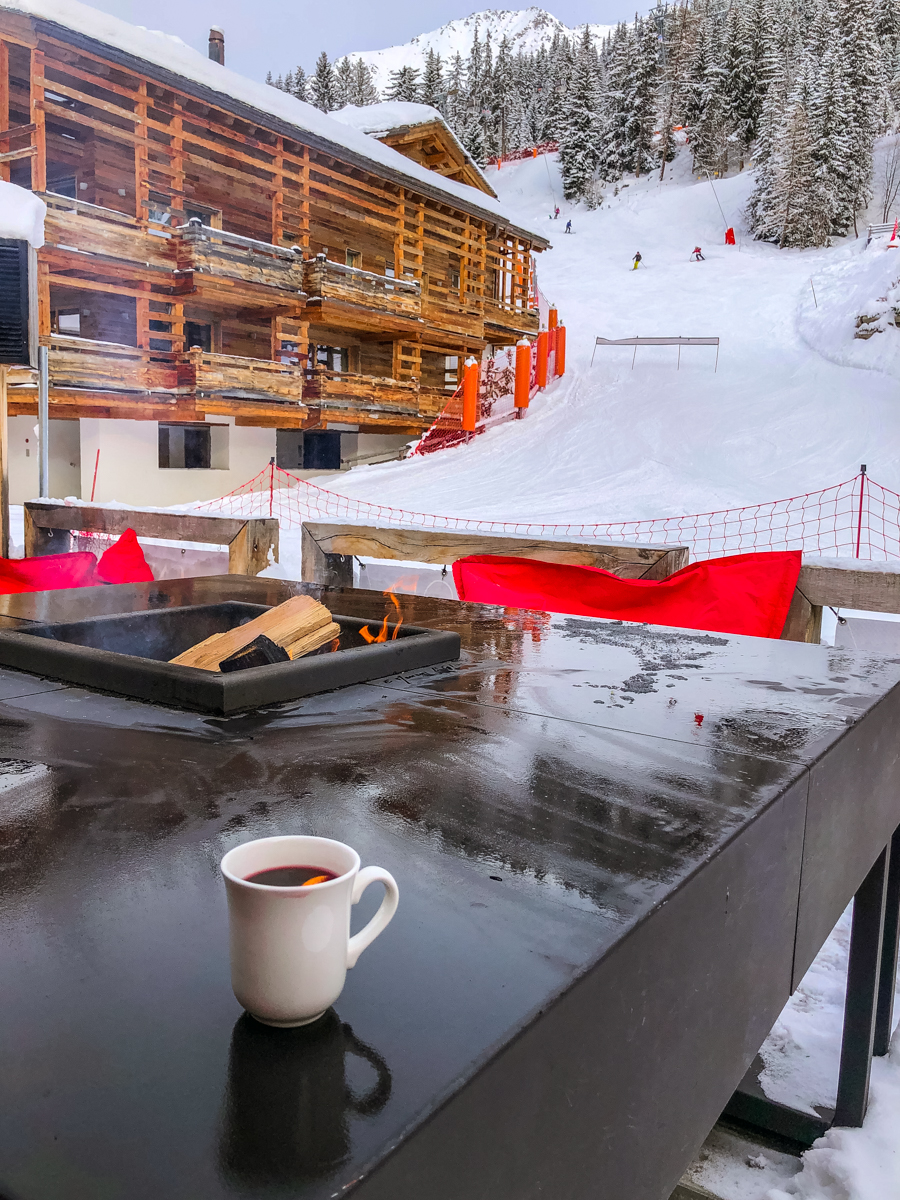 What surprised us the most is how quiet the town was in the middle of winter, especially comparing it to Queenstown, Whistler, Niseko and even Jindabyne. Bars and restaurants felt empty every night and we never had to queue for a single chairlift or gondola during our entire week on the mountain. Asking the Mountain Concierge, he said we were in a shoulder period and Europeans don't usually take holidays until February.
The hotel also recommended a restaurant up the mountain where they shuttled us up and after a delicious French meal and a bottle of red wine, we had to get back to the hotel via the ski field on a 'sledge' and just an LED light on our heads. Which made for hilarious memories!
Service
The service delivery at the W was on a level I had not experienced since staying at the St Regis Maldives last year. From the moment we arrived, we were greeted with warm, genuine smiles, and no request was too difficult.
An onsite Mountain Concierge arranged our ski passes, suggested places to rent and buy equipment, stored all our ski/boarding gear each night and even proactively brought our gear inside after they saw it sitting outside whilst we were having apres drinks at W OFF PISTE.
If you purchase your lift ticket from the onsite Mountain Concierge, you'll pay the same price as the official ticket desk across the road but the bonus is you'll receive points by charging them to your room.
Speaking to one of the Mountain Concierge staff, he was sharing with us how much he loved working at the hotel as the entire team were friendly and 'cool.' He said management allow them to express their individuality and they're allowed to be 'cool'–but just never as cool, or cooler than the guests!
A free shuttle is available to take you to and from the bus stop or to restaurant reservations if you didn't want to walk.
Summary
Our stay could not have been more perfect. We loved the space our upgraded suite provided us, the amazing views, excellent breakfast, large number of dining locations and the incredible hospitality from the staff.
It's easy to see why this property has won so many awards and we would not hesitate to visit again.
While some W Hotels miss the mark with styling, the W Hotel Verbier Retreat is most certainly a hit in my eyes. I would love to see Marriott open more W snow Retreats. With Aspen just about to open in in late 2019, we already have a points redemption booked and we look forward to staying there in January 2020.
This content contains affiliate links from which Point Hacks may earn commissions from transactions generated from new customers, bookings and general enquiries. Find out more here.
W Hotel, Verbier
was last modified:
June 20th, 2023
by