Here's a story for you. The Como in Melbourne has a glamourous and rich history dating back to 1847. An English-Australian lawyer (and future Judge of the first Supreme Court of Victoria) built a residence he named 'Como', after the Lake Como in Italy where he had proposed to his wife.
More than a century later in 1989, The Como Hotel opened and has proudly welcomed guests from across the globe, including many musical legends. The property joined Accor's MGallery collection of unique hotels in 2012 and has also undergone a multi-million dollar renovation.
Then on one fine Victorian day in March 2022, I waltzed through its doors to bring you this review of a Junior Suite at The Como Melbourne – MGallery.
Hotel location and first impressions
The Como Melbourne hotel is nestled within the Como Centre, a mixed-use retail and business hub. You'll find it at 630 Chapel Road, just off the busy Toorak Road that runs through the bustling neighbourhood of South Yarra.
I'm checking in early on a Friday morning and am pleasantly surprised to find that a room is ready. Not only that, but as an Accor Live Limitless (ALL) Gold member, my Deluxe room has been upgraded to a Junior Suite. Score! The check-in staff are courteous and offer to take my bags for me, though I still opt to do it myself.
The building and architecture are dated – you'll later see that's pretty much the biggest bugbear of my stay. On a practical aspect, it means people with disabilities may find it a bit harder to get up and down the stairs that connect the lobby, restaurant, and lifts. Even the rooftop pool isn't connected by lift.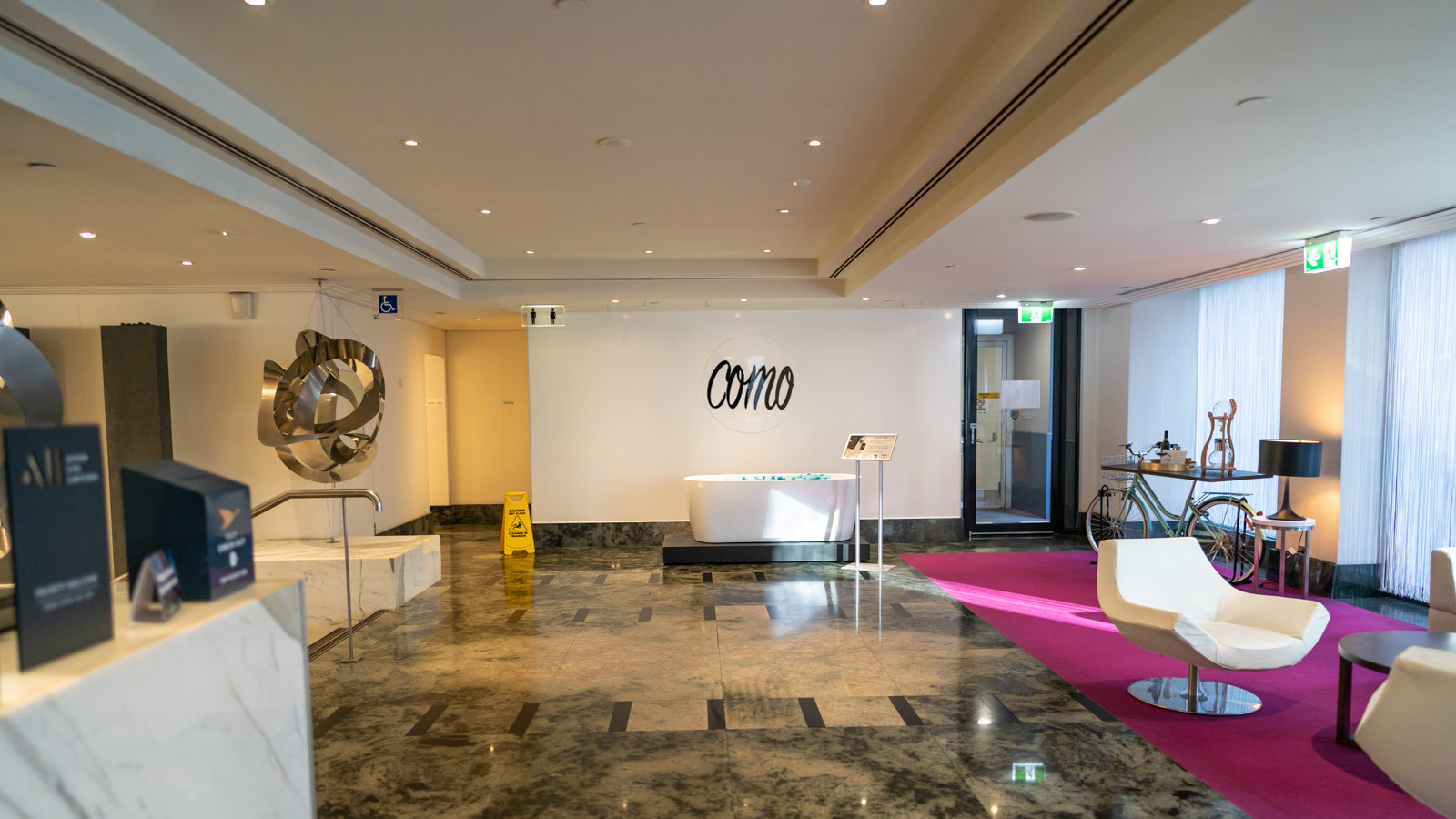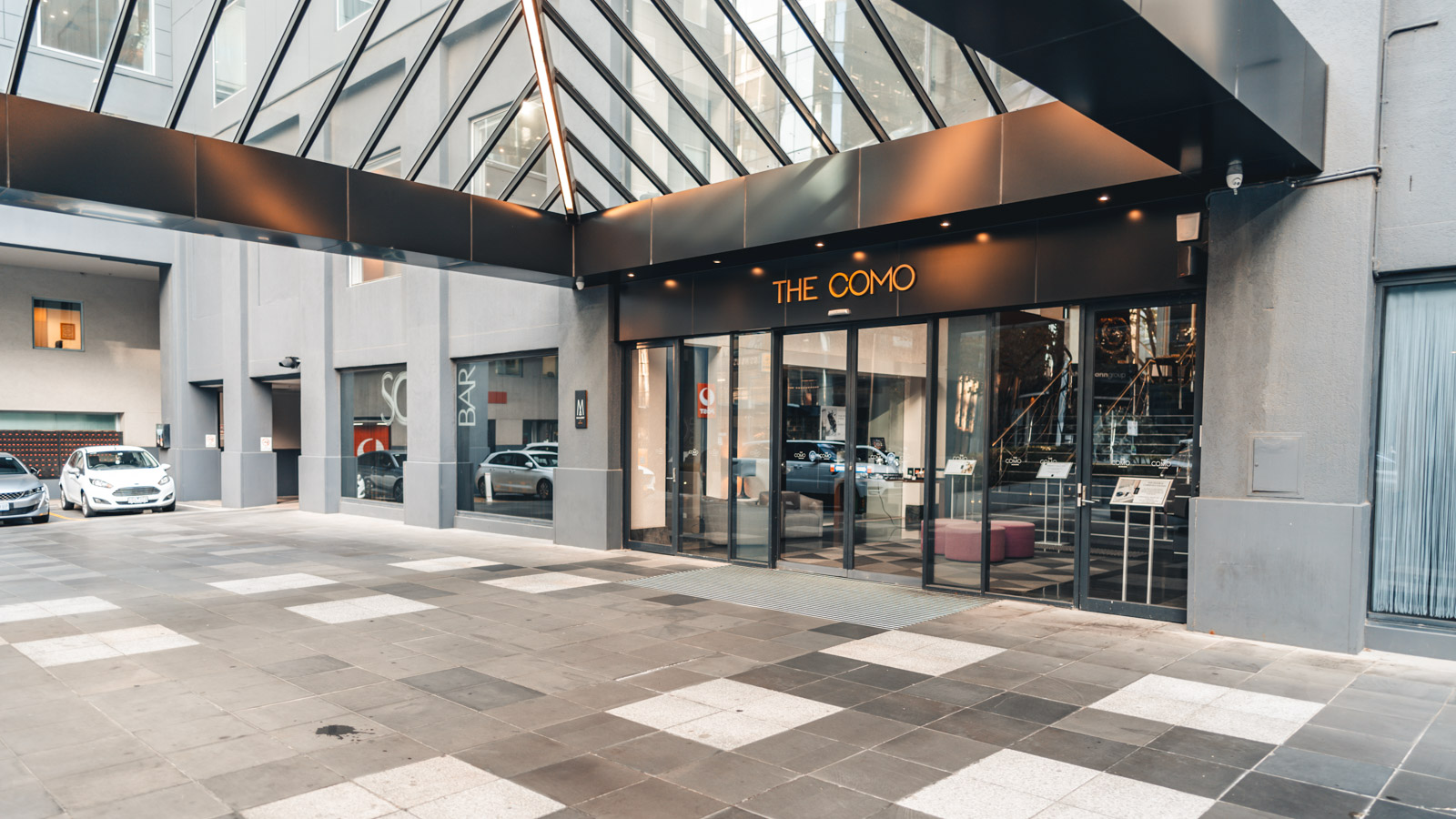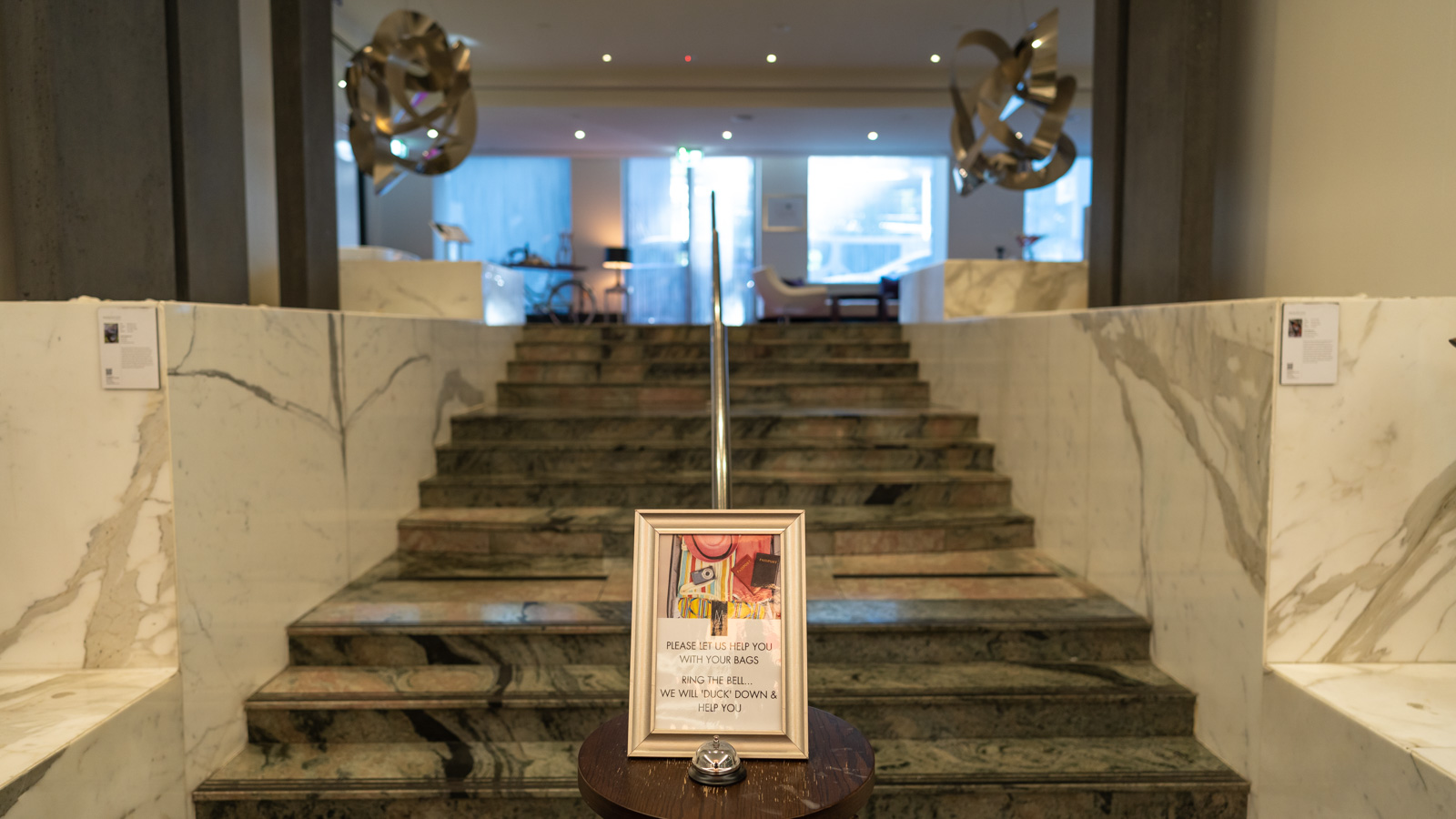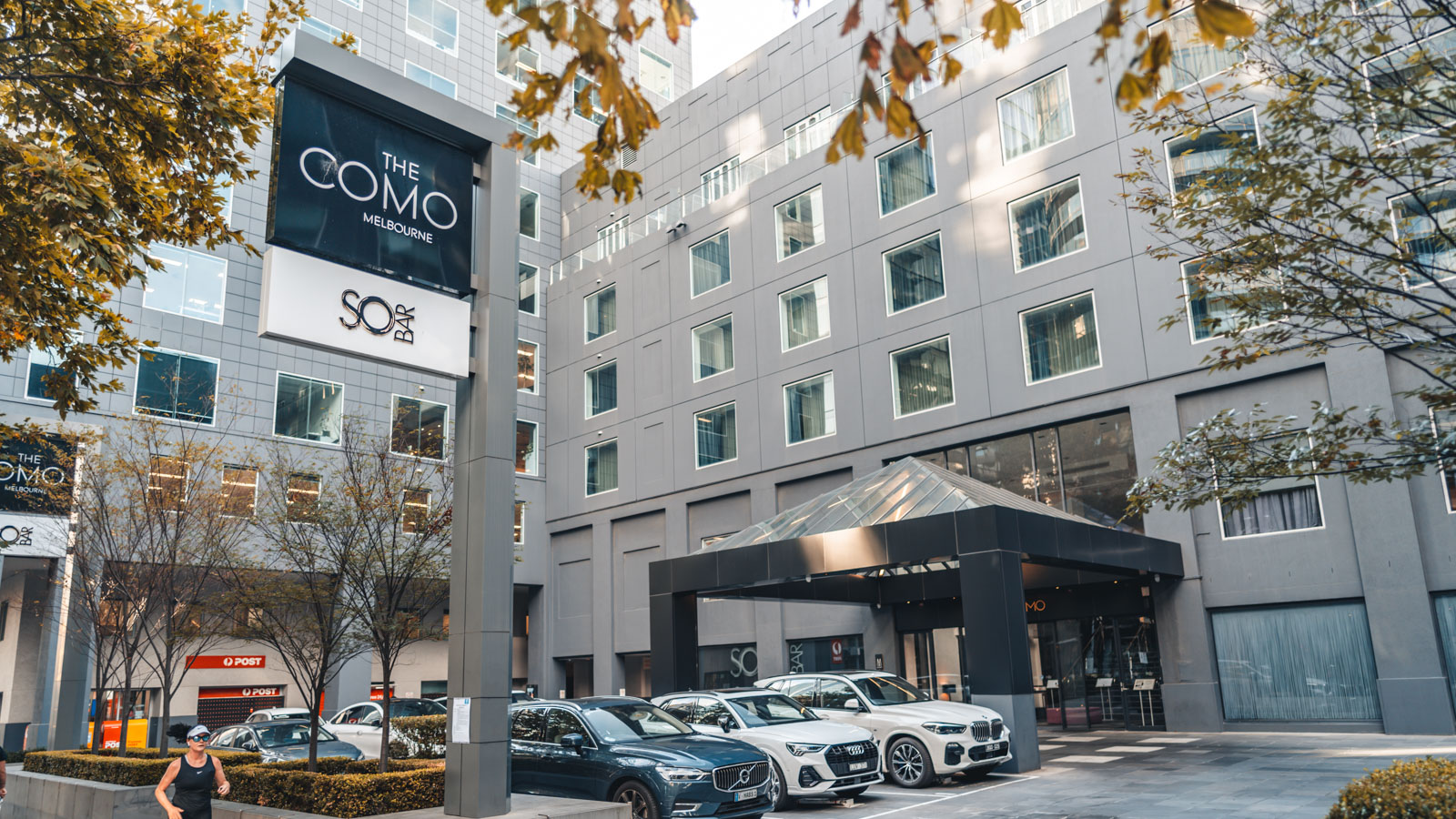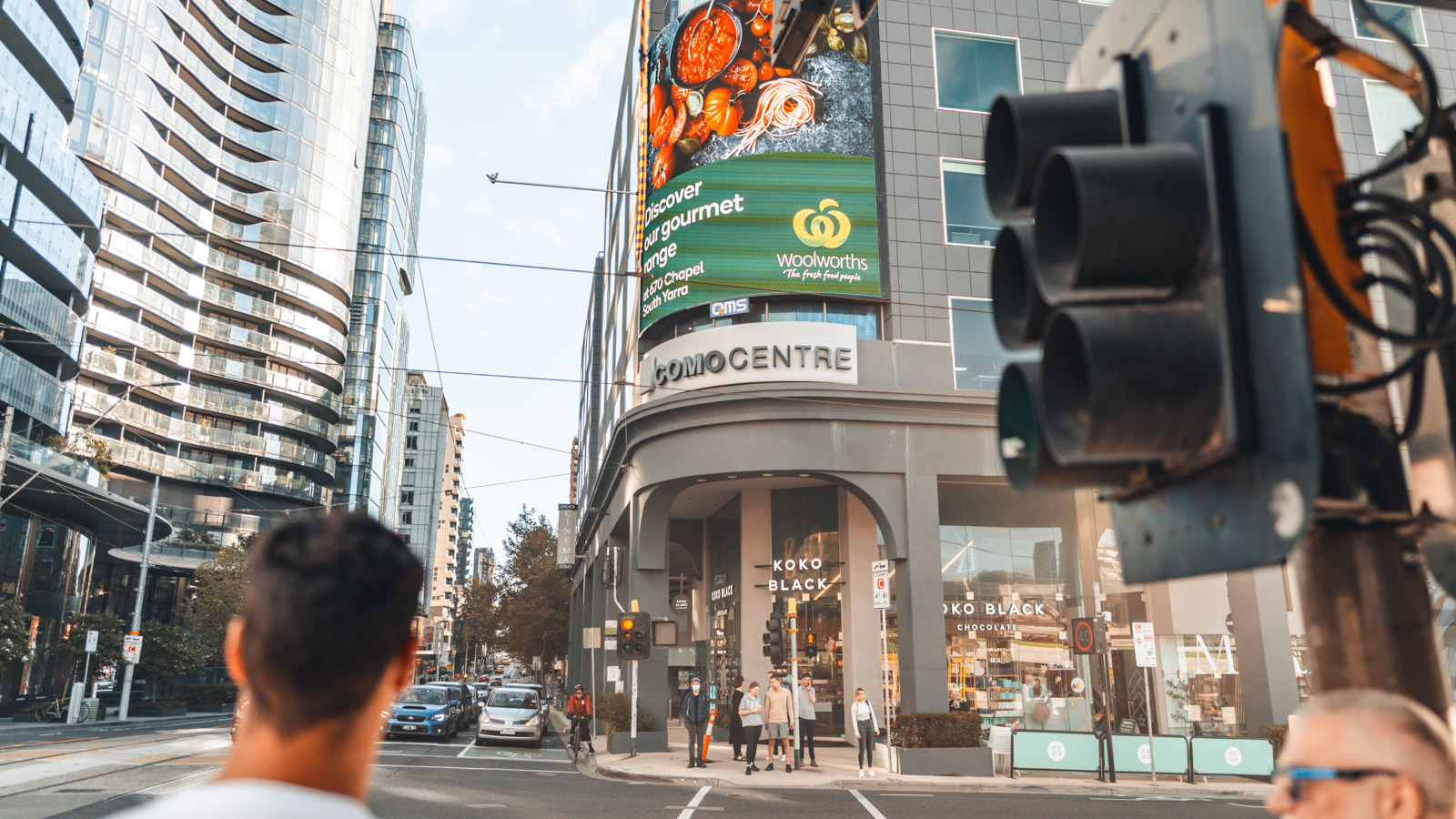 Staff at The Como Melbourne are more than happy to help with bags, of course. But it highlights how accessibility wasn't a big focus in the 1980s.
When I return later in the evening, I find a welcome amenity left out, courtesy of my Gold status. In the fridge are two Limoncello Collins digestif cocktails, and a plate of nougat.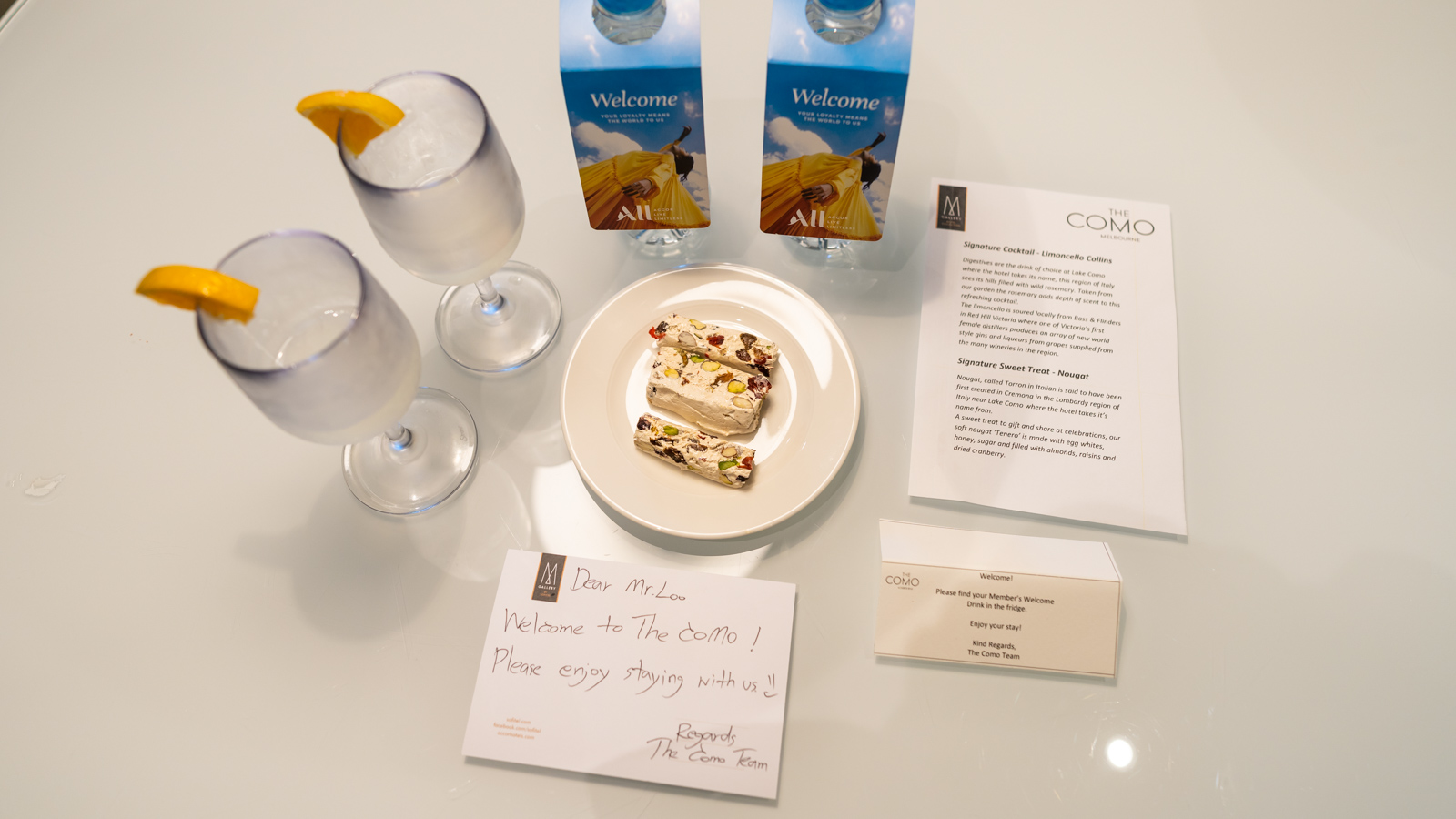 The Como Melbourne Junior Suite
The space
The rooms at The Como have one excellent trait in common – they're all very spacious. An entry-level room starts from 32 sqm, while a Junior Suite is listed as a whopping 75 sqm on the website. I'm greeted by an expansive lounge room when I enter, with a kitchenette and dining table as well.
Opposite the couch is a small TV and working desk. The balcony of my second-floor room doesn't quite offer scenic views, but it's good for some fresh air.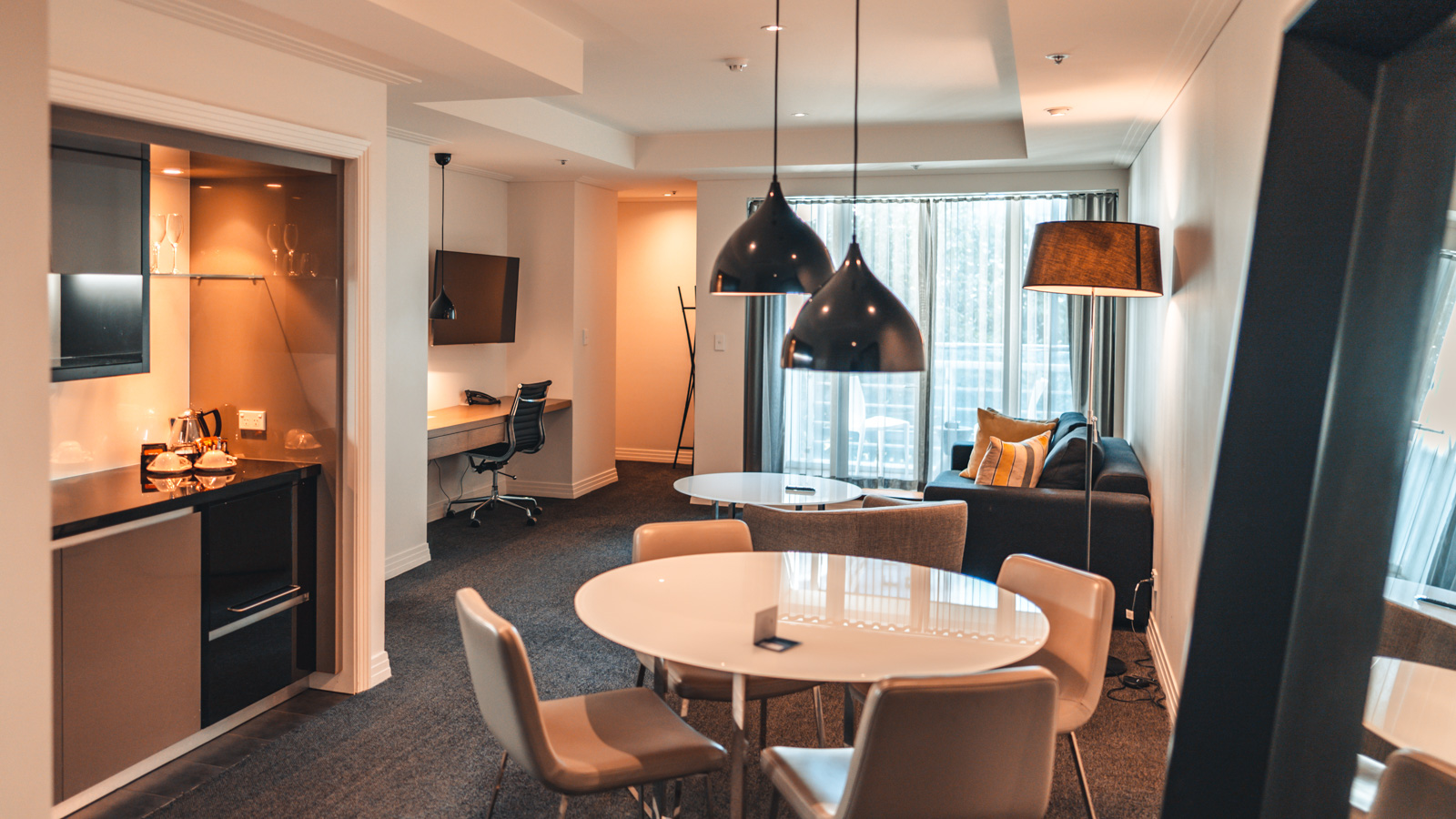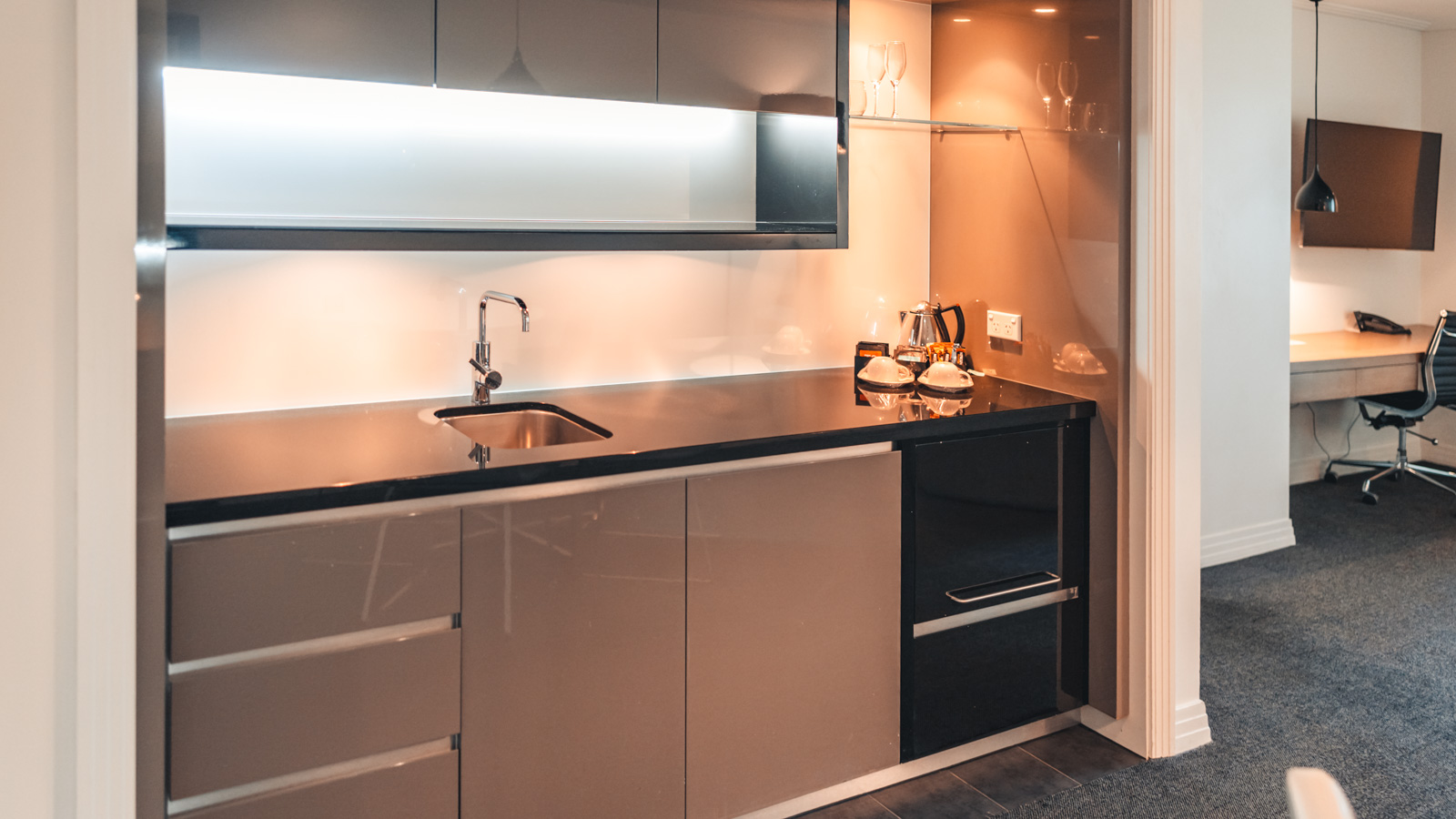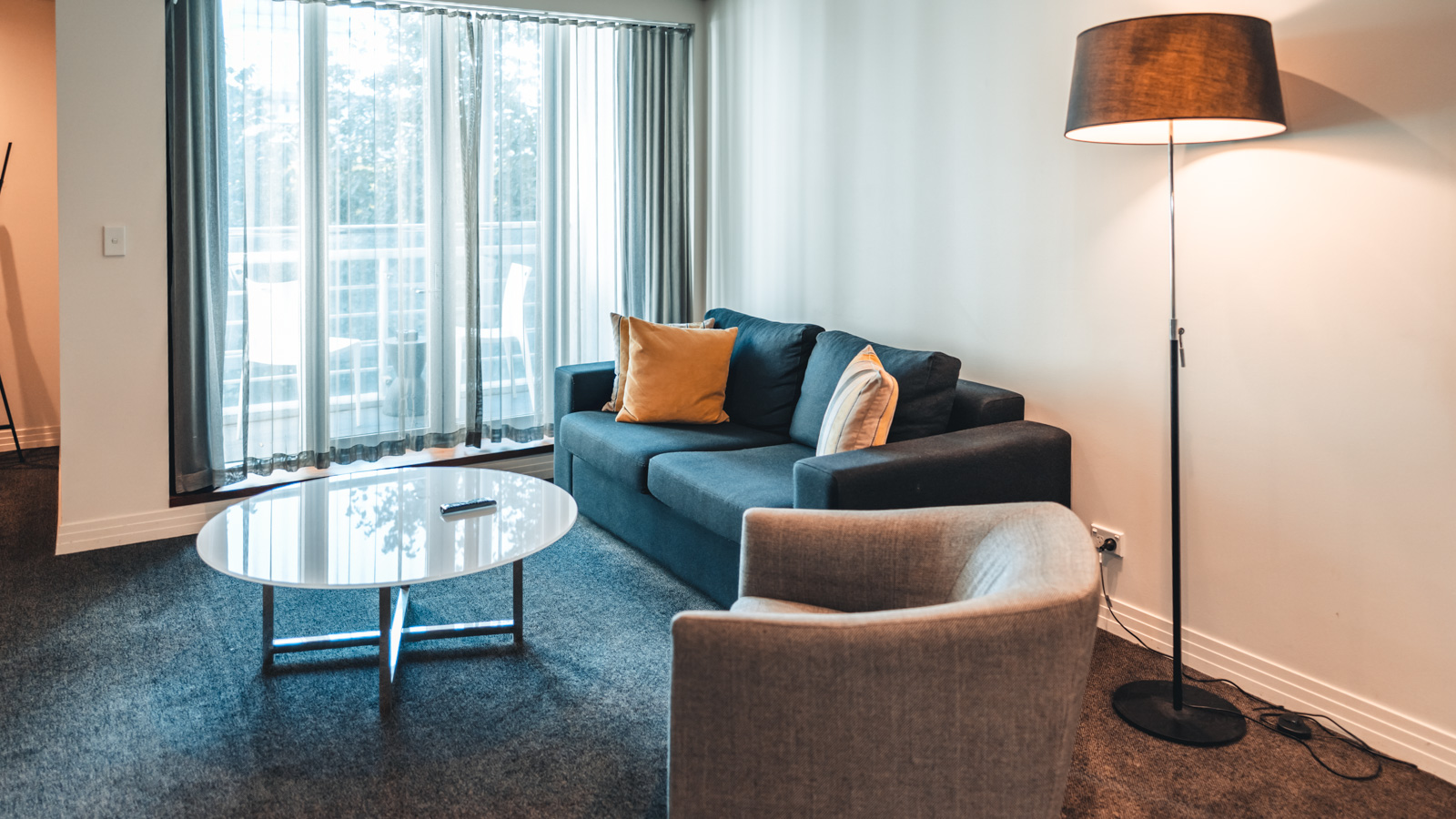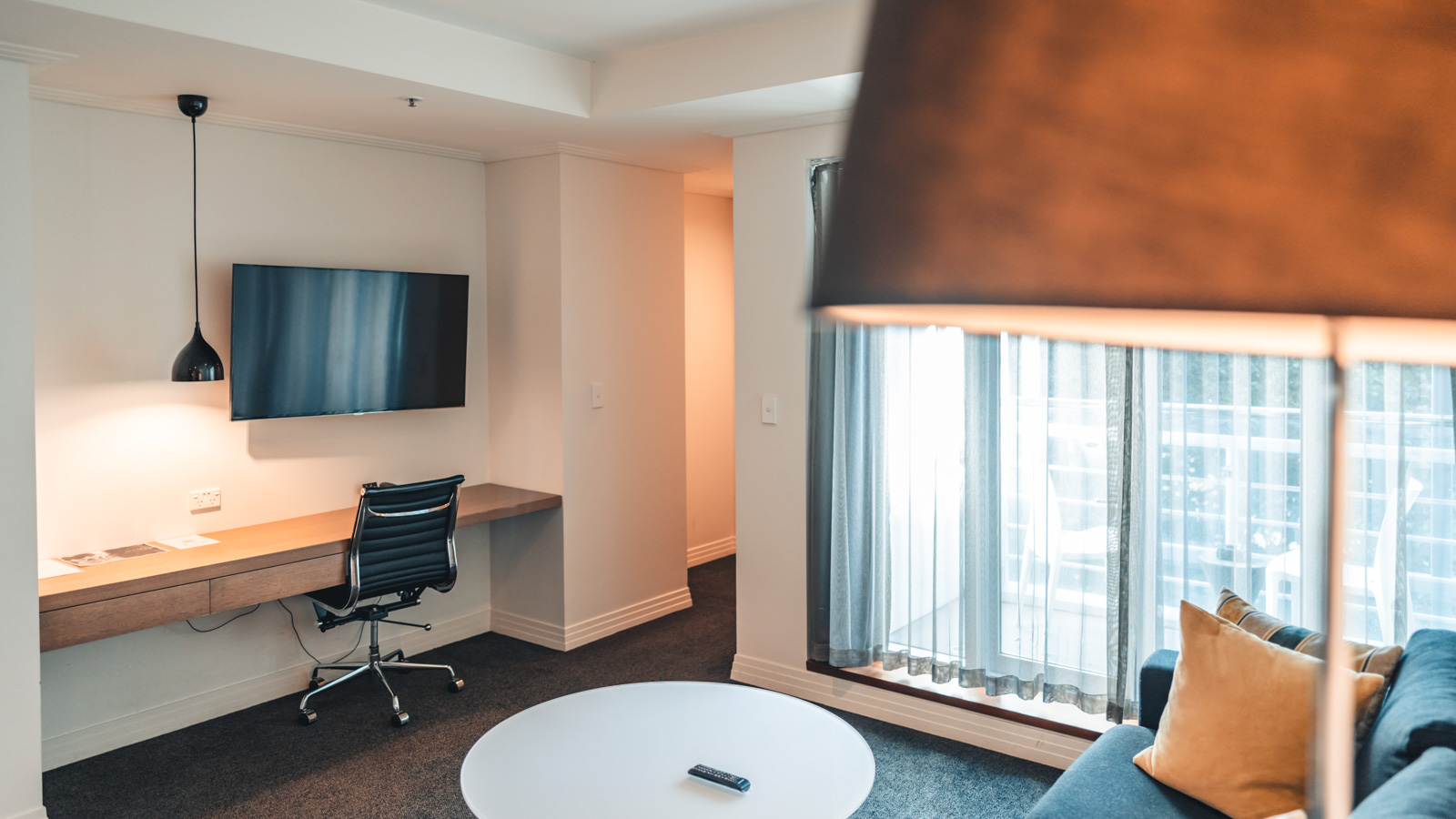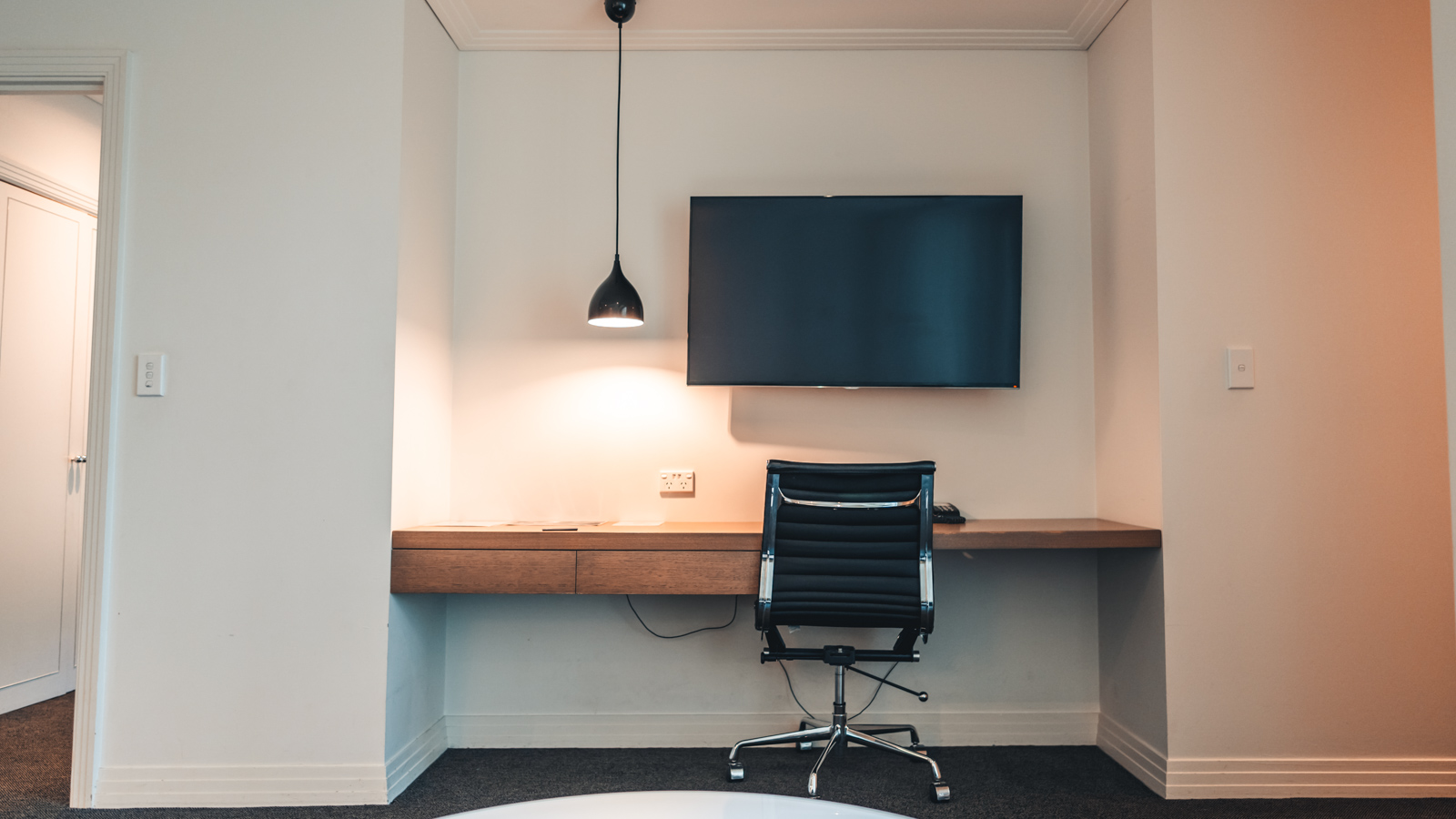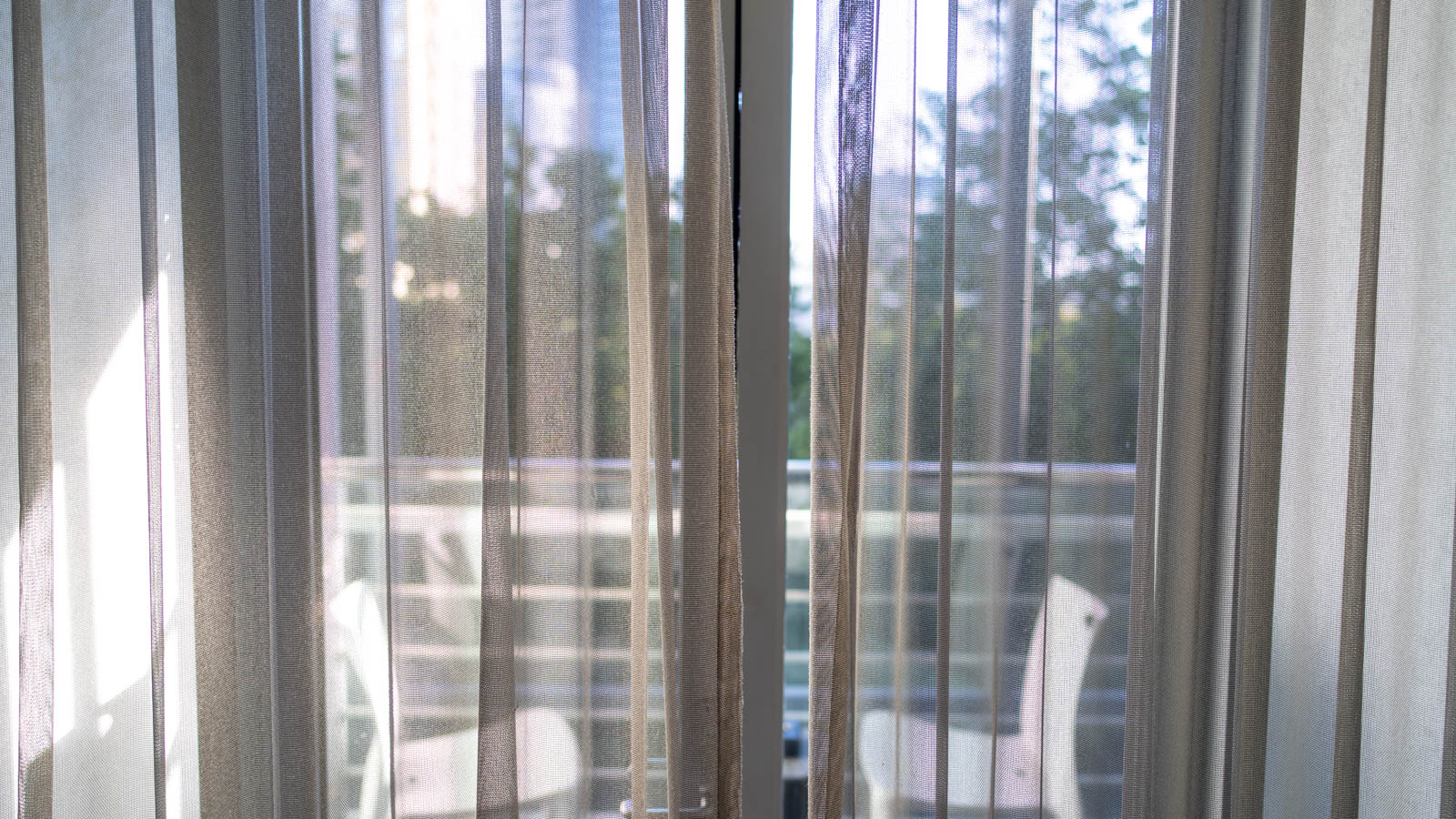 Though the bedroom is nothing to write home about, the king-size bed is plush and comfortable. There's not a lot of high-tech wizardry here, with lamps, a telephone and a solid Sangean radio by the bed. If you want to charge, you'll need to hunt for an AC port under the bedstands.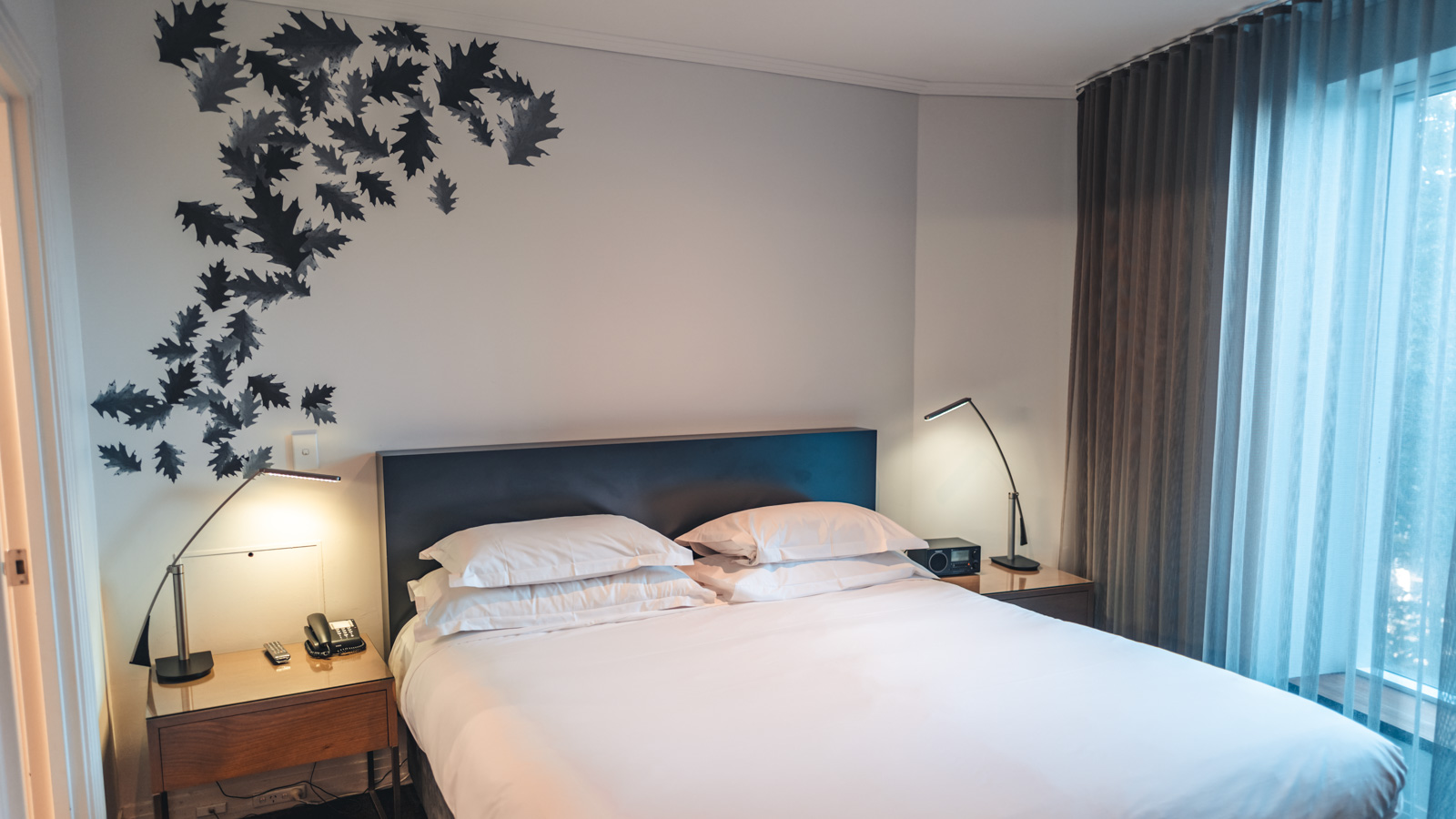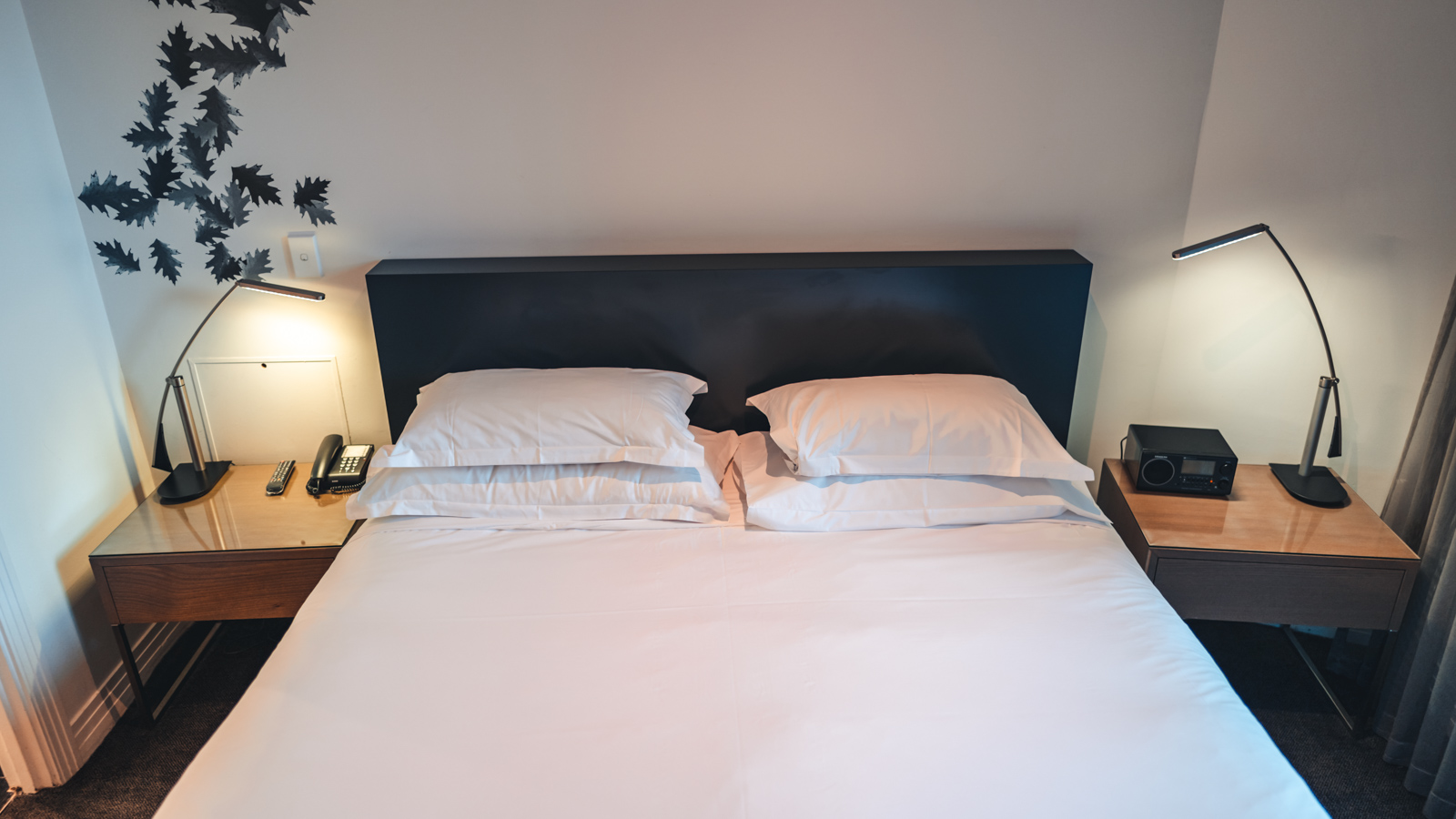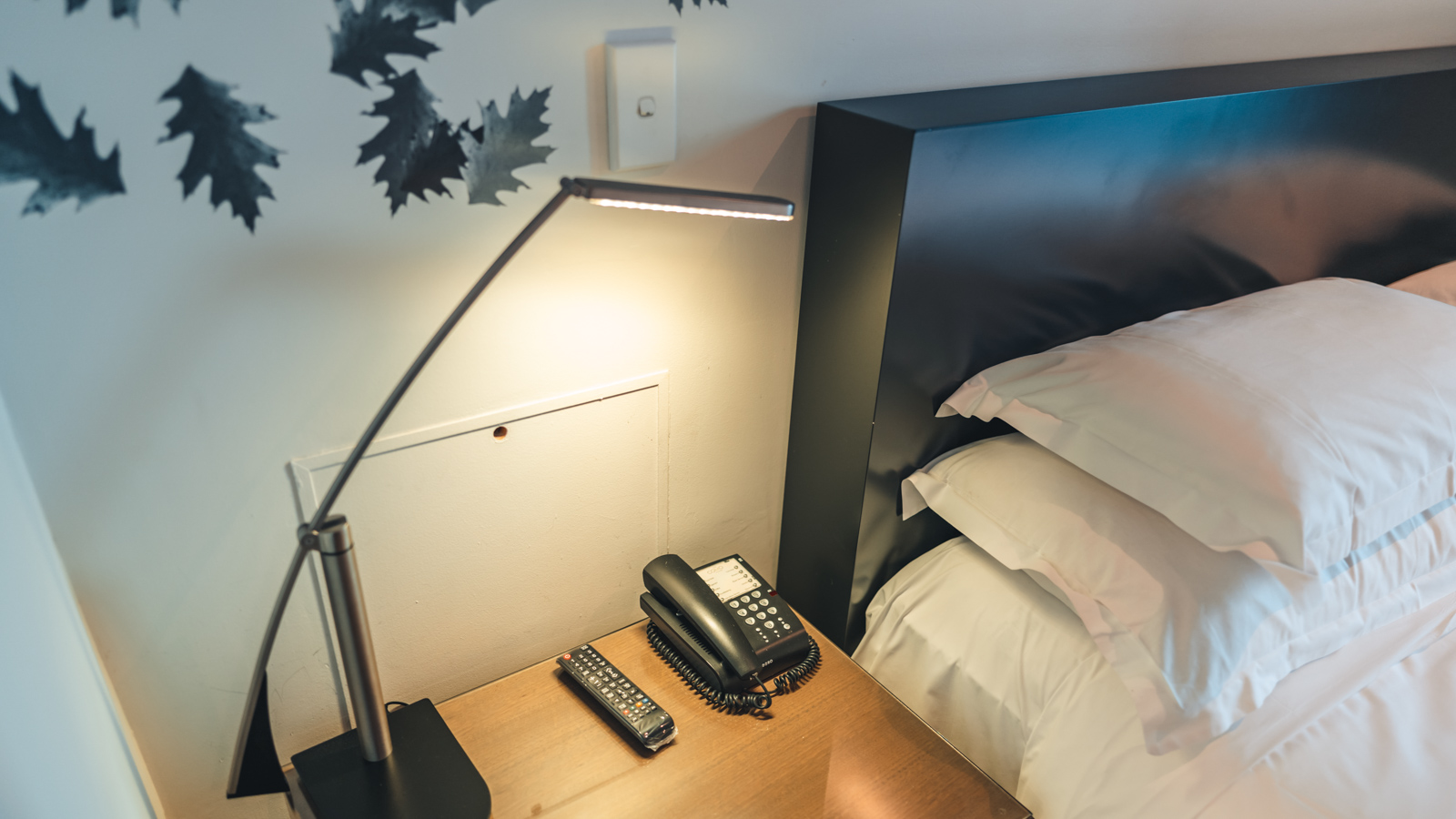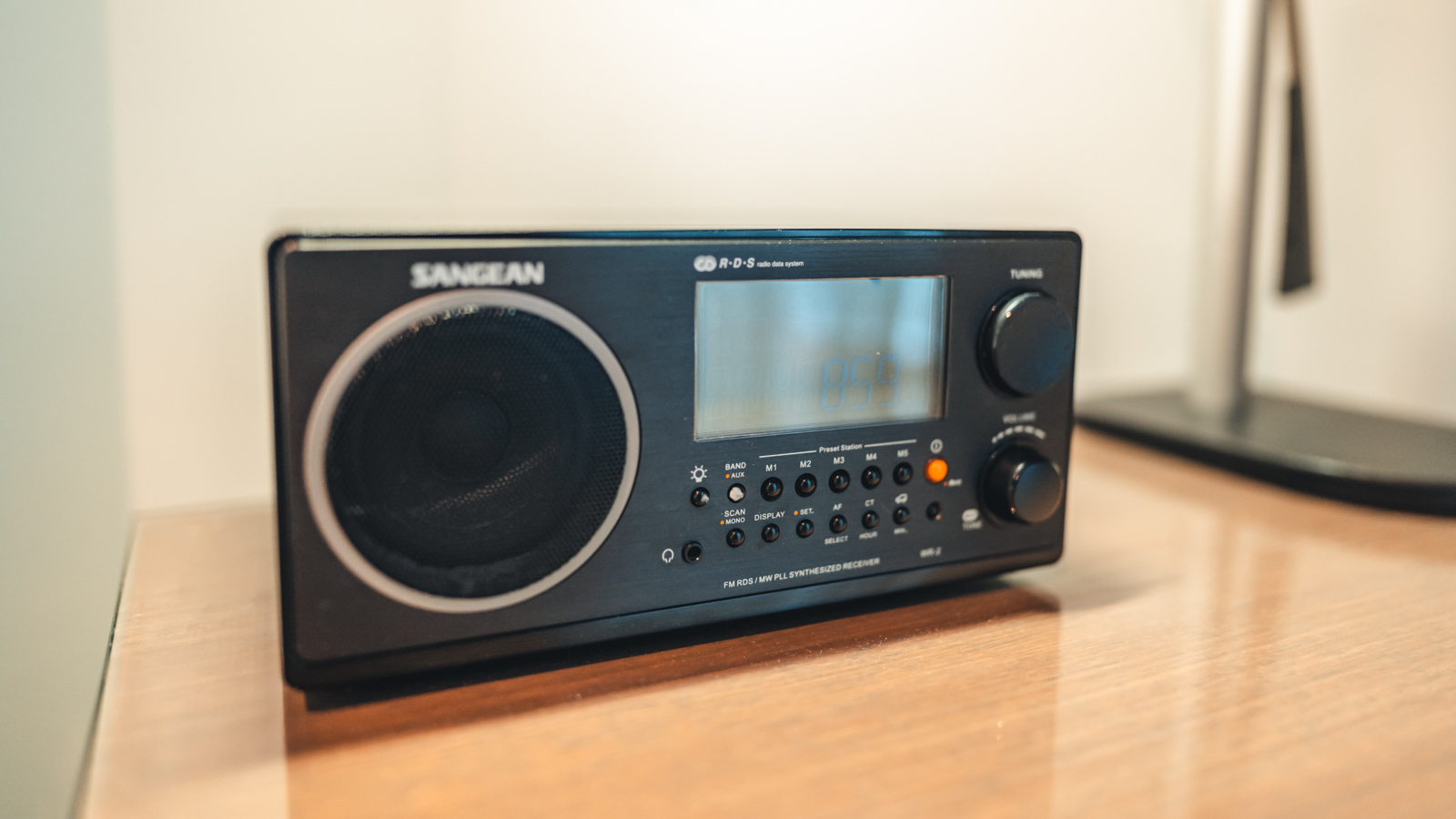 The tech
Speaking of tech, The Como Melbourne isn't up to date with features such as casting video from your phone to the TV. Free WiFi is included – at 19.8 Mbps down and 5.71 Mbps up, you'll comfortably get your work done and still fit in some Netflix. The Junior Suite has two TVs – one in the bedroom and one in the living room.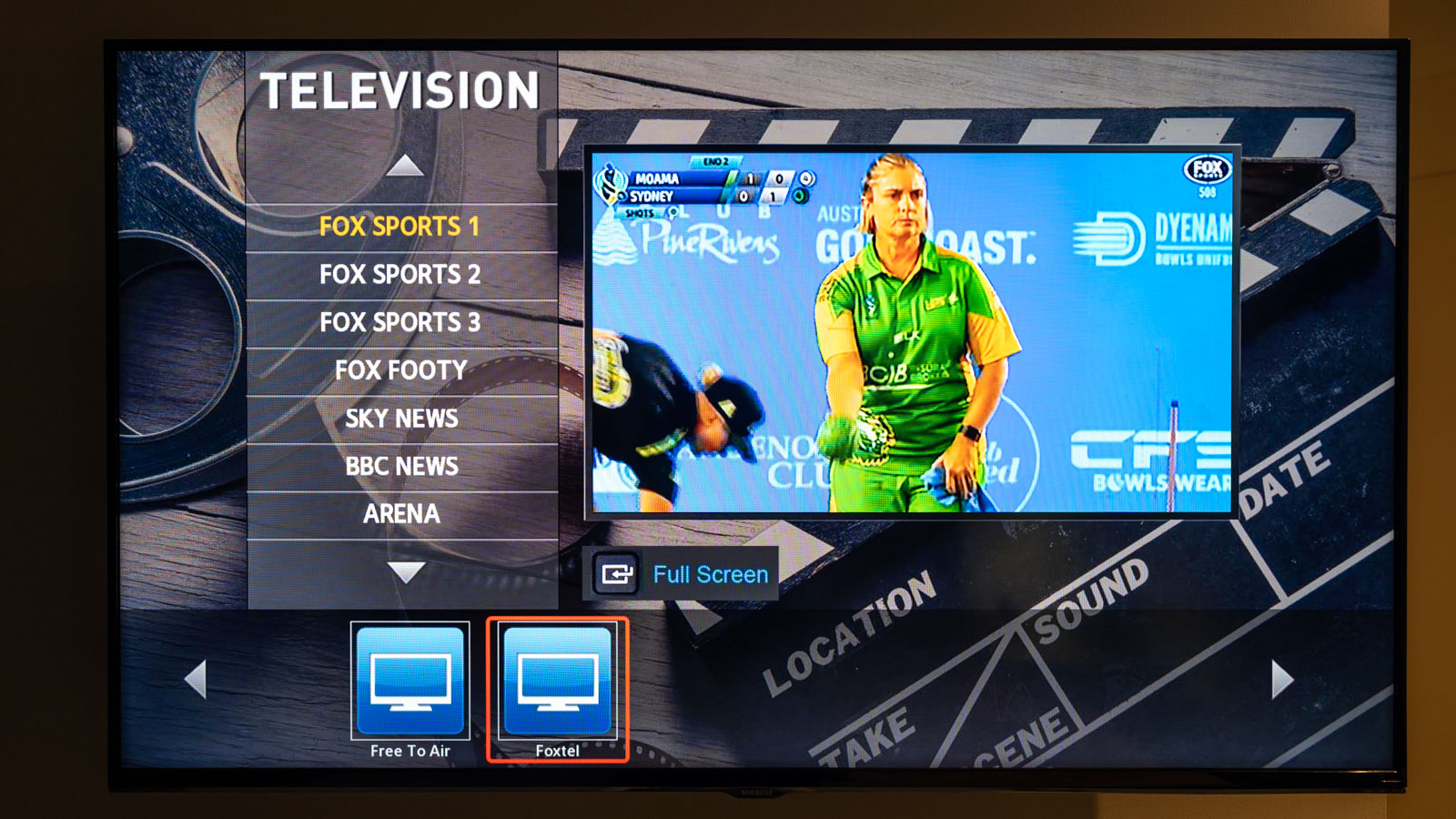 In addition to the usual FTA channels, the TV does have Foxtel channels which is great if sports or documentaries hold your interest. The TV interface is clunky, but that's no surprise at this stage.
The bathroom
I peek into the bathroom and find it's also very roomy. But here is where the old décor really shows – black granite stone and chunky vanity units aren't exactly the trend of the 2020s. Functionally, the bathroom is fine though. I just like looking at sleek lines and mood lighting.
In the evening, it's time to run a bath. The spa is a treat with strong jets, and who couldn't love the cute Como rubber duck? Behind the door, I spy two fluffy bathrobes which I do later use after a refreshing soak.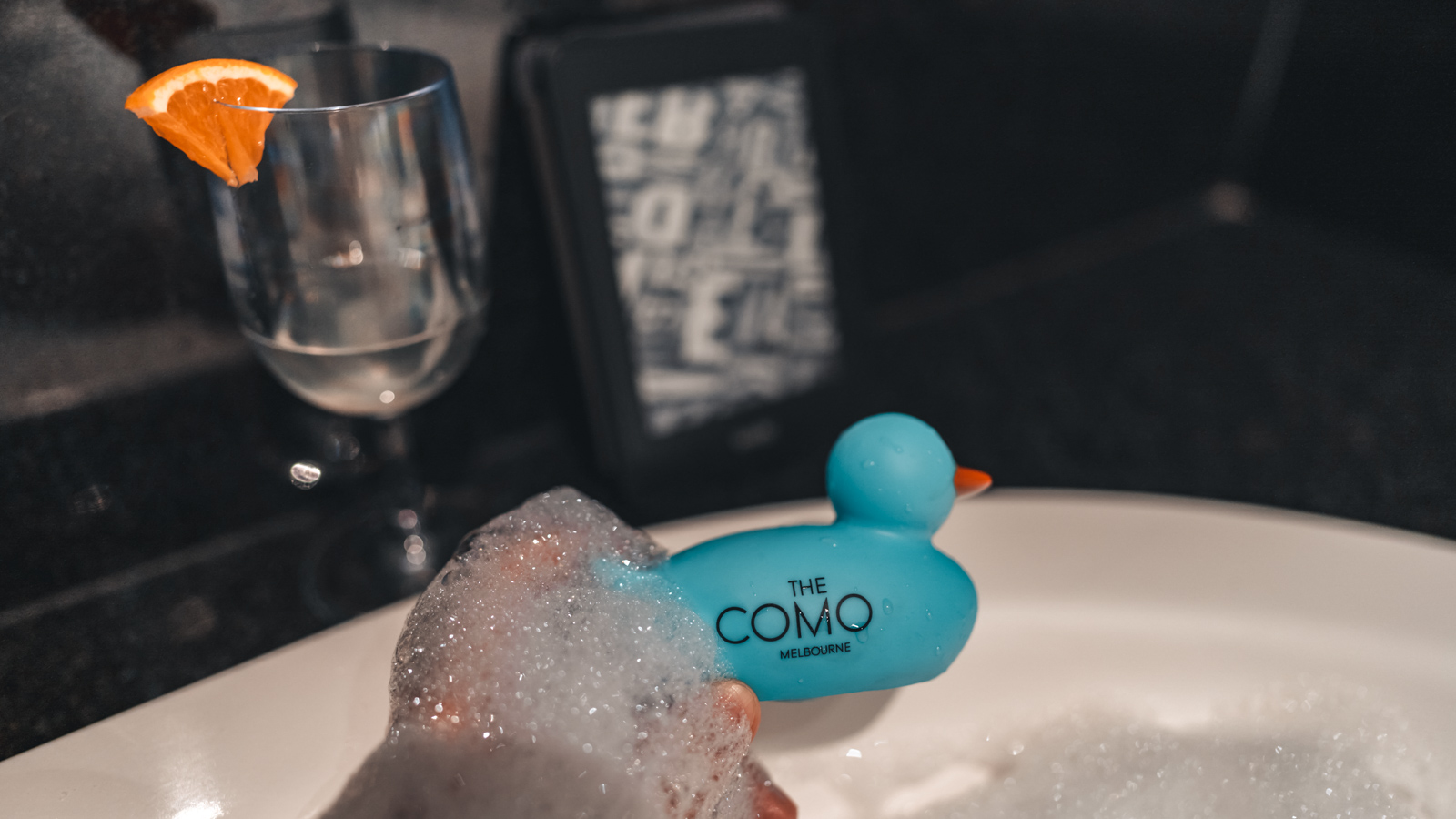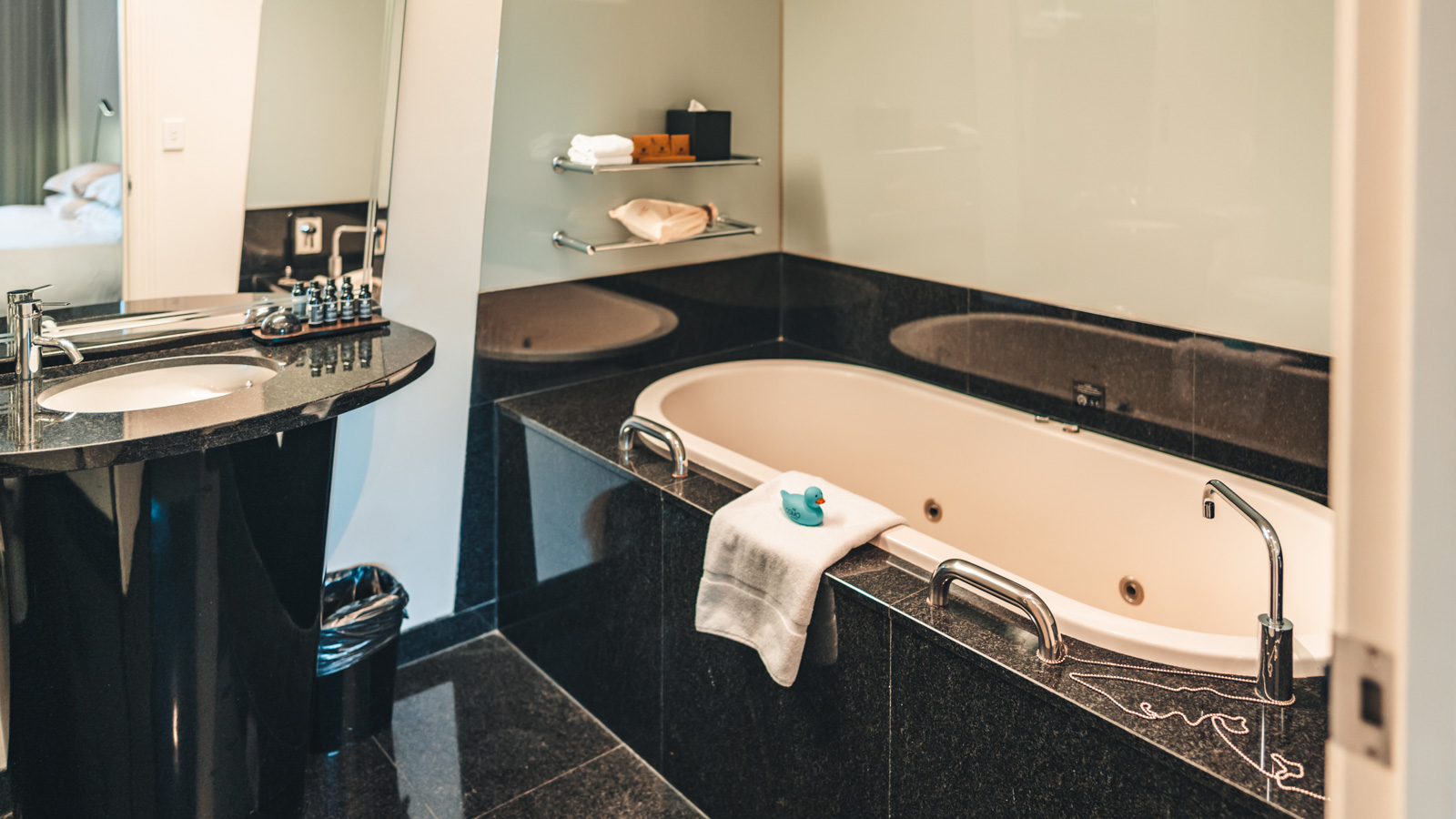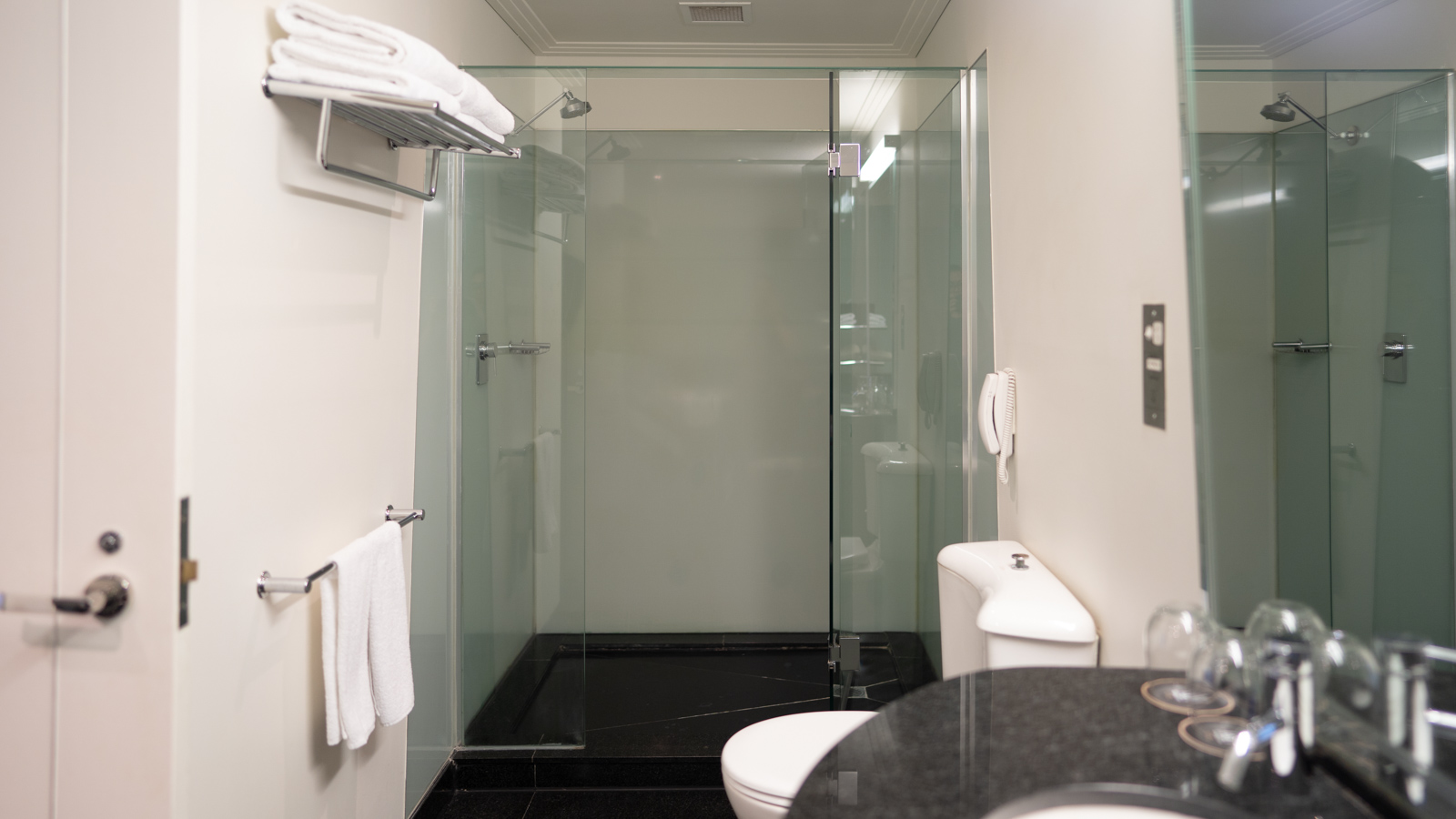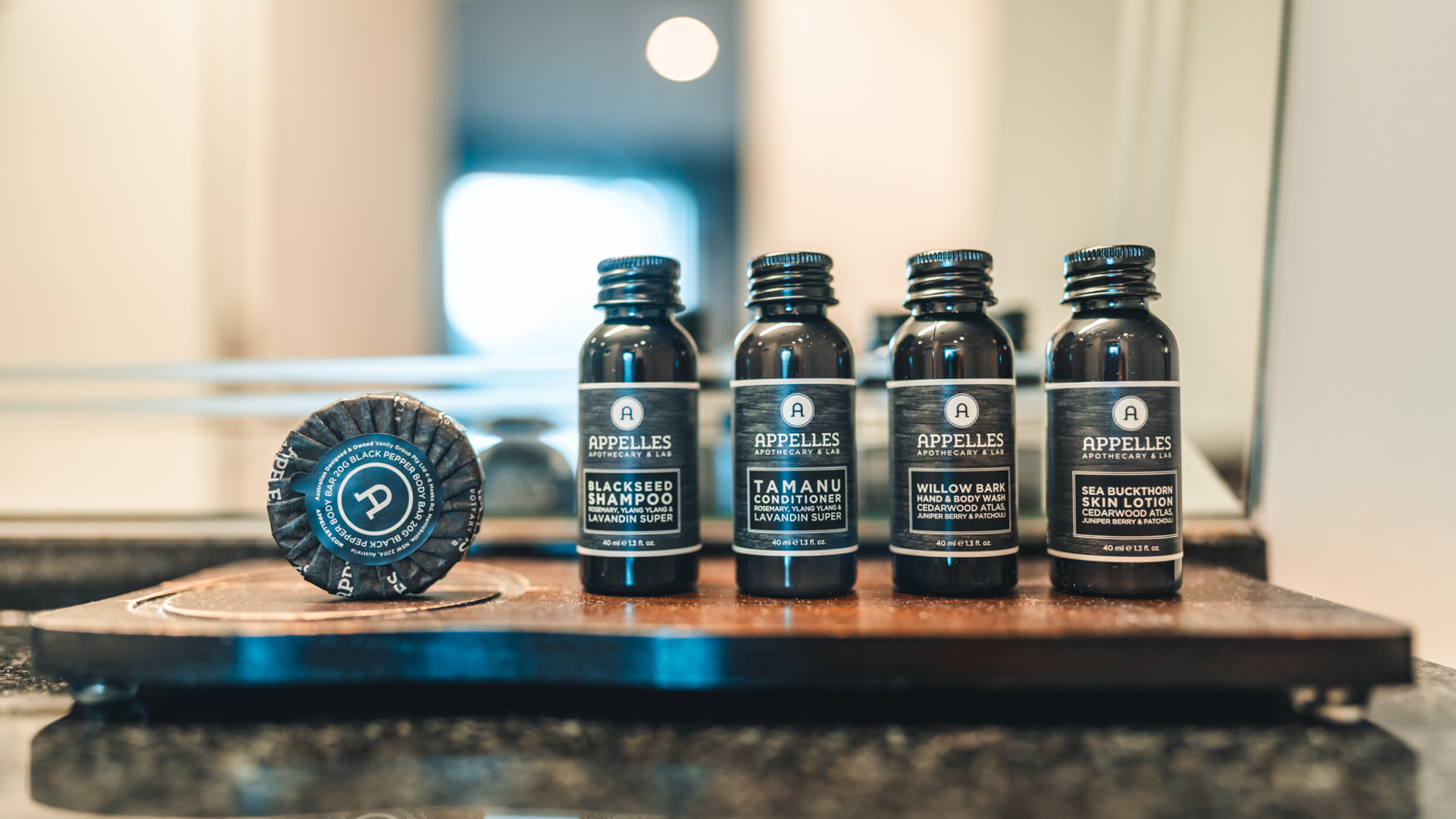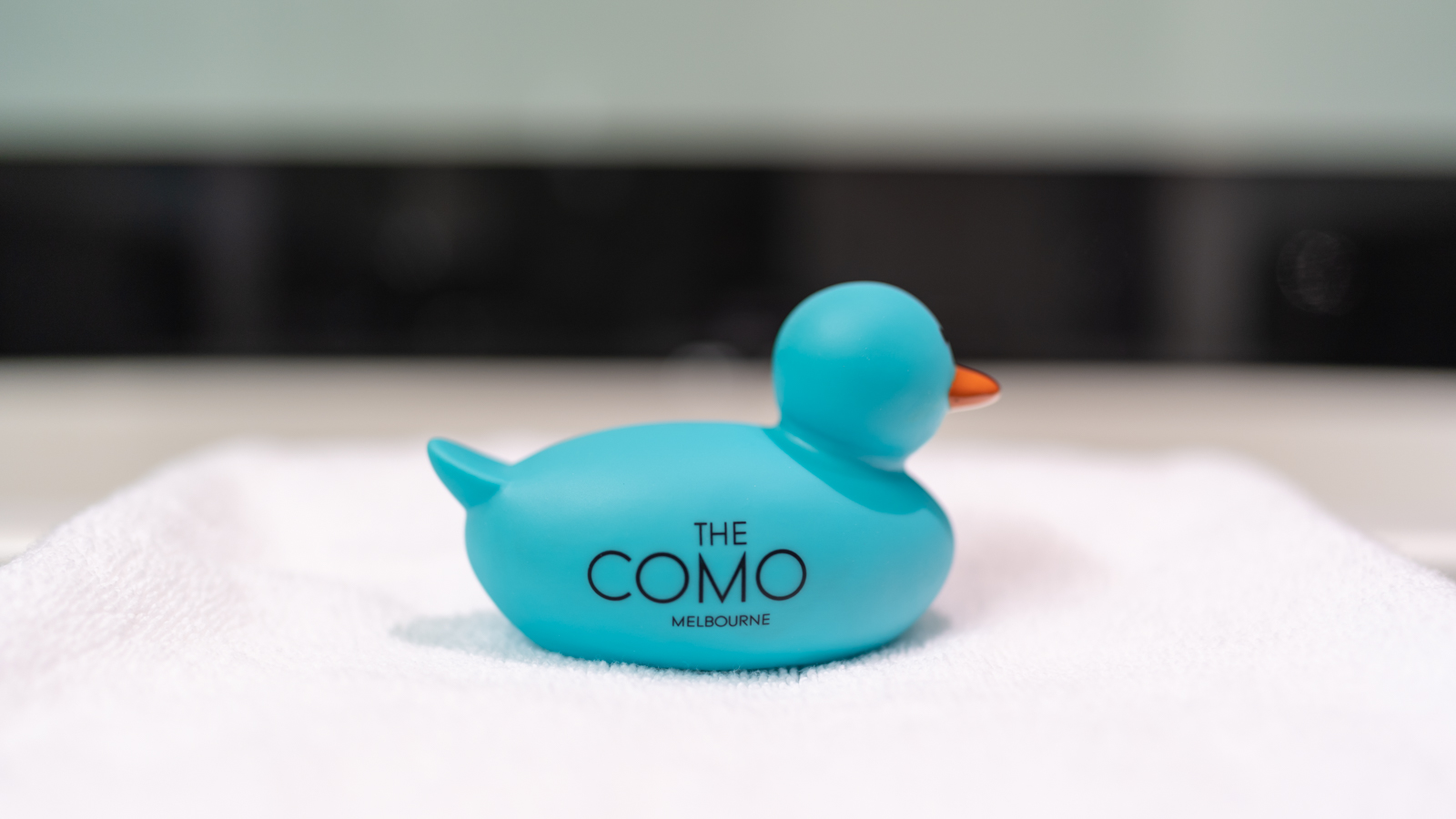 Top-notch Appelles Apothecary amenities are artfully displayed on a wooden block. The hair products are excellent and I bring them with me to finish off at my next hotel.
Dining at The Como Melbourne Brasserie
Due to lingering COVID-related restrictions, The Como Melbourne's Brasserie is limited to breakfast service during my stay. You can order it room-service style if you want (with an extra fee), but I head downstairs the next day. Although the Brasserie is quite small, it's not too busy at 7:30 am this morning.
If your room includes breakfast, you can choose any main course off the menu, plus a coffee. There's also a decent continental buffet of fresh-cut fruits, yoghurts, smoothies and fresh pastries. For mains, I can't go past the signature Como Melbourne dish – eggs benedict with pulled duck. Service is friendly and efficient.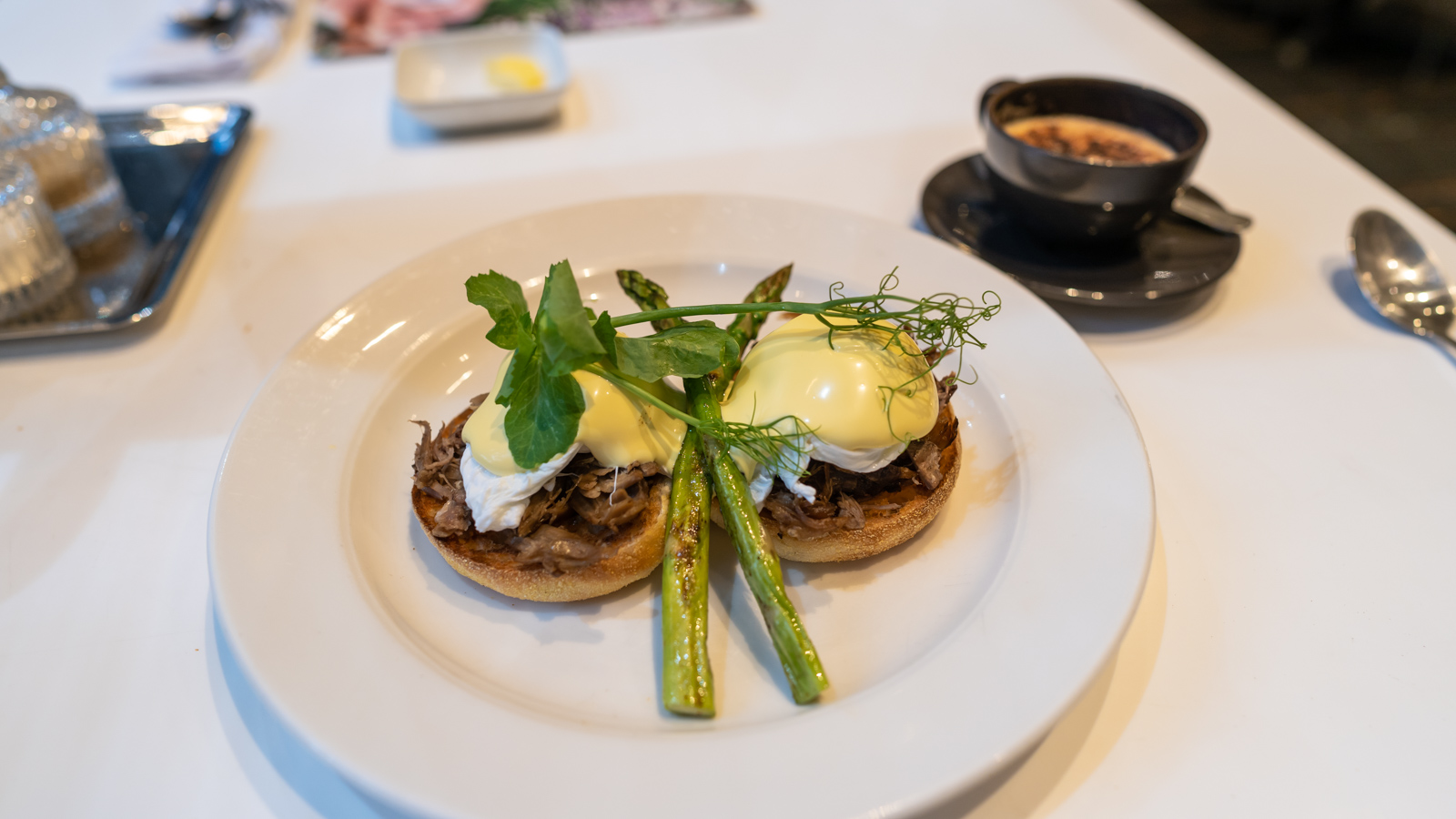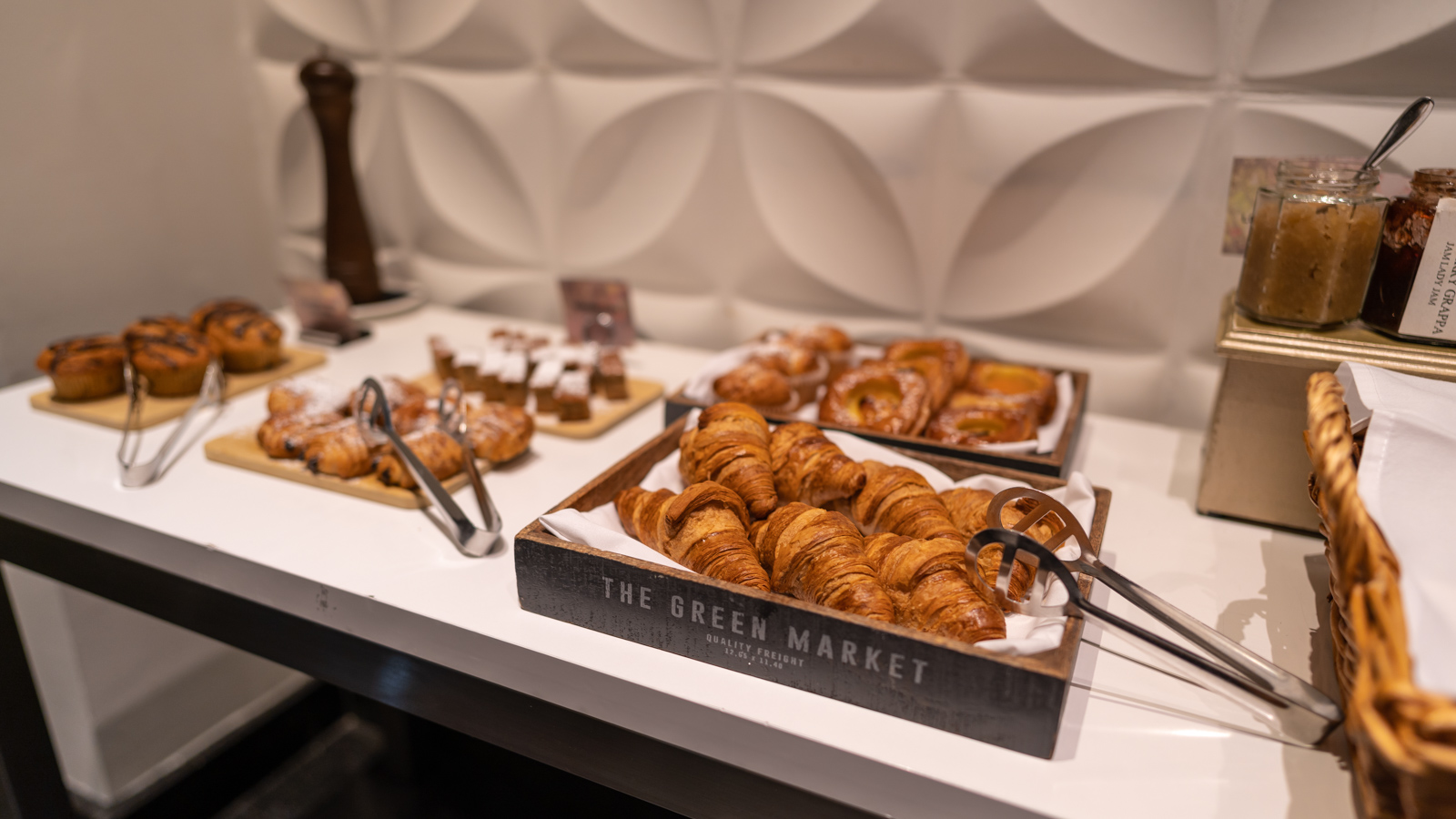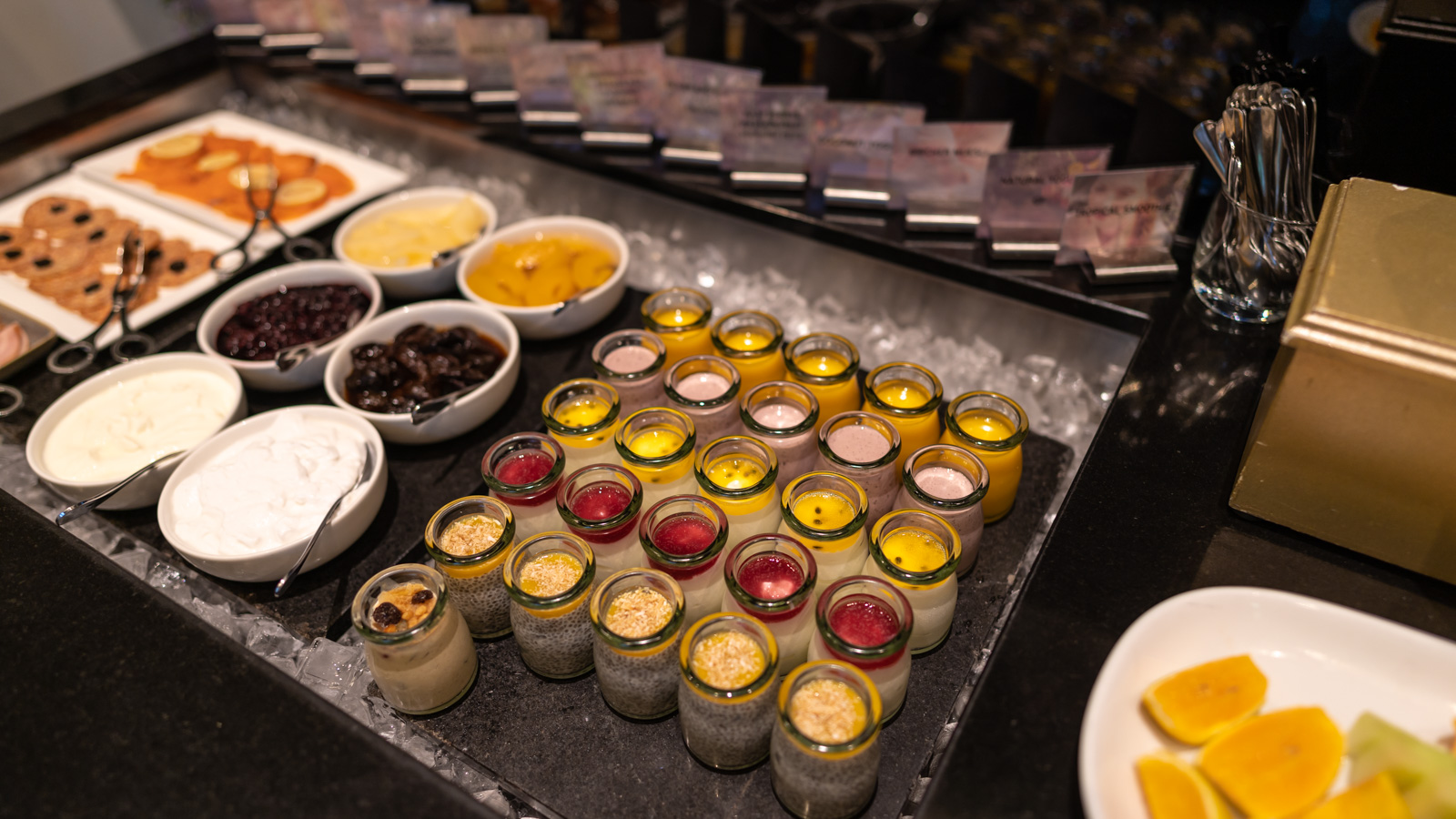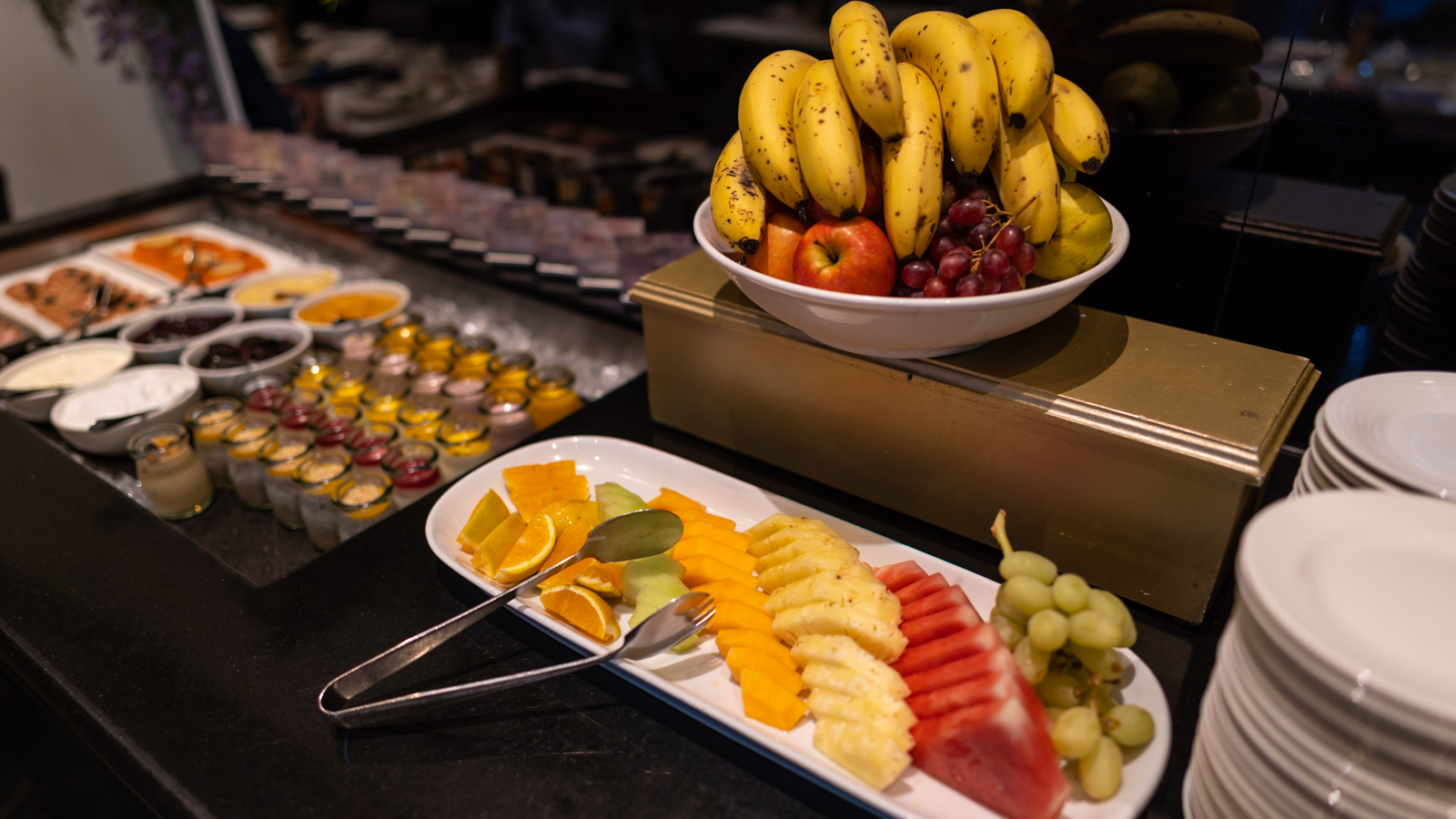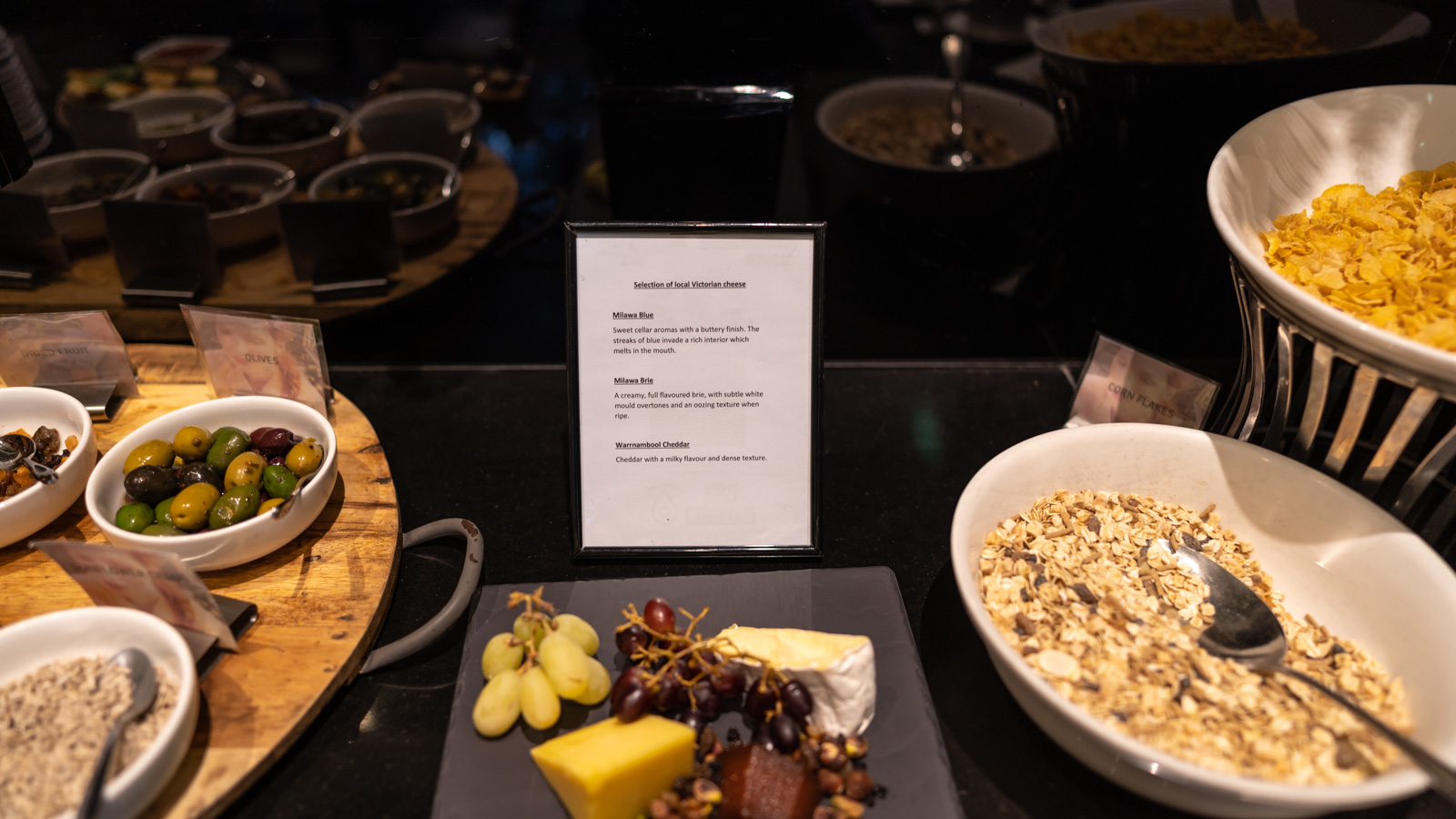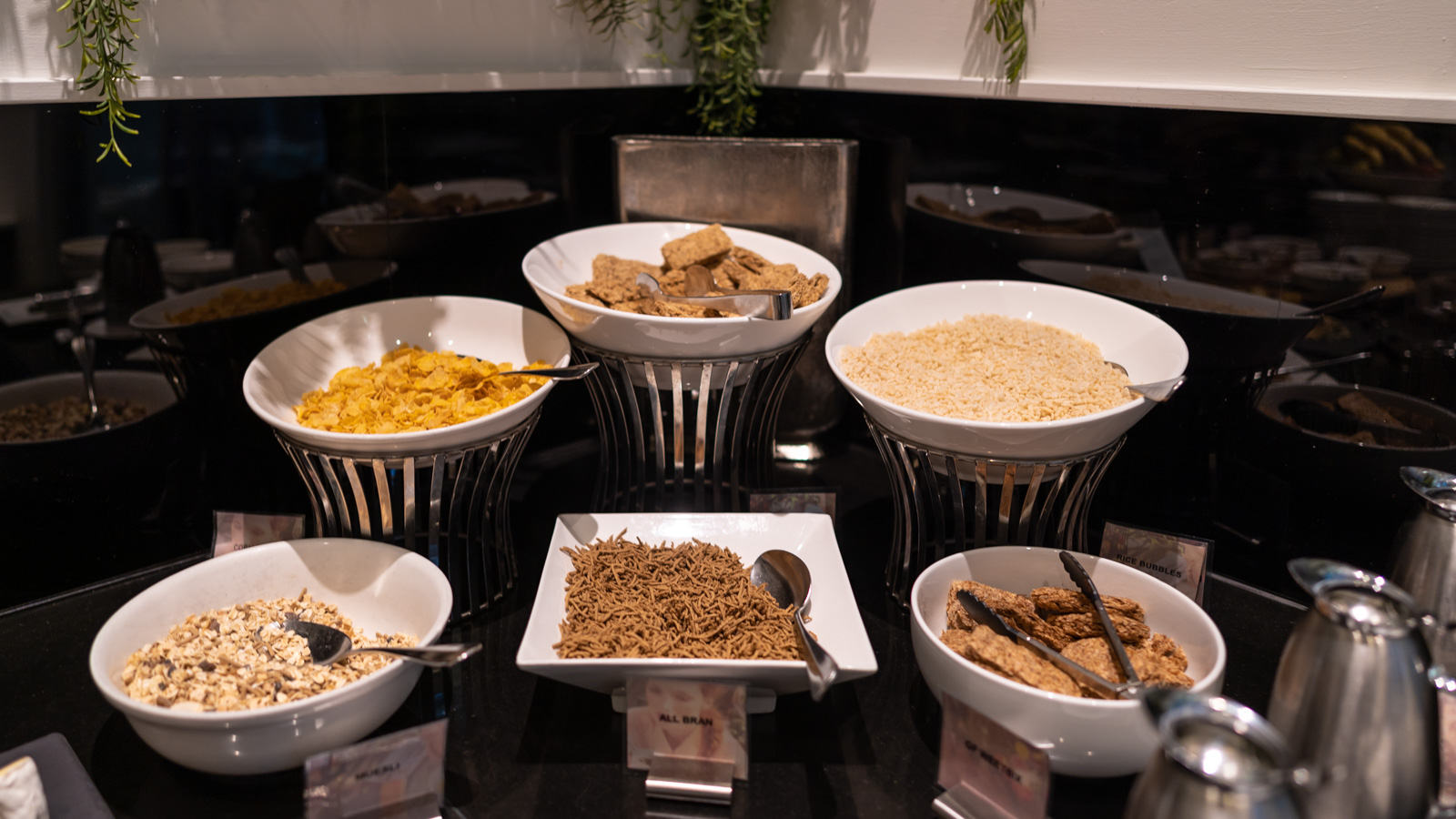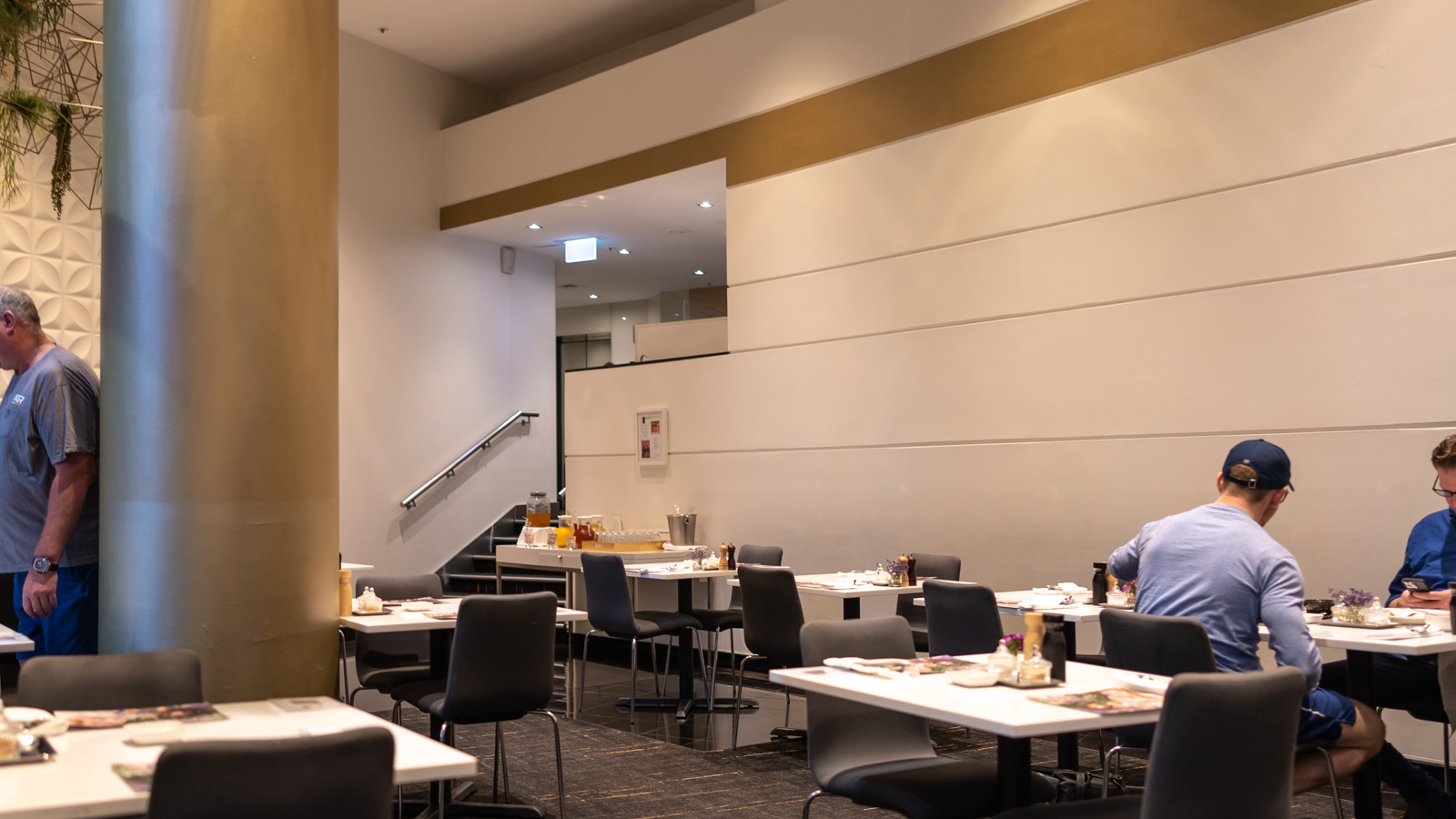 While the duck is a tad dry, the dish is decadent and quite tasty. I pair it with a selection of small bites from the buffet for an enjoyable Saturday morning breakfast before I catch my flight to Fiji.
Facilities at The Como Melbourne
If downtime permits, definitely make a beeline for the rooftop pool and gym. It's a sun-filled space complete with daybeds and a sauna. At 9 am on a Friday morning, it was also completely deserted. The gym is well-equipped with weights and treadmills, while the sauna looks like a great place to let off some steam…
As I noted earlier though, the lift doesn't come up here. Instead, you need to take one flight of stairs from the level below. That's a workout in itself!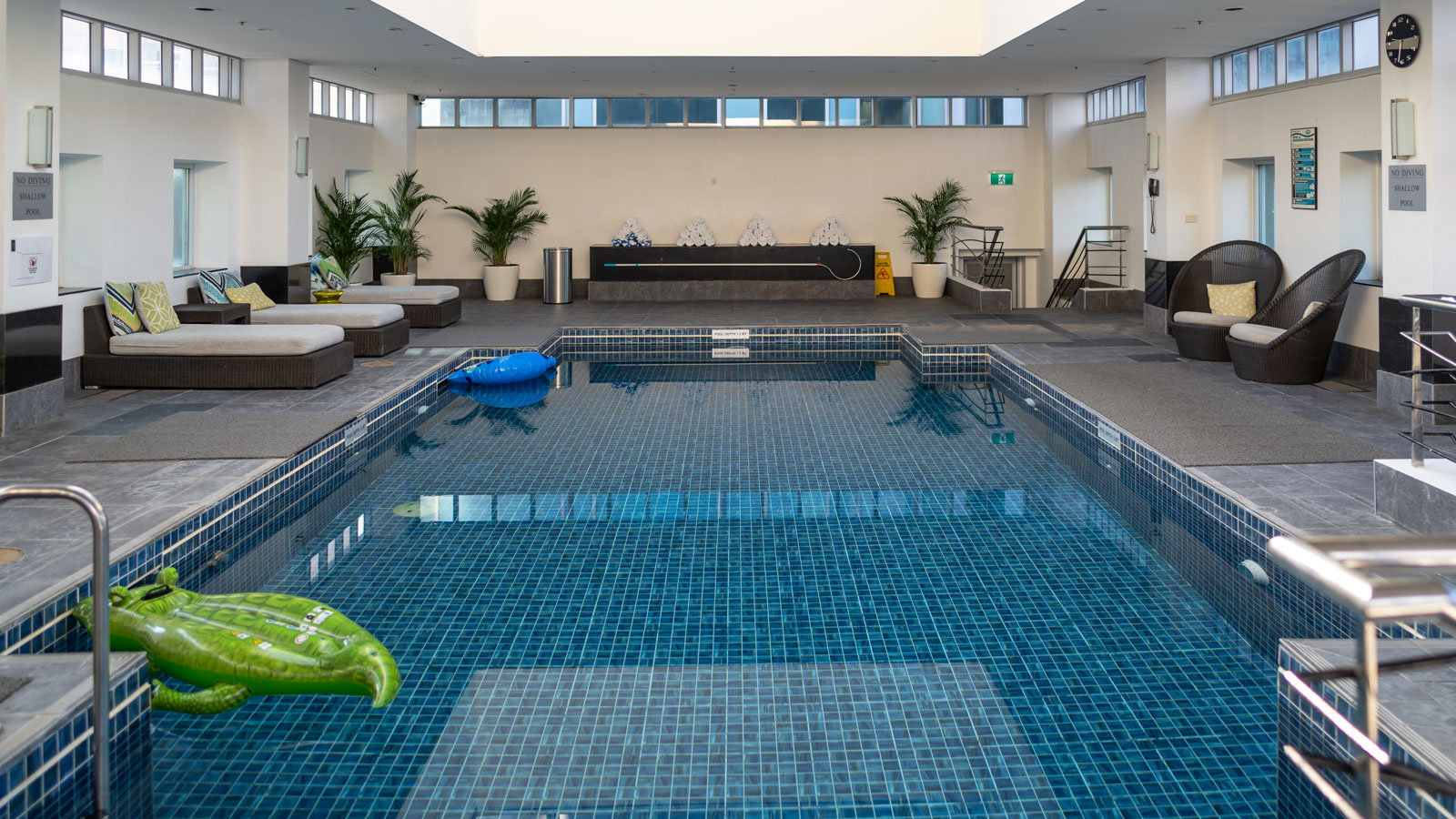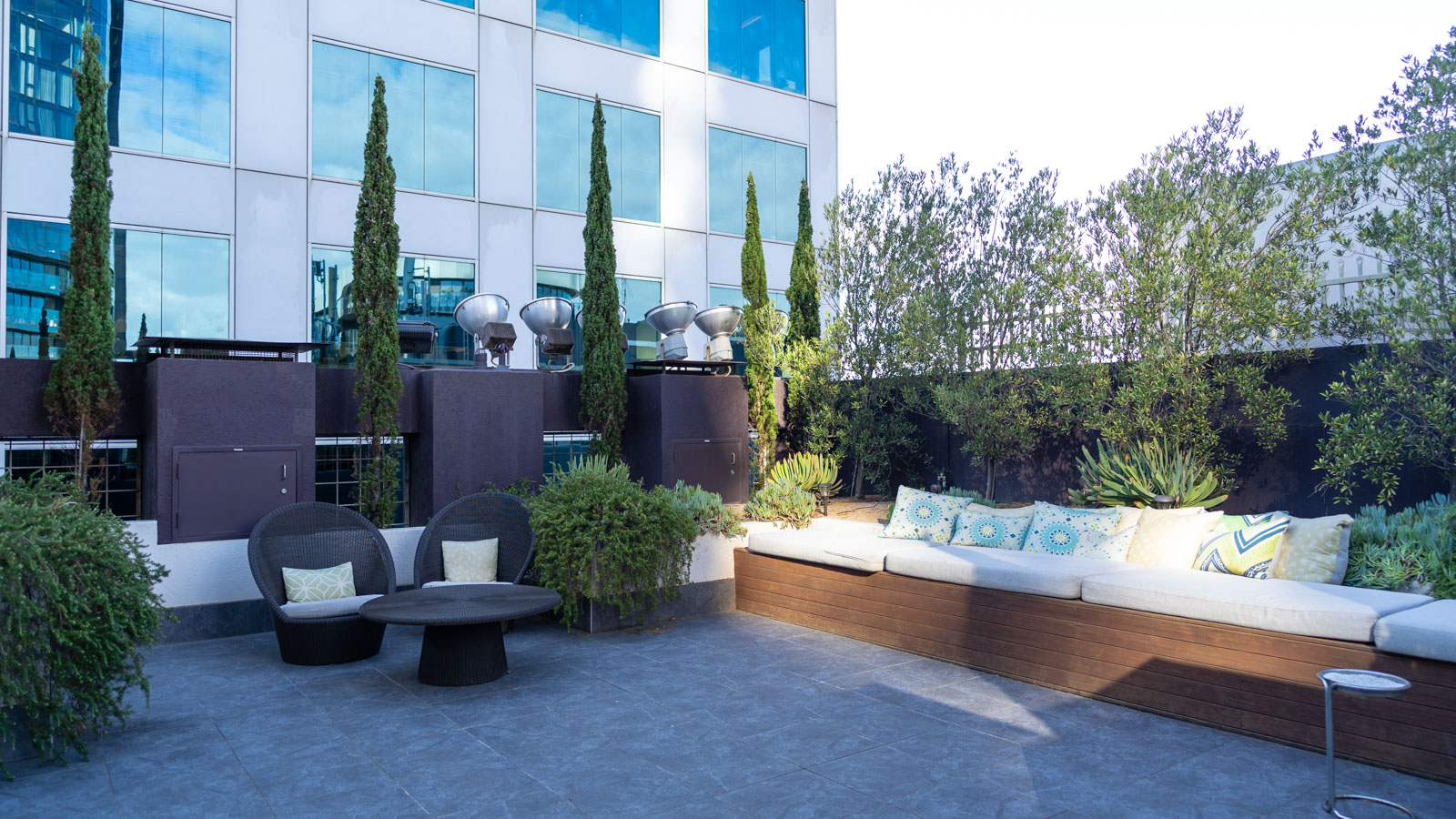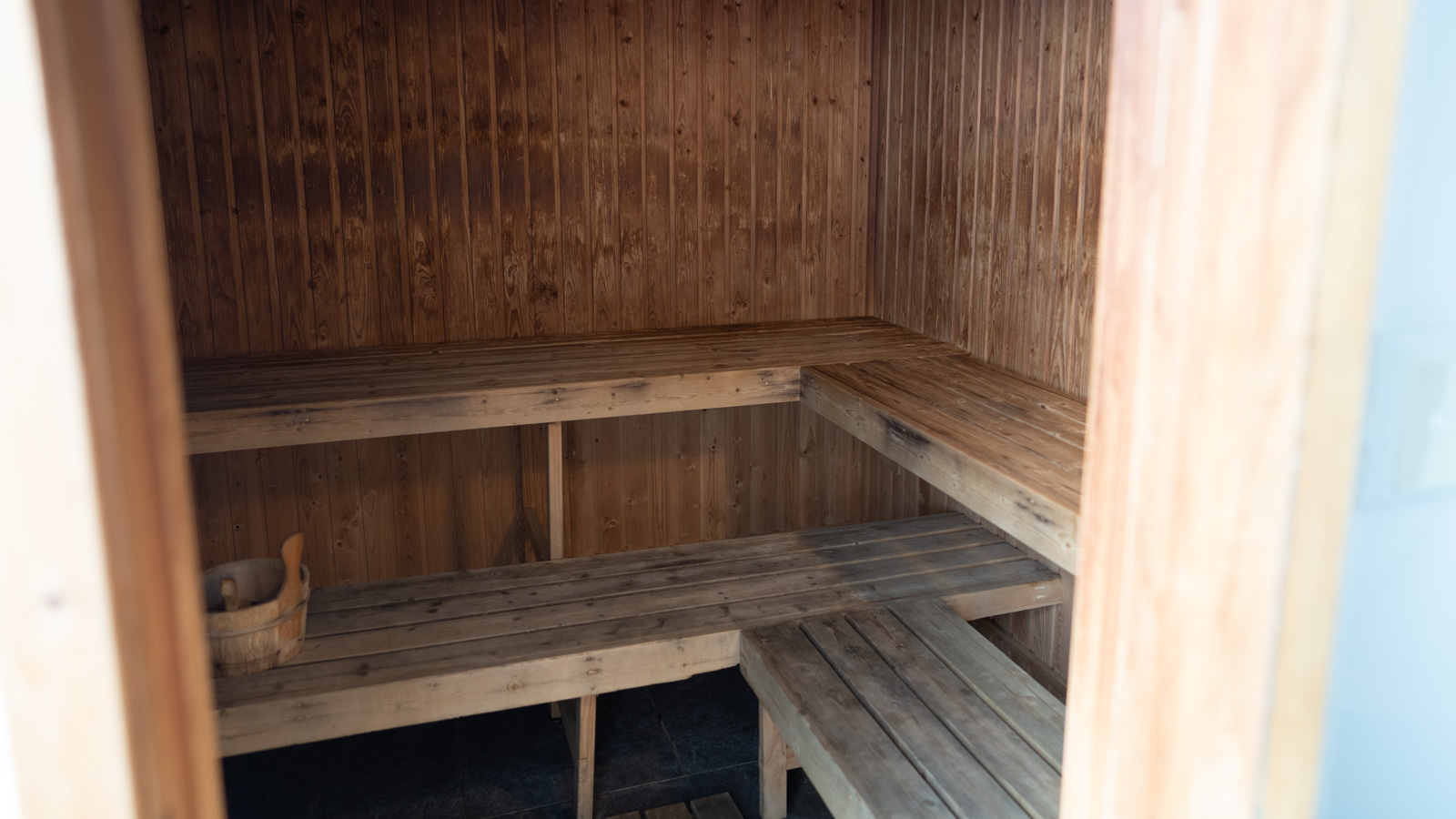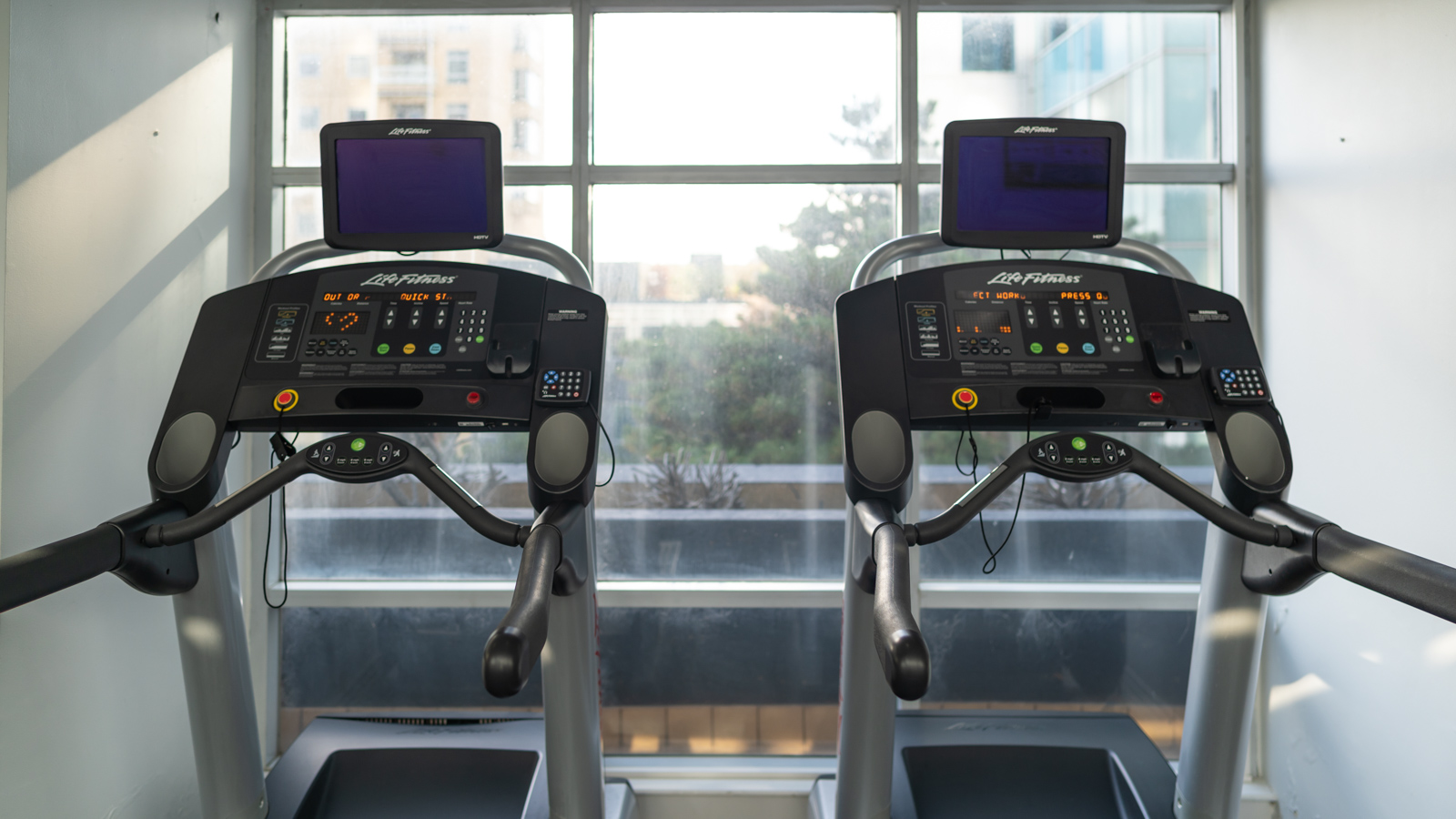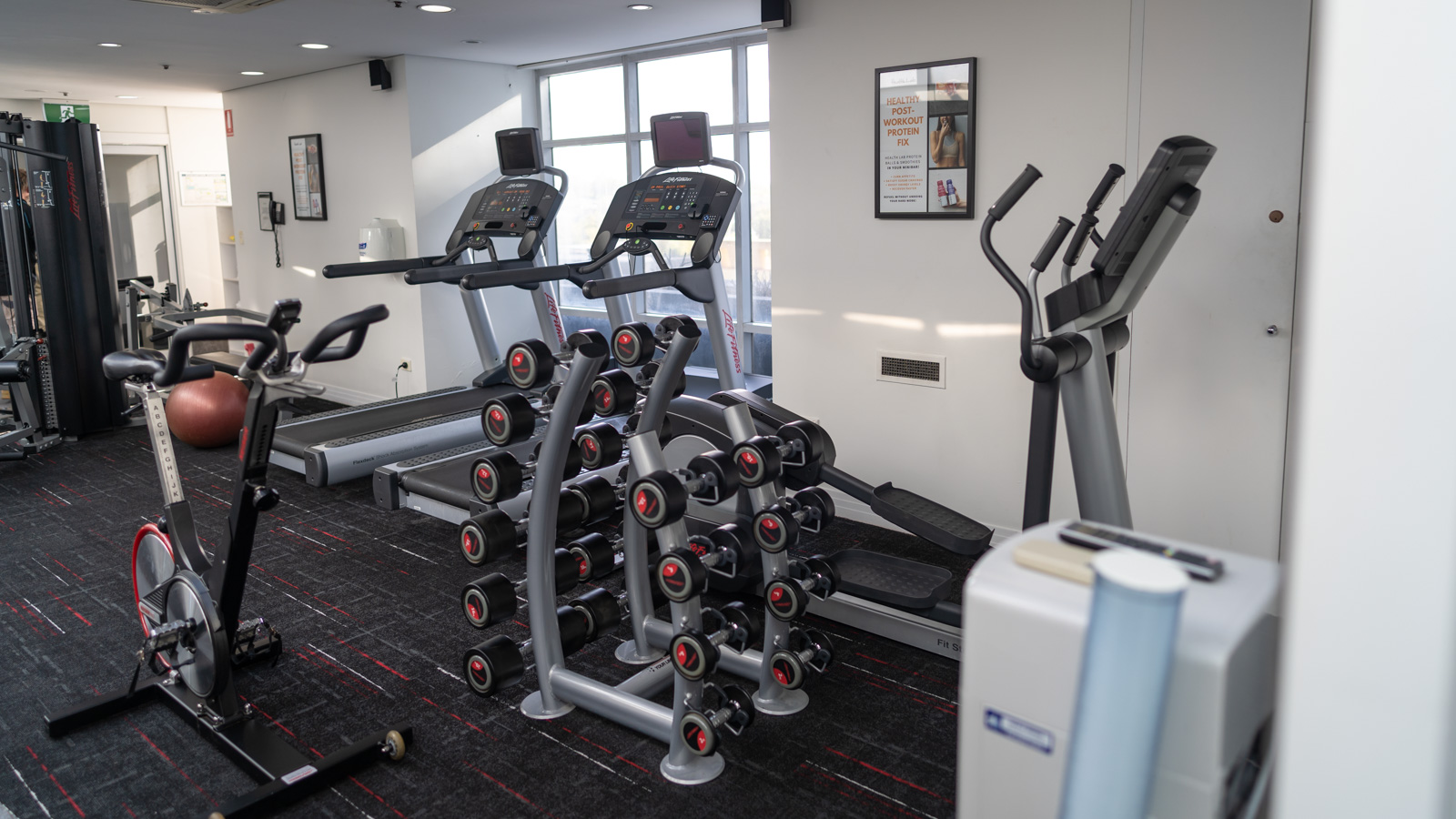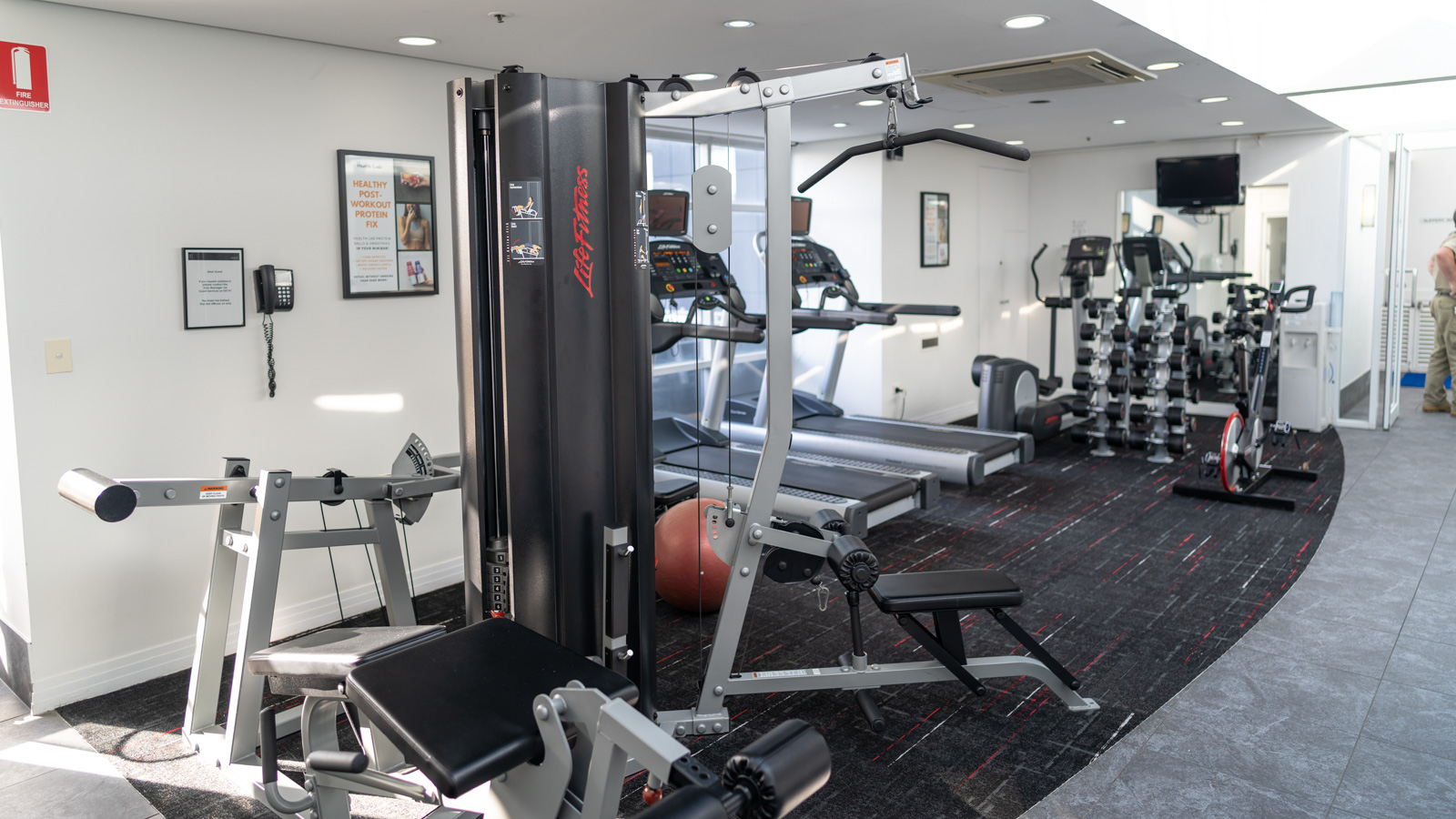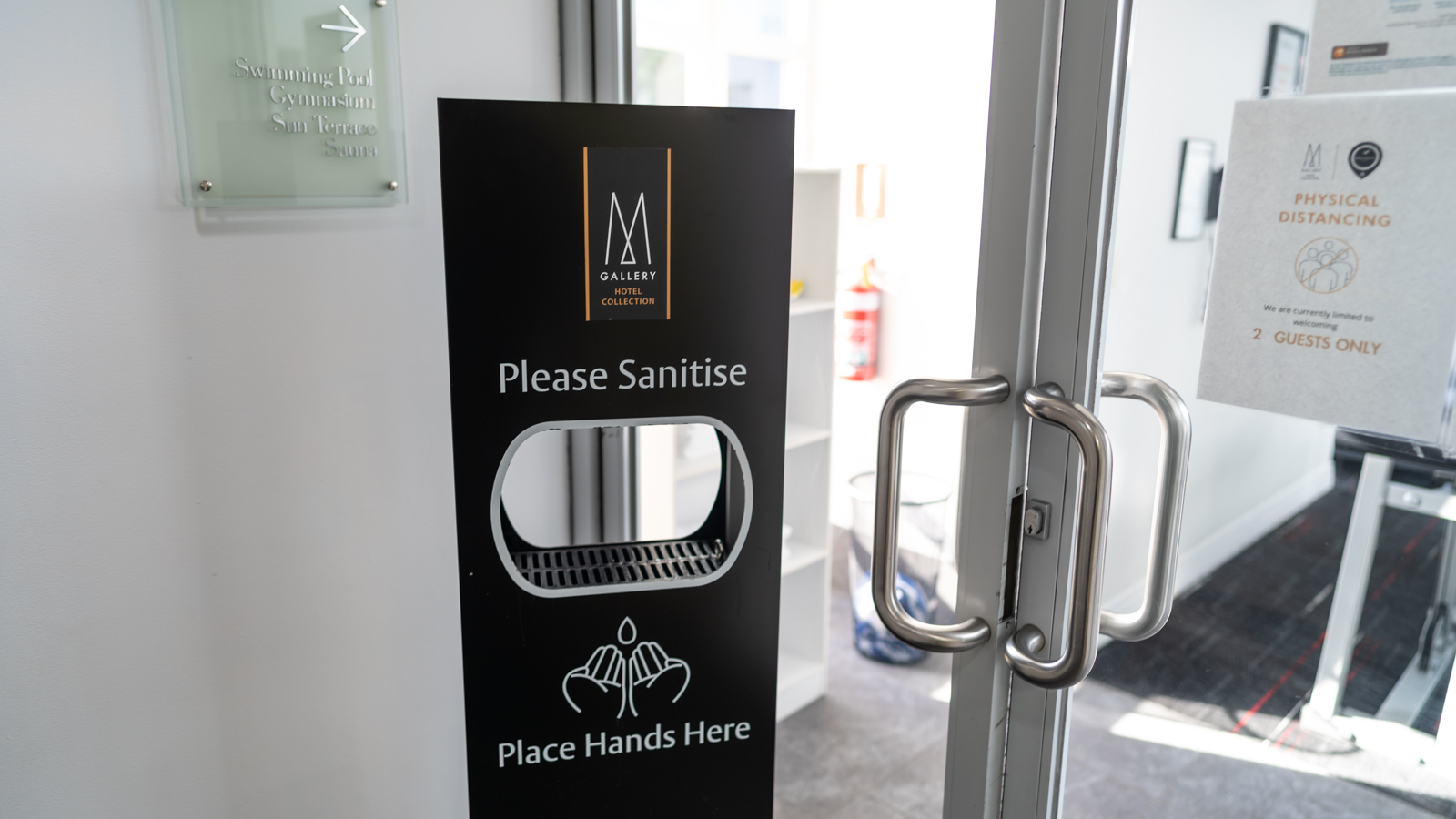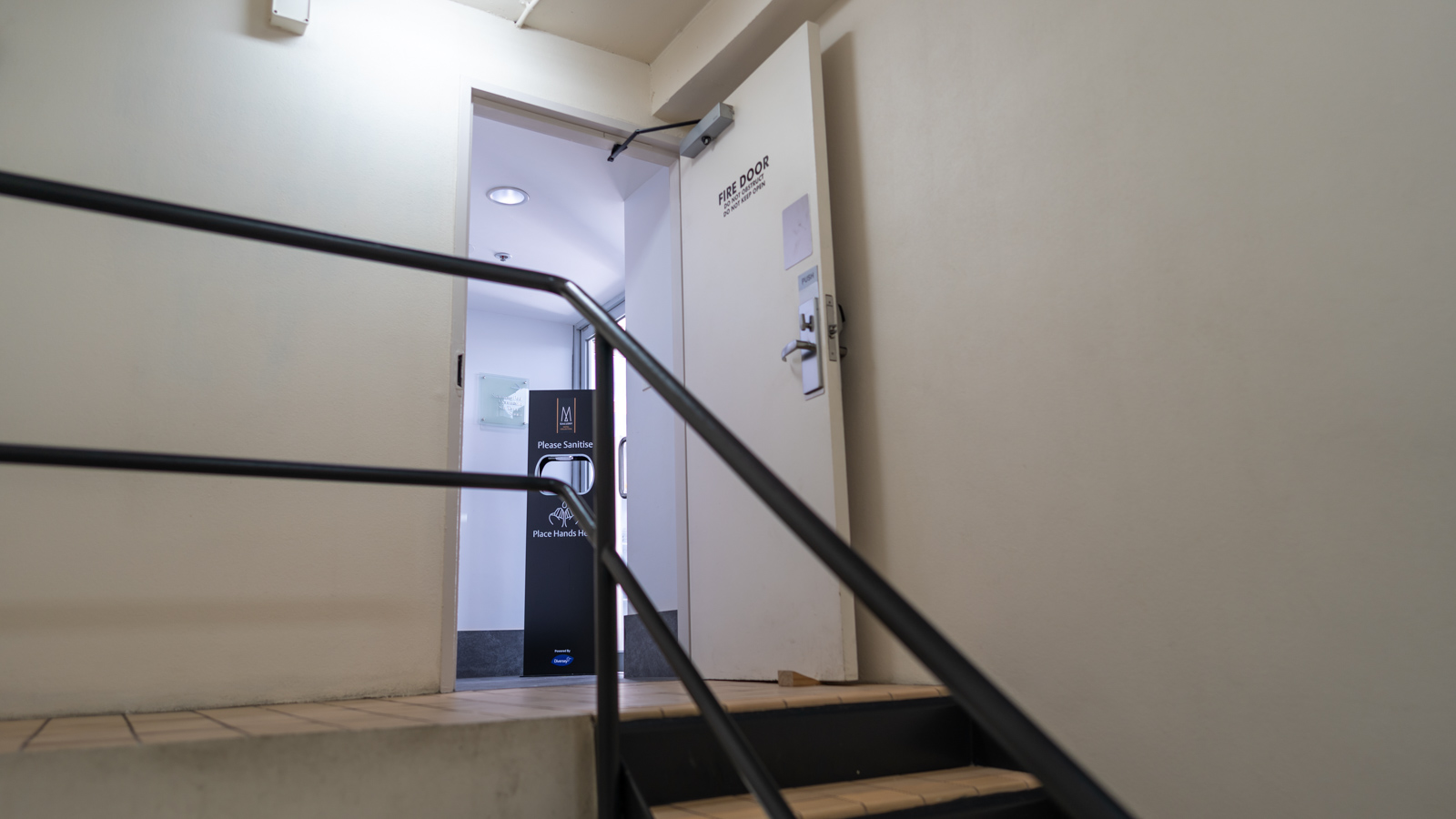 If meetings are on your agenda, The Como Melbourne has you sorted with a range of function rooms – including the exclusive Gold Suite penthouse room with a baby grand piano. What better way to dazzle your clients than putting on a show? (Legend says Robbie Williams has tinkered on these very keys).
Earning and spending points at The Como Melbourne
The Como Melbourne is part of the Accor Live Limitless program. Elite status benefits are honoured, plus you can earn and use ALL points for your stay.
You can pick up anywhere from 25 to 44 points for every €10 spent at this hotel, depending on your status tier. My one-night stay as a Gold member netted 706 points, worth about AU$20. As a guide, every 2,000 points you earn with ALL is worth €40 (about AU$58) at the checkout.
Thanks to the Accor-Qantas partnership, I'll also pick up 3 Qantas Points per dollar spent. That's another 840 Qantas Points in the kitty, which is always nice.
Summing up
The Como Melbourne is a very pleasant place to stay, whether for work or for a holiday. There's no denying the bones of the hotel are old – you'll see it in the hallways and rooms. And there's still room for improvement in terms of mod-cons, such as WiFi speeds and USB charging ports.
But if you look past those flaws, The Como Hotel does impress with very large rooms and high-quality amenities. My rate with breakfast included was very reasonable, and the perks as a Gold member were excellent. It's a 5-star hotel in all other aspects.
All photography and opinions by Brandon Loo. Point Hacks paid for the room.
The Como Melbourne – MGallery
was last modified:
June 20th, 2023
by