South Yarra is one of the pulsing arteries of the Melbourne food, art and shopping scenes. And firmly planted among the action is the Ovolo South Yarra. With easy access to public transport, the hotel is well-located for business and leisure trips – particularly if you want a different vibe compared to the CBD.
But just be aware that some of the rooms can be, in their words, snug. If you're in Melbourne for more than a night, you might want to eye up a more spacious option. Whatever you choose, if you book direct, you'll be showered with perks such as breakfast, complimentary minibar and more.
Here's what you can expect from a two-night stay in a comfortable 'Groovy' room with *all* the perks.
Hotel location and first impressions
Located in the middle of busy Toorak Road, Ovolo South Yarra's location is anything but quiet. (But thankfully, the rooms are insulated against the outside hustle and bustle). You'll first see the hotel's on-site vegetarian/vegan restaurant, Lona Misa, as you make your way in.
The hotel lobby is unabashedly loud, with a central neon firepit. There's a lot to take in with abstract artwork adorning the walls and a very eye-catching collection of retro paraphernalia behind the counter.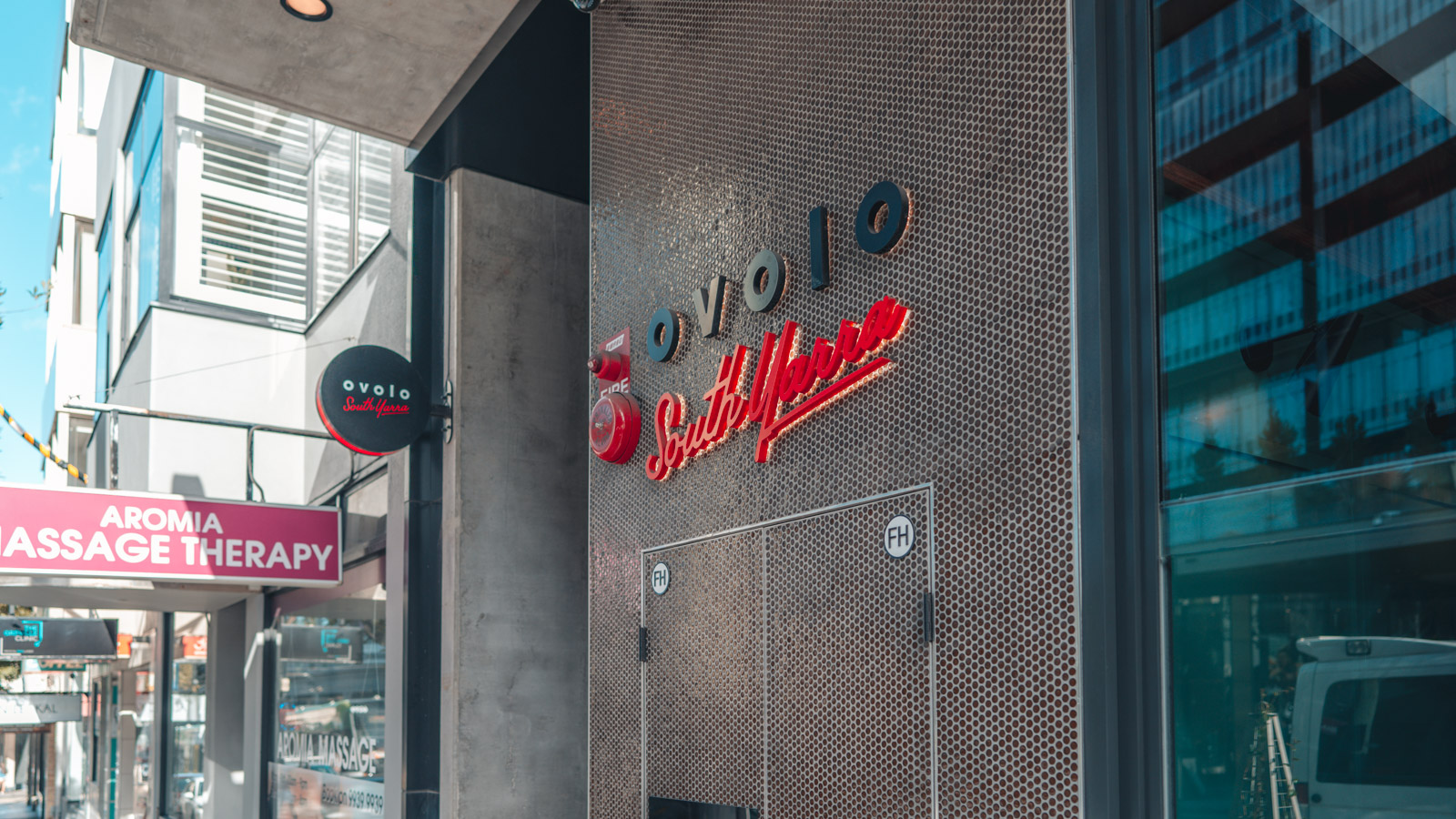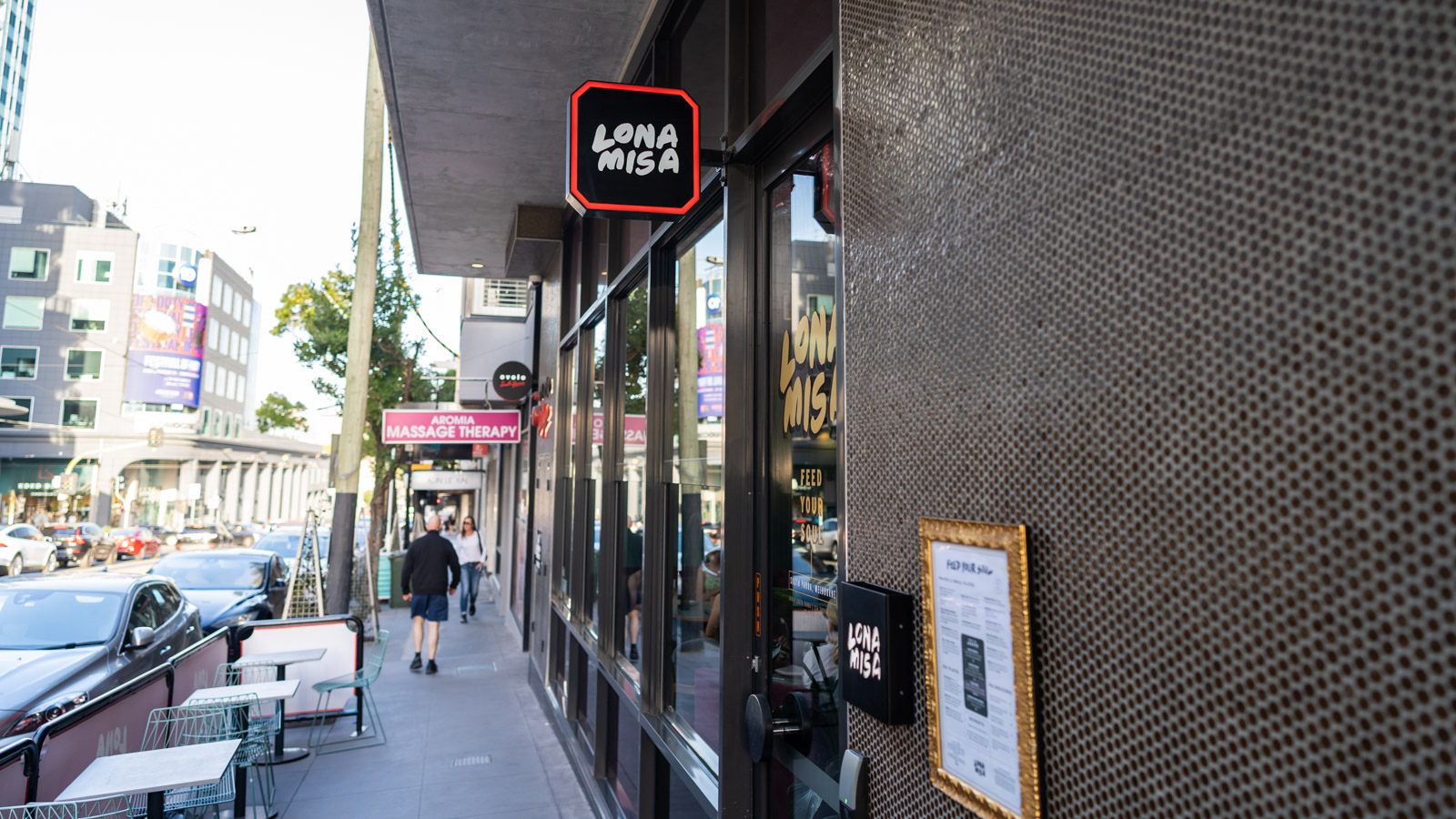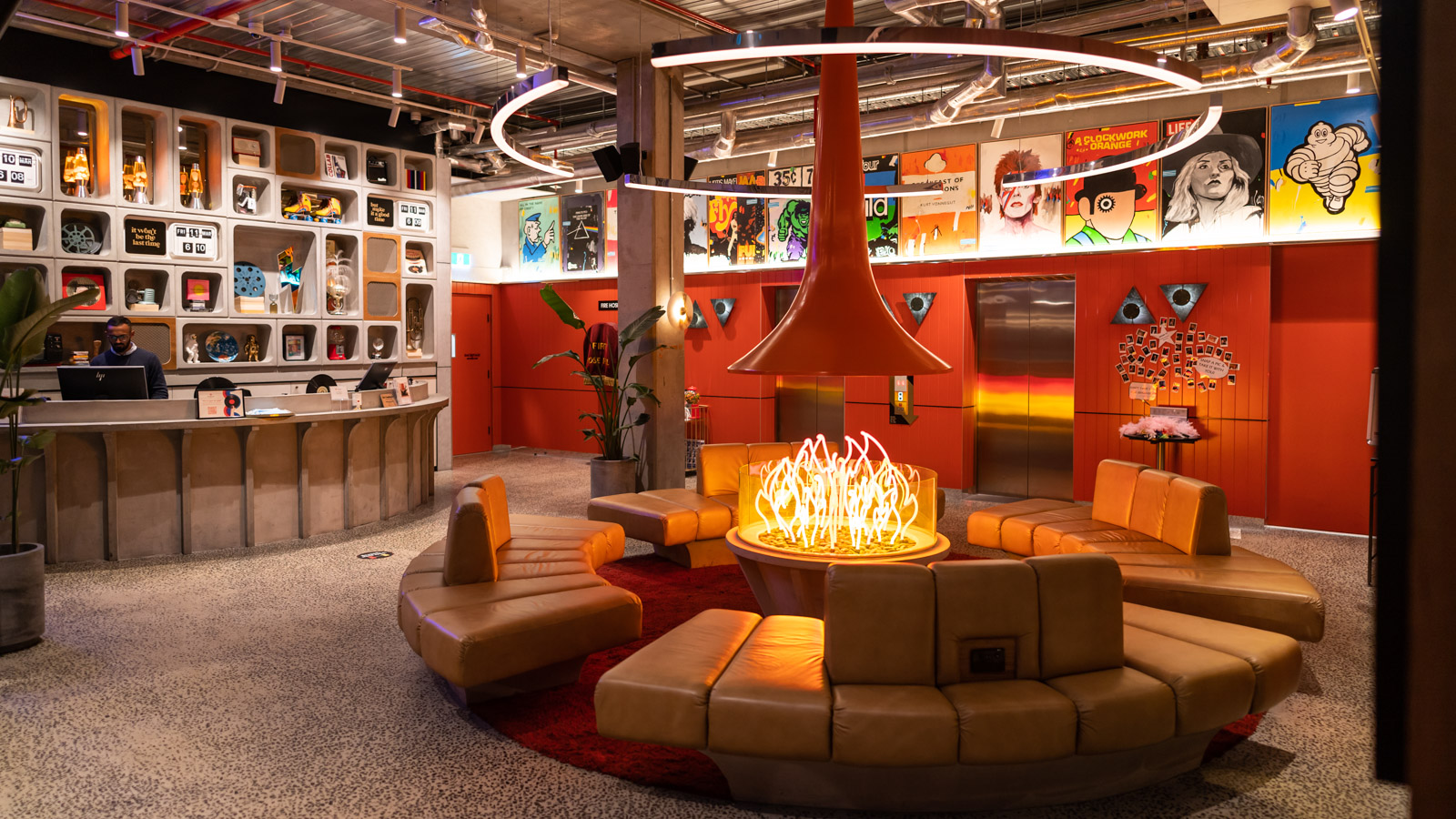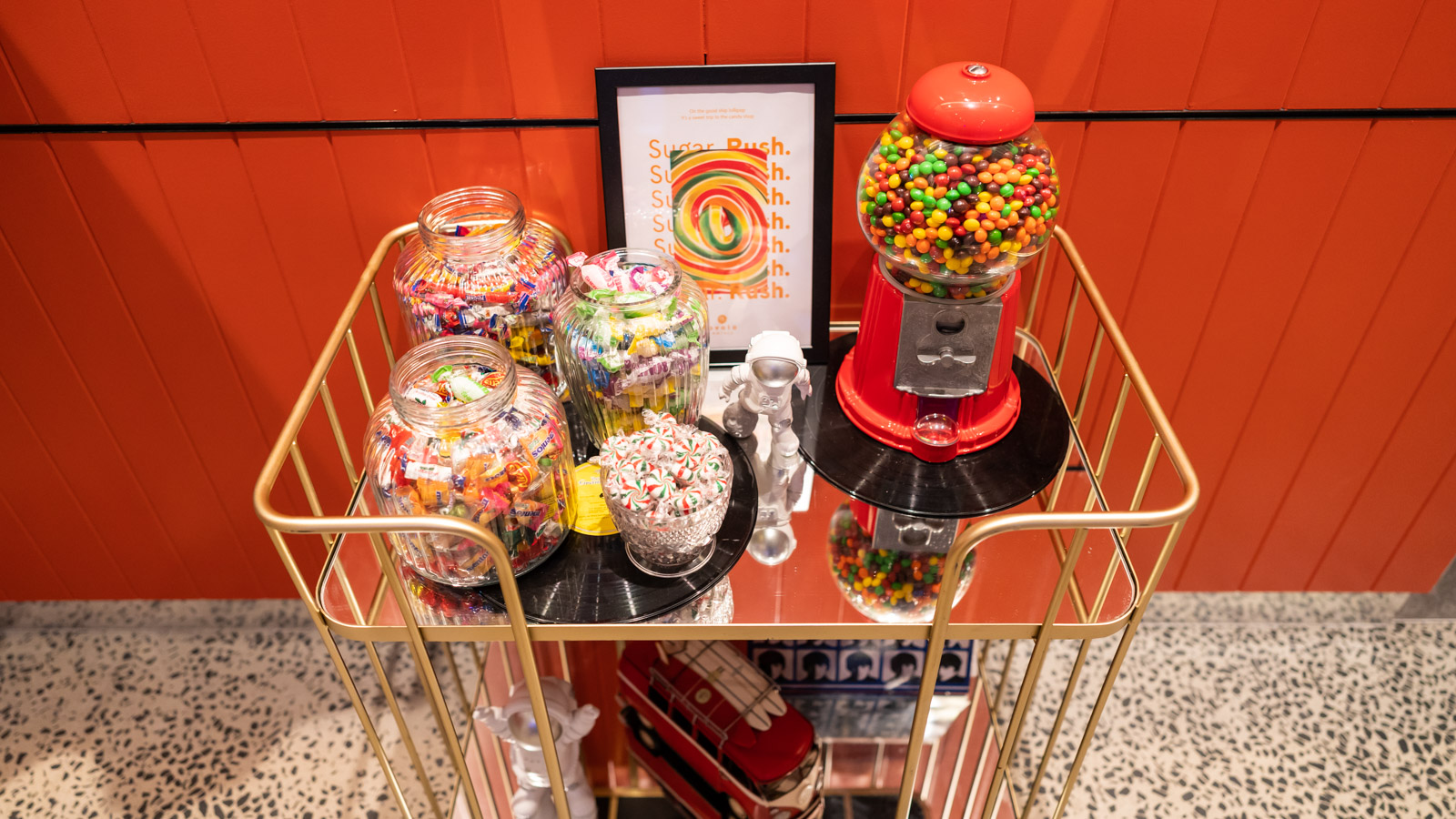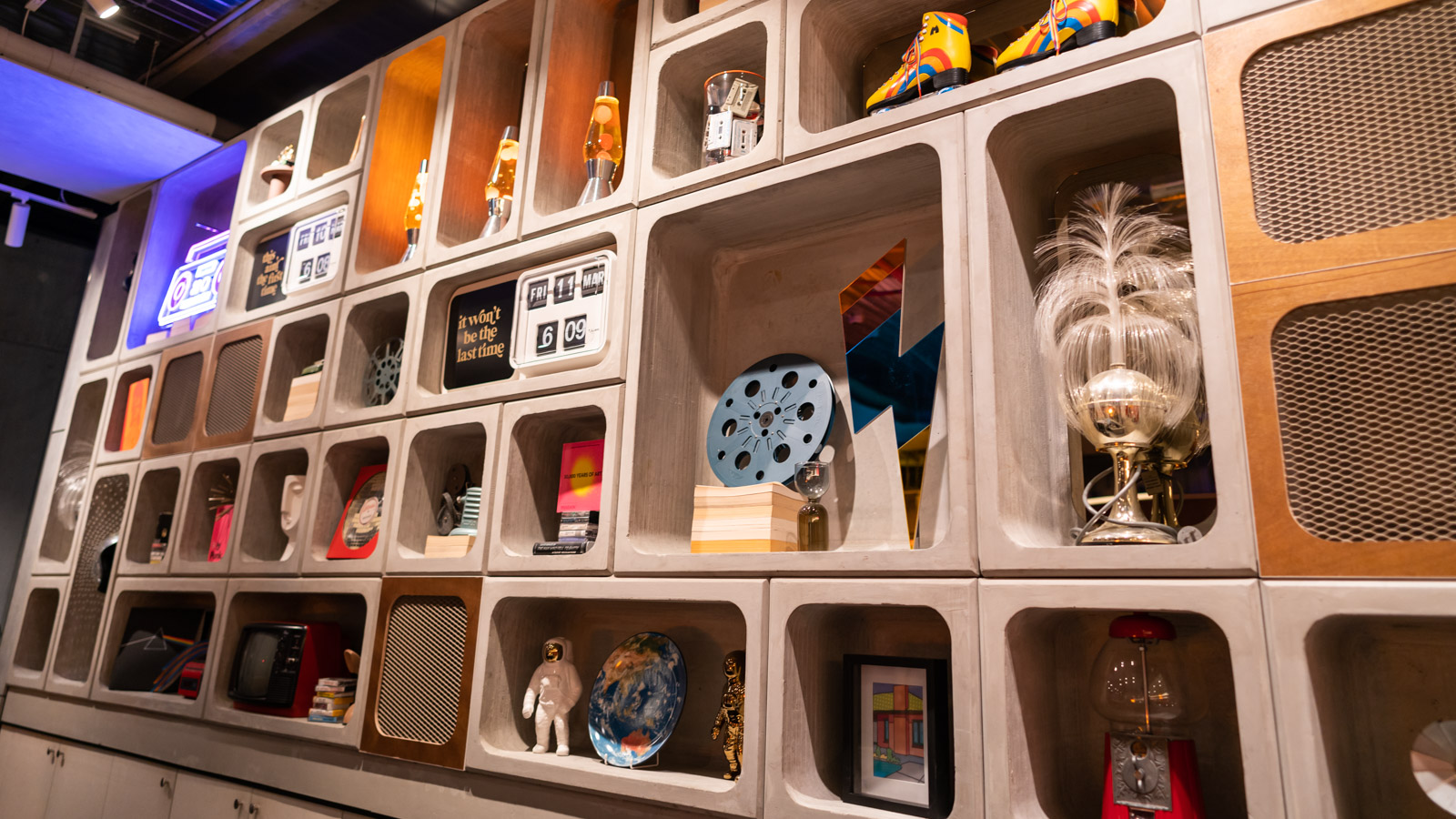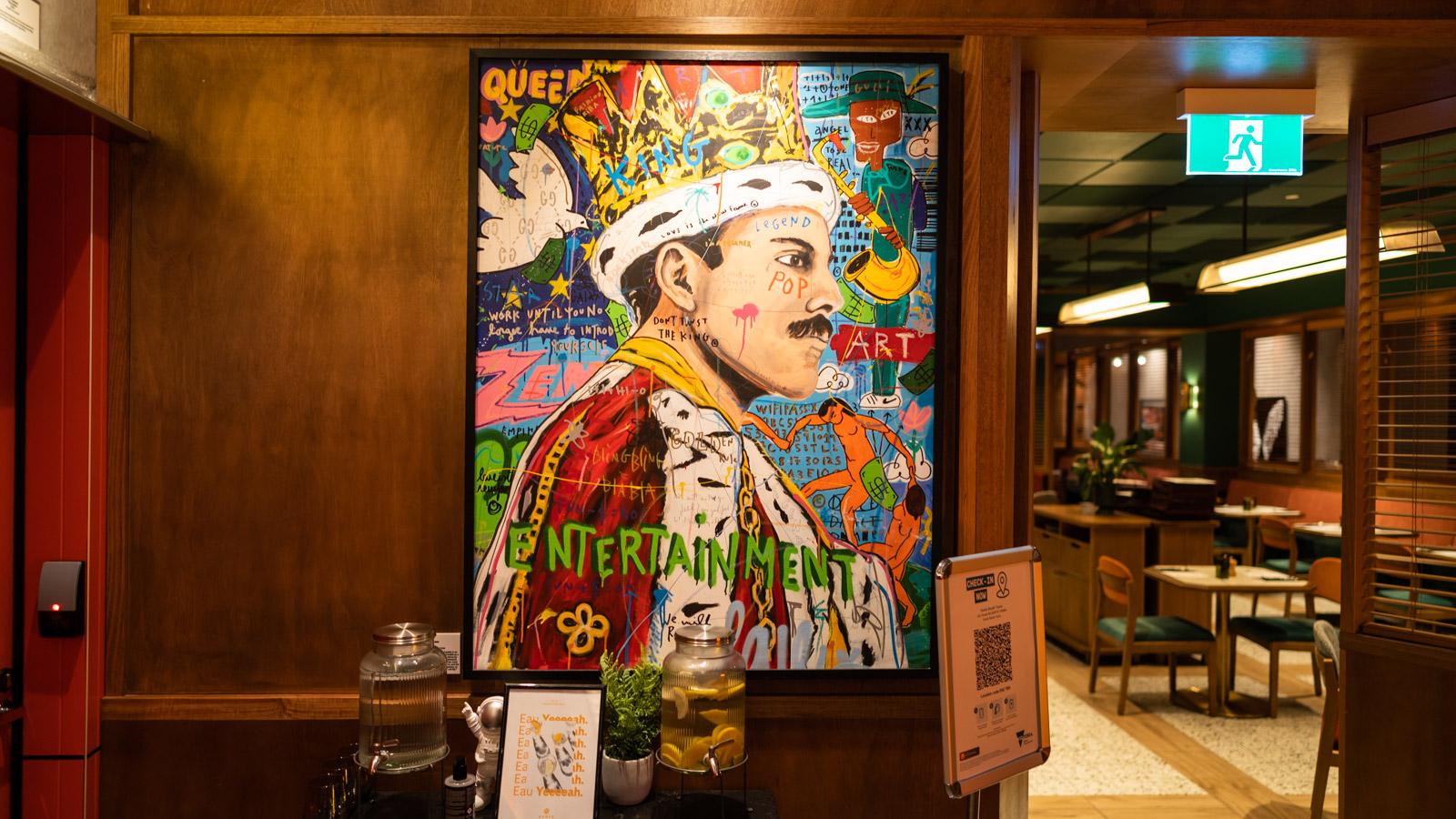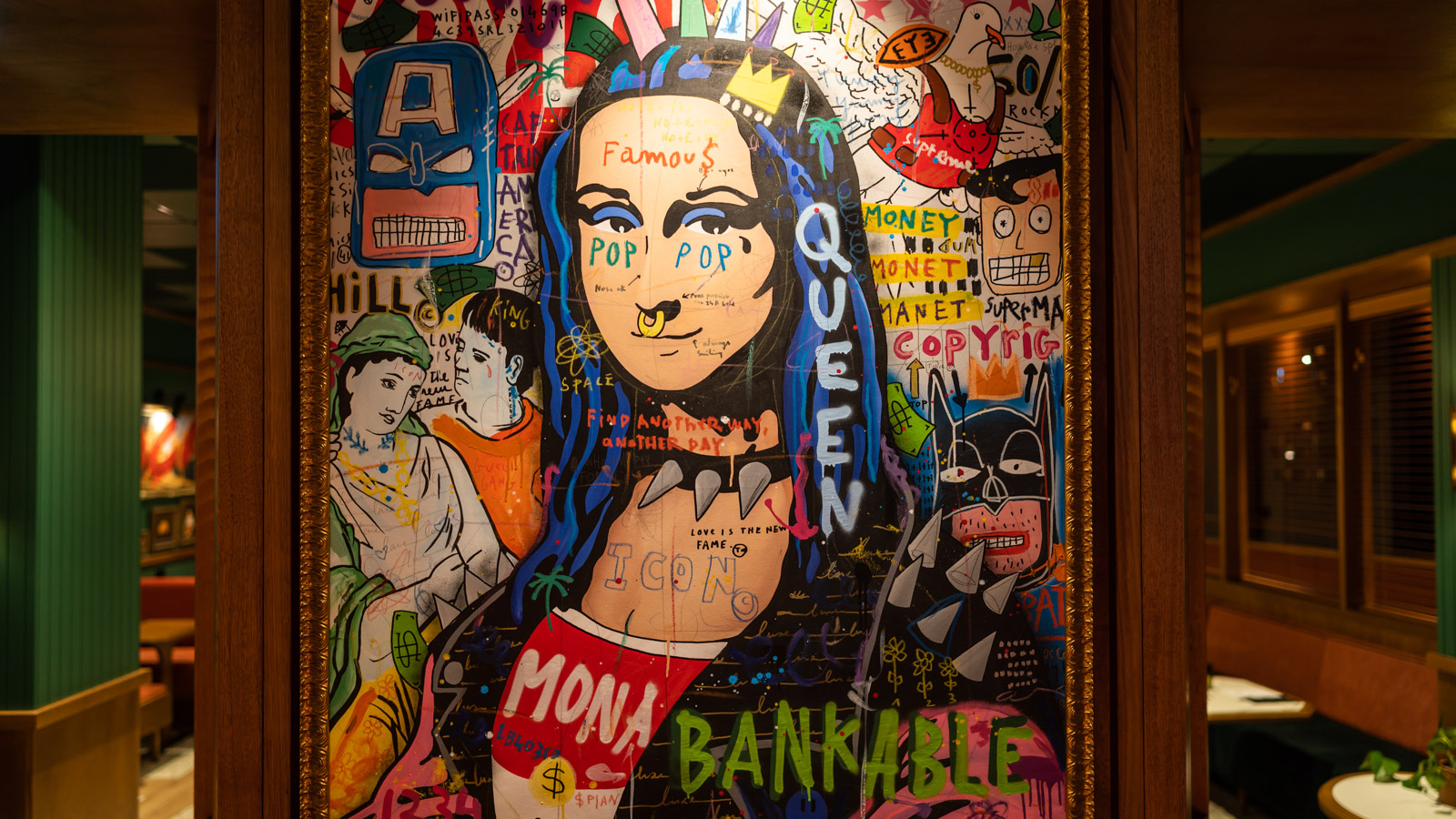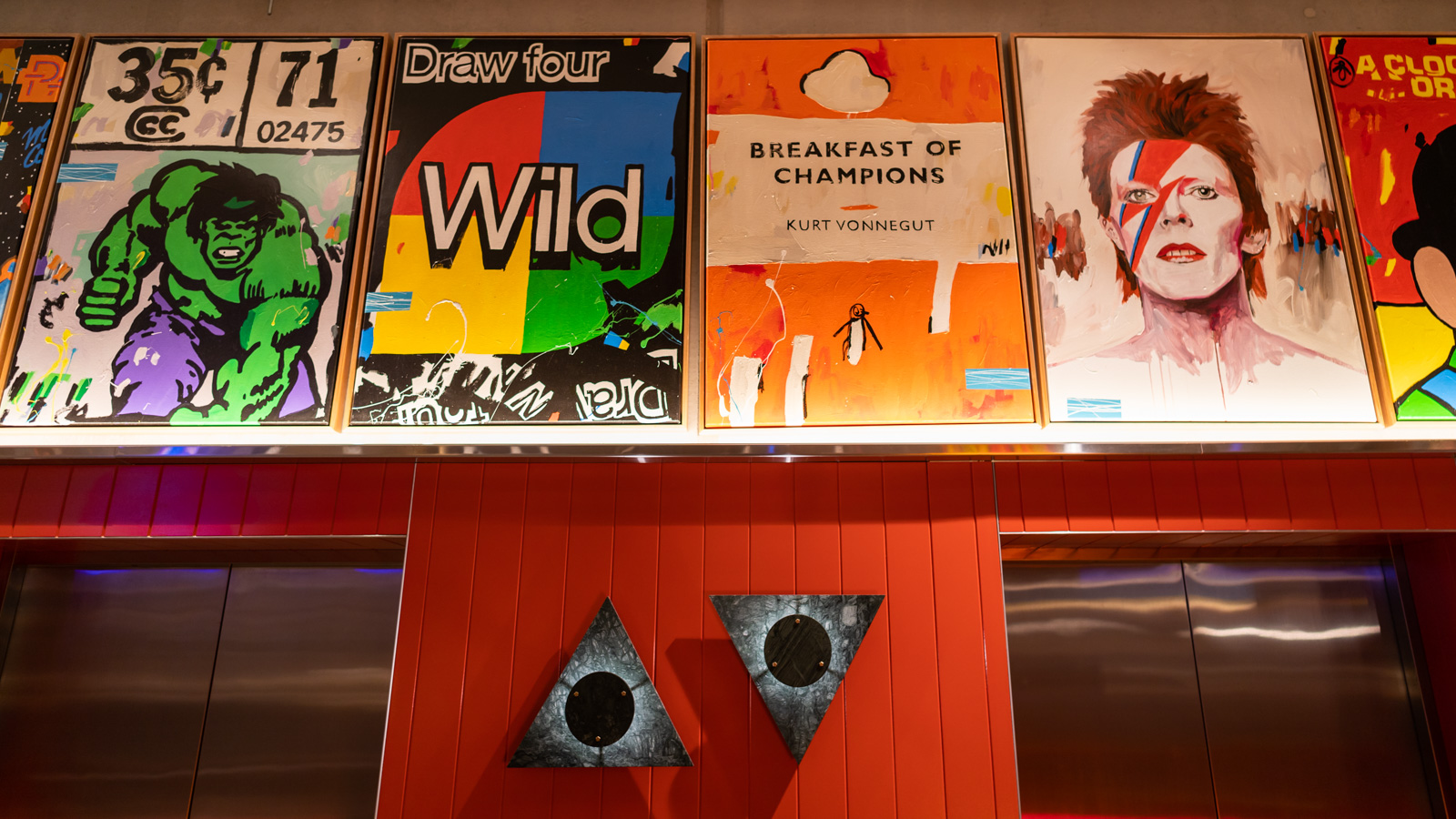 Check-in is swift, and since my room includes all the perks, I'm invited to come back down for a round of free drinks at 'Social Hour', which runs from 5 pm to 6 pm.
I later prowl the streets and gaze at the plethora of dining and shopping options out there. Trams trundle frequently along Toorak Road. The hotel is also a few minutes' walk away from South Yarra train station, which has four train lines running into the city and out to the suburbs.
Ovolo South Yarra Groovy Room
The space
Ovolo's Groovy room fits two – at roughly 20 sqm, it's probably the minimum room category I'd consider for a multi-night stay. Even then, I found it a bit squishy when unpacking my full-size suitcase. The king bed is comfy, which is great because the room isn't geared up for much else apart from sleeping or watching Netflix in bed.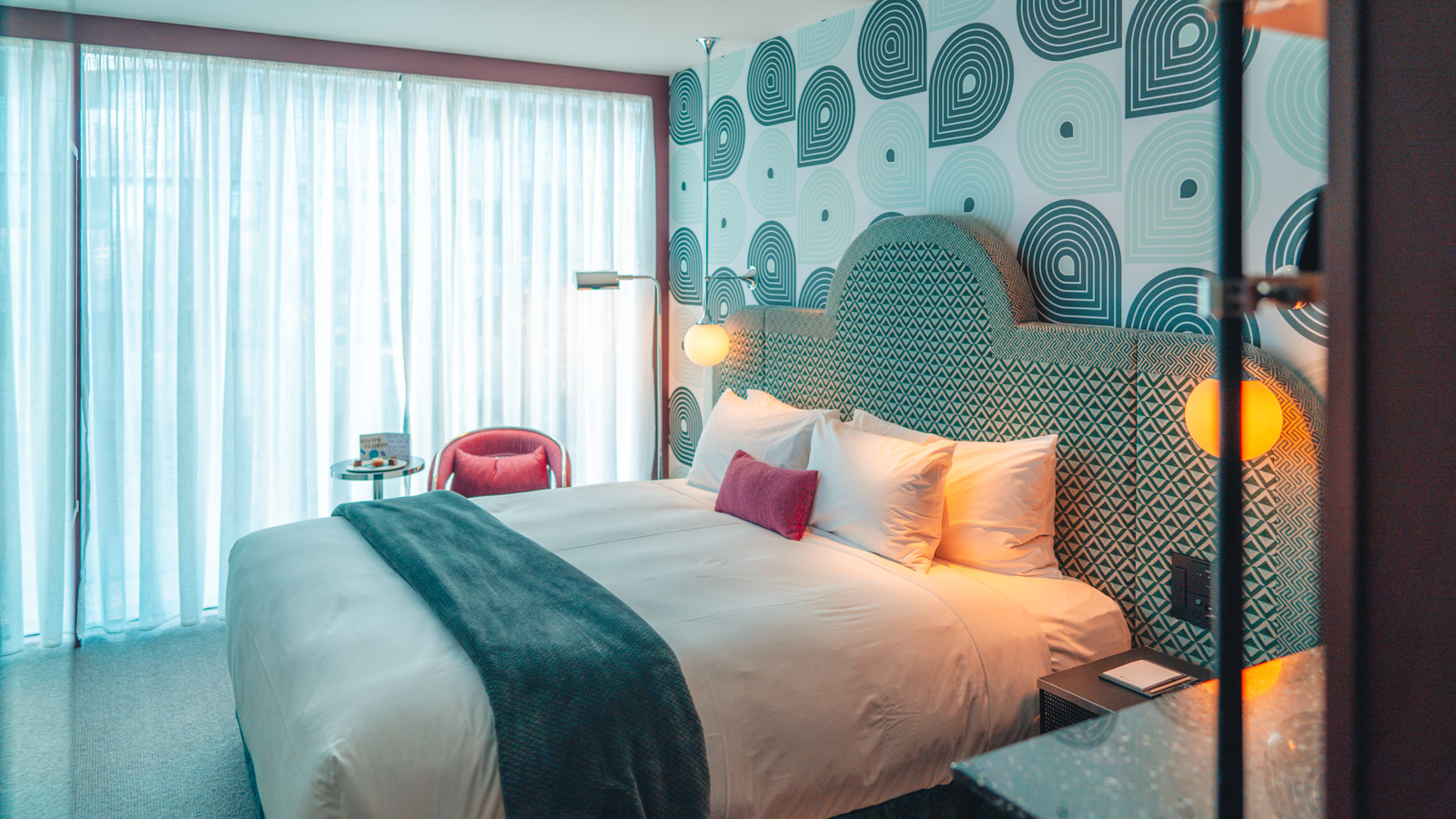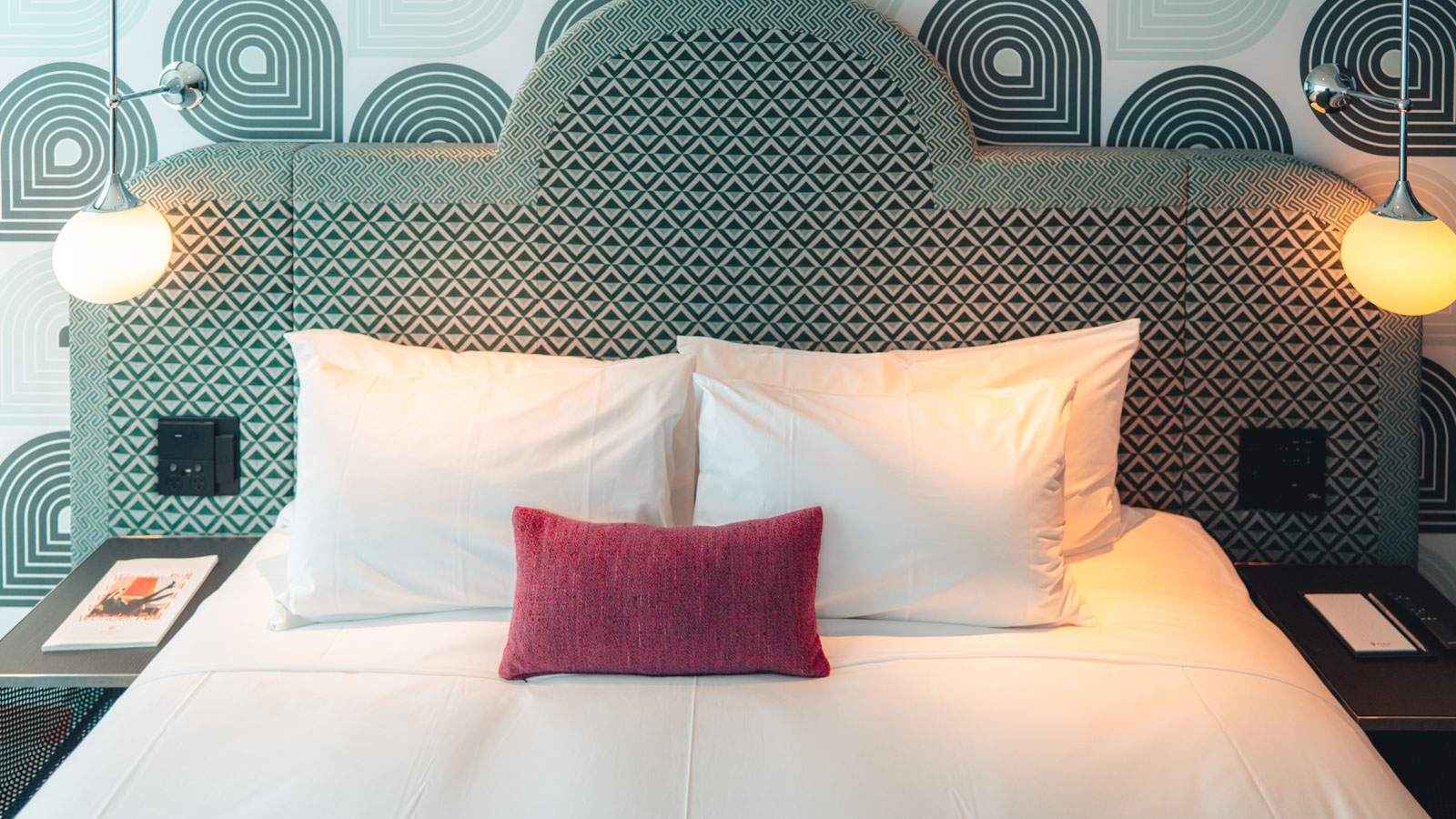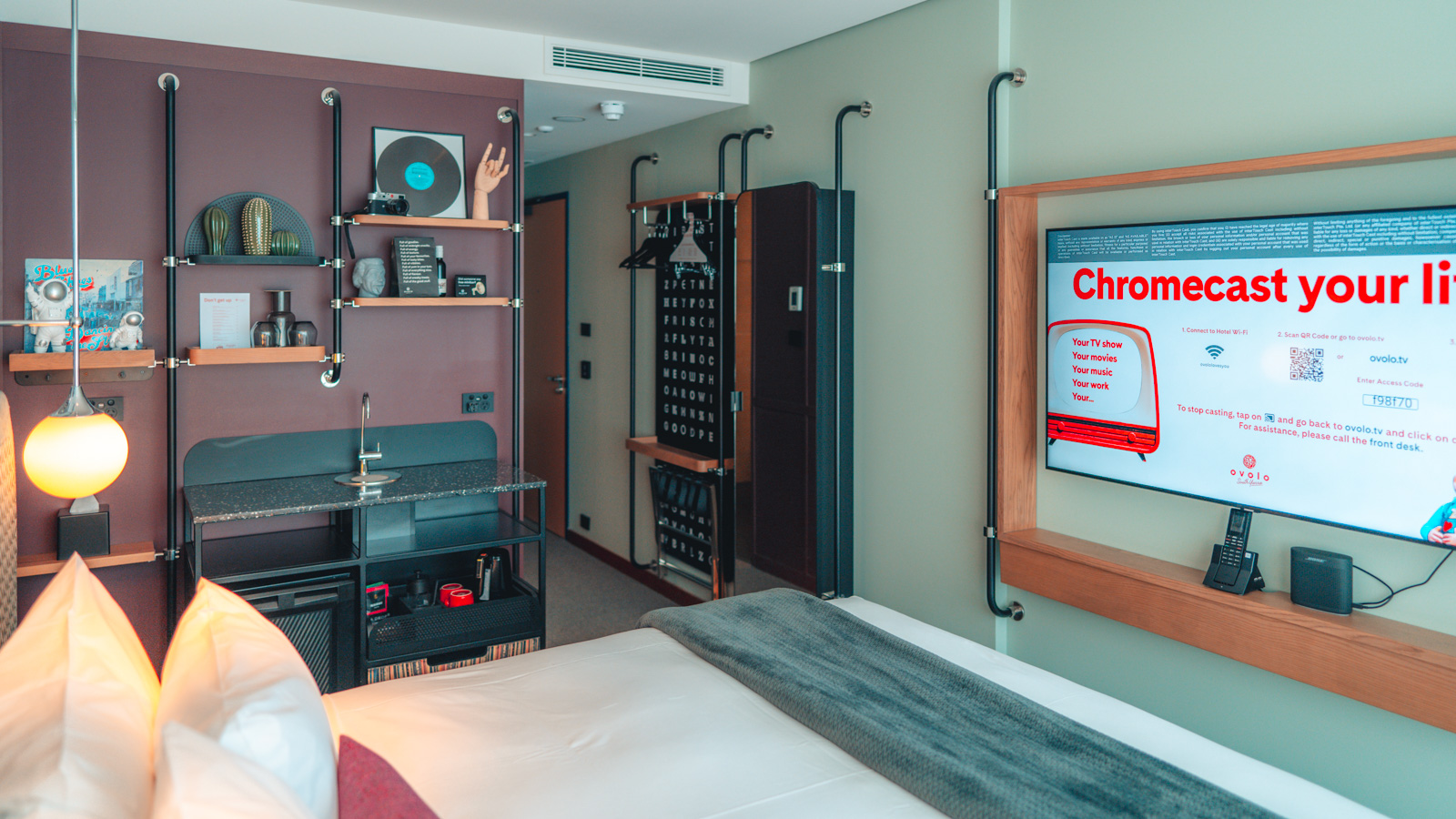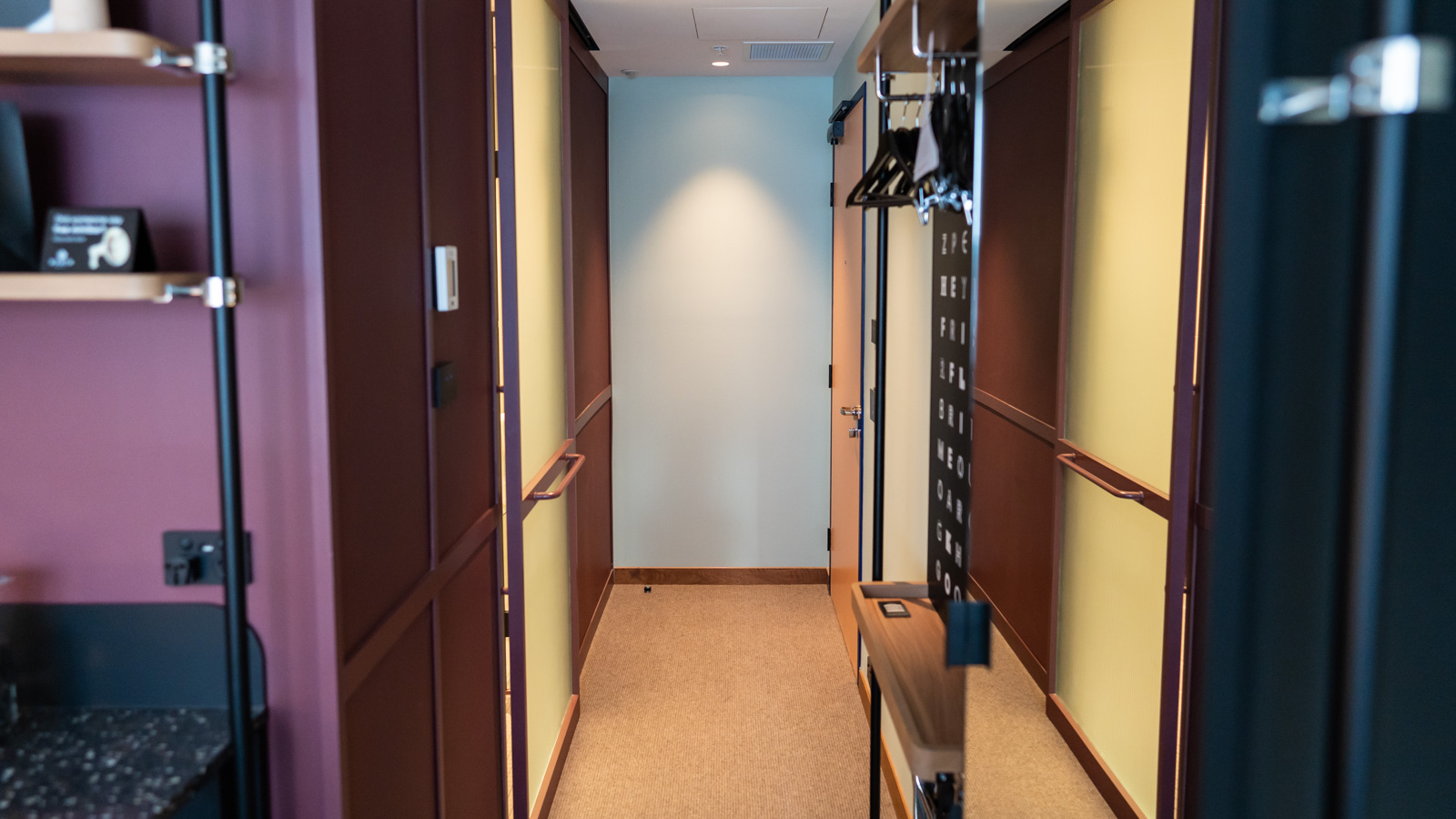 The rooms feature un-retro (i.e. modern) lighting and switches. The side lamps are dimmable, and I can control the curtains and sheer blinds electronically with bedside controls.
The hallway light is motion-sensitive – perfect for late-night bathroom trips. That's nifty, although before I go to bed on the first night, I spend several minutes trying to figure out how to turn it off before I realise that it's automatic.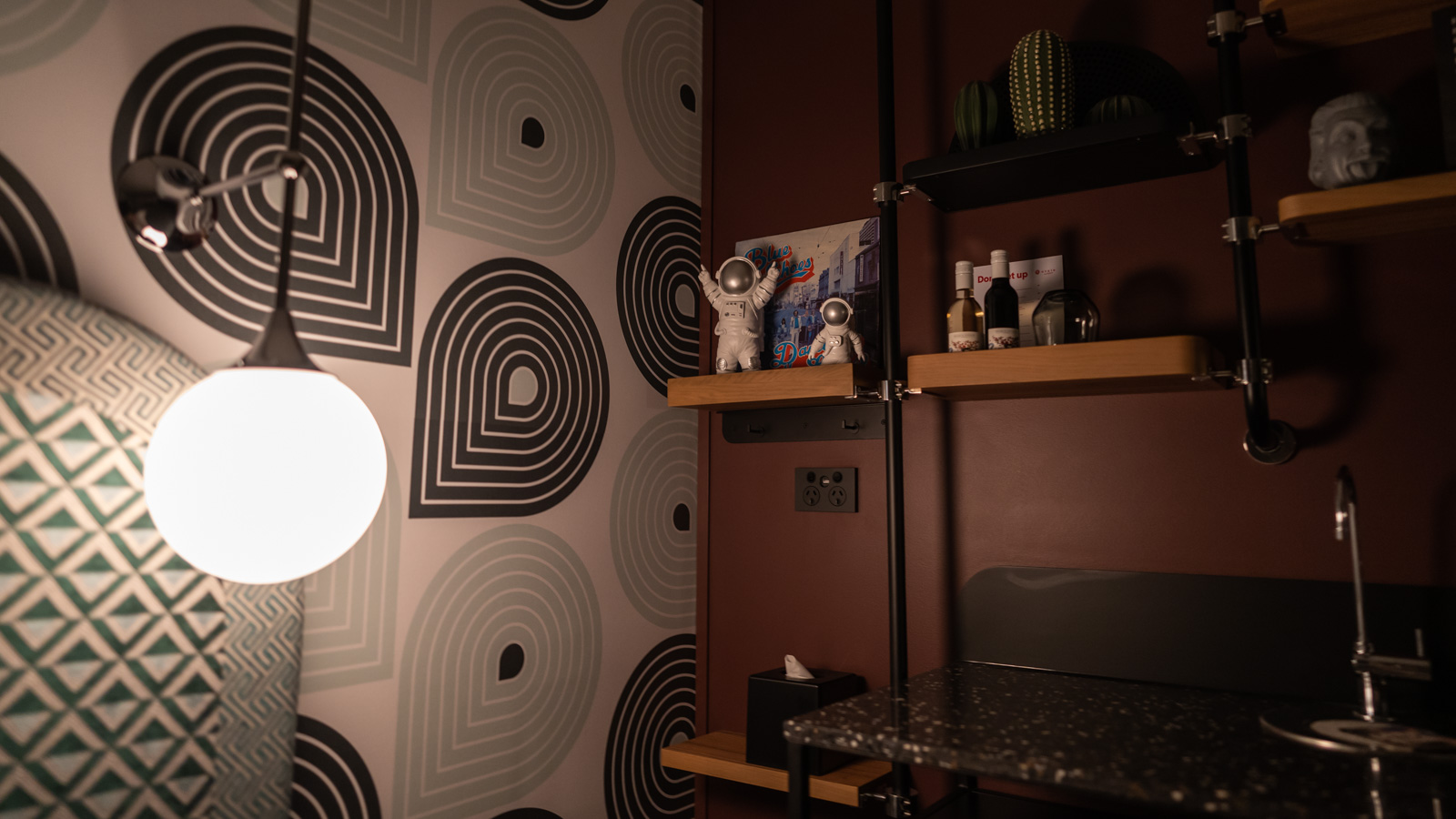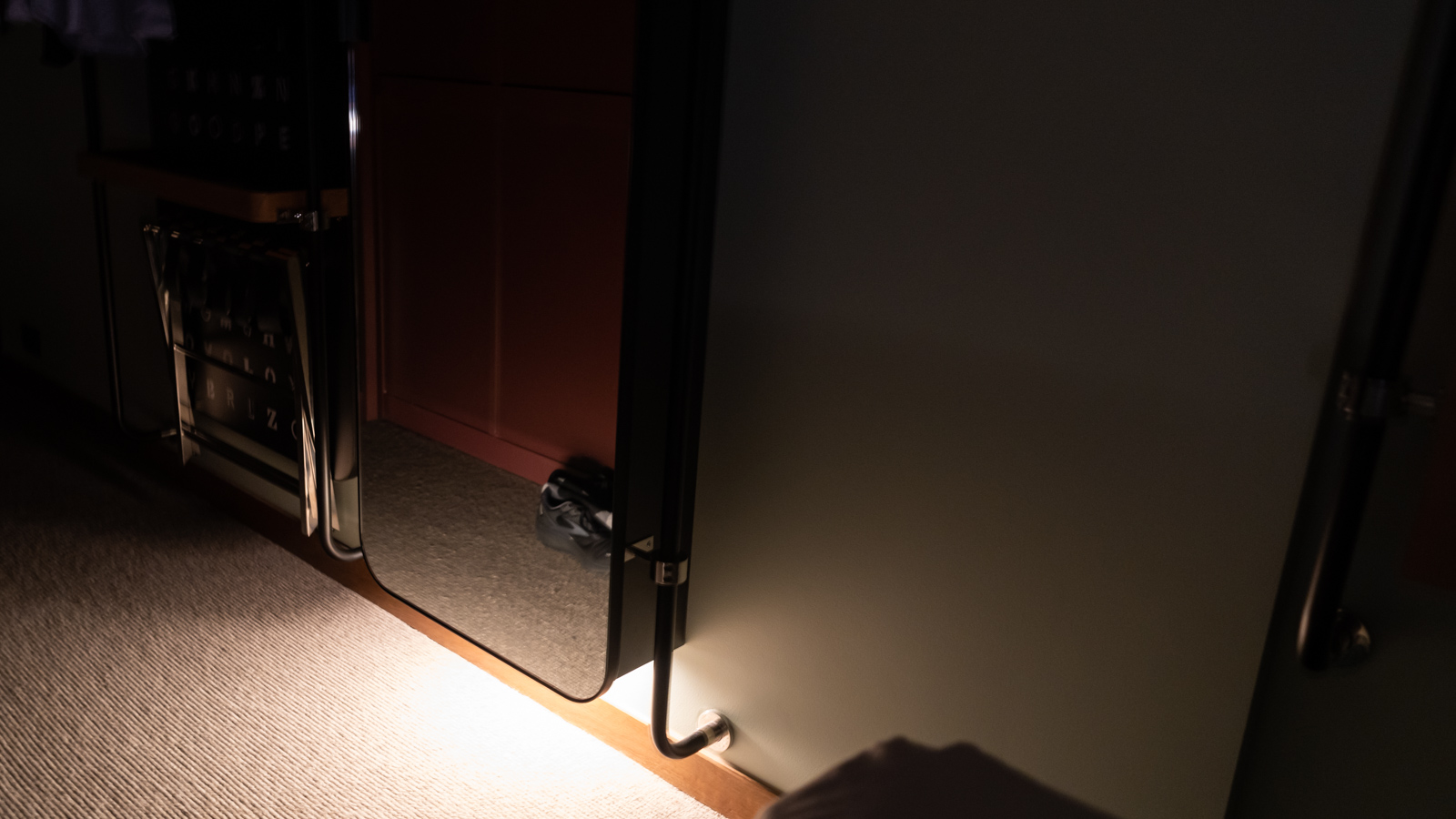 Plenty of power sockets and USB charging ports are available throughout. Pleasingly, there's a universal adaptor included, which is handy for overseas tourists staying here.
In terms of storage, an open rack next to the mirror can house a few shirts and jackets (my room also has ironing equipment behind the mirror). There's also storage space under the bed, but make sure you don't forget about anything there when you leave! You'll find the in-room space in a drawer under the minibar.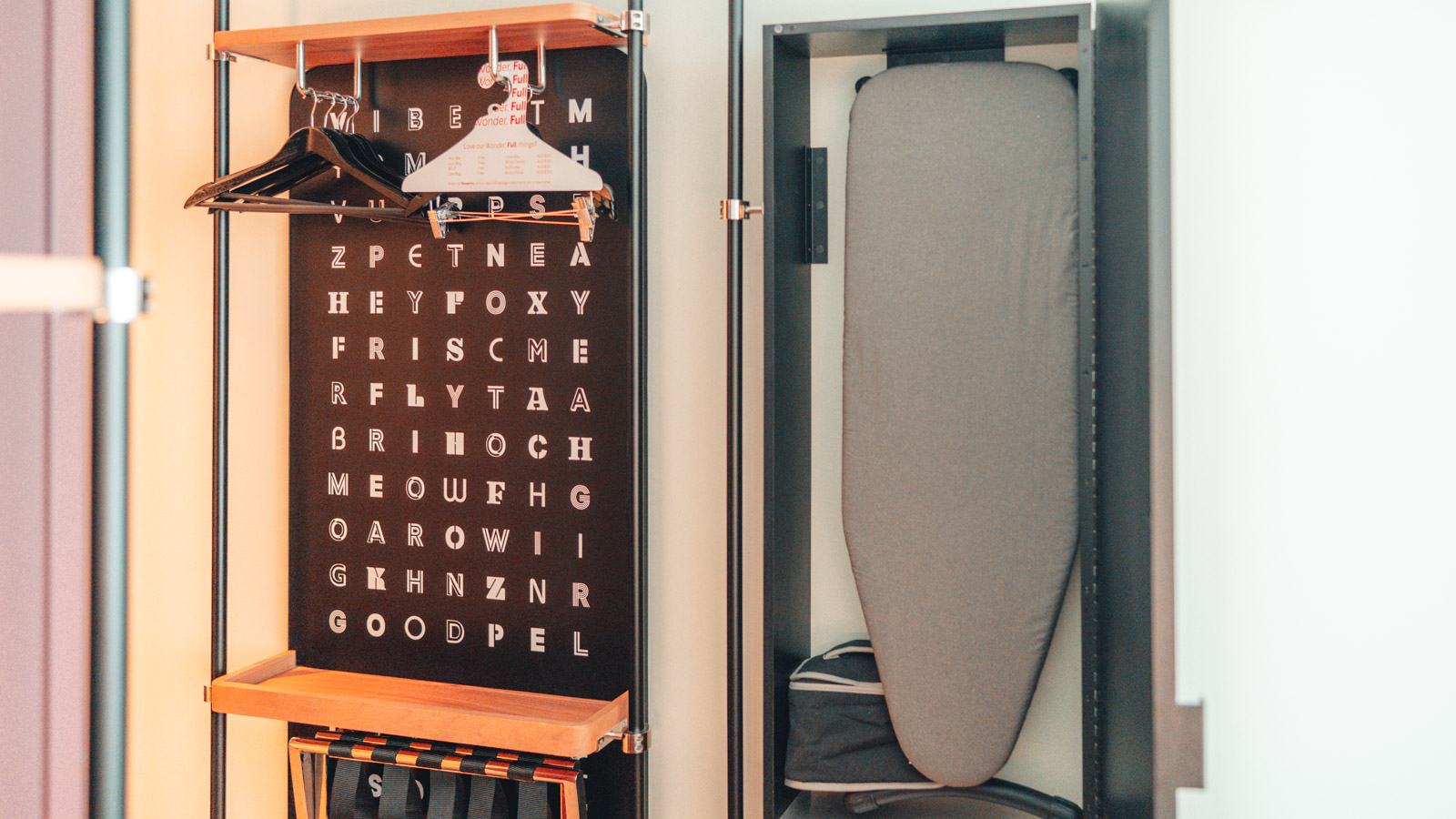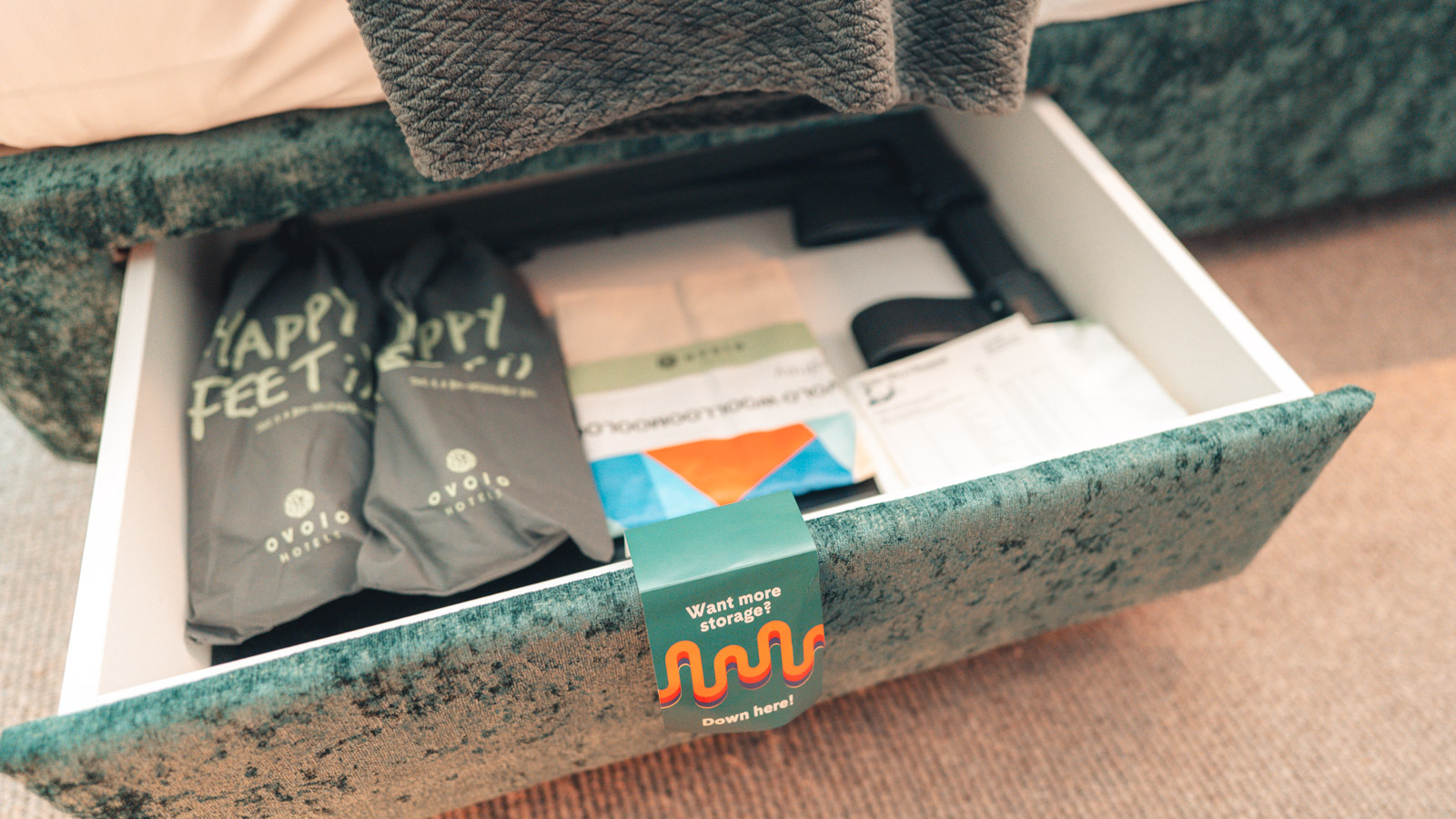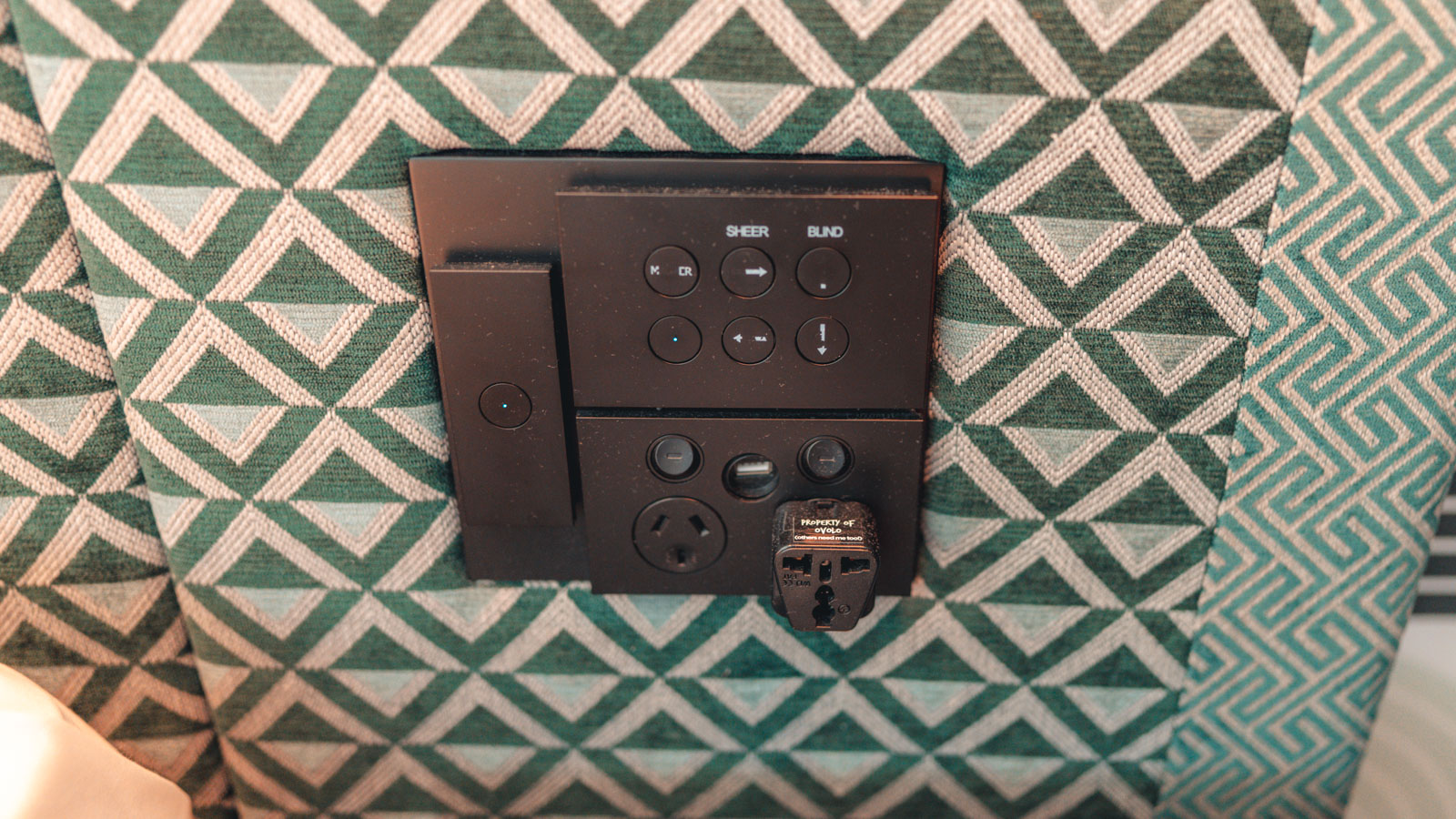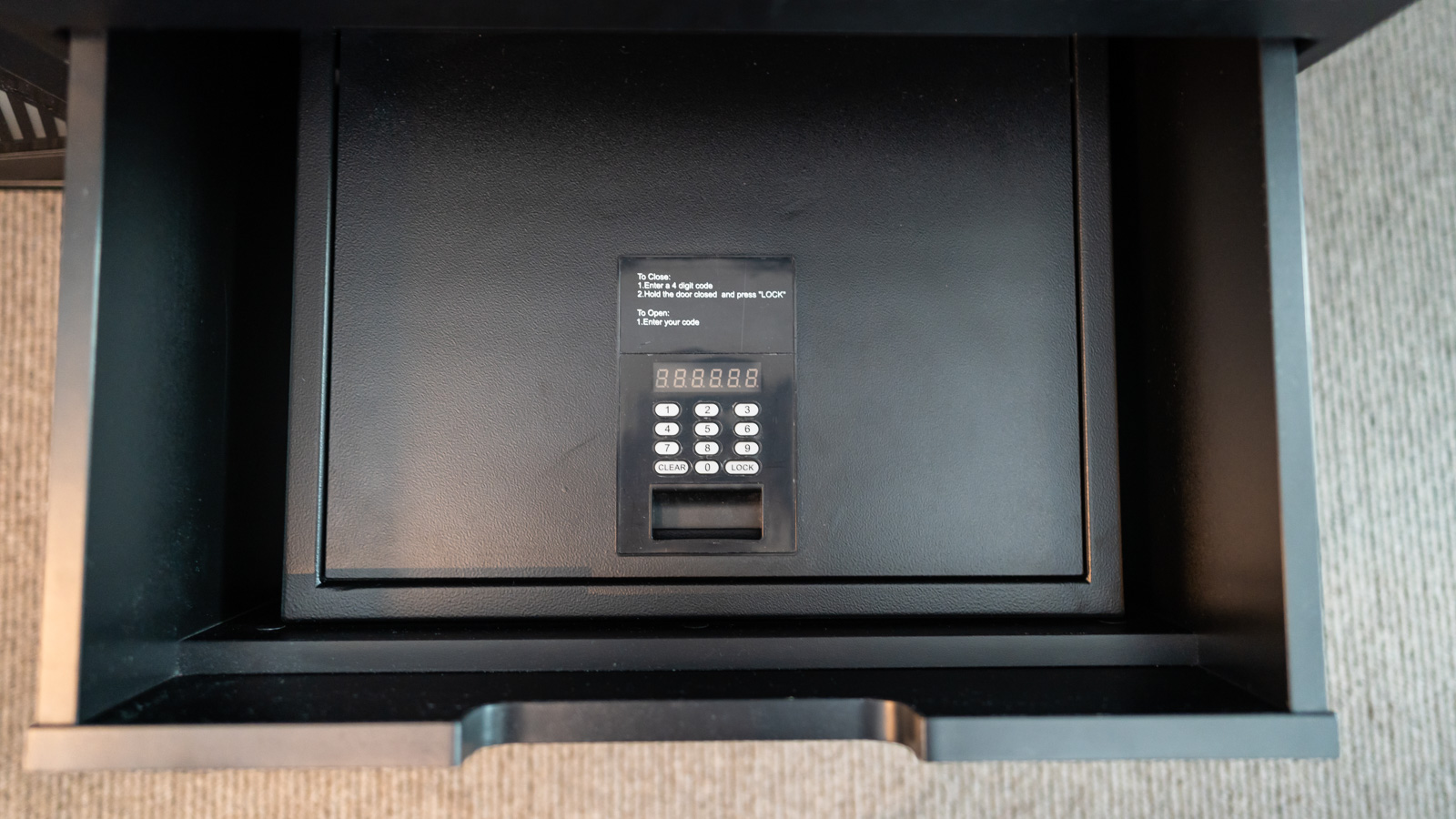 The minibar
The minibar is the other main feature of the room. I really appreciate having a filtered water dispenser available. But the fridge is well-stocked with Coca Cola and StrangeLove sparkling water varieties. There are also two Moon Dog beers and two Deakin Estate wine miniatures. Everything is complimentary and replenished daily for direct bookings.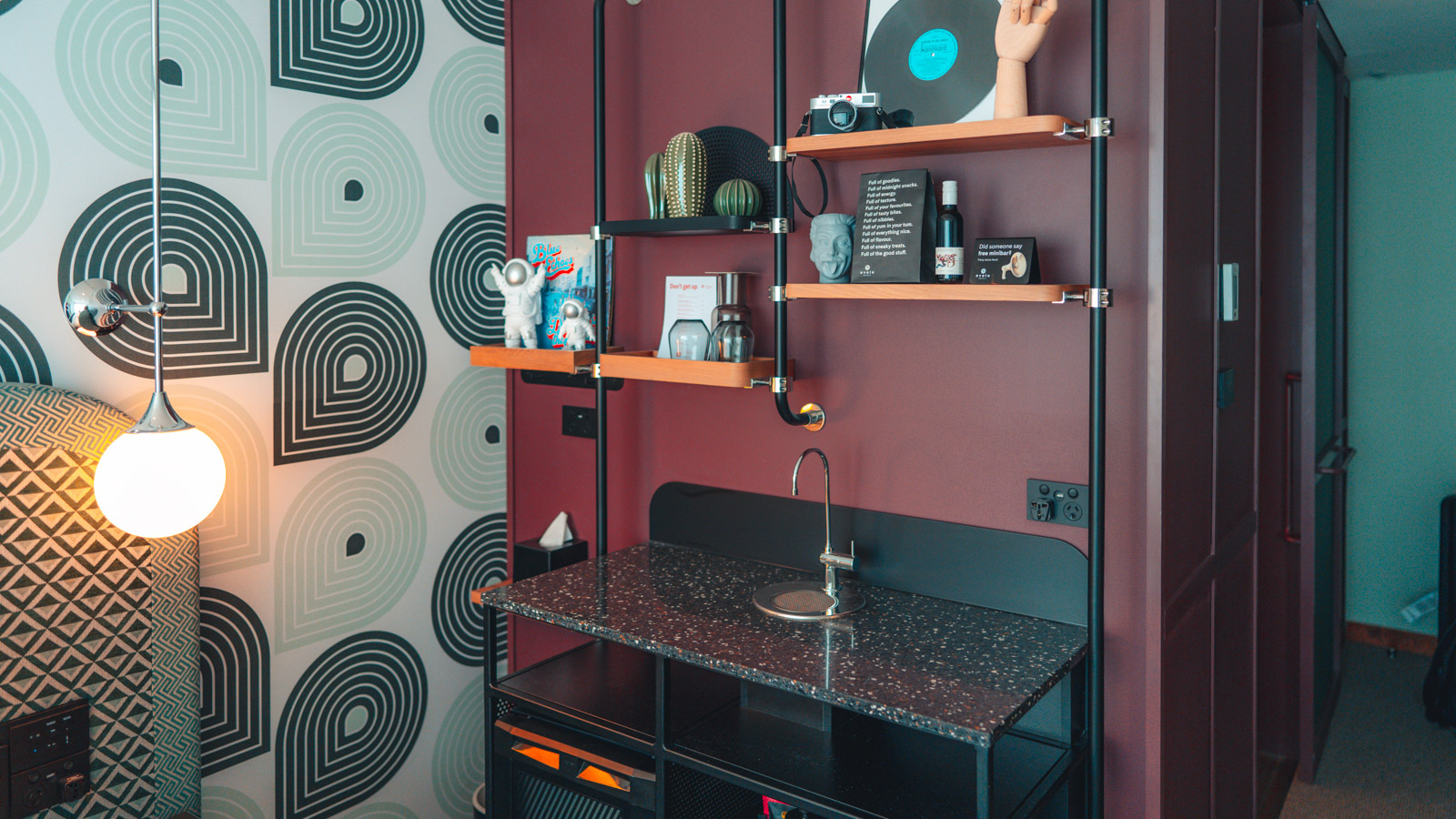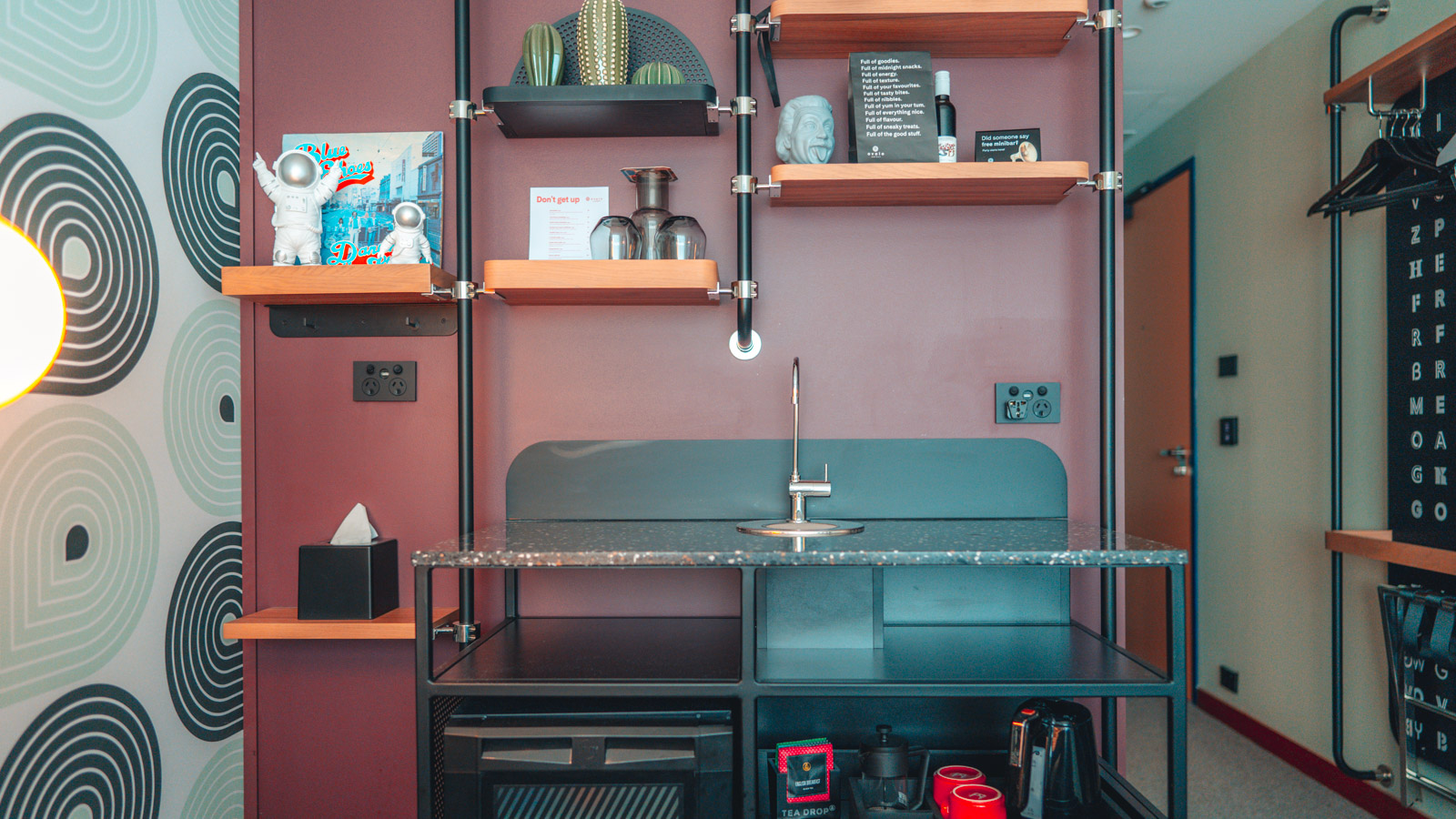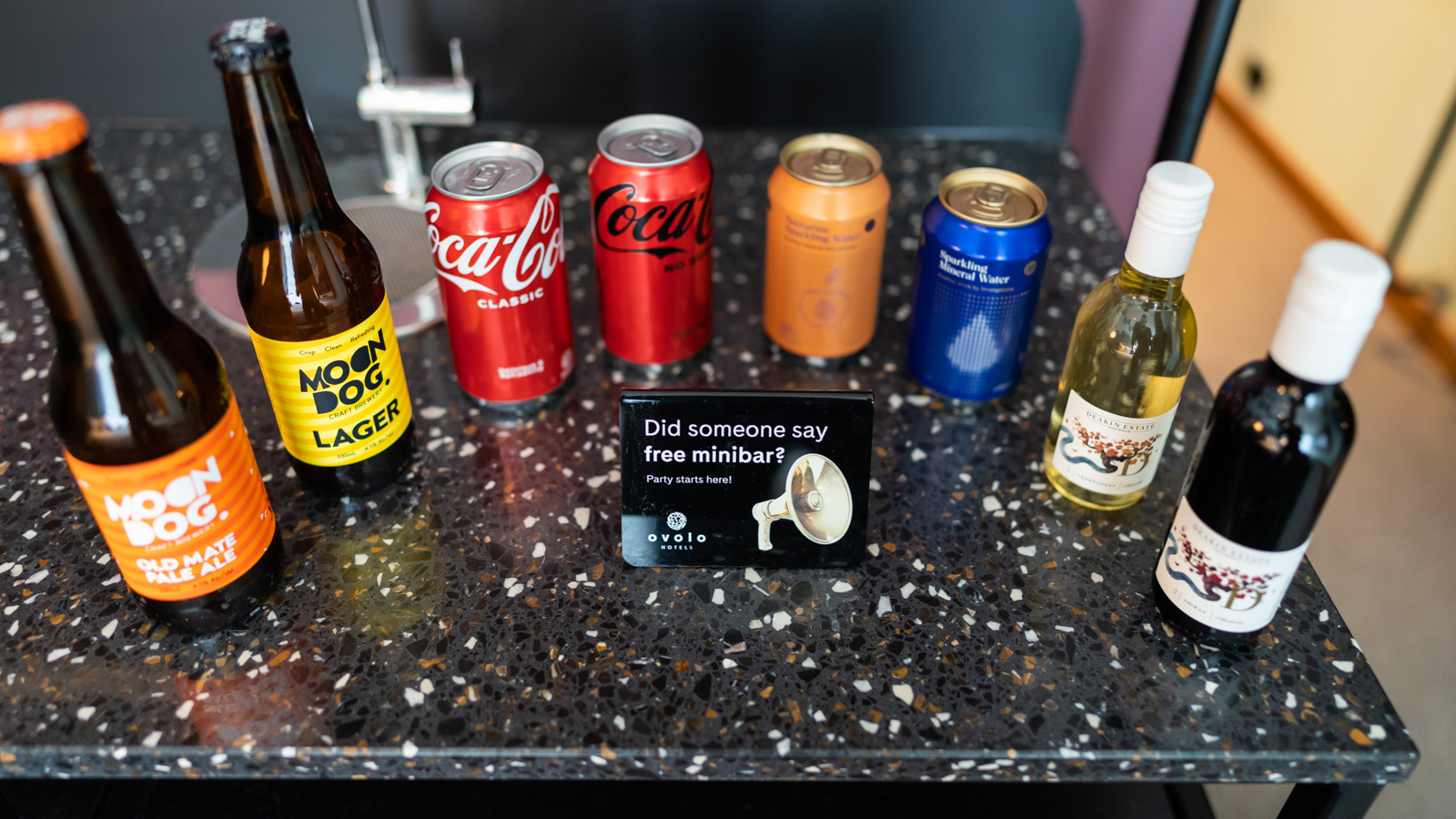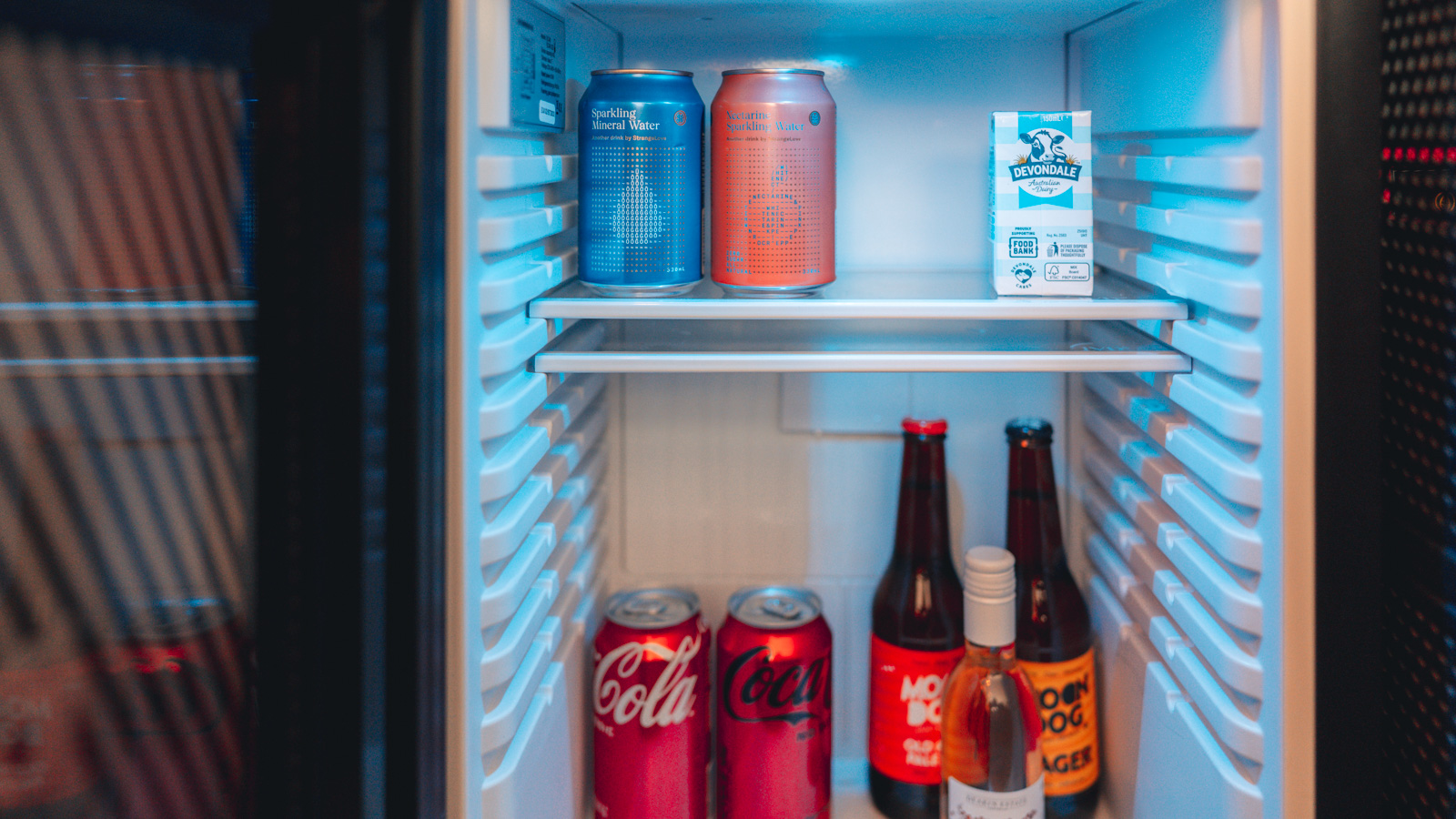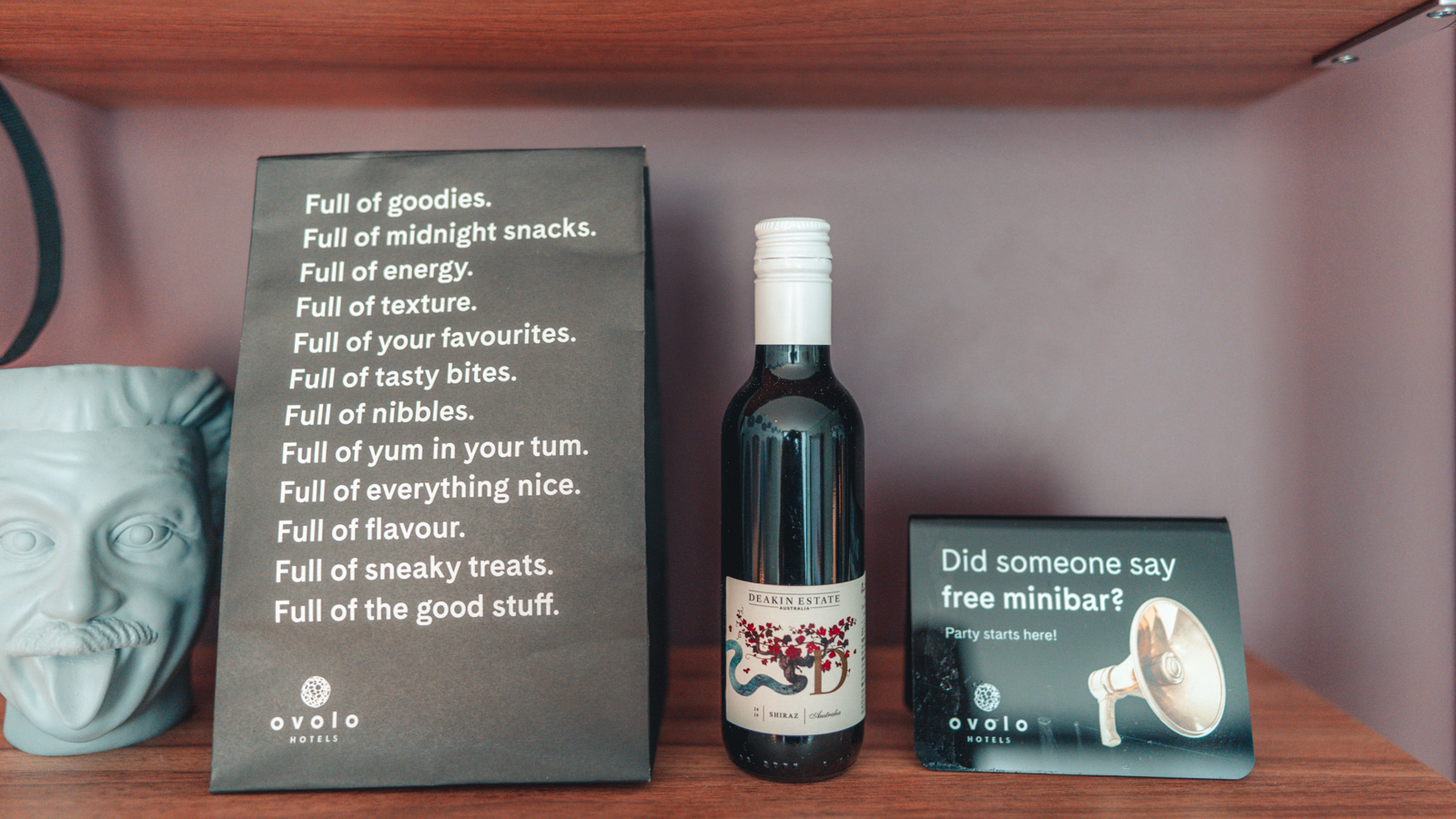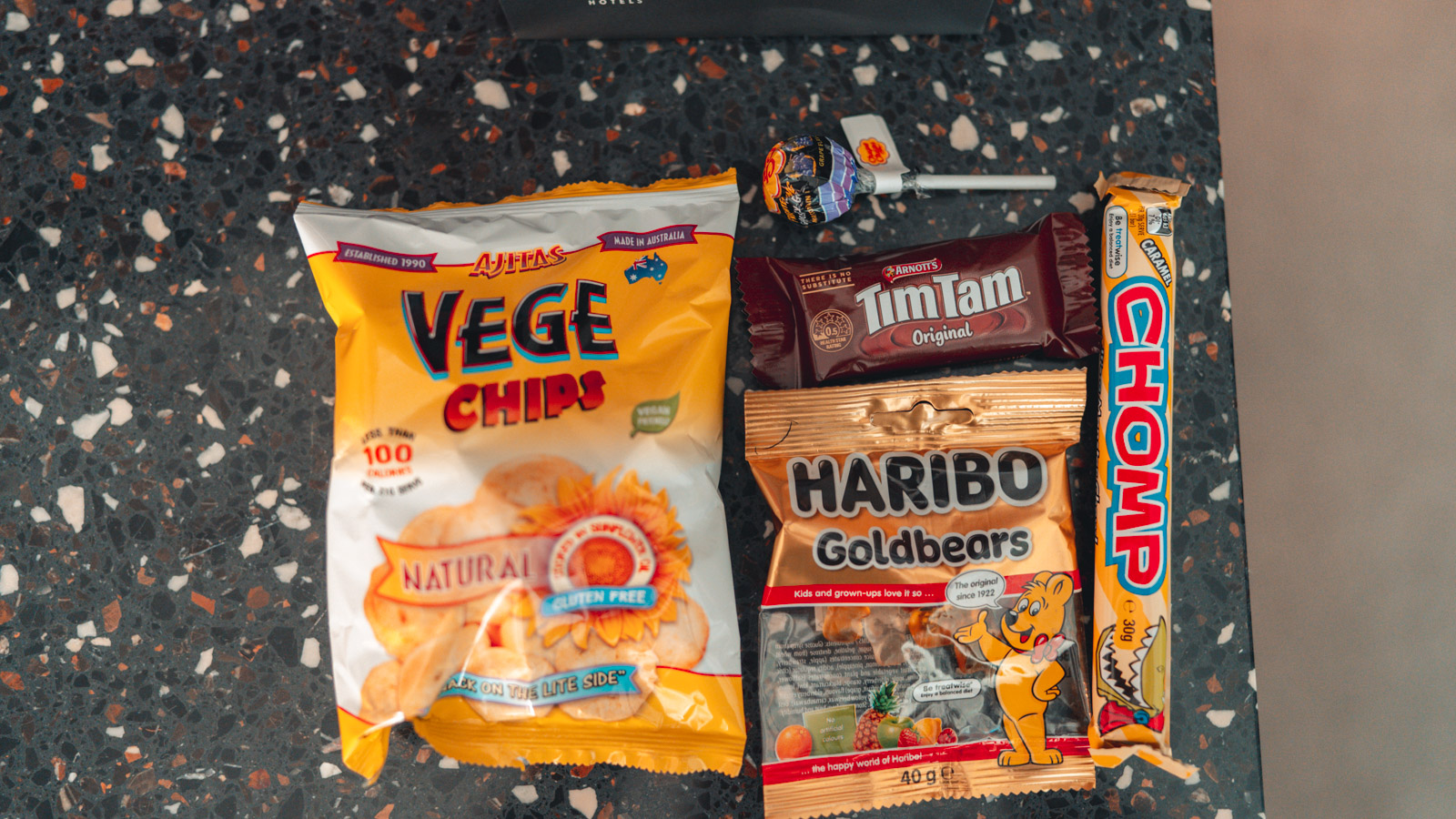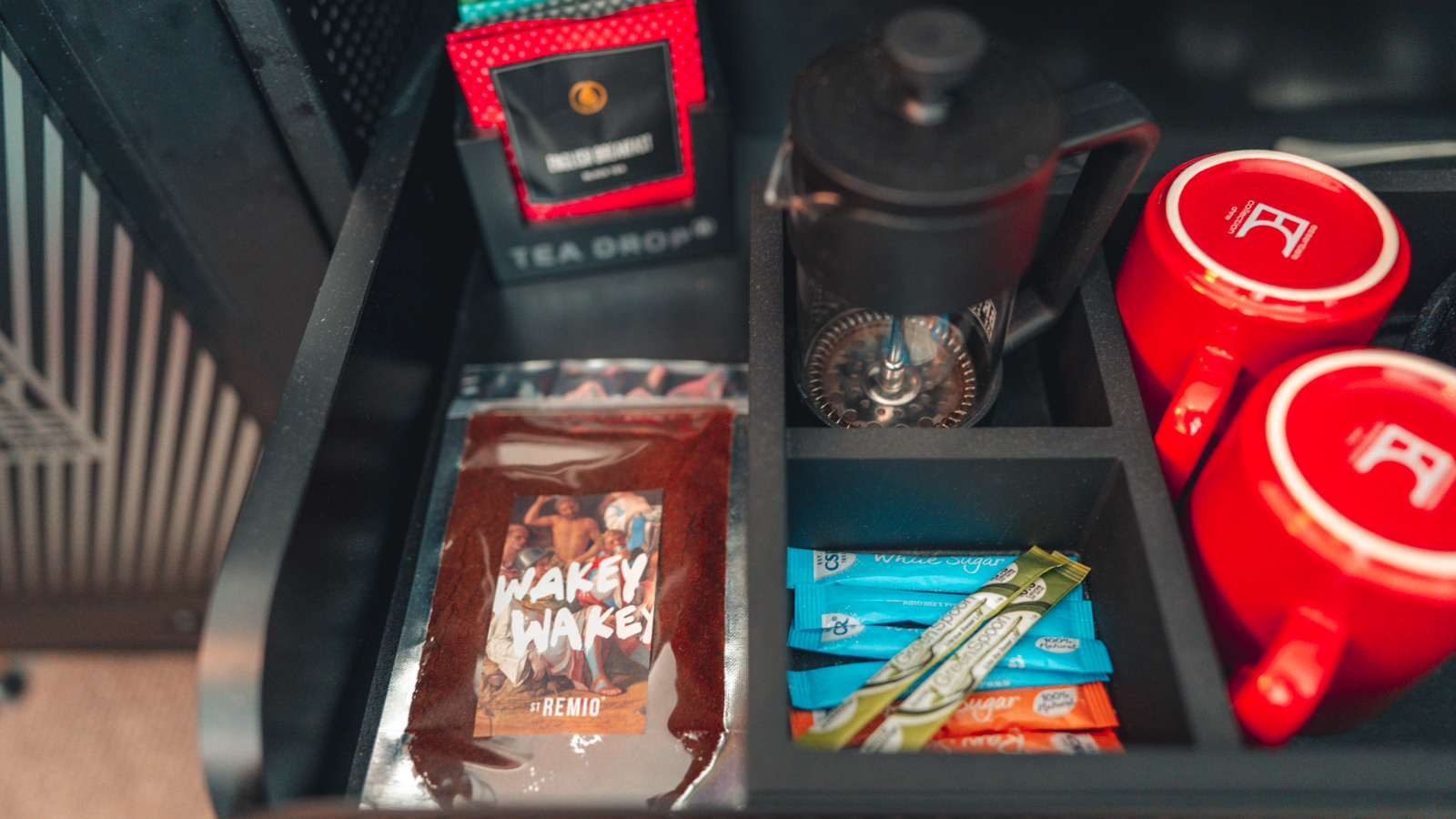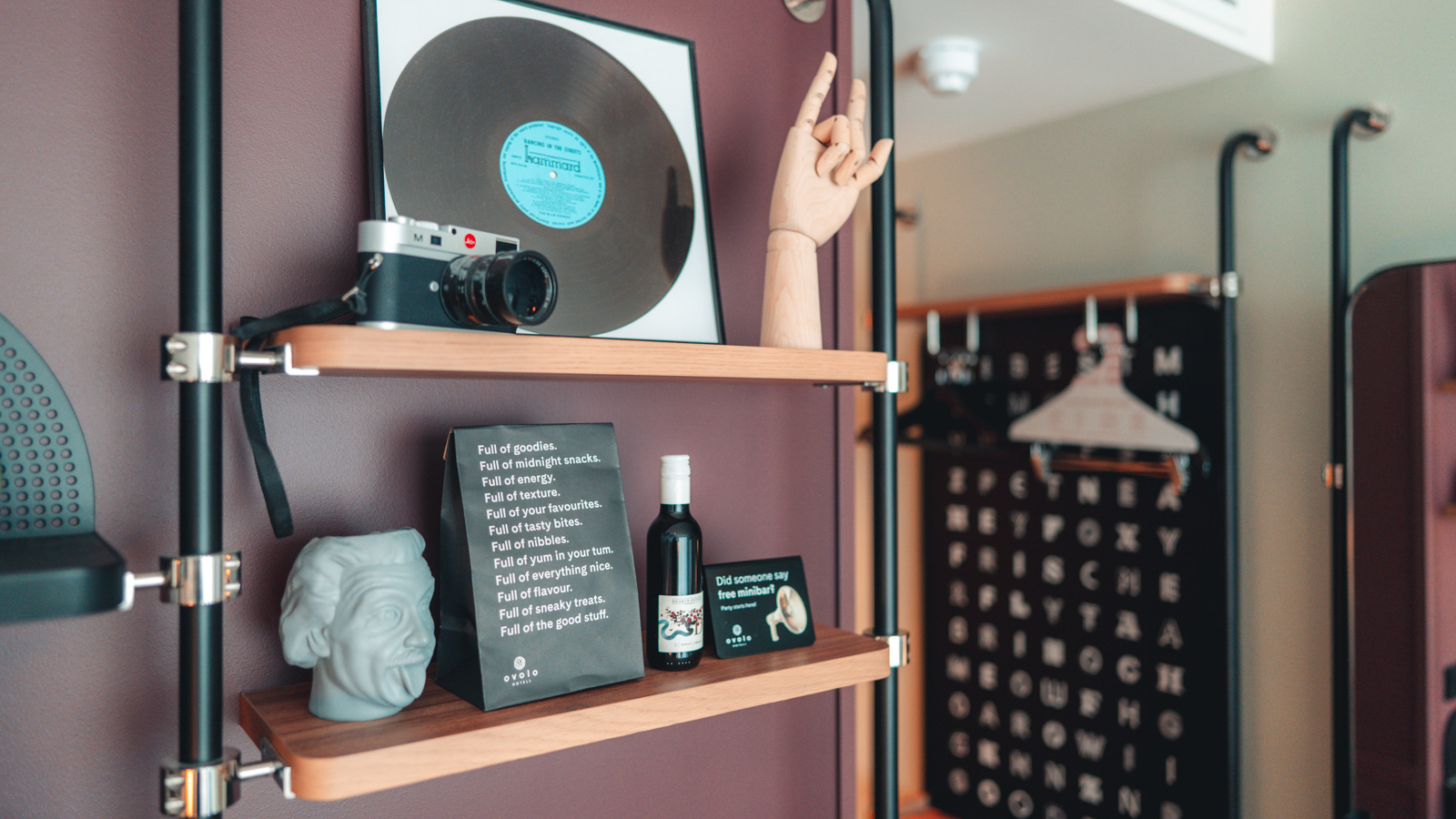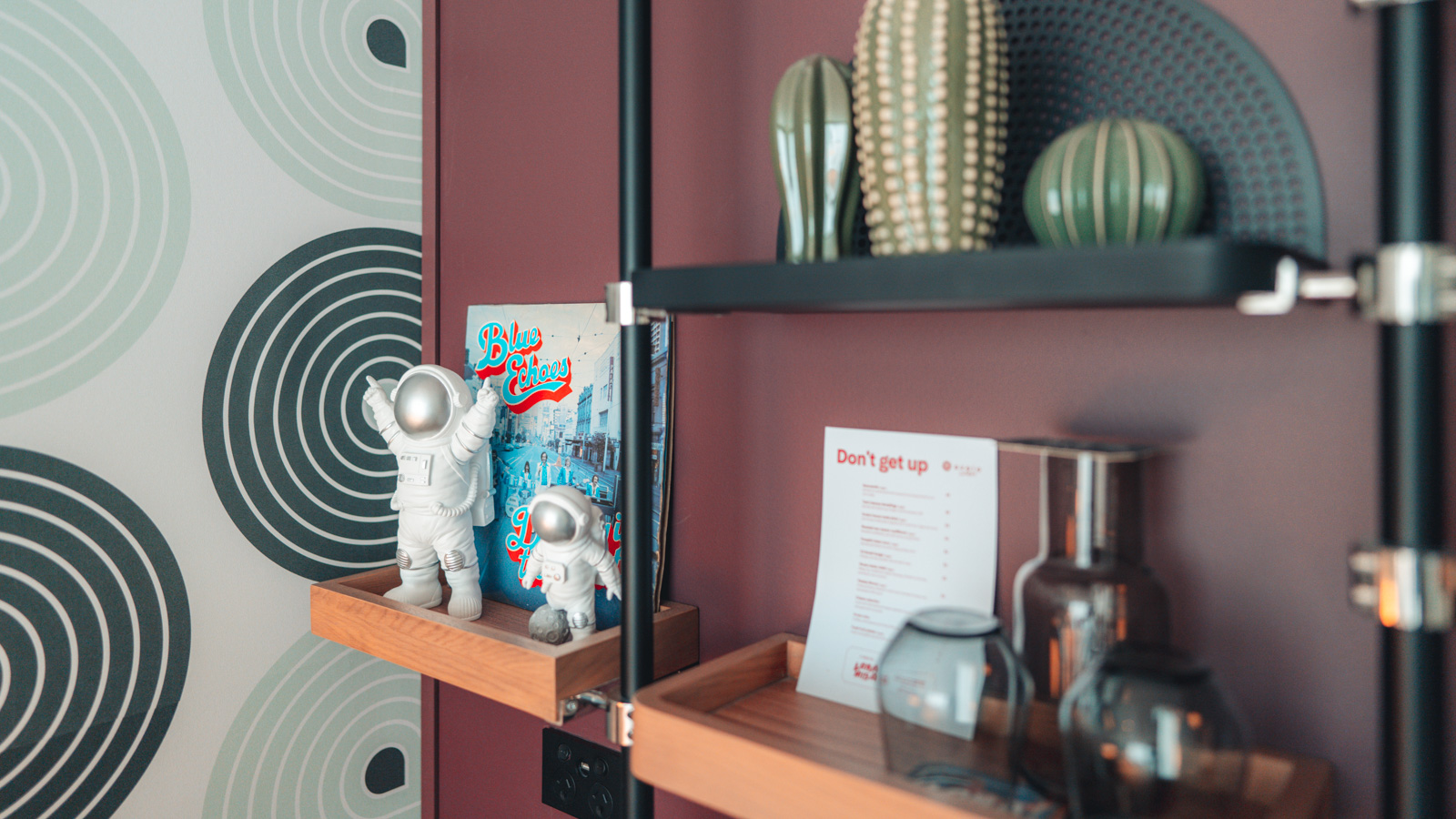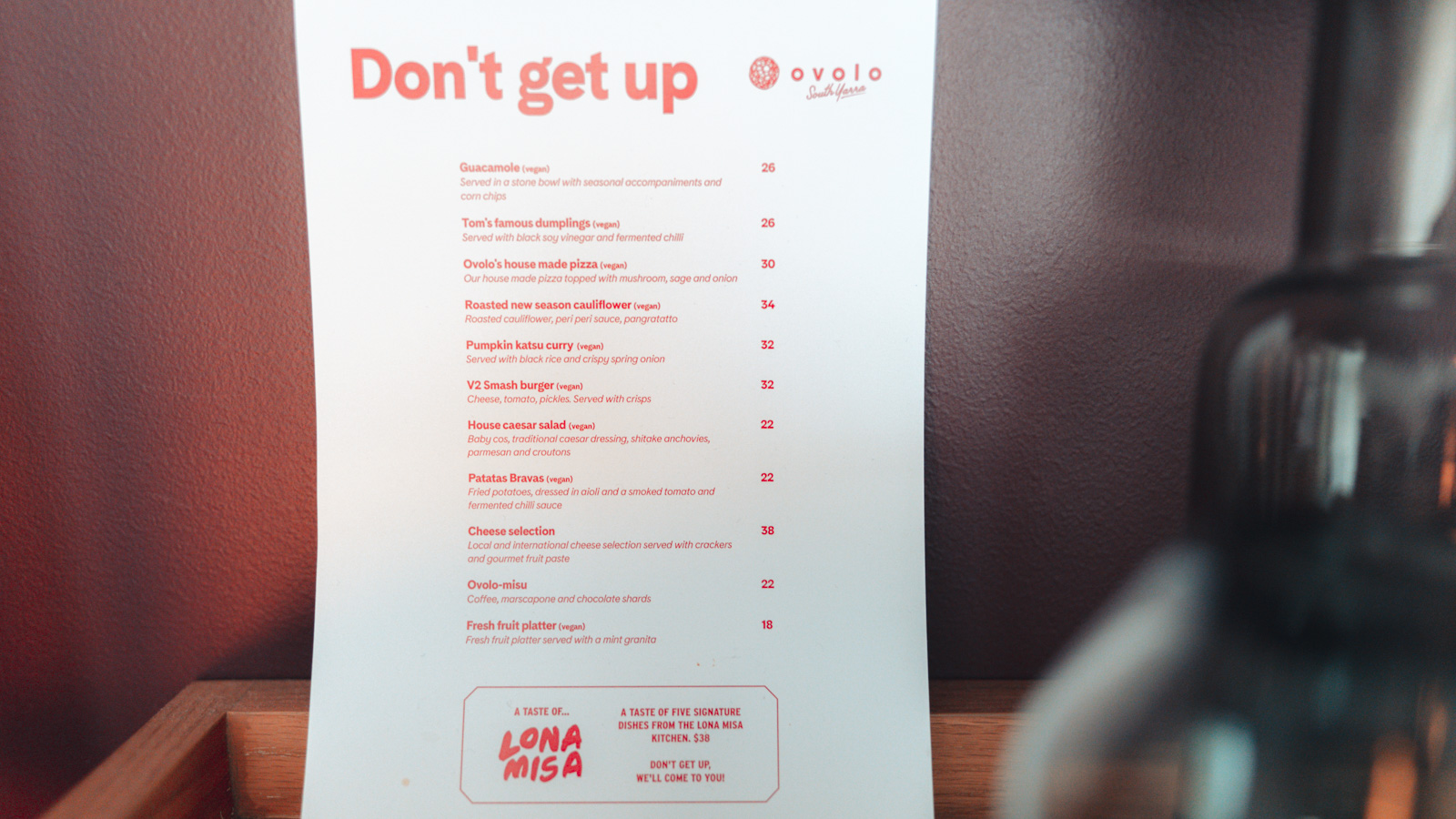 As you'll see in the images above, a Loot Bag is also included and is filled with treats such as veggie chips, a Tim Tam and gummy bears. Coffee and tea drinkers aren't forgotten – premium Tea Drop products and French press coffee is provided, plunger and all.
The room service menu includes a range of vegan options from Lona Misa downstairs.
The tech
The 55″ 4K TV is similarly easy to use and features a seamless Chromecast streaming option. You just need to connect to the hotel WiFi and follow the instructions on the screen. I was streaming Netflix from my phone in no time. Under the TV is a telephone which also has USB charging ports on the side.
The hotel's WiFi speeds are phenomenal – I measure 247 Mbps in download speed and 187 Mbps in upload. It's lightning-fast and zippier than most people's home connection, mine included.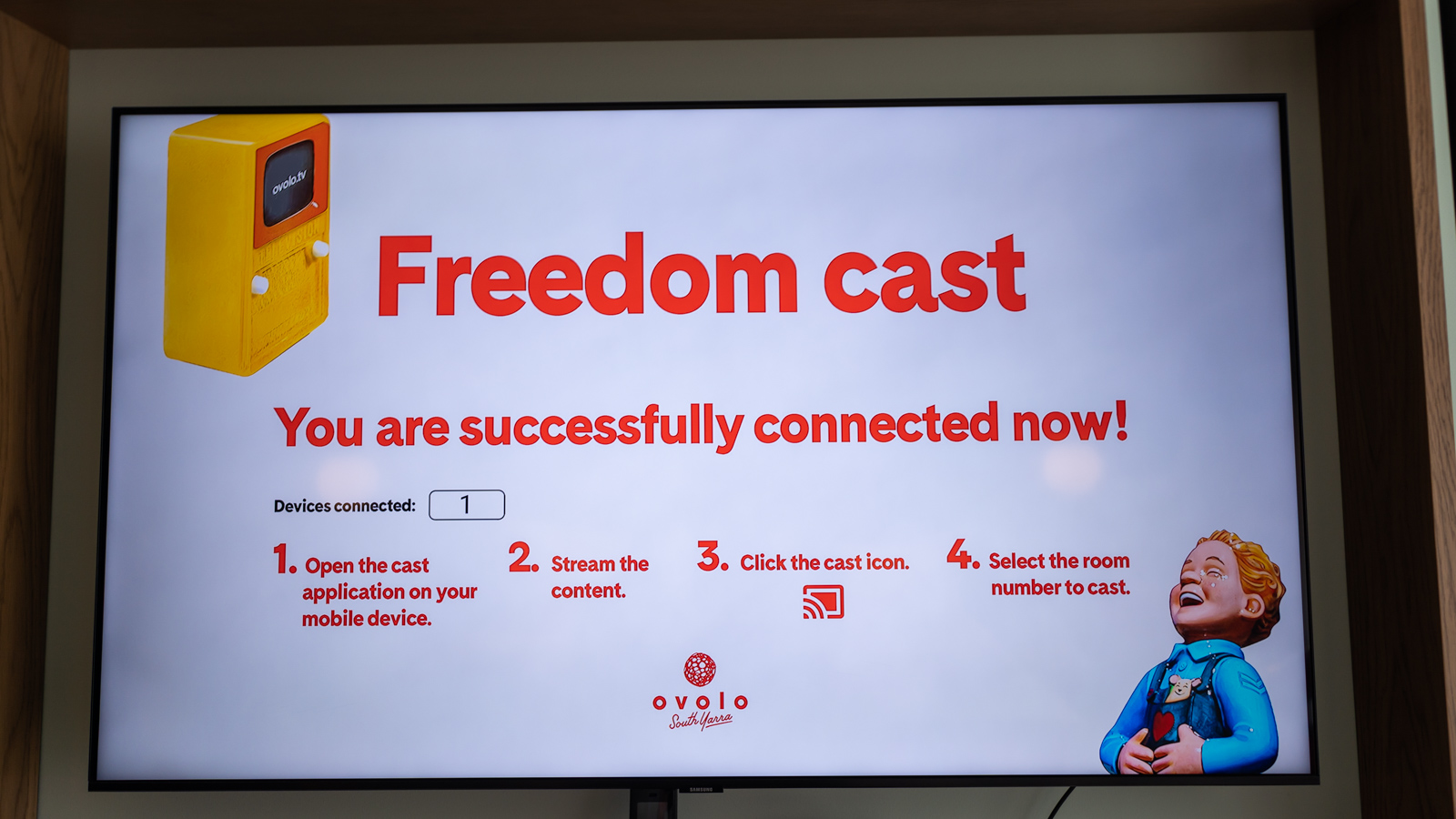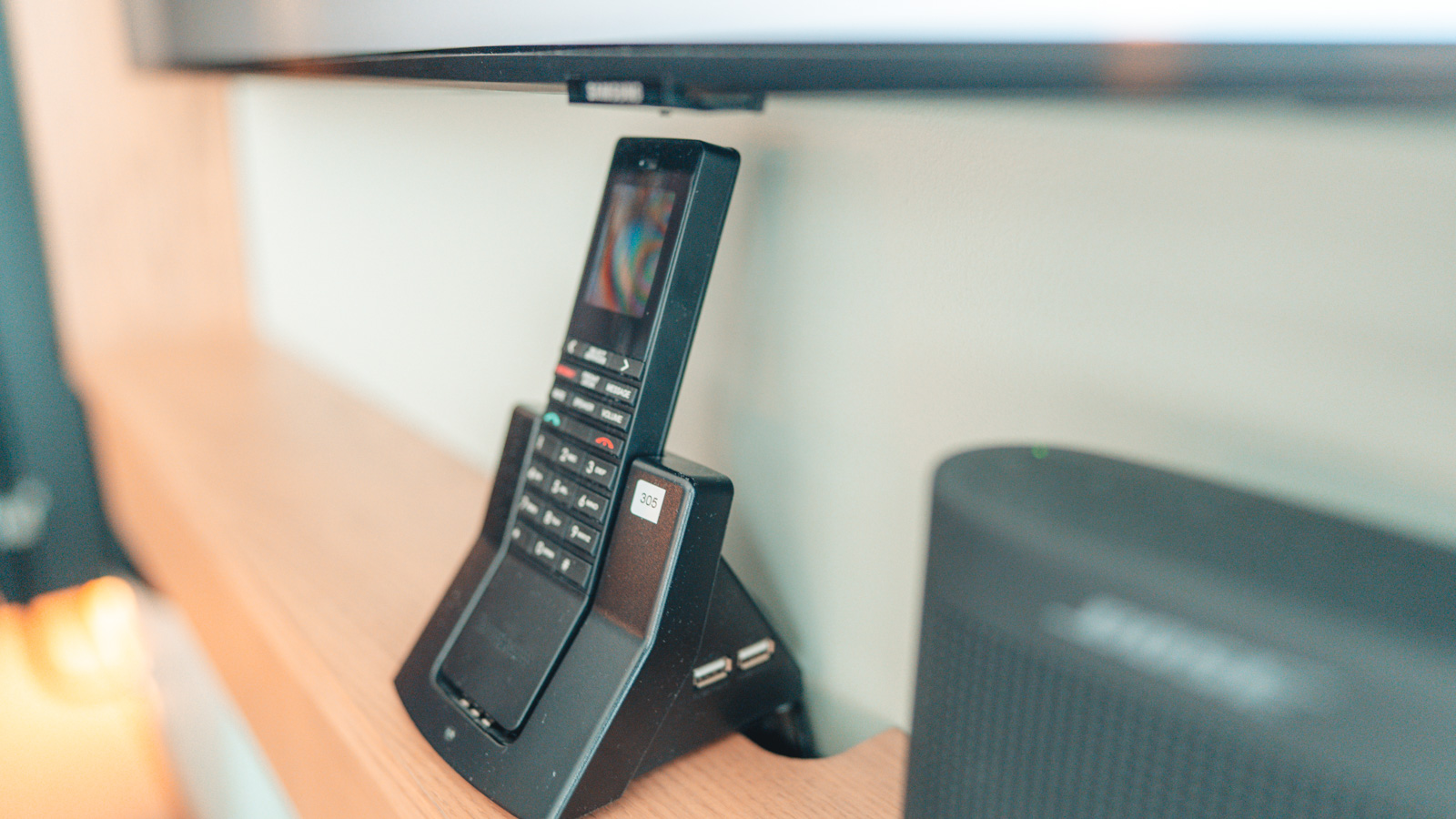 The bathroom
The bathroom is equally stylish, with just about everything a traveller would need. Shower amenities are dispensed from sealed pumps, featuring Ovolo's own range of 'OMG' branded products.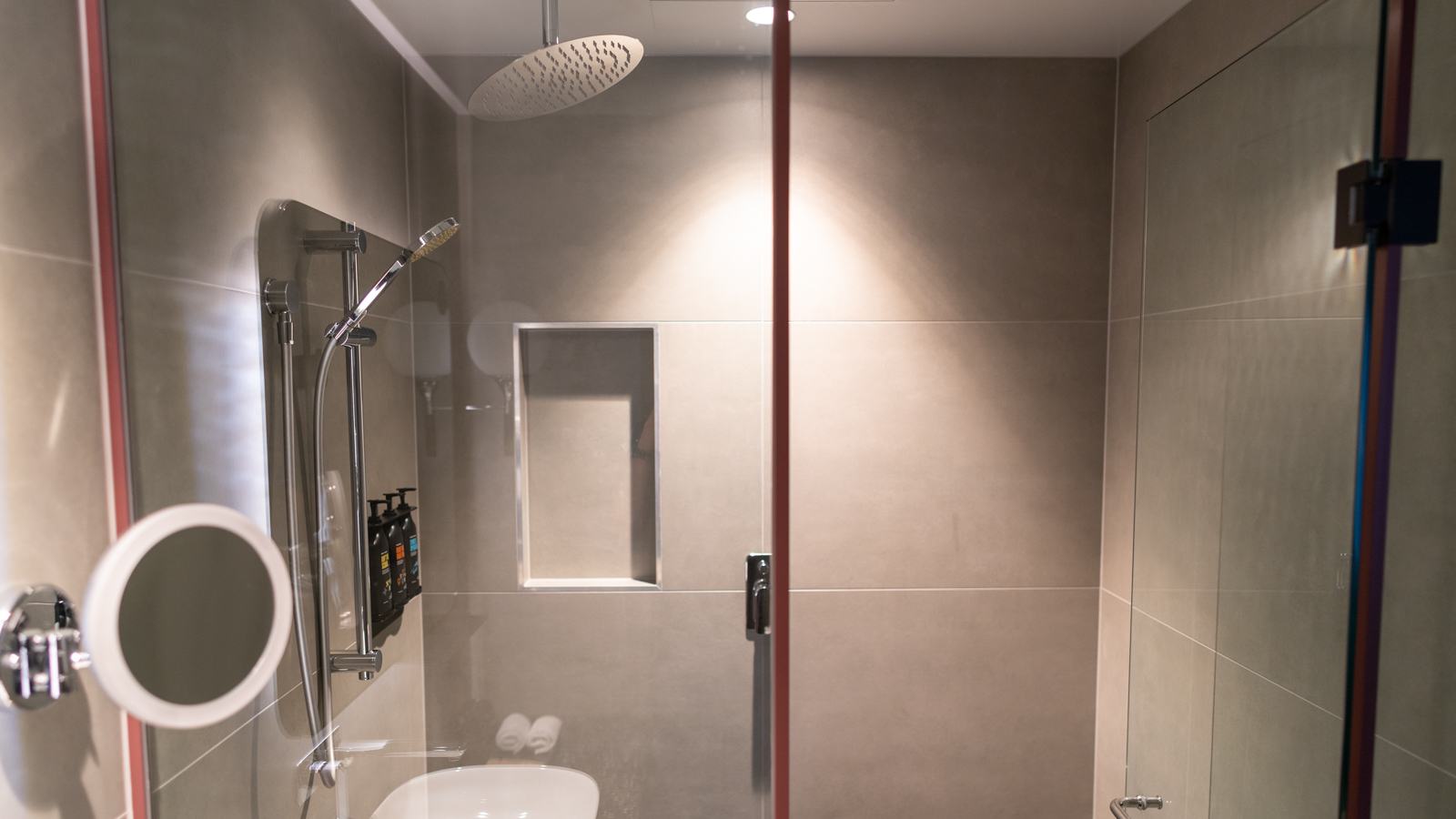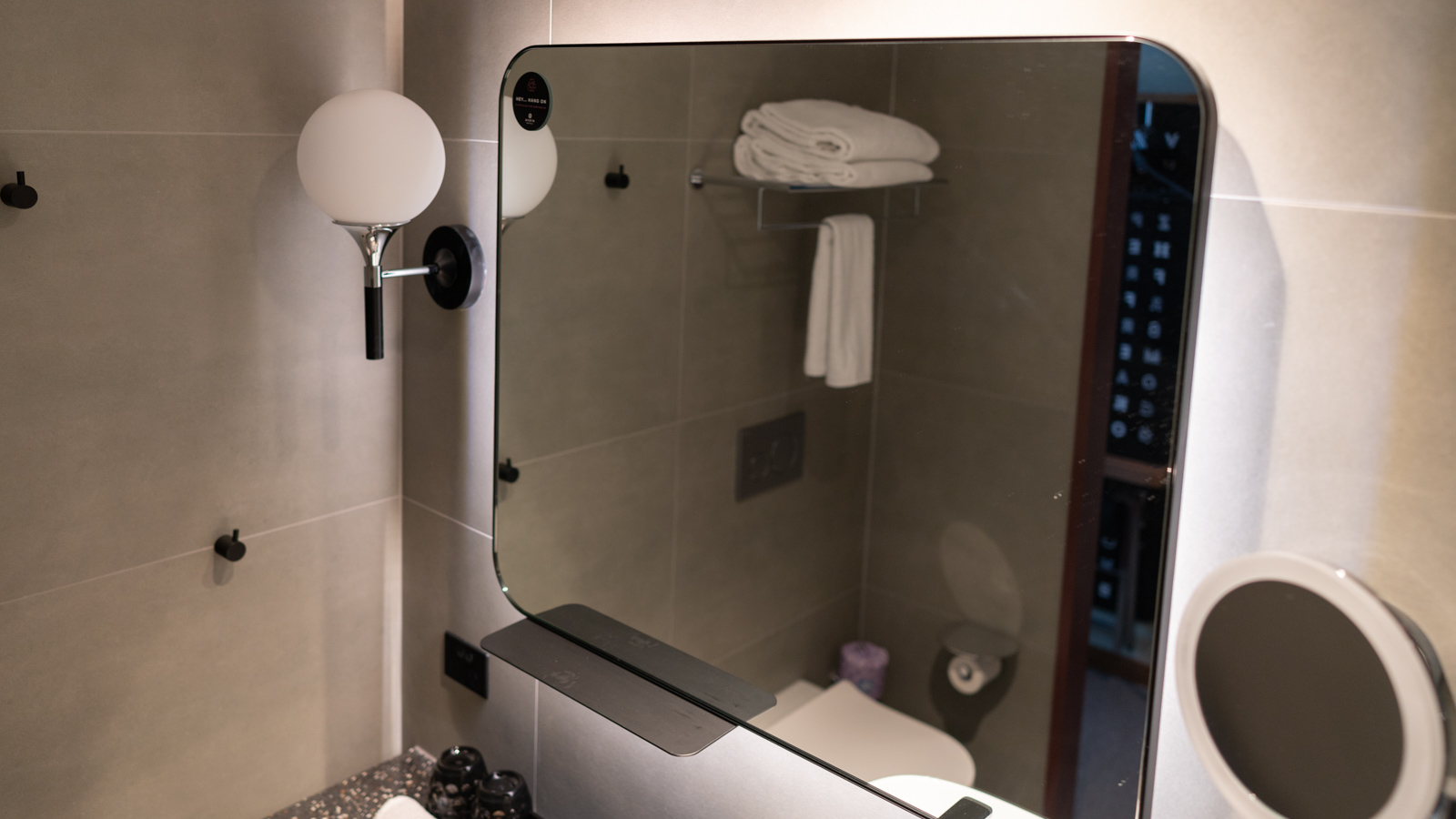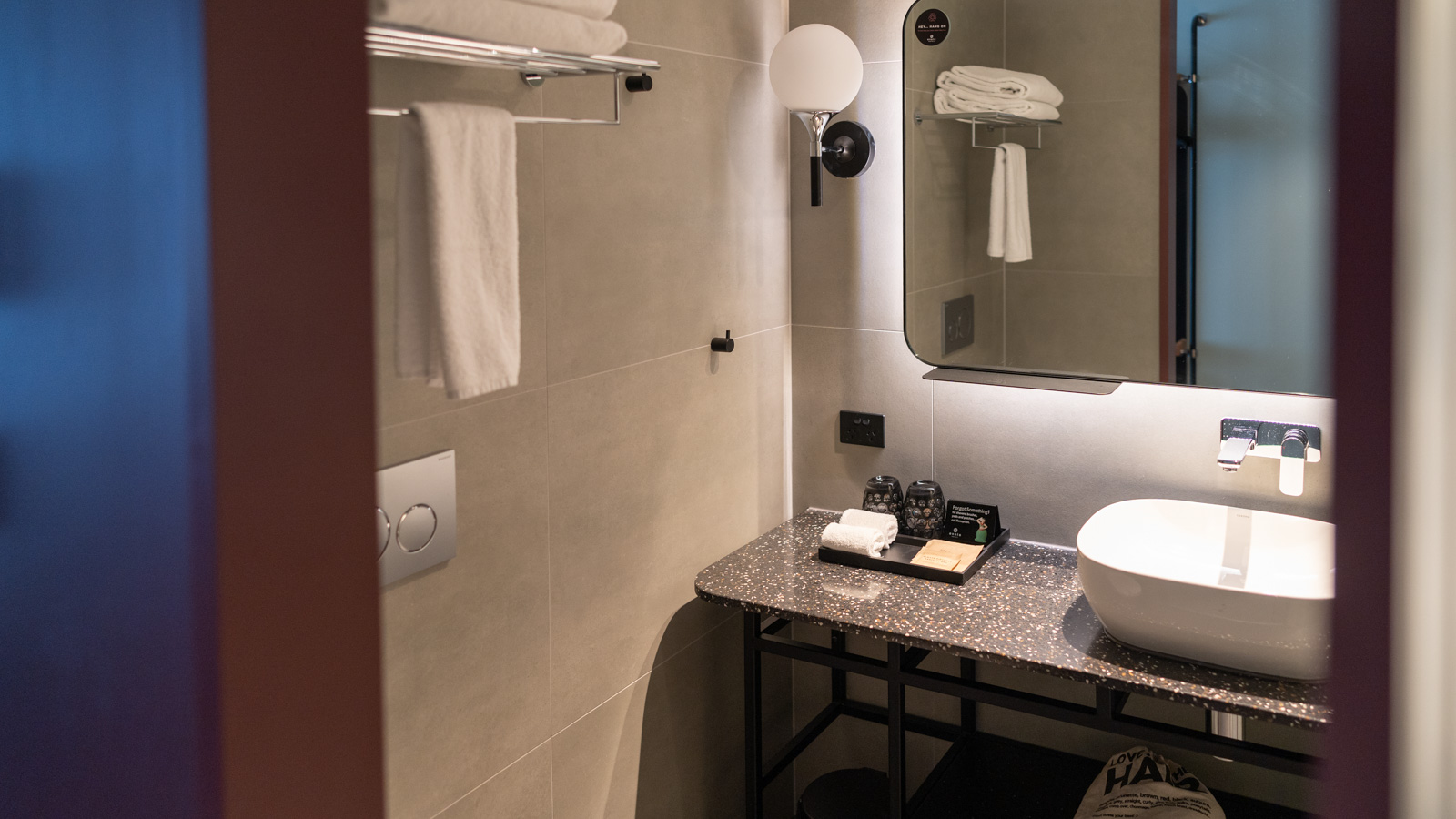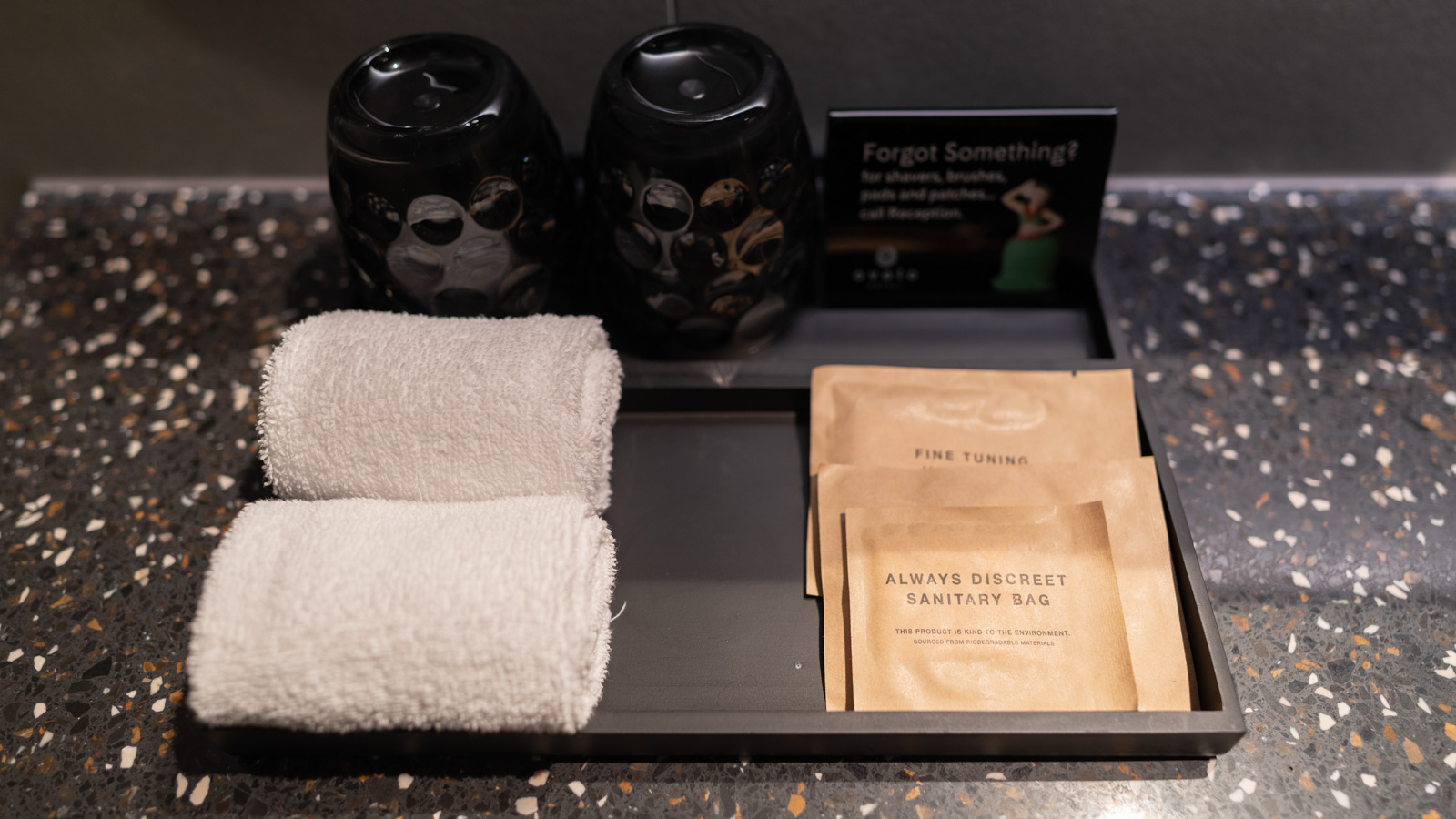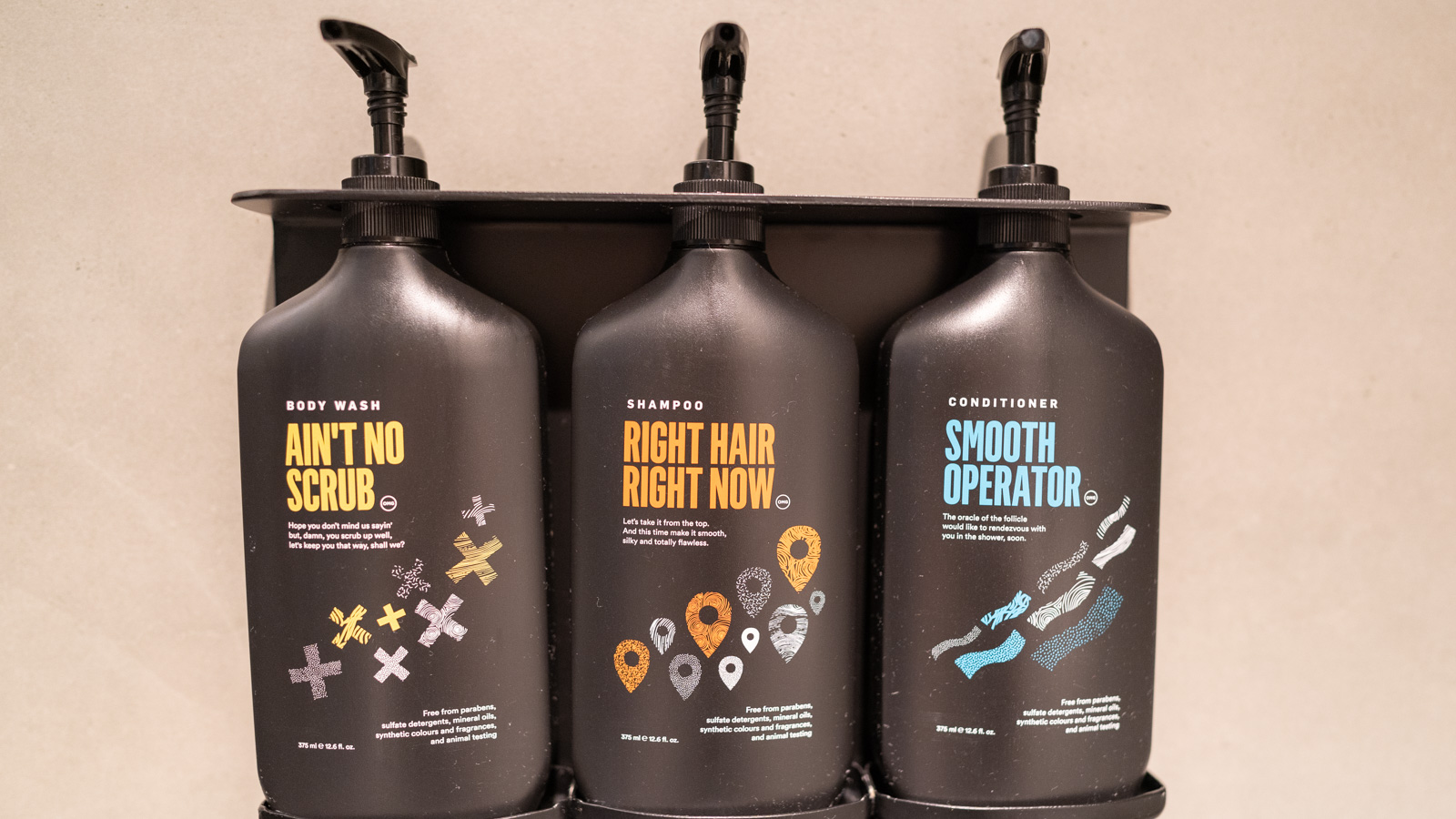 Dining at Ovolo South Yarra and Lona Misa
Lona Misa is a hip vegan/vegetarian restaurant located on the ground floor. During Social Hour, it's transformed into a busy bar. I stop by here on the first night for a glass of sparkling wine, and a delicious cheesy bite. (The other complimentary drinks include wine and beer). You can view the various dinner menus on Ovolo's website.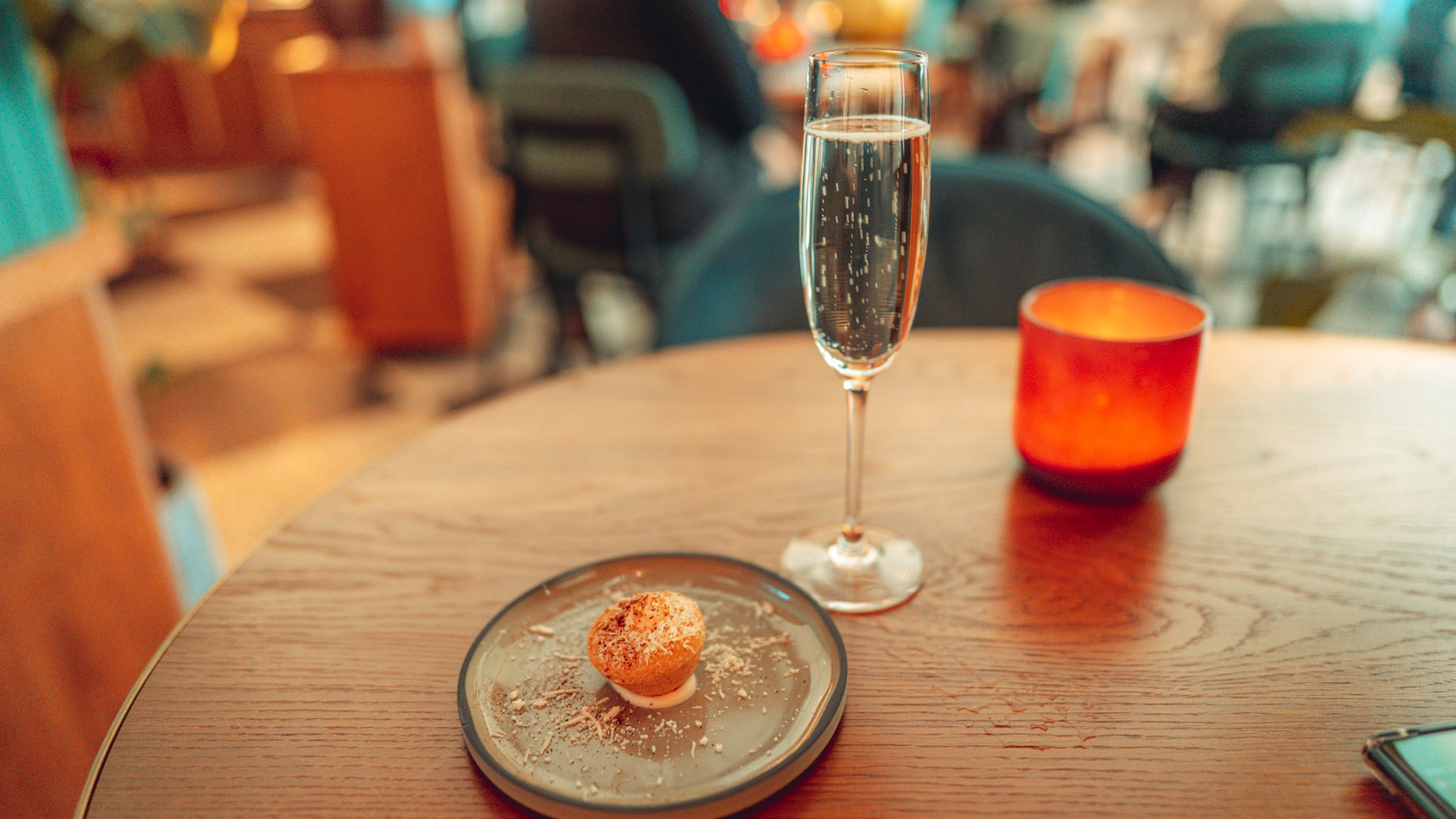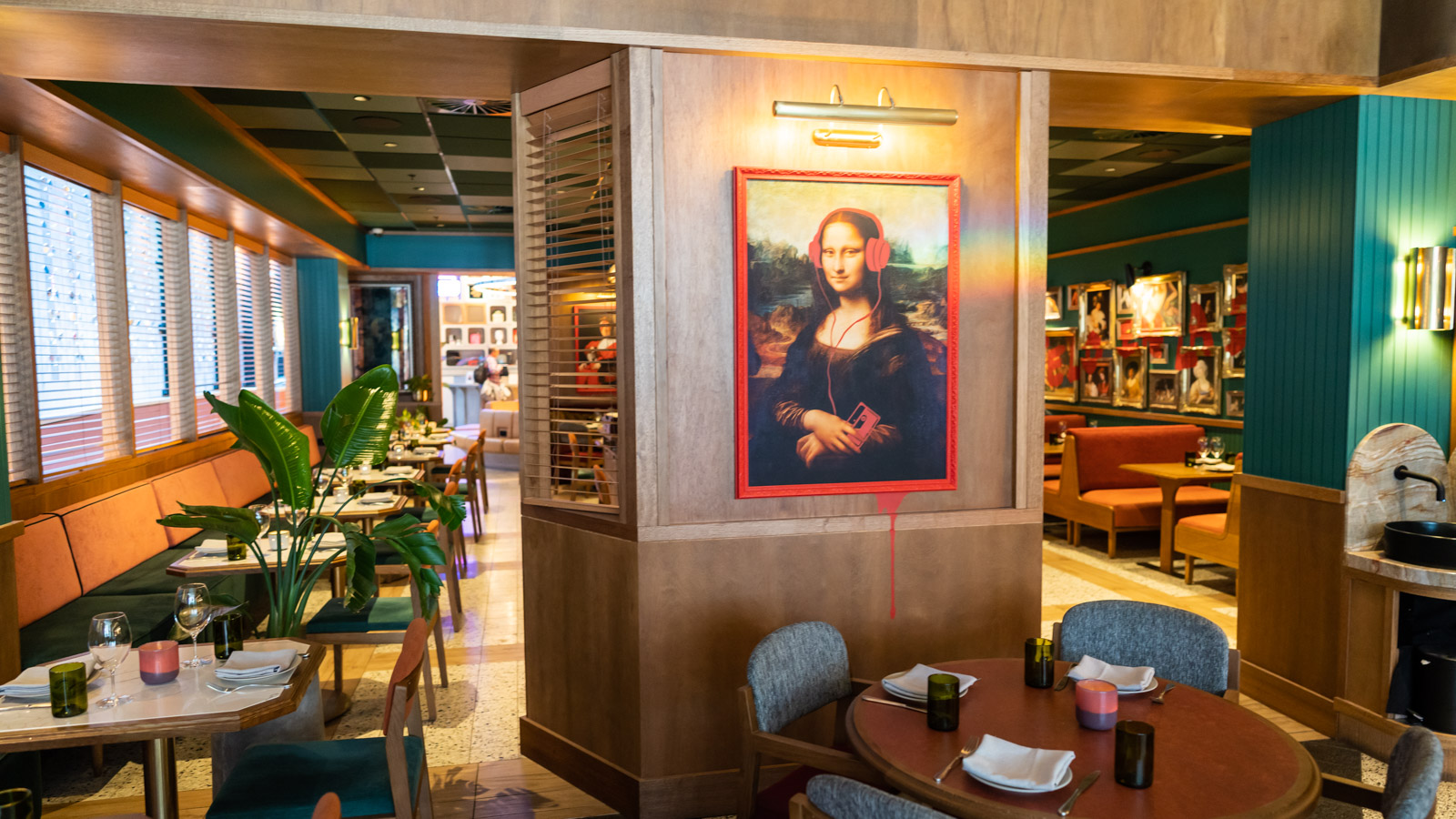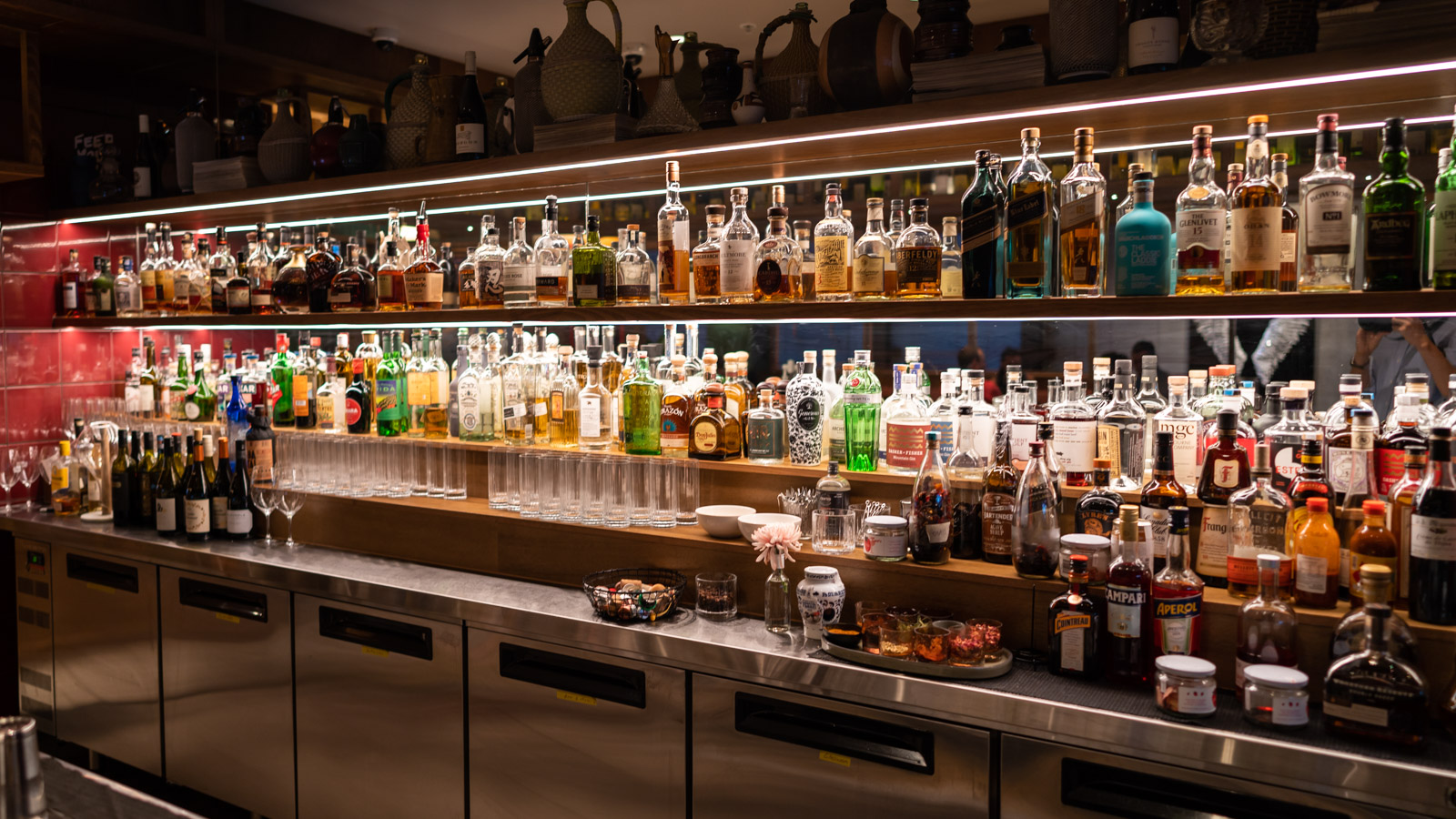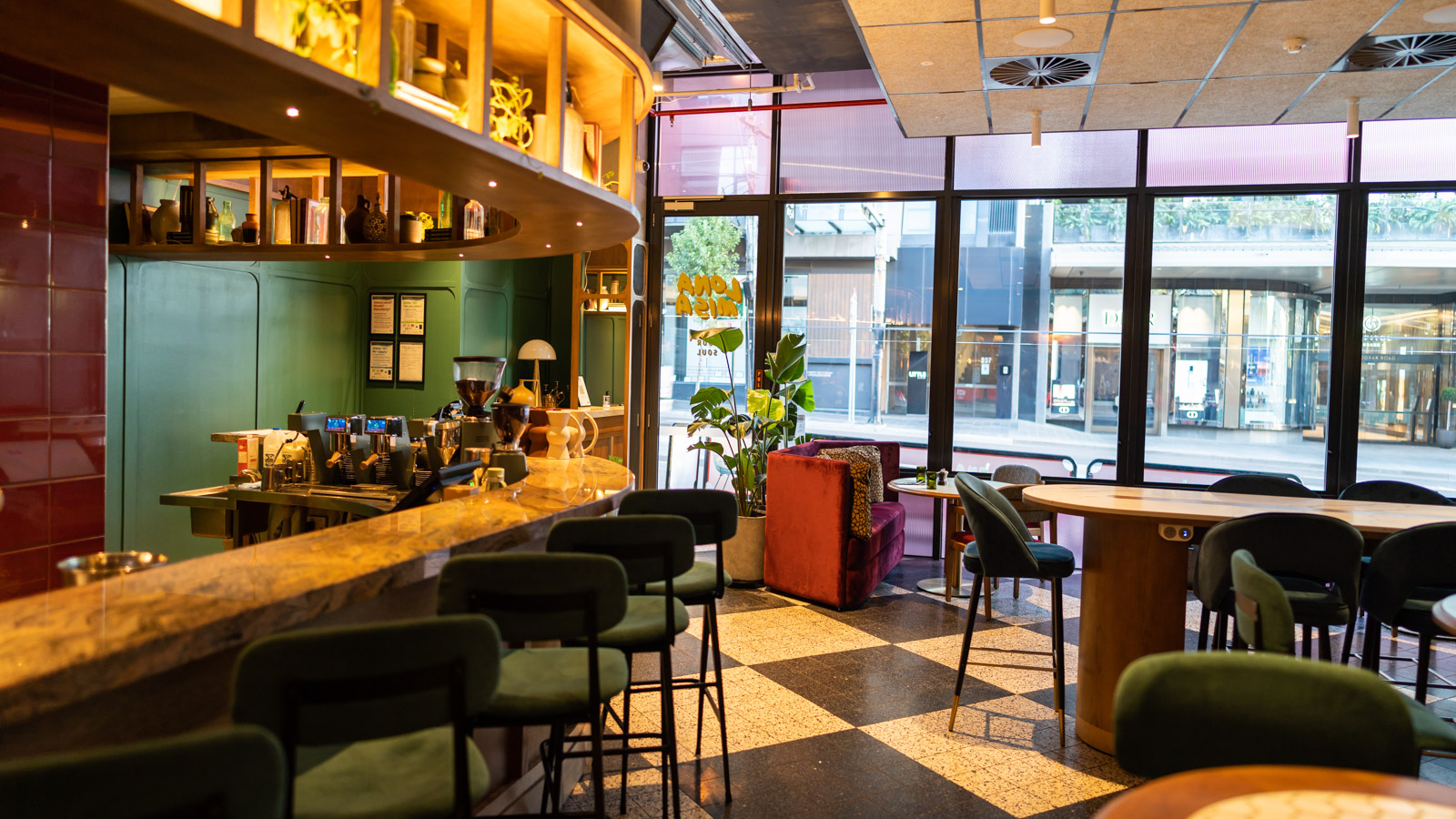 This restaurant is also where breakfast is served. From the à la carte menu, just three options are part of the free breakfast perk – smashed avo, muesli and eggs your way. Over my two visits, I pick the smashed avo and scrambled eggs, both served on toast and with a delightful coffee.
The smashed avo is certainly my pick. It's delicious and presently beautifully – almost too good to eat. The lime layers with the creaminess of the avocado, for that tangy hit. I find the scrambled eggs dish to be well-cooked, if a bit too plain. Some cheese and garnish wouldn't go astray. But the Pepe Saya butter provided with the toast is excellent.
Overall, Lona Misa dishes out great vegetarian food and it fits in just fine with Ovolo South Yarra.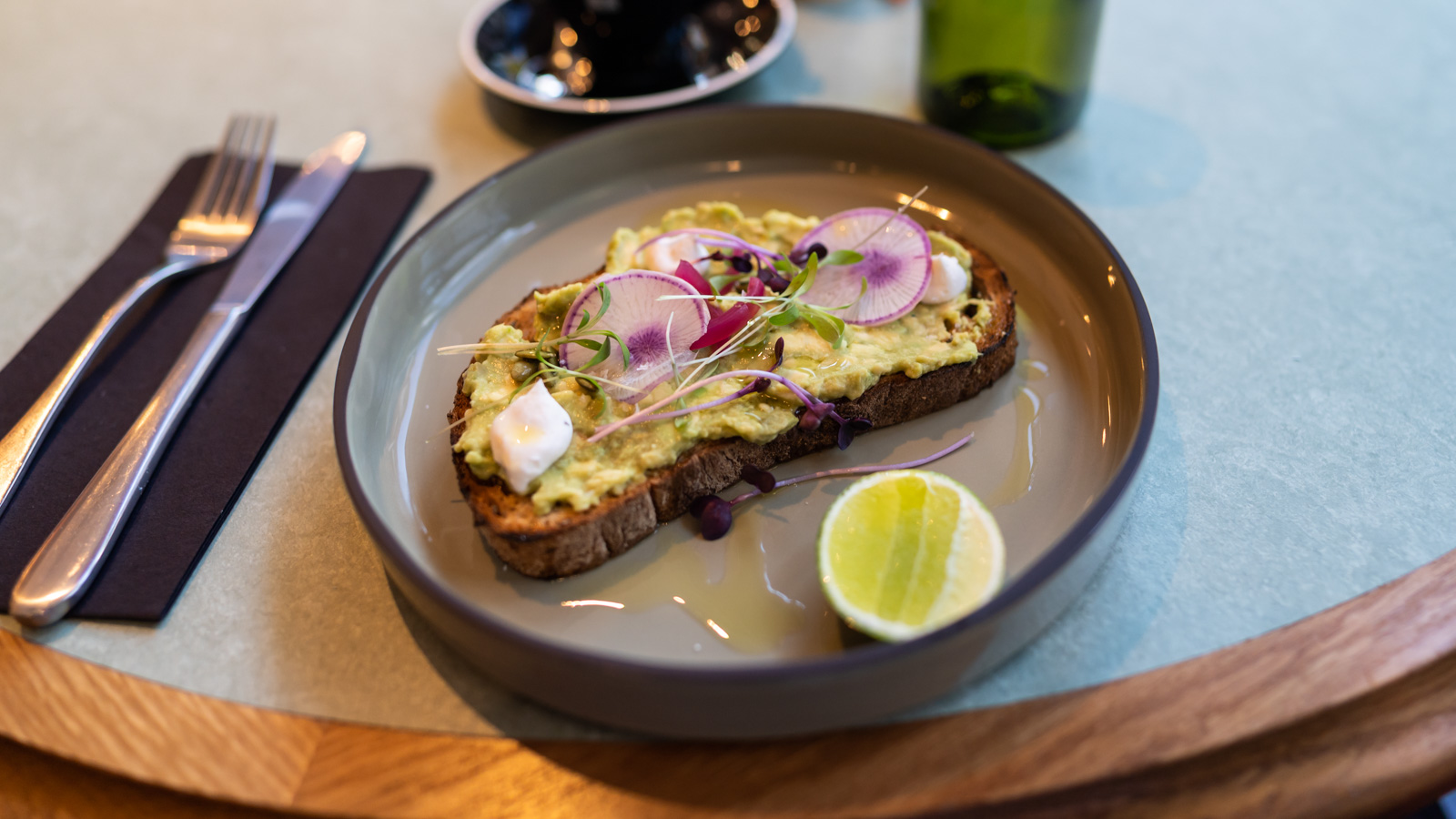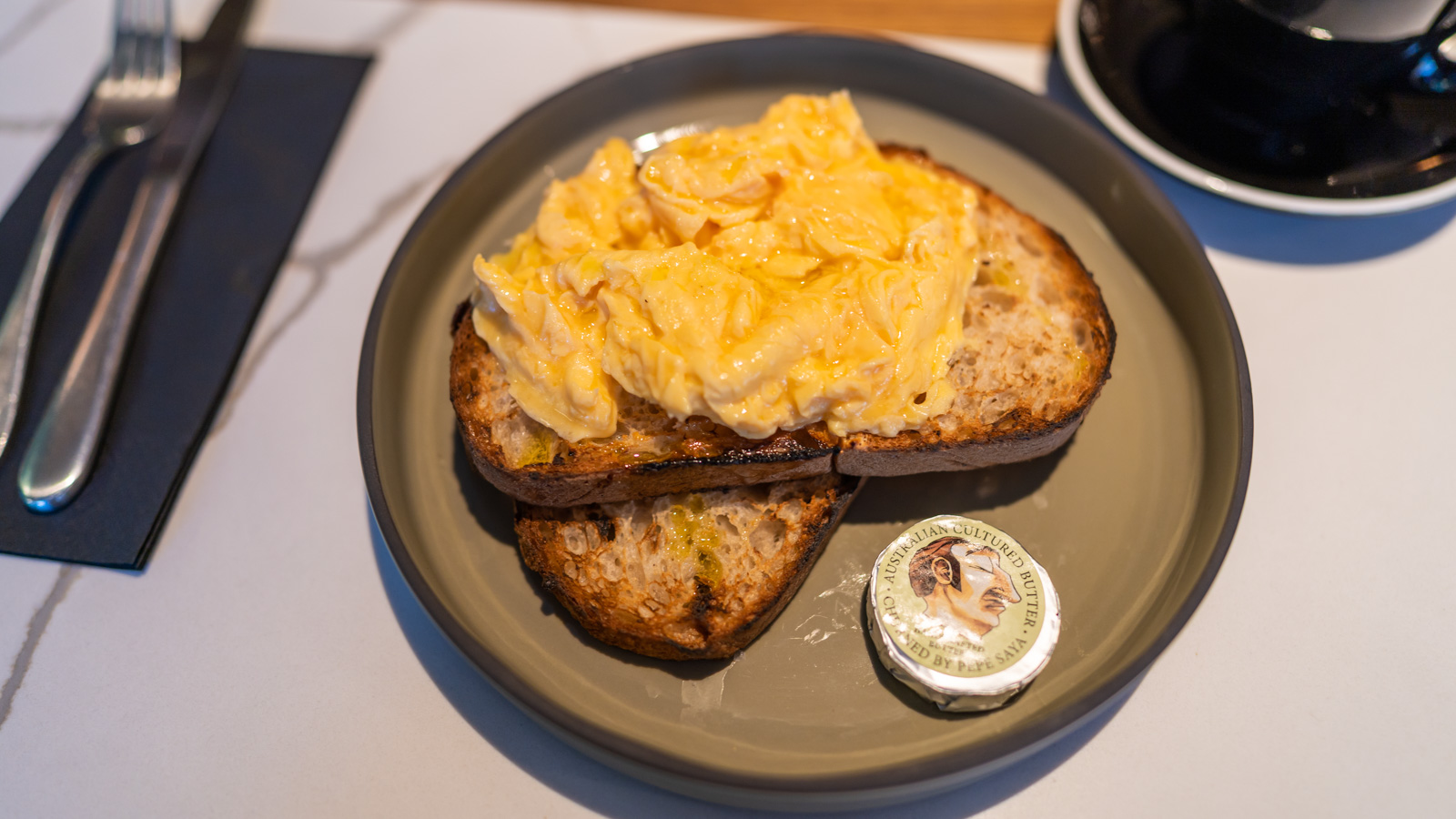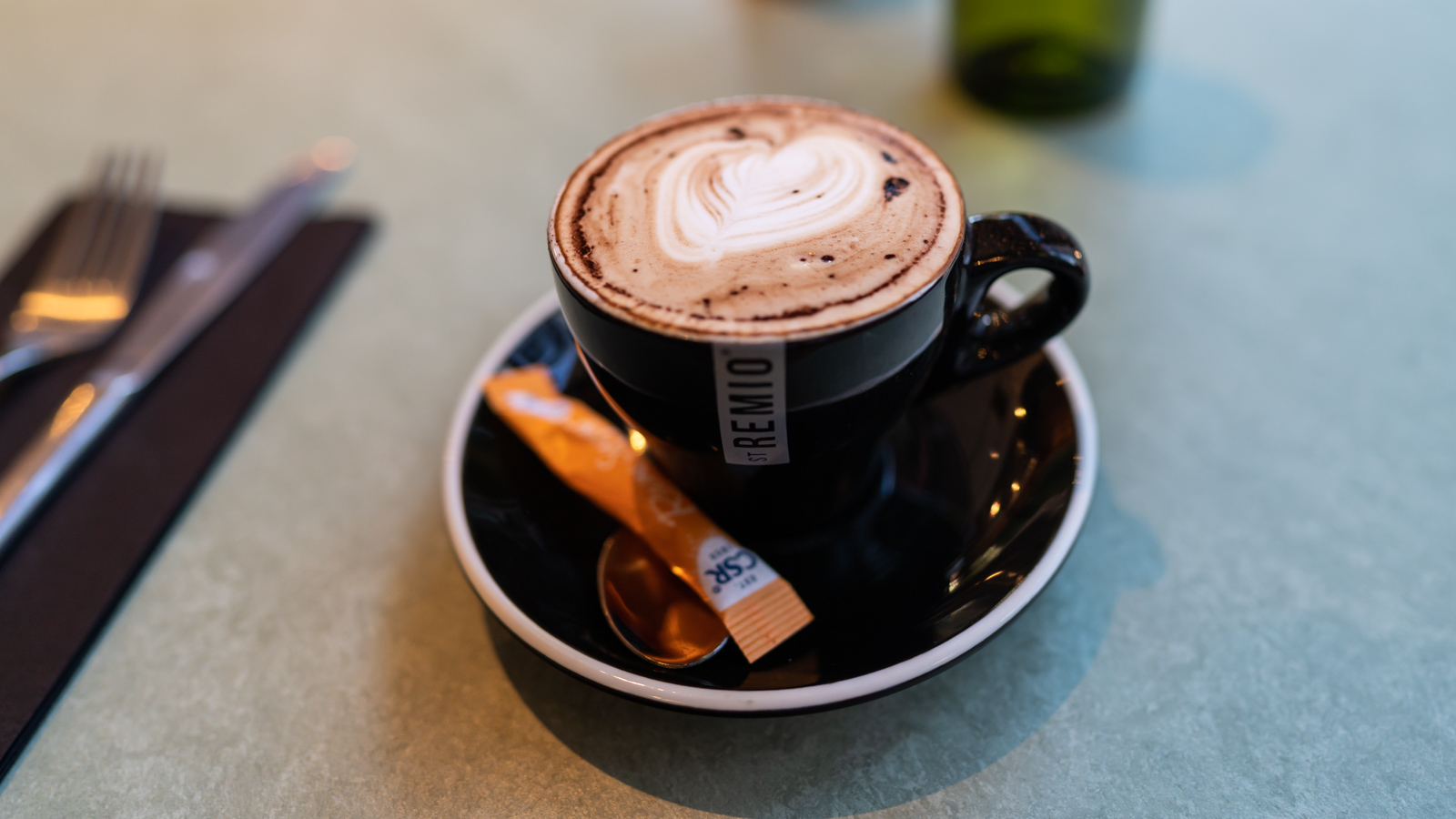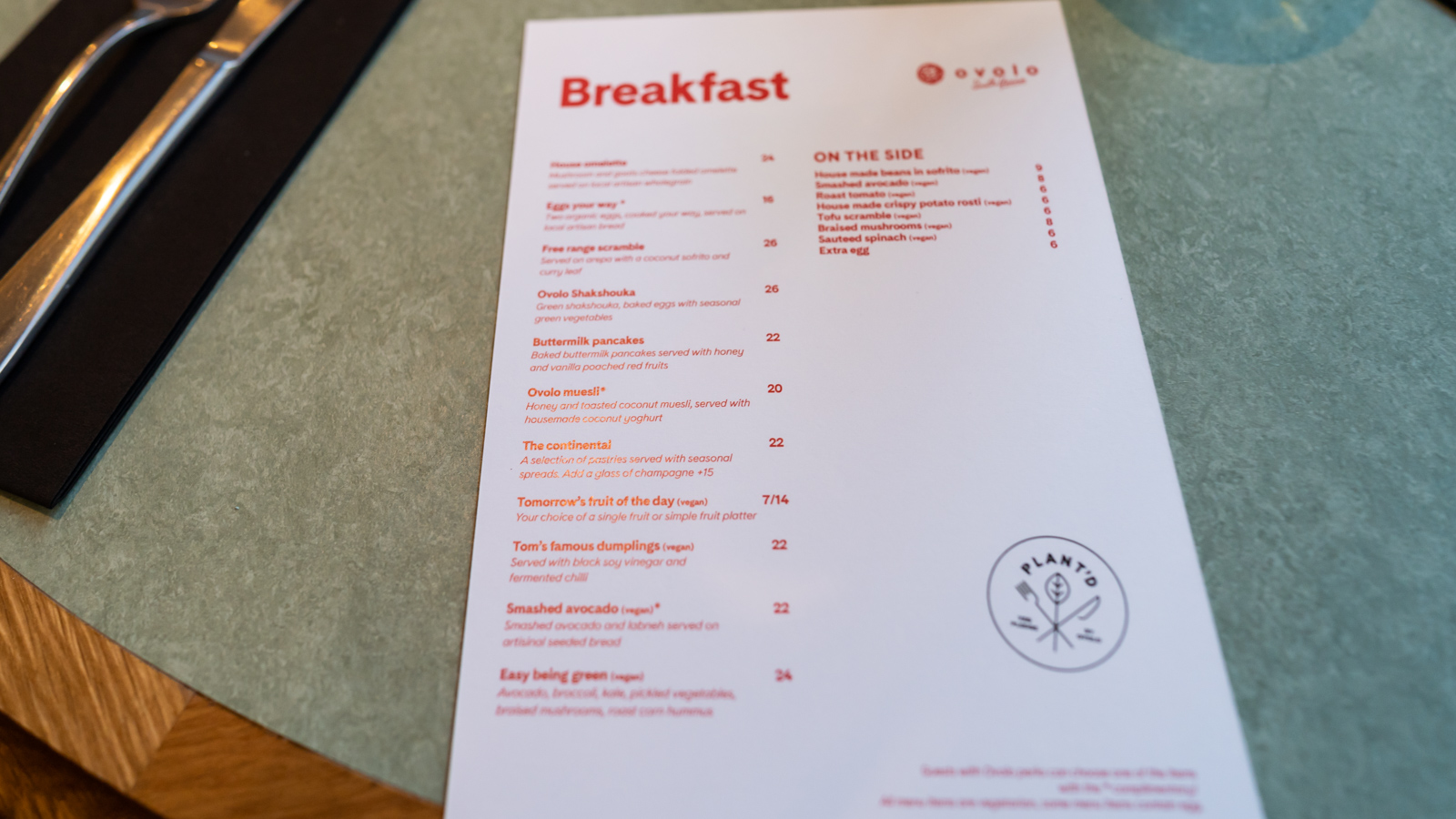 Facilities at Ovolo South Yarra
As a smaller boutique hotel, don't go expecting a rooftop swimming pool! Instead, downstairs from the lobby is a Backroom Bar area which is the perfect area to unwind with friends over a game of pool.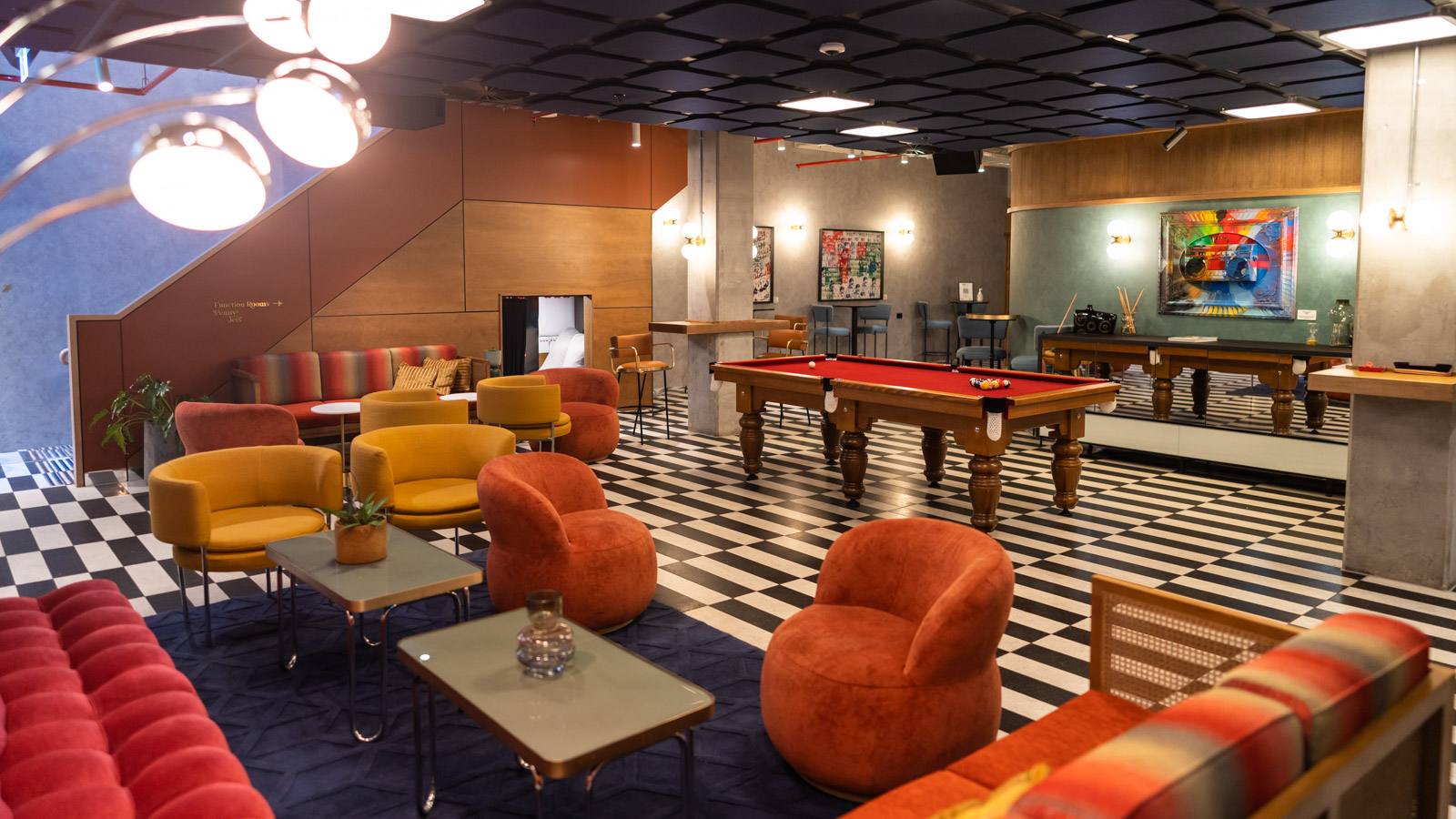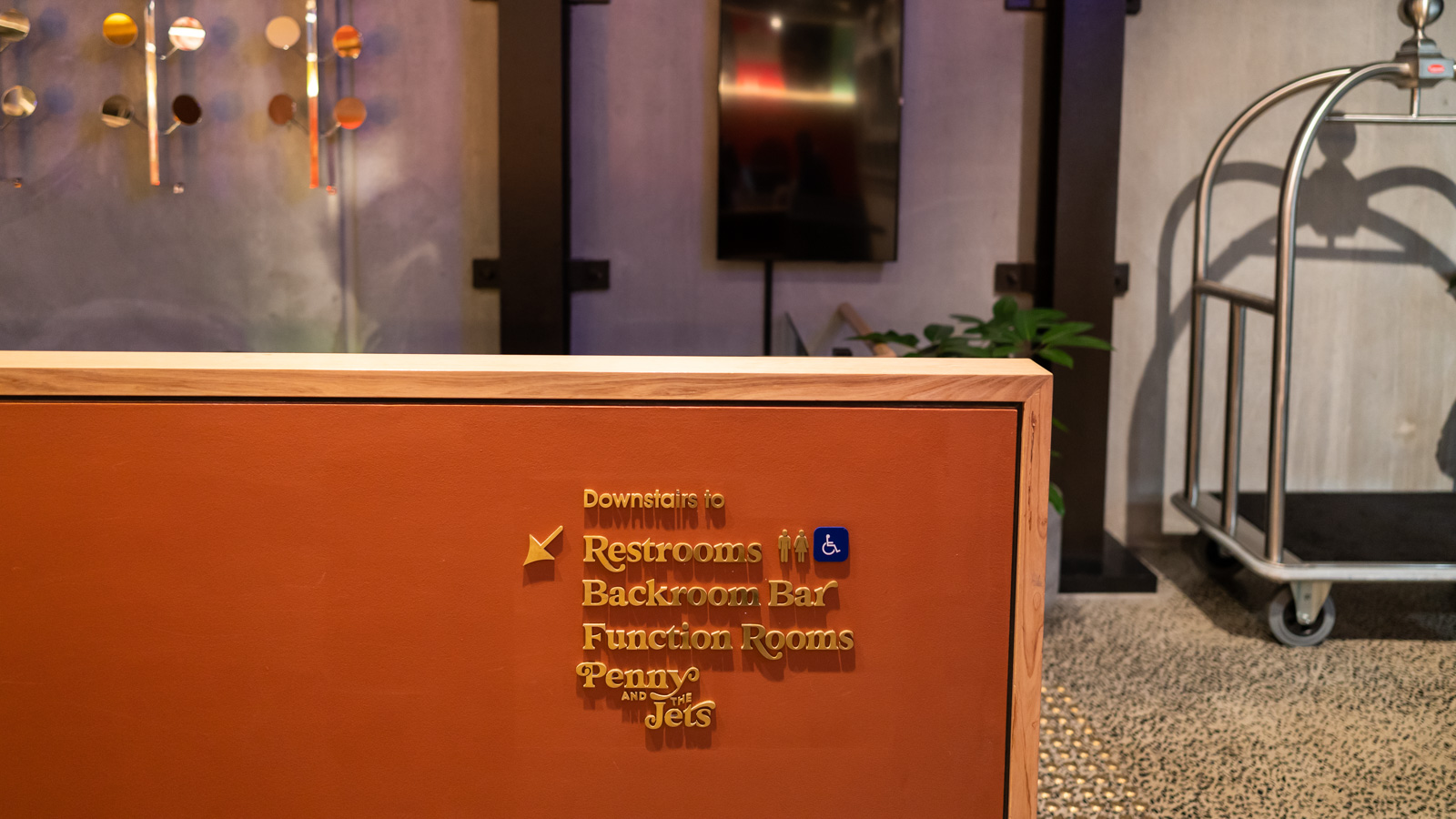 Unfortunately, the Ovolo South Yarra doesn't feature an in-house gym either. Modern problems call for modern solutions. Instead, you can work up a sweat at Fitspot South Yarra, which is a brisk 8-minute walk away. Make sure to plan ahead if fitting in a workout is a priority for you.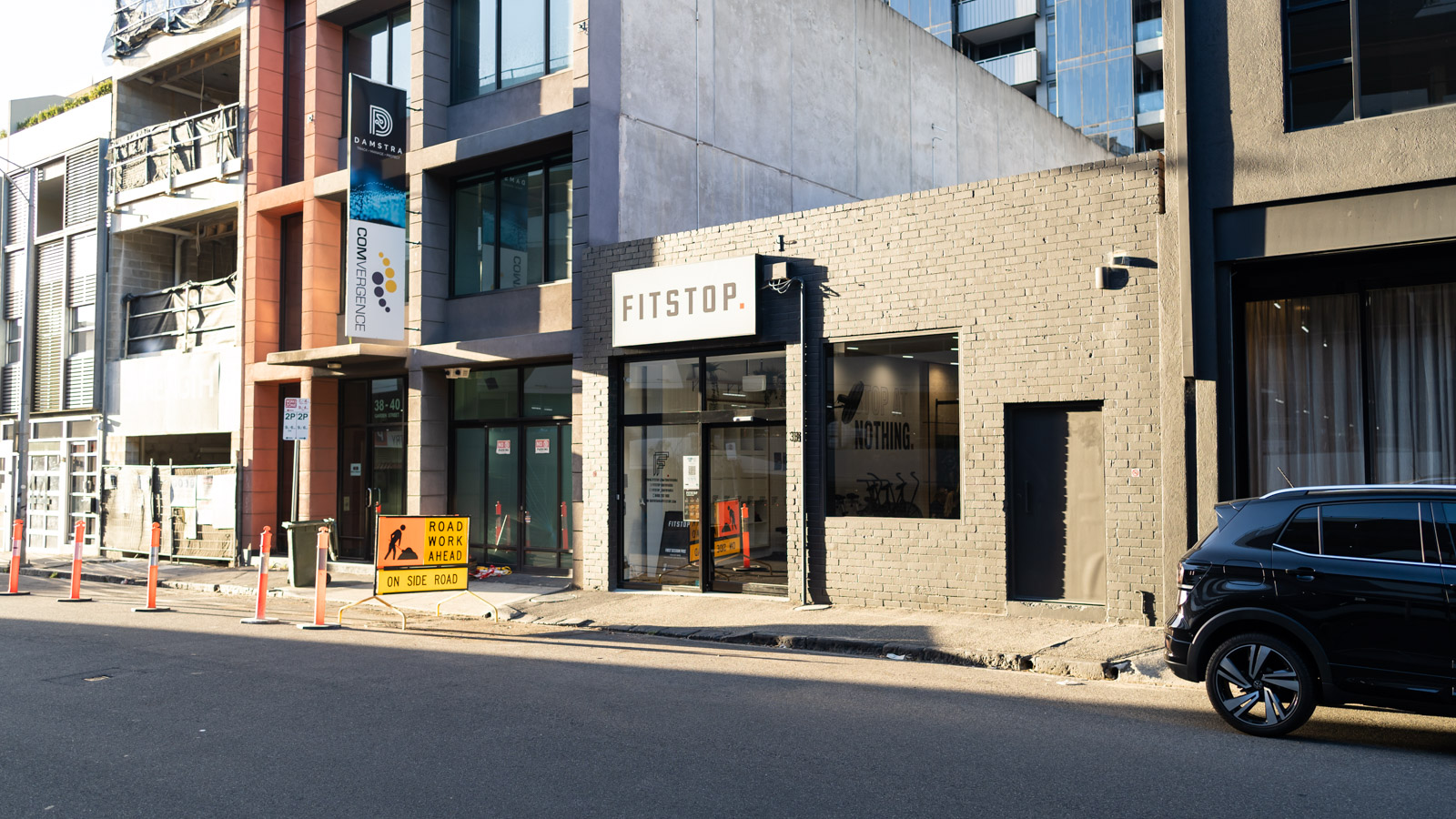 But, being an Ovolo, the hotel does have one trick up its sleeve. A Peleton room! Now, this isn't advertised widely and no one mentioned it to me, but I became aware of it from advertising in the lifts. At the time of writing, eight Ovolo properties across Australia now offer this Peleton experience for guests who book direct, including the Inchcolm by Ovolo.
With jetlag still troubling me, I sign up for a 6 am ride the following morning. I'm impressed by the high-tech Peleton bike, which sits in a converted hotel room. The sunrise is pretty cool, too. A word of advice – sign up for a Peleton account in advance, so you don't have to do it on the bike's touchscreen.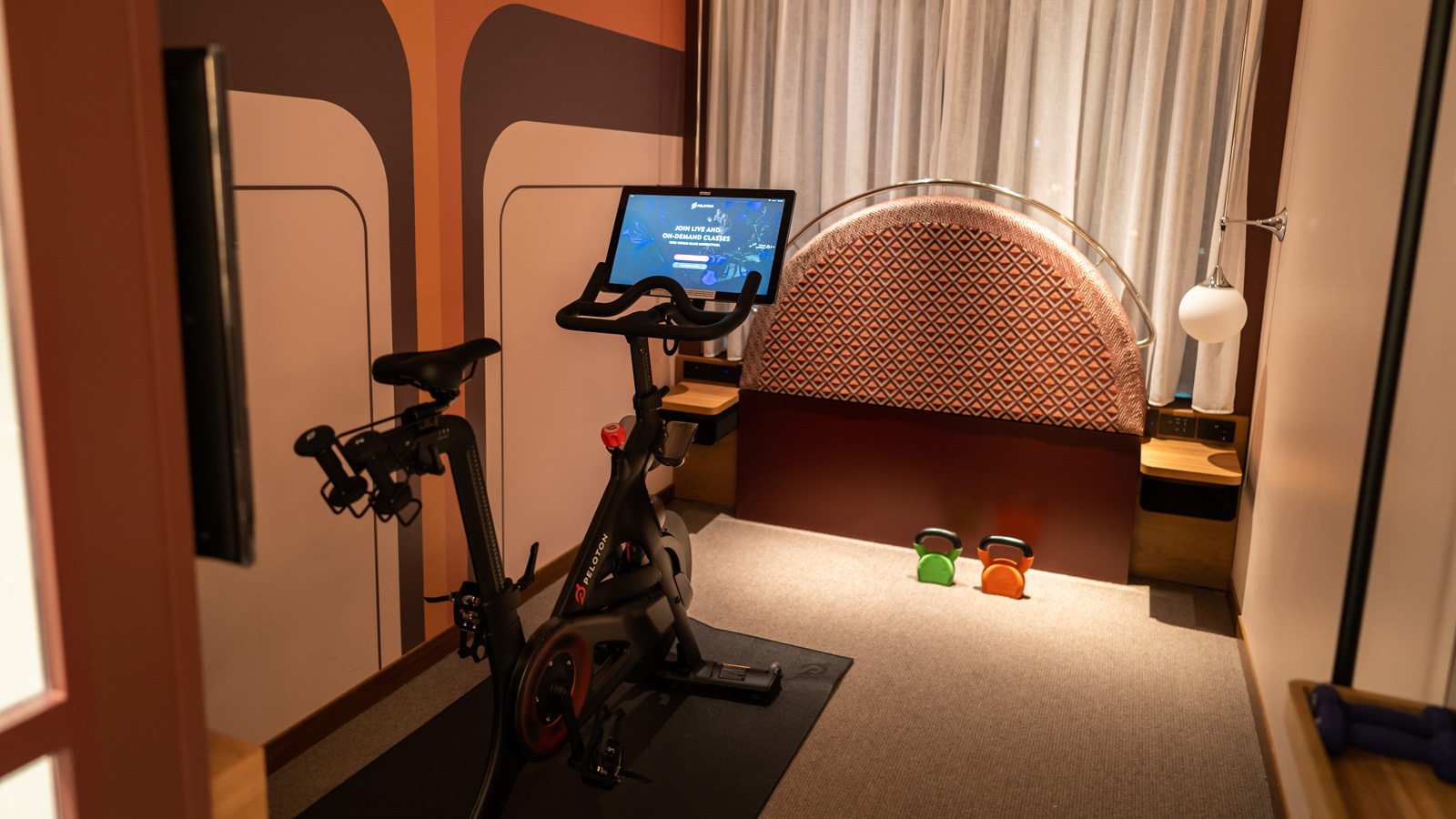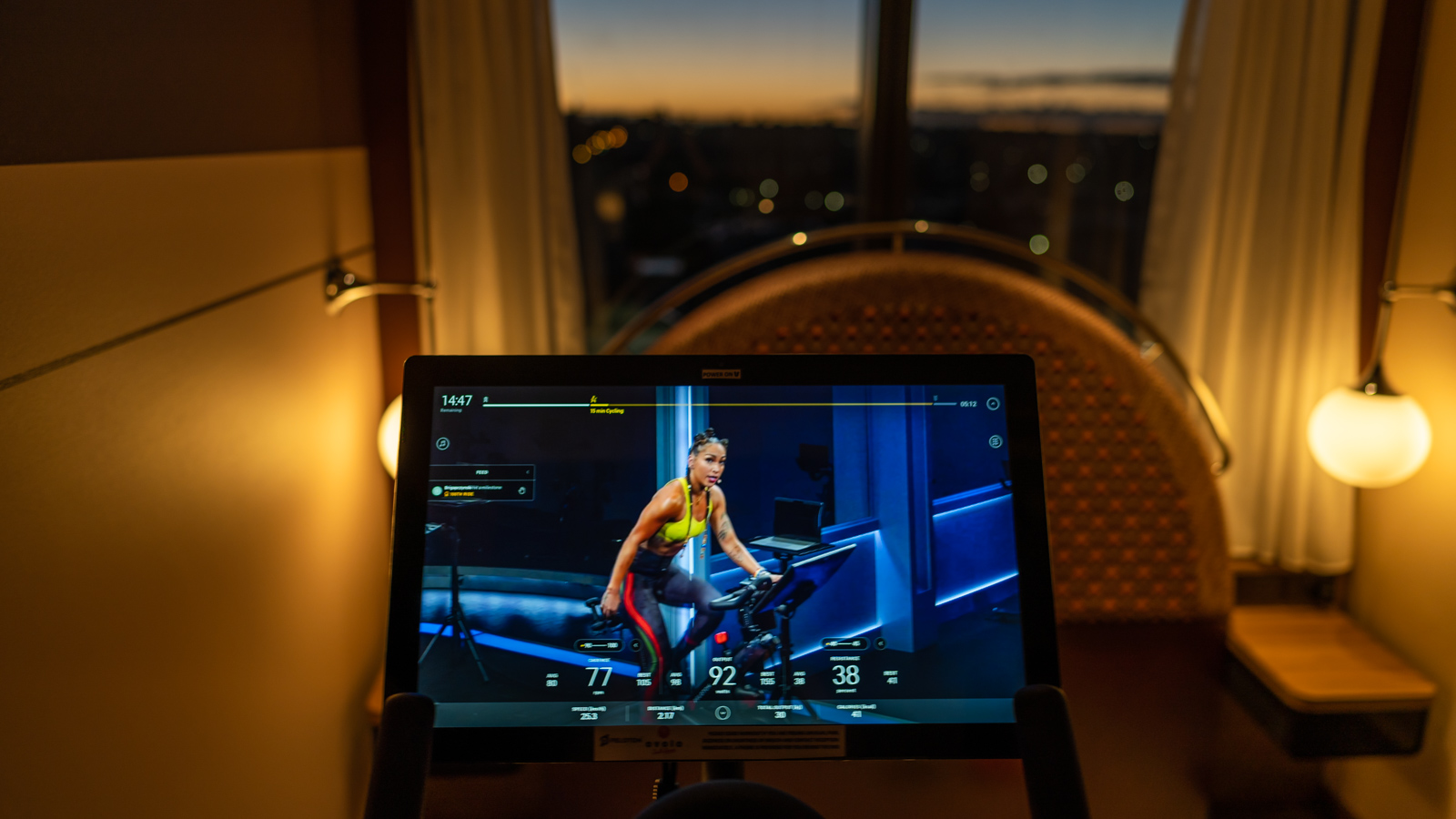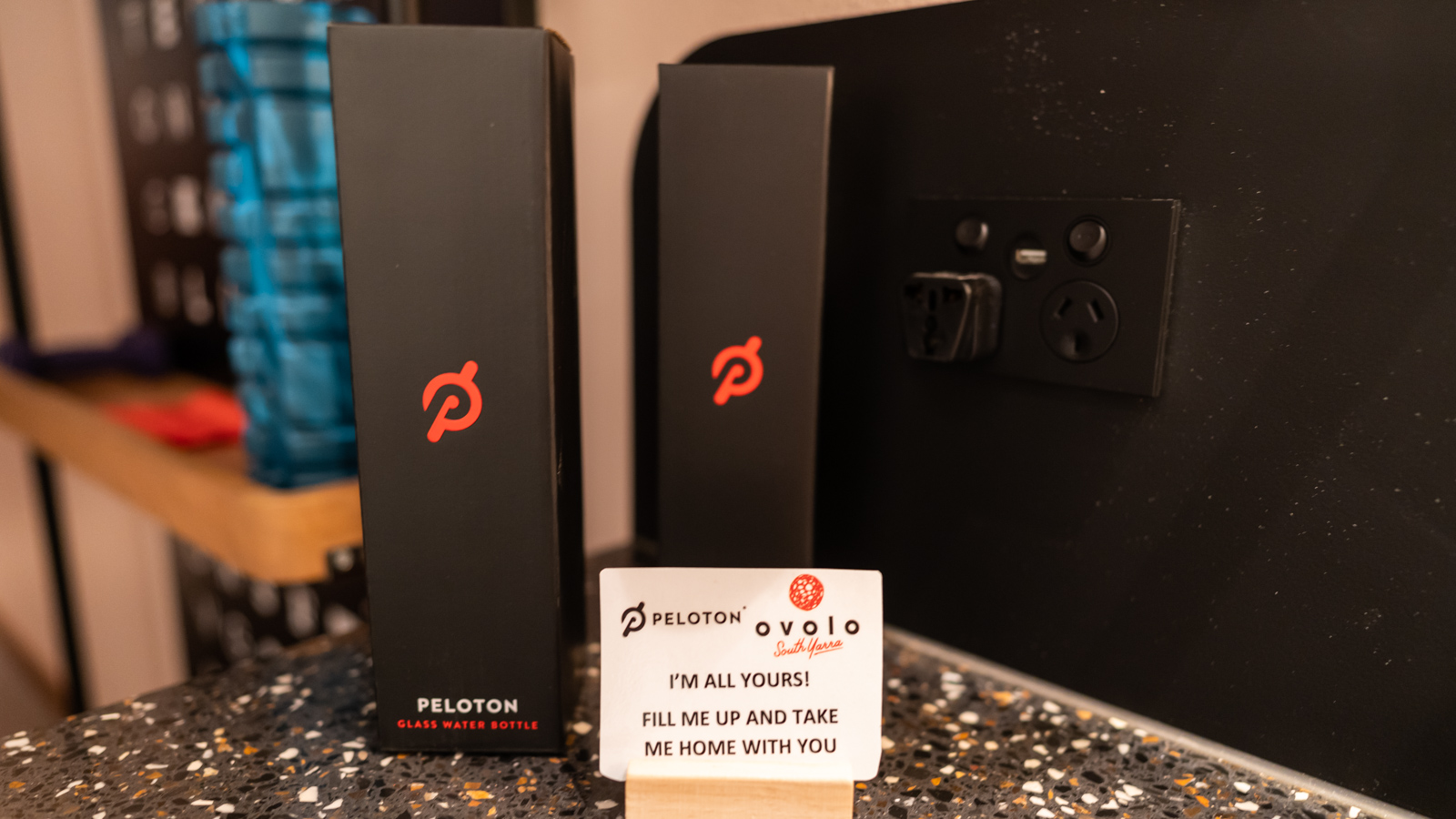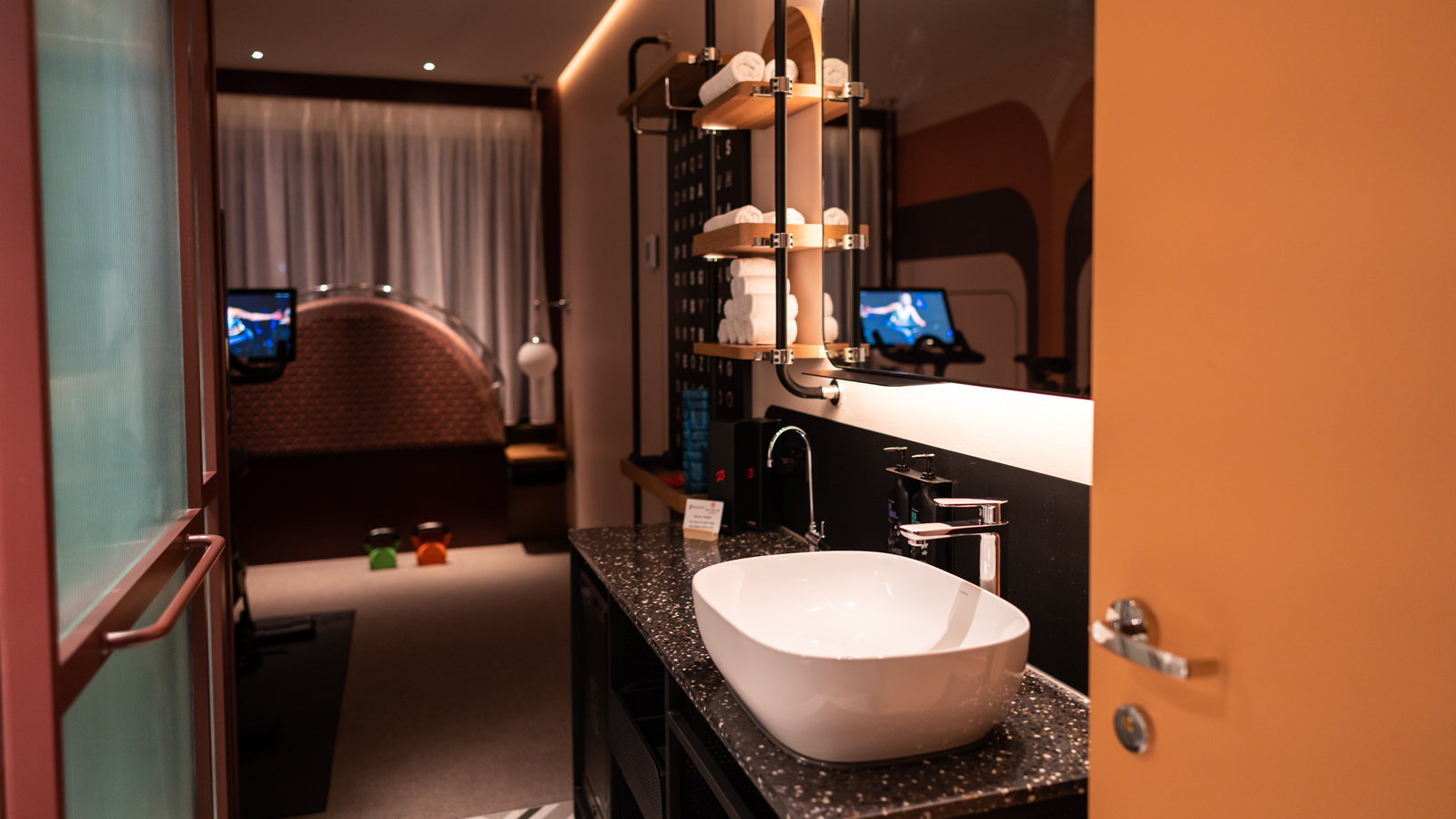 (As an aside, the Peleton is set up in one of the hotel's smallest room types – the Go Go room at 15 sqm. You can see how snug it is, so do book a higher room category if you need more space).
Finally, a guest laundry is on-site for guests who book direct. Four washer-dryer combo machines make washing a breeze, and you can also iron your clothes here afterwards.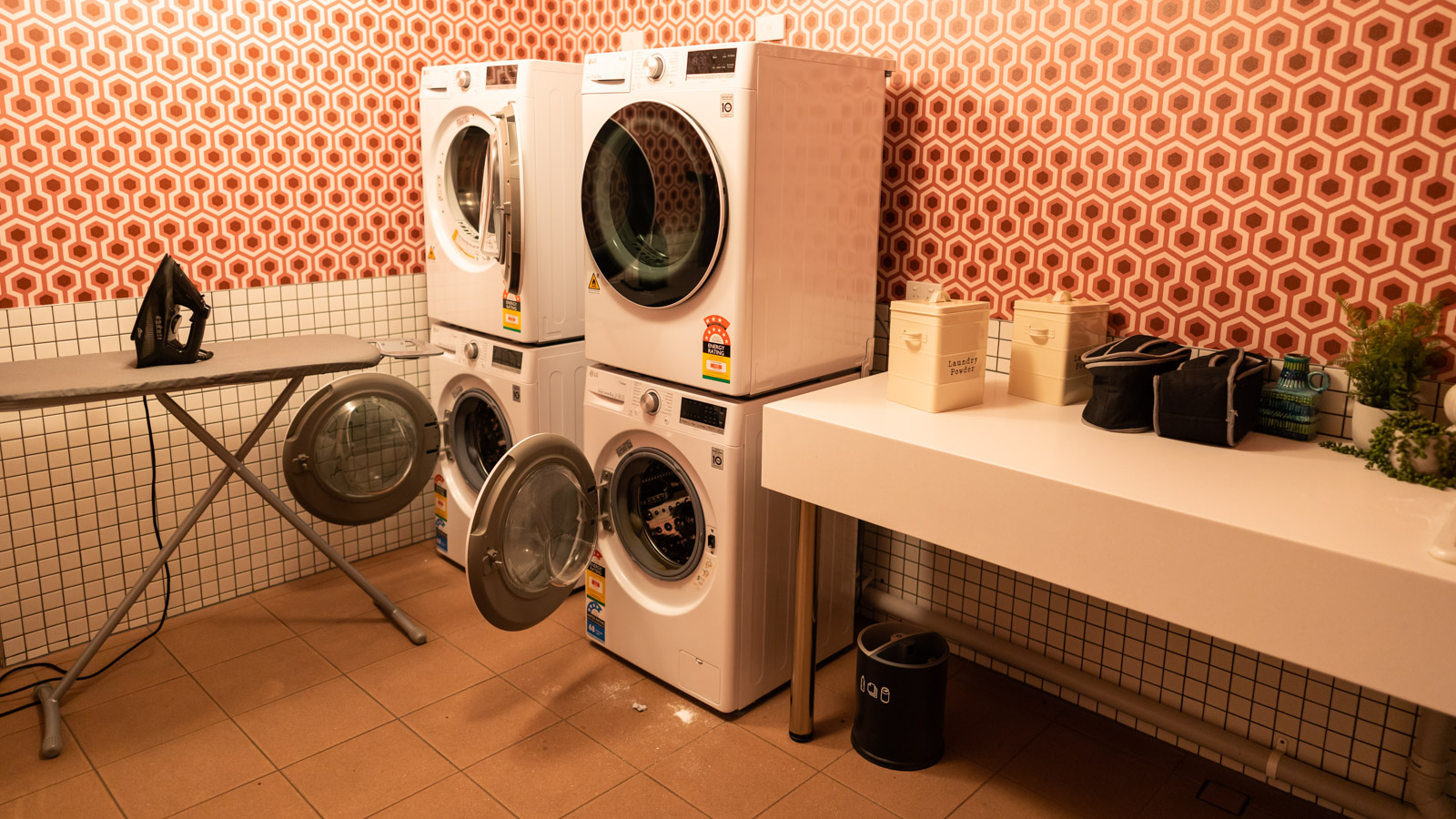 Earning and spending points at Ovolo South Yarra
As you'll know by now, you get the most perks when you book on Ovolo's website. 'Friends with Benefits' membership is free and gets you 10% off the standard rates. But if you'd rather earn points in lieu of those perks, you could book through Qantas Hotels and earn bonus points instead. Ovolo doesn't have a loyalty points program.
During my stay period in March 2022, one night in a Groovy room is around $323 with free cancellation, when booking direct and with the discount added. You get all the benefits included at this rate.
At Qantas Hotels, that same room is $359 with a 'Double Qantas Points' offer, earning 2,154 points per night (worth about $38.77 at our current valuations). You'll earn half that without a bonus offer. You'll also forgo breakfast, minibar and other benefits.
If you're close to a big flight reward with Qantas Points, it might be worth booking through Qantas Hotels to get that bonus. Otherwise, you might be better off booking directly with Ovolo to maximise your experience at the property.
Summing up
Ovolo positions itself as a hip, mould-breaking chain and the South Yarra hotel certainly doesn't disappoint. The property looks fresh and new from tip to toe, and the rooms feature the latest tech mod-cons.
The location is great for a vibrant stay and I found it convenient to take public transport to where I needed to be. There are plenty of delicious food options at your doorstep (my colleagues highly recommend Leonards House of Love for fried chicken).
Just be aware that the hotel does have some small room types, so don't book a Go Go room if you're travelling with checked luggage! You can see all the hotel's room categories here before booking.
Photography by Brandon Loo, who stayed as a guest of Ovolo South Yarra. Featured image courtesy of Ovolo.
Ovolo South Yarra, Melbourne
was last modified:
June 20th, 2023
by