Finnair unveiled their brand-new Platinum Wing in June this year, providing a unique experience with its intimate space, as well as its exclusive Nordic features throughout the lounge.
The Platinum Wing is a new and improved version of the former Finnair Premium Lounge, with an entirely new concept, including an added cooling room to the Finnish sauna, barista-made coffee, a more extensive food selection inclusive of à la carte dining, and a fully-stocked bar with a Nordic-flavoured cocktail menu.
The new Platinum-only lounge is a part of Finnair's extensive lounge renovations at Helsinki Airport, with their Business Class Lounge also undergoing renovation and is due to open in November this year.
The new lounge offers a calm 'sanctuary' from the hustle and bustle of the main terminal, especially during the ongoing renovations, and allows Platinum frequent flyers to work, relax and dine in a private, comfortable space.
Lounge details and location
You can find the entrance to the Finnair Lounge district in the non-Schengen area, near Gate 52.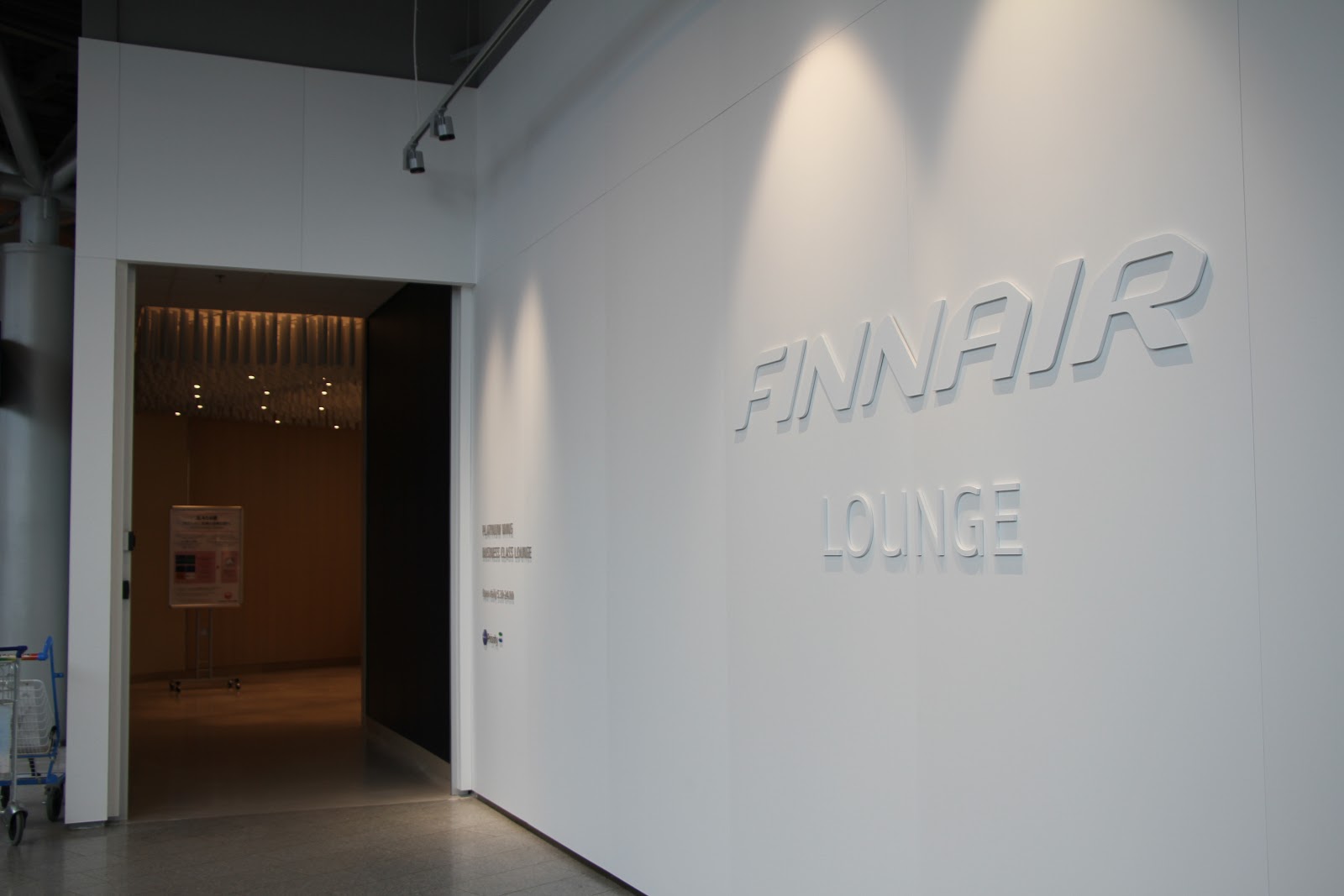 For people who don't often fly in Europe, the non-Schengen area hosts all flights departing to destinations beyond the borders of the European Schengen area, including countries such as the United Kingdom, Ireland, Russia, Singapore, Japan and China.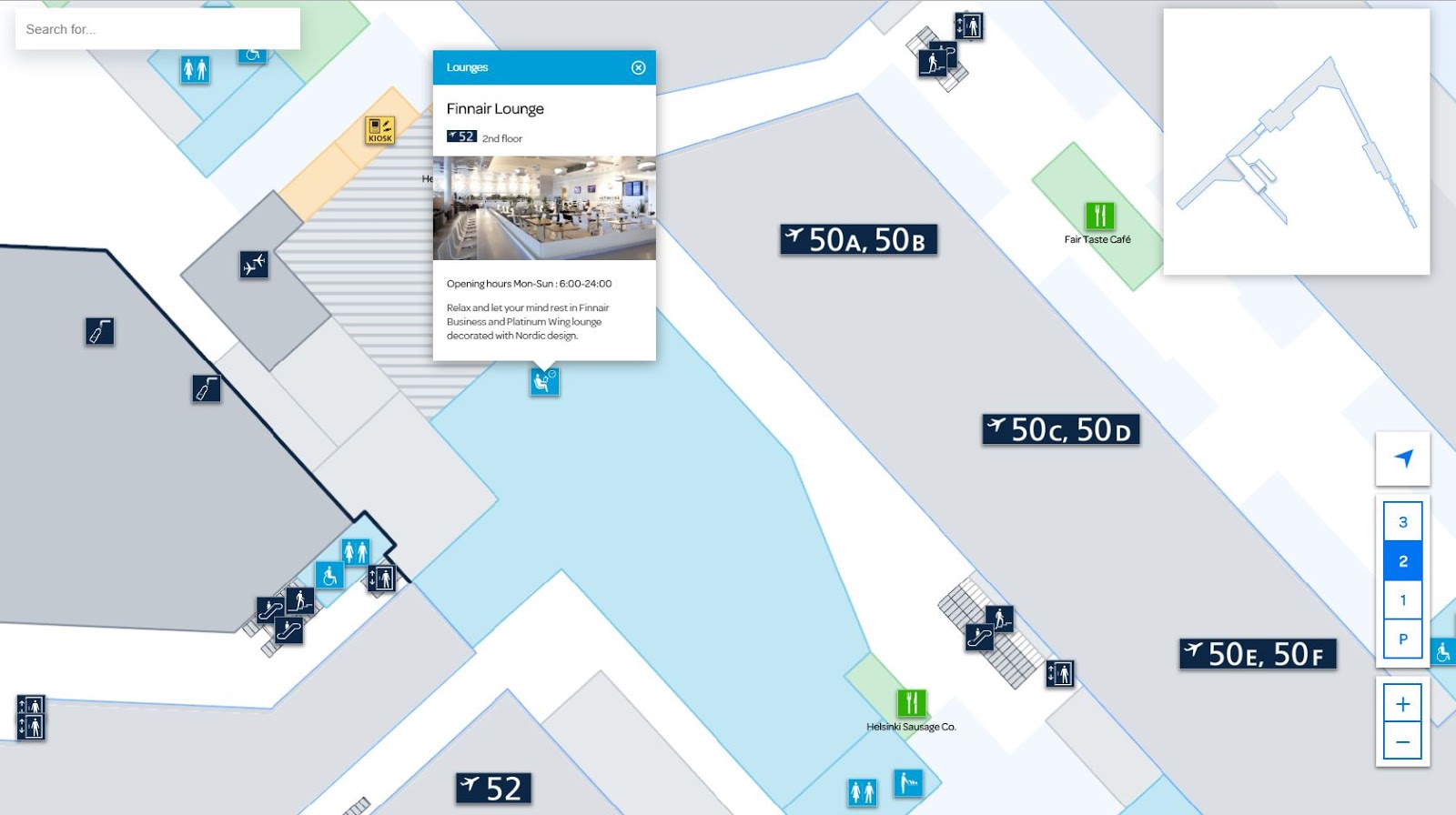 The Finnair Lounge Precinct contains the Platinum Wing and the Business Class Lounge, and is open from 5:30am to midnight daily.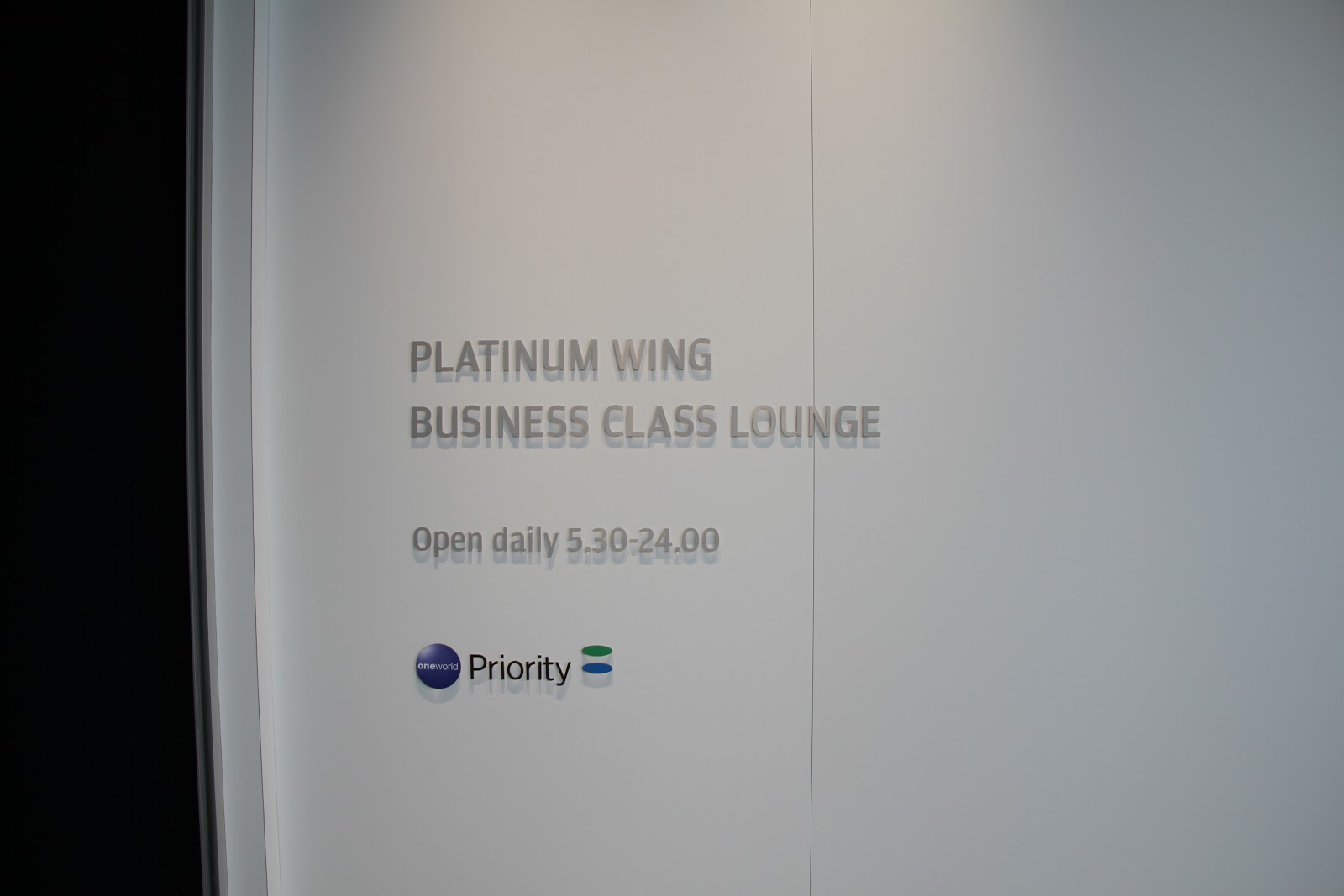 Upon entering, you can see a grand foyer leading to the Platinum Wing on the left, and to the Business Class Lounge on your right-hand side.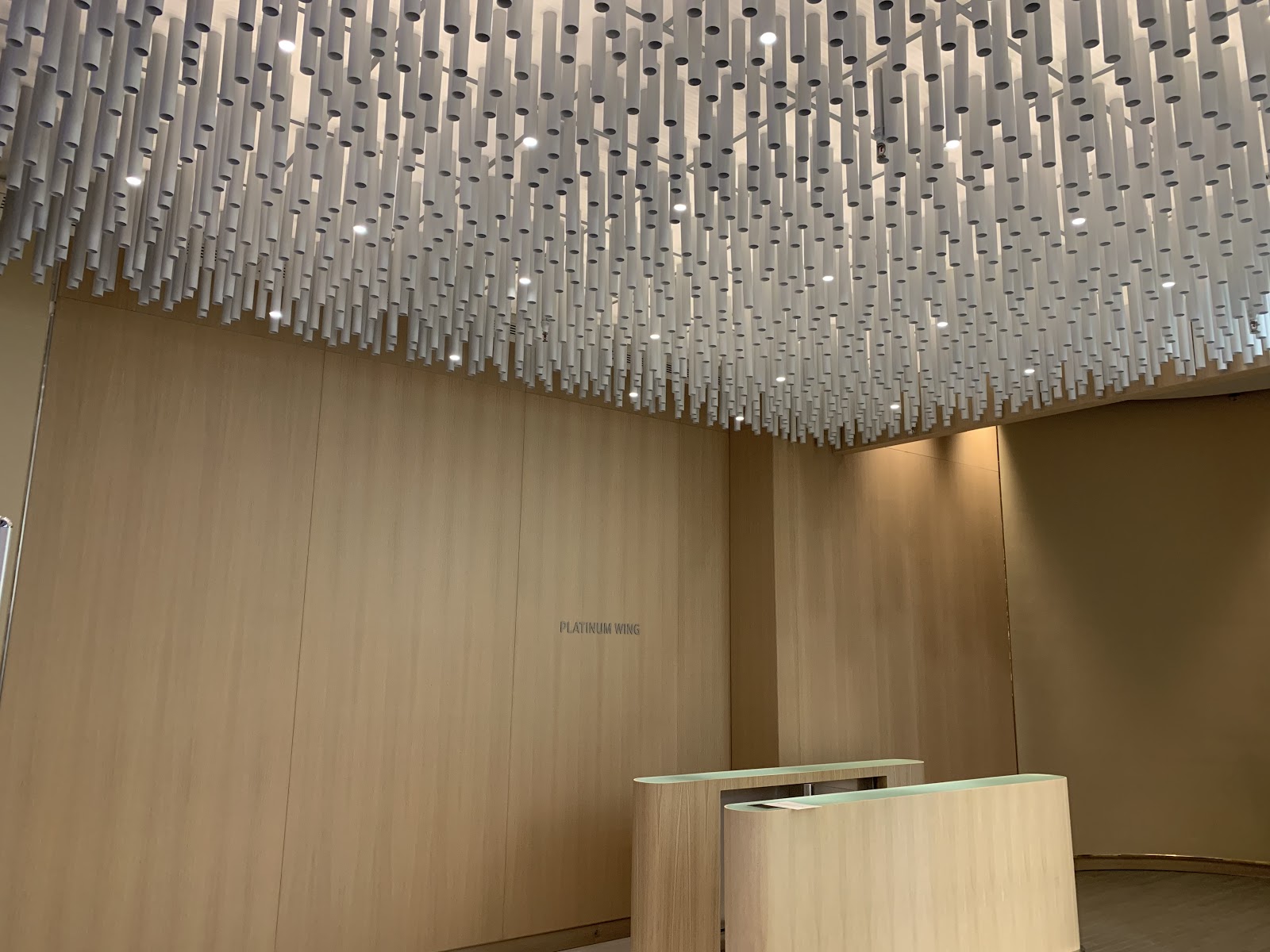 Lounge seating
Taking on board the feedback from their customers and stakeholders, Finnair's aim was to create a serene space where customers could find peace and quiet before their flight; in my opinion, they certainly succeeded.
Whether you wish to work, relax, have a shower or grab a bite to eat, the Platinum Wing has the appropriate facilities.
The lounge is divided into separate spaces for working, relaxing, and dining, and you can see distinctive Nordic design elements flow throughout the lounge.
The Nordic theme is inspired by Finnish nature and materials, but instead of the previous light and airy Scandinavian feel, the new Platinum Wing features a completely new design palette of deep and rich colours, fabrics, as well as stone, timber and metallic details.
All together the lounge seats approximately 155 people. The whole space felt quite large, but this could be due to the fact that the lounge wasn't very crowded during my visit.
Upon entering, you are greeted by an impressive cocktail bar, with shelves stocked with a variety of spirits, wines and beers from local and international markets.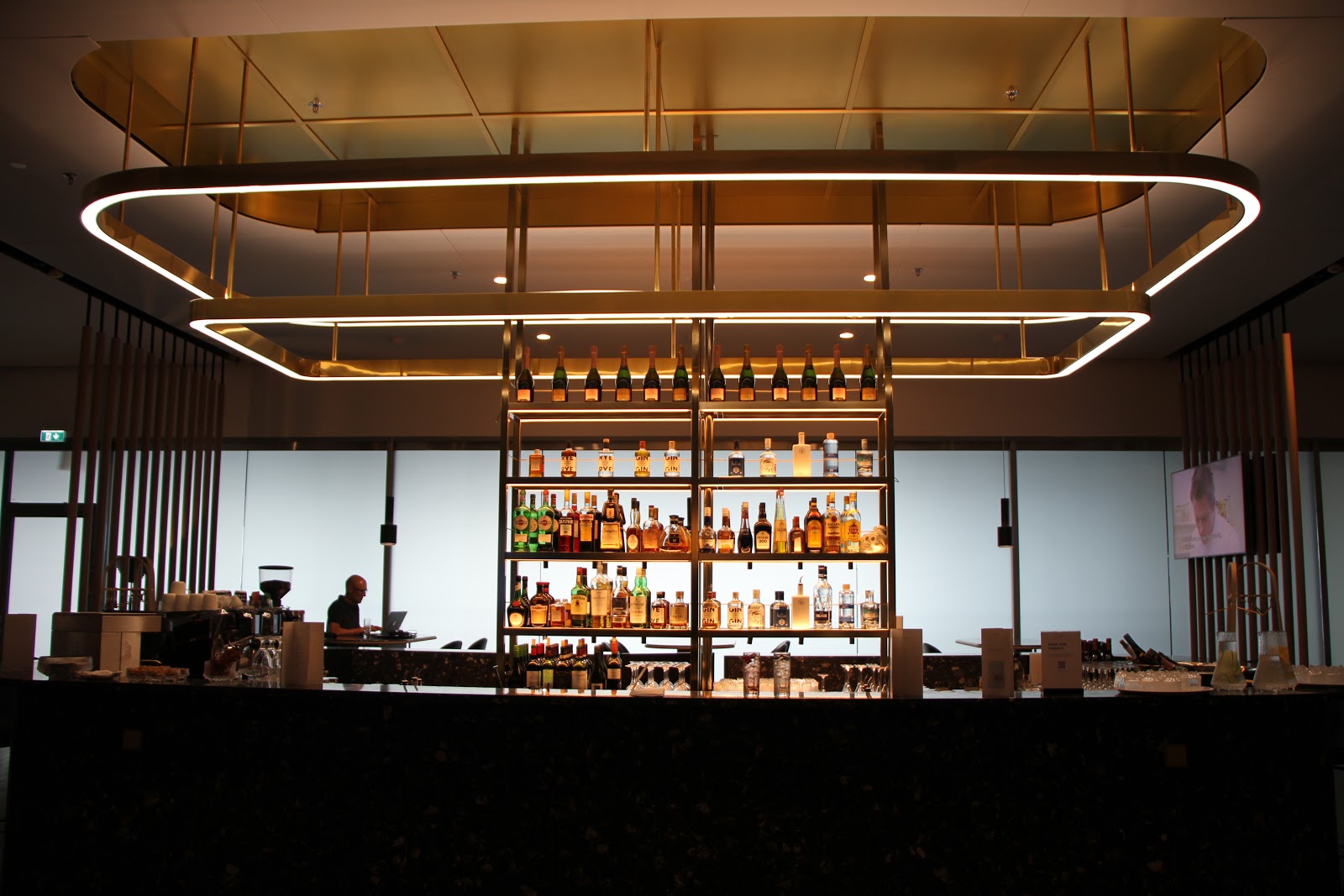 The bathrooms, showers and sauna are located to the left of the bar, whilst on your right, there is additional seating before the dining area, offering both à la carte and buffet options.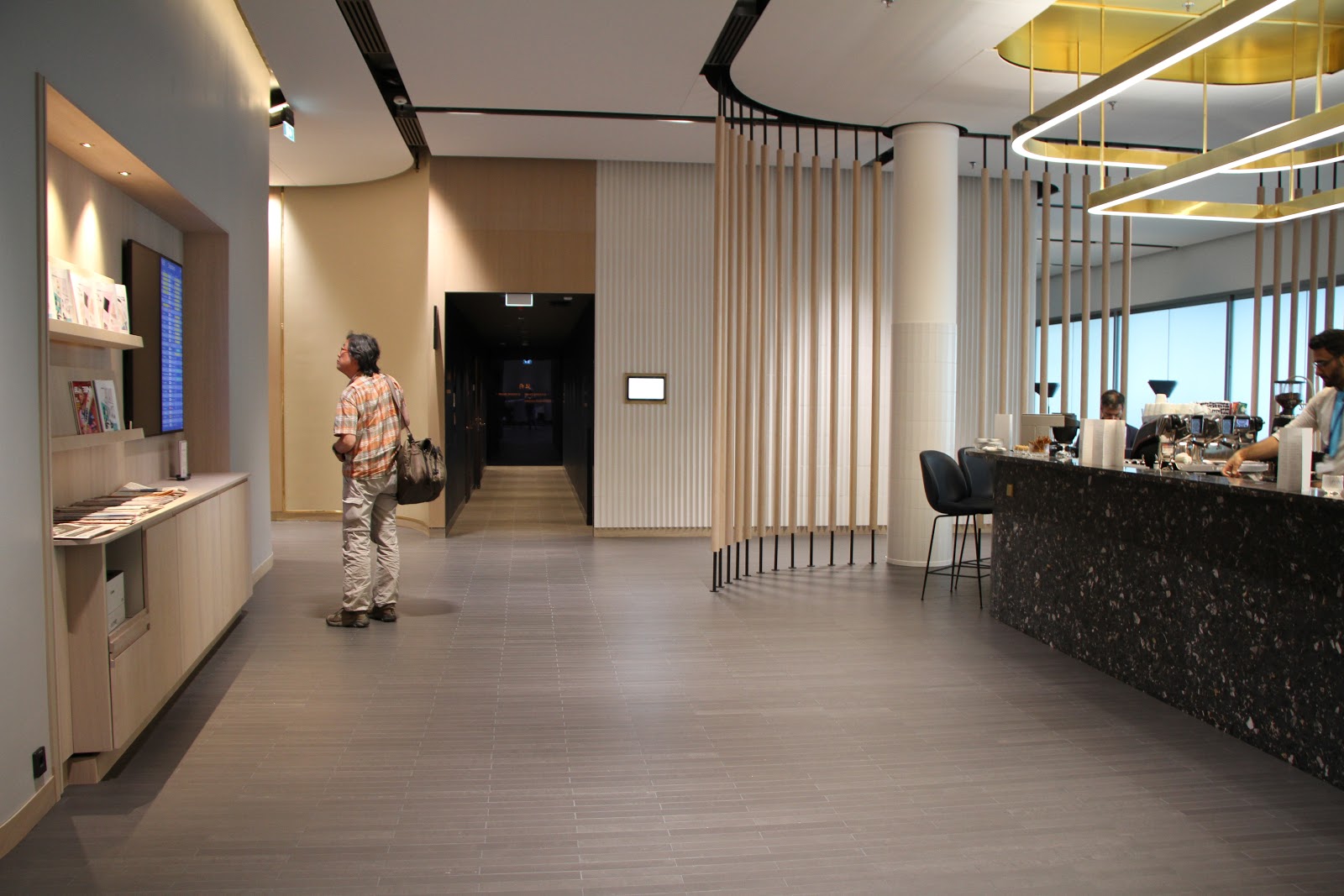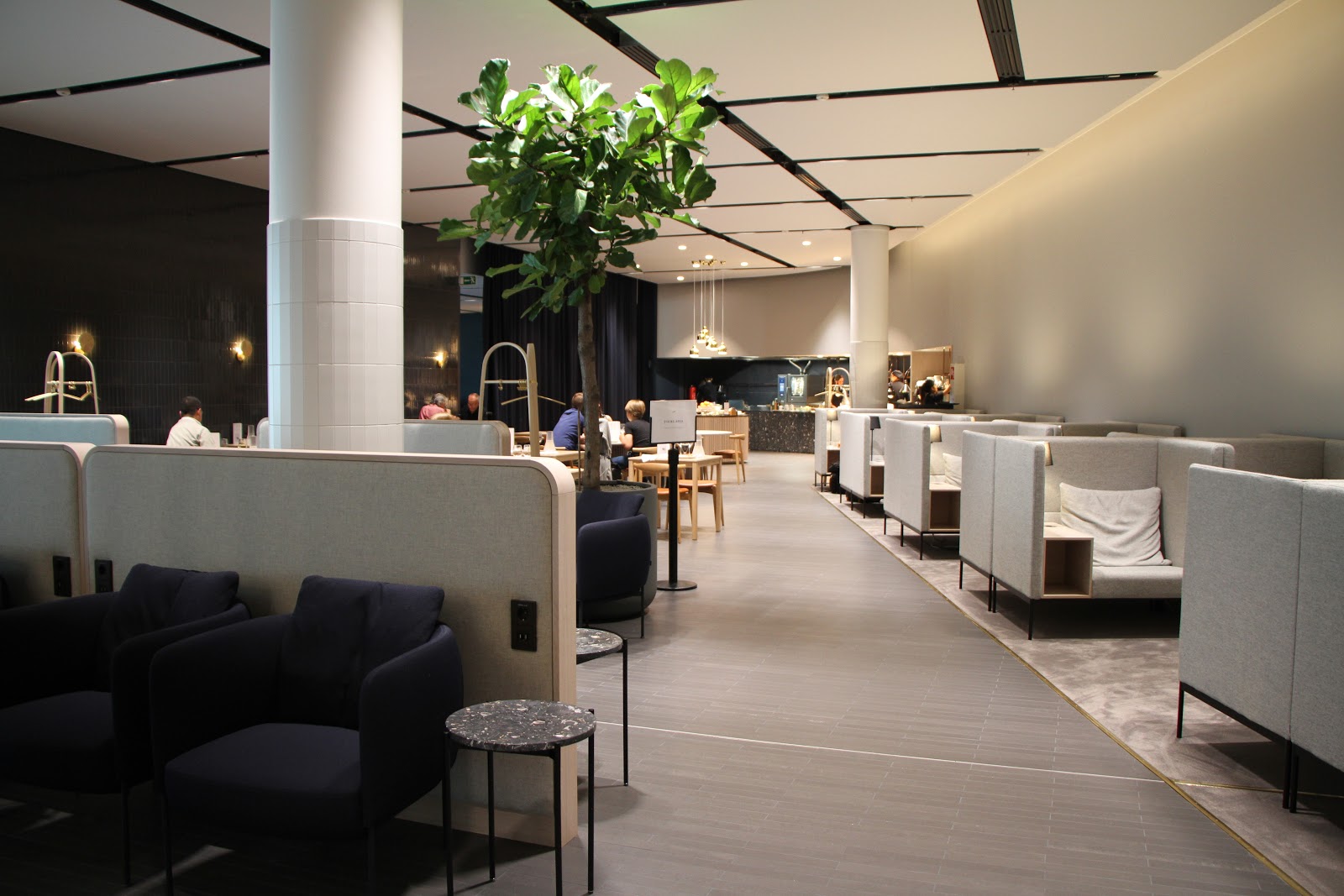 There are some bar tables and stools located behind the bar, and you can find a little seating area farther back in the corner.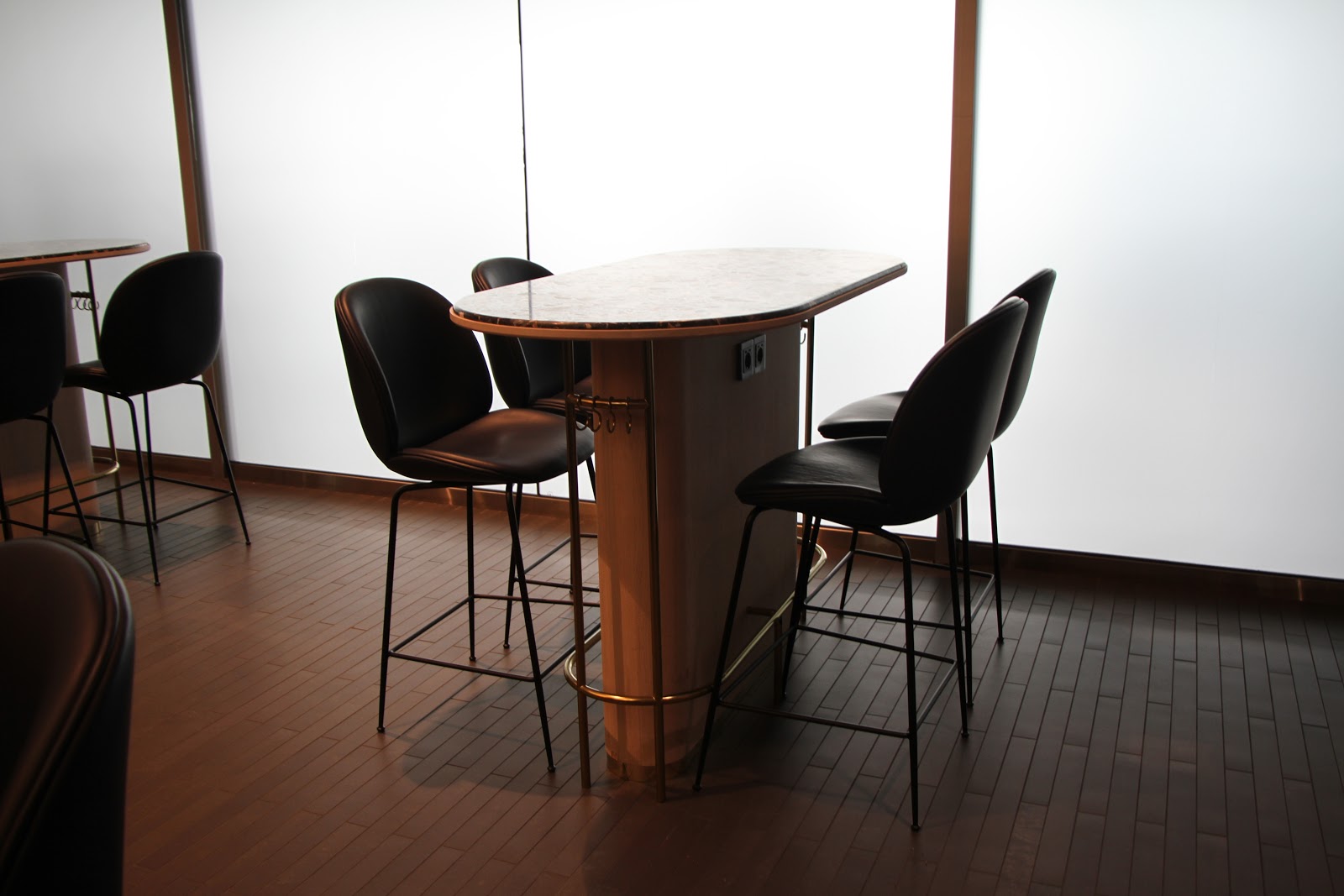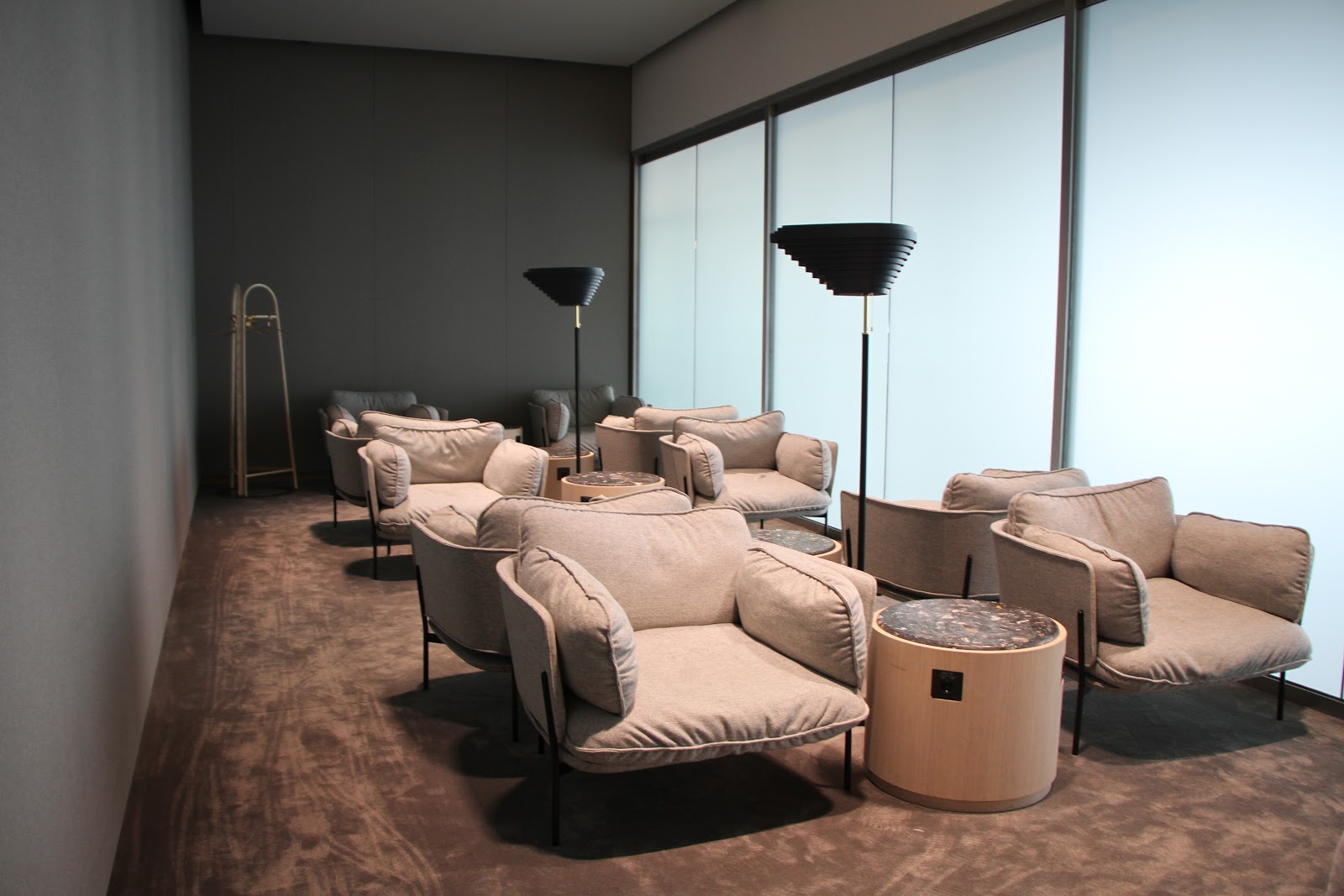 Although there is no dedicated work-stations anywhere in the lounge, most seats and tables are equipped with power points and USB ports. This means that regardless of where you decide to sit, you are likely to find a powerpoint to get some work done and charge your devices at the same time.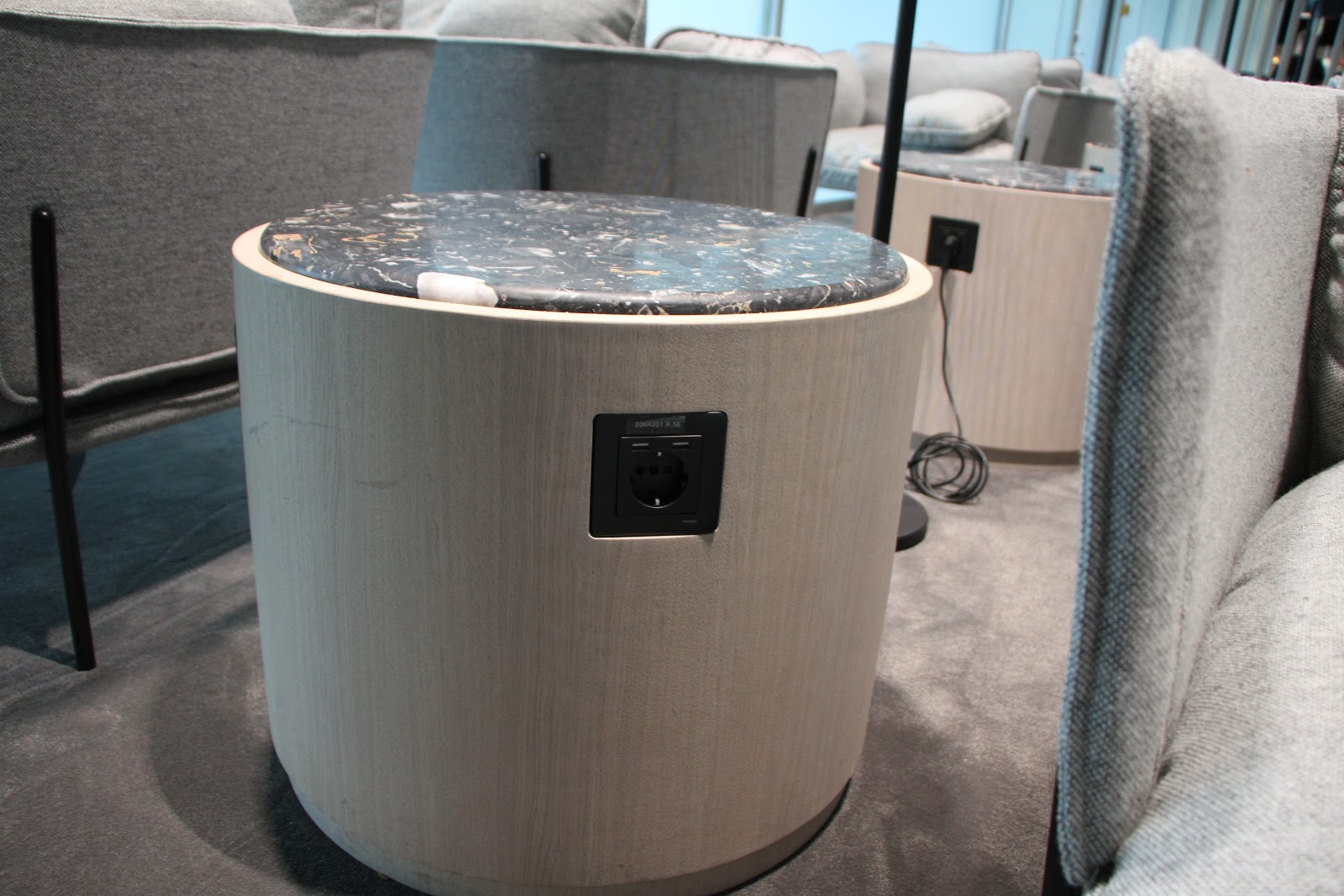 There is also a quiet lounge area separated with curtains from the rest of the lounge, where you can socialise, relax or even catch up with some sleep.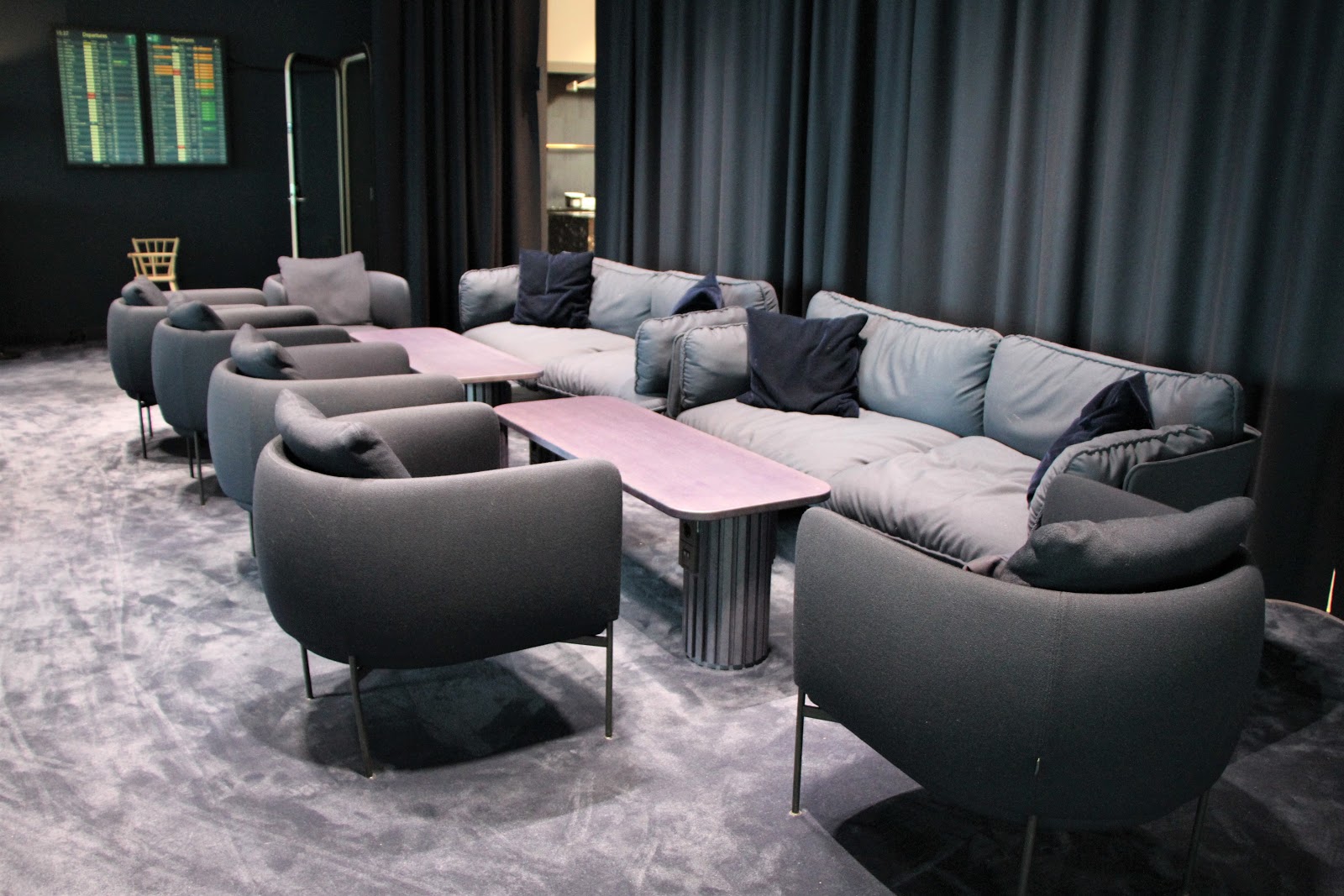 This area truly reminded me of an actual living room space with lush carpets and plenty of couches and lounge chairs for you to cosy up in.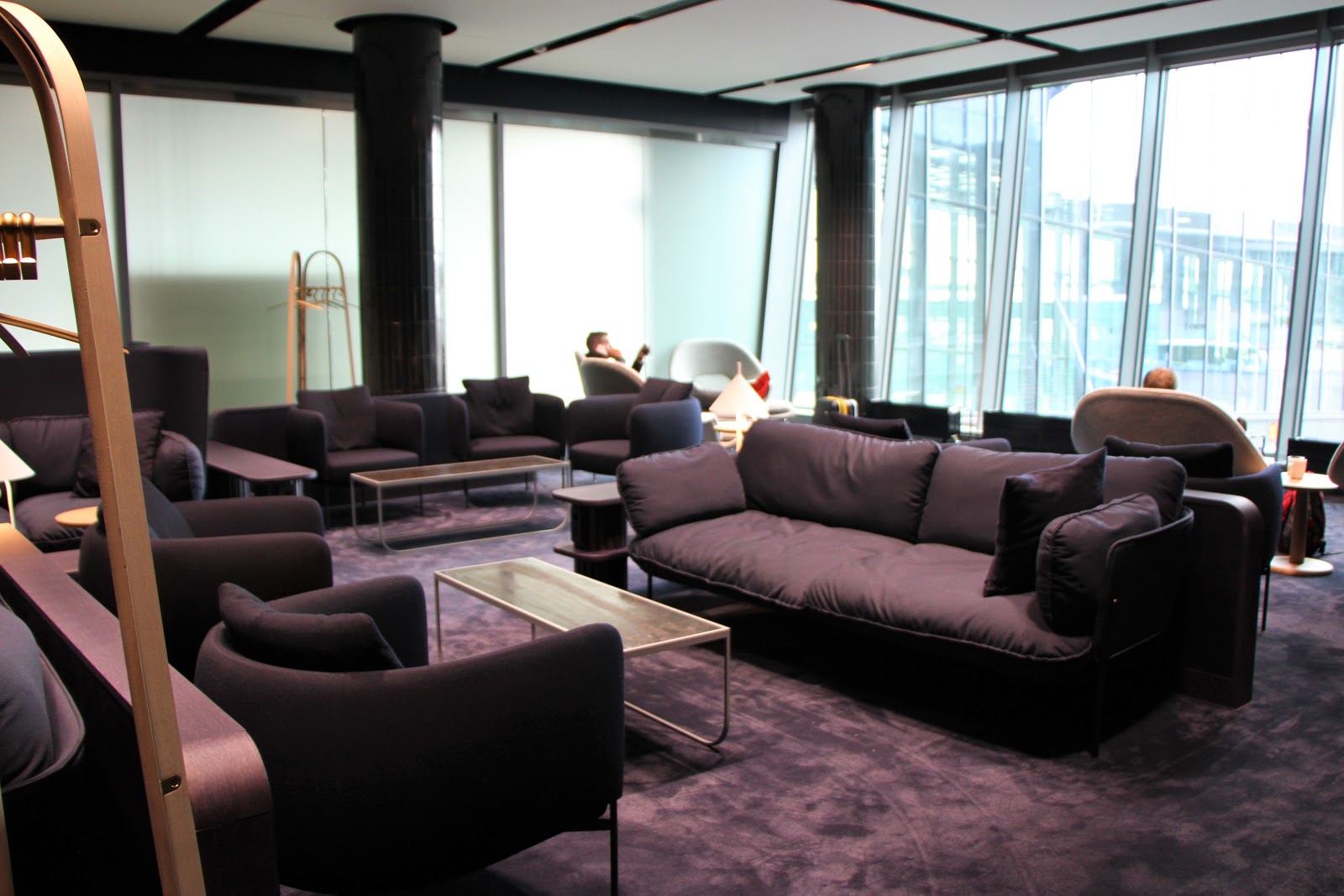 Some of the seating includes chairs that resemble 'pods', as they have 'screens' on the sides for privacy and comfort.
As these chairs are positioned to face each other, they are particularly good for couples. I can honestly say that myself and my partner both managed to get some shuteye in one of those 'pod-chairs' – they were fairly comfortable and private enough to sleep in.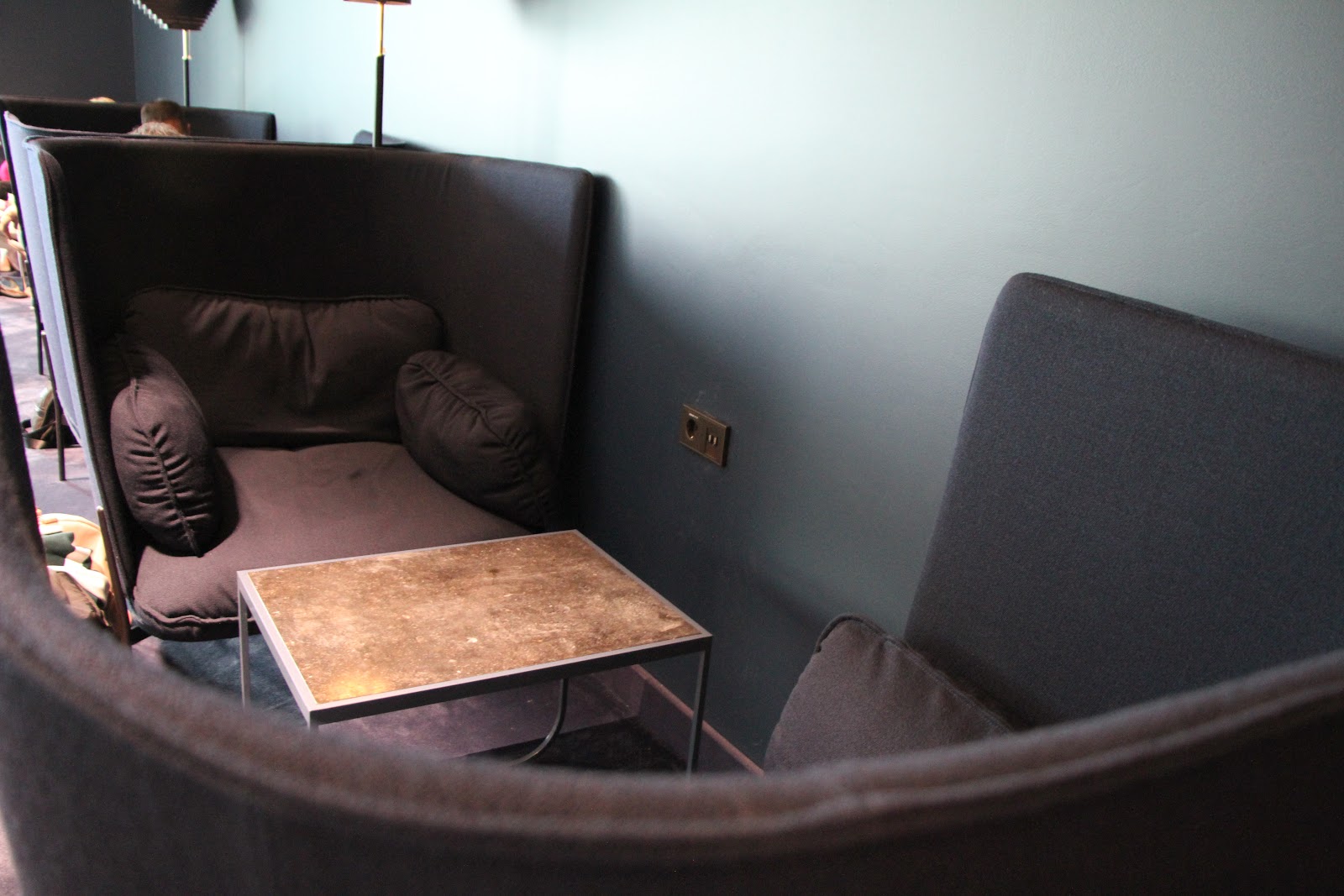 This area also contains a private 'phone-booth' that isn't completely sound-proof (trust me, we tested), but is secluded enough for personal phone calls and other affairs.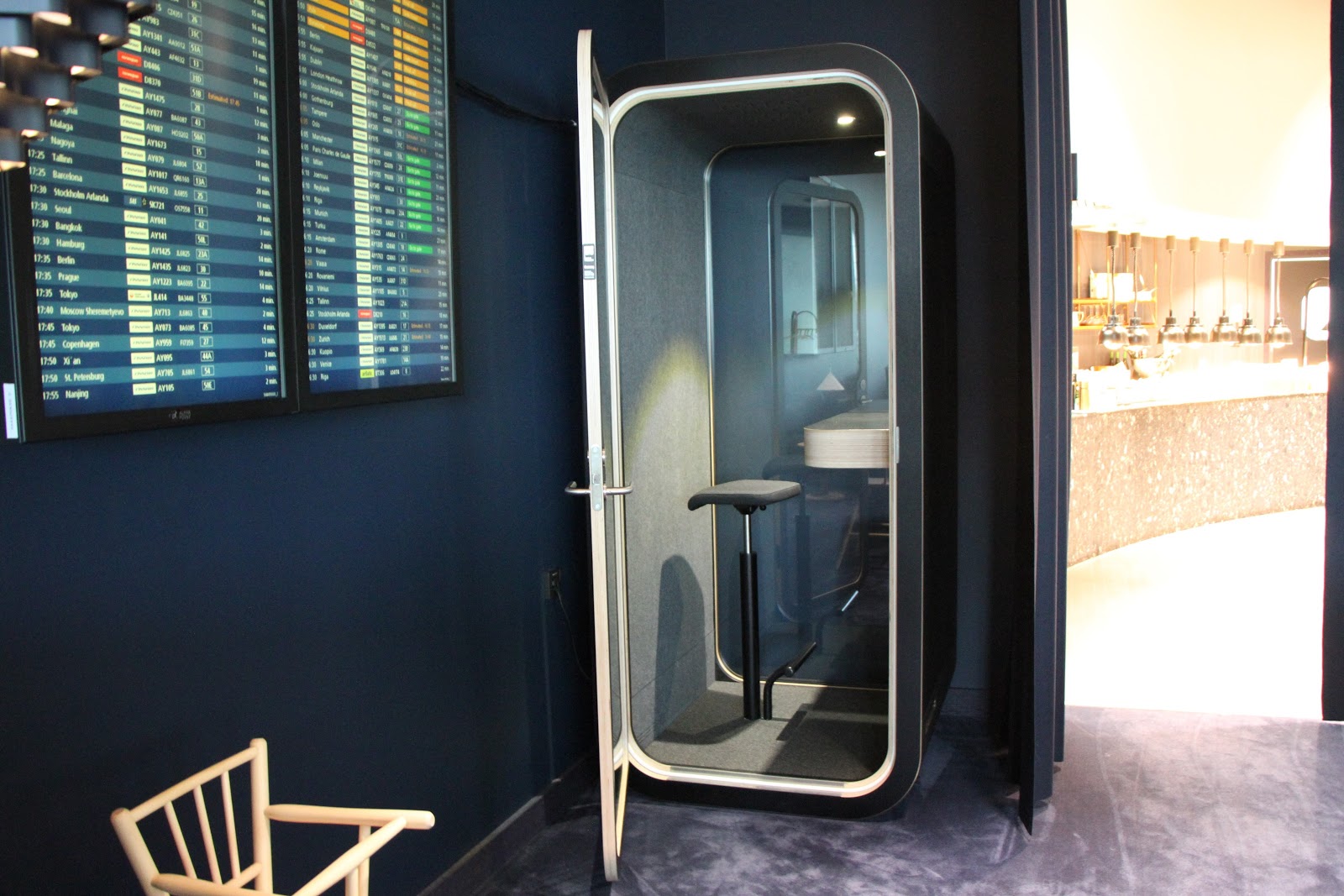 As the lounge is situated next to a departure gate, most of the windows are frosted. Since natural light in the lounge is limited, the lighting is adjusted depending on the time of day to create the right atmosphere.
There is a floor-to-ceiling window in the back wall of the lounge area where you can catch a glimpse of the tarmac.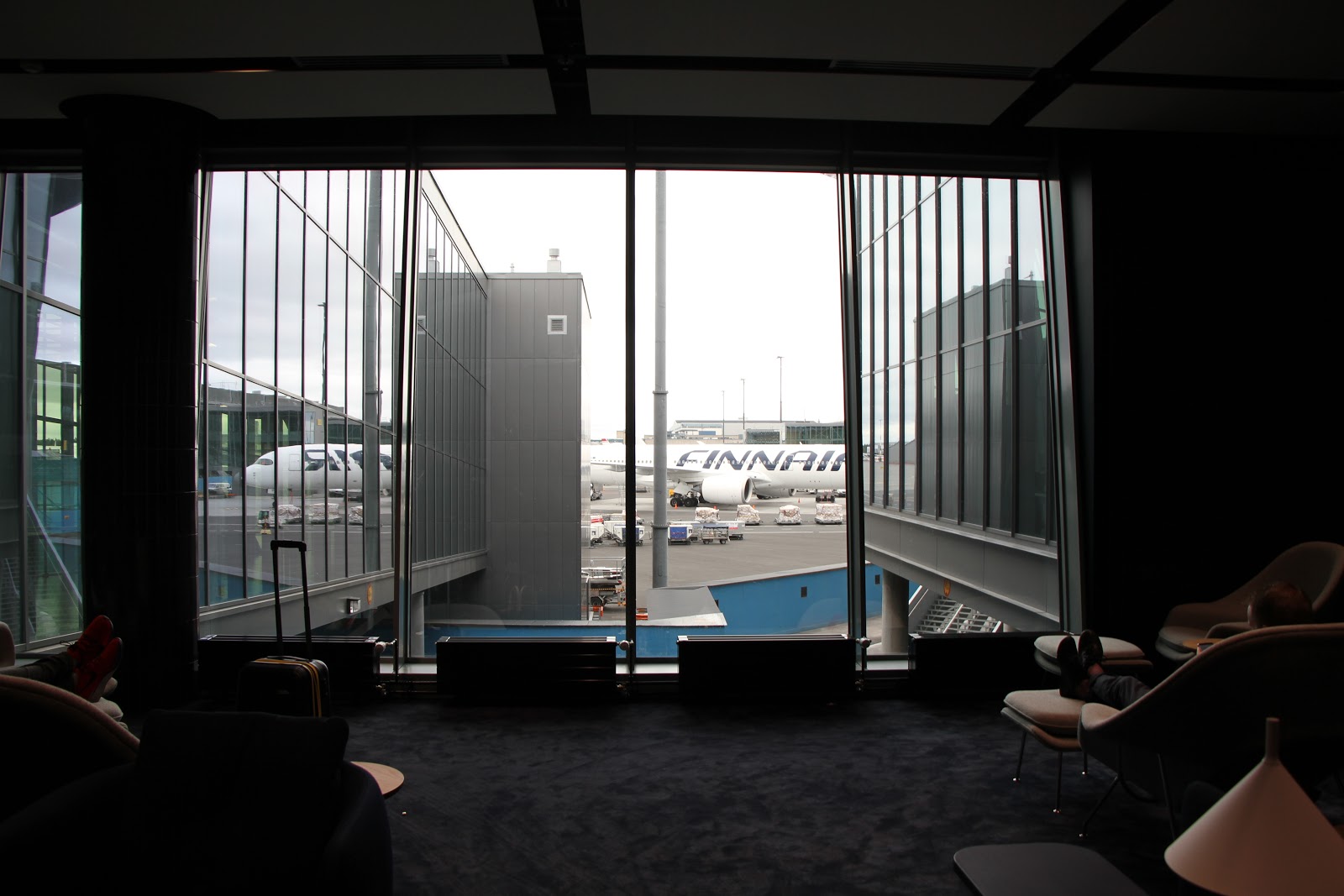 Comfortable armchairs with leg rests are placed in front of the window to look outside and enjoy the view.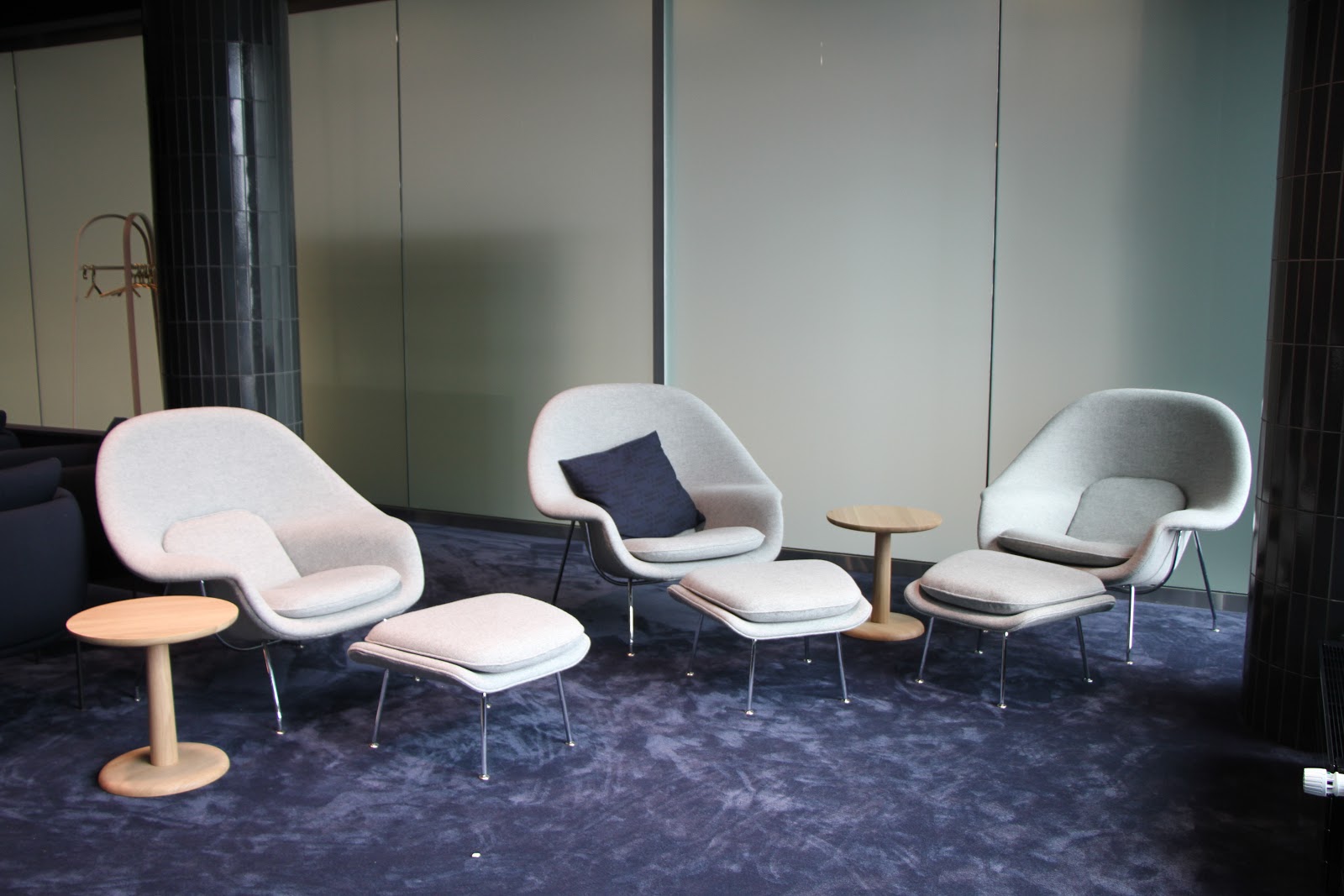 The view is nothing spectacular, but catching a glimmer of natural light and some planes in such a dim environment is certainly better than nothing.
Food and drink
Hot breakfast is offered from 5:30am to 10:30am, whilst à la carte menu is available from 10:30am to 5pm daily.
The lounge also features a large buffet, a snack station and a dessert bar all stocked with a variety of Finnish flavours.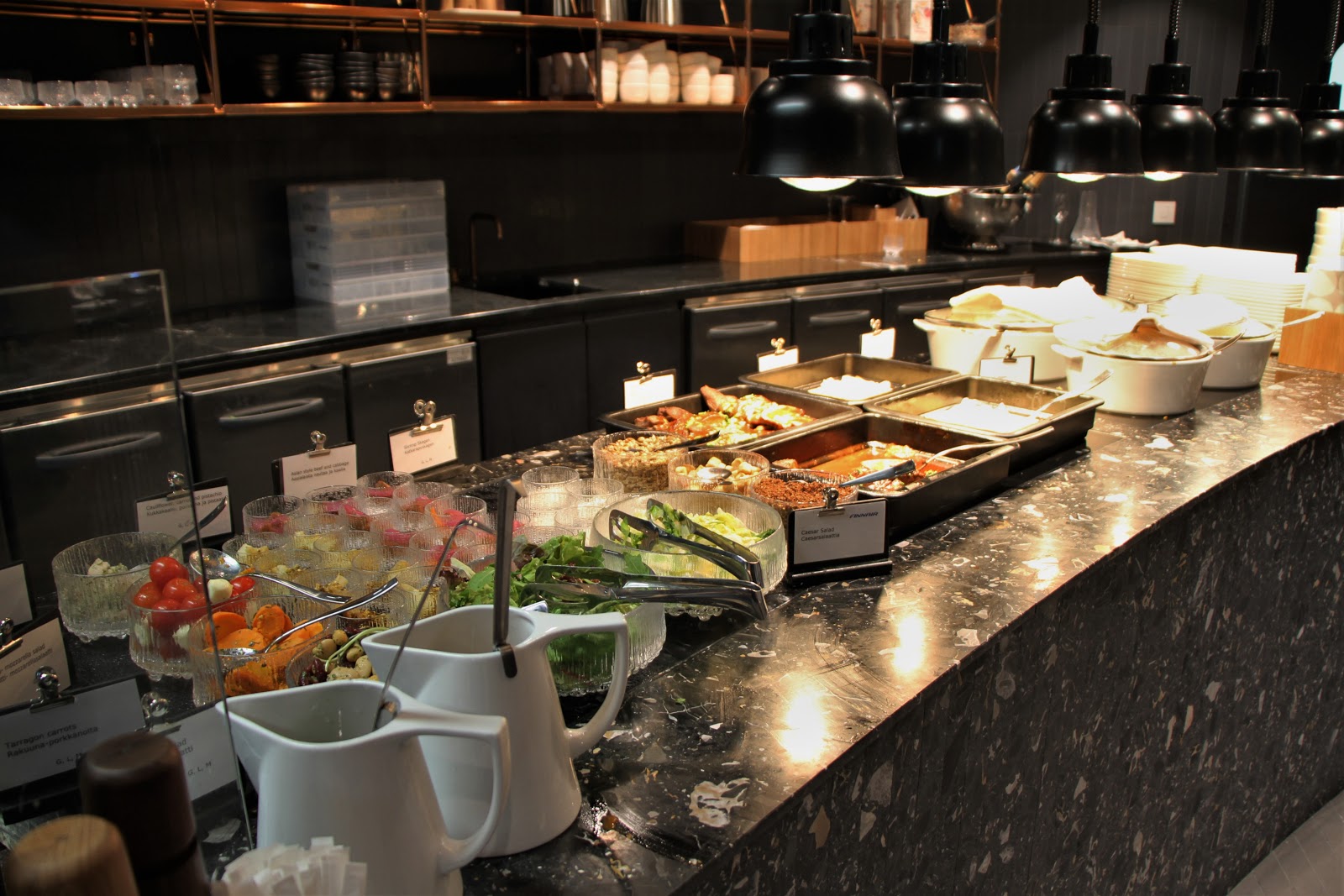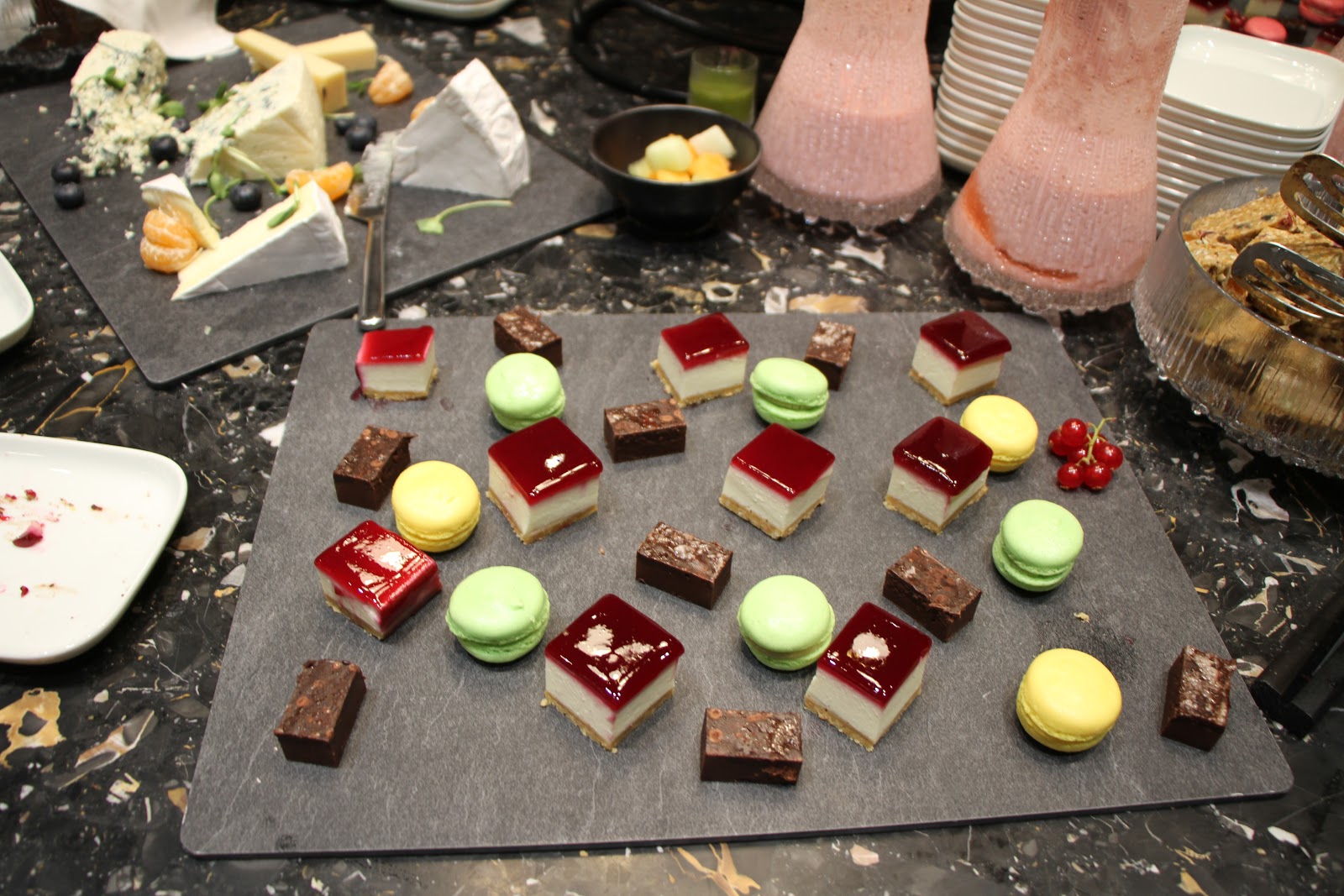 I love the way snacks are presented, with seasonal fruit and berries scattered across the cheese and dessert platters. In my opinion, it added a sense of authenticity and aesthetics to the overall look.
The back of the buffet area features an open kitchen that allows guests to see how some of the meals are prepared and cooked.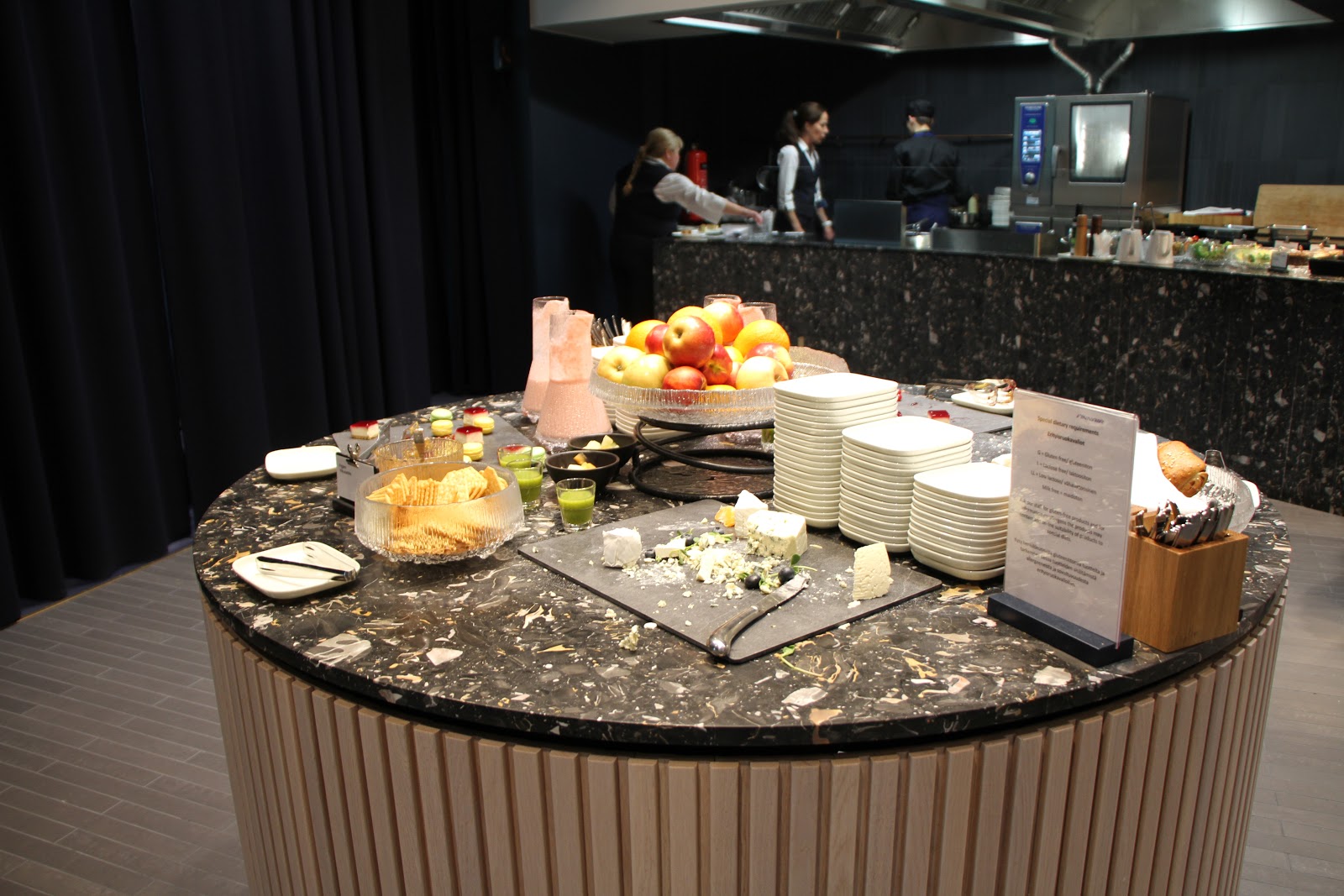 For example, cinnamon scrolls are as fresh as they come as you can see them come out straight from the oven!
The fact that a lot of the food is cooked on the spot, and you can actually see the process certainly adds value to the experience.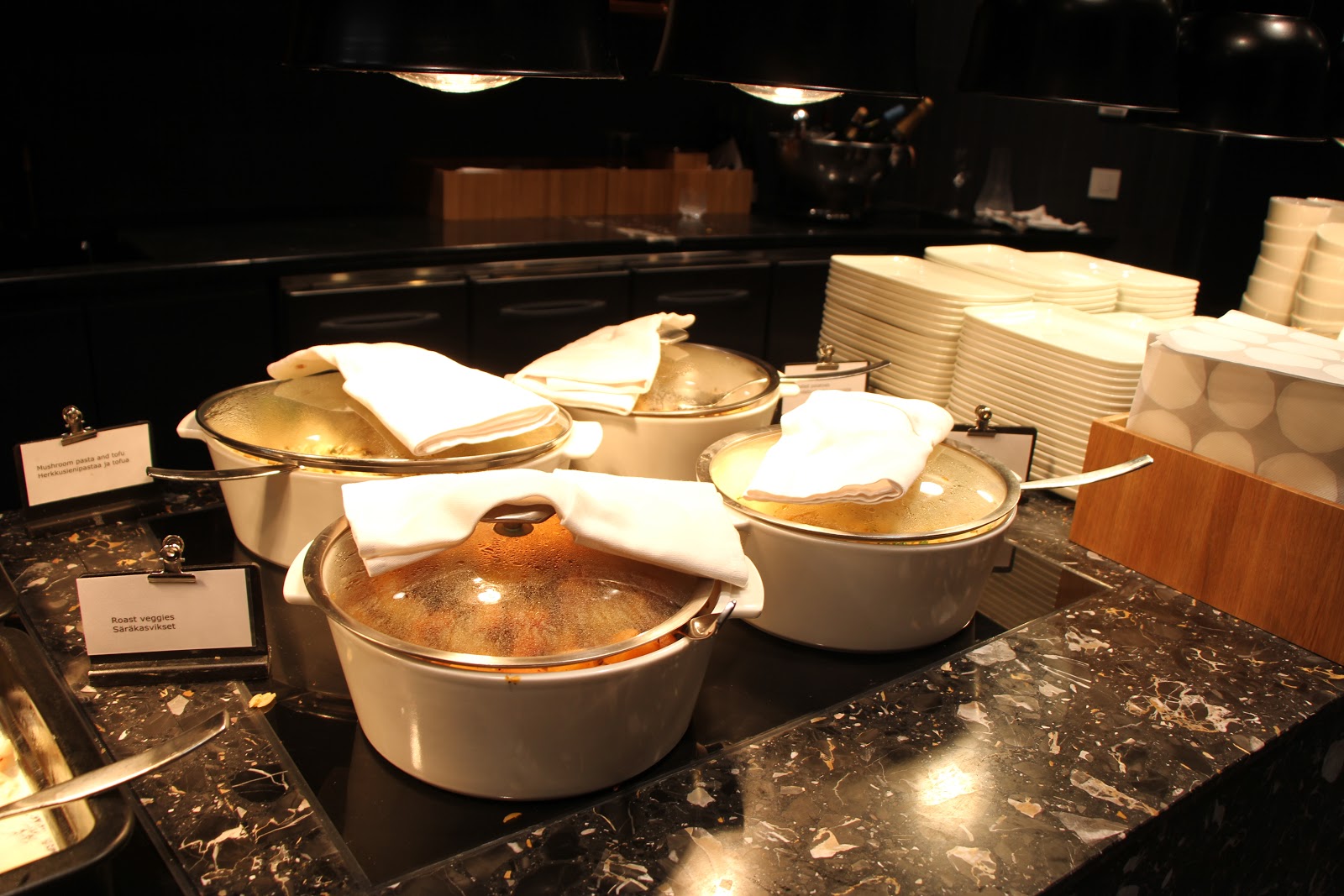 The à la carte option is only offered until 5pm which in my opinion is a little bizarre. There are quite a few flights departing at night time, so à la carte dinner service would be greatly appreciated by passengers departing later on in the night.
Although the à la carte menu was rather simple, kudos to Finnair for trying to incorporate meat, fish and vegetarian options to impel variety. We also had a choice between two desserts.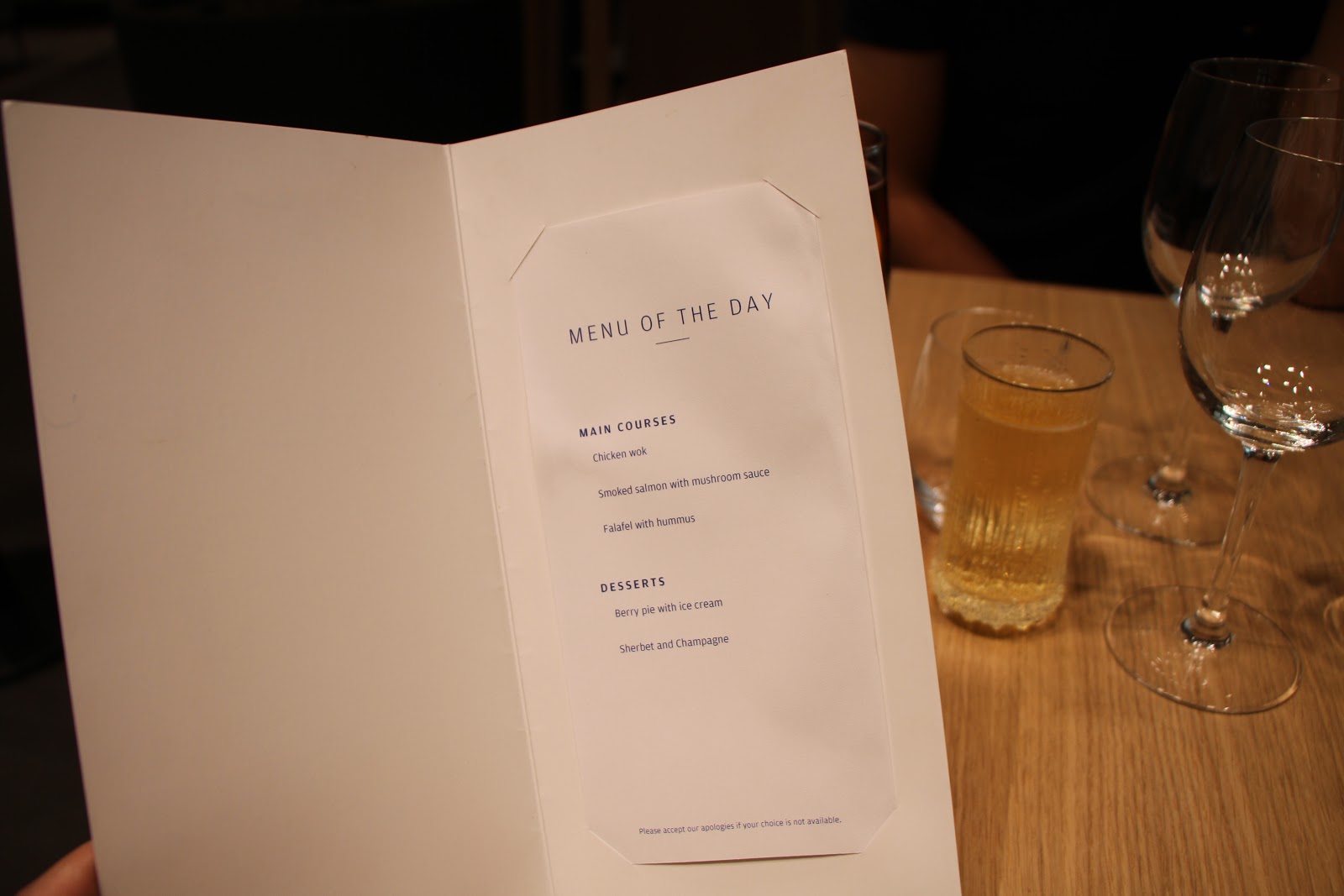 In terms of entrées, we were advised by the waiting staff to help ourselves to the buffet.
My partner and I took one for the team and decided to try everything from the à la carte menu.
The meals weren't too large in size, but big enough to fill you up before your flight.
The salmon with the mash, mushroom sauce and beetroot was nice enough, but in my opinion, tasted a little bland. Some people might prefer the simple, plain flavours, but I would've liked more seasoning.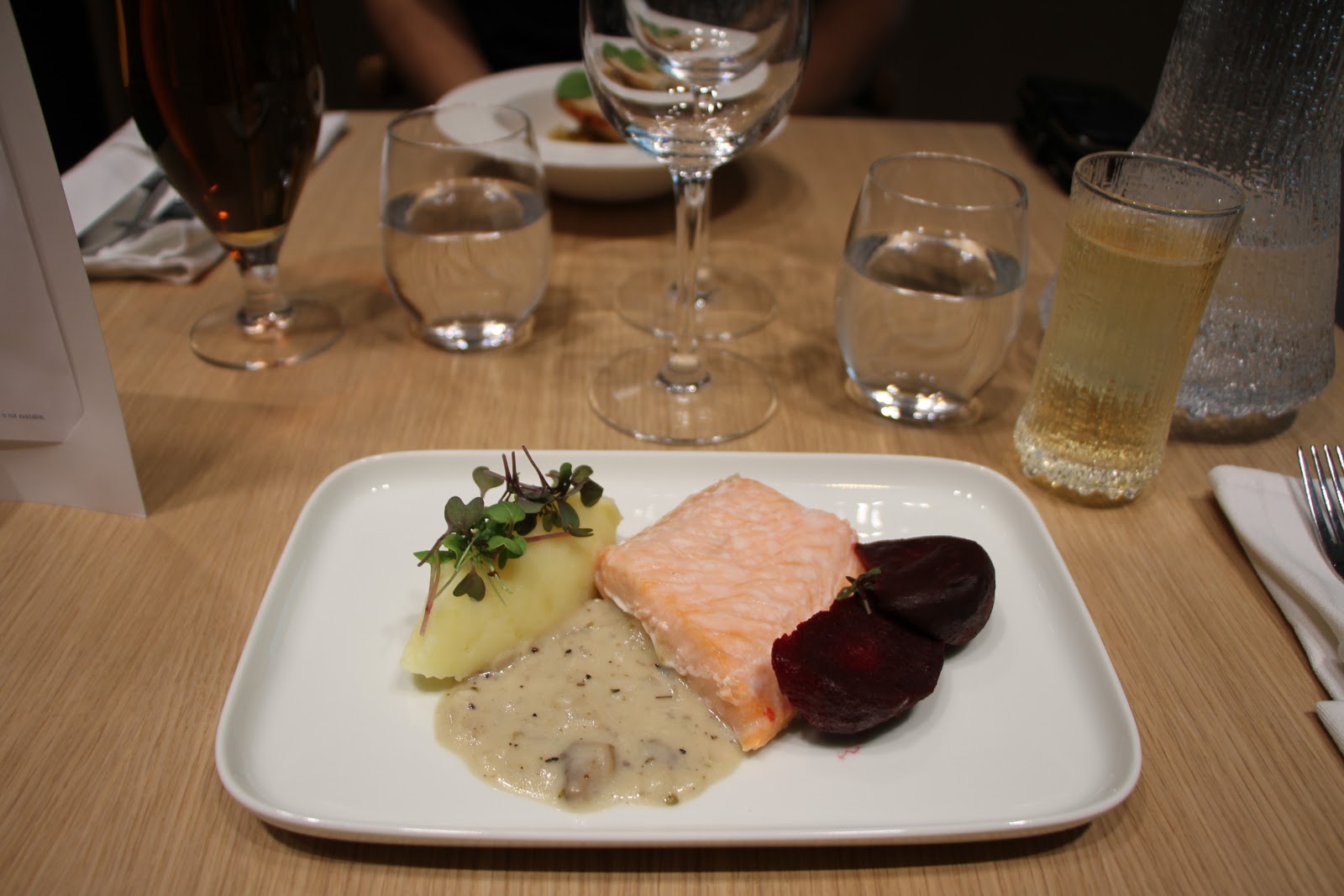 The chicken wok was nicely seasoned, but the chicken itself was overcooked and dry.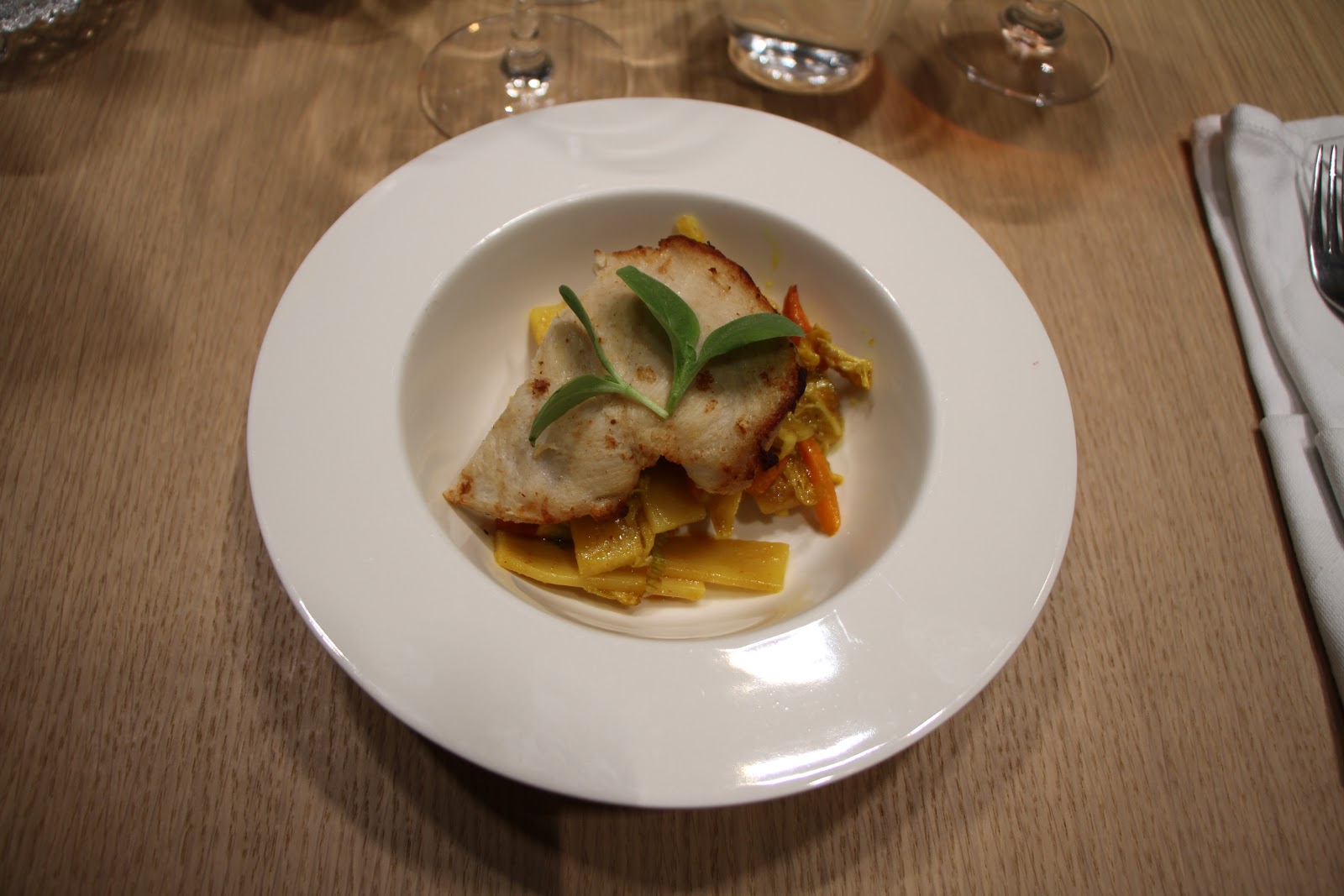 The falafel with hummus was our least favourite as the falafel was also very dry and lacked in flavour. The only saviour was the sour cream sauce that added a little moisture and taste to the dish.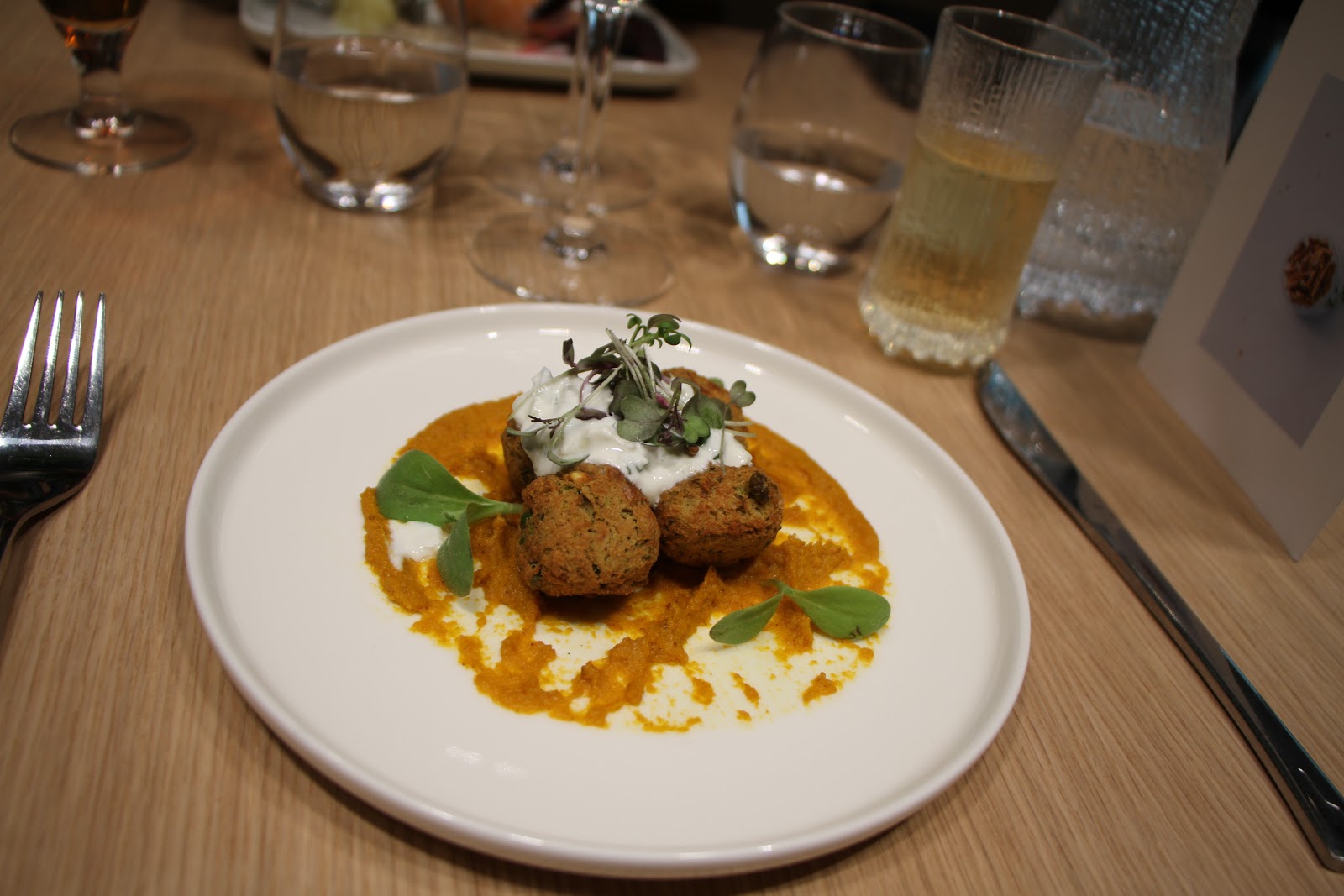 In terms of drinks, I opted for champagne. As they didn't have a beverage menu or a wine list in the dining area, I just asked for champagne and received Joseph Perrier 2008 Brut Vintage.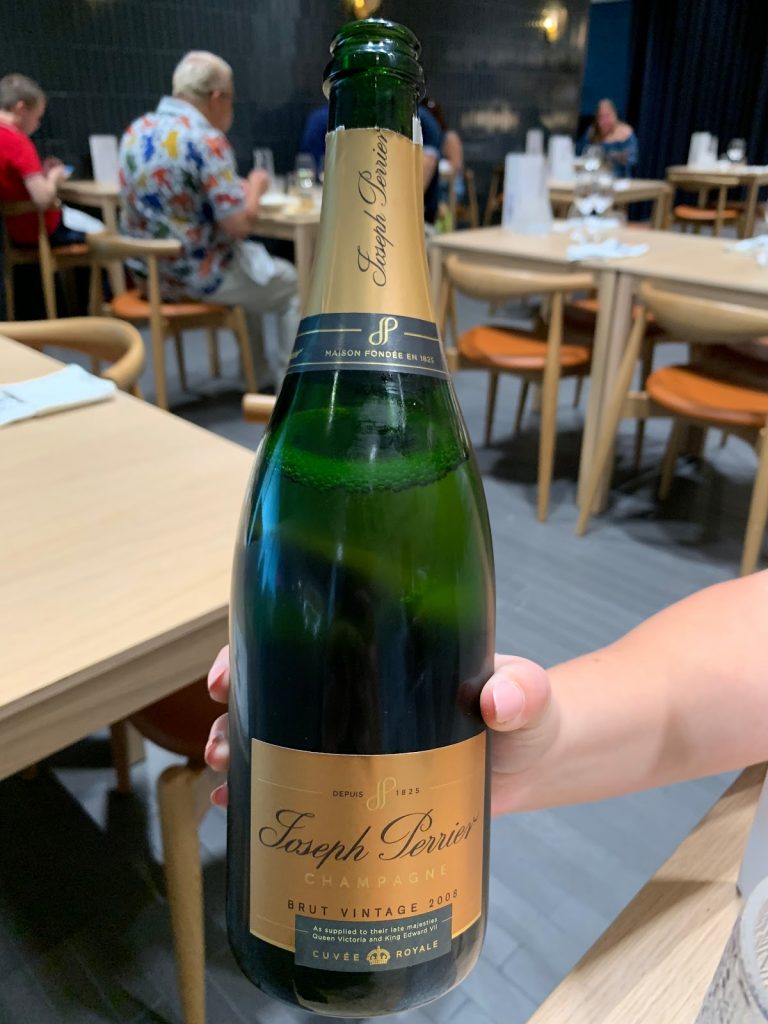 My partner asked for a beer and got a choice between local or international. He picked local after which he was brought a Finnish Karhu lager.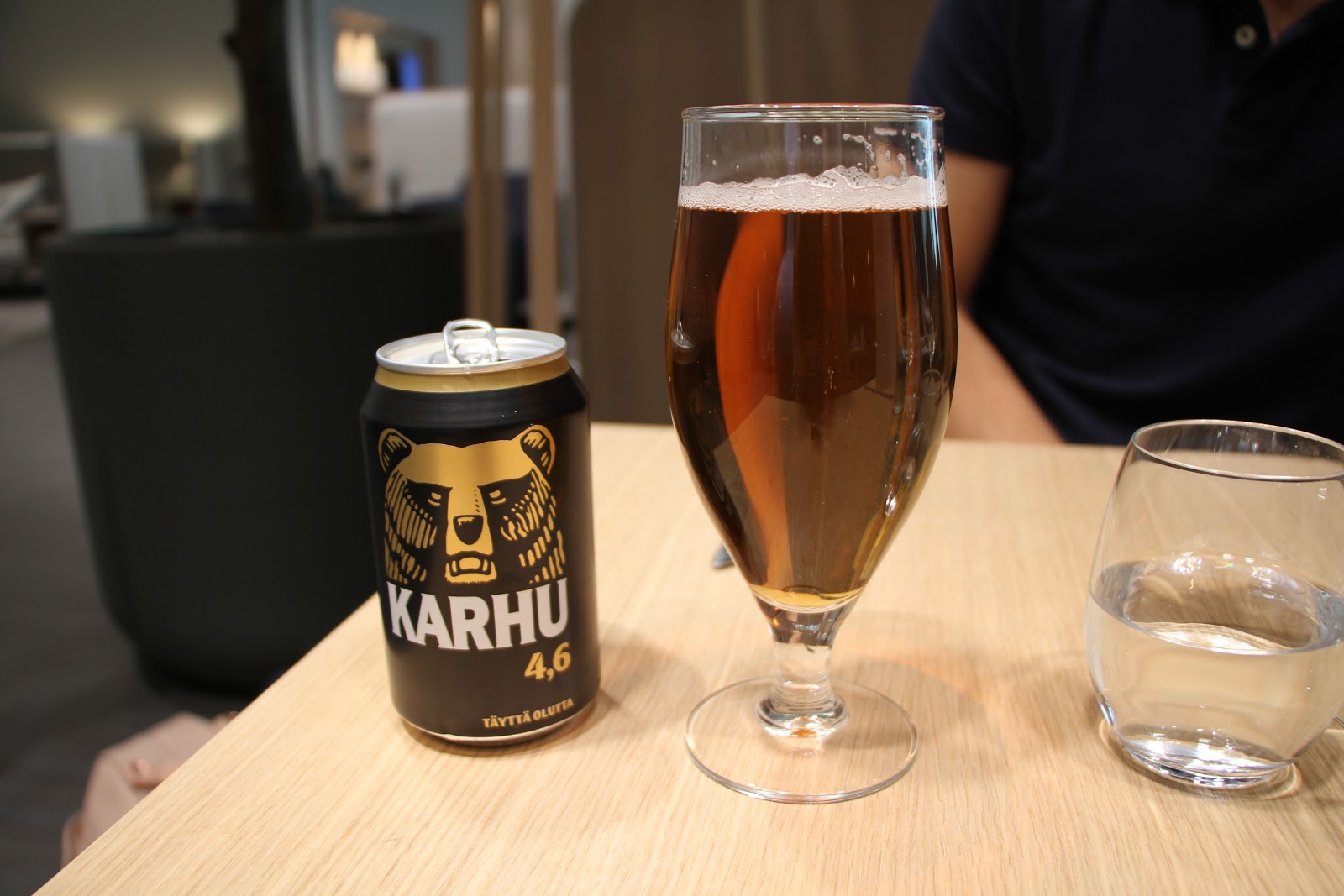 We were both pleasantly surprised with both of the dessert options. The berry pie was nice and moist and was paired nicely with vanilla ice cream.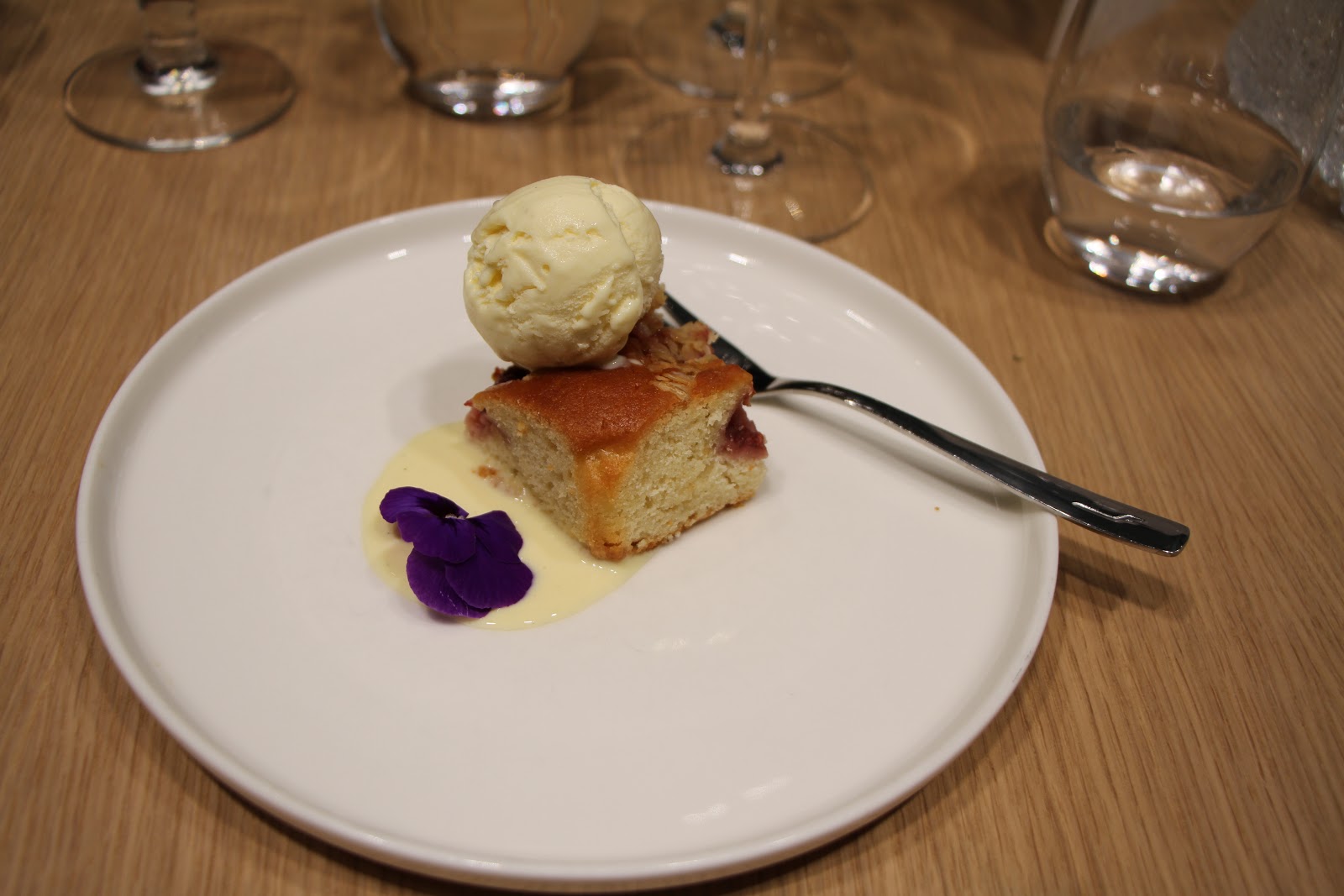 We weren't entirely sure what the sherbet and champagne was supposed to be when we ordered it, but that's exactly what it was – sherbet in a bowl of champagne! The combo actually worked well as it was a light yet flavoursome dessert to have with my glass of… champagne.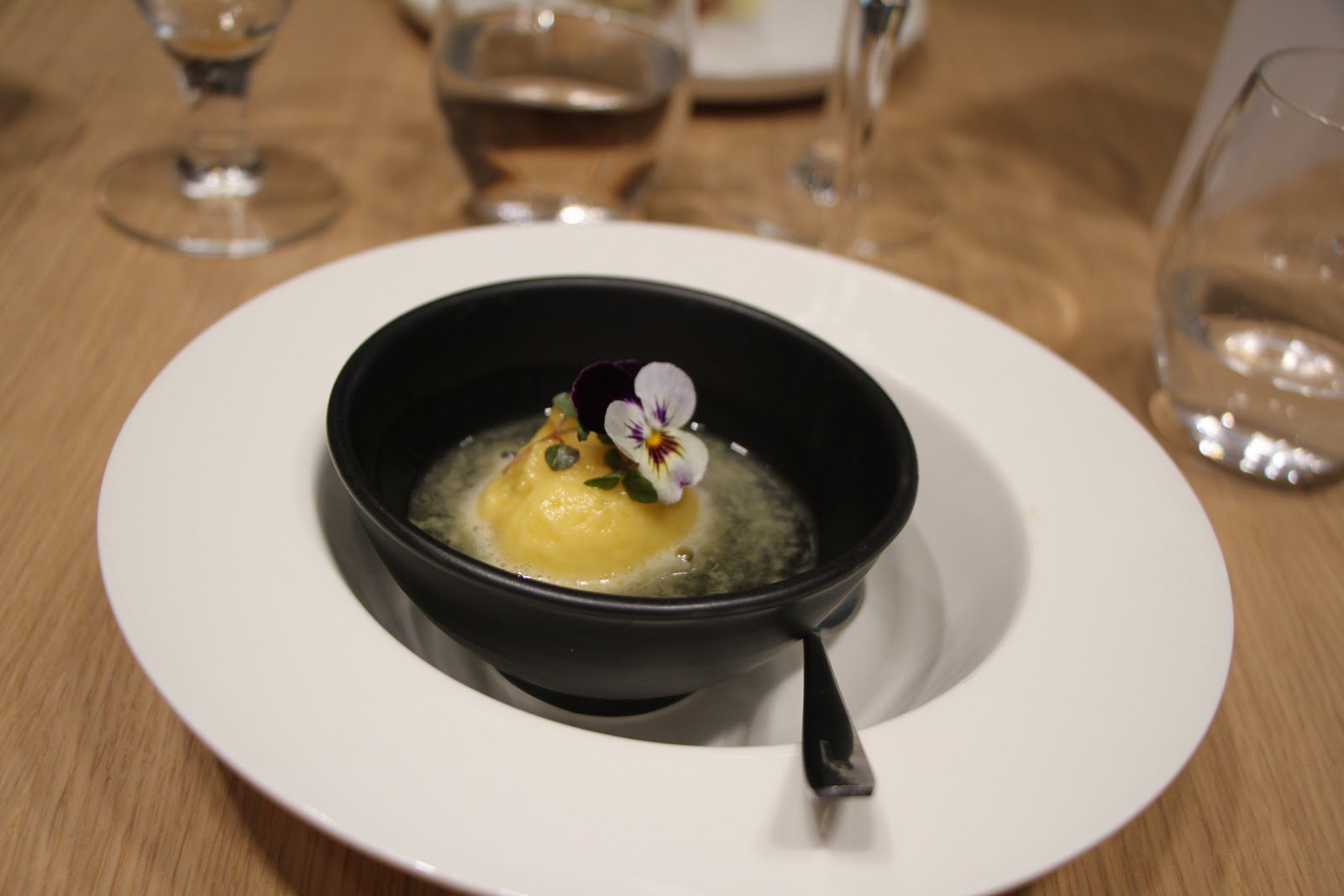 All in all, I am not sure whether we were looking for breathtaking Finnish flavours or had our expectations set too high, but neither me nor my partner were very impressed with the à la carte menu.
In my opinion, the selection in the buffet was much more substantial and incorporated a lot more palatable flavours.
The buffet area also contains a DIY coffee station if barista-made coffee isn't really your thing.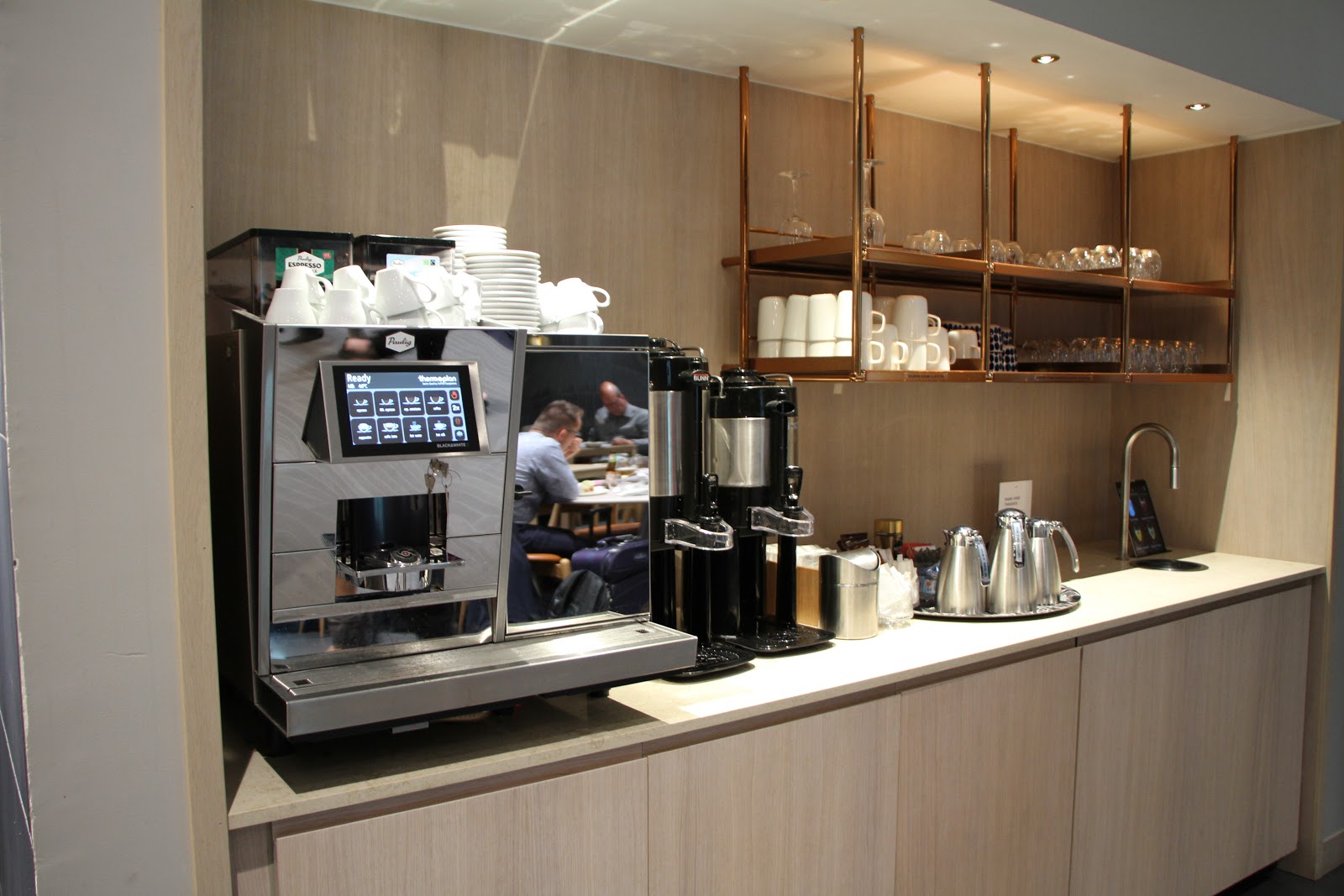 You can use the coffee machine to make yourself a coffee or help yourself to hot water to prepare a cup of tea or hot chocolate.
In addition to regular milk, you have a choice between oat milk, soy milk and lactose free milk.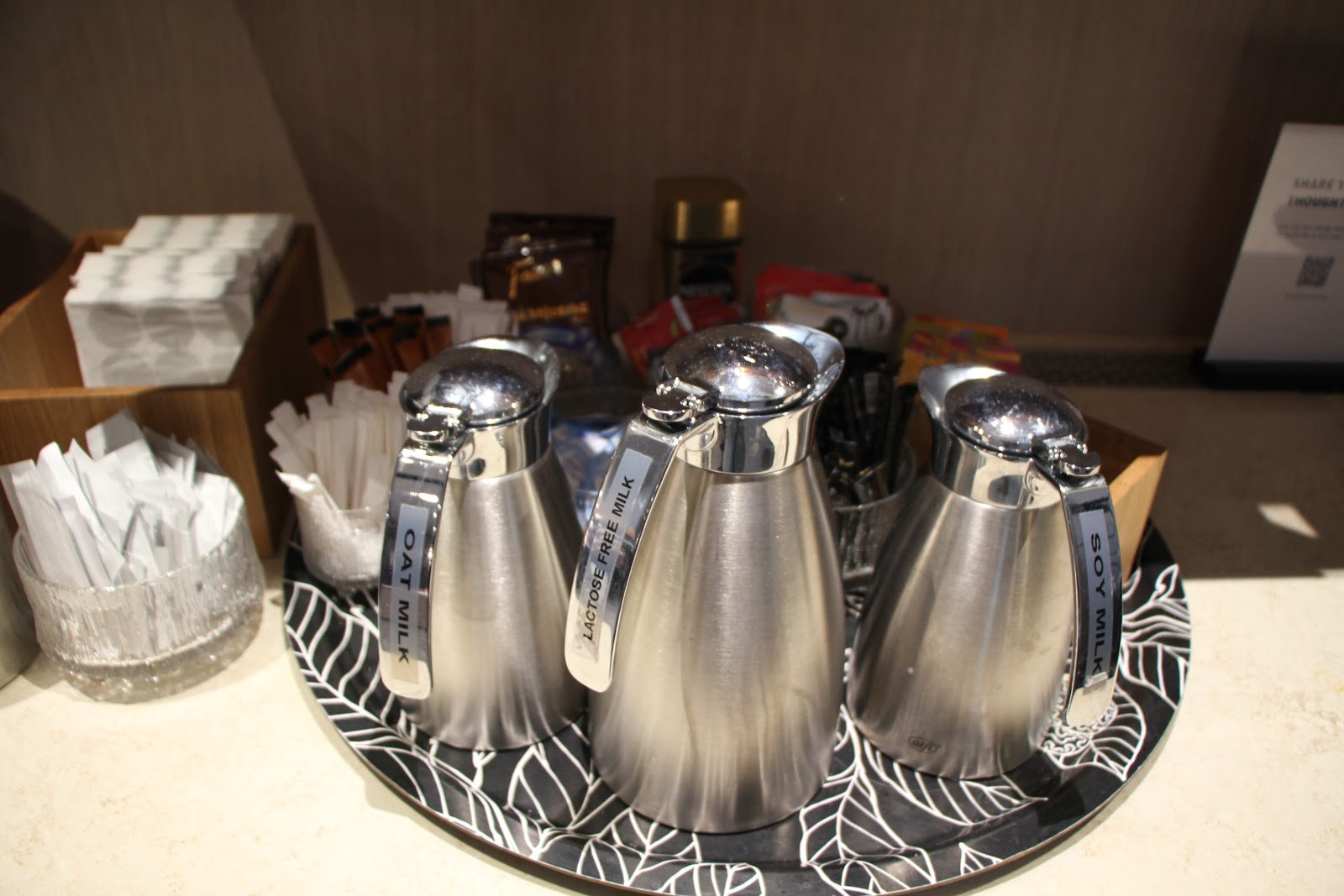 There is also a drinks 'tap' that in addition to cold water distributes a selection of fruit drinks.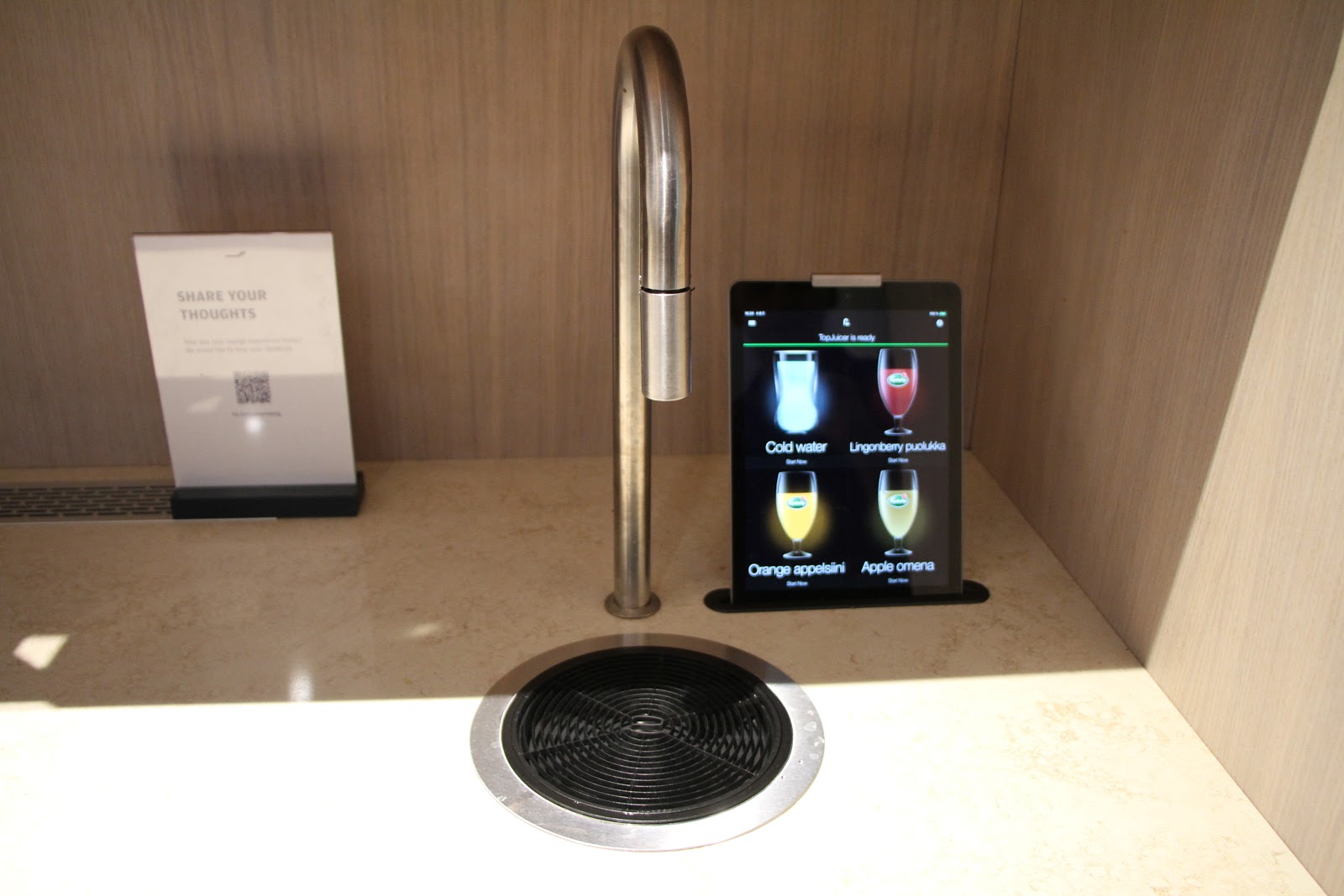 That's pretty much all you can find in terms of self-serve drinks. Everything else can be ordered from the bar, including wines and beers, as well as all of the non-alcoholic beverages.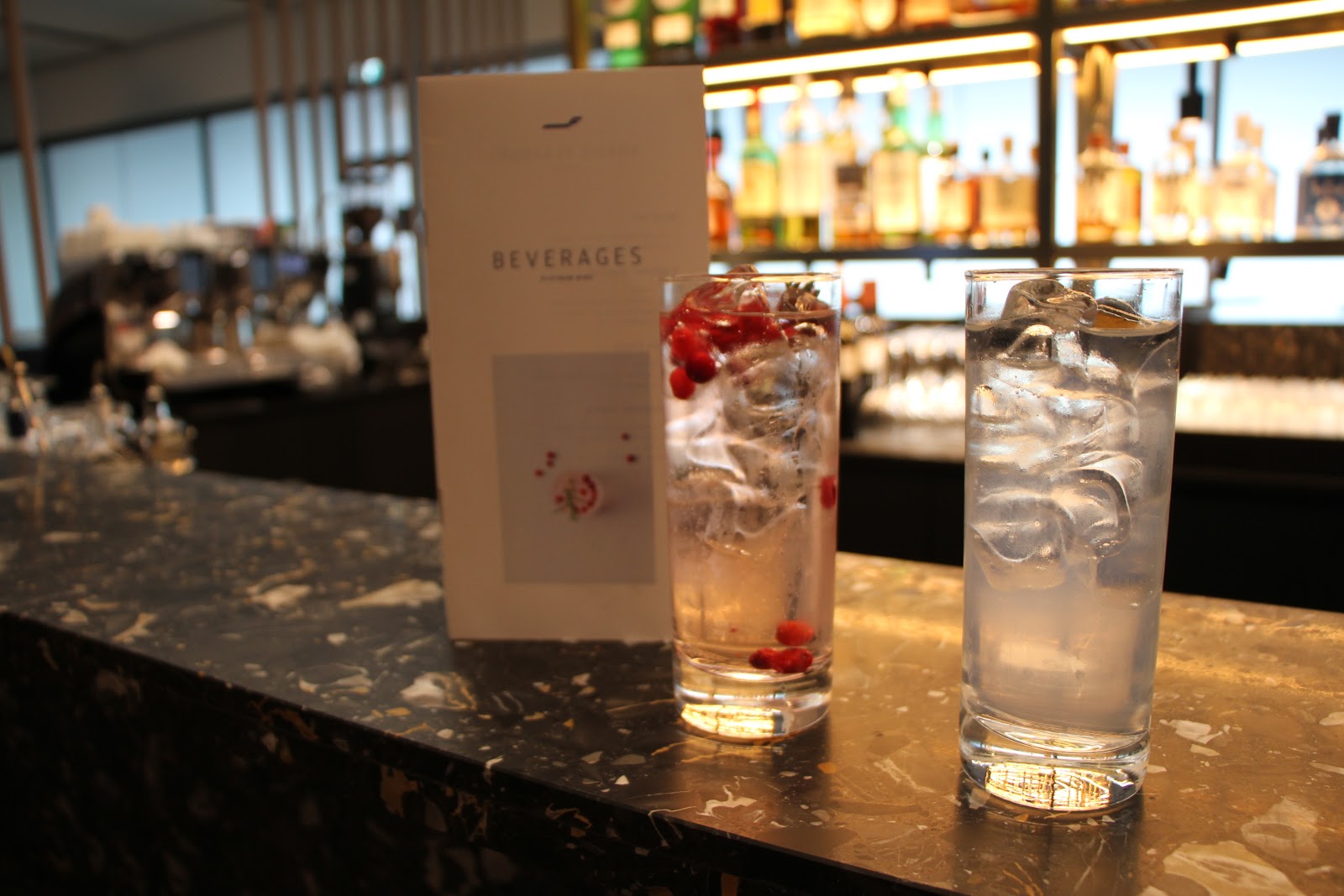 The bar is also where you can order barista-made coffee.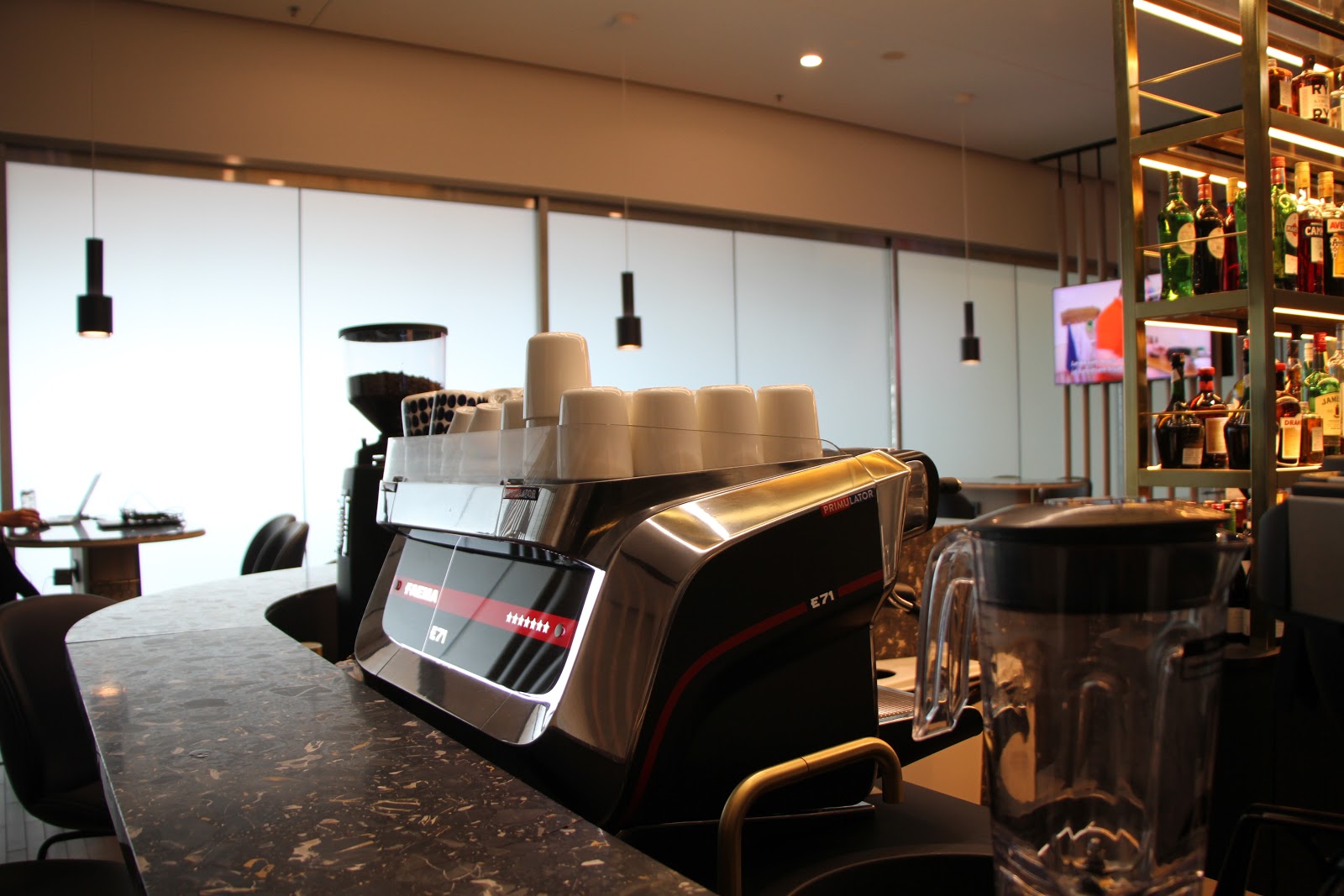 The fully stocked bar features an assortment of traditional spirits as well as an impressive line-up of Nordic gins.
There is an extensive beverage list including classic cocktails and mocktails, as well as a selection of special Nordic flavour cocktails.
Beer- and cider lovers can choose from a selection of local and international brews.
As there is no designated wine list, you can ask the bar staff for a wine recommendation, or treat yourself to a glass of champagne.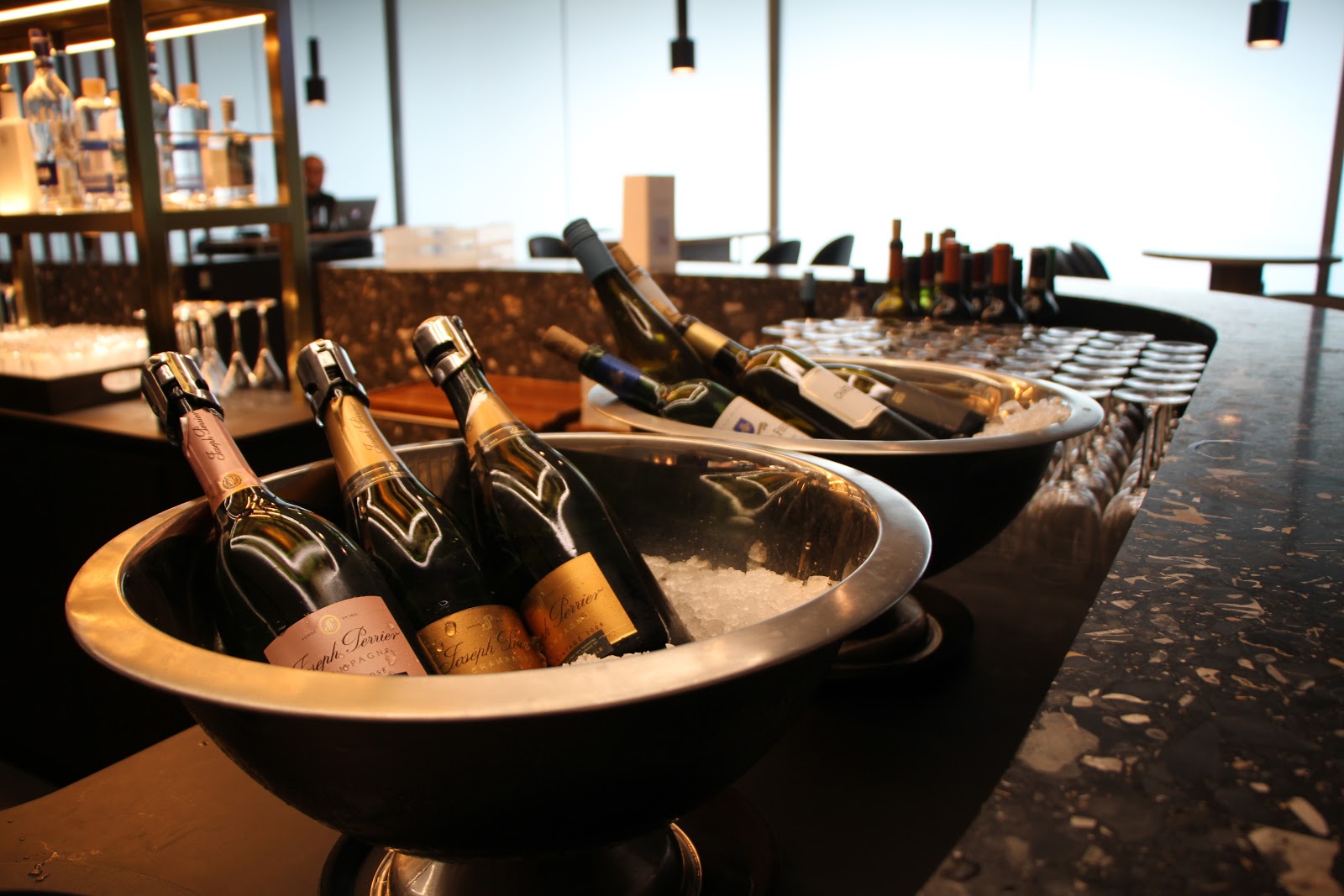 You can help yourself to salted nuts and pretzel sticks to accompany your chosen beverage.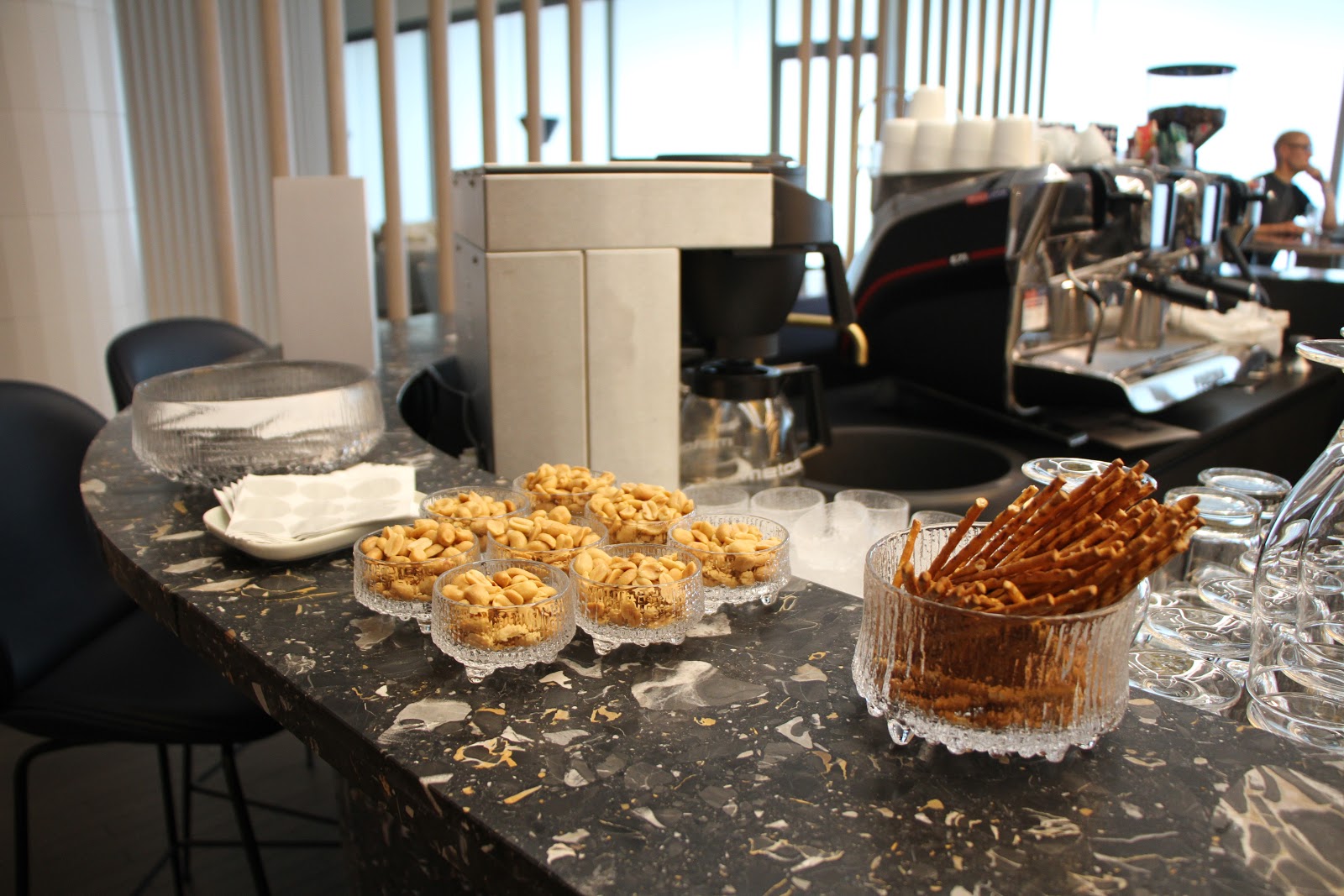 There is also flavoured water available at the bar, served in beautiful Iittala Ultima Thule glassware that is inspired by the melting ice in Finland. Finnair also uses this type of glassware in their Business Class cabin.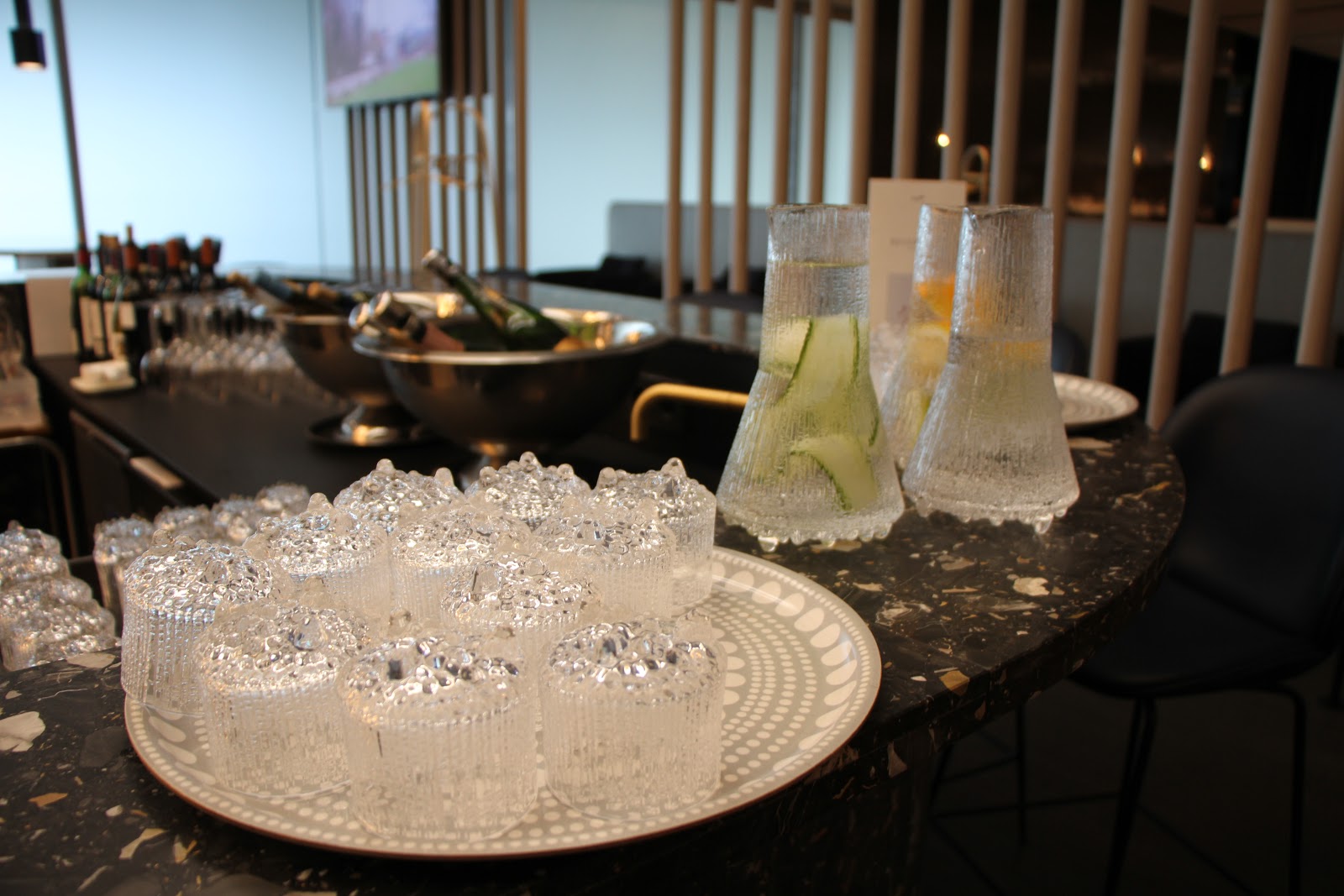 Bathroom, showers and sauna
The deep dusky tones are also carried into the shower and bathroom facilities, where you can find a continuous rich colour scheme of navies and greys, as well as copper finishing on the details.
The ladies bathroom included four separate cubicles, one of which was out of order.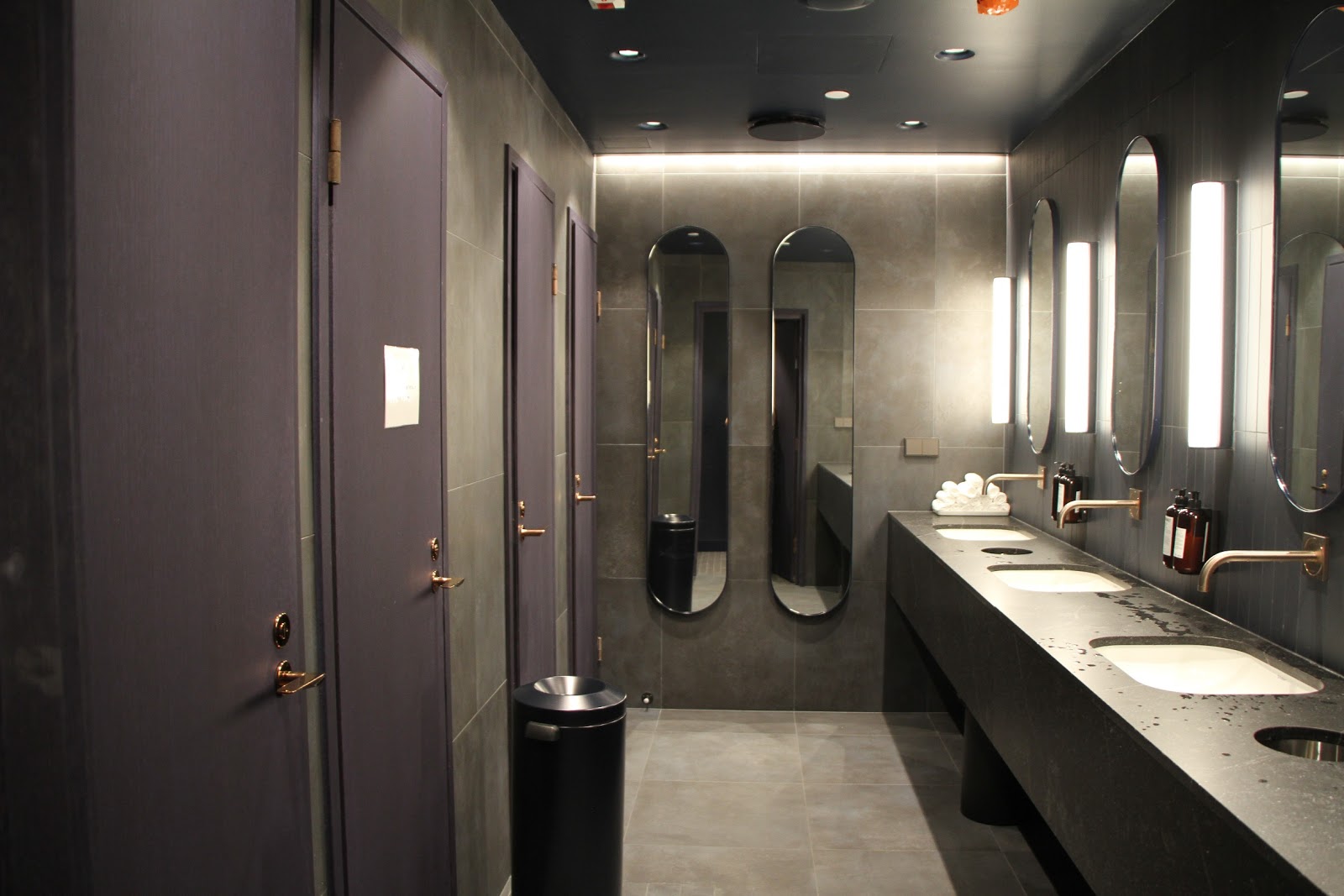 In addition to the big vanity in the common area, each cubicle also contained a little sink of their own.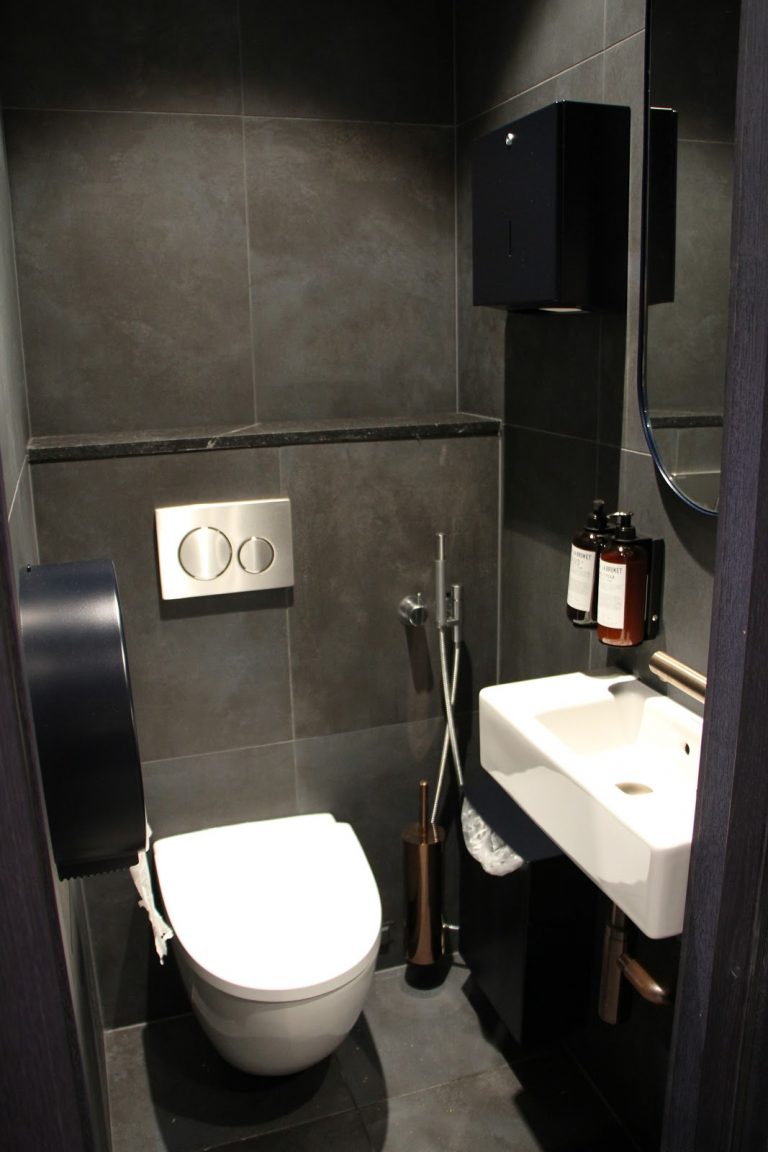 Although the bathroom itself was rather dark in terms of lighting, the mirror lights were situated perfectly to provide enough glare to fix up your hair or touch up your makeup.
The bathrooms are fitted with quality hand washes and creams, as well as fabric- and paper hand towels.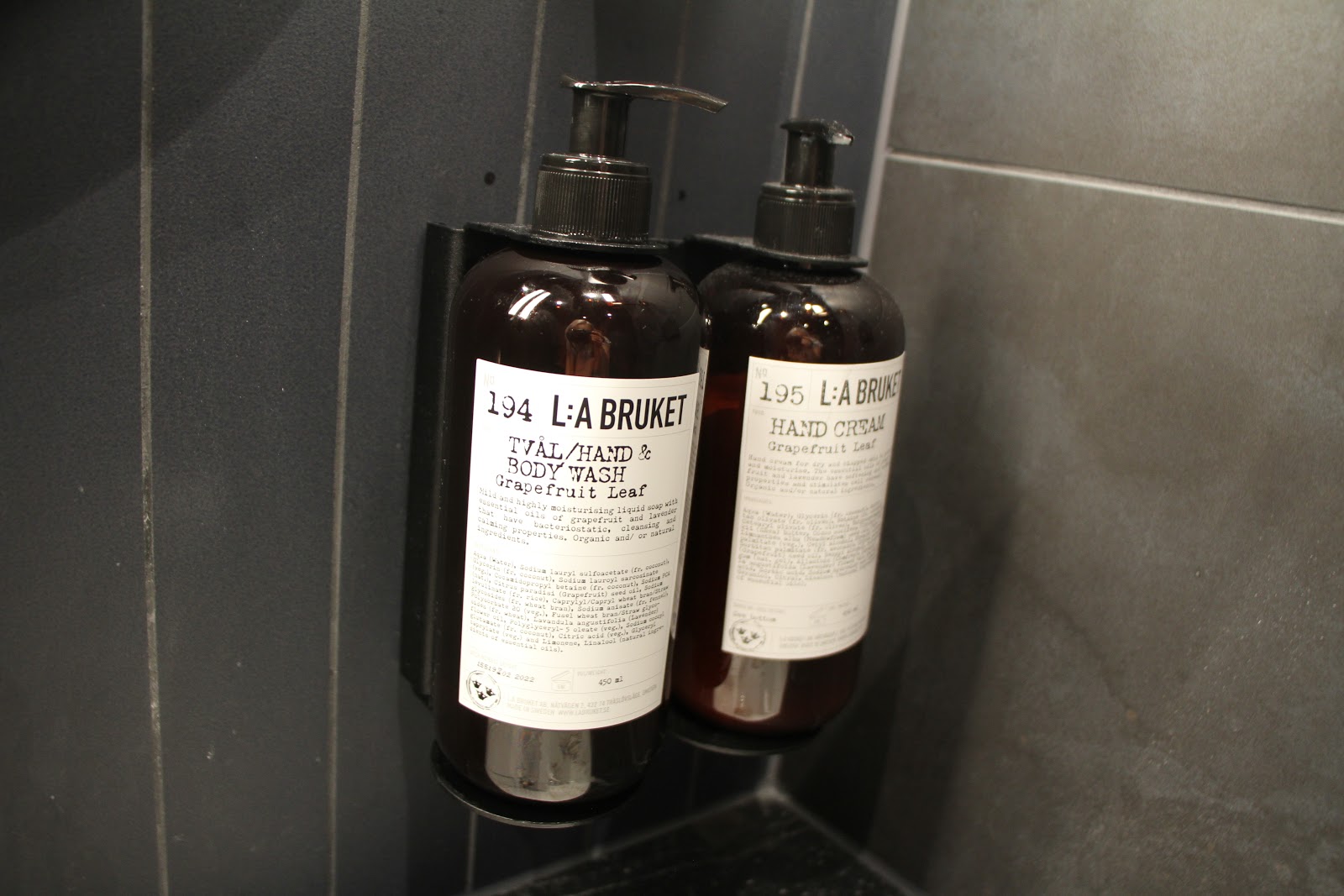 There are only three private showers in the lounge which isn't a lot, but taking into consideration that the Platinum Wing lounge is for Platinum members only, the three might suffice.
During my visit the lounge wasn't very busy, so I can't vouch for the showers to not be booked out during peak times in the lounge.
You can book a private shower room for 30 minutes at a time by using a touchscreen booking system located on the wall.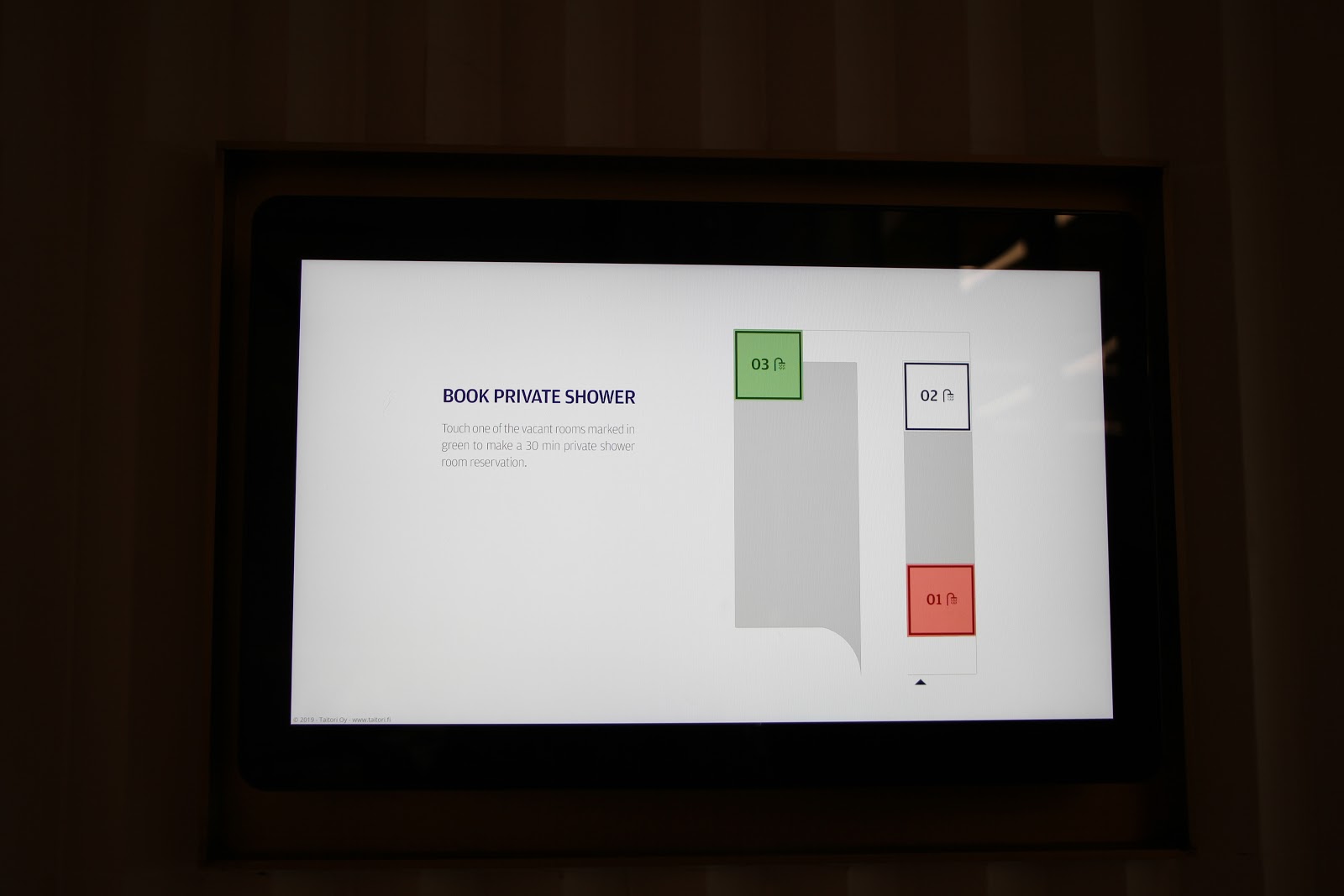 The shower cubicles are fairly big and incorporate a rainfall- as well as a hand held shower.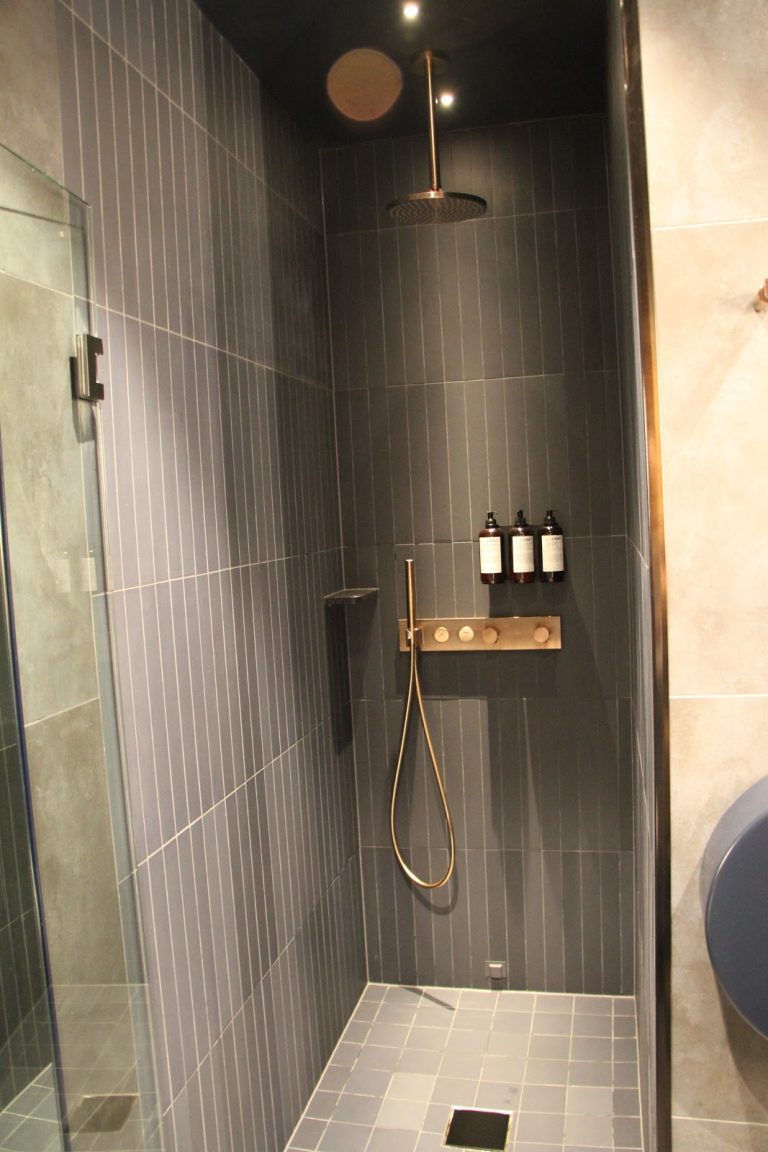 You can find a towel, a robe and a pair of slippers in each of the shower suites, as well as a hair dryer and a range of toiletries.
Each of the shower suites also contains a toilet that is situated awkwardly close to the wall. Any person of bigger size would have their side rubbing against the wall whilst sitting down, which can be uncomfortable as well as unhygienic.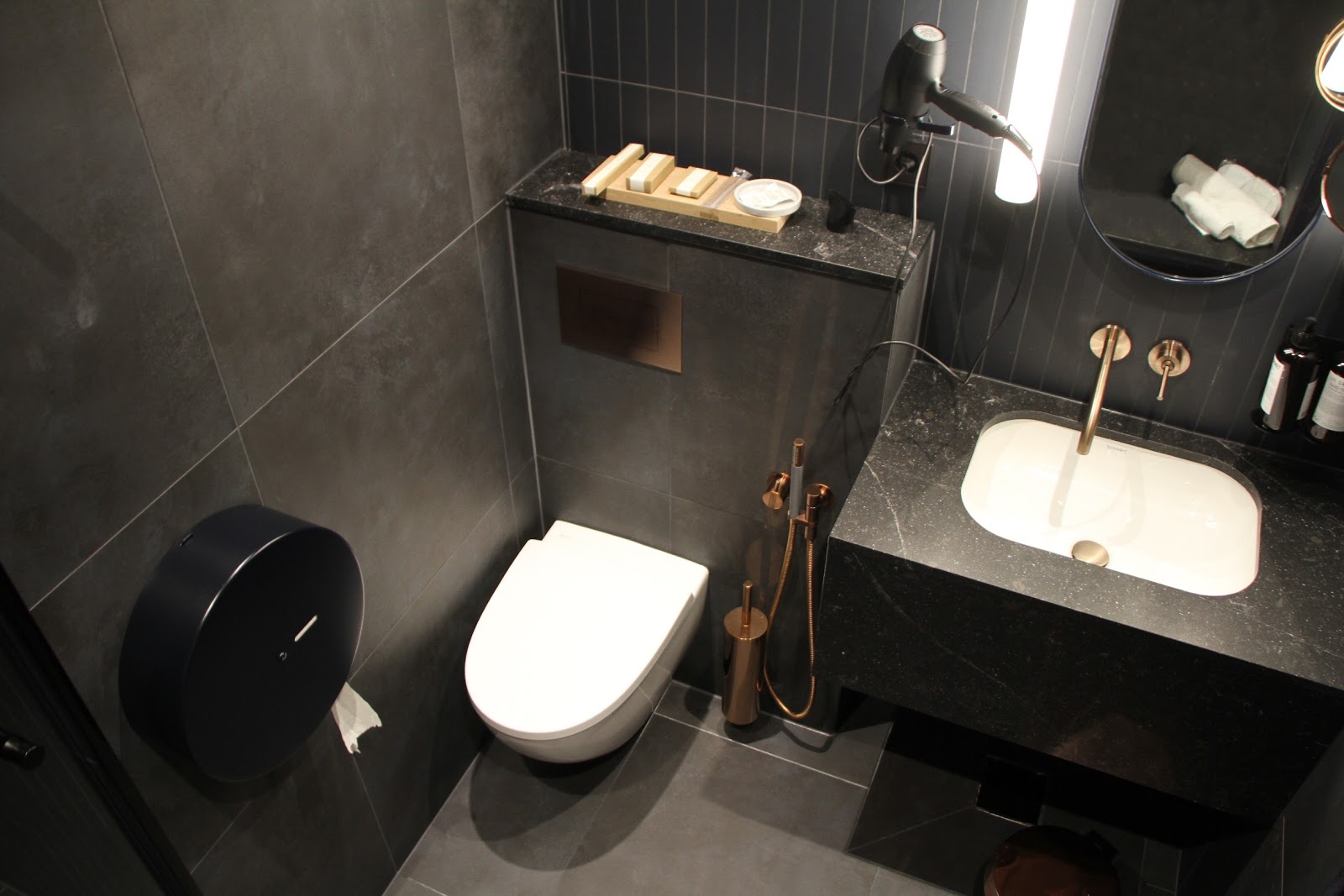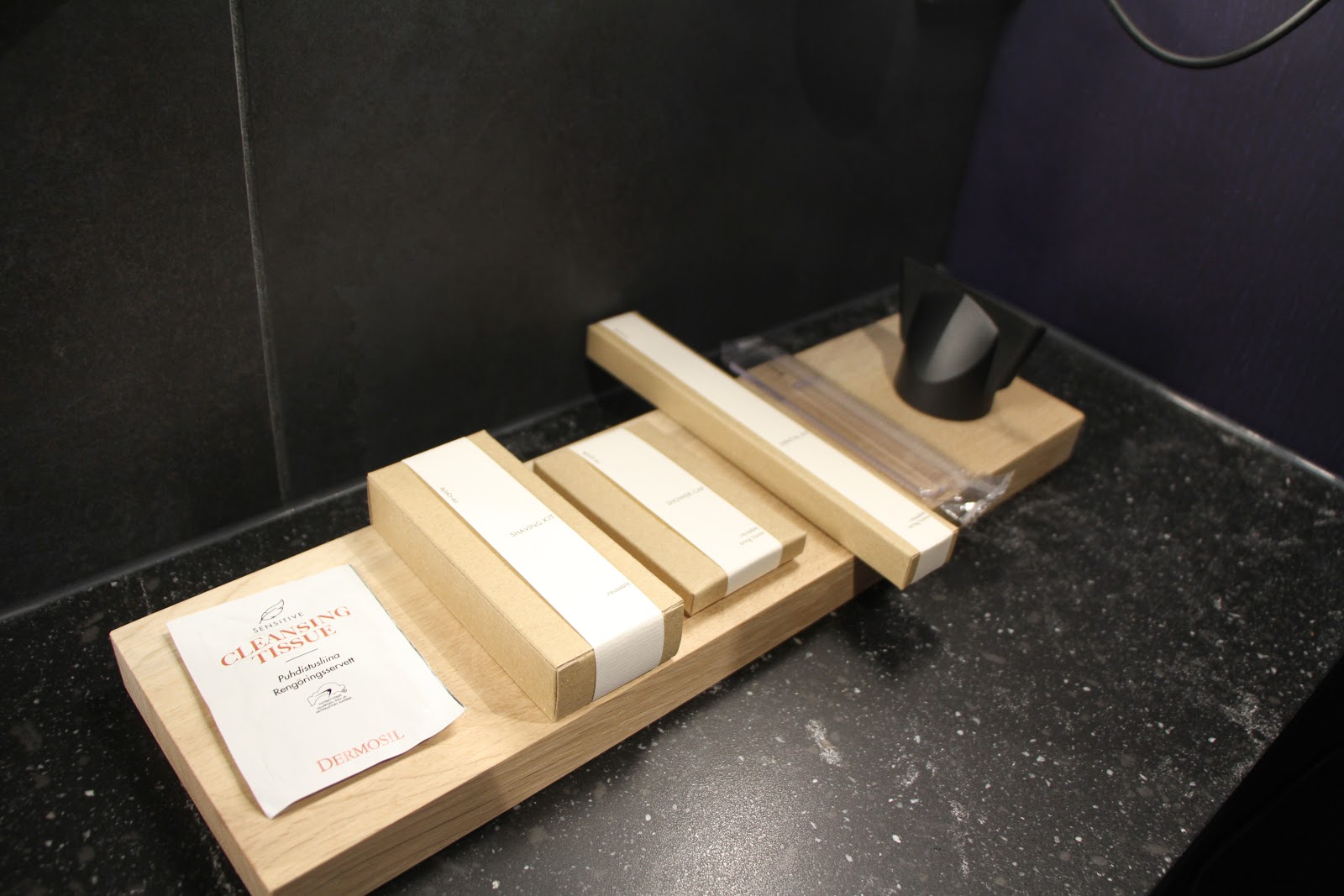 Nourishing products for your hair and body are located in the shower.
Sauna
The most talked-about feature of this lounge is the sauna – something that the Finns take very seriously.
The unisex sauna can be accessed through separate dressing rooms for men and women.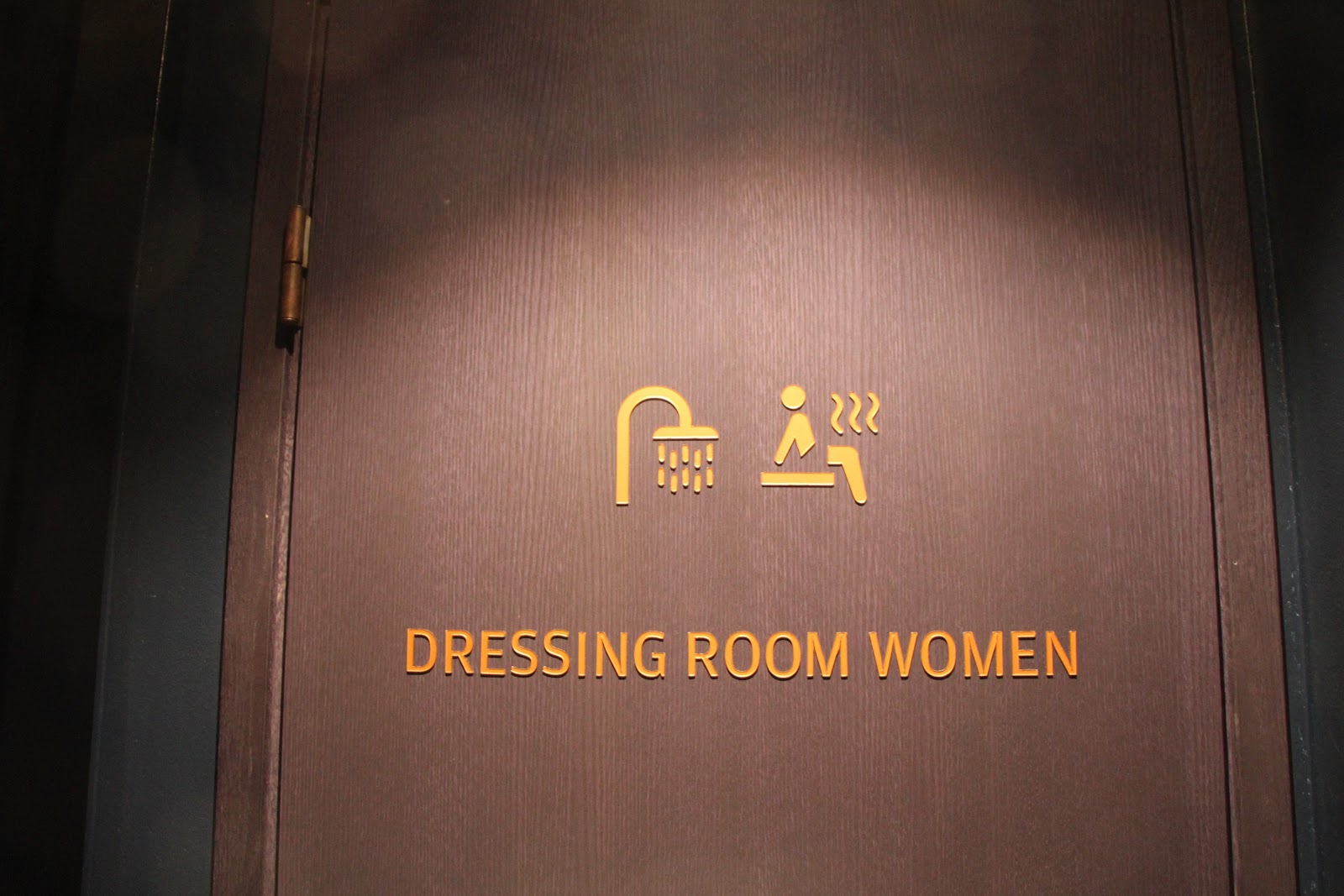 The dressing room has a very luxurious feel to it, and even though not very big in size, it contains all of the essentials.
You can find a vanity table with a big round mirror, supplied with a hair dryer and toiletries.
You can store your belongings in a secured locker.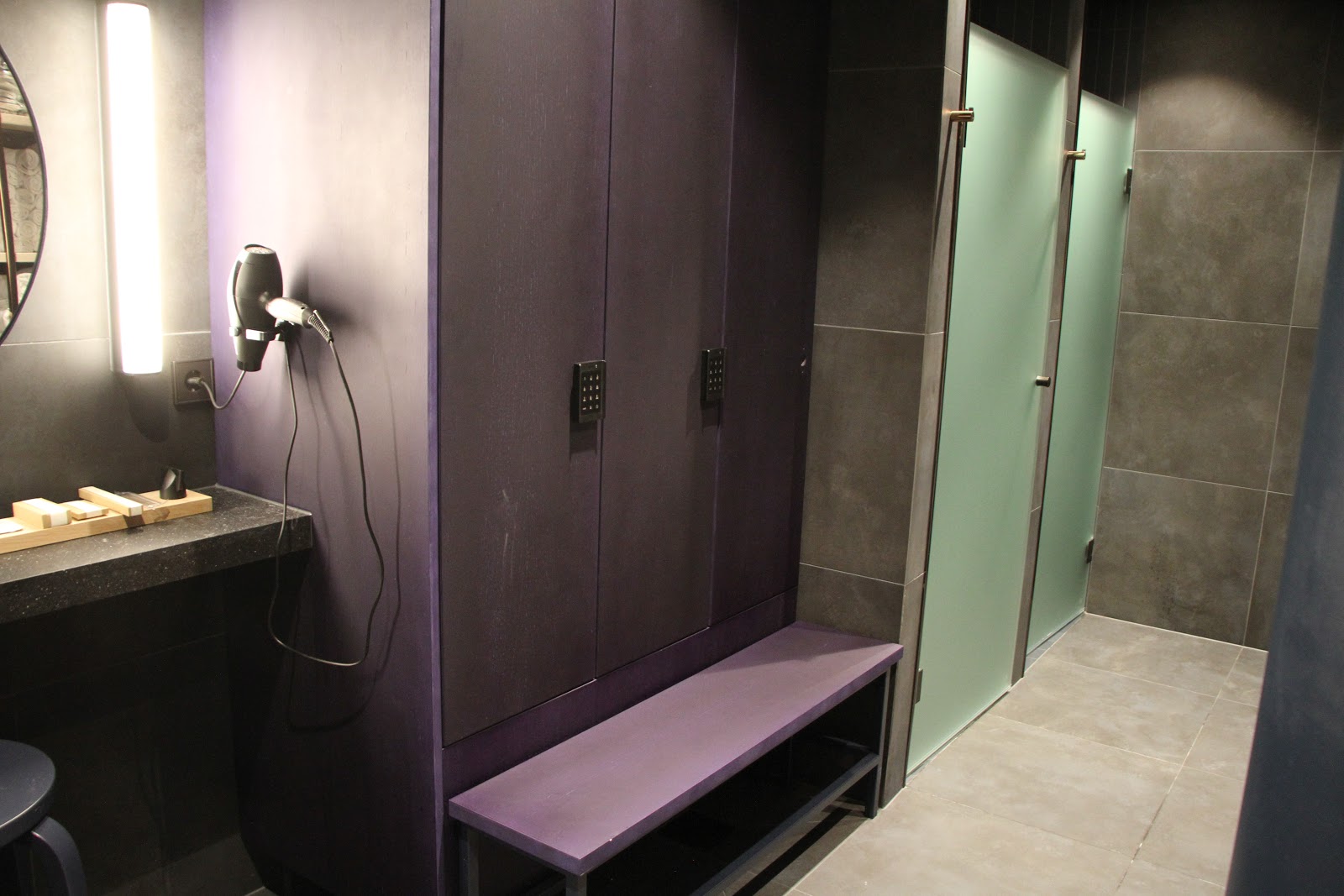 As it is a unisex sauna, you are expected to be towelled-up at all times. You can find plenty of towels and slippers in the dressing room.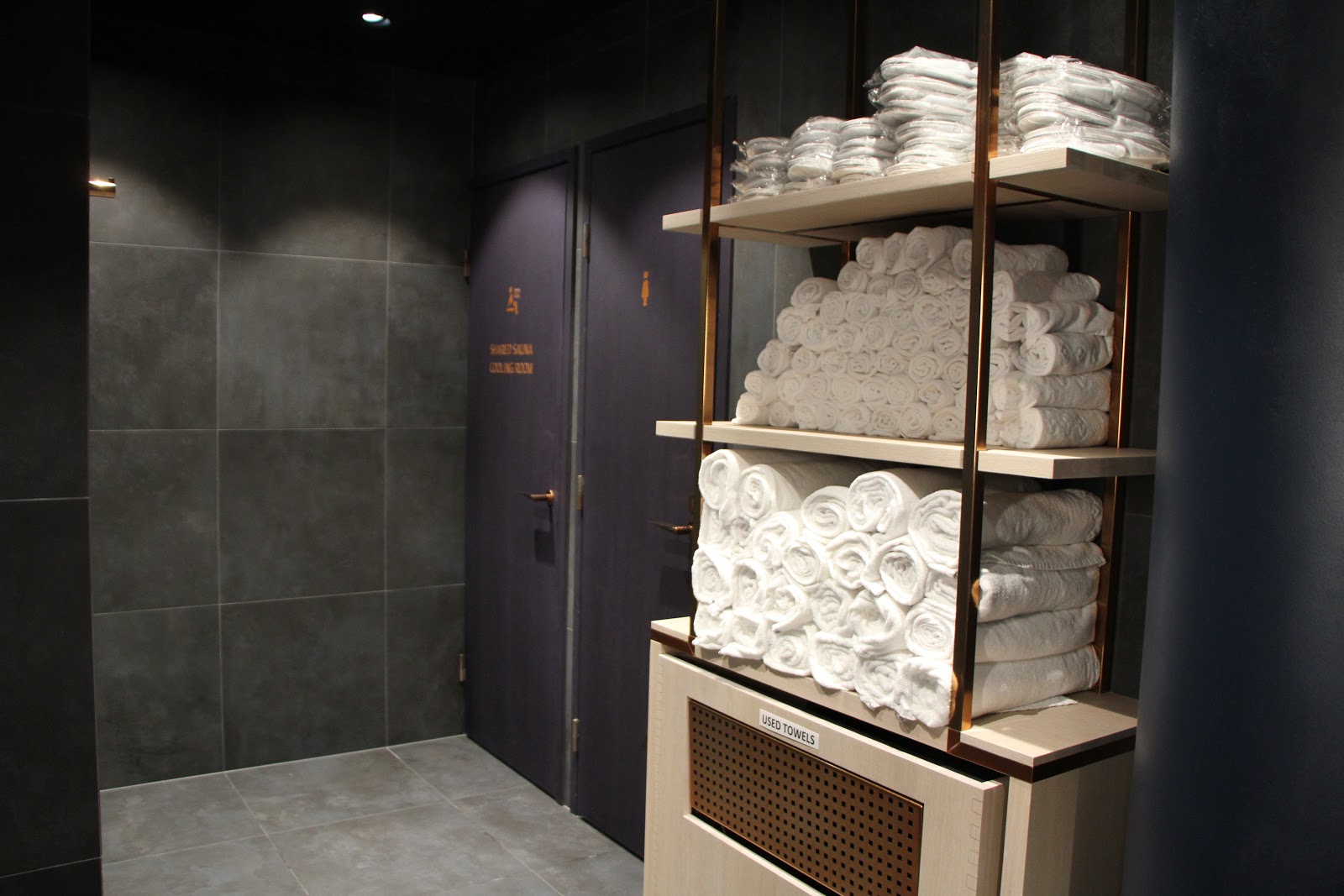 The dressing room also contains two shower cubicles and a toilet. These can come in handy if all of the private shower suites are booked out.
Going through the dressing room you will find a communal cooling area with cosy seating, real nature sound effects and mood lighting that is adjusted to change depending on the outside lighting.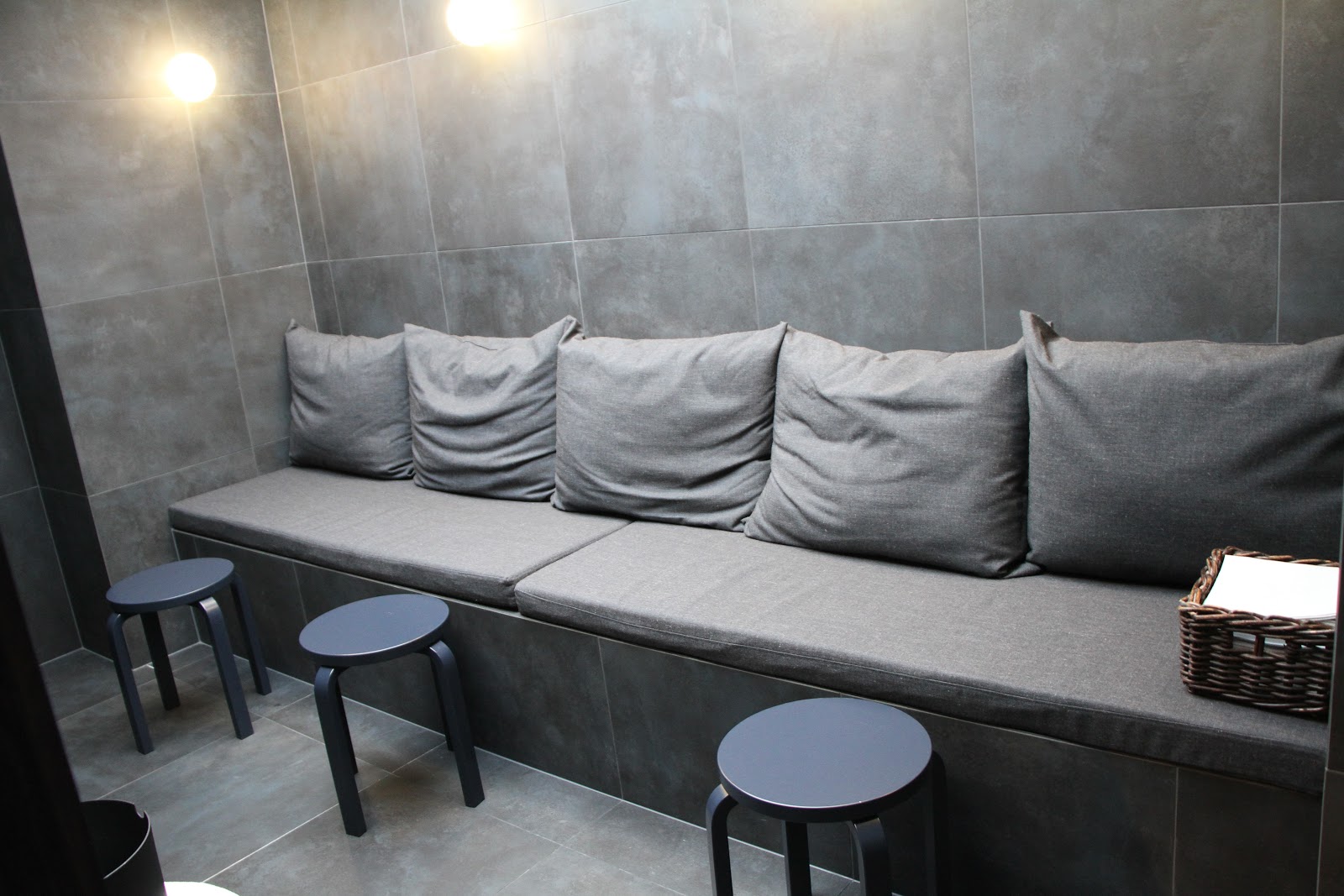 The cooling room is a great space for you to sit back and grab a bottle of cold water from the ice bucket after sweating it out in the sauna.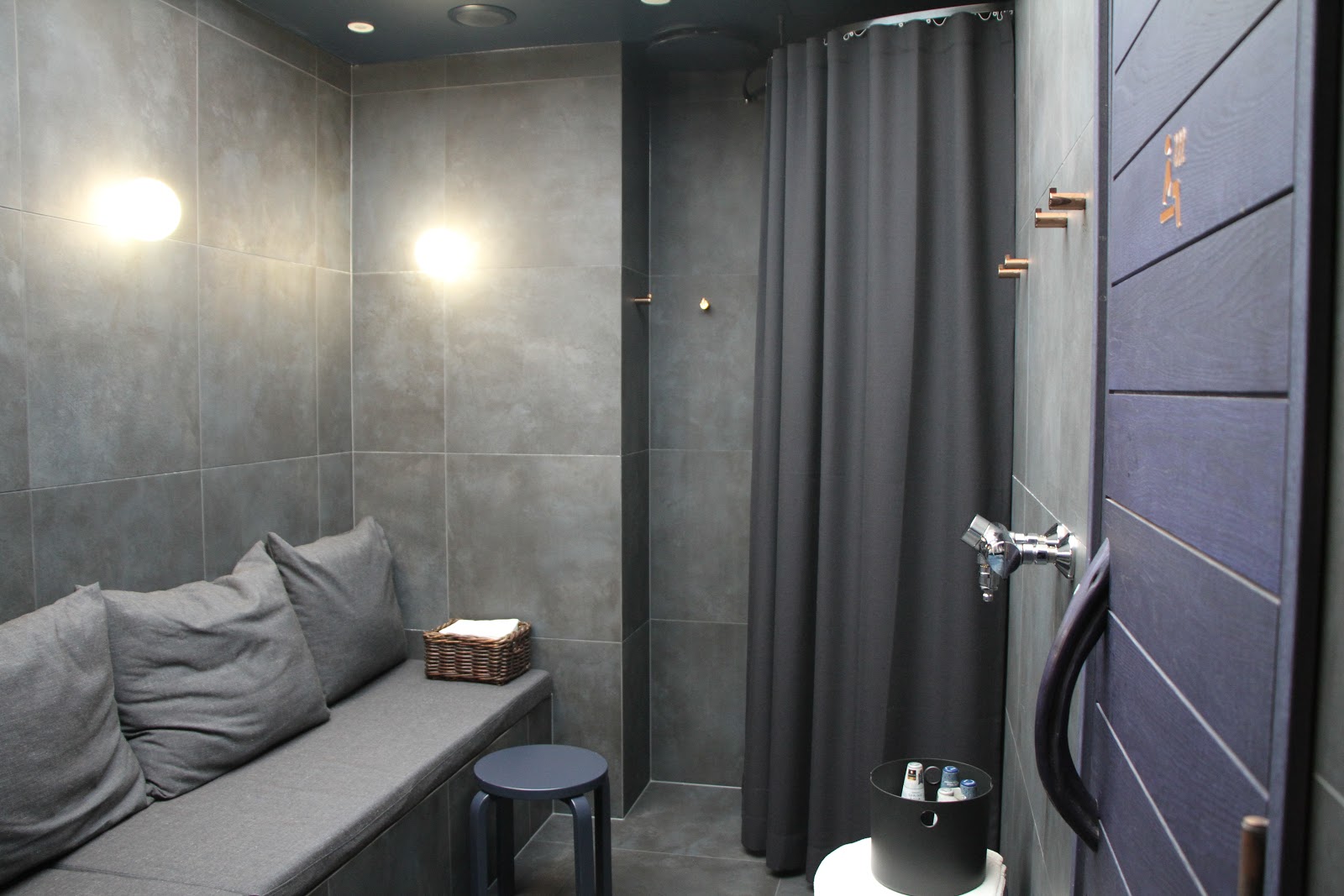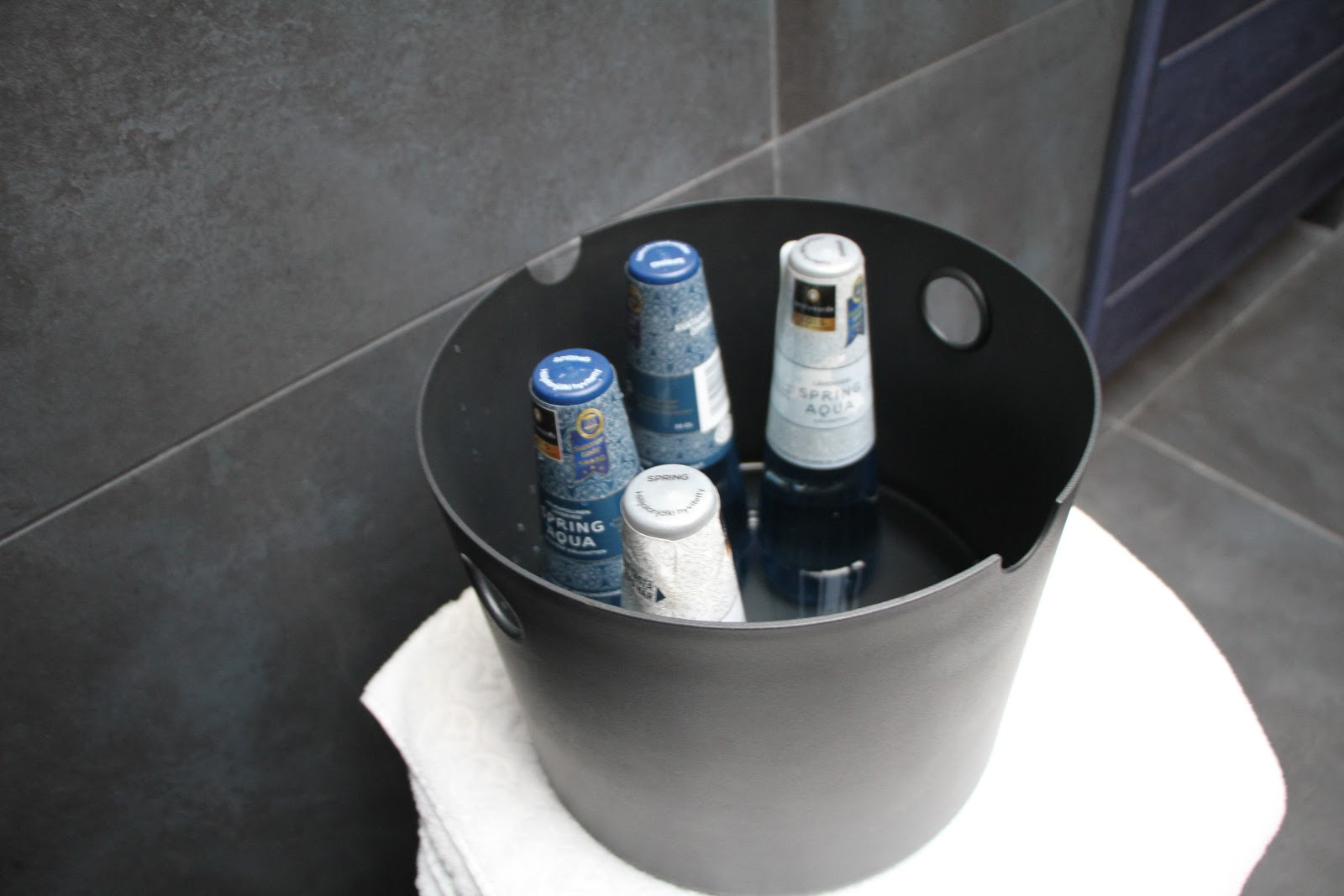 The sauna itself is a great replication of an actual Finnish smoke sauna. The walls are lined in darkened natural aspen wood, and there are different levels you can sit at, depending on how heat-tolerant you are (the higher you sit the hotter it is).
A bucket with a ladle was always filled with water, ready to be thrown on the rocks to produce heat and steam. However, there is a tap outside in the cooling room in case you need to fill up the bucket.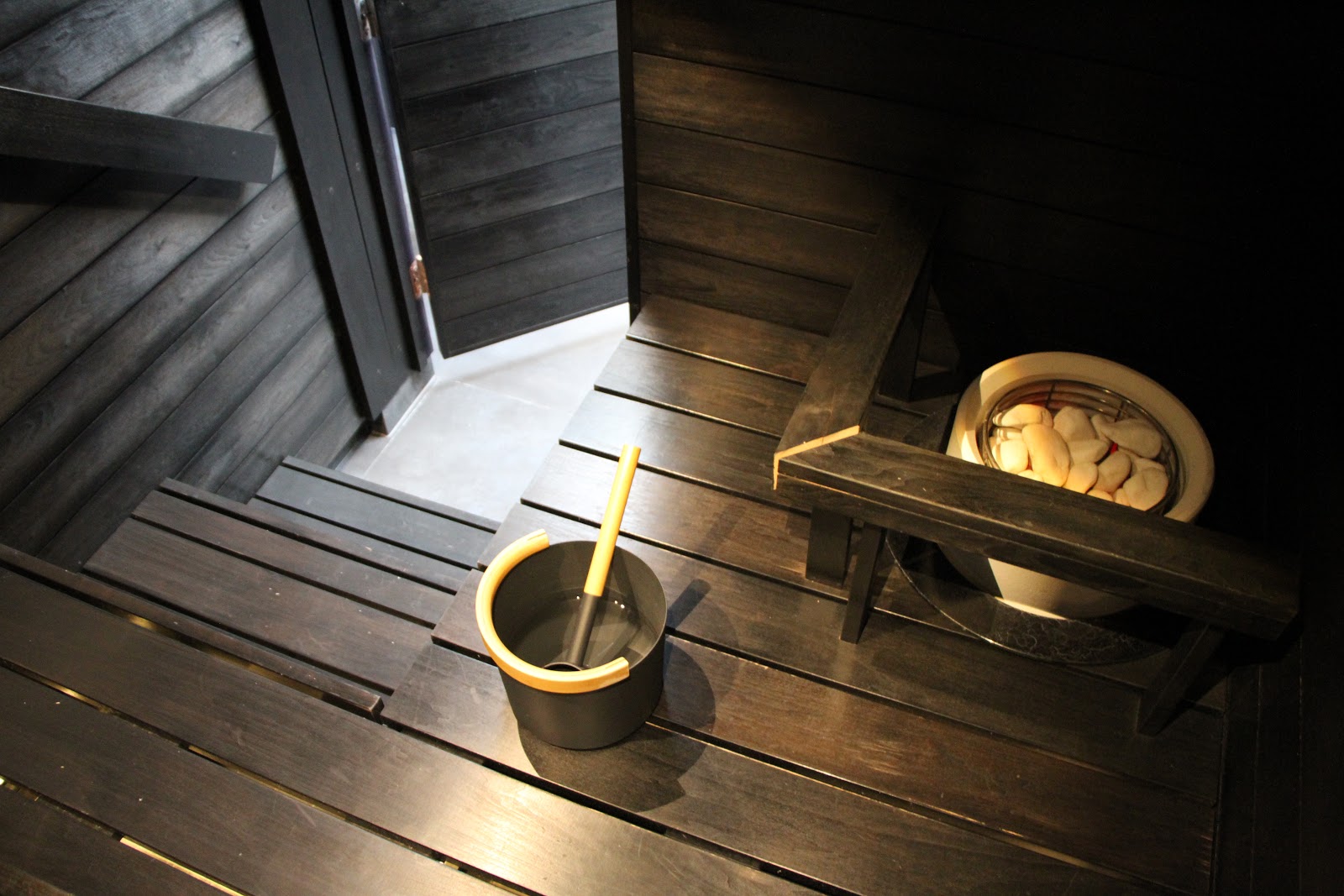 Other amenities
Complimentary Wi-Fi is available at 19 Mbps download and 19 Mbps upload speeds, which is more than enough for working, web browsing or video streaming.
There is also a selection of local and international magazines and newspapers to browse.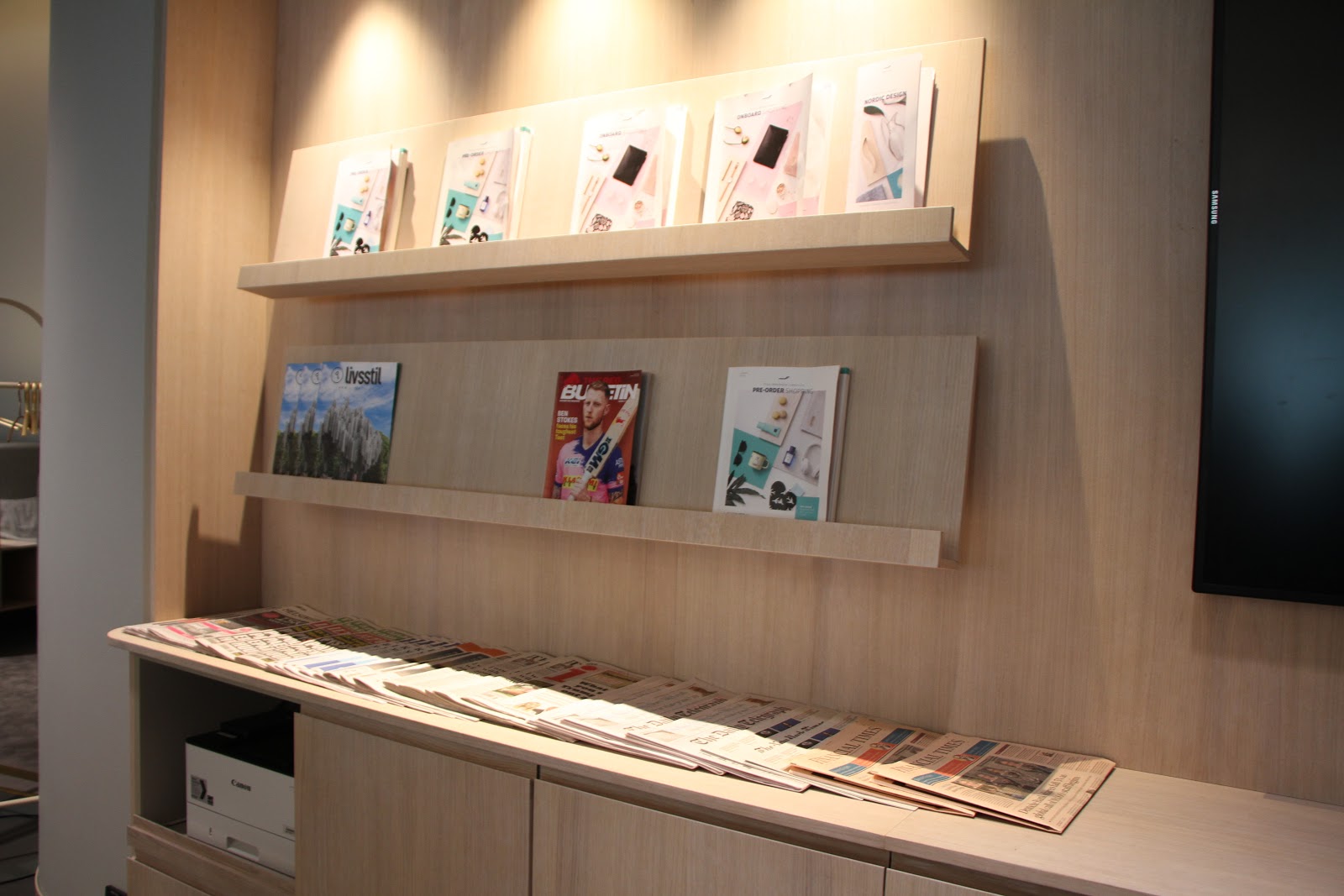 A couple of TVs in the bar- and dining area show local television programmes, whilst the rest of the screens across the lounge display departures information.
There's also a separate storage room with secured lockers where guests can keep their bags and valuables.
There are quite a few lockers, all with 4-digit locks on them.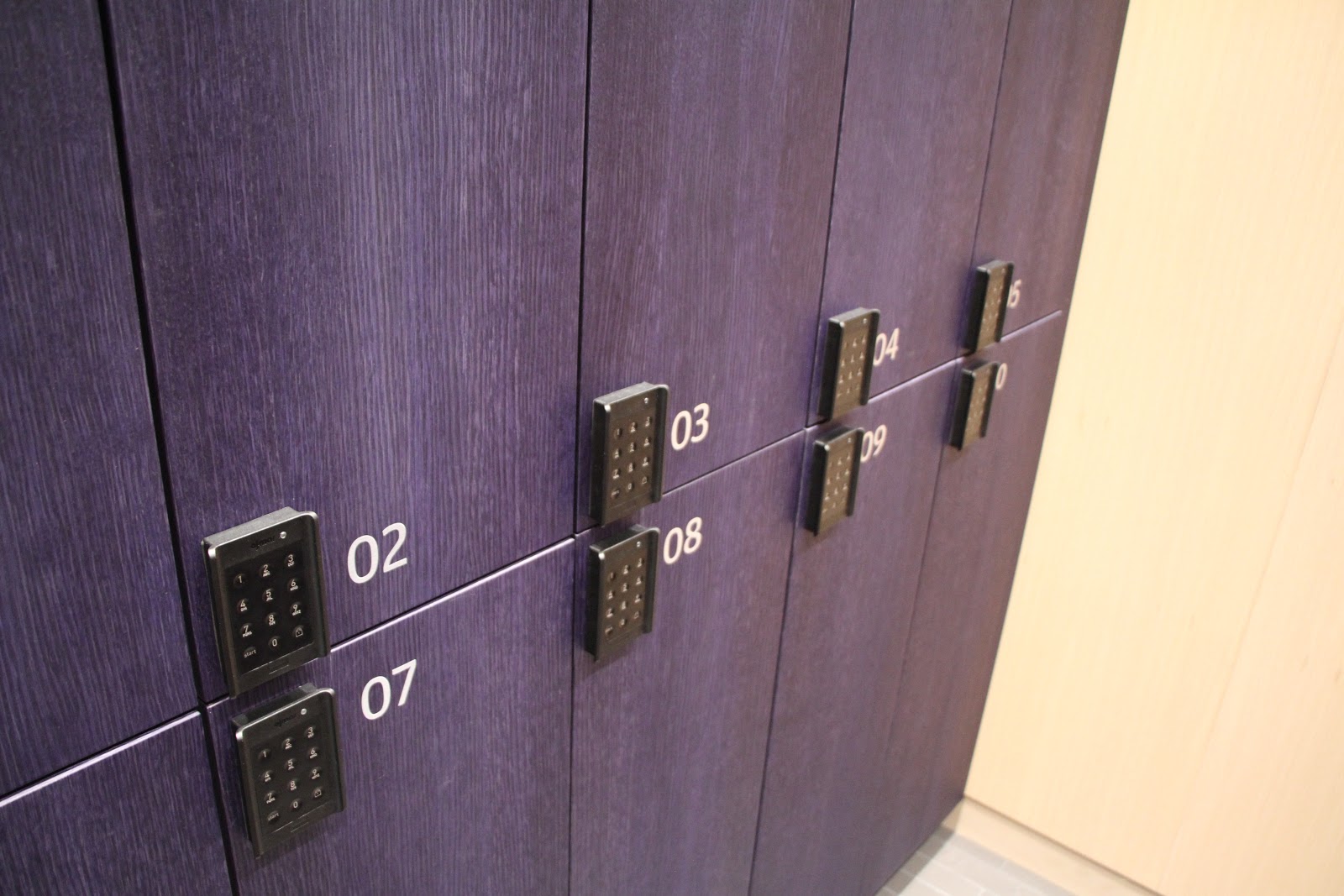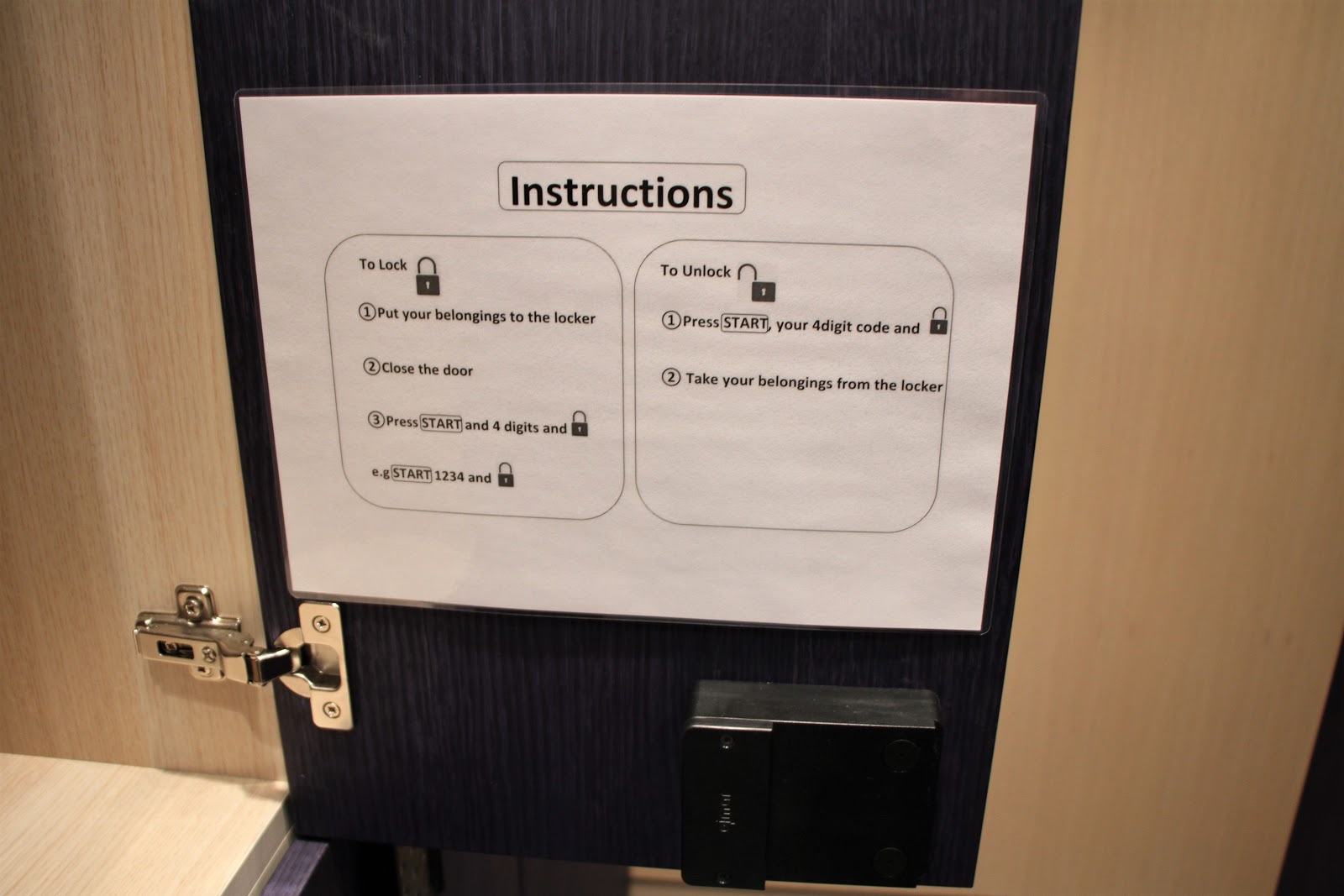 The lockers are quite spacious and also contain a powerpoint, allowing you to store and charge your devices at the same time.
Lounge access options
You can access this lounge:
By airline frequent flyer status: Finnair Plus Platinum Lumo (+4 guests) and Platinum (+1 guest) members travelling on a Finnair or a oneworld-operated and -marketed flight departing from the non-Schengen area
By alliance frequent flyer status: oneworld Emerald members (+1 guest) travelling on a Finnair or a oneworld-operated and -marketed flight departing from the non-Schengen area
Temporary entry: Finnair Plus Gold members (+1 guest) members travelling on a Finnair or a oneworld-operated and -marketed flight departing from the non-Schengen area
Please note that Finnair Plus Gold members only have access to the Platinum Wing for a limited time until the renovations in the Finnair Business Lounge are completed. Furthermore, access for Gold members may be limited during peak hours.
Summing up: our take
Building upon the strong heritage of Finland and the Nordics, Finnair has truly upped their game with their exclusive Platinum Wing lounge.
Finnair does not cater First Class on their flights, so it's good to see that they've taken a unique approach to treat their Platinum and oneworld Emerald frequent flyers to a special members-only lounge.
The lounge itself features a lot of distinctive elements, whether they be the composed Nordic ambiance, the sauna, the Nordic-inspired bar menu or the à la carte dining experience, there is something for everyone.
As a growing airline, Finnair has done a great job in investing into their customer experience, and assuring that their high-status members are recognised and well looked after.
What is great
An exclusive members-only space
Different zones for working, relaxing and dining
A lot of power points to charge your devices
Secured lockers to store your belongings
Beautiful Nordic design with elegant finishes
Sauna
Widespread buffet, snack station and dessert bar
Friendly service
Bar service with unique Nordic beverages
Barista-made coffee
Great WiFi speed
What is not great
Only three shower suites
Limited outside views and natural light
À la carte dining only until 5pm
Average-tasting meals from the à la carte menu
Finnair Platinum Wing Helsinki overview
was last modified:
April 26th, 2022
by