The Air New Zealand Queenstown Regional Lounge was refurbished in 2017. The new and modern design of the lounge provides eligible Air New Zealand and Star Alliance status members a nice place and relaxing spot to unwind while waiting for their flight.
Lounge Details
After the full renovation, the size of the lounge was nearly doubled and looks fantastic with the introduction of the airline's latest lounge styling.
It is open one hour before the first flight until the last departure flight of the day.
Lounge Location
The Air New Zealand lounge is located landside on the upper floor of the airport terminal, above the boarding gates.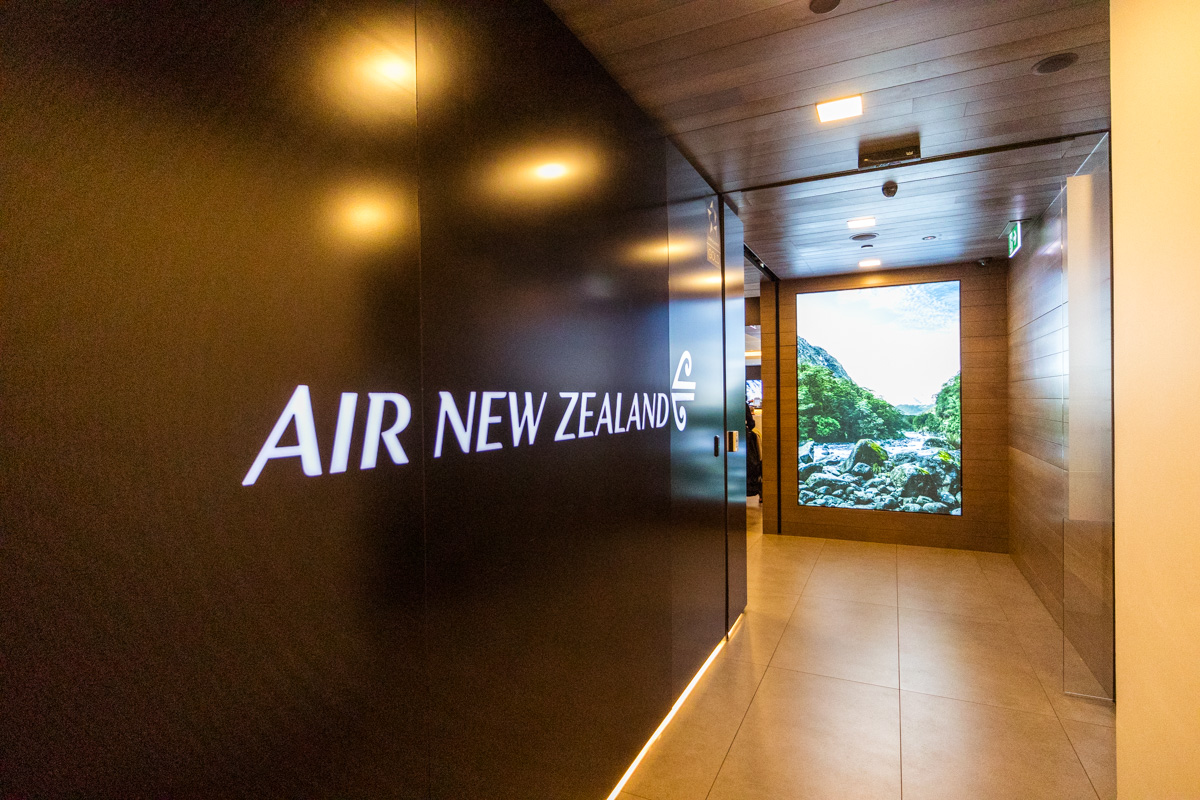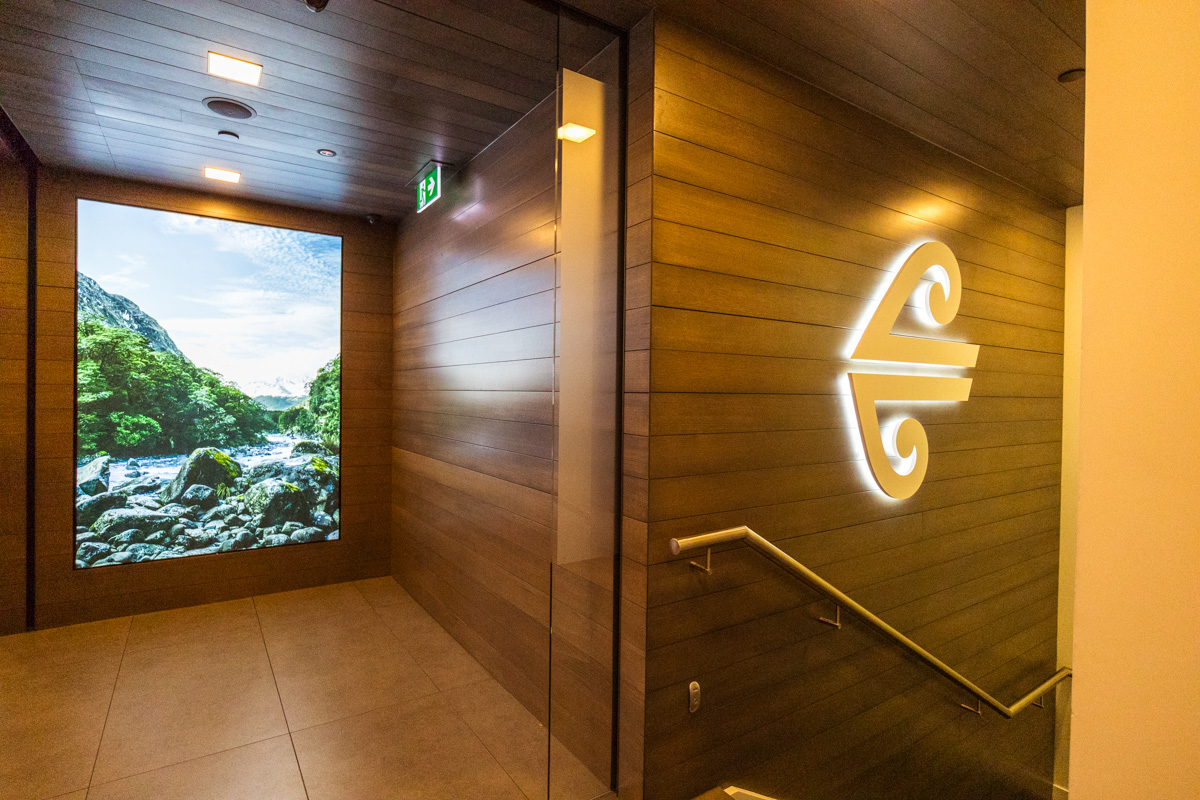 –>
Lounge Seating
The expanded lounge now offers five different zones where you can dine, relax or plug in and catch up on some work after a NZ ski holiday.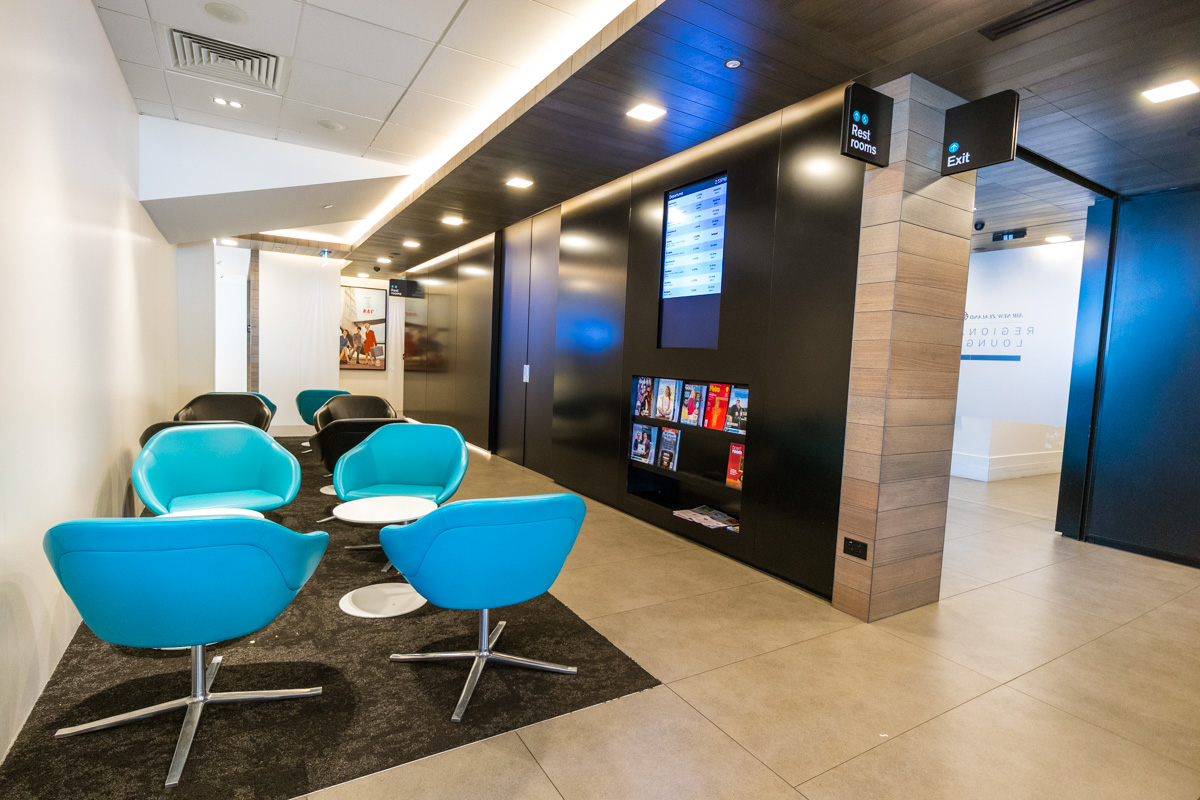 The lounge features a variety of seating options throughout its five zones.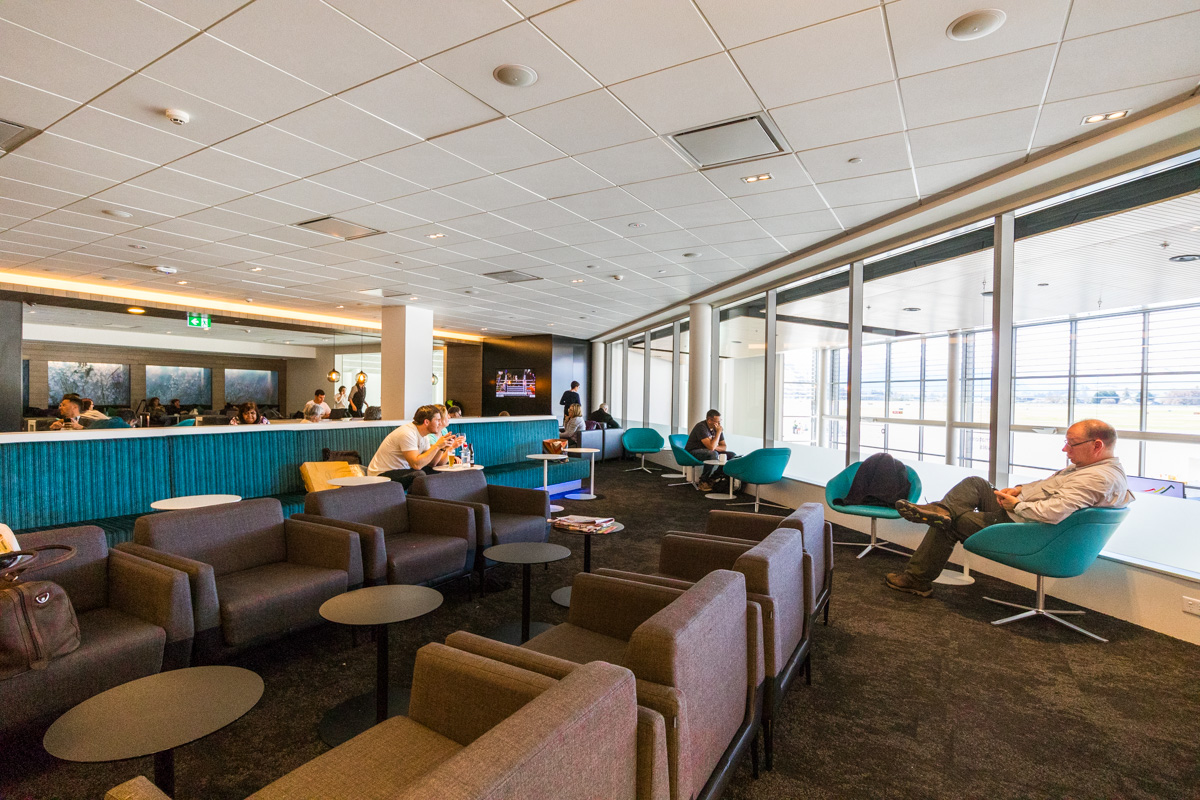 Single armchairs or swivel chairs.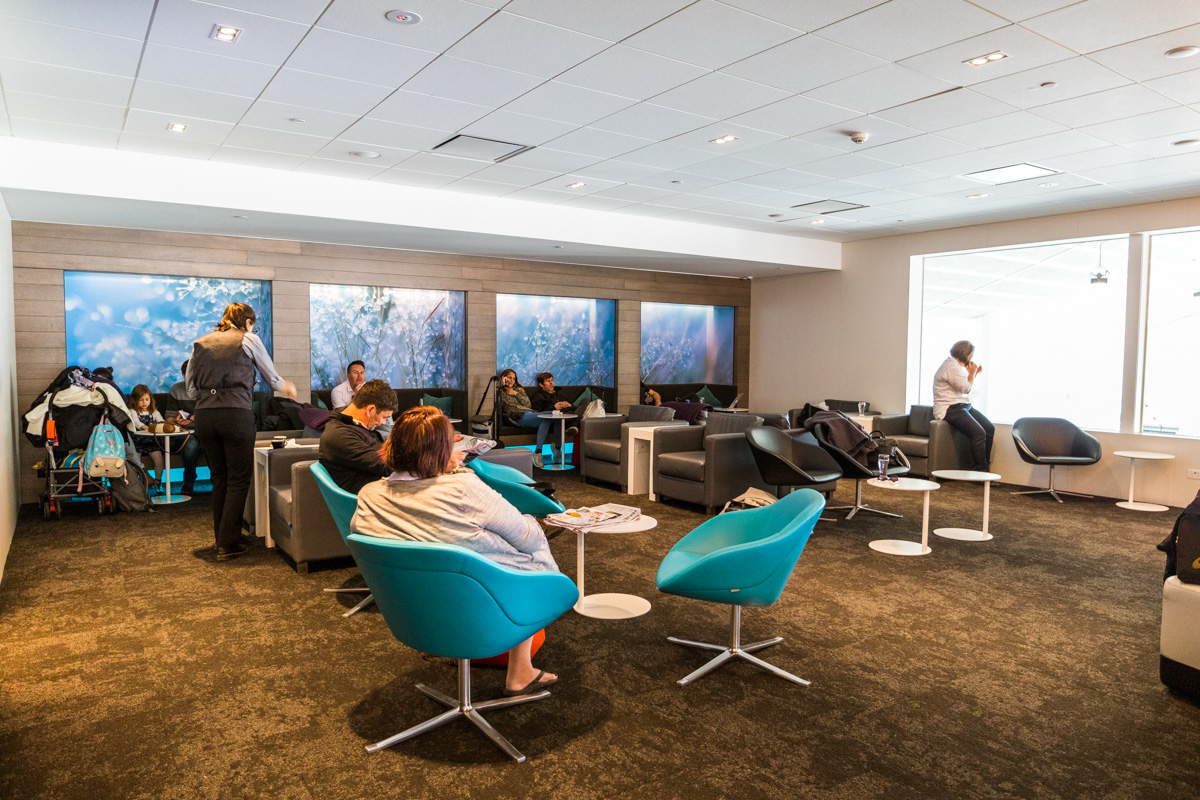 Twin lounges in the cut-outs alongside the walls.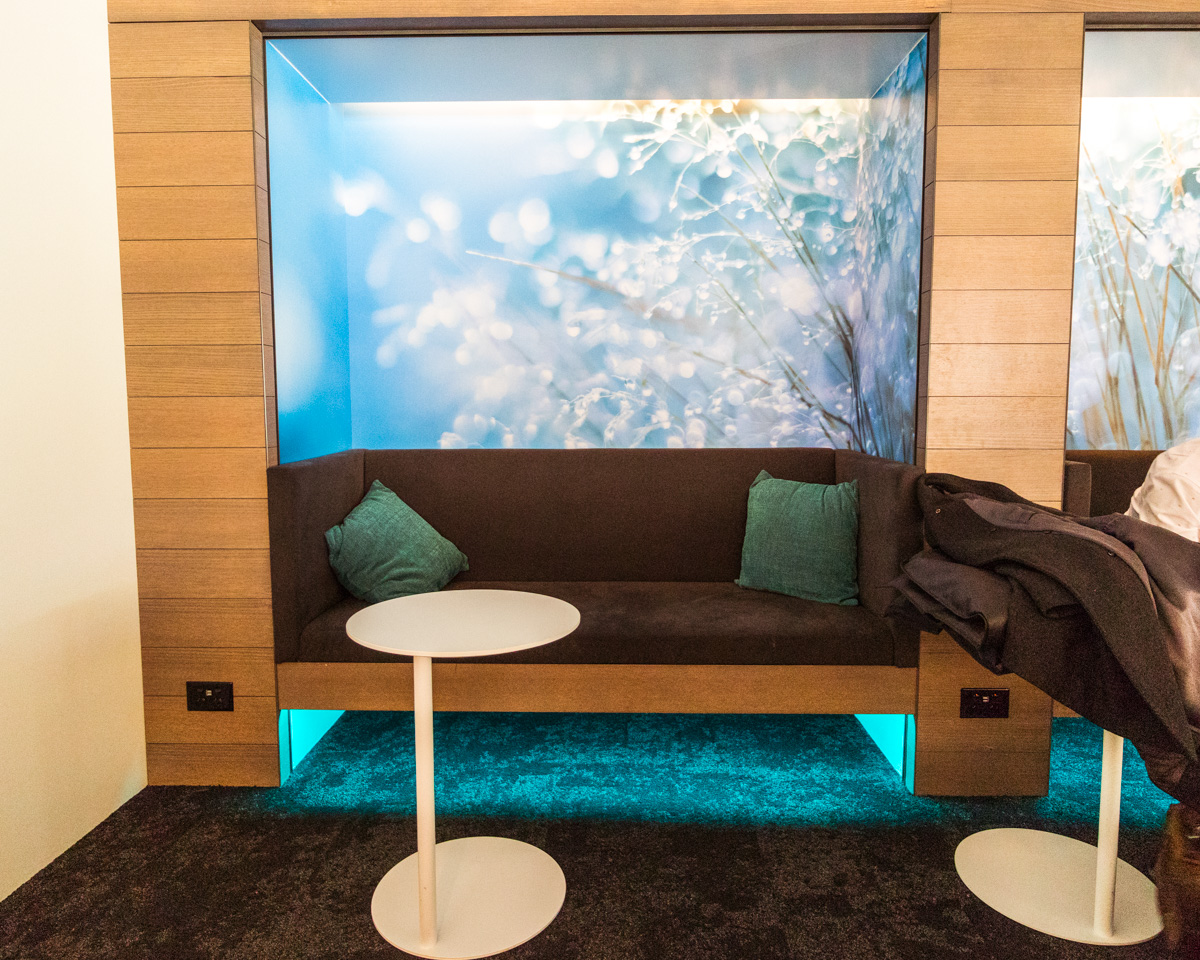 And banquette seating with coffee tables.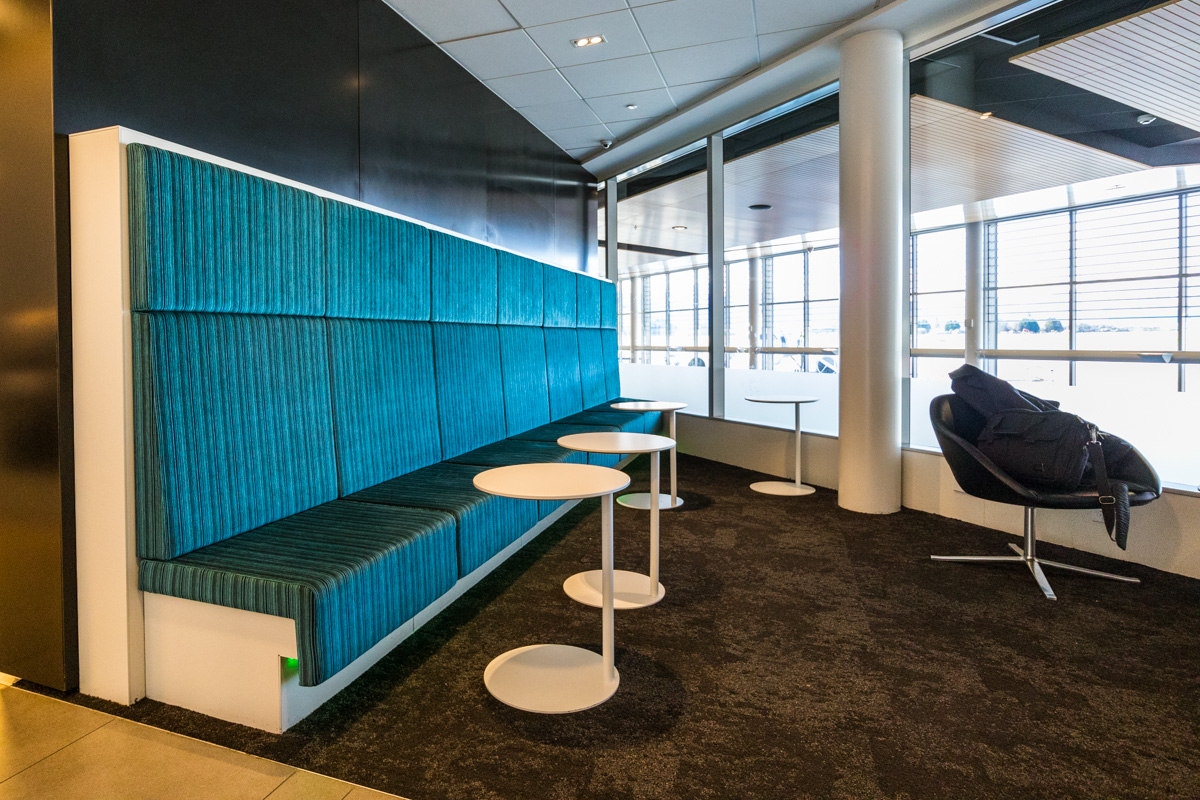 It now has space for up to 230 guests which is an 85% increase on the previous lounge and very much welcomed as the old lounge would get overcrowded during the ski season.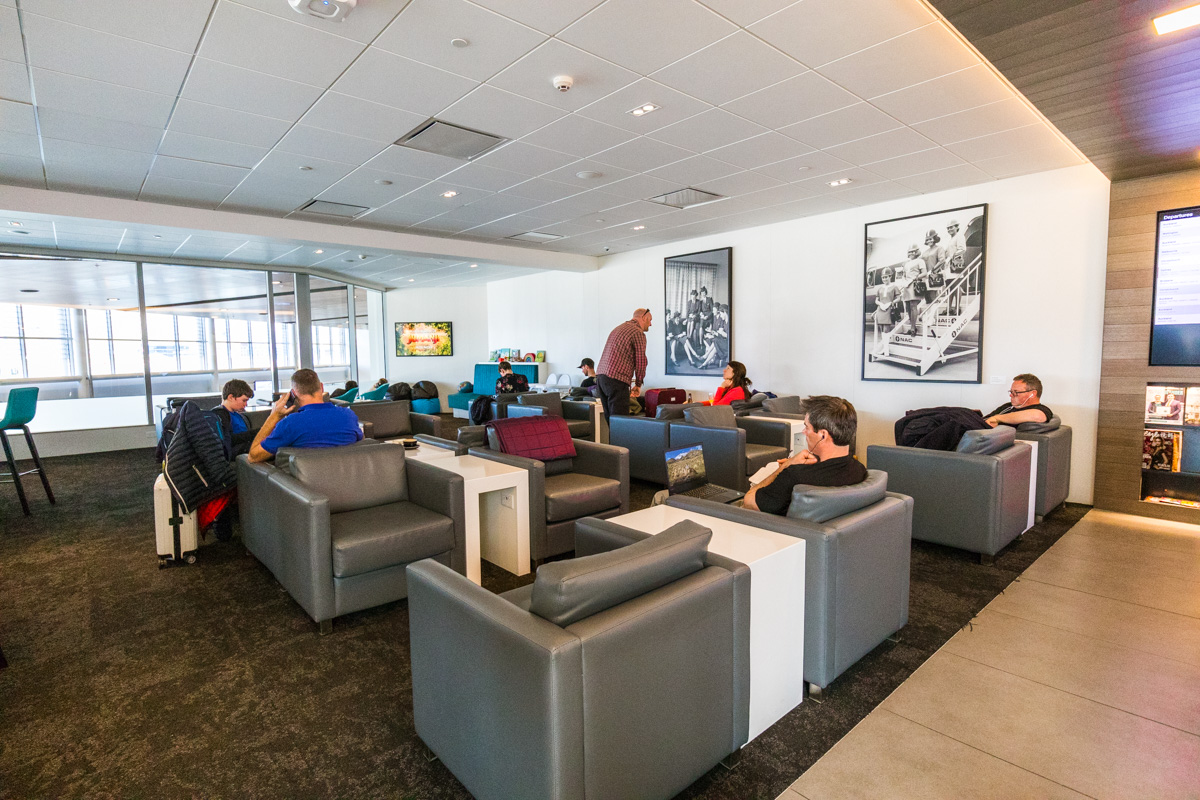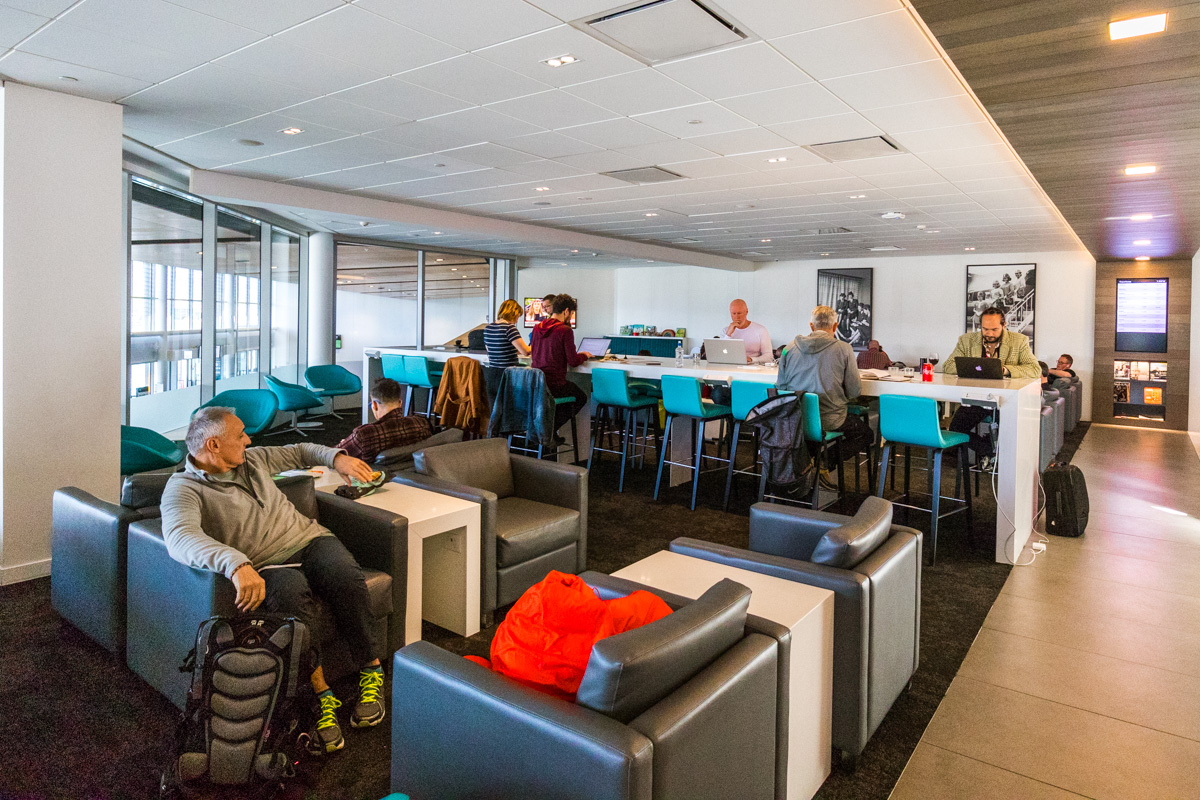 With panoramic views across the boarding gates and out to the Remarkables.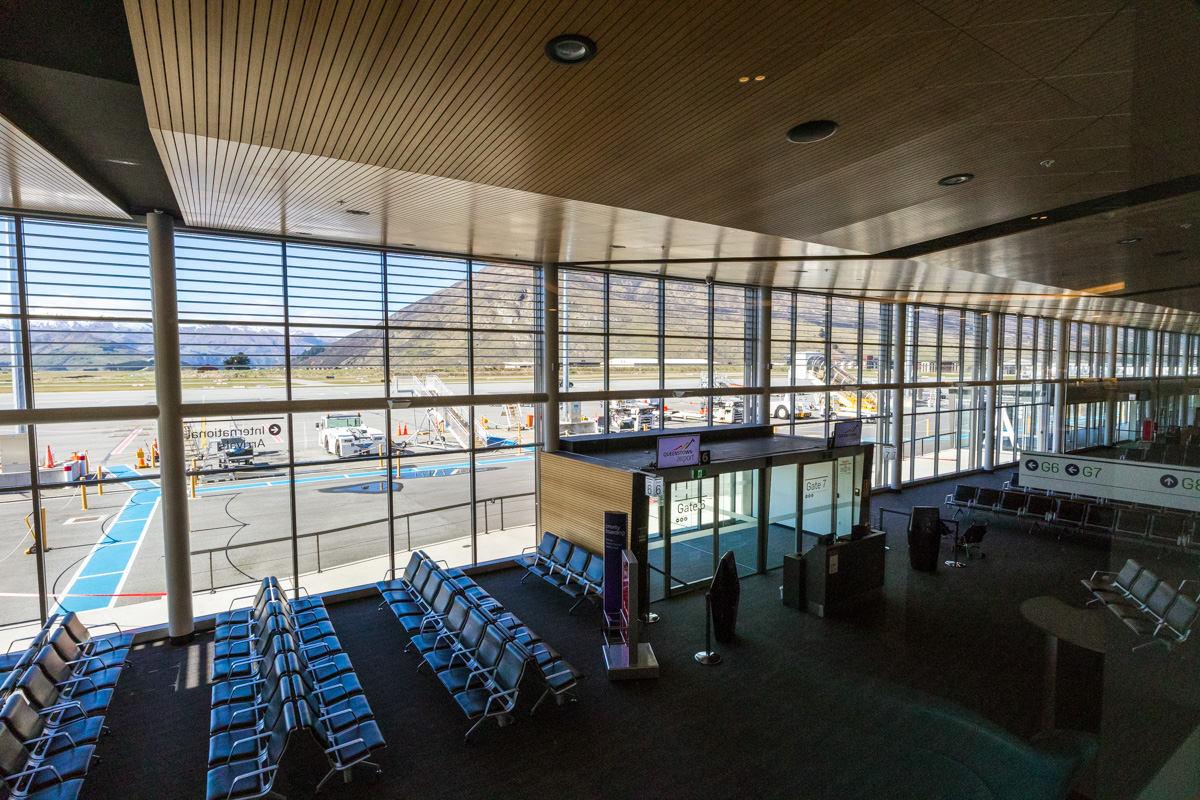 Food & Drink
A large, cafeteria style, dining zone features a choice of long, banquette seating on either side of the zone, low tables with ottomans or high-tables with bar stools.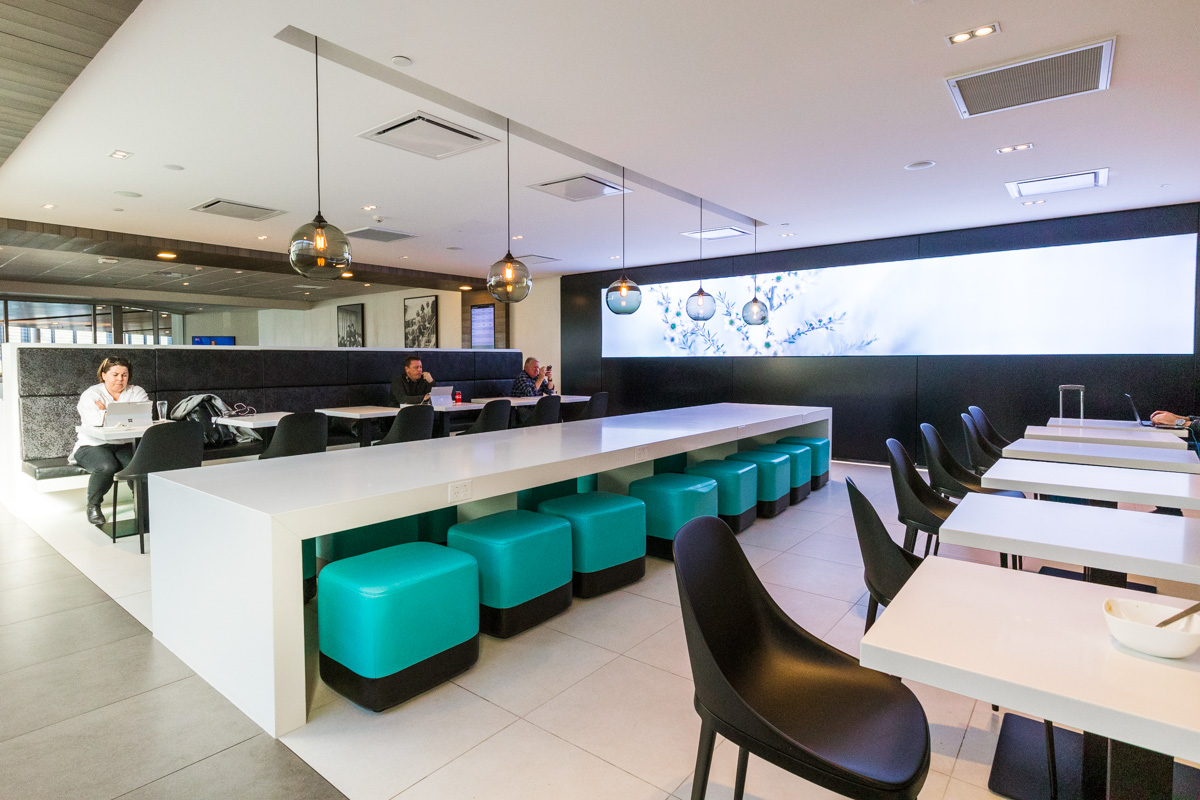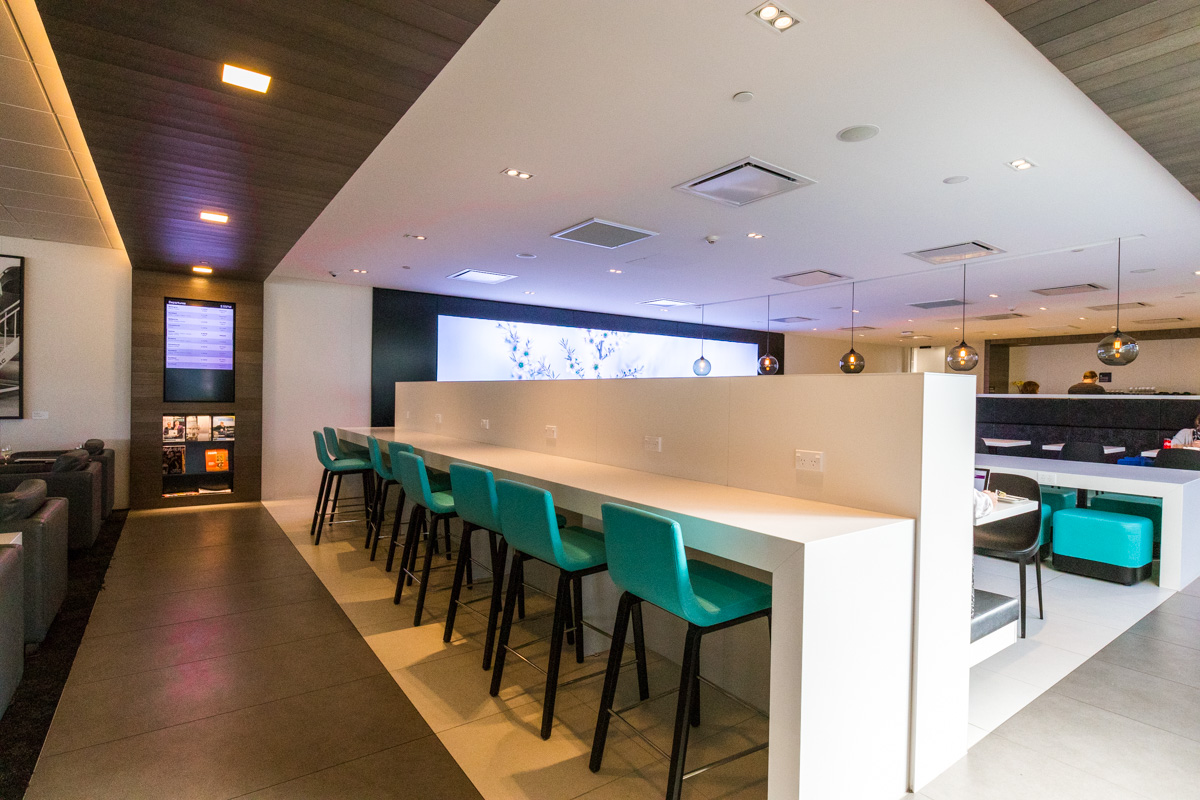 The buffet has a large selection of hot and cold dishes as well as desserts. On offer for lunch was macaroni cheese and corn fritters. Whilst cold options included salads and sandwiches.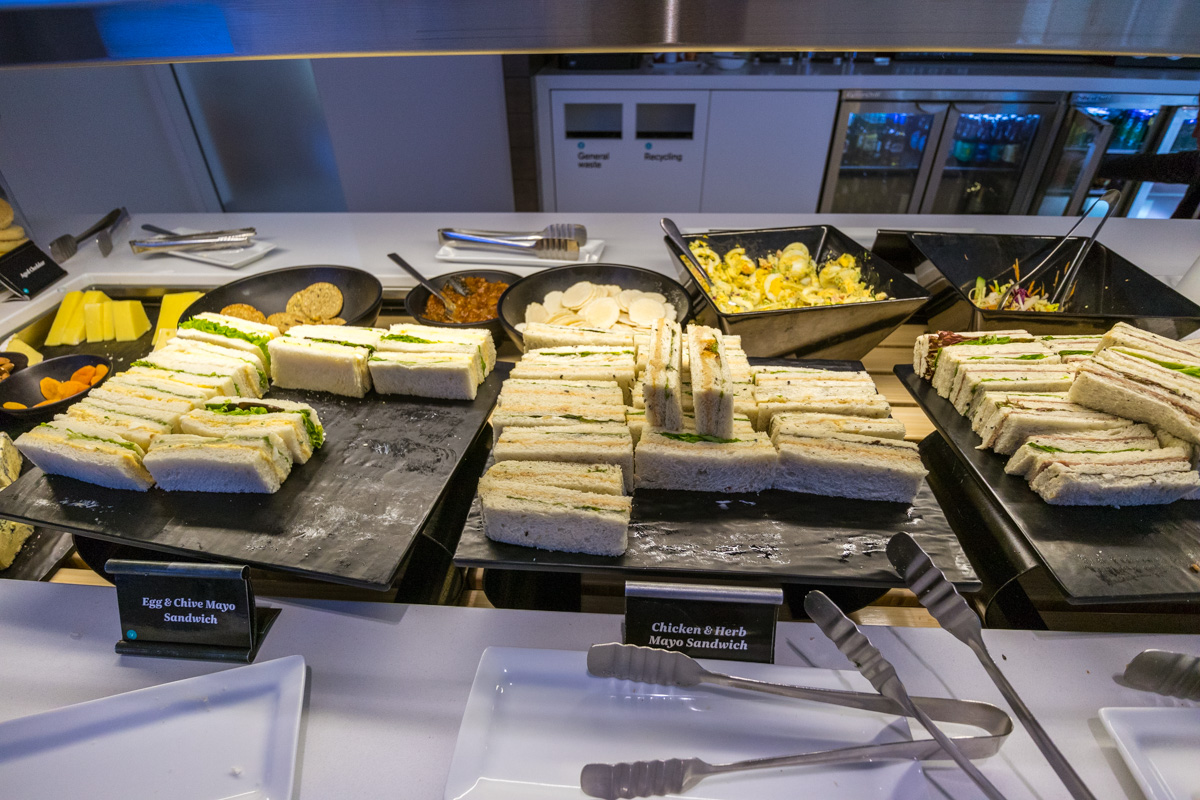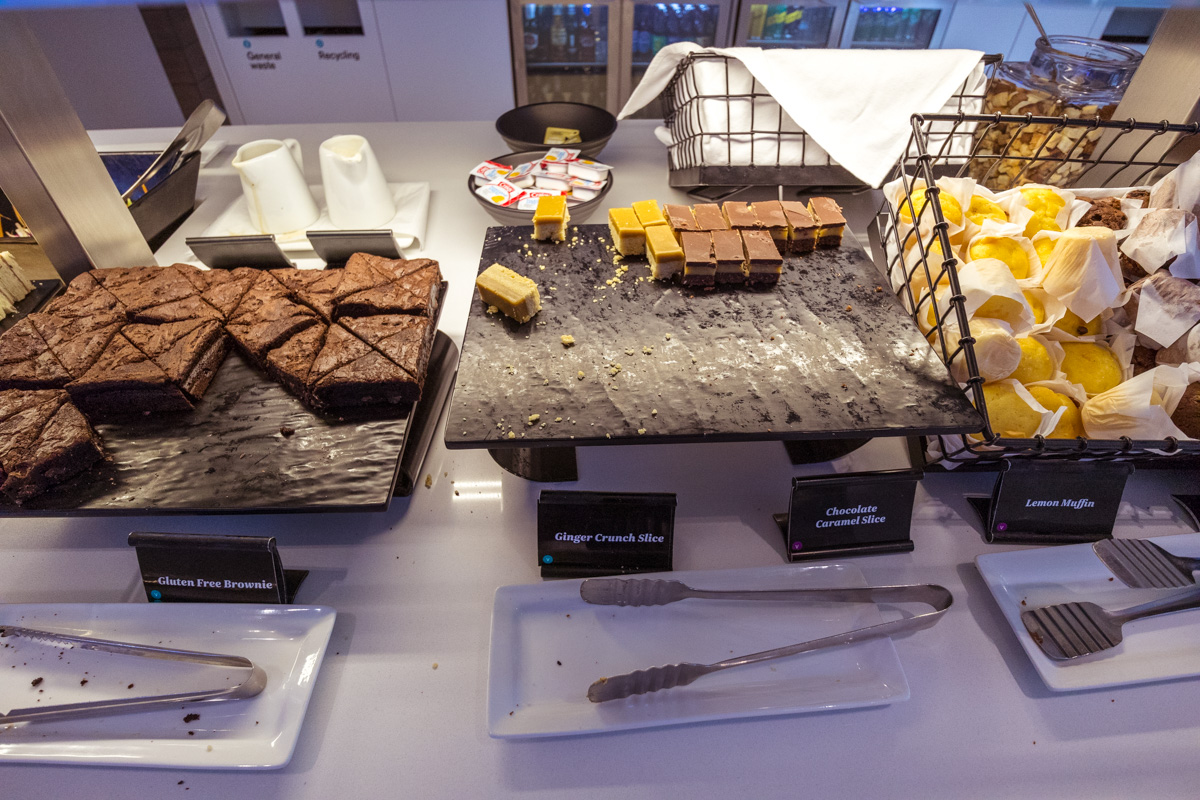 Self-serve New Zealand wine is available from the bar fridges, along with still or sparkling water, an ice dispenser and an automatic coffee machine.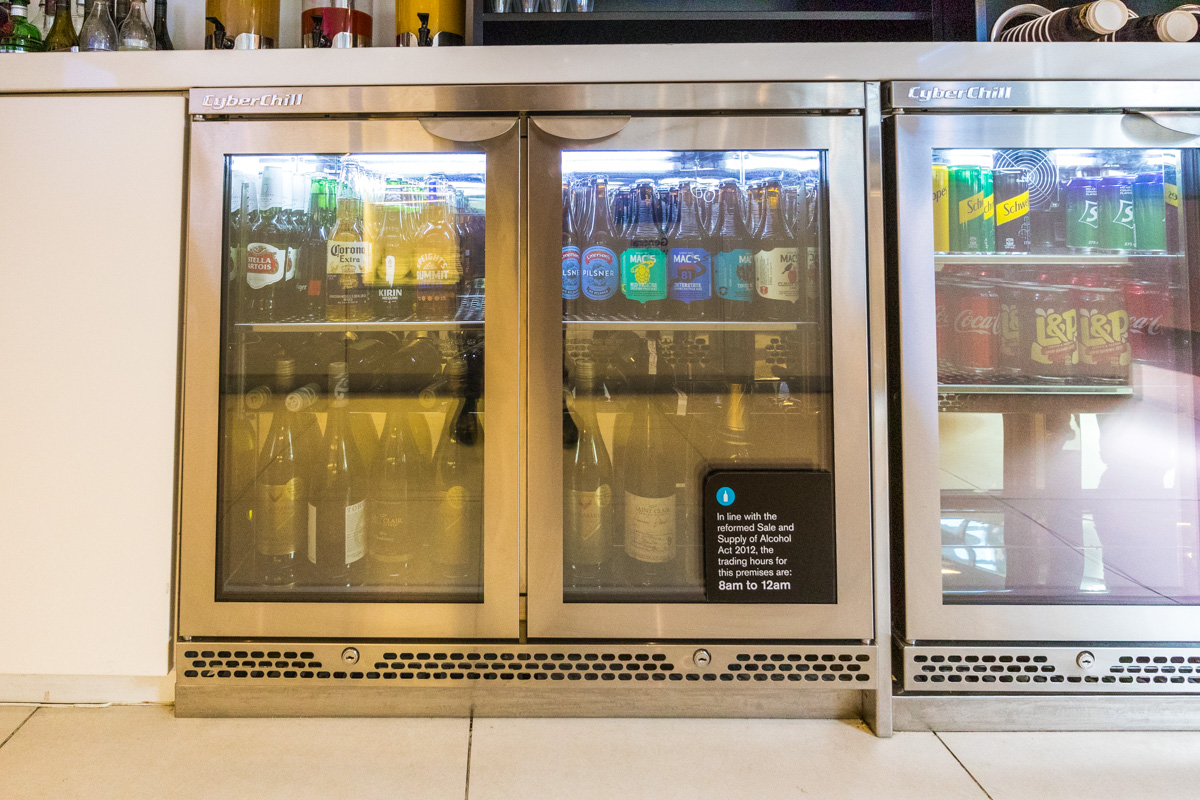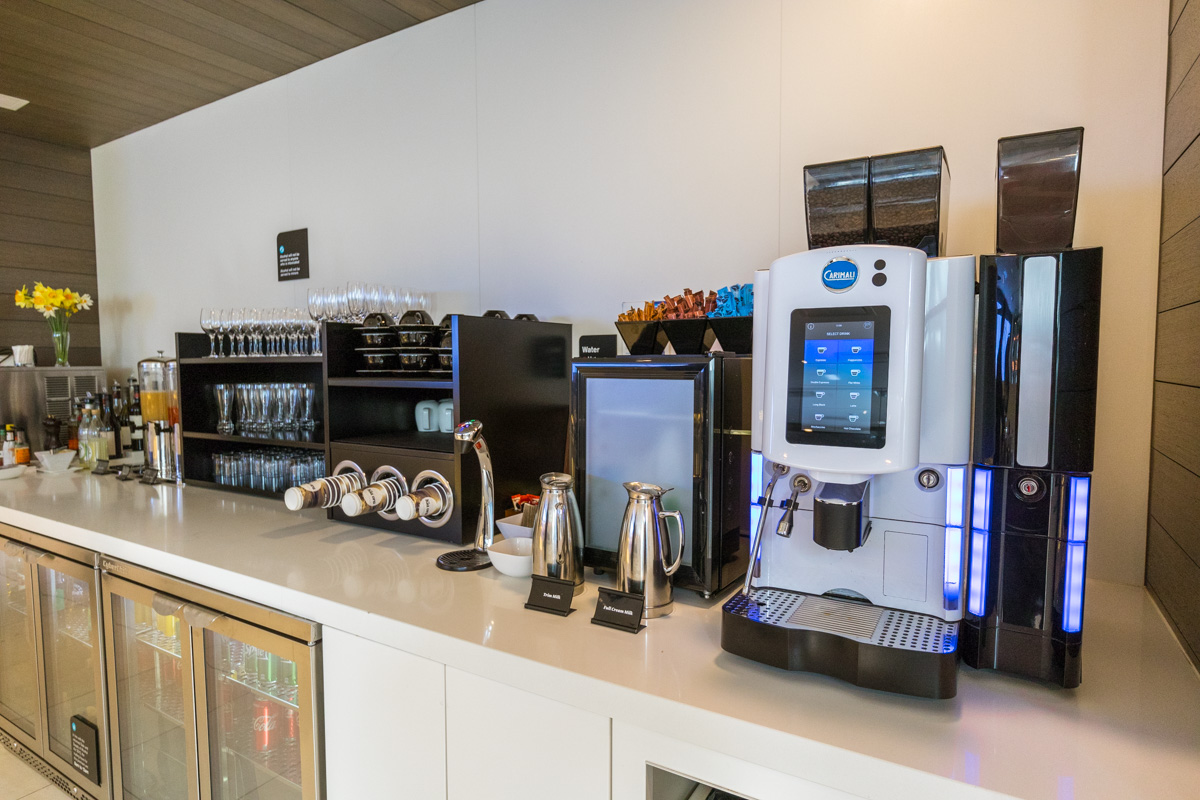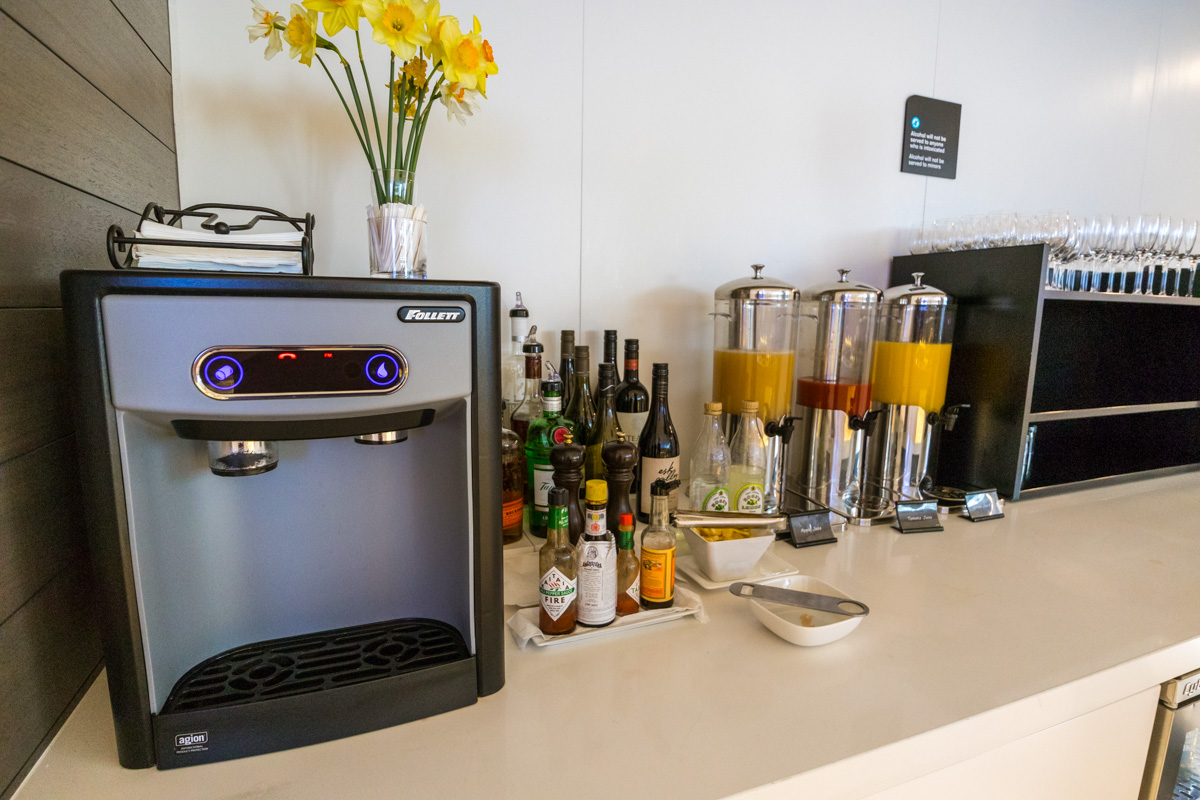 If you prefer a barista-made coffee, head to the tendered barrister station on the opposite side of the lounge with signature LCD panels on the wall behind. Simply place your order on the iPad and come back within a couple of minutes for your beverage.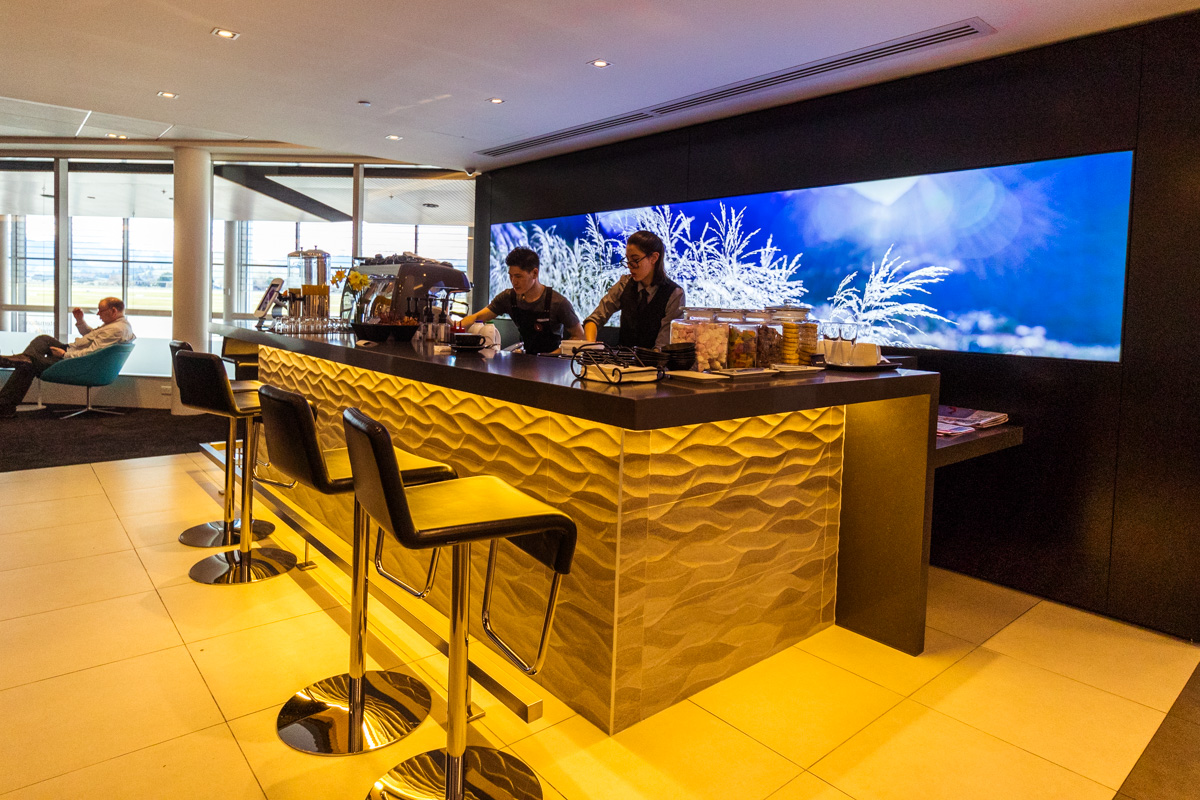 Adjacent to the barrister station is another self-service beverage station.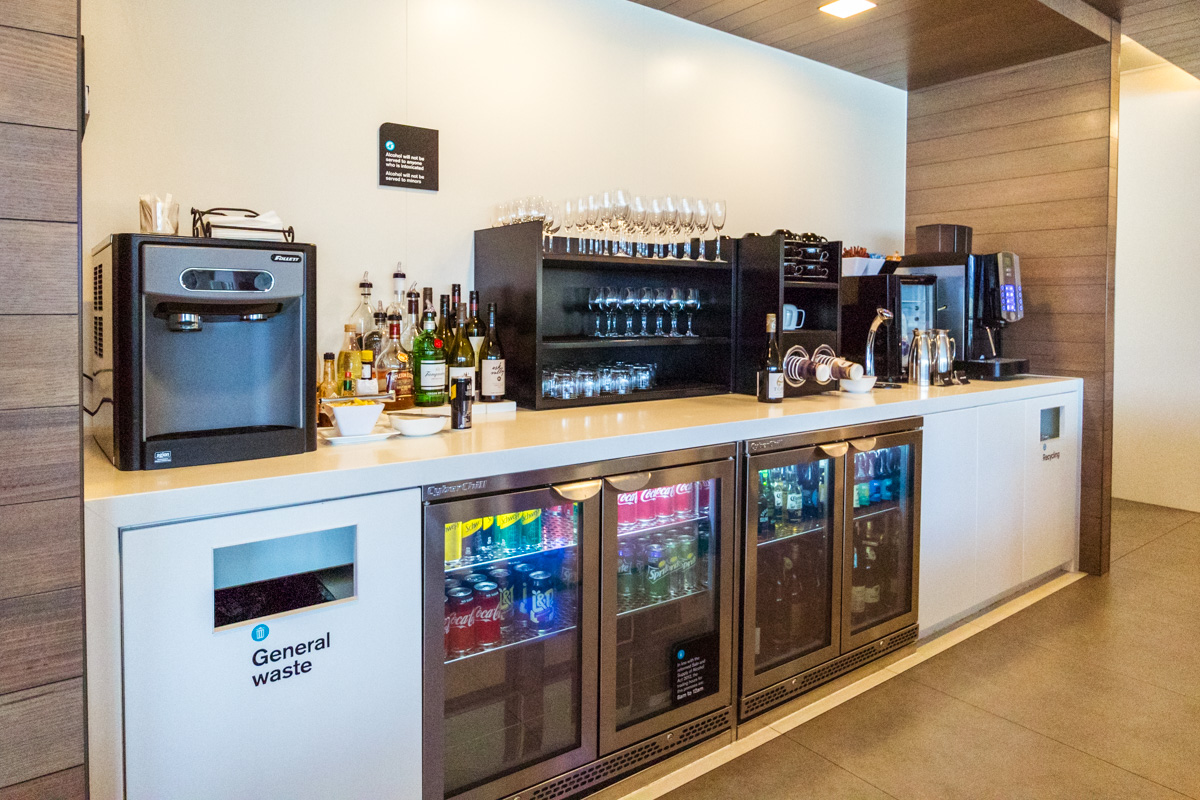 And magazine stand.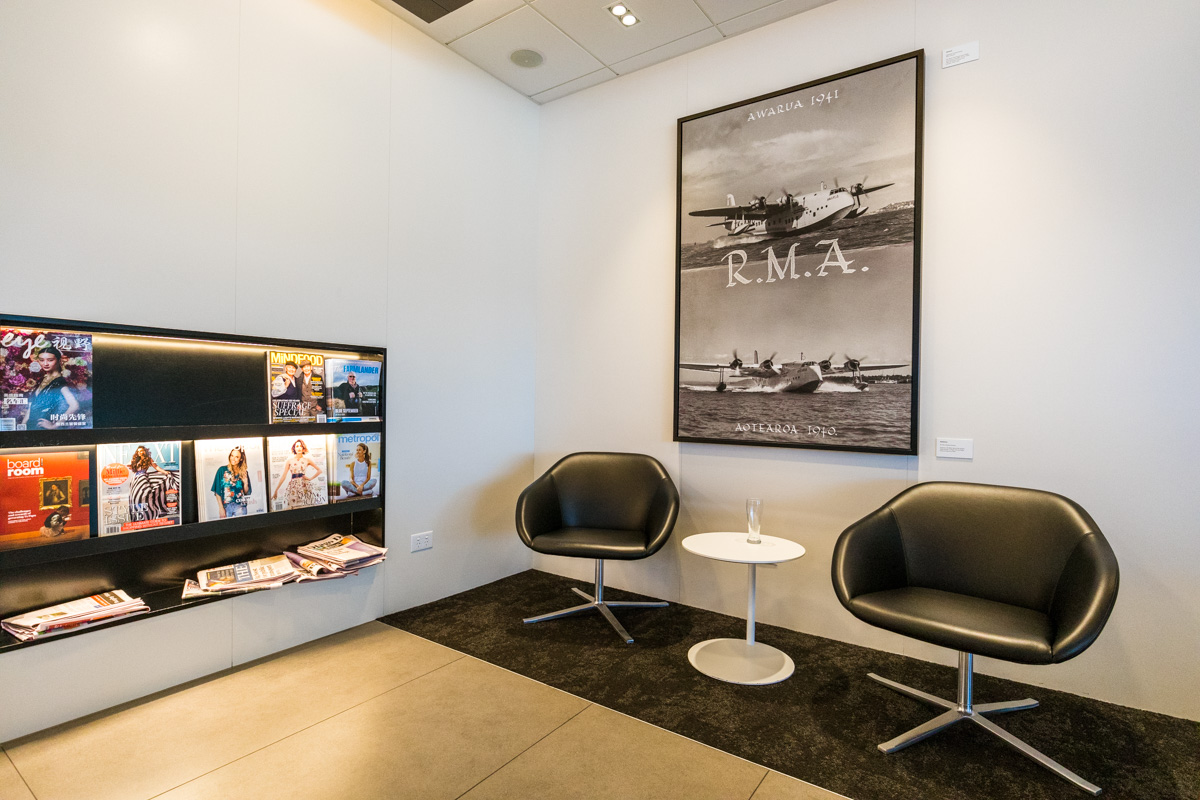 Amenities
In the far corner of the lounge there is a children's play area with a few toys, games, highchairs, a lounge for carers, beanbags and a TV (playing the news?) to keep the kids entertained.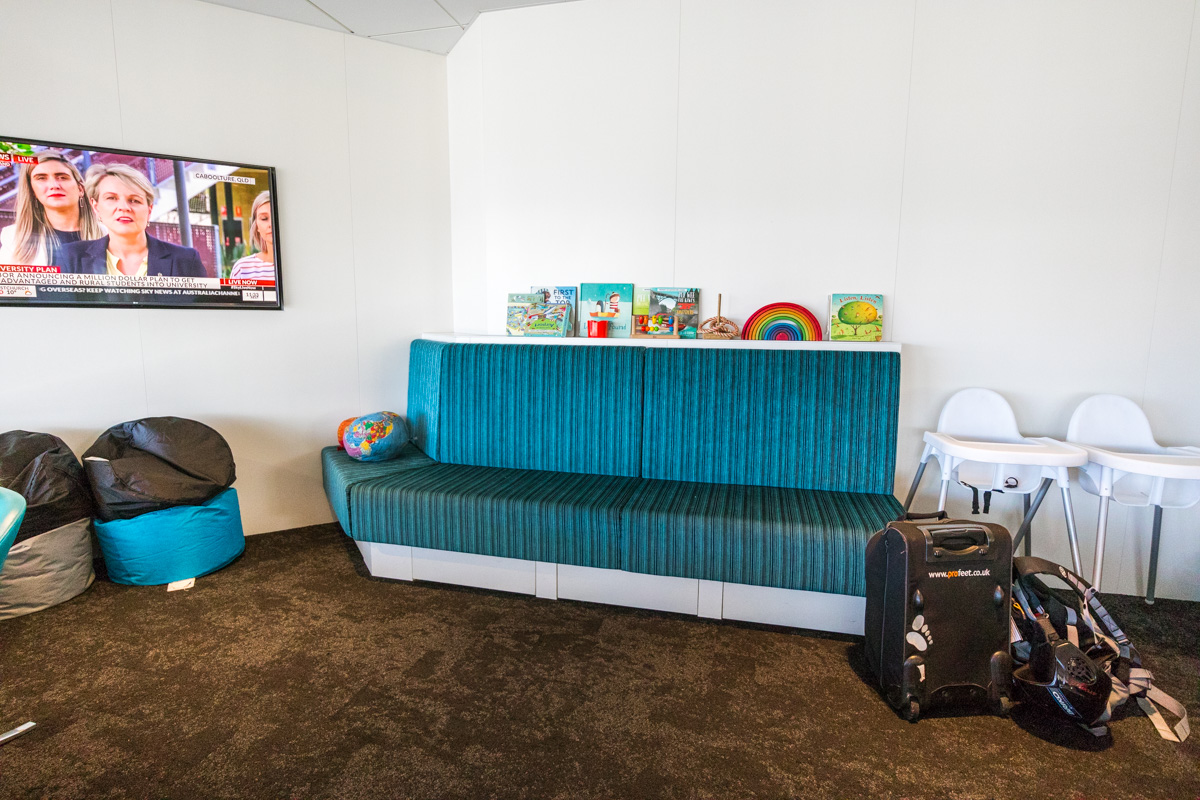 There are power points alongside all couches, under coffee tables and even QI wireless charging pads on top of all counters.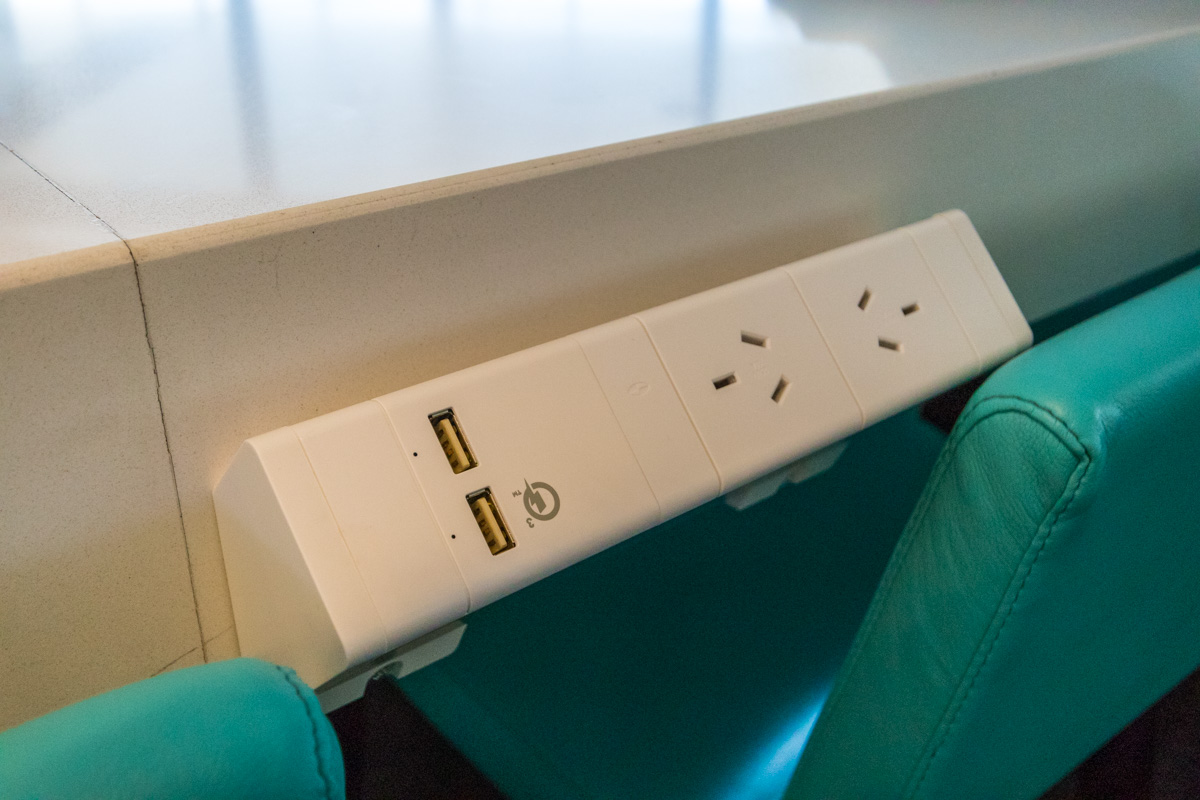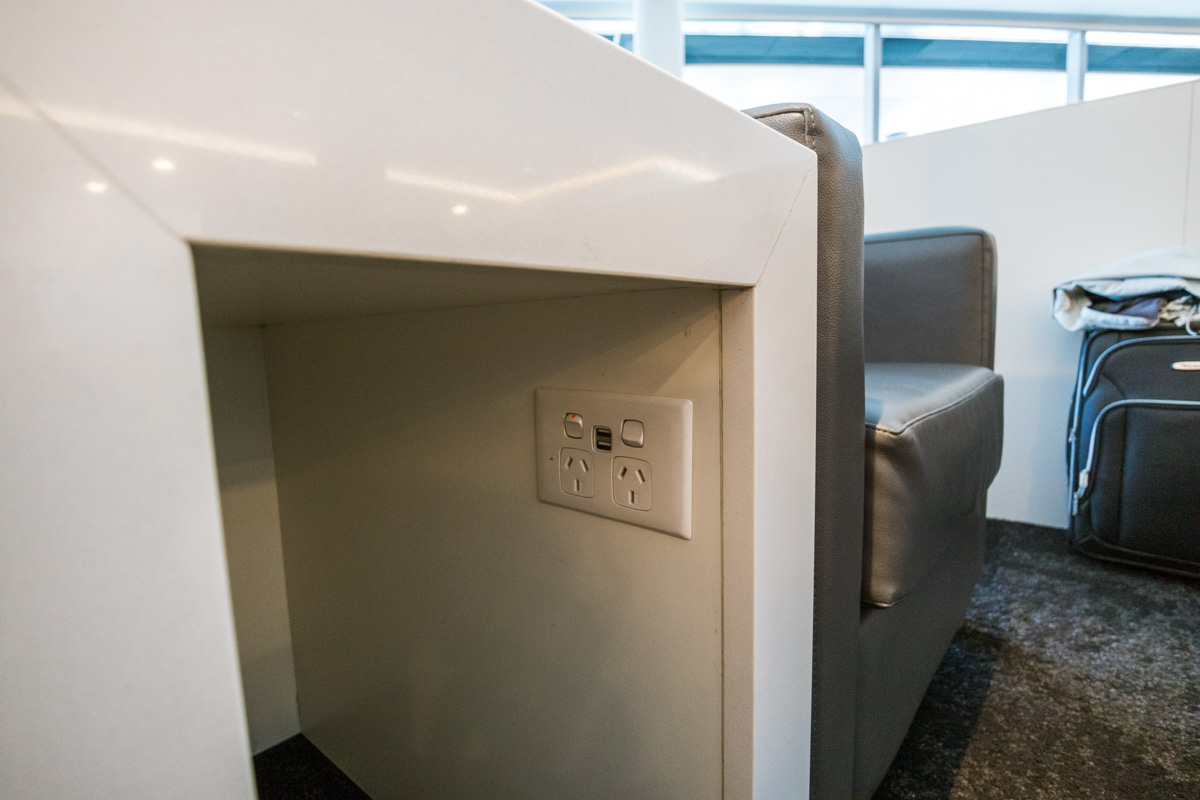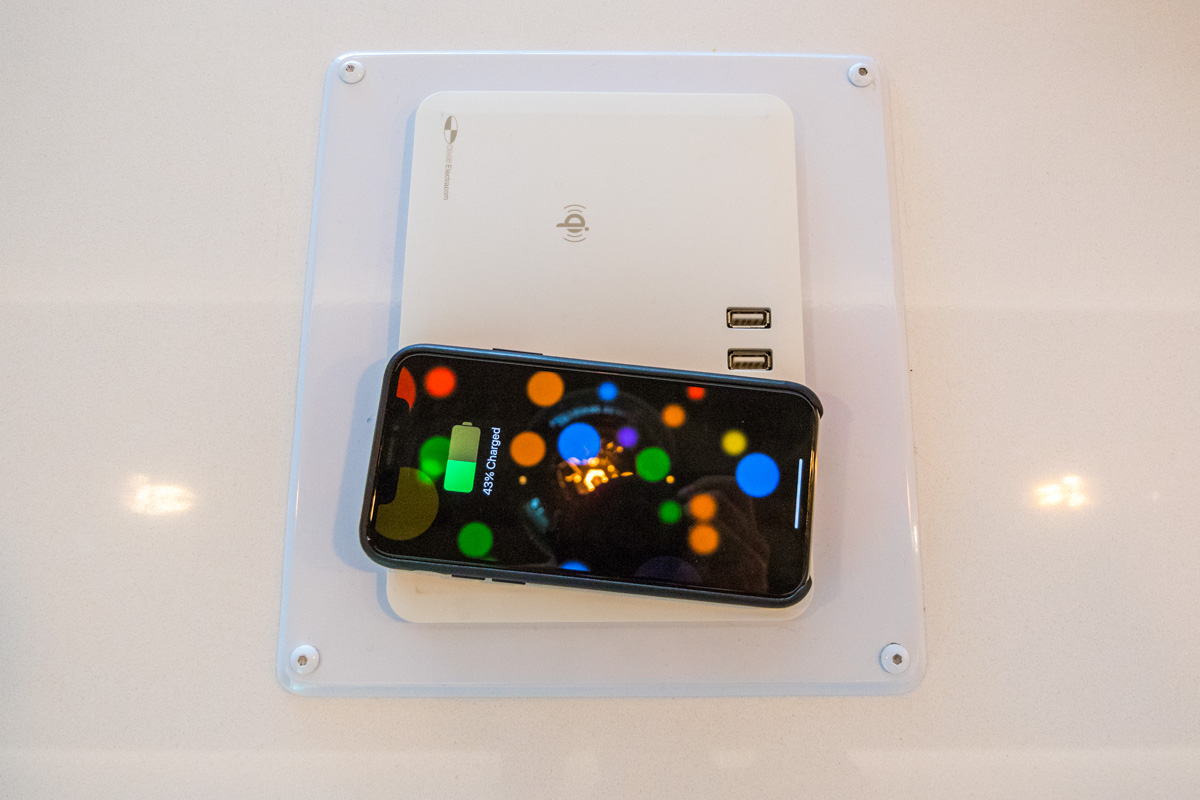 A printer setup with a connected email address to send documents is available.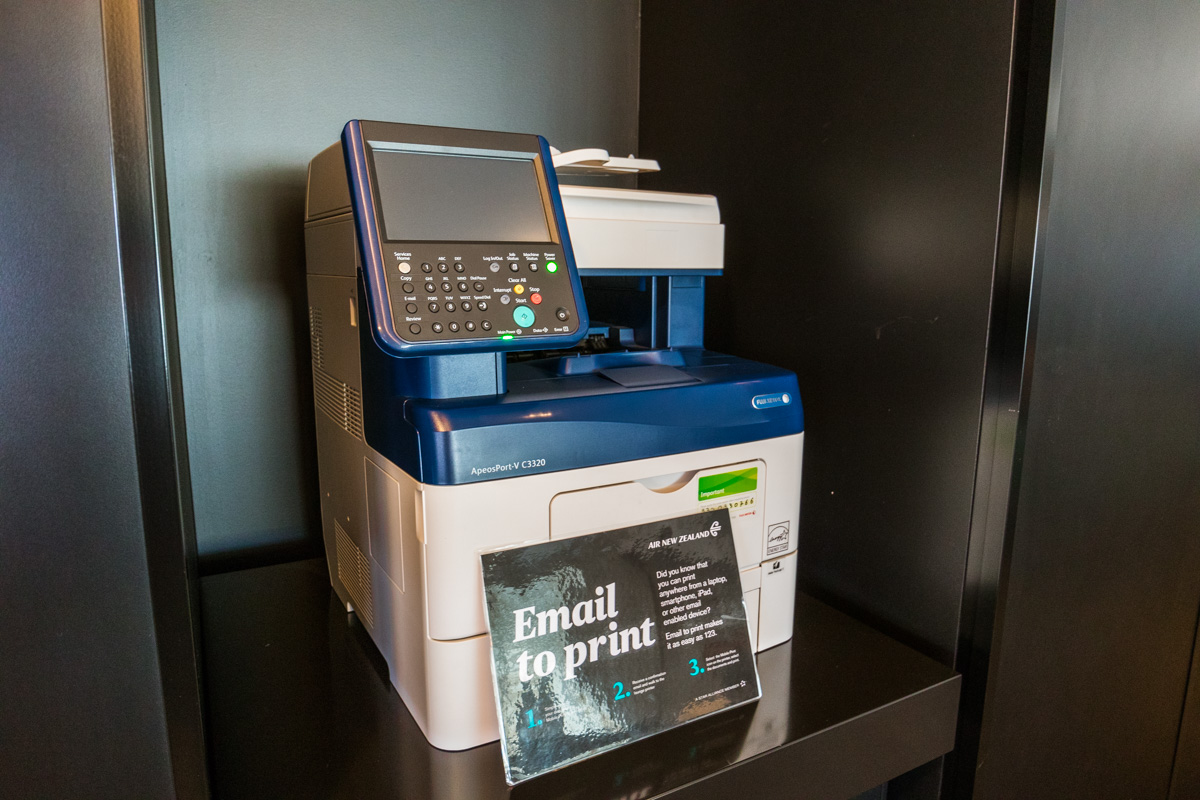 Fast and free WiFi is available throughout the lounge.
Lounge Access Options
Airpoints Elite, Gold, Elite Partner and Koru members are able to access this lounge as long as your onward flight is within four hours and with Air New Zealand.
By class of travel: N/A—there are no domestic Business Class services with Air New Zealand
By Airpoints status: Air New Zealand Gold and Elite Partner (+1 guest), Elite (+1 guest)
By Koru Club membership: Koru Club members (+1 guest)
By Star Alliance status: Gold (+1 guest)
By Qantas Frequent Flyer status: Gold, Platinum and Platinum One members travelling on an Air New Zealand domestic flight booked under a Qantas codeshare (+1 guest)
By day pass: Those passengers who have received one-off passes, such as the 2 complimentary passes received for reaching Air NZ Airpoints silver status, or those provided by Air NZ credit card partners, are eligible to access the lounge (no guest)
Lounge – our take
Overall, the refurbished Air New Zealand Queenstown Regional Lounge is a fantastic looking and highly functional lounge. The expanded layout can now easily handle the busy Sunday afternoon peak-ski season departures and the separate zones provide a variety of lounge, dining or work options depending on how you wanted to spend your time before your flight. Plus the well-considered power outlets and consistent WiFi is perfect for the connected traveller.
Air New Zealand Queenstown Regional Lounge overview
was last modified:
April 22nd, 2022
by